Every Tuesday Jayson Wall aka PrintThatThing invites everyone to take part in his live 3D printing show. Designers, makers and content creators talk about their project and 3D printing related matters. In the middle of the show, there is a "3D Printing Nuggets" feature that adds some spice to the show. We like the way this show is structured. Within 30 minutes the host and the guest manage to cover all interesting subjects and even discuss future plans.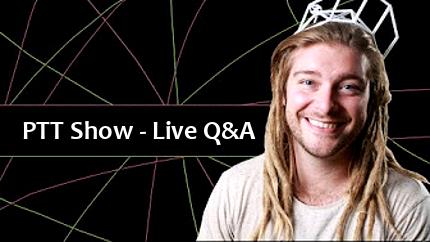 Questions and Answers. It is a great opportunity to ask the guests any questions live using a curated chat. In case you missed the show you can always catch up on YouTube and join the discussion in the comment section after the interview is published. To find out who is the next week's guest, please follow PrintThatThing on Twitter. There is a big chance that your question will be read out live if you post it on Tweeter.
In the 3rd episode, JWall's guest was Tessa aka SparkyFace5. Many subjects were discussed including #3dblockzoo. We hope you remember Tessa's initiative that attracted many members of 3D printing community in late 2016.
Garrett aka ChaosCoreTech explains what it takes to make a new design every week. He gives useful tips for 3D printing and also shows off his lovely dog. Even though the interview was held with Garrett, his wife Chelsey was participating in the live chat. It is known that she plays a big part in post-processing. Chelsey gives a nice colorful finish to the prints, that makes them look professional.
Travis aka aPyroDesign tells JWall how he came to design an animated fidget spinner. When spinning this device, Super Mario appears running. This animated fidget spinner got into all sort of gizmo blogs, Twitter exploded to 300+ likes and retweets, and YouTube video collected 100k+ views just within one month.
PrintThatThing
Earlier this year we wrote a blog about Jayson. He is a true pioneer that covered many topics in 3D printing from hairy 3D prints to VR design. We learned a lot from him and he was one of the first 3D printing designers that we followed. Read more: http://3dwithus.com/print-that-thing