Each year our high school recognizes Yellow Ribbon Week to promote positive mental health and suicide prevention. We have a very active Peer Assistance Leaders program. Our PALs are students trained to support other students as they navigate high school and they organize school-wide activities throughout the year on various topics. The PALs also take the lead for events during our Yellow Ribbon Week. This year they asked teachers to write notes to a class as part of the week's activities. Rather than personalizing the notes to each student, I was inspired to use 3D printing as a way to make the message personally from me. These are some of my simplest designs and smallest prints, yet they are inspired by complex issues and I hope they make a big impact.
Table Of Contents
Yellow Ribbon Week
The teachers and staff members at Torrey Pines High School are fantastic at connecting with kids and being available for students when needed. As we discuss with our students, Yellow Ribbon Week is one filled with mixed emotions. On one hand the PALs and school have fun activities, like distributing lemonade and visits from therapy dogs, to raise spirits and create an upbeat change of pace. On the other hand, we give mandated presentations to our classes about crisis resources and risk factors for suicide. For me, and unfortunately for many others, it also brings up tough emotions and memories of people I've known who have died of suicide.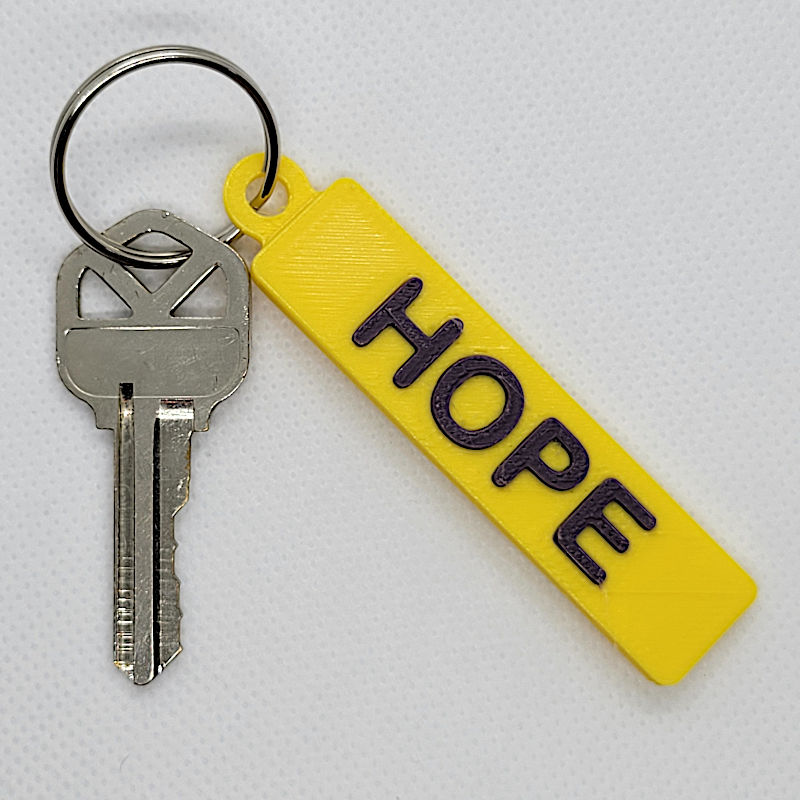 Over the years our community has lost students and I've known acquaintances and even one very close family friend who have died of suicide. In honor of their memory and with the intent of reaching out to my own students in a positive way, I designed a set of keychains to print and share with not only one class, but all of my students and more. The keychains became a family project as my husband and children helped me decide on words and colors. They also looped the prints onto each of the rings before I distributed them at school.
3D Printed Yellow Ribbon Keychains
Bringing these keychains to my students was a very special way to end our Yellow Ribbon Week this year. As I walked around the class so students could randomly select their keychain, I talked to them about the significance of the week. I also reminded them to think about the trusted adults in their lives that they can go to if they have issues or if they are concerned about a friend. I also promised to keep more keychains available so if they choose to pass theirs along to someone else, they can return for another.
In class each day now when I see the keychains on their keys, backpacks, and pencil cases it reminds me of those we have lost but also the hope for the future as we work to prepare students to handle the challenges they face, check in with their friends and family, and seek appropriate resources when needed.
Fundraising Campaign – Going Beyond the Classroom
The keychains are available on Cults3D and Printables where I post my designs for 3D printing. Rather than selling these models, they need to be shared with the world to raise awareness and spread good thoughts. However, as indicated with the posted models, I want to encourage people that download the files to make a contribution to the American Foundation for Suicide Prevention (or a similar organization) in whatever amount they feel appropriate.
My family plans to make a donation to AFSP this year and, to promote awareness through the 3D printing community, for each person who downloads, 3D prints, and posts a Yellow Ribbon Keychain photo to Twitter or Instagram using the hashtag #YellowRibbon3DPrint by December 1, 2022 we will donate an additional $2.00 for up to 100 individuals.
3DWithUs is also contributing $100 to the cause. Thank you, 3DWithUs!
Also, I'm very pleased to share that the 3D printing company Printed Solid will match an additional $2.00 for each post up to 500 people! Thank you, Printed Solid! (Perfect colors for this project, by the way.) Joel Telling (the 3D Printing Nerd) has offered to match $2 x 500 as well. LDO Motors and Alien3D are doing the same. Thank you so much to these 3D printing community leaders! Simply by printing and posting, the entire 3D printing community has the opportunity now to raise $4,200 in addition to any contributions made by makers when they download the models for printing. Let's do this!
Be sure to tag me @abbymath (Twitter) or @abbymath3d (Instagram) and @PrintedSolid and include the hashtag #YellowRibbon3DPrint. Give the keychains to your friends and loved ones!
Over $5000 Raised!
The matching donations for the fundraising campaign with this project has ended. However, the model files are still available and it is always helpful to raise awareness and promote positive mental health and suicide prevention. Donations to the American Foundation for Suicide Prevention are encouraged when downloading models. Share the keychains with people you care about and print them in any color that brings you joy!
Throughout November 2022, we were able to count 126 individual people posting prints of the keychains on Twitter, Instagram, Cults3D, and Printables. In addition to our planned contribution to the American Foundation for Suicide Prevention, my family contributed $2 to AFSP for each person posting. Also, the companies listed above made contributions of $1000 each. With other various contributions we noted throughout the campaign, the 3D printing community raised over $5000 through the keychain project for AFSP. Wow!
Keychain Design and 3D Printing
I love printing with multiple colors and wanted these words to stand out strong and bold, so I printed with dual extrusion for my students. I used Printed Solid Jessie PLA in Yellow Bird and Deep Purple which is a terrific combination and the yellow is just the right tone for what I was looking for in this project.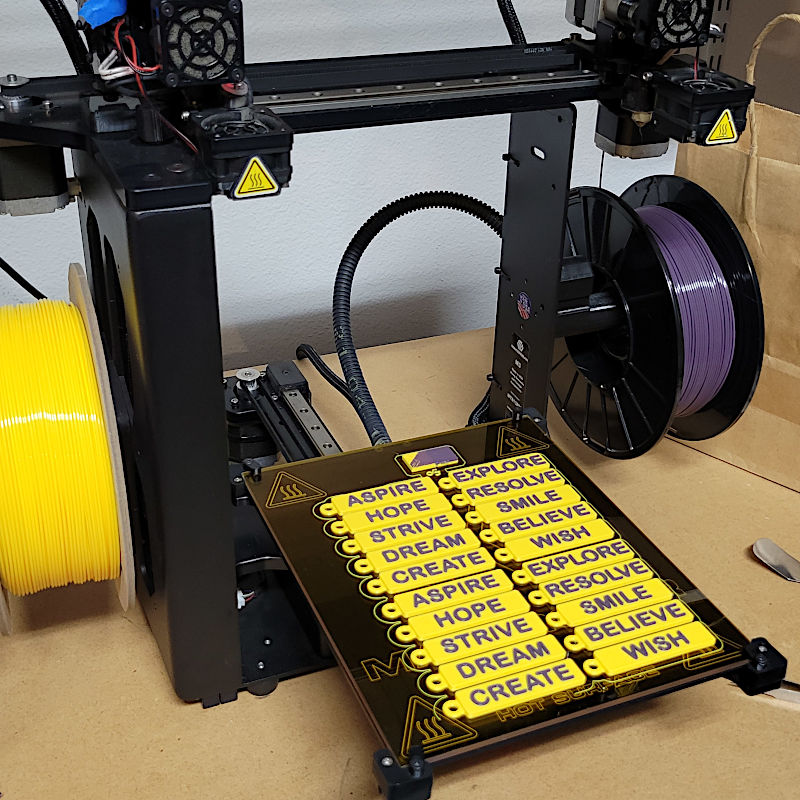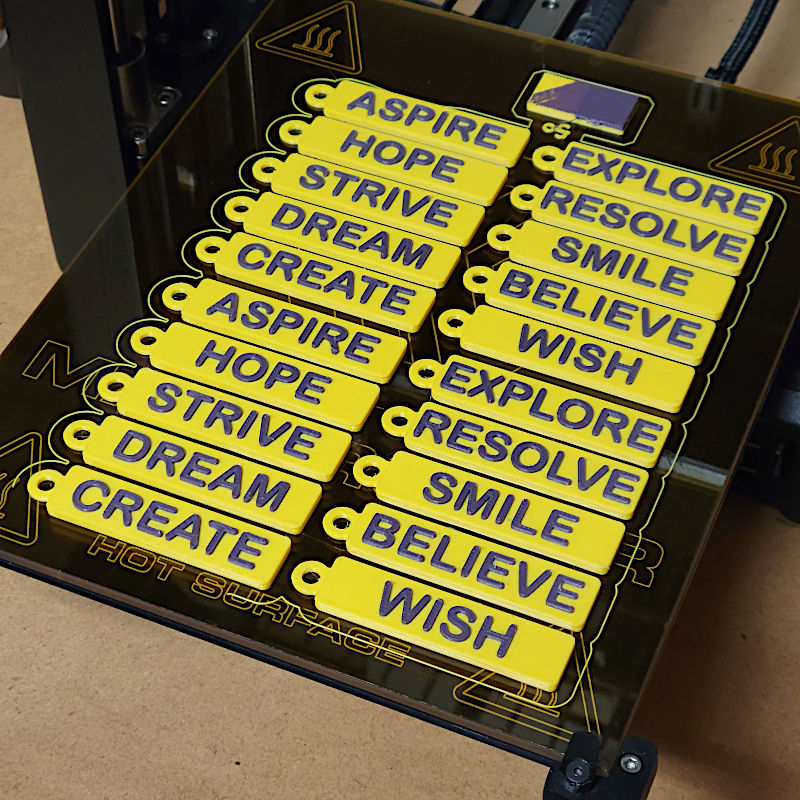 The models are designed so the letters are set into the base rather than placed only on top. I have found embedding makes top elements more durable, and these are meant to be used as keychains and backpack decorations after all. They may be printed in one color with the base and letters together for raised words, although the bases are designed to print alone as single-color models with recessed letters. Another option with a multi-color setup is to print the words in a separate color from the base, but stop the print at the height of the base so the keychain is flat with colored words.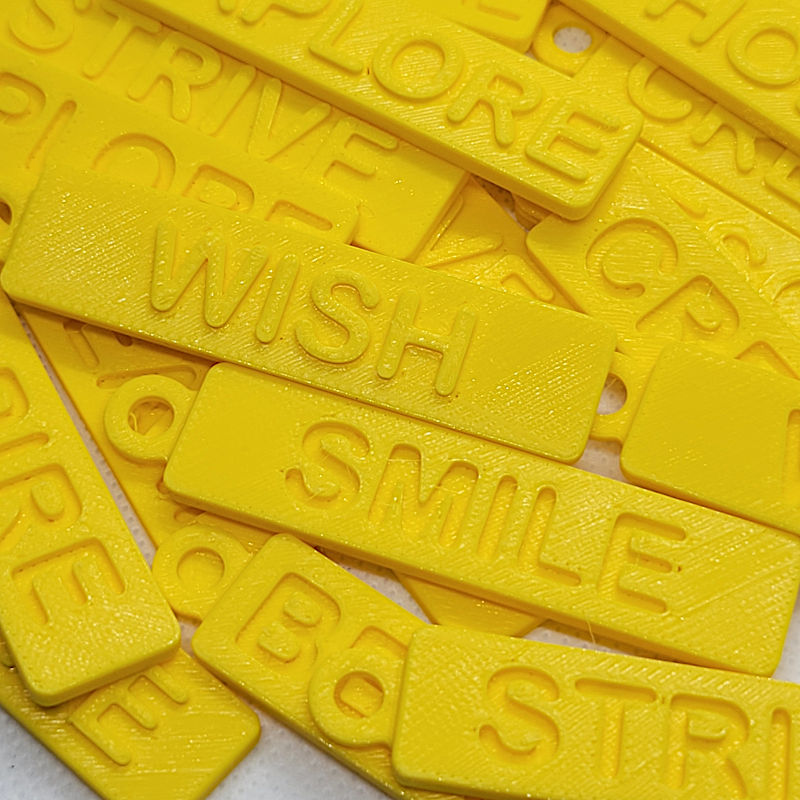 Additional details and dimensions are listed in the posts on Cults3D and Printables.
Even a small print can make a big difference if it's made with heart and given to the right soul.
Resources & Donation
Need help? Know someone who does?
Contact the 988 Suicide and Crisis Lifeline if you are experiencing mental health-related distress or are worried about a loved one who may need crisis support.
• Call or text 988
• Chat at 988lifeline.org
Connect with a trained crisis counselor. 988 is confidential, free, and available 24/7/365.
Visit the 988 Suicide and Crisis Lifeline for more information at 988lifeline.org.
American Foundation for Suicide Prevention:
https://afsp.org/
Donate:
Donate Direct Link
List of suicide crisis lines (all countries) on
Wikipedia
Source, STL Files and Instructions:
Source & Links:
abbymath.com
Cults:
Yellow Ribbon Keychains
Printables:
Yellow Ribbon Keychains
In addition to the STL files please find the GCodes for the following machines:
Prusa MK3, Prusa Mini, Bambu X1, Creality Ender 3, and others.
Special thanks to Pooch@Repkord from repkord.com.
NB! Please don't forget to share your make on Cults, Printables, or/and on social media with a #YellowRibbon3DPrint hashtag.
Don't have a 3D printer? Yellow Ribbon Keychains are now available on Vulkaza for anyone that would like to purchase a printed set! The only cost is for shipping. Order 1 set through the site or contact Vulkaza for bulk orders.