After testing and reviewing various FDM 3D printers through the years, we are putting together a detailed guide about the Best Budget 3D Printers. Here we will list a number of the FDM machines that are cheap to buy, in around the $300 price range, but at the same time, are user-friendly.
Contributions: Andrew Sink, Will Zoobkoff, Richard Hirst, Max Funkner.
This Guide Covers
What to Consider When Buying a Cheap 3D Printer
It is crucially important to read and follow the instructions when assembling most budget 3D printers. Think about flat-pack furniture that comes with basic tools and extensive instructions. This will make assembling a 3D printer less strenuous and it is similarly important to do it correctly by following the provided instructions. In addition, watching a video guide and troubleshooting may be necessary.
– Fully or 80% Assembled. Some printer assembling is so straightforward that it requires just a few screws to put it together. This could be a go-for option for beginners. It will take no more than 30 minutes before starting printing on such a machine after unboxing.
– DIY Kits. In the last decade, there appeared a few cheap, sub $100, DYI Kits on the market. Putting such printers together was a tough task. Today's experience to deal with a DIY Kit is much better. The wiring components come preassembled so there is no soldering necessary.
– PRO. What does PRO mean? Usually, it is a slightly expensive (plus $100-200) version with extra features or/and build volume.
– Quickly Outdating Versions. Similar to mobile phones, every year 3D printers get upgraded to the new versions, like v2, v3, etc. Such printers have minor improvements. As these improvements are often insignificant, "A New Product Launch" is done mostly for marketing purposes. To save money, it may be reasonable to buy an older but trusted or recommended version.
Can a Cheap 3D Printer be a Good Buy?
In the past, we would recommend staying off buying any machine cheaper than $500 unless the user has a good tech background. Today mostly all entry-level machines are in around the $300 price range. And guess what? They do the job. Such machines will print most of the objects available on STL file repositories.
Nice to Have Features in Budget 3D Printers
To keep the machines in a cheap price range, manufacturers may sacrifice some of the nice-to-have features. For the better user experience, the following should be considered.
– Flexible Removable Build Plate. Today, flexible 3D print build plates became much better. When printing of them, there are no issues with bed adhesion or print removal. Various sheet coating formulas see improvement each year. This feature is so addictive that it is hard to switch back.
– Heated Bed. Important for bed adhesion and material shrinkage-related issues.
– Automatic Bed Leveling. There is nothing wrong with manual calibration, and in some cases, after one calibration, it may be a time-saving option. But the whole 3D printing process may feel overwhelming enough for beginners, so why not make it easier?
– Community. Not related to the quality of a particular product BUT a very important point. Historically, the first versions of budget 3D printers, of any brand, in fact, were tweaked to perfection by the enthusiasts. And such groups and forums sometimes work as customer support and troubleshooting centers.
– Klipper Firmware NEW. Klipper is the main culprit behind the recent 'print speed race' by many consumer FDM printer manufacturers, by effectively reducing errors and improving print accuracy (Pressure Advance and Input Shaping) at high print speeds. Having Klipper firmware on budget 3D printers is a new normal.
Please mind that some of the features listed above may not necessarily come with the product. It may depend on the type of machine. As it can be a different build some of the functions are not practical or feasible to be implemented.
Price Range $300
All products in this price range are Cartesian FDM 3D printers. They have a similar frame and build structure with the well-optimized stability and volume, and are well-accepted by desktop 3D printer users.
Elegoo Neptune 4 Series
Elegoo Neptune 4 Pro
Price: $299-330
Product affiliate links: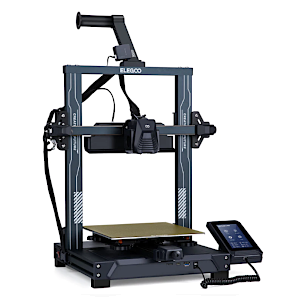 While their machines are available via the Official Website, they might appear on Amazon slightly later. Check out other machines from the Neptune series available on Amazon.
Elegoo is another established brand, better known for their affordable resin machines. In the past few years, they have also been introducing affordable FDM machines to the market. You can find all the Neptune series machines on their official website.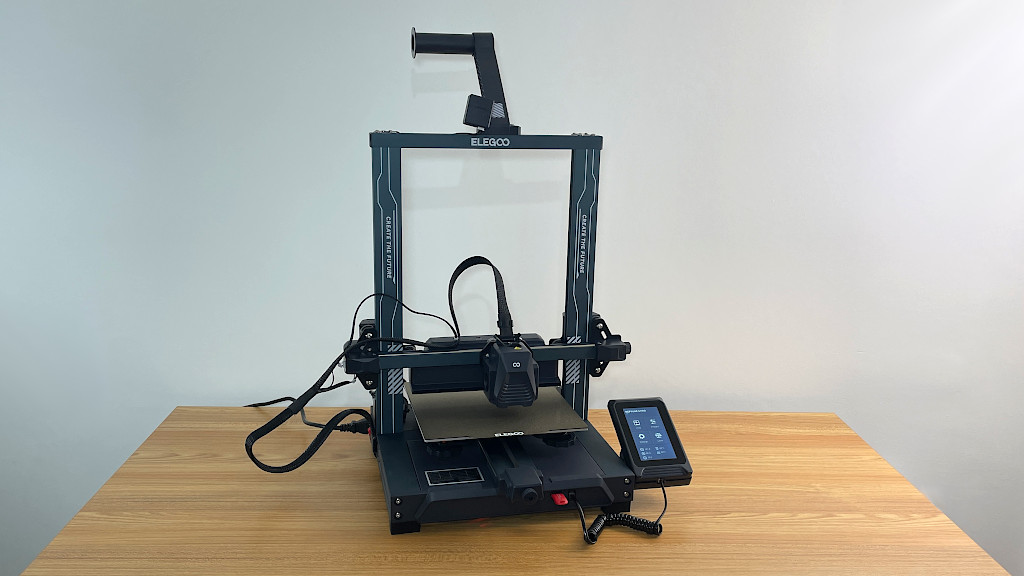 Elegoo Neptune 4 on Amazon and Neptune 4 Pro are the next 3D printers in the Neptune series. As the consumer desktop FDM 3D printer market goes through the 'print speed race', Elegoo offered its own alternatives. Klipper firmware-enabled technology, higher-temperature dual gear extruders, and extra cooling features pushed the Neptune 4 series 3D printers to come with the default high printing speeds.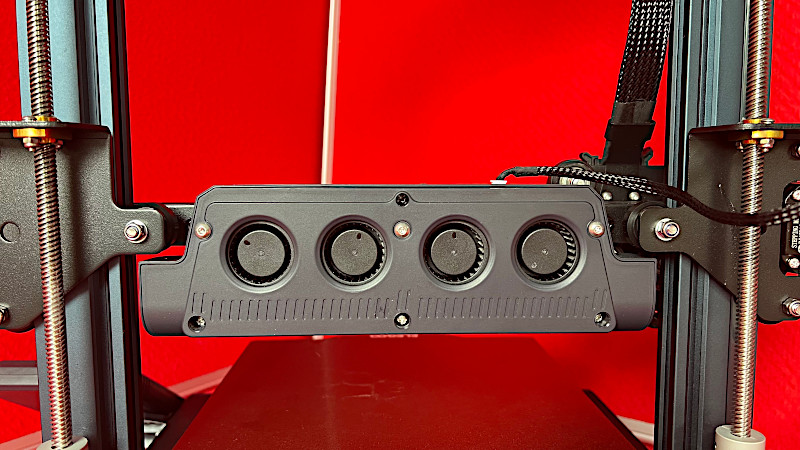 Elegoo also launched Neptune 4 Plus and Neptune 4 Max build volume-sized machines. Yet again, Elegoo managed to integrate all nice-to-have features, such as automatic bed leveling, flexible build plates, and feature-rich touch screens, into budget machines. Elegoo Neptune 4 Plus and Neptune 4 Max are ideal printers for testing exotic filaments with the bigger 0.6mm nozzle in order to print bigger and faster.
I was pleasantly surprised by the Elegoo Neptune 3 Plus performance. During my testing, I found out that a big volume on a budget 3D printer doesn't necessarily mean quality loss. Direct Drive extruder deals with TPU and Wood filament like a boss, and from now on, this is my go-for machine for large prints.
Read more:
Elegoo Neptune 4 Review by Richard Hirst.
Elegoo Neptune 4 Pro Review by Max Funkner.
Elegoo Neptune 3 Plus Review by Max Funkner.
AnkerMake M5C
Price: $369-399
Product Links: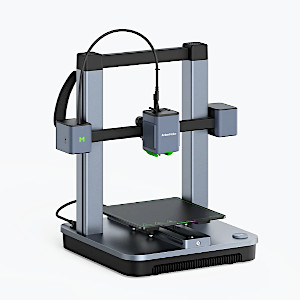 Official Website
– $30 Discount Code: ANKERMAKEM5C30
Amazon
AnkerMake introduced a budget-friendly AnkerMake M5C printer, which is a simplified version of the M5. Although the M5C lacks a screen or camera, it still possesses all the essential functions found in its predecessor.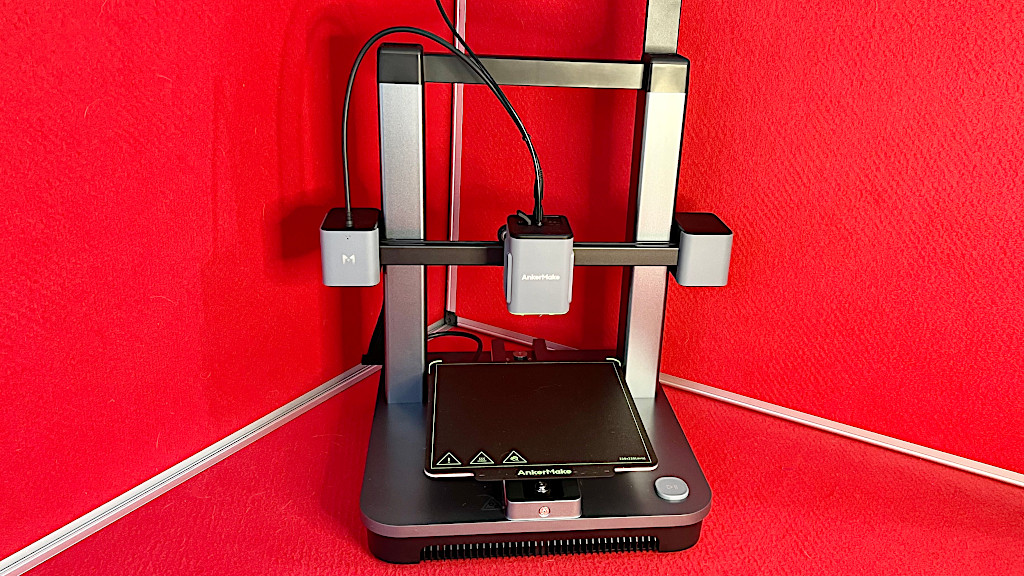 Upon testing the AnkerMake M5C, I was pleased to discover that despite its budget-friendly nature, it offered impressive performance. The printer delivered reliable and consistent results, proving that it can compete with models at higher price points. Its compact design also stood out since it would easily fit into any workspace. Richard Hirst
Read more:
AnkerMake M5C Review by Richard Hirst.
AnkerMake M5 Review by Max Funkner.
Sovol SV07 and Sovol SV07 Plus
Price: $289-379
Product Links:
As the consumer desktop FDM 3D printer market undergoes the 'print speed race,' Sovol was one of the first manufacturers to offer Klipper firmware-enabled technology on budget 3D printers.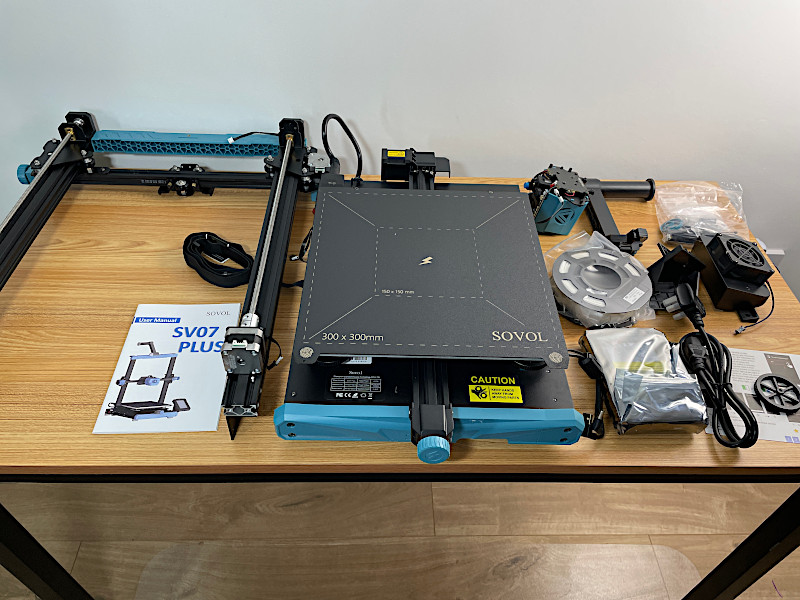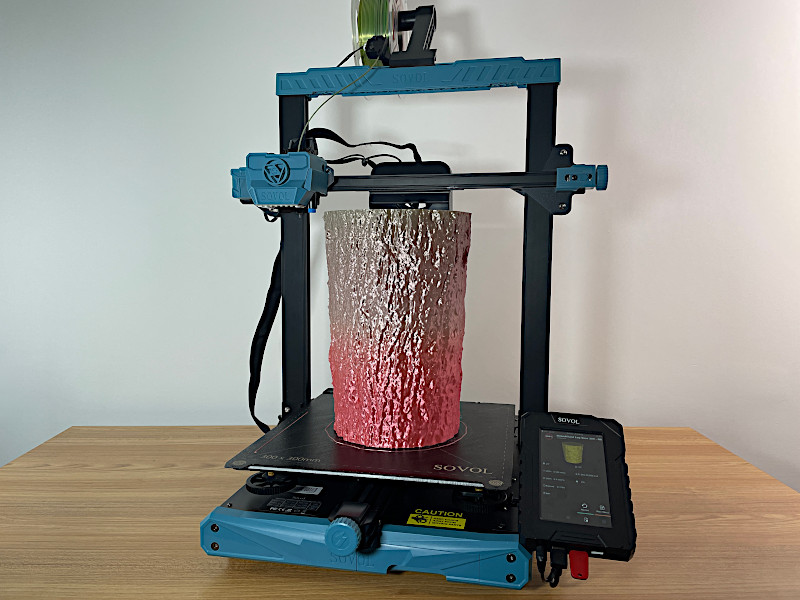 The feature-packed large build volume Sovol SV07 Plus was recently released. Klipper firmware enables fast speeds and stable quality, and together with the user-friendly interface, it contributes towards an overall positive experience, and it will be hard to go back. On top of that, the machine comes with a competitive price tag. Read full Sovol SV07 Plus review by Max Funkner
Anycubic Kobra 2 Series
Price: $279-549
Product Links: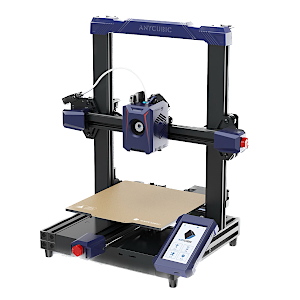 Amazon
AliExpress
Official Website
Anycubic introduced the Kobra 2 series FDM 3D Printers, from the beginner-friendly Kobra 2 Neo to the large-volume Kobra 2 Max for professionals. The company keeps upgrading its products almost constantly, with a Klipperized version available since the Kobra 2 Pro.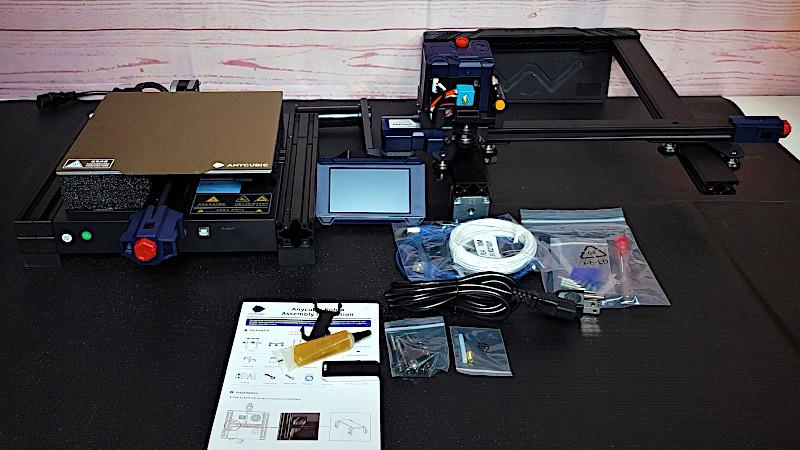 It only requires around 15 minutes to get everything set up. To assemble Kobra, only seven screws are required: four in the frame and three for the LCD screen. Install the ribbon cable plug into the printhead assembly after you've set up the printer.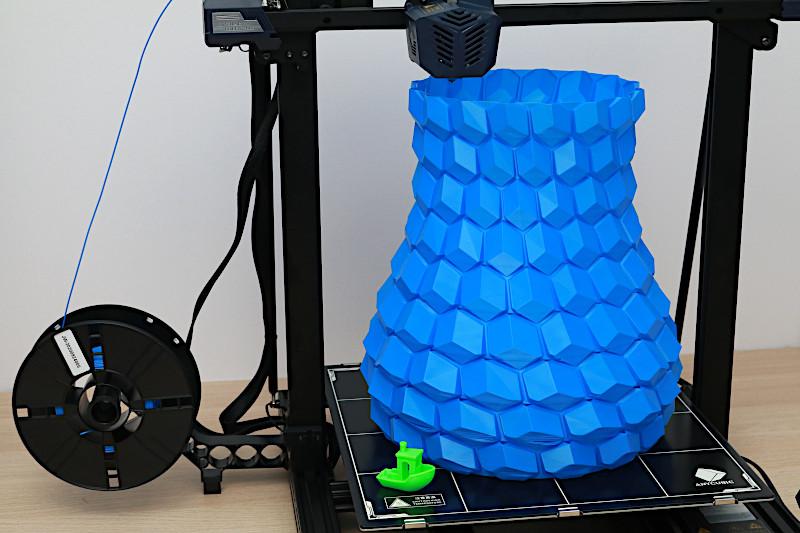 Read more:
Anycubic Kobra 2 Review by Domenico Lamberti.
Anycubic Kobra Go Review by Richard Hirst.
Anycubic Kobra Max Review by Andrew Sink.
Anycubic is a well-known brand in the resin desktop 3D printer market. Yearly they launch a few FDM machines from medium to max build volume size. Anycubic's community team is very active on social media and is engaging with influencers. There should be no lack of reviews of their products.
Creality Ender-3
Price: $189-399
Product Links: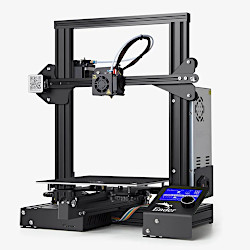 Amazon
AliExpress
Official Website
An open-source Creality's Ender-3 was one of the first cheap but relatively reliable 3D printers on the market. Many printers listed in this article, in fact, are Ender-3 clones. It is the most optimal build so far.
Basic Ender-3 comes with a competitive $189 price tag. But when the nice-to-have features we listed above are added, the total price may easily go up to $300 and more. On the Ender-3 series page you can find all possible variations and new upgraded versions of the product.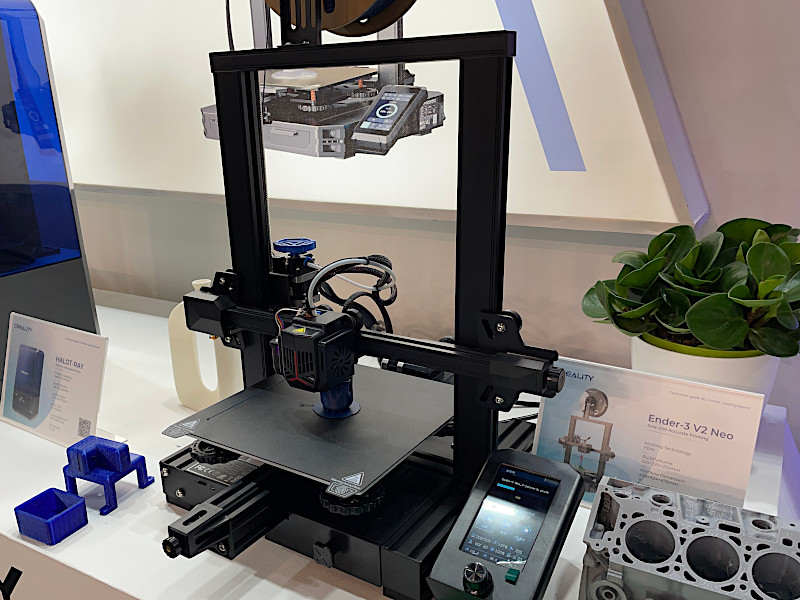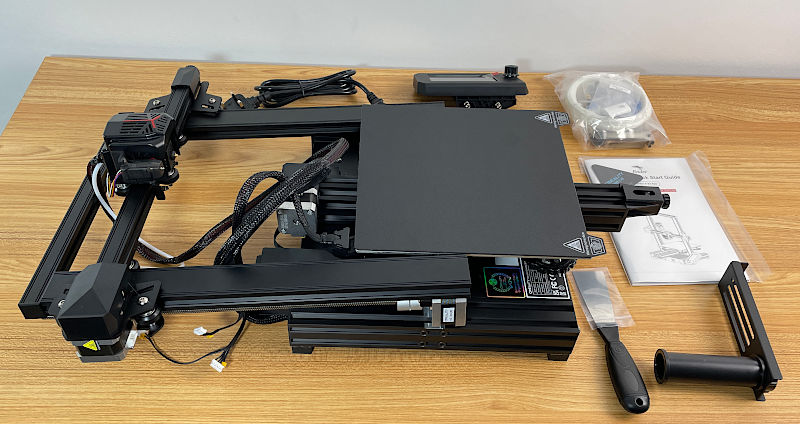 Creality Ender 3 V2 Neo 3D printer is a further upgrade to the classic most popular Ender 3 machine. It offers silent printing, 16-point automatic bed leveling, a flexible spring sheet, an integrated toolbox, and a build volume that is not small yet not too big. The printer itself is the right size to be easily moved around. All that, with minimal assembly, makes it a strong entry-level machine.
Read more:
Creality Ender 3 V2 Neo Review by Max Funkner.
Creality Ender 5 S1 Review by Max Funkner.
Other i3, Ender-3 Clones
Mingda Magician X, Flashforge Voxelab Aquila X2, Monoprice Joyle, SUNLU S8.
Price Range $600 +
Into this $600-1500 price category fall all other FDM 3D printers that are easily the best 3D printers available on the consumer market. Such machines are usually packed with the latest and often innovative features but are still not too expensive.
Creality K1
Price: $499-599
Product affiliate links: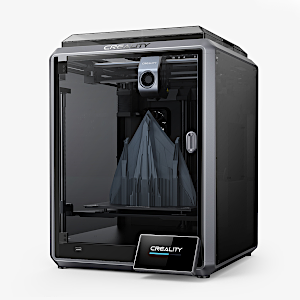 Amazon
AliExpress
Official Website
Creality Certified Store
One of the biggest manufacturers of desktop FDM 3D printers, Creality, has launched a new flagship printer, Creality K1. The K1 features a stable CoreXY build, a high-speed and high-temperature direct-drive extruder, and is optimized to print at high speeds of up to 600mm/s.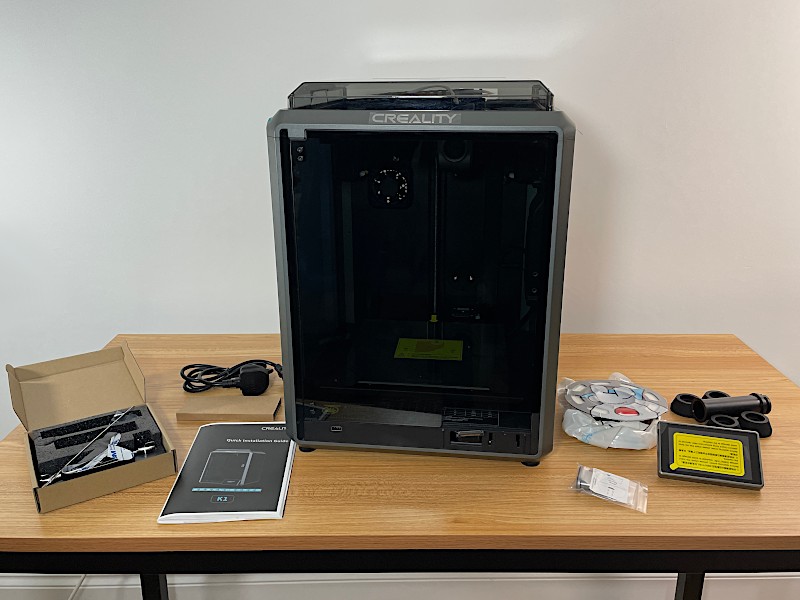 I am thoroughly impressed with the Creality K1 and believe that it serves as a compelling response to other machines on the market that offer similar features within the same price range. With its stable CoreXY build, powerful extruder, and enclosed chamber, along with other standard features, this machine stands out as a top choice for many users. The automatic bed leveling and Input Shaping calibration enhance the user experience, ensuring successful and high-quality prints right from the start, just a few minutes after opening the box.
Read more:
Creality K1 Review by Max Funkner.
AnkerMake M5
Price: $699-$799
Product Affiliate links: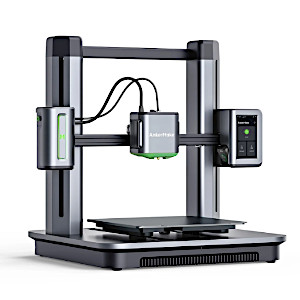 Official Website
-20% Discount Code: 3DWithUs
Amazon
After a record-breaking fundraising campaign, AnkerMake M5 3D printer developers delivered on their pledge. They are still working to deliver up-to-date software and add-ons for this remarkable product. The default high-speed capability and outstanding design are the main trump cards of this machine.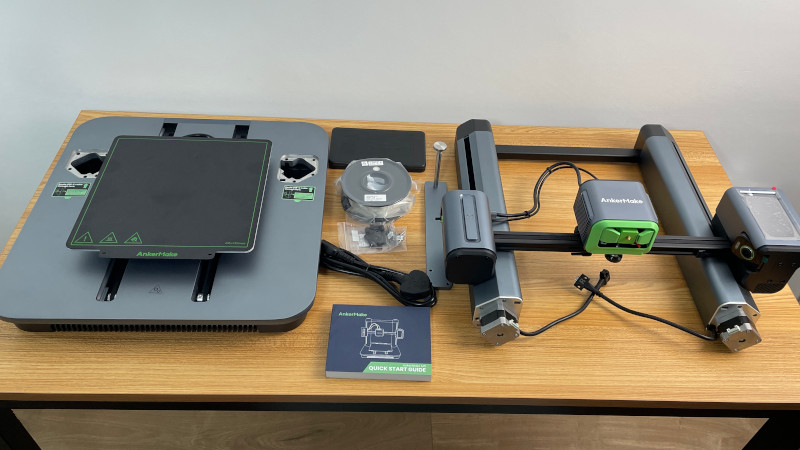 What struck me the most is that the majority of the models I tried to print didn't require slicer tuning. I trusted the existing settings of AnkerMake M5 profiles in various slicer software, and it produced great results with default high-speed settings. For me, it's important not to have a print running into the night time, no matter how quiet the machine is. Quick printing was definitely a good thing. Apart from the speed bonuses, AnkerMake M5 iconically looks very neat. It stands out. The embedded AI camera, well-functioning app, and slicer software made my experience exceptional. I can see this machine being used by both casual users who want to show off the machine and designers who want their prototypes fast.
Read more:
AnkerMake M5 Review by Max Funkner.
Bambu Lab X1 and P1P
Optional AMS – Automatic Material System
Price: $599-1,487
Product Links: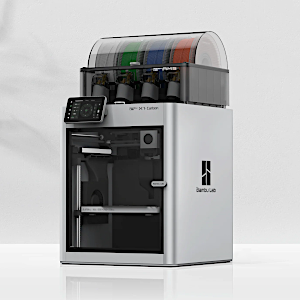 In recent years, Bambu Lab entered the market with their much more expensive Bambu Lab X1-Carbon 3D printer, which also came out with their own AMS – Automatic Material System. The closest to the margin of $600 is the P1P machine.
Prusa i3 MK4
Price: $799-1099
Product Links: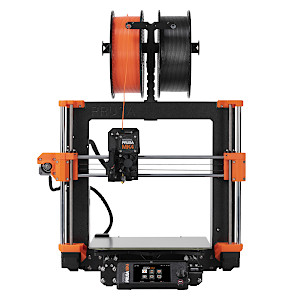 Many years' award-winning Original Prusa i3 MK3 has a next-generation MK4 machine. A very strong community on Printables, powerful slicer software, and other perks are automatically included with this machine.
Prusa Research became one of the most reputable brands in the desktop 3D printer market with its own slicer software PrusaSlicer, and constantly growing file repository Printables.
Read more:
MK3 Upgrades and Other Mods by Max Funkner.
Snapmaker 2 and Snapmaker Artisan
Price: $999-1799
Product Links: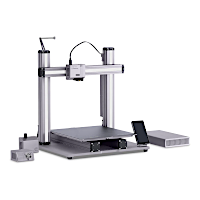 Amazon
Official Website
We must mention Snapmaker. Even though their machines are much higher than our initial $600 budget, their machines are worth considering. Not only do they offer 3-in-1 discipline options, but they also come with various optional modules, enclosures, and purifiers.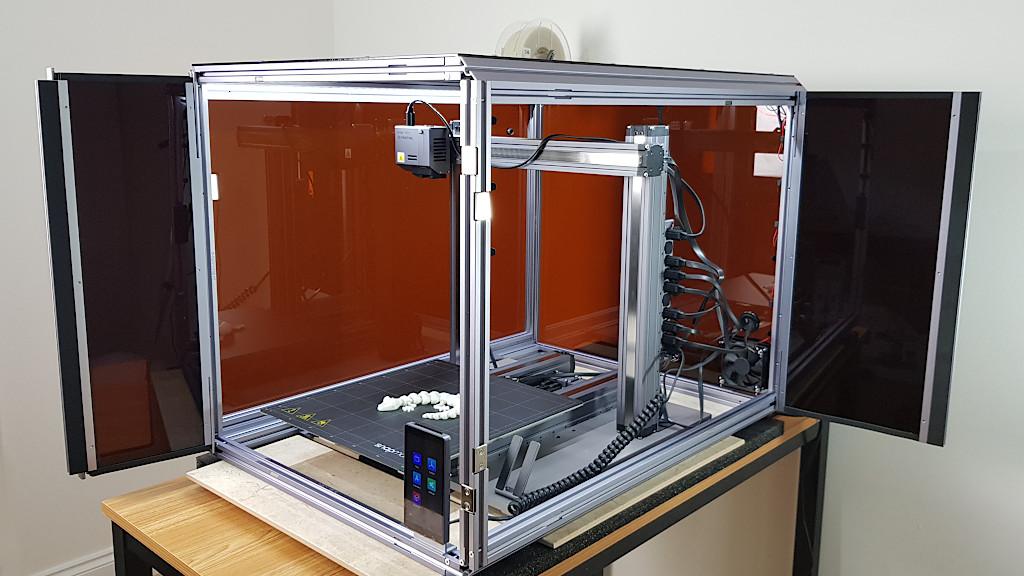 Snapmaker 2.0 A350T is for those who haven't decided which discipline to master into perfection and want to start their DIY journey with the blast. In my honest opinion, such a beast is slightly overkilling for every household but every school or public workshop should have it 100%. Separately, there are better and cheaper machines available for all three disciplines but not as 3-in-1. Nevertheless, I absolutely love where Snapmaker is heading with the continuous improvement of its products and software.
Snapmaker 2.0 A350T Review by Max Funkner.
The Best Examples of Other Builds
Here we will list the best examples of inexpensive 3D printers that have other than Ender-3 frame builds. Such machines may be built for the specific needs or with safety-comes-first in mind.
Fully Enclosed Flashforge Adventurer 3
Price: $369-529
Product Links: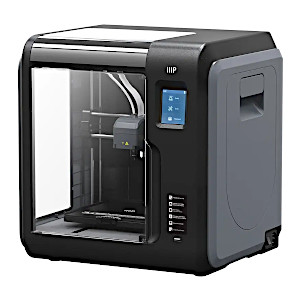 Even though this machine is nearly twice as expensive as any Ender-3-like machine, safety-wise, a fully assembled and fully enclosed option is one of the best options to go for in many cases. For a family with young kids, for example. A fully enclosed environment will also help to deal with bed adhesion and material shrinkage-related issues.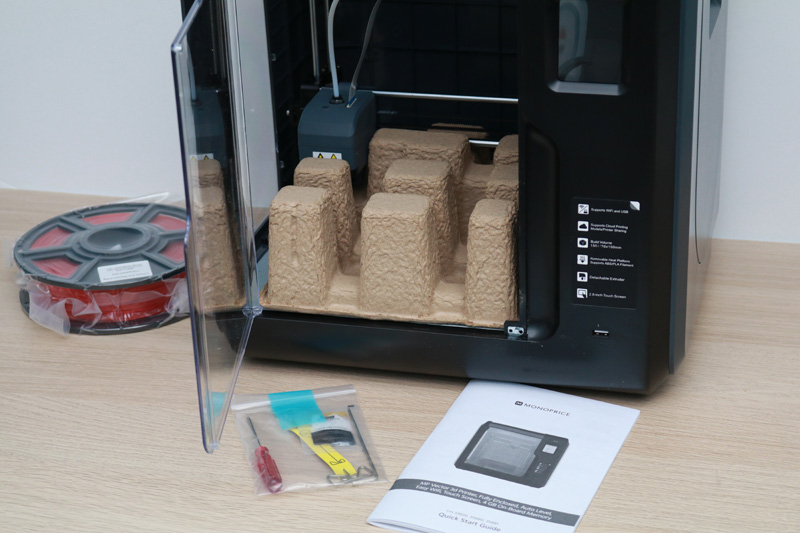 Flashforge Adventurer 3 and Monoprice Voxel are basically the same machines but carry different brand names. Because some inner parts in Voxel have Flashforge's labeling, we came to the conclusion that it is also produced by Flashforge. Please read a full review by Andrew Sink.
Stable Elegoo Neptune x
Price: $295-330
Product Links: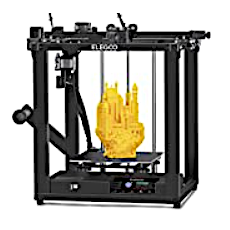 Amazon
Official Website
The Elegoo Neptune X is a 3D printer that stands out from the competition with a fixed platen that allows the entire platform to descend in the Z axis while remaining stationary in the X and Y axes. The overall appearance of the Neptune X is more industrial than the typical i3 clone (Creality Ender 3, Anycubic Kobra, etc.), and the weight of the assembled printer gives it a sturdier feel as well.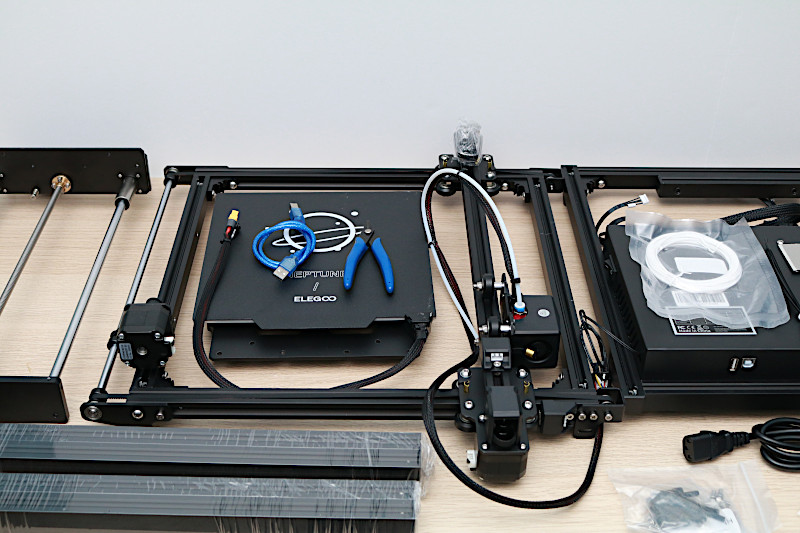 The stationary heated build platform and Bowden-style extruder are a powerful combination; allowing for fast travel moves without rocking the platform back and forth. If you're interested in a printer that doesn't follow the crowd, the Neptune X is a printer worth reviewing. Read a full review by Andrew Sink.
Prusa MINI
Price: $369-529
Product Links: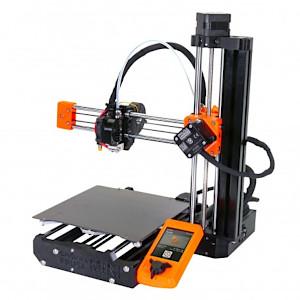 Official Website
Even though this product is at least twice as expensive as a typical budget 3D printer, we must mention it here. The multiple award winner Prusa Research is the only European company that keeps competing successfully with China-based manufacturers. Buying any of the original Prusa printers is like joining the club. Their community is loyal to the brand and keeps it in a strong position. Prusa Research has successfully launched Printables, an engaging, gamified file repository, which added to securing their place on the market.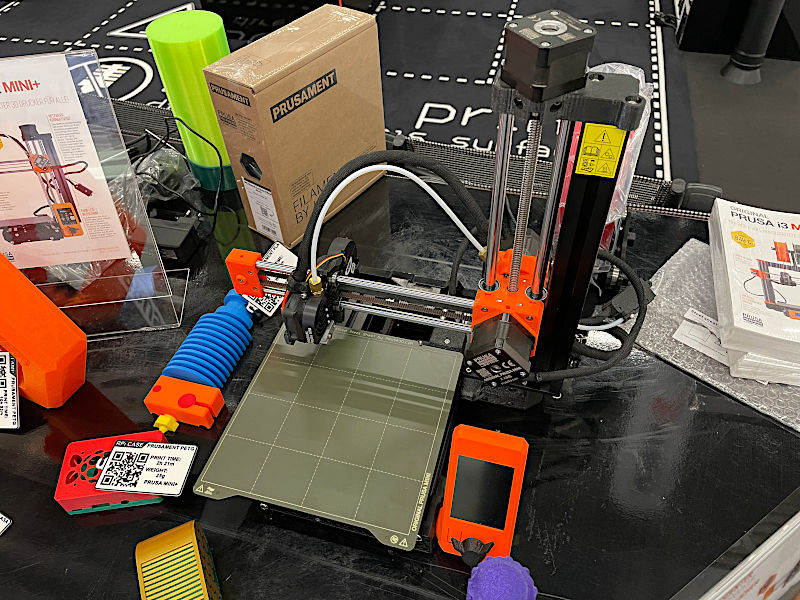 The Original Prusa MINI has all nice-to-have features, like heated bed, flexible build plate, etc., for carefree printing. Prusa Research developed PrusaSlicer software which is also highly respected in the community.
Bambu Lab A1
Optional AMS – Automatic Material System
Price: $299-509
Product Links: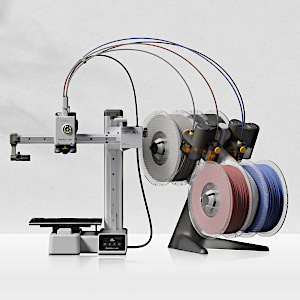 In recent years, Bambu Lab entered the market with their much more expensive Bambu Lab X1-Carbon 3D printer, which also came out with their own AMS – Automatic Material System. The Bambu Lab A1 is their newest budget version. This machine is bed slinger type machine.
Kingroon KP3S
Price: $169-179
Product Links: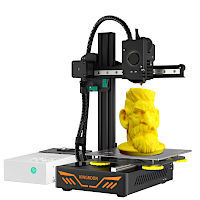 Amazon
AliExpress
Official Website
Kingroon KP3S is one of the smallest desktop 3D printers. Despite its small stature, it's a printer that is clearly designed to take performance seriously. Linear rails on the X and Y axes, a direct drive extruder, and a color touchscreen LCD are all features you wouldn't expect to find at sub-$200 price point. Unfortunately, the external power supply feels like an unfinished DIY project, and also takes up some of the desk space saved by the small frame of the KP3S. Read a full review by Andrew Sink.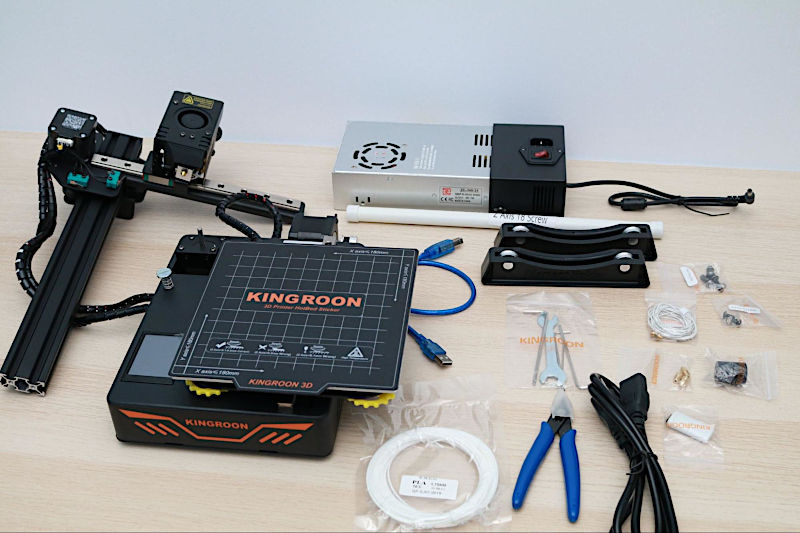 Kingroon KP3S is a partially assembled 3D printer, with the Z stage and cantilevered Y gantry fully assembled as one piece and the build platform on the moving X axis assembled as a second piece. The assembly for this printer is lightning-fast, with no electrical connections needed on the printer itself.
Monoprice Mini Delta V2
Price: $169-179
Product Links:
Price: $159-218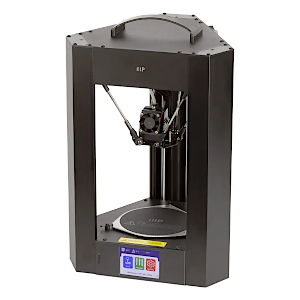 Amazon
Monoprice Mini Delta V2 is one of the smallest and least expensive 3D printers on the market today and it offers a variety of upgrades over the original Mini Delta from Monoprice. Mini Delta V2 ships fully assembled and requires minimal effort to get up and running, ideal for anyone interested in a stress-free printing experience. The small footprint of Mini Delta V2 also means small build volume, and the ø110mm will be a seriously limiting factor for anyone interested in printing larger parts. Read a full review by Andrew Sink.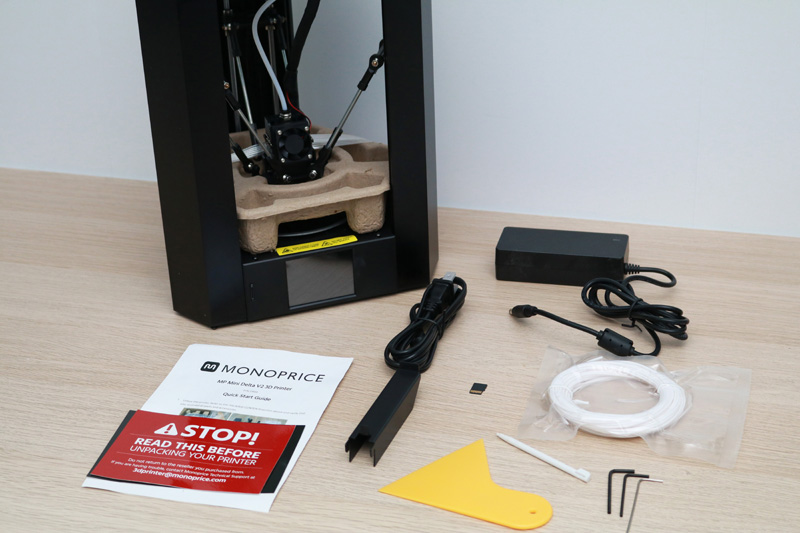 Monoprice Mini Delta V2 arrives fully assembled, with only unpacking required by the user. After powering the printer on, it will automatically self-calibrate, prompt for material loading, and print a quick 9-minute demo print to verify full functionality. Mini Delta V2 has a handle on the top of the printer, a playful addition which drives home the idea that this printer is intended for home, school, or workshop use and not intended for serious manufacturing.
Conclusion
If you're looking for an inexpensive 3D printer, we hope our buyer's guide gave you some ideas. Still, keep in mind that you may need to have some technical skills to get the most out of these printers. We've outlined the strengths and drawbacks for each option so that you can make an informed decision before purchasing. It is always advisable to read the full reviews to help you choose the right machine for your specific needs or circumstances. Have you decided which printer is right for you? Why? Please let us in the comments.
Read more: Best Resin 3D Printers
Here you will find the best resin 3D printers. This type of machines is widely used by professionals and hobbyists. Let's briefly look at the differences between SLA, DLP, and LCD processes, the latest innovations and see where such machines are used. As the technology evolves and more machines come out onto the market this guide is constantly edited.