There have been a lot of successful 3D design and 3D printer crowdfunding campaigns in recent years. Backers are keen to support projects that are add-ons to their beloved newly found hobby. These fundraising campaigns offer an opportunity to take part in the birth of new concepts for 3D printing machines, software, materials, and even accessories. In the table, you can find cherry-picked mostly Kickstarter 3D printer and 3D printing related startups that caught our eye. Also, we will pay attention to 3D design projects. Read more below the table…
Disclaimer: Crowdfunding campaigns - before taking part in any campaign as a backer, please read T&Cs. Rewards aren't guaranteed.
Campaign
Details
Features
Ends
UltraPrint

A budget-friendly 3D printer that offers both large-volume printing and top-notch high resolution.
Creator: Juice Lab
12k Resin
3D Printer

2023.12.02

Co Print
ChromaSet

Multi-Filament 3D Printing.
Creator: Co Print
Klipper Chroma Module

2023.12.02

3D Printed
Hive

State-of-the-art new 3D-printed hive will be created to help reverse the alarming global decline of honey bees.
Creator: The LACRIMA Foundation
Smart Home
for the Bees

2023.11.22

STARFIELD 3D

Print & Post-curing All-in-One SLA 3D Printer
Creator: INFINITE STARFIELD 3D
3D Printer

2023.11.22

Sign up for weekly notifications on new posts and table updates

THREE

The Incredibly Capable 3D Scanner.
Creator: Matter And Form Inc.
3D Scanner

2023.11.19

Davcarve L1

Multi-Module Laser Engraver&DIY Center
Creator: BEAVERLAB TECH
Quick Look
6 Module Laser, CNC, DIY Center

2023.11.19

Apex-maker X1

Industrial High-Speed 16" 8K LCD 3D Printer
Creator: APEX-MAKER
Resin
3D Printer

2023.10.21

The Haunted Castle

3D Printable STL Files, Terrain for Tabletop miniatures, Role Playing Games, RPG, Wargames
Creator: Austen
STL,

2023.10.21

Hex Hives

3D Printable Bee Hives for Everyone
Creator: Luke Springer
STL,
Prints

2023.10.12

FilaDryer S4

Large Space, Efficiency, Temperature Balance, Fast Heating, Up to 70°C, Universal Compatibility, Auto Humidity Control,
Creator: SUNLU
Read Review
Filament
Dryer

2023.10.15

FinderOne136

FinderOne136, The Fastest 13.6" LCD 3D Printer - 203mm/h
Creator: Coolsiga
Resin
3D Printer

2023.09.29

INSPIRE

A compact yet powerful user-friendly 3D scanner that's surprisingly affordable.
Creator: Revopoint
3D Scanner

2023.09.15

FitMe

Advanced 3D Body Scanner and AI Trainer
Creator: FitMe
3D Scanner

2023.08.31

Tiny
Laser Heist

An awkwardly cooperative heist game! Steal jewels with tiny hands. Backstab your opponents. Don't hit the lasers.
Creator: Josh Roberts
3D Game

2023.09.02

Calf

8K Photo & 6K Video Resolution l Up to 185° Field of View -l Dual Premium Wide-Angle Lenses I Live Streaming I 50fps at 6k I Calf App
Creator: Calf
3D Camera

2023.08.19

Infinity Trax

A Magical Marble Run You Can Make Yourself
Creator: Luke Clifford
STL

2023.08.10

Dragonslayer
Village

3D Printable STL Files, Terrain for Tabletop, Role Playing Games, Wargames and RPG
Creator: Robert
STL

2023.07.19

CeConstructor

The Next-Gen CAD Construction Tool for 3D Modeling
Creator: Cepha Systems
CAD Tool

2023.07.18

Ncure

Large Scale Curing up to 400mm|252 UV Lamp Beads | Fast Cured in 2 Minutes
Creator: Juice Lab
Curing
Machine

2023.08.05

ChefDoodler

Developed by the inventors of the 3Doodler 3D Pen, ChefDoodler lets you draw sugar creations in seconds.
Creator: WobbleWorks LLC
3D Pen

2023.07.01

MagFlexPlate

Flexible Stainless Steel Build Plate and Magnetic Base with 3M VHB™ For Anycubic, Elegoo, Phrozen, Prusa, Formlabs, Emake 3D Printers
Creator: The Moro
Build Plate

2023.07.05

PrintStation

Furniture system for 3D printing
Creator: PrintStation
Station

2023.07.01

Faraway
Exploration
Post

Machinery, vehicles and modular scenery to represent a faraway exploration post.
Creator: Crimson Studio
STL

2023.06.18

Thread Boards

Organize anything with our innovative threaded peg boards and massive catalog of accessories designed specifically for 3D printing.
Creator: 3D Printer Academy
Peg Boards

2023.06.08

DXC-A4G

Mini 3D Printer with Open Source Capability
Creator: DXC 3D
3D Printer

2023.06.10

Proforge 4

A Next-Gen High Speed Tool Changer 3D Printer
Creator: Makertech 3D
Toolchanger

2023.05.30

Elegoo
Phecda

Laser Engraver & Cutter
Creator: Elegoo
Laser

2023.05.24

Toilet Roll Holders

A 3D collection of toilet roll holders
Creator: Hera'stone
STL

2023.05.09

PaintPal
Studio

A 3D printable Desktop Hobby System
Creator: Corvus Games
STL

2023.05.04

The 3D Printing Adventure

A journey of endless possibilities!
Creator: Additive Canada
Book

2023.04.26

Cubiio X

Portable CNC Robot for Makers
Creator: Muherz
CNC Robot

2023.04.09

Powercore

Convert your 3D printer into an EDM machine with an open-source EDM power supply!
Creator: Rack Robotics
3D Printer to
EDM conversion

2023.04.01

Galaxy 1

400*200*400 Build Volume | Permanent Leveling | 100um Printing Accuracy | 20,000+ Hours Lifespan | Auto Resin Feeding | 7" Touchscreen
Creator: EMAKE3D
Resin
3D Printer

2023.03.29

3D Editor

Build the Metaverse of your dreams for Metaverse GT, Decentraland, Spatial, and many others in just a few clicks!
Creator: Antoine MALLET
3D Editor

2023.03.25

Revopoint RANGE

An Affordable and Accurate Big Object Infrared Structured Light 3D Scanner.
Creator: Revopoint
3D Scanner

2023.03.17

FW450L-V3

Robust Flight Control | Omni-GPS & 3D Mode | Smart Return | Auto Aerobatics | Modular Design | FBL Main Rotor | Carbon Fiber Frame
Creator: FLY WING
RC Helicopter

2023.02.27

Forest Chapel

Modular design chapel (.stl files) for wargames, role-playing games, dioramas.
Creator: Crimson Studio
STL

2023.02.25

Moonside Neon
Crystal Cube

World's first smart lamp with 3D dynamic stage lighting effects, modular system, smart home integrations, music reactive, and more.
Creator: Moonside
Smart lamp

2023.02.19

Fantasy Castle 2

3D Printable STL Files, Terrain for Tabletop, Role Playing Games, Wargames and RPG
Creator: FantasyDesigns
STL

2023.01.21

MagFlexPlate™

Flexible Stainless Steel Build Plate and Magnetic Base with 3M VHB™ For Anycubic, Elegoo, Phrozen, Prusa, Formlabs Resin Printers
Creator: Moreno Scarpa
Build Plate

2023.02.04

3D Printed Hydrofoils

Hydrofoils
Creator: Ian Avera
3D Print

2022.12.24

ASCAND

The Laser 3D Color Scanner combining the power of your Phone and the Cloud for precise, never outdated, and affordable 3D scanning.
Creator: Gerrit Kolb
3D Scanner

2022.12.15

Upgrade for MINI

Upgrade your hobby Prusa 3D printer to the ultimate professional level!
Creator: Strojtools
Upgrade

2022.12.17

Jobox

Automation Upgrade for Prusa MK3s+
Creator: URBANMAKER
Upgrade

2022.12.09

TinyMaker

Palm-Sized, Transparent Shells, View Everything Inside
Creator: TinyMaker
3D Printer

2022.11.19

Wooblock 2

First 3D Luminous Mechanical Mars/Moon Puzzle
Creator: MicroNovelty
3D Puzzle

2022.11.10

Matrix

The Ultimate Materials 3DPrinter Lets You Print Big
Creator: Cerambot
Clay
3D Printer

2022.11.10

Plasmics INo Trident

The world's first induction nozzle
Creator: Plasmics GmbH
Induction Nozzle

2022.10.23

Geeetech THUNDER

Geeetech THUNDER is aimed to offer a stable and smooth high-speed 3D printing experience
Creator: GEEETECH
3D Printer

2022.10.15

JASHNC

Modular 8k Large-format High-speed Resin 3D Printer with Ball Screw and Various Optional Modules
Creator: Jiajun Chen
MSLA 3D Printer

2022.09.29

Time of Flight

Capture the world in 3D, with your Raspberry Pi
Creator: Arducam
Camera

2022.09.30

3D Printable
Coins

Easy to print coins pre-supported for both FDM & SLA 3D printers
Creator: Unchained Games
STL

2022.09.31

TOPPOSH

Nebulizer Polisher for PLA & ABS 3D Printed Models
Creator: creativefirstcompany
3D Print Polisher

2022.08.18

X-MAKER

A Smart 3D Printer with Gamification 3D Design App
Creator: IME3D
Gamification Design App

2022.09.01

Odin Smart

6X Faster Print | Max 300 mm/s | HD Camera | Time-lapse Video | Ultra-Direct Extruder | Foldable | Self-Test | APP Control
Creator: FOKOOS
Smart HD Camera

2022.08.19

Oceanus

Automatic 3 in 1 resin post-processing system
Creator: EIBOS
Post-processing Station

2022.08.19

WEEDO ME40

A simplified user experience combined with industrial design, large format printing, and the ability to withstand high temperatures
Creator: WEEDO 3D
Large format, high temperature

2022.08.11

The 3D Tangram

Strengthen your imagination with a tangram reinvented into a magnetic 3D puzzle. Learn and connect to a whole new world of shapes.
Creator: Pickagram
3D Puzzle

2022.08.11

PrintABlok

Building block sets for your 3D printer to make spaceships, fighter jets, and other awesome creations!
Creator: Joe Larson
STL

2022.07.20

The Swapper3D

3D Printer add-on that eliminates the need for purge blocks during MultiColor 3D printing on the Prusa i3 w/ the MMU or Mosaic Palette.
Creator: Eric Wenger
add-on

2022.07.27

Legend

Interactive Augmented Reality Myth Book
Creator: Joseph Sandor
AR Book
Quick Look

2022.07.20

Revopoint MINI

3D Scanner with 0.02mm precision
Creator: Revopoint
3D Scanner

2022.07.16



Retro Futuristic Set

A set of retrofuturistic designs .stl files, plus stretch goals, for wargaming, boardgames, roleplay and/or diorama building.
Creator: Crimson Studio
STL

2022.07.03

Bambu Lab X1

CoreXY Color 3D Printer with Lidar and AI
Creator: Bambu Lab
3D Printer

2022.06.30

The 1st SMF Fundraising Auction

Sanjay Mortimer Foundation
Creator: E3D
Auction

2022.06.11

The Animated Shipwreck

A 3d printable monster for tabletop wargaming and roleplaying games
Creator: Pariah Miniatures
STL

2022.06.08

Ancrabourg

A modular medieval harbor
Creator: 3DLayeredScenery
STL

2022.05.24

SUNLU S9 PLUS

The Industry's First Clog Detection 3D Printer
Creator: SUNLU
3D Printer

2022.05.16

Treehouse

3D Printable STL Terrain for RPG, Tabletop and Wargames like Dnd. 28 mm scale.
Creator: James-Jason Beckers
STL

2022.05.11

AnkerMake

5X Faster Printing and AI Camera
Creator: AnkerMake
3D Printer

2022.05.21

Spool Tower 2

Recycle empty filament spools - Innovative Multi Level Modular Terrain System - Upcycle printer waste Sci-Fi & Fantasy wargaming STL.
Creator: Digital Taxidermy
STL

2022.05.01

Frixos

Brilliant daylight projection clock; time and weather, day & night! Minimalistic design.
Creator: ArtLogic
Projection clock

2022.05.02

AiFeet

100% Fit, Custom-made 3D Printed Insoles For You
Creator: LuxCreo Lab
Custom printed insoles

2022.04.28

Wizmaker

User-Friendly 3D Printer with Voice Control
Creator: Wizmaker
Voice Control

2022.04.29

DRUID:
Wappellious

A high-quality Figure, STL file, 3D printable Presupported Mini
Creator: Printomancer
STL

2022.04.14

VR Museum

The largest official exhibition of iconic Amano's artwork, including Final Fantasy and Vampire Hunter D, transformed into 3D VR models.
Creator: Yoshitaka Amano's VR Museum
VR Museum

2022.03.31

LUGO G3

The Most Efficient Dual Extruder 3D Printer
Creator: LUGOLABS
3D Printer

2022.04.27

FacTrans

FacTrans creates 3D data of black and transparent objects in full color
Creator: Arcana Mfg
3D Scanner

2022.03.19

Tinybelt

A mission to create the "Ender3 of conveyor belt 3D printers"
Creator: Powerbelt3D
Belt 3D printer

2022.03.30

CR-Scan Lizard

Creality CR-Scan Lizard Capturing Fine Details of View
Creator: Creality
3D Scanner

2022.03.12

Painting Grip

3D Printed - Magnetic Painting Grip for Miniatures
Creator: Olo Pawi
3D Print

2022.03.08

QooCam EGO

QooCam EGO, Snap, View, Edit & Share Your 3D Content Instantly
Creator: Kandao Team
3D Cam

2022.03.10

Big Green Ones

A fantasy football team of evil orcs
Creator: Cross Lances
STL

2022.01.31

Cetus2

Revolutionary On-the-Fly Switching for Multi-Color & Multi-Material 3D Printing
Creator: Cetus3D
3D Printer

2022.02.04

K|Lens One

The world´s first light field imaging lens for full-frame cameras which allows you to capture 3D data in photo and video mode.
Creator: K|Lens
Lens

2022.01.28

Rocket 1

World's Fastest & Most Accurate Resin 3D Printer
Creator: HITRY
Resin Printer
Quick Look

2022.01.22

3D Highways

3D printable stls of modern highways for tabletop gaming.
Creator: Ill Gotten Games
STL

2022.01.15

Two Trees TS3

Powerful 4th Axis Laser Engraver & Cutter
Creator: Two Trees
Laser Engraver

2022.01.16

Tribes X

The Tribes Special Edition Anycubic Photon Mono X 6K
Creator: Anycubic, MyMiniFactory
Anycubic Photon
Mono X 6K

2022.01.13

HUENIT

AI camera & modular robot arm. AI vision, 3D printer, laser engraving, and drawing modules.
Creator: Huenit
SCARA Robotic
Arm

2022.01.10

Revopoint
POP 2

Precise 3D Scanner with 0.1mm Accuracy
Creator: Revopoint
3D Scanner
Earlier
version review

2022.01.01

World of Dragons

Presupported STL Dragons, Wyverns, Drakes and more to print at home!
Creator: Print My Minis
STL

2021.12.30

True 3D Fonts

Textured letters to customize 3D printing and CNC machining.
Creator: GearGate
STL

2021.12.17

xTool M1

Mini but Powerful Hybrid Laser & Blade Cutter
Creator: Makeblock
Laser & Blade Cutter

2021.12.10

Injection
Molding Machine

Manual Injection Machine - Make plastic parts cheaper, easier, faster
Creator: Alejandro Esquivel
Injection Molding Machine
Quick Look


2021.11.17

Numenera

3D Printable Models for RPG and Table Top Games
Creator: Lair
STL

2021.11.17

Infinity3D

Deformable 3D Belt Printer
An intelligent 3D printer, you can quickly switch in 45-degree and 90-degree continuous printing.
Creator: Infinity3D
Belt 3D Printer
Quick Look

2021.11.11

Farm of Horrors

3D printable miniatures. A themed set of STL files to 3D print for your tabletop adventures.
Creator: Jamie Korte
STL

2021.11.04

Trains & Rails World

Trains & Rails World - Part I - 3D Printable Trains for Decoration, Board games and Chess set - STL files for 3D printing.
Creator: Csaba Szilagyi
STL

2021.10.26

Tidy Town

Carry all your gaming and painting gear then build your table from the boxes for 3D printed Tabletop Gaming includes thousands of STL's
Creator: Digital Taxidermy
STL

2021.10.10

Photon Ultra

Extreme Precision & Details. Groundbreaking Projector Tech by TI. Low maintenance. Whisper quiet. Affordable.
Creator: Anycubic
DLP 3D Printer

2021.10.11

ELEGOO Jupiter

The ELEGOO Jupiter lets printing large scale, high accuracy, and intricate parts really simple.
Creator: ELEGOO
12.8" 6K Mono MSLA 3D Printer

2021.10.11

Weistek L6

60mm/h printing speed, 1.25μm Z-axis, and eco-friendly Resin. A fast, simple, affordable, and clean 3D printing experience for everyone.
Creator: Weistek
2K LCD 3D Printer

2021.10.14

Dice Towers

THE GAME OF DESTINY. Dice towers to print and use across your RPGs, tabletop games, or wargames. Also valid as terrain.
Creator: Txarli Factory
Dice Towers, STL

2021.10.22

PITTA

8 Color 3D printing Module for FDM 3D printer
Creator: Stellamove, Inc.
Module

2021.10.01

DiamondBack Nozzles

Worry-Free 3D Printing - Never Change Out Another Nozzle
Creator: DiamondBack Nozzles
Nozzles

2021.09.18

Animals

Animals miniatures for role playing games, tabletop, wargames, and other RPG needs.
Creator: 3D IPStudios
STL

2021.09.17

Magician X FDM

Innovator of Auto-Leveling
Creator: Mingda
Intelligent Auto-leveling

2021.09.09

The Age of Napoleon

Buildings: The Age of Napoleon
Creator: 3D FORTRESS
STL

2021.09.03

3dB ULTRA

Anti-vibration noise reduction feet pads
Creator: Steelmans
3D Printer Feet Pads

2021.09.02

Chernobyl

3D Printable Stl files for tabletop wargaming based on the Chernobyl disaster, including buildings and vehicles terrain/scenery.
Creator: WOW Buildings
STL

2021.08.18

Ohmie

World's first lamp from orange peels.
Creator: Krill Design
Lamp

2021.08.05

Scented Filament

Flower and Fruit Scented Filament for Everyone
Creator: Eryone
Scented Filament

2021.08.01

SHIBO 5K

Glasses / Goggles
Creator: Wan Chai
3D-IMAX Glass

2021.07.31

3D Models for Everyone!

Large Collection of Models.
Creator: Donald Lane
STL

2021.07.16

Vacuum Filament Dryer

Smart Vacuum Filament Container
Creator: PrintDry
Filament Dryer

2021.07.27

Sneakers

3D-Printed Sneakers Inspired By Aerospace Technology
Creator: Me Next
Sneakers

2021.07.09

MyCello

The only 3D-printed electric cello in the world
Creator: MyCello
Cello

2021.07.02

Satori VL2800

Big Industrial Grade 3D Printer for Creatives
Creator: Satori
MSLA 3D Printer

2021.07.02

PROFORGE 3

The High Performance, Open-Source, Desktop 3D Printer with Dual Switching Hotend v2.
Creator: Makertech 3D
3D Printer

2021.06.18

GinoBot

The most adaptive robot for developing STEM skills
Creator: GinoBot
Robot Kit

2021.06.12

Jadelabo J1

Double the performance, productivity, and possibility with Independent Dual Extruders.
Creator: Jadelabo
IDEX 3D Printer

2021.06.02

Robby

Robotic arm with hydraulic drive - DIY kit made by 3D printing.
Creator: Roza
Robotic Arm

2021.05.19

Cerambot Eazao

Build Digital Ceramic And Use Your Home Microwave As A Kiln!
Creator: Cerambot
3D Printer

2021.05.06

Deep Earth

Vertical Tabletop RPG 3D Print Terrain
Creator: Real Game FX
STL Files

2021.05.03

Marvelous Mechanisms

Artfully Designed Mechanisms for 3D Printing Using a Unique Modular Building System
Creator: JBV Creative
STL Files

2021.04.29

Panoscan

Affordable Smart 3D Scanning System
Creator: Panoscan
3D Scanner

2021.04.27

FORMART 2

The Most Advanced Modern Desktop Vacuum Former
Creator: FORMART
Vacuum Former

2021.04.27

deqo

Customized Optical Illusion
Creator: Troels Fonsboel
3D Wall Art

2021.04.15

LitiHolo

The First Desktop 3D Hologram Printer
Creator: LitiHolo
Hologram Printer

2021.04.02

Basic Monsters

3D Printable Miniatures for Role Playing Games
Creator: Lau3DeLucas
STL

2021.03.26

Think3Dim

Leveling-free 3D Printer
Creator: Think3Dim
Auto-leveling
1+4 Sensor
Review

2021.03.16

TOYDIY2

3D printing, two-color 3D printing, laser engraving, CNC carving
Creator: EcubMaker
4-in-1

2021.03.20

Wargaming Scatter Terrain

3D Scanned scatter terrain, with plenty of colored texture references.
Creator: Yan Law
STL

2021.03.15

Evo

The Evolving CNC Milling Machine
Creator: Mekanika
CNC Mill

2021.03.04

CoastARs

When viewed through a phone, miniature worlds with animated 3D characters appear!
Creator: Tahnee Gehm
AR

2021.03.01

ScanMira

A Better Way to 3D Scan with Your iPhone/iPad Pro
Creator: Scanmira
3D Prints

2021.03.01

Atomstack Cambrian
3D Printer For The Most Elastic Rubber
Creator: Atomstack Technology
3D Printer

2021.02.19

Galaxy Marble Machines

Automatic Outer-Space Themed Marble Machines That You Can 3D Print Yourself
Creator: 3D Printer Academy
3D Prints

2021.02.11

Maptogram

3D Cities On Your Wall.
Creator: Emirhan Genc
3D Prints

2021.02.11

Revopoint POP
Precise 3D Scanner for 3D Printing
Creator: Revopoint 3D
3D Scanner
Review

2021.02.04

XChange V1.0
The Quick-Change Tool Head for Any 3D Printer
Creator: PrinterMods
Tool Head

2021.01.22

ZODIAC Nozzles
by Emir Hamzic
High-performance nozzles with military grade coatings
Nozzles

2021.01.14

Little Big Sumo
by Fish Creek 3D
Printable Sumo-Themed 3D Miniatures
STL

2021.01.07

A.I.M.S
A.I.M.S | Easily stop any print failure with A.I
Detect and Prevent Print Failures Using a Neural Network
Installs With Only One Wire.
A.I

2020.12.31

MICROMOLDER
An affordable automatic desktop injection molding machine for professional creators.
Injection Molding Machine

2020.12.27

Wet Palette
3D Printed Wet Palette & Incorporated Paint Station
3D Printed & STL
2020.12.30
Spool Holder
Advanced filament spool holders for smoother 3D printing.
Spool Holder
2020.12.23
Happy 3D Xmas Tree
Your unique Christmas tree, in 3D! Ready to land directly at your home.
Decoration
2020.12.19
3DPrintMill
An Infinite-Z volume 3D printer created by Naomi Wu, building on the work of Karl Brown and Bill Steele.
Belt 3D Printer
2020.12.18
Christmas Horrors
Christmas STL files for miniatures 3d print tabletop games
STL
2020.12.16
iFactory
4-in-1 Conveyor Belt Printer
Belt 3D Printer Kickstarter campaign.
Belt 3D Printer
2020.12.13
Steel Roller
Turn your 3D printer into a professional continuous production machine
Upgrade Kit
2020.12.09
Star A
Star A: The Most Cost-Effective Multifunctional 3D Printer
3D printer Kickstarter campaign.
Multifunctional
3D Printer
2020.12.03
WEEDO
WEEDO X40 Independent Dual Extruder 3D Printer
High quality dual extrusion printer for a fraction of the price!
Dual Extrusion
3D Printer
2020.11.28
SPACE MAZE
SCIFI SPACE MAZE
3D design project Kickstarter campaign.
STL
2020.11.24
ScanX 3D Scanner
I started this project because of my need for an affordable 3d scanner for my 3d printing and prototyping business.
3D scanner Kickstarter campaign.
Affordable
3D Scanner
2020.11.24
Kywoo Tycoon
Kywoo Tycoon: "DIY Pro" 3D Printer with Linear Rail X-Axis
3D printer Kickstarter campaign.
DIY Pro 3D Printer
2020.11.21
Rubanmaster
Rubanmaster is a 3-in-1 SLA 3D printer, laser engraver and cutter to make creation come to life.

SLA 3D Printer,
Laser
2020.11.12
Foldable S2
The 3D printer that you can fold, unfold and install in only one step

Foldable 3D Printer
2020.11.19
Robot Hand Kits
Print-at-home robot hand kits inspired by animatronic creature effects and puppetry.
STL
2020.11.15
Fire & Sails
Upgrade your fleet with these legendary ships. Download, print and play. 3D printable boardgame.
STL
2020.10.29
BIQU BX
World's Lightest Direct Extruder FDM 3D Printer
3D printer Kickstarter campaign.
3D Printer
2020.10.29
3D Design Courses
Learn 3D & Graphic Designs from Beginning to Advanced Levels. Zbrush, Maya 3d, 3d max, Cinema 4d, V-Ray Render, After effects, and Photoshop.
200 Hours
7 Programs
2020.10.31
CYCLOPES
Fast and effective filament dryer. Accelerating the evaporation of water molecules in filaments to provide an excellent 3D printing experience.

Filament Dryer
2020.10.24
JGMaker
JGMaker Artist-D Dual Extruder Independent 3D Printer.
Dual extruder Independent direct drive 3D printing featuring great performance and robust construction.
Dual Extruder
2020.10.17
Animal Skull Replicas
Miniature animal skull replicas, reproduced in high detail using 3D scanning, 3D printing, and traditional lost wax casting.
Jewelry
2020.10.15
3D Dungeon Rooms
Create your own versatile dungeon/cave/mine for 28/32 mm. The dungeon system for RPG games.
STL
2020.10.13
ZoomMaker
Affordable FHD SLA 3D High-Performing Printer.
3D printer Kickstarter campaign.
$99 3D Printer
2020.10.06
Isolation Protocol
3D printable wargaming terrain that doesn't require extra clips. 3D Print at home digital STL files.
STL
2020.10.01
Pocket-Tactics
A modular miniature tactics board game with traditional print-and-play and 3d-printing options.
STL
2020.09.19
Space Flagships
Space flagships of various races for the tabletop gaming for 3D printing.
STL
2020.09.14
Zombie Apocalypse
3D Printable Miniatures and Terrain for Role Playing Games, Tabletop, Wargames, other RPG needs.
STL
2020.09.09
Crazy Mushrooms
3D Print Miniatures
STL
2020.09.16
MakeTile
Easily create custom 3D printed tiles in Blender.
Plugin for Blender3D
2020.09.03
Stacker F1
The Essential Office Machine - 3D Printer
F-BOX, F-PAC, F-FLEX
2020.08.27
Stacker F1
The Essential Office Machine - 3D Printer
F-BOX, F-PAC, F-FLEX
2020.08.27
Tungzzle
The most affordable wear and high temperature resistant 3D-Printing nozzle.
Tungsten Nozzle
2020.08.31
PrintHero
Industrial Level 4K SLA 3D Printer.
More details: https://bit.ly/30oftAv
40cm Z-axis,
4K 13.3"
2020.08.22
Battles of Valerna
STL files for 3D printing, RPG, wargaming, collectibles.
More details: https://bit.ly/31bb4zW
STL
2020.08.20
FilaDryer
The Most Cost-effective 3D Filament Dryer Box.
More details: https://bit.ly/3eO0Wlu
Dryer Box
2020.08.17
LOTMAXX
SC-10 SHARK
Faster than fast, save up to 30% standard print time. Multifunctional 3D printer with affordability.
Multifunctional
3D Printer
2020.07.09
Kakkoo Mice
A travel mouse w/ 3D navigation and data storage.
XYZ-axis
tracking
2020.08.27
March to Hell
WW2 Armies in 28mm and 15mm scales for 3D printing.
More details: https://bit.ly/32j82vN
STL/OBJ
2020.08.09
Fangs
STL files for 3D Modular Scenarios by EdiTable Games.
More details: https://bit.ly/3iHcRop
STL/OBJ
2020.08.06
Maya Buildings
Traditional architecture of the great civilization of the past.
More details: https://bit.ly/2VBNQkI
STL/OBJ
2020.08.01
Armpal
World's First 3D Wooden Assembly Tabletop Game
Building Toy

2020.07.30
Fantastic Plants & Rocks
Small STL scatter terrain packs for 3D printing.
More details: https://bit.ly/2VEttDe
STL/OBJ
2020.07.26
Viking Buildings
The gorgeous traditional architecture of the Viking.
More details: https://bit.ly/2BgRU2k
STL/OBJ
2020.07.17
Home Interior
Cozy interior for your home. Models for 3D printing
More details: https://bit.ly/30T6kR5
STL/OBJ
2020.07.11
Wild West Buildings
The true brutal architecture of the Wild West.
More details: https://bit.ly/2B02E4S
STL/OBJ
2020.07.01
Slavic Buildings
Traditional Slavic Architecture.
More details: https://bit.ly/2UyiXgo
STL/OBJ
2020.07.03
Beast of Burden
3D Printable Prehistoric Dinosaurs.
More details: https://bit.ly/3cZlO8F
STL/OBJ
2020.06.20
Learning 3D Printing
A complete course on getting started with 3D printing.
More details: https://bit.ly/3c7vygg
Course
2020.06.22
Amazon Warriors
3D Printable Miniatures and Terrain for Role Playing Games.
More details: https://bit.ly/2zsFXpK
STL
2020.06.21
Bloodfields
Skirmish on your tabletop. Interactive Scenarios & Mobile App! Conquer the Bloodfields!
More details: https://bit.ly/3e6lAgW
STL, App,
Accessories

2020.06.16
Scenery and Terrain
Titan Wall, Outpost, Modular Buildings & Accessories.
More details: https://bit.ly/3fJNsJd
STL
2020.06.05
Underwater Drone
100% 3D printed and equipped with Arduino technology.
More details: https://bit.ly/3elIktg
3D Printable
2020.06.14
Creality CR-6 SE
CR-6 SE, a workhorse designed for who defines creativity, makes 3D printing ever easier before.
More details: https://bit.ly/2SGeCa8
Leveling-free
2020.06.05
3D Printing for Entrepreneurs
Learn how to design for 3D printing.
Application
2020.06.01
Arkenia's Heroes
3D printable Arkenia's Heroes and creatures for gamers.
More details: https://bit.ly/3bqozyH
STL
2020.05.31
Orion
3D Printer. Working straight out of the box and easy to use. Build volume: 220×220×2500mm.
More details: https://bit.ly/3f4gEtW
Compact and powerful desktop 3D Printer
2020.05.27
Smoothing Machine
Open Source Smoothing machine for 3D prints
More details: https://bit.ly/2K9oZ1p
Smoothing
Machine
2020.06.02
The Witch's Hovel
3D Print your own Witch's Hovel.
More details: https://bit.ly/3cW2WHH
STL/OBJ
2020.05.24
Chinese Buildings
Traditional Chinese architecture models for 3D printing.
More details: https://bit.ly/2WOEZvC
STL/OBJ
2020.05.20
Hexton Hills
A collection of interlocking hexes for tabletop gaming.
More details: https://bit.ly/3bB0JkQ
STL/OBJ
2020.05.14
Desk Castles
Print and build your own custom castles.
More details: https://bit.ly/3eIXXvR
STL/OBJ
2020.05.17
Dice Towers
Dice Towers! Fourteen 3D printable, high-res, STL files, support-free for easy printing!
More details: https://bit.ly/3e9diWk
STL/OBJ
2020.04.29
Totem Animals
LowPoly stackable totem animals. Files for 3D printing
More details: https://bit.ly/2UUkvSx
STL/OBJ
2020.05.03
Hill Giants
Three Hill Giant sculpts for 3d printing.
More details: https://bit.ly/2yFVB00
STL/OBJ
2020.04.28
3DFORT
Small, affordable 3D printer. The printer size: 210×210×230mm. Build volume: 90×90×90mm.
More details: https://bit.ly/2JvnTN3
$59
2020.04.25
XenoFiber
A 3D printing filament, powered by the low cost of recycled plastics.
More details: https://bit.ly/2XGhbfG
Recycled 3D Printing Filament
2020.04.20
3D-printable Animal Models
Highly realistic 3D animal models to be printed and painted by you!
More details: http://bit.ly/2x4hcP5
STL
2020.04.12
Air Powered Engines
Air-powered engines for fun and exploration. We offer several working engines with a complete set of 3D files.
More details: http://bit.ly/3cSz93M
STL & Printed Models
2020.04.11
Pixello
A body scanning machine that swiftly turns you into a full-color 3D model for 3D printing or avatar.
More details: http://bit.ly/2xOwojP
FBX, OBJ
2020.04.04
Cheap
PEEK
Lower Cost PEEK 3D Printing Filament
More details: http://bit.ly/2VIvnnh
PEEK
2020.04.02
District 0012
Sci-fi 3D Printable Models for Tabletop.
More details: http://bit.ly/2PxQXal
STL
2020.03.29
Creatures of Cromsfall
A range of 3D Printable miniatures and bigatures inspired by the works of H.P. Lovecraft.
More details: http://bit.ly/2Q8A5Hs
STL
2020.03.17
Skies of Sordane
High-Quality 3D printable airships and miniatures for high fantasy tabletop RPG.
More details: http://bit.ly/2SAMTGQ
STL
2020.03.12
Modular Build
3D Printable Church and Medieval build miniatures for tabletop games.
More details: http://bit.ly/3aPCNt6
STL
2020.03.14
PrintABlok
Mechs
Mech themed modular toy sets for your 3D printer.
More details: http://bit.ly/2Tkc8Po
STL
2020.03.11
Fantasy Miniatures Vol1
High-Quality Miniatures for 3d printing.
More details: http://bit.ly/2SWdTlx
STL
2020.02.27
Full-Color Custom Miniatures
Create Unique Tabletop Miniatures in Vivid Color with New Design Tools and Cutting-Edge 3D-Printing Technology.
More details: http://bit.ly/2NSB4KM
Full-Color Tabletop Miniatures
2020.02.14
PLA-Recycler
Filament extruder that will cost only 200-250$ . We will also make a shredder. And it's all Open source.
More details: http://bit.ly/2TJpBRn
Affordable PLA
Extruder & Shredder
2020.02.12
Ananas Stepper 3.0
An advanced motion control system to make machine tasks powerful and precise. Wide applications: 3D printers, 6+ axis robotic arm, etc.
More details: http://bit.ly/2tF7rpf
Servo Stepper for
Multi-Axis Control
2020.02.05
1775 Join or Die
Skirmish miniature game set featuring American Revolutionary War.
More details: http://bit.ly/38uRsc0
32mm
3D Miniatures

2020.01.26
SPACE 3D
The Most Affordable 10.1" SLA 3D Printer
More details: http://bit.ly/33UcjmE
Large-Size
High Resolution
2020.01.18
Human Anatomy Models
Perfect for Artists, Doctors, Nurses, or Teachers. Use for drawing, education, and appreciation of the human form!
More details: http://bit.ly/37lACN9
3D Printed in Full Color
2019.12.21
Digitalceram
Create complex models and artwork with your desktop Ceramic 3D printer.
More details: http://bit.ly/37aZN50
Fast, Accurate & Easy-to-use
2019.12.03
3Dsimo
The most versatile mobile workshop in the world.
More details: http://bit.ly/33MdZip
Universal
all-in-one
3D Pen Tool
2019.11.29
Starship IV Chimera
Complete 28mm scale 3D printable spaceship for tabletop play or display, , including full OpenLOCK-compatible modular interiors.
More details: http://bit.ly/34bTUTd
Modular 3D Printable Spaceship
2019.11.22
Rose Go
Aesthetic design and engineering performance along with user-friendly features.
More details: http://bit.ly/2J0FoFi
Elegant
Versatile
User-friendly
3D Printer
2019.11.14
AXIS 3D
The AXIS 3D Printer is one of the most affordable 3D Printers ever made.
More details: http://bit.ly/2lQGhYe
Affordable, lightweight 3D Printer.
2019.10.15
iBridger
Industrial FDM 3D Printer for Large-Scale Prints
More details: http://bit.ly/2kr5tEi
Large-Scale Prints
2019.10.15
Project PLA
Easy, simple, and cheap recycling service for 3D Printing waste.
More details: http://bit.ly/2lHWMWC
Recycling service for 3D Printing waste.
2019.09.27
Solidmaker
3 µm XY accuracy, 4.7x4.7x6″ printing area, SolidMaker is a SLA 3D printer has better printing results.
More details: http://bit.ly/2GCSU0D
Affordable Laser SLA 3D Printer
2019.08.27
Longer
Reliable LCD SLA 3D Printer with 2K LCD Screen to Help Your Design to Print into Reality
More details: http://bit.ly/33xFKM5
LCD SLA 3D Printer
2019.06.29
The Prism
A feature-packed and easy to use UV Resin 3D Printer for less than $300.
More details: http://bit.ly/2K7jfHC
UV Resin 3D Printer
2019.06.21
mEnder
A tiny metal frame 3D printer.
More details: http://bit.ly/2Ly553E
Tiny 3D Printer
2019.06.12
Apocaliptic theme terrain
STL files for 3d printing and tabletop games
More details: http://bit.ly/2HiX0dU
STL files for 3d printing and tabletop games
apocaliptic theme
2019.05.31
Paladin
SLA
3D Printer
High-resolution, auto-leveling, auto resin pump, and intuitive control.
More details: http://bit.ly/2FQy0Kg
Autorefill
Autolevel
Low Price
2019.01.25
Snapmaker 2
Snapmaker 2.0 is smarter, faster, larger, and more powerful than ever before. It is a new generation of 3-in-1 3D printers that comes with everything you need!
More details: http://bit.ly/2vJ8Bxv
3-in-1
3D Printer, Laser, CNC.
2019.06.06
A1
A1 is the next generation fused filament fabrication 3D printer. Designed to blend in at your home or work place and to meet the need of a fast, accurate and quiet 3D printer.
More details: http://bit.ly/2IIXJbf
Minimalistic
Design
Swappable
Extruder
2019.05.31
Ultimate Bed Glue!
The World's Best 3D Printer bed adhesive. Now you can print exotic filaments on any bed. Get away from PLA!
More details: http://bit.ly/2vQR2eW
Ultimate Bed Adhesive
2019.05.24
IVI 3D Printer
Easily achieve high-res 3D printing, laser engraving, CNC carving with IVI, the 10 microns' repeatability, closed-loop 3d printer.
More details: http://bit.ly/2DzVAdE
Closed-loop 3d printer
CNC
Laser
2019.05.16
Glooped
A paint that chemically bonds to most materials, smooths 3D prints, and It's even oven curable!
More details: http://bit.ly/2I6UFFN
Spray Paint
2019.04.26
NEFILATEK
A 100 % recycled 3D printing filament.
More details: http://bit.ly/2E3ooMc
100 % recycled filament
2019.04.22
MOREbot
A 3D-printed robot ecosystem that grows with you.
More details: http://bit.ly/2G0cBhD
Modular
Robot
Ecosystem
2019.04.21
Robotic Arm
The modular All-In-1 desktop robotic arm. 0.05mm high precision. Turn your desktop into a workshop. Easily do laser engraving, 3D printing.
More details: http://bit.ly/2I9bNe1
7-in-1
Modules
2019.03.09
CERAMBOT
The Most Affordable Ceramic 3D Printer!
More details: http://bit.ly/2LmQx4f
Fast, accurate and easy to use,
2019.01.19
The Lost Dragons
Creating a set of unique, highly-detailed 3D models of fantasy dragons for home 3D printing. Tabletop Gaming.
More details: http://bit.ly/2YeIjiQ
Highly-detailed 3D models for home 3D printing.

2018.10.18
da Vinci Color mini
Compact and intuitive, turn your everyday ideas into full-color reality.
More details: http://bit.ly/2VZD5Kg
Full Color 3D Printer
2018.10.15
Low Poly
Dinosaur Models
Designed to print without supports and print with low or no infill.
More details: http://bit.ly/2DLhr1y
Low Poly
Models
2018.07.21
3D Gloop
The Best 3D Printing Adhesive.
More details: http://bit.ly/2KlbYVq
Glue

2018.07.01
Mooz
Industrial Grade Transformable Metallic 3D Printer.
More details: http://bit.ly/2VXPQ89
CNC, Laser, 3D Printing
2017.11.15
Snapmaker
Turn your desktop into a workshop. You can easily do 3D printing, laser engraving and CNC carving.
More details: http://bit.ly/2vKcFxp
3-in-1
2017.04.28
Dobot M1
Pro Robotic Arm for Makers and Businesses.
More details: http://bit.ly/2JC6Bz9
Professional SCARA based robotic arm
2017.01.12
ONO aka OLO
The $99 Smartphone 3D Printer.
More details: http://bit.ly/2VsBSMh
Smartphone 3D Printer
2016.04.20
Tiko
The Unibody 3D Printer. Delta.
More details: http://bit.ly/2H6iQ41
The Unibody 3D Printer
2015.04.30
Form 1
An affordable, high-resolution SLA 3D printer for professional creators.
More details: http://bit.ly/2DUmeOM
SLA
Resin
2012.09.26
Please post your comment below or contact us if we've missed any 3D printing-related crowdfunding campaign. We will update our table accordingly.
Successful Crowdfunding Campaigns for 3D Design Projects
We are pleased to witness the success stories of 3D design projects on fundraising platforms. It shouldn't be surprising as Kickstarter and Indiegogo's original purpose was to accommodate all sorts of creators. Recent hefty collections ($ millions) by 3D printer manufacturers dwarfed 3D design projects, and we are now happy to see such projects like Starship IV Chimera by 2nd Dynasty and The Lost Dragons by Danny Herrero getting well funded. Moreover, other platforms like MyMiniFactory keep endorsing them. As 3D design for 3D printing campaigns is a bit harder to find we remind you to contact us if you have such project going, so we could add it to our table for extra publicity.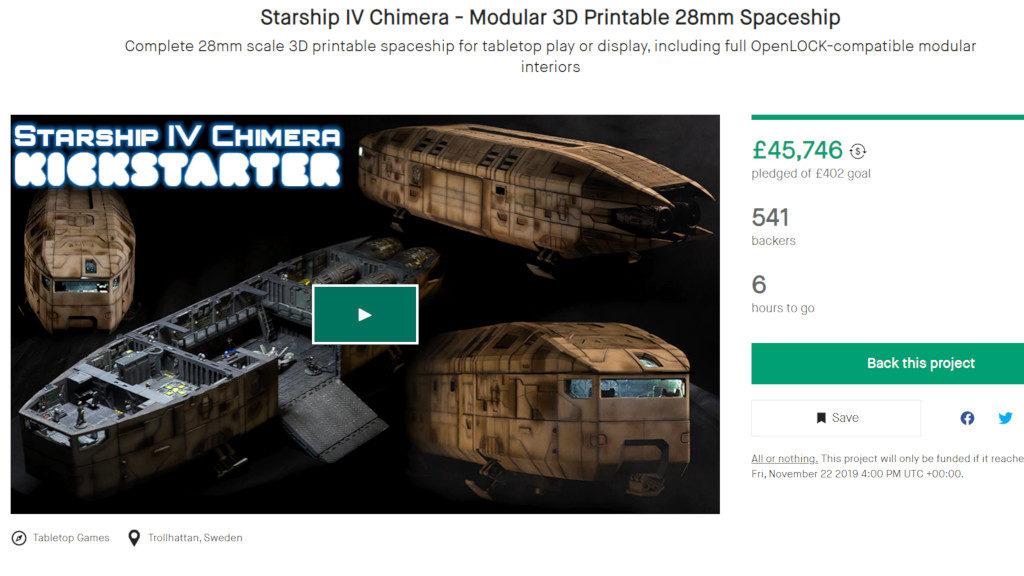 Crowdfunding Campaigns in 3D Printing
There are a few platforms that help crowdfunding to run smoothly. Casual internet surfers may have already heard about Kickstarter and Indiegogo. Those are well promoted and popular websites where most of the campaigns are hosted. These particular platforms helped to start many 3D printing related projects in the past: from a bed adhesive glue to an all-in-one robotic arm.
Kickstarter 3D Printer and 3D Printing Related Crowdfunding Campaigns
You may have heard about such brands like Form 1, Tiko, Snapmaker, ONO – not all ended up well, but their campaigns were backed with the record amounts of cash. As the time between being funded and mass production may be long, we are still waiting to see some of them reaching their backers.
Tips & Tricks
– Campaigners sometimes use several fundraising platforms to accumulate money for their projects. It may be successful on one and not on the other.
– Before taking part in any campaign as a backer, make sure to read Ts&Cs as not always the "all-or-nothing" rule works if the campaign fails to achieve the goal. "All-or-nothing" is a Kickstarter's rule when no backer gets charged unless funds reach the goal.
– Backers receive a unique experience as being the first to witness creative work or a new product in development from the very beginning. There are also some extra bonuses and rewards for early birds.
There are two other fundraising platforms that are similar to the mentioned above but that are not quite the same – GoFundMe and Patreon. Both of these platforms are for personal use. There, backers support individuals, and not projects or products.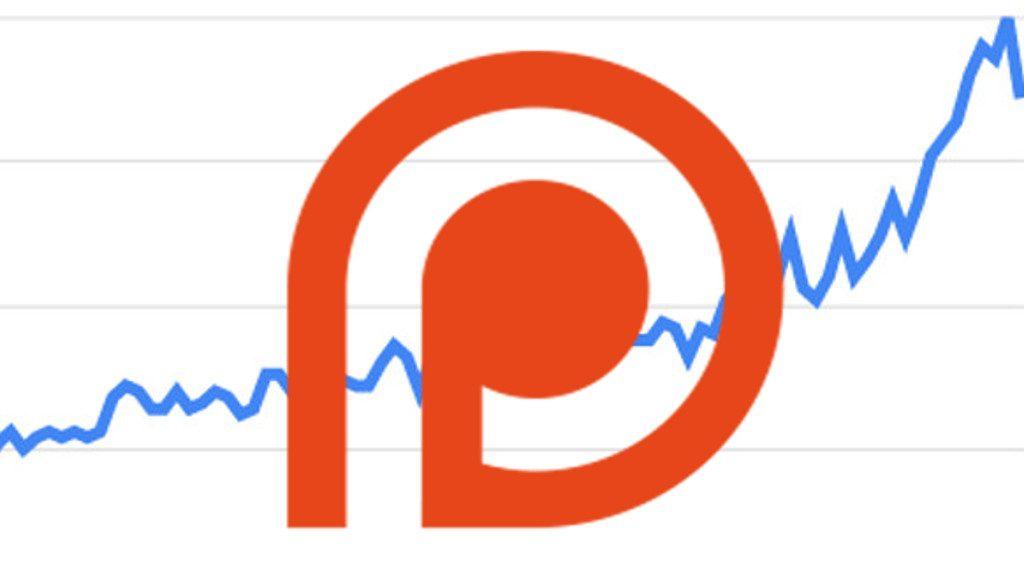 The following article is aimed at being a tool and guidance for everyone who is involved in 3D printing. For businesses and supporters, we offer a list of Patreon members. For designers, makers or any other 3D printing content creators, we provide information about Patreon.
Source & Links: