When we bought our first printer we didn't realize that there is a number of essential 3D printing tools to come with it. There are tools for the printing process and also for safety. Day by day we kept filling our toolbox with more essentials and now we have a neat workshop in a spare bedroom. It is important to know what's needed in order not to overspend money. We have put together a list to give an idea of what's required and to help find the right items.
Disclaimer: The links are affiliate links – at no additional cost for you we will receive a commission if a purchase happens.
Top 10 Essential 3D Printing Tools
Pre-Made Tool Sets
First of all, we do recommend to explore and search for tool sets. You may need to add more tools in due course. These kits became available just recently and may variate in price greatly. Remember, that bulk price for the set doesn't always mean it is cheaper than buying particular items separately, some items may never be used and the quality of other items may deteriorate.
3D Printer Tool Kit
Amazon
3D Print Tool Kit
AliExpress
Print Removal Tool – Spatula
Helps to remove newly printed objects from the build plate. A blade easily slides underneath the prints. New spatulas are thin, strong, and durable. Especially good for gently removing the large 3D prints. In some tough cases, all 3 spatulas can be used at once.
3D Print Removal Spatulas
Amazon
3D Printer Spatula
AliExpress
Nozzle Cleaning Kit
Part of 3D printer maintenance routine. The extruder nozzle cleaner is an essential item for any 3D printer owner. Every extruder nozzle must be cleaned regularly as part of maintenance.
Nozzle Cleaning Kit
Amazon
Steel Cleaning Needle
AliExpress
Knife Clean-Up Kit
Multi-blade knife set to clean prints. Easily removes supports, raft and other excess material from your 3D printed objects.
Steel Collet Knife Set
Amazon
Blades Knife Set
AliExpress
Tweezers
Helps to remove oozing filament from a hot nozzle and to remove support. Great for removing 3D printed support material or cleaning up 3D Printer hot ends. Fine ends let you easily get to hard-to-reach places.
Tweezers Set
Amazon
Stainless Steel Tweezers
AliExpress
Glue Stick
An adhesive is required to keep an object in place during printing. It can be glue or hair spray. Stick glue is recommended for use on a build plate, heated or not heated. Prevents warping. A strong type of glue stick works better.
Glue Stick
Amazon
Washable Glue Stick
AliExpress
Pliers
Must have tools. Preferably a set for all kind of tasks: to cut, clean, adjust, etc. These are used to cut the filament and to remove support. Different size of plier ends helps to get hard-to-reach parts.
Pliers
Amazon
DIY Plier Set
AliExpress
Spanners and Wrenches for Nozzle Change
A spanner is used when changing the nozzle. Yet again, as you planning to change the nozzle it's more likely you will need replacement. There are all kinds of sets available (spanners+nozzles) for affordable prices.
Spanners
Amazon
5 in 1 Wrench
AliExpress
Nozzles
Instead of trying to clean the nozzle, in most cases, it is better just to replace it. There are a few types of 3D printer nozzles that can be bought in bulk. Before buying, make sure that the nozzles are compatible with your 3D printer. For example, MK8 nozzles are compatible with the following 3D Printers: Creality CR10, Ender 3 v2, Ender 5 PRO, Makerbot, Ultimaker 2, Anet ET, Tevo Tornado, Anycubic i3 Mega …
Nozzles (MK8)
Amazon
Nozzle Sets (E3D V5 V6)
AliExpress
Desiccant Dehumidifiers – Silica Gel Packets
It is very important to store filament correctly. Extra moisture ruins the quality of 3D printing material. Desiccant should be always added to airtight containers where the filament is stored. Excess moisture changes the quality of filament.
Silica Gel 20g Packs
Amazon
Silica Gel 10g Packs
AliExpress
Masking Tape, Sticker Sheets
For those printers, which do not have a glass bed or smooth printing surface or bed got damaged masking tape or stickers are essential. Wide range of all kinds of stickers sheets specially for 3D printing.
Sticker Sheets
Amazon
Heat bed Sheets Sticker
AliExpress
Flexible Magnetic Sheets for 3D Print Beds
To have a magnetic flexible 3D print bed is a new normal for many desktop FDM 3D printers. Once you try it, it's hard to go back to the caption tape, stickers, or even a glass bed. As technology advances, we see a wide range of functional and convenient magnetic 3D print surfaces on the market.
235x235mm Flexible Magnetic Bed
Amazon
Spring Steel Sheets – All Sizes
AliExpress
Alcohol Wipes
Helps to clean glass and other types of print beds. Even though such wipes may not be as green as alcohol in the bottles due to the foil paper packaging, for a casual 3D printer user, such wipes are justified in terms of alcohol volume (one wipe is just enough to clean the whole surface) and safety (no risk of spillage or from the fumes).
Antiseptic Wipes
Amazon
Alcohol Wipes
AliExpress
Hex aka Allen Key Set
An important tool for the maintenance of 3D printers. It is needed when changing the extruder, adjusting the belts, fixing the heated build plate, etc. We found that a hex key with a handle is especially comfortable to work with when dealing with a DIY 3D printer kit like Original Prusa i3 MK2. In such cases, it is not recommended to use electric screwdrivers as there is the risk of damaging the fragile 3D printed parts.
Hex aka Allen Key Set
Amazon
Universal Key Hexagon
AliExpress
The list is sorted by: Essential, Safety and Optional 3D printing tools. As we went along and got deeper into 3D printing there were more and more items that became part of the whole process. We will be adding tools for decorating the prints, photo equipment, scanning stations, acetone vapouring products, etc.
Disclaimer: The links are affiliate links – at no additional cost for you we will receive a commission if a purchase happens.

Safety Tools
Goggles
This is a necessary protection during nozzle cleaning. Blocked nozzle may accumulate pressure inside which can cause a burst of molten filament.
Anti-Fog Safety Goggle
Amazon
Multi-purpose Safety Goggles
AliExpress
Goggles for Laser Engraving/Cutting
For laser engraving and cutting, we need the special laser safety goggles. Laser engraving/cutting is a real hazard for the eyes, and some manufacturers, Snapmaker for example, provide such safety googles together with the laser modules. There is a big range of such goggles available on the market with different levels of protection, which are defined by the type of a job at hand, from hair removal procedures to CO2 laser cutting.
Violet/Blue/Red Laser Safety Goggles
Amazon
Laser Safety Goggles
AliExpress
Smoke Detector
Make sure there is a smoke detector within proximity of your 3D printer. There are both a complex electical device and high temperatures involved in the process.
Smoke Detector
Amazon
LED Digital Gas Smoke Alarm
AliExpress
Fire Extinguisher
Fire Extinguisher ABC class.
Fire Extinguisher
Amazon
Dust Mask
Can be used when sanding and spray painting for example.
Dust Mask
Amazon
Face Mask
AliExpress
Disposable Gloves
Disposable gloves are good for any sort of messy work including postprocessing and spray-painting 3D prints. Wearing gloves is a must when handling resin 3D printers, like Elegoo Mars, for example. Gloves and goggles are worn as protection from a possible accidental contact with the resin.
Single Use Gloves
Amazon
Safety Disposable Gloves
AliExpress
---
Disclaimer: The links are affiliate links – at no additional cost for you we will receive a commission if a purchase happens.
Optional 3D Printing Tools
Cutting Matt
A wide range of self-healing protective mats is available. Sometimes support removing can be hard, that's when these mats come to rescue.
Cutting Matt
Amazon
DIY Craft Cutting Mat
AliExpress
Heat Gun
Helps to clean your prints from strings caused by oozing. Especially with a thin focusing nozzle – helps to make curves to thin objects – for example, spiders' legs.
Heat Gun
Amazon
Hot Air Gun
AliExpress
Soldering Iron
Easily embeds metal items into your plastic print, for example, bolts.
Soldering Iron
Amazon
Soldering Iron Kit
AliExpress
Sandpaper
Sandpaper helps to smooth out your prints. Please note that it may discolor and leave dark marks on your object. If a print is decorated further, sandpaper is one of your essential tools.
Sanding Sheets
Amazon
Sandpaper
AliExpress
Electronic Digital Caliper
Good for measuring filaments and objects. High precision measuring device. Offers extreme accuracy. The numbers displayed on the LCD screen are clear, large, and easy to read. Can be used to measure length, depth, external and internal scope.
Electronic Digital Caliper
Amazon
Digital Display Stainless Steel Caliper
AliExpress
Phone or Camera Holder
For amazing time-lapse videos.
Bed Gooseneck Mount
Amazon
Phone or Camera Holder
AliExpress
Photo Studio
Mini photo studio for the best pictures.
Photo Studio
Amazon
LED Light Box
AliExpress
3D Pen
Good for filling in the holes in your prints or for other decorating purposes. Check our 3D pen torture test with transparent PLA and different use examples of this tool.
3D Pen
Amazon
3D Printing Pen
AliExpress
Deburring Tool
This tool smooths sharp or rough edges after a brim or support is removed. It is less dangerous to use this tool compared to a knife. It is also less messy than sand paper.
Deburring Tool
Amazon
Handle Burr
AliExpress
Cordless Rotary Tool
This tool is very useful in 3D print post-processing. Heads with many different shapes allow to clean an object without leaving marks.
Cordless Rotary Tool
on Amazon
Drilling Rotary Tool
on AliExpress
Filament Dryers
Such devices may significantly improve the filament quality and 3D print quality by keeping the filament safe and dehumidifying it in the process. Check the guide for filament dryers.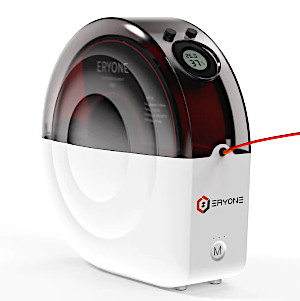 Amazon
Eryone M2 Filament Dryer
AliExpress
Replacing the nozzle on your 3D printer is one of the quickest ways you can make a major impact to your printed parts without making expensive hardware or extensive software changes …