Do you want to start 3D designing but lack ideas? A free Design Shuffler tool is here to help. Let's check it out, discuss the metrics and take a look at the completed 3D prints that came out of ideas generated by a design shuffler.
Design Idea Generator
Design Shuffler – 3D model idea generator was initially created by Amber and Jayson from PrintThatThing team to help Blender users with ideas. Of course, the ideas, generated by Shuffler, can be used to create designs in any other software.
To get the most out of this tool, be sure to read the guide, check out the print examples, and explore other possible uses. Successful and popular 3D printable models have been created as a result of using this idea generator, making it an essential tool for any 3D print designer looking to push the boundaries of their creativity.
This Guide Covers
Shuffler Explanation – How to Use
According to Amber, there are 3 trillion combinations of suggestions for the design. In some cases, to understand the suggestion's meaning, Google may come to help. Like in the case with "Bavarian" some may need to google to understand the meaning.
Please mind that it is possible to shuffle (RANDOMIZE) the whole board at once or each field separately.
– Time. It is not vital to stick to the timing unless you want to test your skill level. Good for such events as 30-day challenges, for example, when the participants design a new model every day.
– Inspired. This is a very broad metric, which may refer to a region, animal, event, etc. Just choose any element of the Inspired suggestion. For example, if Inspired displays "a bird", the design may feature the wings and feathers.
– Main field. This is the suggestion for the item itself. These could be both functional and decorative items.
– Using. The tool/function/modifier that has to be used. This, however, doesn't mean that this has to be the only tool used for designing.
The designs shuffler idea brainstorming continues, and there may be upgrades and improvements made in due course.
Idea Generator 3D Printed Examples
Post-it Note Holder
To test the Shuffler idea, I challenged myself to try it out, and here is what came out. I have to note, my Blender skills got rusty as I spent the whole year blogging rather than mastering the software. So Time metrics didn't work for me, as I was very slow in refreshing my skills.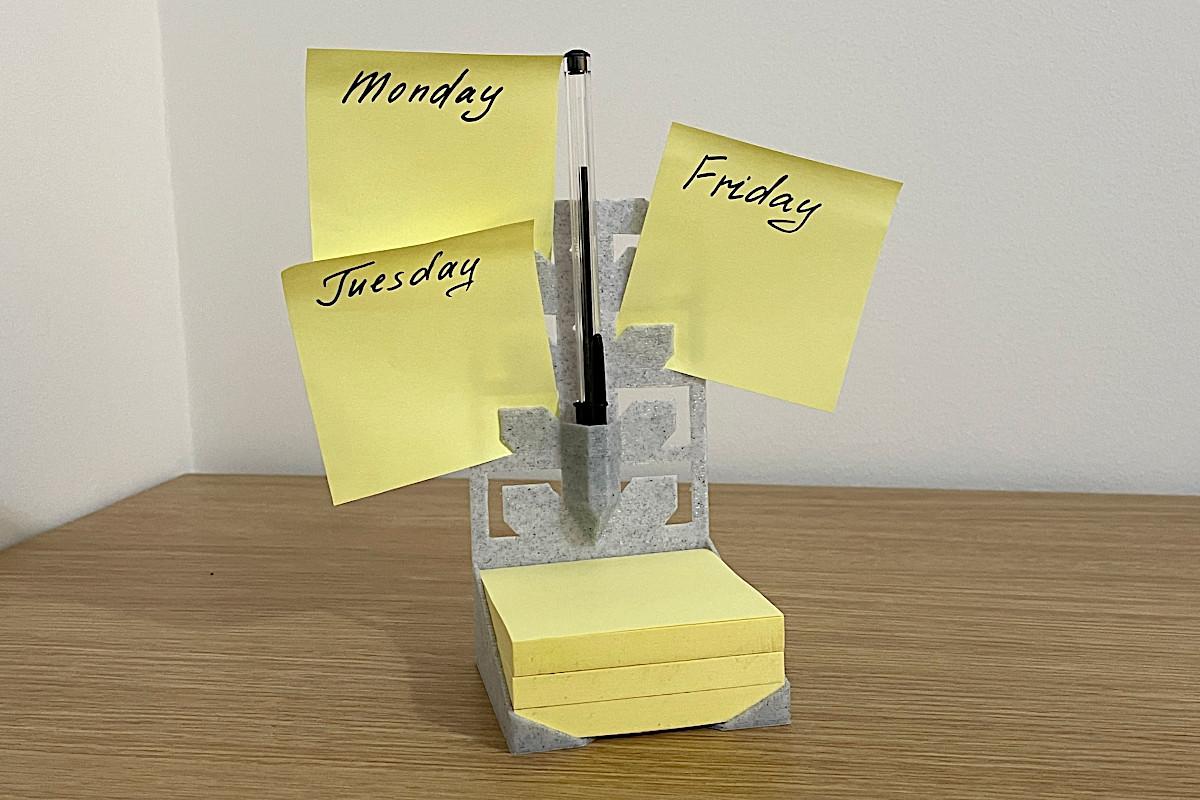 From the beginning, I played with RANDOMIZE button until I got to the Post-it Note Holder. All sorts of pots and holders are easy to design so I went for an easier option. Locked.
Then I played with the "USING" option and stopped on the "Knife" tool. I remember it was a cool tool that allowed me to quickly create vertexes and edges. Locked.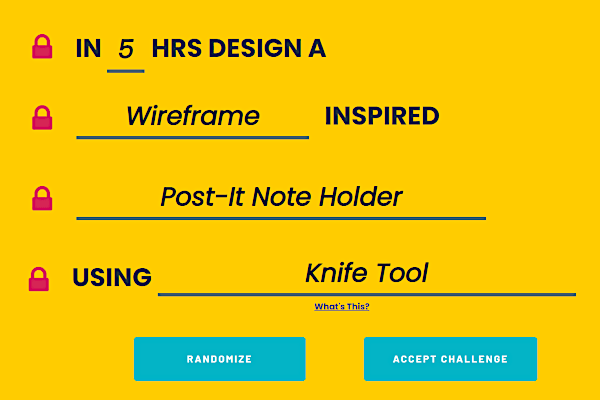 Next was INSPIRED. Wireframe option locked. I admit I slightly regretted that I picked such an inspiration. The thing is, in Blender, it is super easy to turn any model into a wireframe (Wireframe modifier). But such models are tricky and messy to 3D print. Also, there may be nowhere left to use the Knife tool after the modifier. So instead of playing with the Wireframe modifier, I cut out the shapes with the Knife tool to turn the model into a wireframe.
In the end, of course, it took me much longer to complete my model, than the locked (and unlocked) 5 hours. As I plan to share the file for free on the file repositories, I tried my best to make it flawless, and this takes time.
Stylus Gnome Holder
When introducing the Design Shuffler to the followers, Jason and Amber showcased many sample models. 3D sculpted Amber's gnome was particularly outstanding, and even got featured on Cults3D and generated some sales.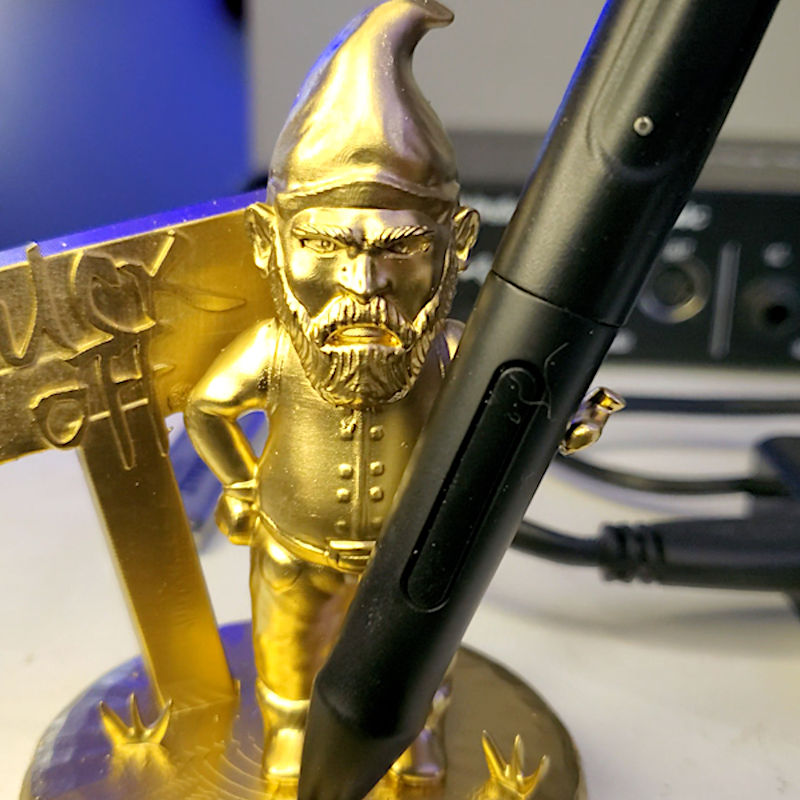 Spiral Desk Toy
Spiral Desk Toy is a creation by Natalie Cheesmond @3DPrintBunny, inspired by the combination of physics and office. The toy is designed to be fitted onto the edge of your desk and can be spun using the handle. This model won the 1st prize in the Design Shuffler competition held by PTT a few years ago and garnered a lot of attention on social media. The files for this toy are available on Thangs.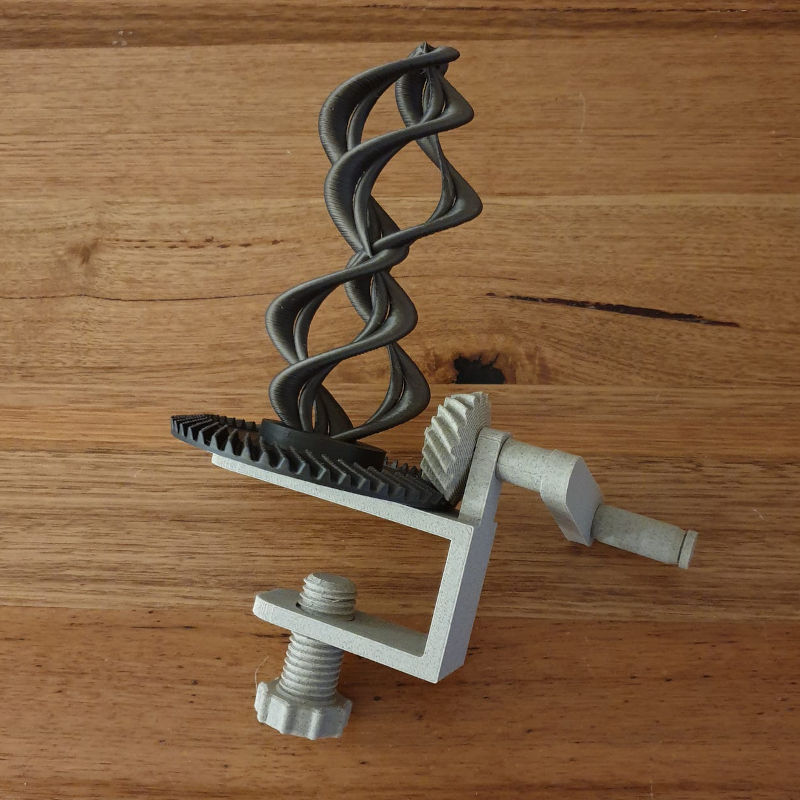 There are more entries on Instagram and Twitter under the #DesignShuffler hashtag.
Idea Generator Uses
Here are a few ideas on how to use a 3D print idea generator. Some of these ideas have already been tested with positive outcomes.
Develop Daily Routine
On 3DWithUs we wrote about 30-day challenges and the research done on the behavior routine. And it appeared that a new behavior to become automatic varies from 18 days to 254 days. Shuffler is a useful, helping tool for such a task.
In this case, designing daily, open-mindedly, creatively, day by day, results in turning the process into a routine. And once the routine is established, be it writing, drawing, designing, or anything else, perfection will come with experience.
3D Model Prompt Generator for AI Tools
Amber wrote a comprehensive guide on How to Use AI Art Generator for 3D Print Design. One of the key takeaways from her guide is the importance of entering correct prompts when using such tools. A Design Shuffler can be a helpful tool to generate unique prompts and inspire creative exploration.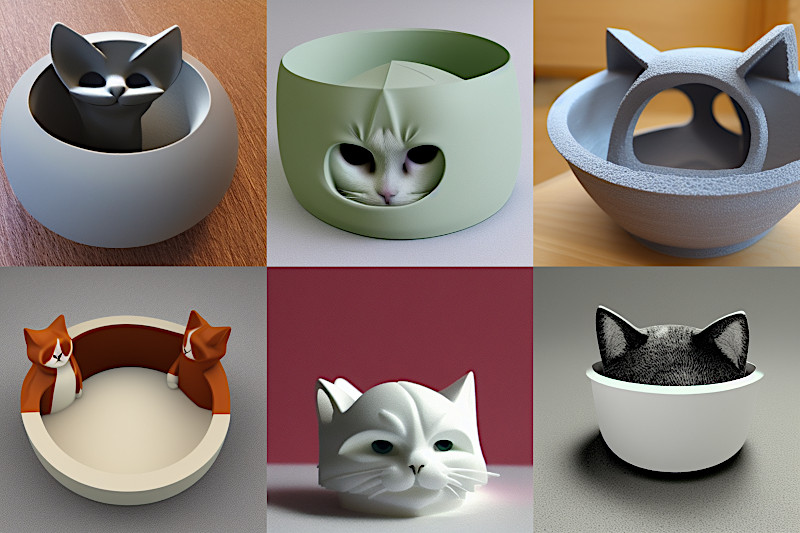 3D Print Design Competitions
When I first saw Design Shuffler, I immediately recognized its potential for use in a variety of settings, including competitions and tournaments. In fact, Jayson organized a 3D print design competition that utilized the tool, bringing together sponsors and judges to create an exciting and innovative event.

Design Shuffler is a versatile tool that can be used by organizations and individuals of any size for their events. Contact us to receive assistance with extra promotion, including a listing in our popular table and the possibility of a banner in the widget area.
Conclusion
As we can see, a 3D model idea generator already has many uses. With the rise of sophisticated AI, text-to-image tools are available in abundance, but text-to-3D model generators, precisely text-to-3D printable model generators, are not.
I hope Design Shuffler and this guide will give you ideas that will result in a viral 3D printable object. If Design Shuffler has already helped you out, do not hesitate to share your experience and the link to the object in the comments below.
Sounds interesting, but don't have 3D print design skills? No problem! Check out the Blender 3D Print Design 7-Day Free Trial on Udemy.