It happened that I got hold of a filament dryer and a dry box. The expectation that such inexpensive devices may significantly improve the filament quality and 3D print quality made me thrilled. Is it a MUST-have device for my 3D printers or not? Keep reading and we will find out. Also, as usual, we will keep adding more such devices for comparison and have the newest solutions featured.
This Guide Covers
Why are Filament Dryers Needed?
Until now I held all my filament in the sealed plastic bags with a piece of a desiccant dehumidifier and generally was happy about it. Of course, in a few years' time, filament quality in some of the spools became degraded due to general mishandling. Plastic bags either didn't get sealed properly, were micro-pierced by a sharp filament end, or the silica gel just stopped working and I had no idea about it.
In extreme cases, during extrusion, my filament made a popping noise and some visible evaporation happened. This is the source of uneven surfaces on the prints. When the water is heated, it boils and evaporates leaving micro craters on the extruded filament and printed surfaces.
The opportunity to reverse the process and get the quality of the material back is very welcoming. This is where filament dryers may come to the rescue.
Moisture Absorption – Hygroscopicity
In our previous article How to Revert Filament Moisture Absorption, Curry Lin explained in detail how it works. He even featured the chart showcasing how some filaments are more hygroscopic than others.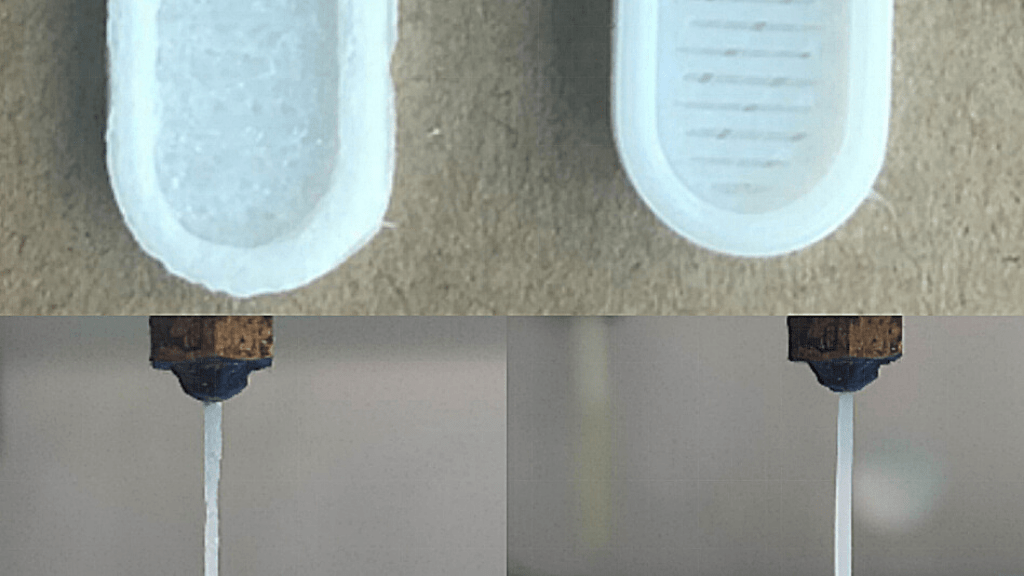 He also listed filament drying methods and differences including using desiccant dehumidifiers only, PI heating pads, and enclosed filament dryers, listing the Pros and Cons of each method.
The Best Filament Dryers
Here we will list the best filament dryers available on the consumer market servicing FDM 3D printers. Some are more expensive and sophisticated, others are best for the space and budget.
SUNLU S2 Filament Dryer
Price: $69-79
Affiliate Links:
eBay
Amazon
AliExpress
Official Website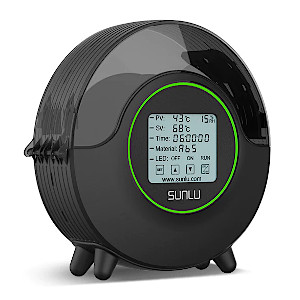 This is the second filament dryer from SUNLU, the S2, which stands out with its futuristic look. Boasting a compact build and a large touchscreen display, it presents plenty of metrics, including temperature, moisture, target temperature, timer, and material type. The settings are easy to see and use. With a maximum temperature that can be increased up to 70°C, the S2 is now capable of drying a wider range of materials such as PLA, ABS, Nylon, and more.
This build enables the filament to be fed to both of my Creality 3D printers. For the Ender 3 V2 Neo, the filament feed is straightforward and even safer than using the original spool holder on top. In fact, it eliminates the risk of brittle filament snapping. The Ender 5 S1 also works well with this setup, even though its filament feeding mechanism is slightly unusual. Refer to the Ender 5 S1 review article for more details.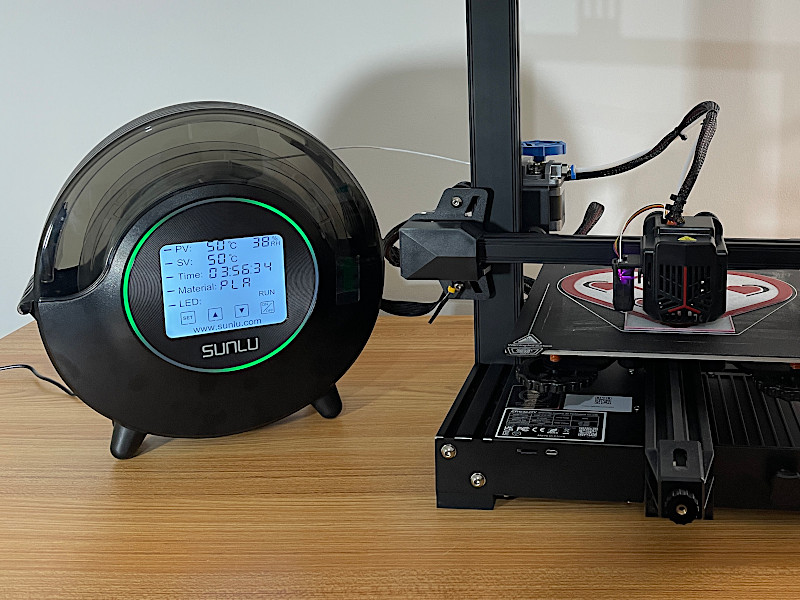 360° Heating: This means that the heating element covers 360 degrees around the spool, as opposed to the previous version, which only covered 50% of that area. This machine does not require a desiccant dehumidifier, as it is not needed. This feature is quite convenient, as there is no need to worry about drying or replacing desiccant bags in the future.
In terms of build and price, the SUNLU S2 is clearly one of the best filament dryers for consumer desktop 3D printers.
SUNLU FilaDryer S4
NEW
The Super Early Bird price is $79.99 (for the first 300 units) and the retail price after the crowdfunding ends is $129.99.
Product links: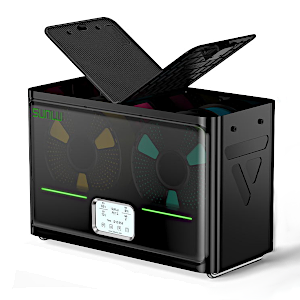 Kickstarter Campaign
Early Bird Price: Save up to 38%
Coming soon on Kickstarter from 14:00 UTC on September 13
Disclaimer: Before taking part in any crowdfunding campaign as a backer, please read the T&Cs. Rewards aren't guaranteed.
Official Website
SUNLU keeps bringing filament maintenance solutions to the market. The SUNLU FilaDryer S4 filament dryer is their latest product that can accommodate and dry up to four 1kg spools at once.
Generally, I am pleased to have FilaDryer along with my FDM 3D Printers. Over the years, I've accumulated a lot of half-empty spools that have lost their quality due to humidity. Now I can refresh them four spools at once. It is definitely a good device for FDM 3D printer workshops. Also, it can be a fancy alternative to a filament storage box for casual 3D printer users as well. Read FilaDryer S4 Review and Pros & Cons here.
Eryone M1, M2 – Dryer Box Snail
Price: $30-59
Affiliate Links:
eBay
Amazon
AliExpress
Official Website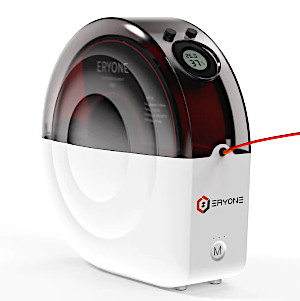 Eryone M1 has a slim snail-like design that has surprisingly many functions. Basically, this is a combination of both drying with the help of desiccant dehumidifiers plus a heating option.
It was delivered in a box that was slightly bigger that a 1kg filament spool. It is designed to hold the standard 750g-1000g spools. When I tested a smaller spool, it also worked. The smooth metal base surface and a relatively light weight of the spool allowed it to roll in the box.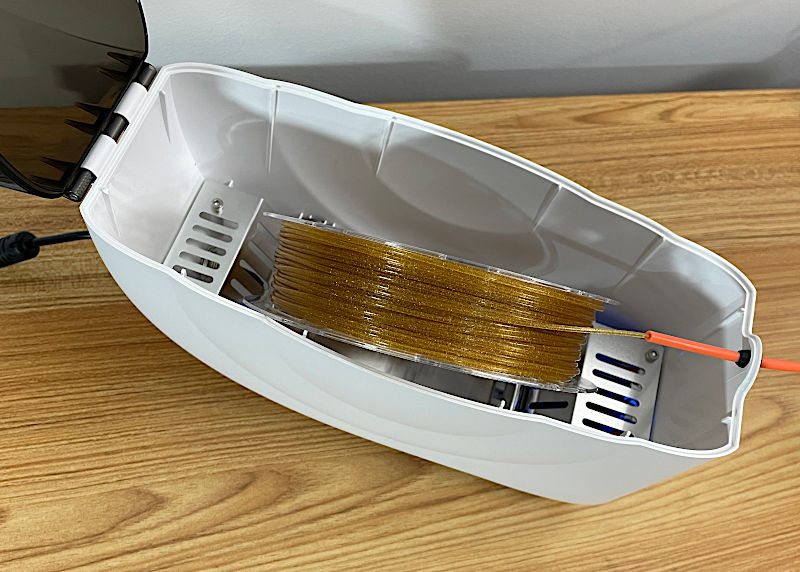 It took me about one day to decrease humidity from 46% to 24%. I had to switch the heating function back on several times because it stays on for 4 hours. With the Bowden extruder setup 3D printer, like Neptune 3, it worked well.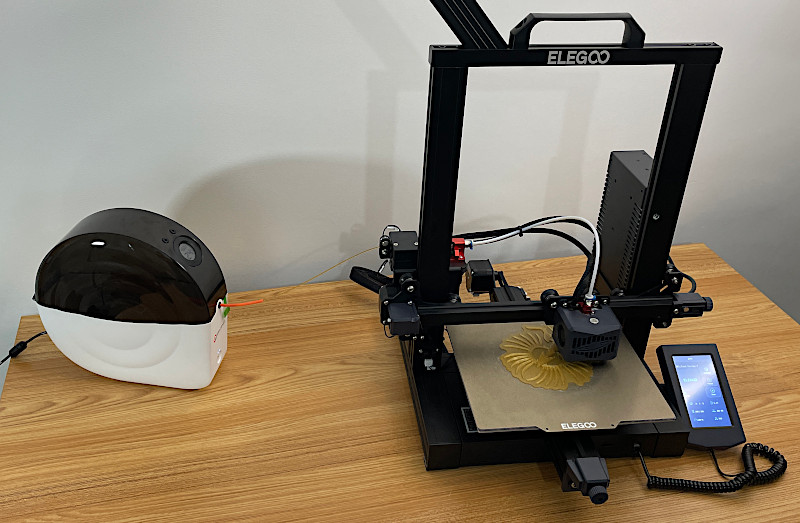 Filament dryers with such compact design could be the best solution to go for having the budget and space in mind.
EIBOS CYCLOPES
Price: $110-160
Affiliate Links:
Amazon
Official Website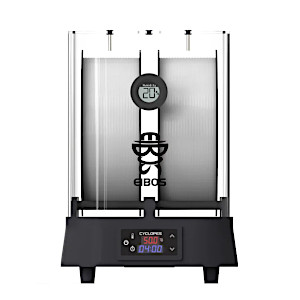 EIBOS CYCLOPES, when launched via Kickstarter, was one of the first products that addressed humidity issues. It works as a fully heated option without the need for desiccant dehumidifiers. Also, CYCLOPES offers more control with adjustable heating temperature and heating time. The bigger box may hold two 1kg spools or one 3kg spool of filament.
Polymaker PolyBox™ Edition II
Price: $60-120
Affiliate Links:
eBay
Amazon
AliExpress
Official Website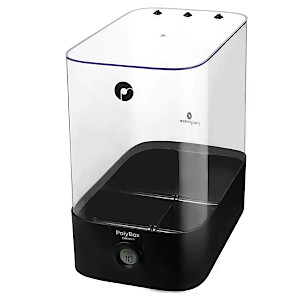 Featured here is a PolyBox that I received as a 3D printing competition reward a few years ago. It came in a fancy high-quality packaging. Since then Polymaker launched Edition II. I didn't spot any differences in the design or features.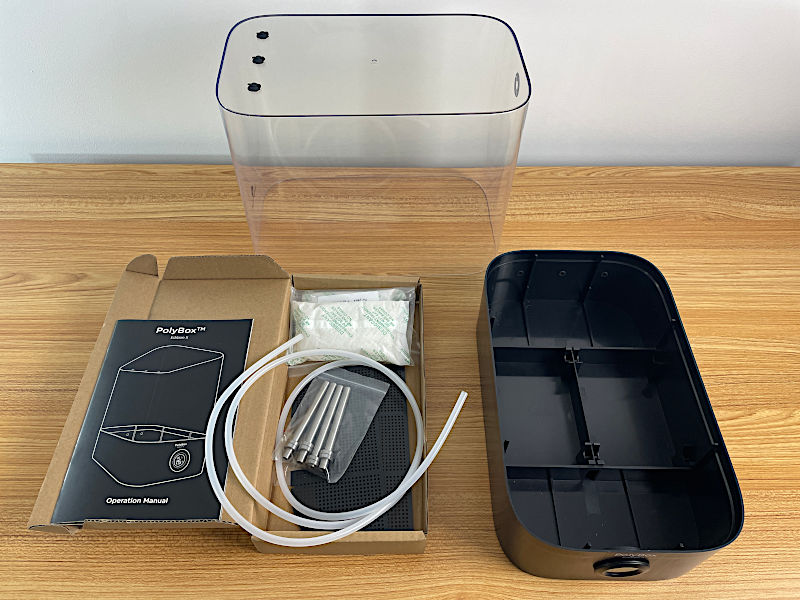 Polymaker states that the main goal of PolyBox™ is to protect the filament from the environment rather than fixing moisture-absorbed filament. Two big desiccant dehumidifiers can be reused if to follow the instructions provided.
A long PTFE tube is enough to reach any type of 3D printer and can be guided straight to a direct drive extruder, for example. The only spot to watch is the PTFE attachment to the PolyBox, making sure it is properly secured. Humidity lowered to 24%, as promised, in approximately 6 hours.
DIY Solutions and Innovations
Even though many 3D printing-related brands launched filament drying products, there are a lot of DIY solutions and tutorials available online. These may look less appealing, but in some cases, they are as effective as the commercial versions. Also, cost-wise, these are much cheaper to build, and volume-wise are more productive.

– IKEA Storage Box. Following one of the first results in a Google search, we found a video on how to turn an IKEA storage box into an effective dry box. Generally, a large variety of storage boxes and food containers, that can be turned into dry boxes, can be found online.

– RepBox System. This system was initially designed to protect multiple filament spools from the environment, such as dust, for example. It also helps to arrange multiple spools for multi-material 3D printing. Another great benefit of this product is that it can be installed on the wall and therefore save space on the table. According to the manufacturer, it does provide some protection from moisture if desiccant dehumidifier packets are added. Check RepBox products at Repkord.
Conclusion
Filament dryers can come to the rescue for both casual and professional 3D printer users. Especially, in situations when air humidity is high. I would definitely keep one of these machines handy to maintain and keep filaments in the best shape. I also went ahead and added a filament dryer as an optional tool for FDM 3D printers to the ever-expanding list.