Did you know that 3D printer giveaways are an often occurrence? Manufacturers, together with community members, frequently organize such promotional events. For them, it is a great opportunity to advertise their products, promote their 3D printing-related channels, and grow the follower base. With minimal effort, participants can obtain their first or additional 3D printer, try new filaments or other 3D printing-related products. Read more below the table…
Giveaways
Giveaway
Description
Prize
Ends
Giveaway
Subscribe to win
Organized by: SainSmart
Ender-3 S1 PRO

2023.09.30

Giveaway
Facebook. Follow, like to win
Organized by: Morgenstern3d,
Uniformation
3D Printer,
GKTwo

2023.09.30

Giveaway
Twitter. Comment, like to win
Organized by: Elegoo
Resin/PLA

2023.09.30

Giveaway
Facebook. Comment, tag to win
Organized by: Elegoo
3D printer,
resin

2023.09.30

Sign up for weekly notifications on new posts and table updates

Giveaway
Comment, tag to win
Organized by: Longer
Laser Engraving
Accesories

2023.08.27

8th
Anniversary
Subscribe to win
Organized by: Anycubic
3D Printers, Resin
more

2023.08.24

Giveaway
Reddit. Comment to win
Organized by: FLSUN
3D Printer,
5x Spools

2023.08.24

Giveaway
Enter to win
Organized by: Creality Cloud
5x Spools

2023.08.31

Giveaway
Like, comment to win
Organized by: Elegoo
5x Resin
Bottles

2023.08.31

Giveaway
Enter to win
Organized by: Snapmaker
Ray 40W,
More

2023.08.22

Smart
Filament
Sensor

Enter to Win
Organized by: BigTreeTech
15x SFS V2.0

2023.08.27

Giveaway

The US Only. Join FB Group to Win
Organized by: Aceaddity
5x Spools

2023.08.12

Giveaway

Enter to Win
Organized by: Elegoo,
Goonhammer
Mars 3 Pro,
Mercury Plus 2.0,
Resin

2023.08.15

Design
Inspiration

Inspire 3DPrintBunny to Win
Organized by: Elegoo, 3DPrintBunny
Bambu Lab

2023.08.01

Emoji

Play Math Game to Win
Organized by: Elegoo
x8 PLA

2023.07.24

ComicCon

Like, share to Win
Organized by: Elegoo
Neptune,
Mars, more

NA

Giveaway

Like, tag to Win
Organized by: Uniformtation
3D Printer,
more

2023.07.21

Giveaway

Enter to Win
Organized by: Geeetech
Control board,
more

2023.07.31

Summer

Canada Only. Enter to Win
Organized by: 3DP Canada
Creality K1,
Halot, more

2023.07.31

Giveaway

Enter to Win
Organized by: Mach5ive
Mars 4,
more

2023.07.29

TikTok

Share detailed print on TikTok, Instructions in video
Organized by: Anycubic
Photon M5s,
Resin, more

2023.07.20

Giveaway

Enter to Win
Organized by: Mach5ive
Mars 4
Bundle

2023.07.29

Giveaway

Watch, Share to Win
Organized by: FauxHammer
Uniformation
GKtwo, more

2023.07.31

Reddit

Join, Comment to Win
Organized by: 3DMakerPro
Lynx
3D Scanner

2023.07.17

Father's
Day

Follow, comment to Win
Organized by: Geeetech
x3 Filament

2023.06.19

Father's
Day

Like, answer to win
Organized by: Elegoo
Saturn 3 12k,
more

2023.06.20

Giveaway

Enter to Win
Organized by: Elecronoobs
Saturn 3 12K

2023.06.23

Print & Paint

Print and paint and pose with Halot to Win
Organized by: Creality,
DM Stash
3D Printers

2023.06.15

Print & Paint

Print & Display to Win
Organized by: TFF, Phrozen
2x 3D Printers

2023.06.29

Mother's Day

Enter to Win
Organized by: Aceaddity
Resin or
Filament

2023.05.16

Mother's Day

Three categories to enter
Organized by: Creality
Sonic Pad,
Scanner,
more

2023.05.14

Giveaway
Week

Enter, tag to Win
Organized by: Elegoo
3D printer,
Subscription

NA

Giveaway

Guess precision to Win
Organized by: Anycubic
Resin

2023.05.08

Filament
Game

Match to Win
Organized by: Flashforge
3D Printer, filament

2023.05.07

Giveaway

Reddit. Enter to Win
Organized by: Flashforge
3D Printer

2023.05.05

Anniversary

Enter to Win
Organized by: DM Stash
3D Printer,
more

2023.05.01

Giveaway
Week

Enter to Win
Organized by: Elegoo
Filament/resin
more

2023.04.26

Mintion

Enter to Win
Organized by: Mintion
Beagle Camera,
more

2023.04.19

Creator of Masterpieces

Create to Win
Organized by: Creality
3D Printer,
more

2023.04.10

New
LCD Printer

Guess the Name
Organized by: Anycubic
Resin

2023.04.10

Egg Hunt

Enter to Win
Organized by: Snapmaker
3D Printer,
more

2023.04.12

Spring Refresh

Subscribe to Win
Organized by: Elegoo
3D Printer,
more

2023.03.28

Top Fans

Enter to Win
Organized by: Elegoo
x5 Filament
Spools

2023.04

Control Automation
Day

Register for a Conference to Win
Organized by: Control
3D Printer,
more

2023.03.14

SV06 Plus Relase

Enter to Win
Organized by: Sovol
3D Printer,
more

2023.02.28

3D Printing
Quiz

Answer to Win
x3 Questions
Organized by: Elegoo
Resin

NA

Print of the Month

Share the picture
Organized by: Formlabs
Swag Package

2023.02.28

Soarpix 3D

Enter to Win
Organized by: Snapmaker
3D Printer,
more

2023.03.07

Two Trees

Enter to Win
Organized by: TwoTrees
CNC Router

2023.02.15

Creator of
Masterpieces
Enter to Win
Organized by: Creality
3D printer,
more

2023.02.15

First 3D Print
in 2023
Enter to Win
Organized by: Anycubic
Resin

2023.01.29


Miniature
Enter to Win
Organized by: Hoard Mimic
Miniatures

2023.01.30

Flying Bear
Enter to Win
Organized by: Flying Bear
3D printer

2023.01.31

Favorite
Designer
Enter to Win
Organized by: Elegoo
3D Printers,
more
Early
February
Mach5ive
Enter to Win
Organized by: Mach5ive
3D printer

2023.01.21

New Year's
Resolutions
Enter to Win
Organized by: TwoTrees
Coupons

2023.01.15

BIQU
Microprobe
Enter to Win
Organized by: BIQU
Extruders,
more

2023.01.15

Christmas
Enter to Win
Organized by: Anycubic
3D printers, more

2022.12.25

Christmas
Enter to Win
Organized by: Flsun
3D printer, more

2022.12.25

Christmas
Enter to Win
Organized by: Creality
Sonic pad

2022.12.31

Christmas
Enter to Win
Organized by: Elegoo
3x 3D Printers, more

2022.12.25

Christmas
Enter to Win
Organized by: BIQU
3D Printer,
more

2022.12.31

Christmas
Enter to Win
Organized by: Anycubic
5KG PLA
or Resin

2022.12.22

3DFused
Enter to Win
Organized by: 3DFused
3D Printer, more

2022.11.29

Black Friday
Enter to Win
Organized by: Anycubic
3D Printer,
more

2022.12.08

Black Friday
Like, comment to Win
Organized by: Elegoo
3D Printer, more

2022.11.27

Thanksgiving
Enter to Win
Organized by: Creality
3D Printers,
more

2022.11.25

DM Stash
Enter to Win
Organized by: DM Stash
3D Printers, more

2022.11.27

Holiday
Season
Enter to Win
Organized by: Snapmaker
$4000 in Prizes

2022.11.28

Black Friday
Enter to Win
Organized by: CrealityCloud
iPad, Printer,
more

2022.11.30

Adventurer 3
Enter to Win
Organized by: Flashforge
3D Printer

2022.11.20

Halloween
Twitter. Enter to Win
Organized by: Snapmaker
Snapmaker A250

2022.10.23

Halloween
Facebook. Print to Win
Organized by: Sovol
Sovol SV06

2022.11.01

October Giveaway
UK Only. Enter to Win
Organized by: 3DFilaPrint
£1000 in Prizes

2022.10.31

Black Friday
Facebook. Print to Win
Organized by: Iwecolor
11x PLA
Filament

2022.10.31

Halloween
Facebook. Enter to Win
Organized by: Elegoo
Mars 2 PRO, PLA, Resin

2022.10.31

Halloween
Facebook. Enter to Win
Organized by: Anycubic
Kobra Go

2022.10.31

Endurance Lasers
Gleam. Enter to Win
Organized by: Endurance
15 Watt Laser

2022.11.09

Back to School
Enter to win
Organized by: digikey
3D Printer, more

2022.10.28

Mach5ive
Enter to win
Organized by: Mach5ive
3D Printer, resin, more

2022.10.29

SV06
Gleam. Enter to Win
Organized by: Sovol
SV06

2022.10.24

Hurakan
Gleam. Enter to Win
Organized by: BIQU
3D Printer,
more

2022.10.20

Fall Giveaway
Enter to win
Organized by: Creality
Ender Neo

2022.10.08

PrintLonger
Like, retweet, comment to win
Organized by: Titans Revenge, Longer
3D Printer, Filament, more

2022.09.30

Kobra Go
Like, comment to win
Organized by: Anycubic
Kobra Go

2022.09.30

Mingda
Enter to win
Organized by: Mingda
Magician Max 3D Printer

2022.09.29

Cubic
3D Printer
Enter to win
Organized by: Sovol
SV05

2022.09.05

Back to
School
Enter to win
Organized by: Snapmaker
F350

2022.09.06

Back to
School
Fill the form to win
Organized by: Creality
Sermoon
V1 Pro

2022.09.18

X-MAKER
Enter to win
Organized by: X-MAKER
3D printer

2022.09.15

Geeetech
Thunder
Enter to win
Organized by: Geeetech
3D printer

2022.09.06

Polaroid PlaySmart
Follow, like, comment to Win
Organized by: GigaRefurb

3D Printer

NA

Facebook
Group
Join the group,
fill the form to Win
Organized by: Snapmaker

Artisan, more

2022.08.21

Top Fans
Follow, like, comment to Win
Organized by: Elegoo

Resin

2022.08.31

Words with Friends
Solve the puzzle, like, tag, comment to Win
Organized by: Creality

3D Printer, resin

2022.08.18

Summer Share
Enter to Win
Organized by: Creality

3D Printers, more

2022.08.15

Fokoos
Odin 5 F3
Follow, like, to Win
Organized by: Sarah Oakley, Fokoos

3D Printer

2022.08.14

1st Artisan
Enter to Win
Organized by: Snapmaker

Artisan 3-in-1 3D Printer

2022.08.04

Innocn 40C1R
Enter to Win
Organized by: MUO

Gaming Monitor

2022.07.24

Monthly Deals
Enter to Win
Organized by: Creality

Filament

2022.07.20

Free to Tell
Tell to Win
Organized by: Anycubic

Kobra

2022.07.21

eSUN
Print and create the most liked video to win.
Organized by: eSUN

Filament

2022.07.17

Polymaker
Join daily on Discord.
Organized by: Polymaker

Daily Filament

2022.07.09

Elegoo
Enter to win
Organized by: Elegoo

Neptune 2S

2022.07.09

Quiz Game
Get the correct answer
Organized by: Creality

3D Printer

2022.07.07

Snapmaker
Enter to win
Organized by: Snapmaker

A250T

2022.07.01

XiP Individual Package
US, Canada companies only
Organized by: Nexa3D

$7999 in Prizes

2022.06.30

Uncle Jessy
Enter to win
Organized by: ELEGOO

3D Printers, more

2022.06.28

10th Anniversary
Prusa3D printers only. Share your story to win
Organized by: Prusa3D

10x MK3S+, 500x Sheets

2022.06.19

Creality
The US Only. Enter to win
Organized by: Creality

Ender 3 S1, more

2022.06.19

Elegoo
Correct the option to win
Organized by: Elegoo

Resin/Filament

2022.06.14

Video Contest
Create a video to win
Organized by: Creality

3x 3D Printers, more

2022.06.25

Children's Day
Follow, share to Win
Organized by: SUNLU

Filament, more

2022.06.01

3DPrintBunny
Follow, Comment to Win
Organized by: 3DPrintBunny, Voxelab

3D Printer

2022.06.01

Sharing Award
Facebook, follow, share to win.
Organized by: FLSUN

3D Printer, 30x Filament

2022.06.01

Treasure Hunt 2
Solve the puzzle to win
Organized by: Elegoo

3D Printer, resin

2022.05.26

Sovol 3RD
Anniversary
Enter to Win
Organized by: Sovol

3D Printer, Laser Module, more

2022.05.26

Treasure Hunt
Solve the puzzle to win
Organized by: Elegoo

3D Printer, resin

2022.05.23

3D Day
Enter to Win
Organized by: Creality3D

3D Printer

2022.05.23

Print & Paint
FB. Print & paint to win.
Organized by: Anycubic

3D Printer, resin/filament

2022.05.18

Flashforge
FB. Share story to win.
Organized by: Flashforge

3D Printer

2022.05.17

Anniversary
Enter to win.
Organized by: Onepagerules & ELEGOO

3D Printer, resin

2022.05.01

Yousu3D
Share, follow to win
Organized by: Yousu3D

Quantum PLA

2022.05.08

S9 Plus
Reddit, comment to win.
Organized by: SUNLU

3D Printer, filament, more

2022.05.08

3k Followers
US Only. Enter to win
Organized by: 3D Printing Deals

3D printer accessories

2022.05.07

10k Group Members
Enter to win
Organized by: Sovol

Sovol SV01 PRO

2022.04.29

TTS55
Follow, vote to win
Organized by: TwoTrees

TTS55, Laser Engraver

2022.05.08

SUNLU
Enter live streams to win
Organized by: SUNLU

S9 Plus, more

2022.04.27

Voxelab Aquila
Join, mold an object to win
Organized by: Voxelab

Aquila S2

2022.04.24

FOKOOS
Watch on Twitch to win
Organized by: LMS

2x 3D Printers

2022.04.15

April Giveaway
Like, subscribe to win
Organized by: Elegoo

15x ONE Random Accessory

2022.04.17

Easter with
Snapmaker
Follow, tag comment to win
Organized by: Mcgybeer, Snapmaker

A350T

2022.04.17

Anycubic Stargate
Share, Tag, comment to win
Organized by: Anycubic

Kobra & M3 3D printers

2022.04.20

LMShow
Enter to win via Discord
Organized by: LMShow, FOKOOS

3D Printers, more

2022.04.15

Revopoint
POP 2
Reddit, comment to win.
Organized by: noeatnosleep

3D Scanner

2022.04.15

​MandicReally
250K
Enter to win
Organized by: MandicReally

Fokoos

2022.04.10

FOKOOS
Print and post to win
Organized by: AstroPrinter

3D Printer

2022.04.13

Photon M3
Follow, tweet to win
Organized by: Willow

3D Printer

2022.04.03

Flsun
Like, comment to win
Organized by: Flsun

3D Printer, filament

2022.04.02

Voxelab
Join, share, like to win
Organized by: Voxelab

Aquilla S2, more

2022.03.31

Elegoo
Subscribe to win
Organized by: Elegoo

Printer, more

2022.03.27

Lucky Event
Enter to win.
Organized by: FOKOOS

3D Printer, more

2022.03.28

LowEndBox
Enter to win.
Organized by: LowEndBox

3D Printer or iPad

2022.03.31

10K Members
Enter to win.
Organized by: Sovol

3D Printer, more

2022.03.25

Elegoo
Calculate to win.
Organized by: Elegoo

10x Resin

2022.03.24

Adventurer 3
Like retweet to win.
Organized by: Willow, Flashforge
Printer, more

2022.03.20

Spring Into
Action
Share 3D print idea to win.
Organized by: Flashforge
Printer, more

2022.03.19

BIQU
Like, share, comment to win.
Organized by: BIQU

B1 3D printer

2022.03.12

Elegoo
Enter to win.
Organized by: zoë
2x Printers

2022.03.09

Snapmaker
Enter to win.
Organized by: Snapmaker
A350T, more

2022.03.09

Filament February
Print and share to win.
Organized by: Thangs,
ProtoPasta
iPad, filament, more

2022.02.28

Mosquito
Enter to win.
Organized by: Maker 3D Printing
Mosquito Magnum Hotend

2022.02.28

Fokoos
Follow, rt, comment to win.
Organized by: Titans_Revenge
3D Printer, more

2022.02.14

Elegoo
Follow, like, answer to win.
FB, Twitter, IG
Organized by: Elegoo
5x Resin
3x Resin
3x Resin

No date

Love Season
Follow, print and share to win.
Organized by: Longer3D
3D printers, more

2022.02.14

Valentine's Day
Follow, share prints to win.
Organized by: Kywoo_Official
Coupon, more

2022.02.18

Sermoon
Twitter
Organized by: Creality
3D Printer


2022.02.22

Year of Tiger
FB. Count tigers to win.
Organized by: Creality
HALOT
3D printers

2022.02.07

Spring Festival
Twitter. Share your project to win.
Organized by: CHITUBOX
License, resin,
more

2022.02.07

Mingda
FB. Share your project to win.
Organized by: Mingda
Filament

2022.02.08

Like & Share Your Tool
Facebook.
Organized by: Elegoo
3D Printers, Resin


2022.01.28

Voron
Enter to win
Organized by: Voron
3D Printer


2022.01.31

Mono X 6K
Facebook.
Organized by: Anycubic
Mono X 6K


2022.02.04

2022
Facebook. Show your print and leave a wish win
Organized by: Longer
3D Printers, filament


2022.01.31

Elegoo
Subscribe to win
Organized by: Elegoo
$850 in Coupons


2022.01.16

Creality`s
Special Box
Vote to win
Organized by: Creality
Creality`s Special Box

2022.01.09

Mingda Christmas
Follow, like, share the print to win
Organized by: Mingda
MagicianX 3D, more

2021.12.24

Raffle
The US. Follow, comment to win
Organized by: Latinvixen
Anycubic Photon Mono

2022.01.01

Holiday Special
Enter to win.
Organized by: SainSmart
Drone Kit

2021.12.31

10 Years of Lulz
Show us your best, or favorite, 3D print from 2021 to win
Organized by: Lulzbot
LulzBox by Repkord

2022.01.03

Siraya Tech
Enter to win
Organized by: Siraya Tech
$40 off Voucher

2022.01.07

Christmas
Wish
Write a wish to win
Organized by: Snapmaker
Snapmaker

2021.12.24

Santa CHITU
Follow, comment to win
Organized by: CHITUBOX
Mystery Gifts

2021.12.25

Christmas
Follow, comment to win
Organized by: Eryone
6x Filament
6x Resin

2021.12.24

Advent Calendar
Follow, comment to win
Organized by: Anycubic
5x Printers,
40x Resin,
40x Filament

2021.12.24

200k Subscribers
Enter to win
Organized by: Uncle Jessy, Elegoo
2x Printers,
more

2021.12.24

Endurance Lasers
Enter to win
Organized by: Endurance Lasers
10 watt Delux Laser Head

2021.12.23

Endurance Lasers
Enter to win
Organized by: Endurance Lasers
$200 Cash

2021.12.22

3DPN Holiday
Giveaway 2021
Join Live on YouTube to win
Organized by: 3D Printing Nerd
3D Printing related products


2021.12.22

Elegoo
Christmas
Like, take a screenshot win
Organized by: Elegoo
3D Printers, resin, more


NA

Christmas
Wish
Like, comment to win
Organized by: Elegoo
10x Prizes

2021.12.15

HALOT OS
Join, comment to win
Organized by: Creality
HALOT One

2021.12.13

NACCE & MatterHackers
Fill the form to win
Organized by: MatterHackers, NACCE
3D Printer, filament

2021.12.06

MatterHackers Iridescent PLA
Retweet, follow to win
Organized by: Filament Frenzy
Blue Yellow
PLA

2021.12.08

Thanksgiving
Share a story to win
Organized by: BIQU

BIQU products

2021.11.25

Thank You
3D Printing
Join, share, comment to win
Organized by: Flashforge

3D Printer,
more

2021.11.25


Titans Revenge
Follow, retweet to win
Organized by: @titangamingTTV, Voxelab

3D Printer

2021.11.30

Treasure Hunt
Find the password to win
Organized by: Snapmaker
Snapmaker

2021.11.25

1M Subscribers
Follow, tweet to win.
Organized by: James Bruton
Lulzbot 3D Printers

2021.11.09

SparkFun
Enter to win.
Organized by: Geeky Faye
SparkFun Inventor's Kit

2021.11.09

AkumaMods
The US only. Like, subscribe, comment to win.
Organized by: AkumaMods
Ender 5

2021.11.15

Halloween
Show glowing print to win.
Organized by: Elegoo
3D Printers,
Resin

2021.11.01

50K
Subscribers
Awesome comment wins.
Organized by: VJM Aviation
Creality
3D printer

50K

Halloween
Follow, comment to win.
Organized by: Sovol3D
Laser Engraver, more

2021.11.02

Halloween
IG follow, tag to win.
Organized by: Cubee
3D Printer,
more

2021.10.31

Toybox
The US only. Enter to win.
Organized by: Toybox
3D Printer,
filament

2021.10.31

Showcase
2nd part. Answer the questions.
Organized by: Revopoint
3D Scanner, more

2021.10.31

HEX3D
Enter to win.
Organized by: HEX3D
Anycubic Vyper, more

2021.11.01

Halloween
Enter to win.
Organized by: NoveltyMaker
23 Prizes

2021.10.27

Elegoo
Enter to win.
Organized by: keridel
Elegoo
Mars 2 Pro

2021.10.24

Halloween
The US, EU only. Like, comment to win.
Organized by: Mingda
Amazon Returned
Mingda D2

2021.10.20

Thanksgiving 2021
Canada only. Enter to win
Organized by: 3DPC
Gift cards

2021.10.21

WLS
US only. Enter to win
Organized by: WLS
Ender 3

2021.10.20

Check-in Lucky Draw
Enter & Follow to Win.
Organized by: Snapmaker

3D printer, more

2021.10.17

Lychee Slicer
Like, quote tweet to win
Organized by: Lychee Slicer
Halot One

2021.10.15

Halot Lite
Ambassador
Fill the form to win.
Organized by: Creality
Halot Lite

2021.10.09

Craftbot
Enter to win.
Organized by: Craftbot
Craftbot Plus PRO

2021.10.01

Octopus Pro
Enter to win.
Organized by: BigTreeTech
Motherboard

2021.09.27

Voron CoreXY
Subscribe, share to win.
Organized by: Sacr3D-Etching
3D Printer

2021.10.01

Newegg
Enter to win.
Organized by: Newegg
3x 3D Printers

2021.09.30

Hermit Crab
FB, like, comment to win.
Organized by: BIQU
BIQU Hermit Crab*3

2021.09.22

Sovol
Enter to win.
Organized by: Sovol
SO-2
3D Printer

2021.09.22

Back to School
Register to the Forum.
Share your artwork.
Organized by: Creality

3D Printers, 3D scanner, Filament.

2021.09.20

Eryone
FB, Follow to win.
Organized by: Eryone
Filament

2021.09.11

Bigtree Tech
FB, Follow to win.
Organized by: Bigtree Tech
Control Board

2021.09.12

Teacher's Day
Follow, RT, Comment to win.
Organized by: Flashforge
3D Printer, resin, more

2021.09.08

3D Print
Share your 3D print to win.
Organized by: Sovol
Laser, more

2021.09.05

Teacher's Day
Follow, RT, Comment to win.
Organized by: Flashforge

3D Printer, resin, more

2021.09.08

How It Works
UK Only. Fill the form to Win.
Organized by: How It Works

3D printer

2021.08.26

Livestream
22:00 EST
Organized by: KF, BIQU

Filament, more

2021.08.27

Halot Round Three
Follow, tag, to Win.
Organized by: Creality
Halot & Azael Bust

2021.08.25

Banggood
Facebook. Comment to win.
Organized by: Banggood

3D Printers

2021.08.23

Banggood
Facebook. Comment to win.
Organized by: Banggood

3D Printers

2021.08.23

Give Me 5
Upload photo with hive five to win.
Organized by: Snapmaker

x48 $50 Gift Cards

2021.08.24

BIQU
Twitter. Share a GIF.
Organized by: BIQU

x15 T-Shirts

No Date

CR-Scan
Like & Follow to Win.
Organized by: Creality

CR-Scan 01, more

2021.08.12

PUBG MOBILE
Enter to Win
Organized by: 3DPN, PUBG MOBILE
$1000 x5

2021.08.19

Halot Round Two
Follow, tag, to Win.
Organized by: Creality
Halot & Azael Bust

2021.08.11

Voxelab
Tweeter. Follow to Win.
Organized by: @TitanGamingTTV, Voxelab

3D Printer, more

2021.08.07

Lithophane
Enter to Win. Also, post lithophanes to win.
Organized by: Sovol
Sovol products

2021.08.11

Artillery Hornet
Enter to Win.
Organized by: BonsPlans3D

3D Printer, more

2021.08.07

BIQU B1 SE Plus
Enter to Win
Organized by: BIQU
3D Printer

2021.08.11

Halot
Follow to Win
Organized by: Creality
Halot & Azael Bust

2021.08.04

Summer Symposium
For Educators
Organized by: Construct3D, MatterHackers
3D printer, filament

2021.07.31

Formlabs Summit
Register to Win
Organized by: Formlabs
3D Printer

2021.07.23

Creality Filaments
FB. Share a photo with Ender filament.
Organized by: Creality
3D Scanner, PLA

2021.07.20

Engrave Eternity
Facebook. Share photos.
Organized by: TwoTrees3D
Engraver
TOTEM S

2021.07.11

DIYElectronics
Enter, follow to win.
Organized by: DIYElectronics
BIQU BX 3D Printer

2021.07.09

Endurance Lasers
Enter, follow to win.
Organized by: Endurance Lasers
$200

2021.07.12

Endurance
Enter to win.
Organized by: Endurance
Laser head

2021.07.12

Raf Grassetti
Twitter. Enter, follow to win.
Organized by: R.G., Anycubic
x2 Vipers

2021.07.05

SainSmart
Enter to win.
Organized by: SainSmart
Solder Smoke Absorber

2021.07.05

Willow Creative
Twitter. Enter, follow to win.
Organized by: Willow, Anycubic
x2 Vipers

2021.07.02

Comgrow
Enter, follow to win.
Organized by: Comgrow
CR-10 V2

2021.06.30

Father's Day
Enter to win.
Organized by: JGMaker
3D Printer, more

2021.06.20

Father's Day
Enter to win.
Organized by: Sovol
3D Printer, more

2021.06.20

Summer Subscriber
The US only. Enter to win.
Organized by: 3DPDeals
Filament, more

2021.06.19

500k Subscribers
Submit the form, follow.
Organized by: Make Anything
3D printer, more

2021.06.12

Creality
Facebook, likes
Organized by: Creality
Halot One, resin

2021.06.10

Creative Stage V2
Enter to win not a 3D Printer!
Organized by: MakeUseOf
Soundbar

2021.06.04

Mech Solution
Canada Only. Instagram
Organized by: Mech Solution
3D Printer, more

2021.05.28

Craftbot
Enter to win.
Organized by: Craftbot
Craftbot Plus Pro

2021.05.31

New Machine
Guess the name of the product.
Organized by: Elegoo
New Machine

2021.05.31

ELEGOO Mars 3
Twitter and Facebook, like, comment and follow.
Organized by: ELEGOO
Mars 3

2021.05.31

Summer
Enter to win
Organized by: Comgrow
CR-6 SE or CR-10

2021.05.25

Bill Gao's Birthday
Enter to win
Organized by: JGmaker
3D Printers, more

2021.05.23

Mother's Day
FaceBook
Organized by: SUNLU
3D Printer, more

2021.05.16

Ender 6
Enter to win.
Organized by: 3D Printer Chat
Creality Ender 6

2021.04.29

CR-200B
Enter to win.
Organized by: Creality
3D Printer

2021.04.30

House
Win a House in San Antonio
Organized by: DAVID KRAUS
House for 3D Printer

2021.04.29

Easter
K-8 Educators Only.
Organized by: Sovol3D
3D Printers, more

2021.04.10

MatterHackers & Solidworks
K-8 Educators Only.
Organized by: MatterHackers, Solidworks
3D Printers, more

2021.04.13

Longer
Like, share, comment to win.
Organized by: Longer
Filament

2021.04.05

Easter
Enter to win.
Organized by: JGMaker
x5 3D Printers

2021.04.05

Elegoo
Like, share, comment to win.
Organized by: Elegoo
Resin

2021.03.24

Forum
FB. Like, share to win.
Organized by: Creality
HP Filament

2021.03.31

Grizzly
US Only. Enter to win.
Organized by: Grizzly
G0923 3D Printer

2021.03.12

Creality Twitter
Join, comment to win.
Organized by: Creality
3D Printer

1k Subs

Live
Enter to win via YouTube
Organized by: tripodsgarage
Comgrow 2

2021.03.04

20k Followers
Enter to win via Twitter
Organized by: Creality
Ender-3 Max

2021.03.04

10k Subscribers
Enter to Win
Organized by: Día de la Toalla
Artillery Hornet

2021.03.01

Biqu B1
Enter to win.
Organized by: MakeUseOf
Biqu B1

2021.02.27

1k Subscribers
YouTube. Join live to win.
Organized by: TRSP
Elegoo Neptune 2

2021.02.23

Dynetics
US only. Enter to win.
Organized by: Dyneticshls
3D Printer

2021.02.01

Comgrow
FB. Join, like to win.
Organized by: Comgrow
Laser Engraver

2021.02.03

Creality FB Group
Join, comment to win.
Organized by: Creality
Ender-6

No Date

Creality YouTube
Follow to win.
Organized by: Creality
CR-10S

3k Subs

Comgrow
Enter, follow, like to win.
Organized by: Comgrow
200 OFF, more

2021.01.27

JGMaker
Enter, follow, tag to win.
Organized by: JGMaker
A1, A3, A5, A5S, more

2021.01.24

BIQU
Follow, Retweet to Win.
More details: https://bit.ly/35dNkhi
Spring Steel Sheet

2021.01.10

1.5k Subscribers
Subscribe to Win.
More details: https://bit.ly/397rvBh
3D Printer

2021.01.07

New Year
Giveaway One
Enter to win.
More details: http://bit.ly/2L9wKYJ
Sovol SV**
3D Printer

2021.01.05

New Year
Giveaway Two
Enter to win.
More details: http://bit.ly/3rIkdfE
Sovol SL2, Resin

2021.01.05
Due to the heavy loading pages, we had to divide a few tables. The older events have been archived. 293 entries archived. These might be useful to study in the historical perspective.
Please post your comment below or contact us if we've missed any 3D printing-related giveaway. We will update our table accordingly.
Win a 3D Printer or a 3D Printing Related Product
3D printer giveaways are often hosted on Gleam.io platform. This is a business growth platform that can be used not only by businesses but also by individuals. It is very effective for growing social media follower and subscriber base on YouTube, Facebook, Twitter, etc. The platform is easy to use, and we witnessed it being successfully trialed by 3D printing gurus such as 3D Printing Nerd or Maker's Muse.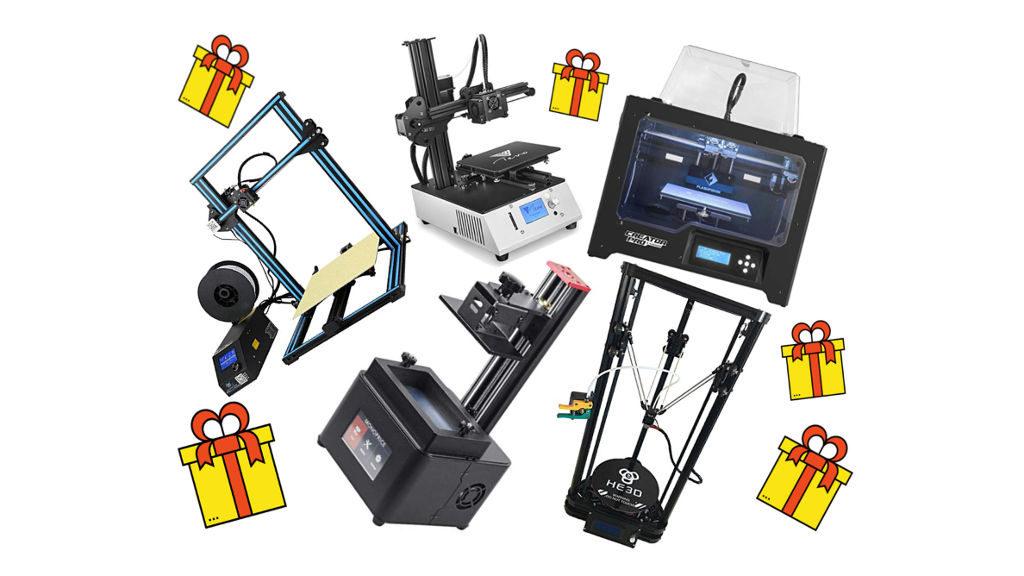 3D Printer Giveaway General Tips & Tricks
Usually, 3D printing giveaway organizer offers multiple ways to register the entries. It can be starting to follow on social media, referring to a friend, signing up for a newsletter or simply answering one question. Multiple entries raise the chances to win, similar to the lottery: the more tickets you buy, the higher the chance to win. The winners are chosen randomly by gleam.oi "Draw Winner" picker tool.
Before entering please make sure to check the rules. Some giveaways are limited to a particular country or a region. There may be mailing issues. Here are some examples:
– "This contest is open to Canadian residents only!"
– "We reserve the right to choose alternate winners should shipping become cost-prohibitive or impossible to fulfill."
We have a similar table where we keep information about past and future 3D printing competitions. 3D printing competitions are mostly sponsored by manufacturers who want to promote their products. While file-sharing communities are brilliant platforms for that. As result we see them cooperate well with each other.