On the tide of the hype around conveyor belt 3D printers, we are starting to list emerging brands and their machines. Let's put them together for comparison and check what is currently out there. Let us also reminisce the history of their development, check the latest innovations, and see what can be produced on such 3D printers.
This guide covers:
Belt 3D Printer Evolution – Brief History
3D printing was invented in the eighties, and later the Open-Source RepRap project gave a significant kick to it by building a self-replicating 3D printer. After that just in a dozen years, things went wild. Cartesian and delta 3D printers started to be mass-produced. Many more people got involved which led to a bigger contribution and further development of constantly evolving 3D printing. Conveyor belt 3D printers were introduced in the beginning of the last decade, but this type of machine only recently came under an intense spotlight.

Blackbelt 3D Printer
Blackbelt 3D printer was the first conveyor belt 3D printer we encountered live on TCT Show Birmingham. A mini kayak was an impressive make. The cable management system, of a few meters long, showcased the novel infinite-z possibilities. We liked the one 3D printed in TPU, we could bend it.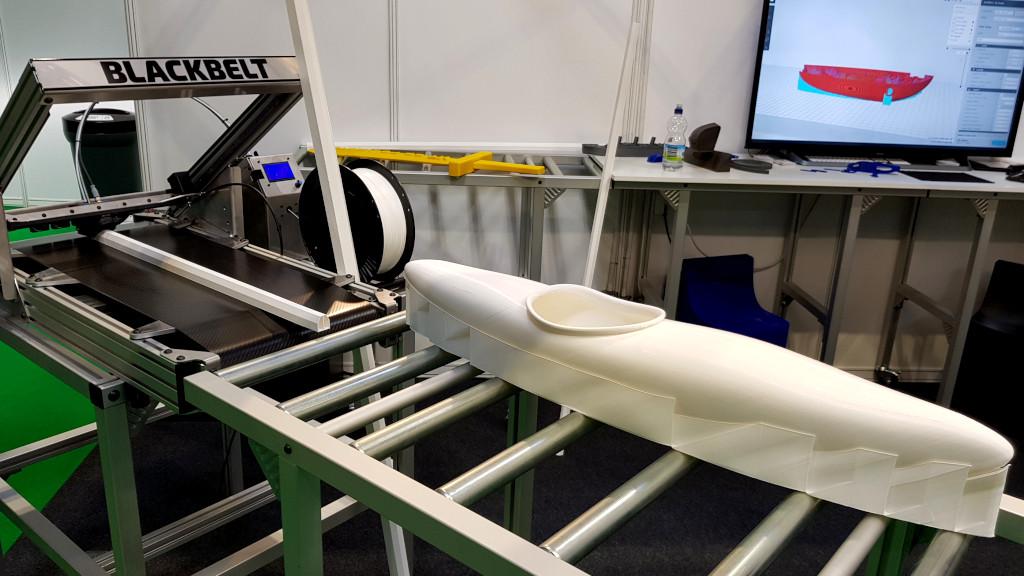 As the price tag implies (EUR 9,500, January 2021) the blackbelt station, as it looks and feels like a station, was meant for professionals and workshops. Not many enthusiast makers and designers were able to try this machine out.
Sources:
Blackbelt-3D – Website
Creality CR-30 – 3DPrintMill
Build Volume: 170mm/6.7″(H), 200mm/7.8″(W), Infinite(L)
Materials: PETG, PLA, other.
Belt Specifications: Nylon Conveyor Belt
Price: $854-$1,049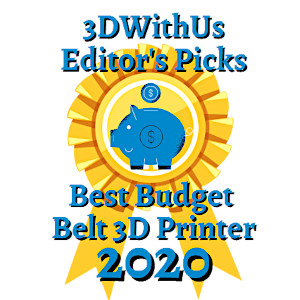 Creality CR-30, 3DPrintMill
Amazon
AliExpress
Official Website
Creality Certified Store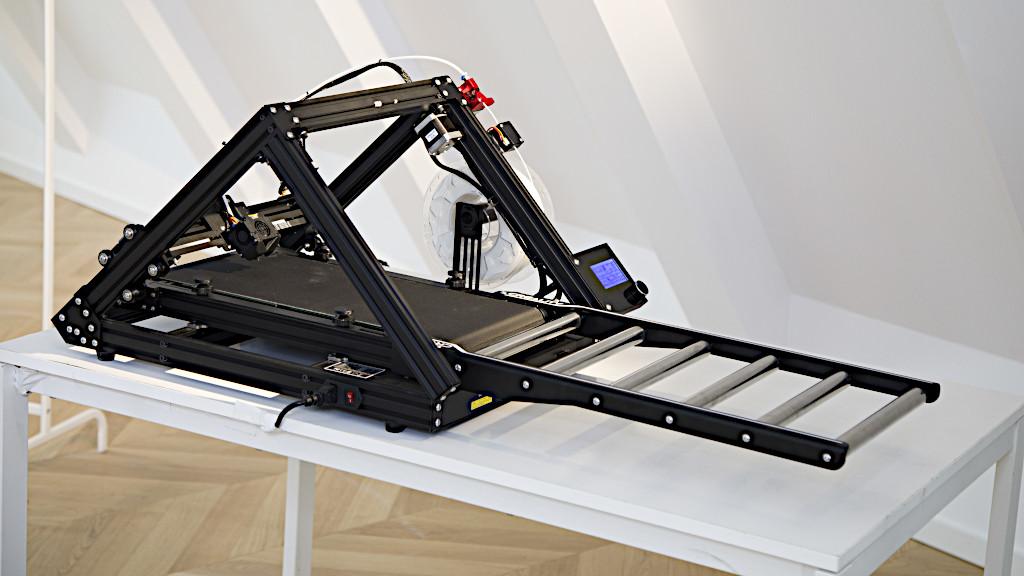 An Infinite-Z volume 3D printer created by Naomi Wu and Creality3D, was built upon the work of Karl Brown and Bill Steele.
Well tunned belt 3D Printer is ideal for serial production.
(Video provided by Naomi Wu / Creality)
There should be no lack of reviews of this machine as many 3D printing-related YouTubers received machines to test before and in time for the campaign. Just on the Kickstarter page, you can find a dozen videos.
2,072 backers pledged $1,398,797 to help bring this project to life
3DPrintMill is a feature of infinite-length printing and bulk printing, thereby time-saving in printing and cost-efficient. The special infinite-Z belt is the first Creality 3D printer to realize infinite build volume in the world.
Read more: 3DPrintMill by Naomi Wu – Creality CR-30
Creality has also teamed up with the Open Source advocate Naomi Wu (who lent her name to the machine) to handle the marketing and hardware development of this unique 3D printer…
IdeaFormer IR3
Build Volume: 250mm/9.8″(H), 250mm/9.8″(W), Infinite(L)
Materials: PLA recommended, other
Belt Specifications: Textured PU Belt
Price from $579
Amazon
AliExpress
IdeaFormer IR3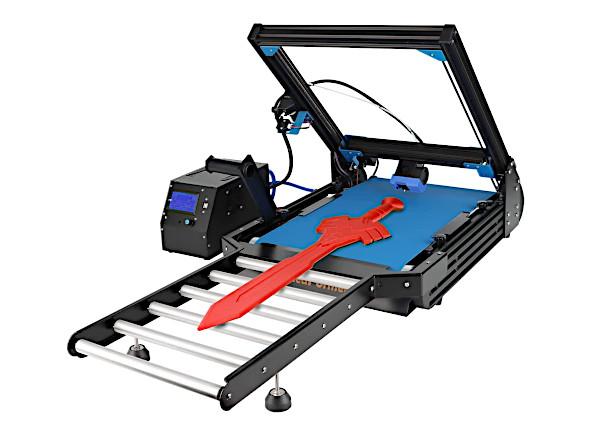 A larger volume belt 3D printer, IdeaFormer IR3, became available on the market without a supporting crowdfunding campaign. This printer doesn't have two profile supports and there could be some issues with stability, but the producer claimed that the structure is similar to Blackbelt 3D which proved to be stable. Some reviewers on Amazon praise the textured PU belt specifically for bed adhesion.
– Large Build Volume. The largest build volume in under $1000 price range for belt 3D printers.
– Semi-Assembled Kit. As the base comes assembled with the belt, it takes just over an hour, depending on your skills, to fully set the printer up.
– Other perks: Own developed hotend specifically for IR3. Silent mainboard, filament runout sensor, dual-gear extruder.
iFactory One & One PRO
Build Volume: 180mm/7″(H), 280mm/11″(W), Infinite(L)
Materials: PLA, PETG, other
Belt Specifications: Durable polymer belt optimized for 3D printing
Price: € 4,748.10
Product Links:
Official Website
iFactory One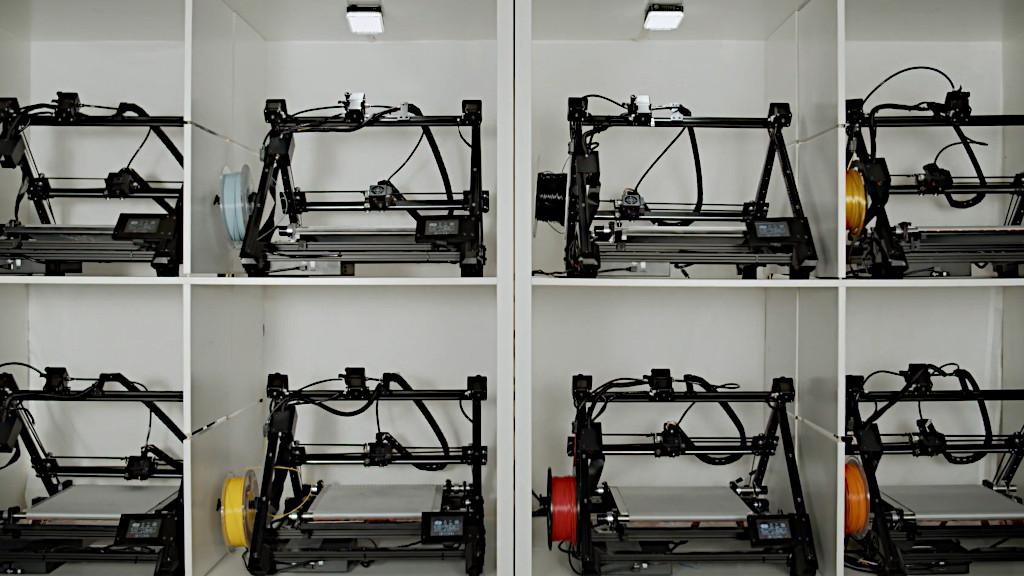 4-in-1 Conveyor Belt 3D Printer (Infinite Length, Serial Printing, Cloud Capable, and Error Detection Software)
Yet another conveyor belt 3D printer was launched via Kickstarter by Artur Steffen and Martin Huber. An unknown German brand iFactory launched its campaign just a few weeks before Creality. Was it a coincidence or not, but massive social media and YouTube campaigns around Creality's 3DPrintMill helped iFactory's campaign to boost the pledges as well as reaching its goal twofold.
434 backers pledged $209,829 to help bring this project to life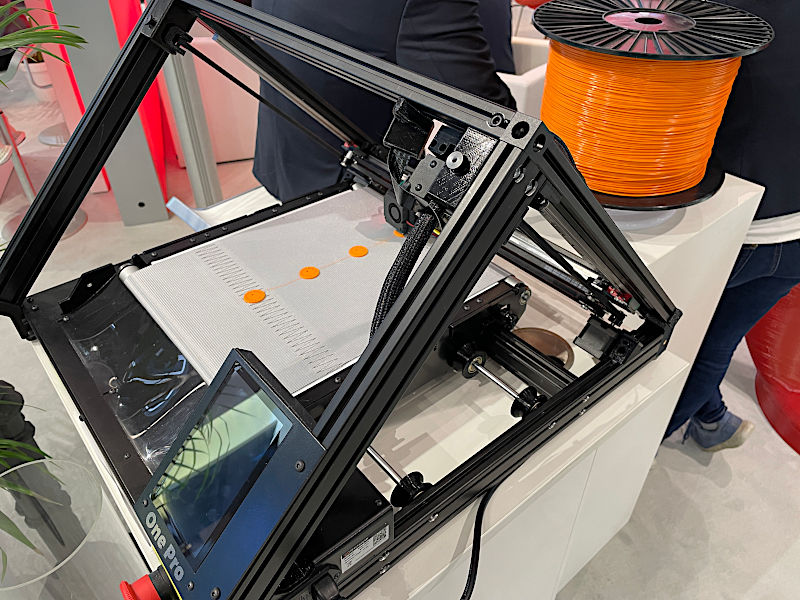 On their official website, iFactory sells the PRO version. The iFactory One PRO is undeniably a buffed-up version with the price tag (€ 4,748.10 as of January 2023). The new machine consists of the parts from the A-brands, including E3D Hemera Direct-Drive, HIWIN linear rails, Zodiac volcano nozzle, DUET mainboard, and others. Check the full list of features on the official page.
SainSmart INFI-20
Build Volume: 170mm/6.7″(H), 200mm/7.8″(W), Infinite(L)
Materials: PLA, PETG, other
Belt Specifications: Nylon Conveyor Belt
Price: $489 – $849
Amazon
AliExpress
Official Website
SainSmart INFI-20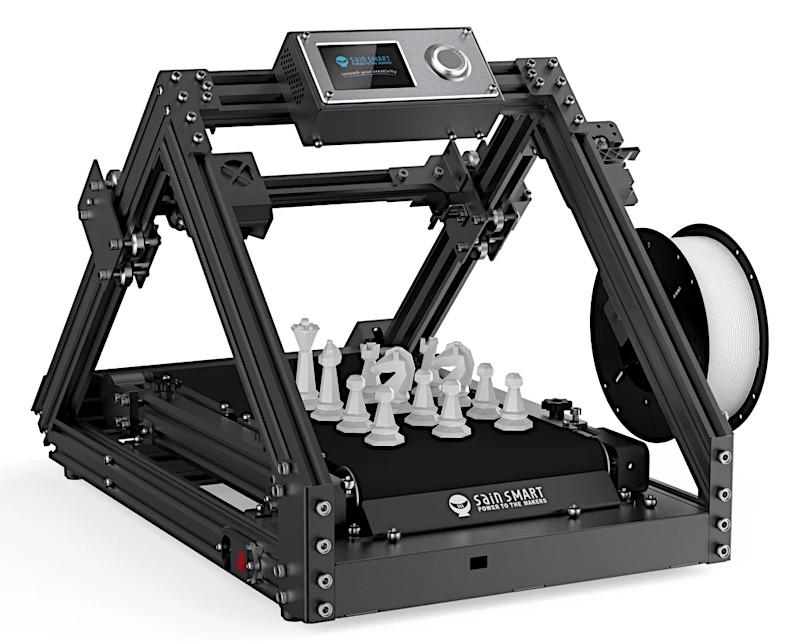 There is a resemblance to Creality's CR-30 and it feels like an upgraded version with extra features. Here is a list of the key features of this machine:
– Smart UI. The User Interface moved from the side to the top of the frame. Modern looking with a sleek rotary knob.
– Filament Break Sensor. Allows resuming printing after the filament runs out or the power outage.
– Wi-Fi Printing. Built-in ESP3D Web UI and OctoPrint API. Allows to control the printer via a browser or a mobile phone (iOS or Android apps).
Powerbelt3D – Formula32 Belts
For materials: PLA, PETG, other
Belt Specifications: Formula32 – Polyester (PET) tape top-layer
Price: $16.88 – $289.24
Product Links:
Official Website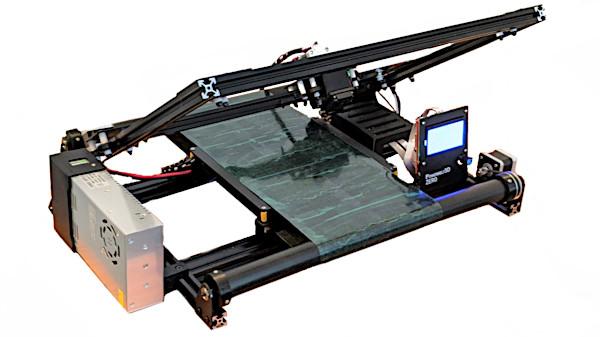 A small company, run by Adam Fasnacht, offers competitively priced custom-sized belts for DIY belt 3D printers or as an alternative/replacement belt for CR30 and other printers. Adam also runs a YouTube channel where he publishes an insighting videos about belt 3d printers in general.
Innovations Around Belt 3D Printer
In addition to the crowdfunding campaigns, we witnessed other innovative projects connected to conveyor belt 3D printers. Infinite Z opens the possibility to start uninterrupted production, giving hope to small businesses.
Delta WASP 2040 PRODUCTION
WASP, a delta 3D printers' producer of all sizes, introduced the Automatic 3D Print Removal System for their Delta WASP 2040. Puzzled how could the belt works on a delta printer? Jump to a detailed blog with more pictures and videos.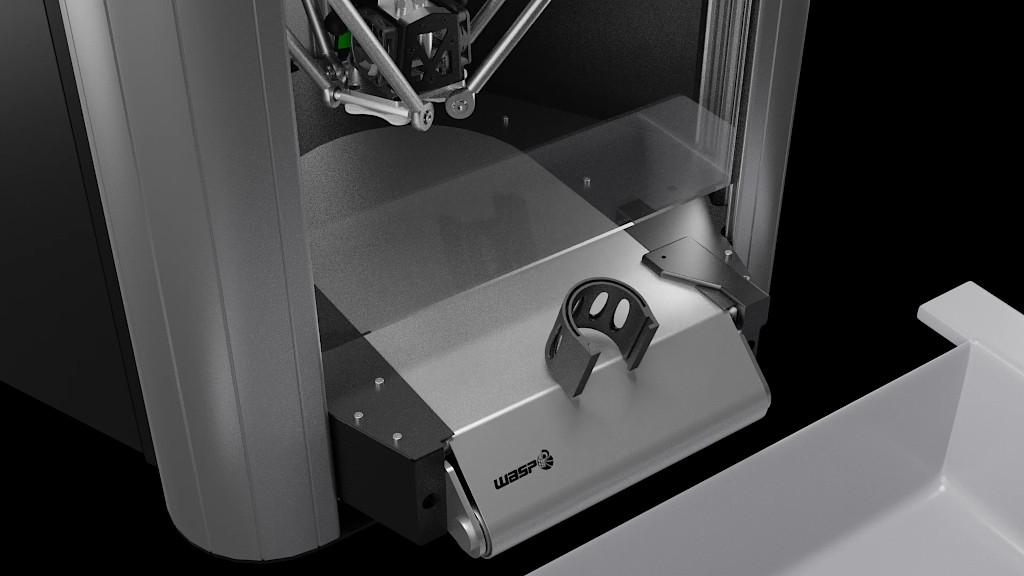 Tinybelt
Adam Fasnacht, a producer of the Powerbelt3D Formula32 belt, launched a Tinybelt 3D printer Kickstarter campaign. As the name says, it is a small printer, it also differs from other machines by having a singular angled Z-axis rail without a side frame. Tinybelt comes 90% preassembled. Unfortunately, the campaign was unsuccessful with 41% funded.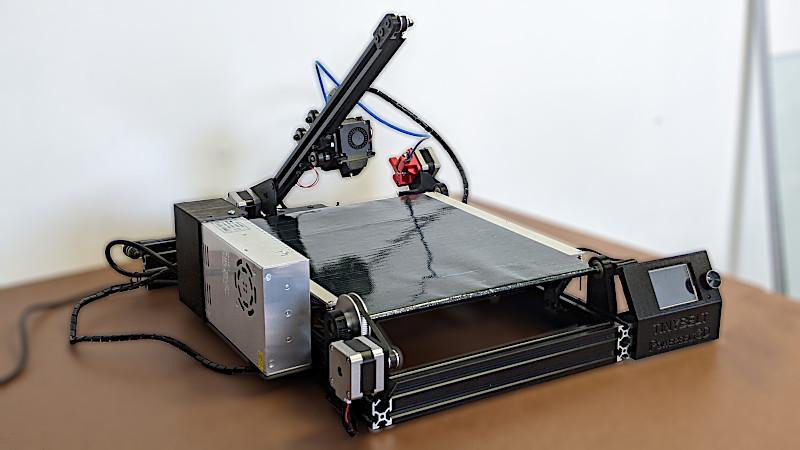 Transformable 2-in-1 Belt 3D Printer – 45° & 90°
What differs transformable printers from other belt 3D printers is that the added innovative feature can toggle between the belt 45° and the traditional angle printing modes. Such machines are designed with the ability to tilt the gantry to 90° for the traditional angle 3D printing. The switch between the two is quite easy. This feature gives the possibility to print long or multiple items and taller items on the same device. And who doesn't like 2-in-1? Read more about the failed Infinity3D campaign to get an idea. Update: According to the comments on the campaign page, Infinity3D failed to deliver the product.
45° and 90° Modes – MP4: Infinity3D
Another new company that sells such systems is Belt3DPrinterKit. This unknown brand with the parent company Aditiva3D featured their machine at ERRF in 2022. Lynx3D Diamond Belt 3D printer KIT can be pre-ordered via their website.
Enclosure
At Formnext in Frankfurt, it was possible to see a BlackBelt 3D printer with an enclosure system introduced by Modix, a company that specializes in producing such systems and controllers for large-scale industrial 3D printers.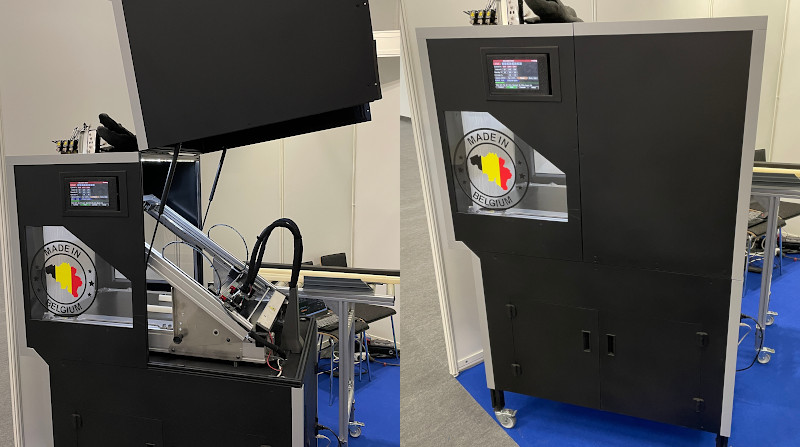 DIY Upgrade Kit for Ender 3
Michael Sgroi published on Thingiverse the files for upgrading Ender 3 to the so-called Enderloop. At the moment of updating this post, v2 files are available to download for free. It is recommended to buy the most crucial part – the Formula32 belt – from PowerBelt3D online store. To showcase his DIY project, Michael used Ender 3 and CR-6 SE 3D printers.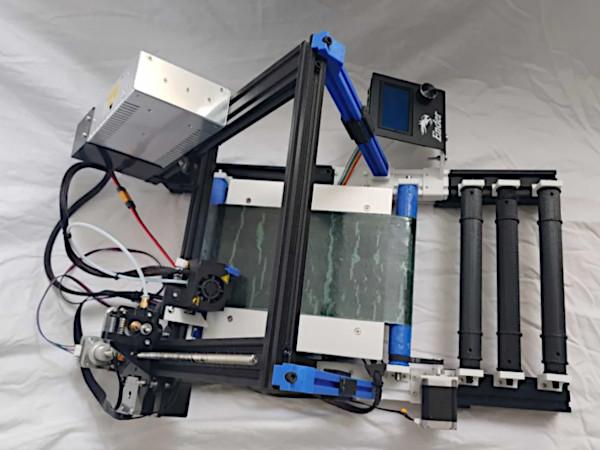 Wall Mounted Belt 3D Printer
An active Twitter and 3D printing community member @repkord installed his 3DPrintMills to the wall. This is a genially great idea to save space, especially if you run a 3D printer farm. In his mini video @repkord showcases how a belt 3D printer continuously produces identical parts. @repkord is very experienced in running 3D printer farms and this is just another case that proves that it is possible to run a business successfully with desktop 3D printers.
3D Printing with Pellets
An interesting know-how was described by Emmanuel Gilloz. Emmanuel installed a Mahor V4 pellet extruder on CR30 and tested various settings and materials, including 100% recycled PLA. The article is written in French and can be translated in Google.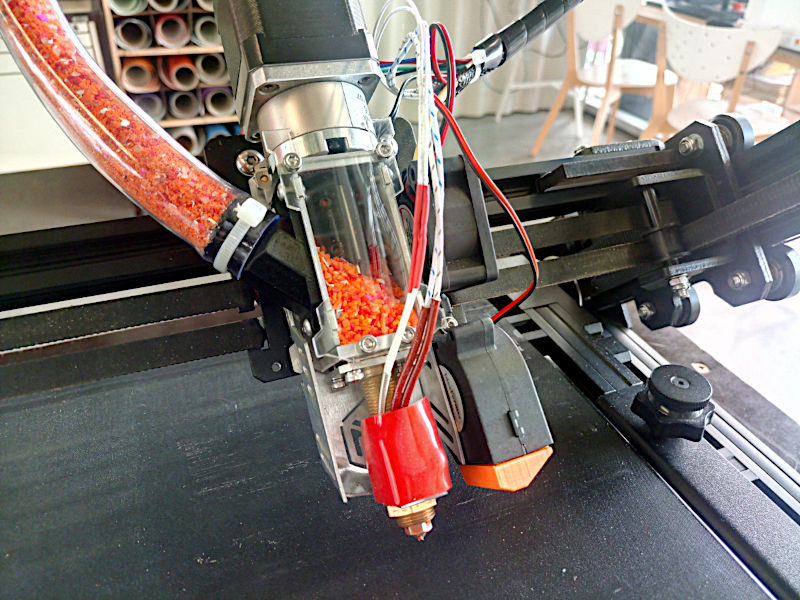 3D printing using pellets is cheaper. In fact, 3D printing filaments are created from materials that have been originally in a pellet form. Another strong point about printing with pellets is recycling. By shredding existing prints and other used plastic products, like PET and PETG bottles, for example, could be resource-saving and environmentally friendly.
Where Conveyor Belt 3D Printers Can Be Used – What to 3D Print?
– 3D Printed Props. So far we've seen 3D printed swords as a game-changer for props makers. A real size sword can be sliced so it needs the minimal post-processing after 3D printing. One of the best examples is the sword 3D printed by Maker's Muse.
– Big Letters. Filament Frenzy's big letters were impressive. It is possible to 3D print letters one by one on cartesian (box) type 3D printers with better quality, though. But if the belt 3D printer can be tuned well, the whole process can be much easier.
– 3D Reliefs and Portraits. One of the remarkable prints we saw on Twitter was the scene from The Star Wars where Hans Solo was frozen in carbonite 3D printed by Polyworshop.
To list all goodies, that can be 3D printed on belt 3D printers, may need a new blog. Stay tuned as finally, such 3D printers hit the masses, and we are likely to see a lot of interesting makes and even innovations in the near future.
Read More & Compare: Desktop 3D Printers
Choose a desktop 3D printer that is right for you. Build volume, FDM or SLA, well-known brand or a start-up – all to consider. The table helps to compare and make a comprehensive decision. It is regularly updated and maintained.