Post-processing is a big part of 3D printing in resin, and additional equipment, like wash and UV cure stations, is needed. In recent years, these two separate units started coming as two-in-one stations. Similar to 3D printers, washing and curing stations saw a few improvements with time, which made them more efficient with a better user experience.
Table of Contents:
Disclaimer: resin 3D printing can be a messy process, and special care is required when dealing with chemicals.
Pickle Container and Direct Sun
Before affordable two-in-one options became available on the markets, professional washing and curing equipment was seen as either too expensive or too bulky to accompany desktop budget resin 3D printers. If the rinsing process in a pickle jar is straightforward and some old-school makers still use it for particular prints, then leaving fresh prints outdoors to UV cure in direct sunlight is tricky, and we would not recommend trying it without proper research.
Daylight UV curing. The process is hard to control, takes much longer, with the risk of over-curing the resin parts. With this process, a model would need to be turned around manually.
The Best Bundles and 2-in-1 Solutions
2-in-1 solutions are well-suited for casual printing frequency. Space-wise, such stations can be the best option, but it also means a slight rearrangement every time you switch from washing to curing. Specifically, you'll need to set up and remove the turntable part so that the tank with the cleaning solution can fit onto the base.
Then, bundles are practically two separate machine sets that are more suitable for frequent printing.
In both cases, curing stations are equipped with turntables. However, please bear in mind that these turntables cannot be used for photography or 3D scanning. For safety reasons, the turntable operates only when the UV-blocking enclosure is placed on the machine.
Elegoo Mercury XS Bundle
Price: $249
Product affiliate links: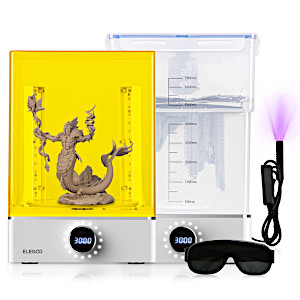 Amazon
Official Website
Wash Volume: 201mm*124mm*255mm
Cure Volume: φ200mm*260mm
If Elegoo Mercury Plus accompanies well resin printers the size of the Mars 3 Pro and could be enough for most of casual users, then Mercury XS Bundle is designed to support more than that. The size is big enough to post-process prints from the Saturn 3 printer or two Mars printers at once.
Having two separate units means that washing and curing can be done simultaneously. If you are working with several printers, this could be handy. Also, no reassembling of the turntable base is involved. Casual users with a limited 3D printing workshop space should consider that extra space will be taken by an additional device.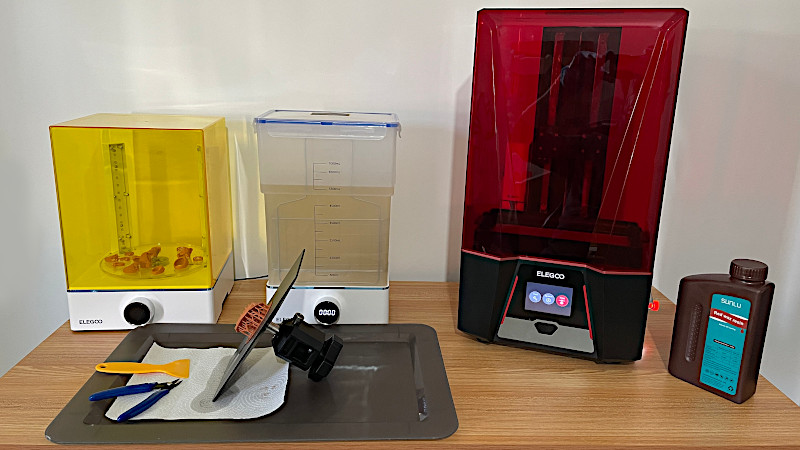 Mercury XS cure system has the UV lights installed underneath the turntable producing continuous and even UV exposure to the whole model.
Extra. A Handheld UV lamp. Recently, Elegoo began including a handheld UV lamp in their bundle to cure the hard-to-reach interior parts of 3D printed objects. Such lamps and torches make excellent companions to resin 3D printers.
Anycubic Wash and Cure Plus
Price: $169-199
Product affiliate links: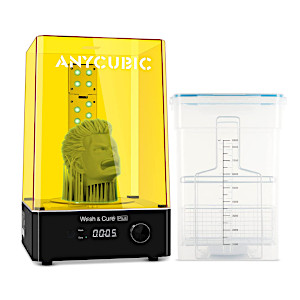 Amazon
Official Website
Wash Volume: 192mm(L)*120mm(W)*290mm(H)
Cure Volume: 190mm(D)*245mm(H)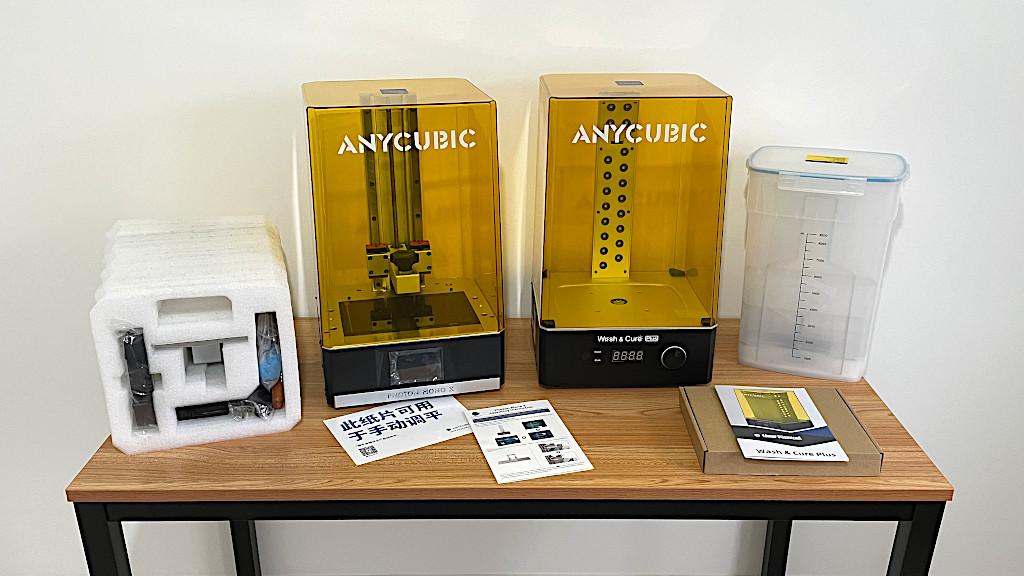 Anycubic listened to the Mono X users and released a Plus-sized station. The station is slightly pricier than smaller counterparts but is absolutely worth it if you operate larger build volume printers such as Photon Mono M5s or Saturn 3 Ultra 12K.
Design. A special note about the design – the wash and cure machine enclosure is made from the same material and color as Mono X, and it compliments it very nicely.
Elegoo Mercury Plus 2.0
Price: $169-199
Product affiliate links: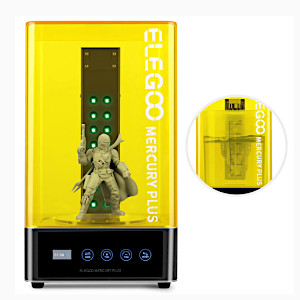 Amazon
Official Website
Wash Volume: 125mm*85mm*160mm
Cure Volume: φ140*165mm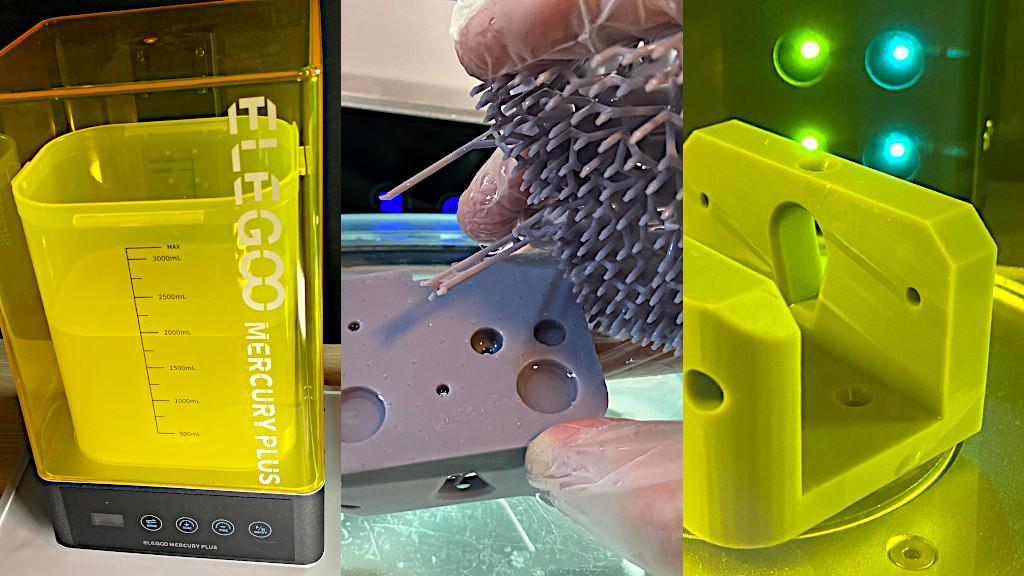 One of the first 2-in-1 washing and curing machines available on the market. If you are still in doubt if a washing and curing station is needed for your projects, we would recommend reading an article by Andrew Sink:
If you've used a DLP, MSLA, or SLA resin 3D printer before, you'll immediately understand the appeal of the Elegoo Mercury Plus, a standalone machine which combines wash and UV cure stages into a single unit. Using a resin 3D printer can be a messy process, and the post-processing steps can turn even the cleanest desk into a sticky mess as photopolymer resin, isopropyl alcohol, and other cleaning fluids are used in the printing process… Read more: Elegoo Mercury Plus Review
Phrozen Wash and Cure Kit
Price: $199
Product affiliate links: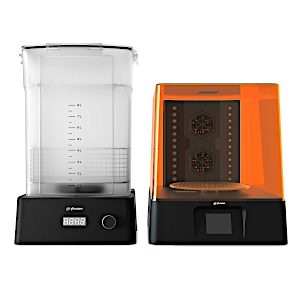 Amazon
Another popular company in the resin 3D printing market, Phrozen, also offers bundles. Both washing and curing stations have individual bases. Their cure station has a drying fan implemented, which is very handy. In order to avoid white marks, prints need to be dried after washing and before curing.
Other Combinations
Depending on the size and geometry of the prints, some post-processing jobs may require special cleaning and UV curing solutions. Here are the products we should keep in mind.
Ultrasonic Cleaner Professional Washing Equipment
The first thing to mention is that the professional washing equipment is relatively inexpensive to obtain and it has special functions like managed temperature, for example.
IPA (Isopropyl alcohol), a cost-effective and widely used industrial and household chemical, cannot be used on professional equipment as static electricity may spark and start the fire.
An extensive range of Ultrasonic Cleaners with different capacity is available on Amazon. Inexpensive VEVOR Ultrasonic Cleaner, for example, comes in 4 different sizes, from 2 to 30 liters. Equipment that was initially designed to clean such metals as silver can also be used to wash resin 3D prints. The cleaning solution should be picked according to safety rules as all of these are the highly flammable solutions with a risk of catching fire.
Regulated temperature. Some resins are required to be washed only at a specific temperature.
SUNLU UV Curing Box
Price: $49
Product affiliate links: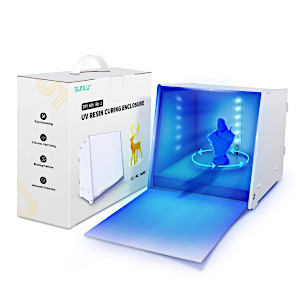 Amazon
Internal Curing Area – 170mm x 205mm x 155mm
A simple, yet effective, solution. Inexpensive and can be used for large-size prints. Some reviewers on Amazon mentioned the weakness of UV lights for such prints as molds, but overall, with a rating of 4.4 stars, this product is doing well. And we can see why. The combination of an Ultrasonic Cleaner and a Curing Box may be a to-go-for option if there are no issues with a 3D printing workshop space.
UV Torch
Price: $25
Product affiliate links: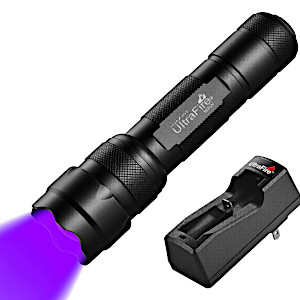 Amazon
UV Flashlight 395-405 nm.
And the last item we wanted to mention in this guide is a UV light torch. Sometimes resin 3D models are so complex that particularly deep hidden angles or curves might need additional curing. That is where such a basic item as a UV light torch may come to help. Elegoo started adding such torches to their bundle offers.
Innovations
Similarly, as with the consumer-grade resin 3D printers, manufacturers keep searching and developing better post-processing solutions. Here, we briefly mention some of the latest innovations and implementations.
Anycubic Wash & Cure Max
Price: $359-389
Product affiliate links: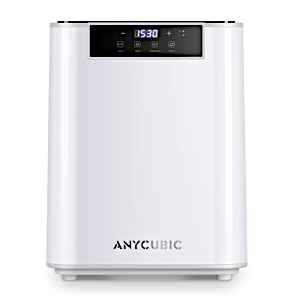 Amazon
Official Website
Anycubic, known in the resin 3D printing community for their Photon series machines, introduced a Wash & Cure Max. This all-in-one solution combines part washing, part drying, and part curing processes.
Alcohol-efficient. One of the major selling points was that this machine should be alcohol-efficient, as instead of prints being bathed, they are actually being spray-rinsed.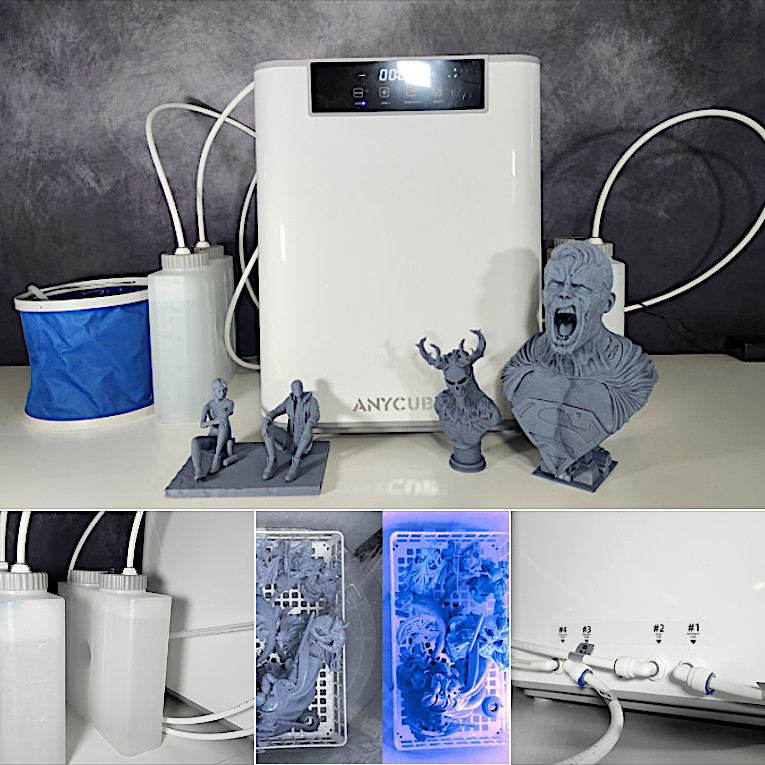 If you need a wash and cure station with a large capacity and a contained system, there are not a lot of those on the consumer market. The Anycubic Wash & Cure Max emerges as a potential option if you have the space to accommodate it. The flexibility of this station to handle many prints at once or an extra large print can considerably speed up and improve your workflow.
Read more:
Anycubic Wash & Cure Max Review by Will Zoobkoff.
Original Prusa CW1S
Price: $690
Product affiliate links: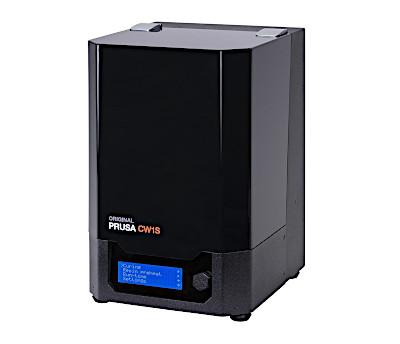 This machine is designed to accompany Prusa SL1 Speed and to post-process all prints coming from it. This printer's build volume size is 127×80×150 mm.
Prusa CW1S is a compact machine with extra features. The Drying option will dry the prints before curing in order to minimize the risk of having the leftover resin residue on the prints. Another function to mention is Resin Pre-heat, which pre-hits resin to the optimal temperature for resin printing.
We can't celebrate enough the existence of all these useful accessories for resin 3D printers and hope our guide gave you an idea or two on how to set up your 3D printing workshop.
Read More & Compare
Read more about desktop 3D printer builds and processes. Type, volume, FDM or Resin – all to consider. Or jump to the latest 3D printer reviews.
For a comparison of the resin 3D printers please refer to the
detailed resin 3D printers guide.