Let's take a look at the new LiDAR empowered iOS applications for 3D scanning using laser technology. We will list all practical uses of such technology, briefly review a few 3D scanning applications by providing the real experience and original footage. Also, let's check if mobile app 3D scanning can beat photogrammetry just yet.
This guide covers:

LiDAR apps tested with the iPhone 12 PRO
Amazon
LiDAR – History and Origin
Light Detection and Ranging – 3D Laser Scanning (time of flight technology)
"Lidar is a method for measuring distances by illuminating the target with laser light and measuring the reflection with a sensor. Differences in laser return times and wavelengths can then be used to make digital 3-D representations of the target. It has terrestrial, airborne, and mobile applications."
According to Wikipedia, the first such system was introduced in 1961. The term derived from the term "radar", an acronym for "Radio Detection and Ranging".
Currently, there are just a few devices that have LiDAR technology implemented: iPhone 12 Pro, iPhone 12 Pro Max, and iPad Pro.
LiDAR Empowered iOS App Types
There are a few types of apps empowered by LiDAR technology:
– Measuring Apps. Lost your measuring tape? No problem, this app can help you out. Some of the 3D scanning apps also have this feature as an extra tool. Such apps can have discrepancy up to one inch or two centimeters.
– AR Apps. A good example would be an IKEA Place application. You can try IKEA furniture without buying it. It is also referred to as Augmented Reality Furnishing. Great that it is an application, but sad that the choice of items is limited.
– 3D Scanners. "Time of flight" technology allows to 3D capture large objects with significant precision, including rooms and the whole streets if needed. In this guide, we will review this type of apps in detail.
LiDAR Empowered 3D Scanner Apps
This is a new era for mobile phone 3D scanners, and we see the heated competition in the 3D scanning applications' market. Some applications were developed to support LiDAR, other photogrammetry-based applications, that have been launched prior to LiDAR, are now implementing this new technology as an extra feature. We tried a few apps on iPhone 12 PRO. Let's take a look at what they can do.
Polycam
App Store – Polycam
Polycam is free to use but $5.99 p/m subscription is required if you want to transfer files.
Extra Features: Photo Mode, AR, Measurements
In order to participate in Sketchfab's "Street Art" competition, we captured Banksy's Portrait of Basquiat in London. You can click, zoom and rotate in Sketchfab view. This file is downloadable.
It took us 10 seconds to capture and 20 seconds to process it using the Polycam iOS LiDAR 3D scanning app. We liked the idea that it is after capturing when you pick from several resolution options for 3D processing. These are Fast, Default, HD, and Custom options. Such setup helps to carry on with the workflow uninterruptedly, capturing as many different objects as needed and processing them later.
According to Polycam, an Android version of the application with the Photo Mode feature is expected to be released by the end of this year. Update: Polycam announced the Android version.
3D Scanner App
App Store – 3D Scanner App
Price: Free
Extra Features: AR, Measurements
3D Scanner App interface offers to choose "Low or High Res" from the beginning. We would recommend using Low resolution for something really big objects, like houses or streets. While High Res mode was OK for our sofa. It is important to capture patiently until the whole area turns into purple color. If not, there will be holes.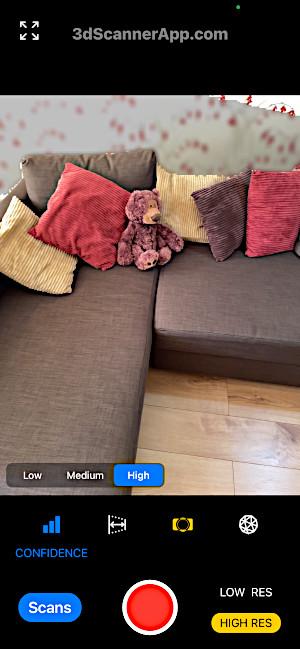 Scandy PRO 3D Scanner
App Store – Scandy Pro
Price: 1 week of unlimited saves: $1.99 (USD)
Extra Features: AR, TrueDepth
Scandy PRO iOS app was on the market long before LiDAR was implemented on mobile phones. Scandy uses TrueDepth technology for the front camera, the same technology that enables face recognition on iPhones. Now it has a "WORLD SCAN" option as well.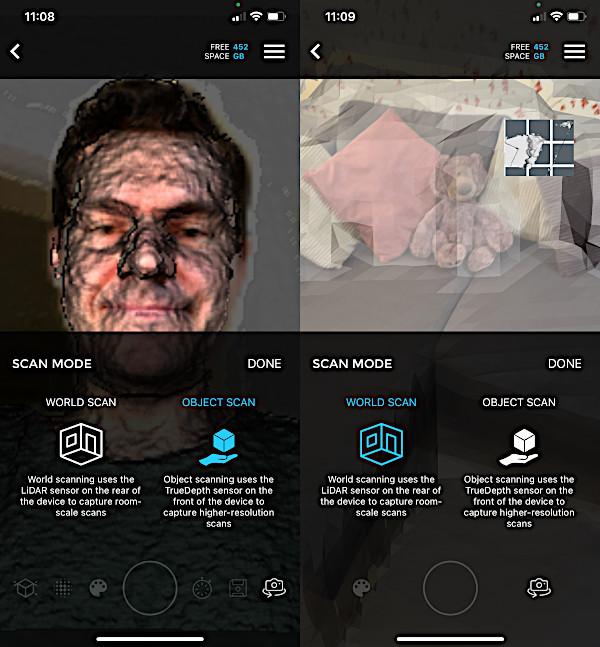 SiteScape – LiDAR Scanner 3‪D
‬‬
App Store – SiteScape
Price: Free
If you have never seen Point Clouds – a set of data points in space – then this app is good to try. We liked how different color bubbles kept appearing while scanning an object. We have never seen such a technique/approach before. Interesting stuff. Works well for large objects.
Scaniverse – 3D Scanner
App Store – Scaniverse
Price: Free and Premium Options Depends on Resolution
Extra Features: AR
Scan an object until all red stripes are gone. Cleaning the scan was easy enough.
We 3D scanned our sofa, cleaned the scan in the editing mode, and used it in AR on our terrace. Great result, isn't it? If only the weather wasn't that wet in the UK! Also, noted: AR is for the smart people who don't want to move their furniture back and forward at home.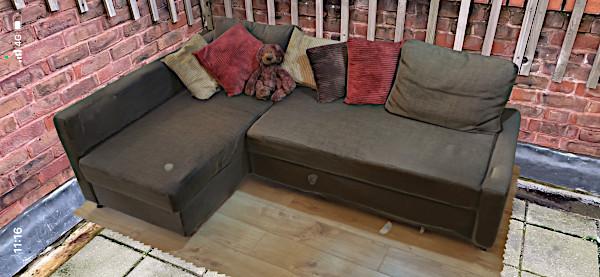 … more apps will be added to this guide after we do the testing …
Uses of LiDAR Apps – What to Capture?
Recently Sketchfab organized a LiDAR 3D scanning competition called "Street Art". The idea was simple: participants had to capture with LiDAR apps all kinds of murals, graffiti walls, etc. If at the first glance it struck us with simplicity and provoked the questions, particularly, "why 3D capture something that is done in 2D?" Once we've seen the amazing entries of the participants, it demonstrated the real power of LiDAR enabled portable devices.
Murals
It is possible to make just a single image to replicate the art. When 3D scanned, such replicated art is much powerful. It shows the surroundings in detail that helps to read the subtle message of the artists. For example, Banksy's murals are very intense due to the place where are they created, conveying various socially debated/engaged messages.

As Sketchfab's embeds are too heavy for publishing here, you can find the best works by visiting the contest page.
Streets
This is a relatively quick process when done with LiDAR empowered apps. Small details, like cables, thin trees may come out sketchy though, but the overall result will be impressive.
Rooms
Some apps are developed specifically for room capturing. Useful for property agencies, we guess.
Densely Planted Flower Beds
Densely planted flowers constitute something close to a solid object and are easier recognized by the scanning software. And even if most of the flowers don't come out in high resolution individually and are out of shape, such a scan can still be used as a 3D asset. Read more about 3D Scanning Flowers and Flowerbeds.
The Royal Botanic Kew Gardens Orange and Yellow Marigolds
Large Objects
Similar to our case with the sofa. In just in a few minutes, we managed to check how our sofa would look like on the terrace.
LiDAR Mobile Phone 3D Scanner Apps vs Photogrammetry
– Accuracy. We cannot call it precise. Laser technology is precise, but mapping the bits together in the apps causes inaccuracy. That's where photogrammetry software still wins.
– Time and convenience. LiDAR scanning apps are advantageous in the sense of convenience, to fulfill quick 3D capture tasks, like capturing a room to give an extra feel. Plus there is a AR tool on the same app. Therefore, if time is more important than quality – LiDAR scanner apps win.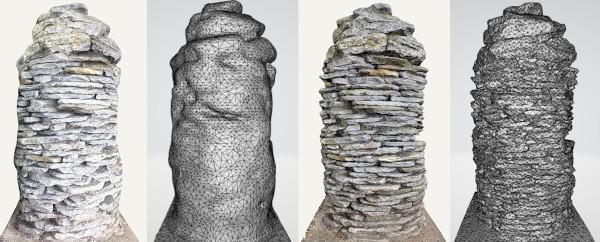 Sometimes it is difficult to see the significant difference between LiDAR and Photogrammetry results. Like with the stone pillar above, there is a slight difference in the object previews, while meshes, in reality, have a big difference. If you plan to 3D scan for 3D printing, for example, photogrammetry produces a much better result.
3D Scanning in Connection with Desktop 3D Printing
On this website, you will find a lot of quality blogs covering 3D scanning generally. Read about photogrammetry, software reviews, 3D Apps, etc. Also, you can find striking 3D models and their 3D print collections achieved thanks to these technologies and techniques described in Scan The World and 3D Scanned Tree Textures articles. Even if LiDAR empowered mobile phone apps may not be that precise just yet, we do expect this may change soon. We believe this new technology will boost 3D scanning for the 3D printing department significantly.

LiDAR apps tested with the iPhone 12 PRO
Amazon
If you've ever been interested in using your smartphone as a 3D scanner, there's no better time than right now to give it a try…