Here you will find the best resin 3D printers. This type of machines is widely used by professionals and hobbyists. Let's briefly look at the differences between SLA, DLP, and LCD processes, the latest innovations and see where such machines are used. As the technology evolves and more machines come out onto the market this guide is constantly edited.
This guide covers:
Resin 3D Printers – Brief History
Research in this area started in the seventies and the Stereolithography (SLA) process was patented in the mid-eighties. This makes this 3D printing technology one of the oldest. Because of its precision and reliability, SLA is still widely used nowadays. Together with the open-source movement and the hype around FDM machines, consumer resin 3D printing received a significant boost in the past decade.
SLA, DLP and LCD – Processes
The core essence of all three processes is curing photosensitive resin in a vat with the help of UV light. The difference is in the light source. Traditional SLA technology uses a laser beam to cure the resin. This process is precise but slower compared to LCD or DLP. In LCD resin printers, a screen is used to create the curing patterns. DLP 3D printers work similarly to the common projectors. In this process, the whole layer is cured at once, making it the fastest of the three. DLP is very precise but can be only used on a small area thus producing smaller parts. With both LCD and DLP technologies advancing through the recent years, resin 3D printers acquire better quality and it would make sense to go for the later models, especially when LED is involved.

Price Explained
As this technology became more accessible, we have been witnessing an influx of consumer-grade machines. It is possible to find bargains of older and slightly outdated models, sometimes with a price tag of around $150. But the cheapest doesn't mean the best. So, what dictates the price? One of the major factors is the country of origin. Usually, products manufactured in China are cheaper. Other factors are brand awareness and reliability. A solid community behind the brand or high-standard customer service would allow keeping the price tags higher. Good examples are Formlabs and Prusa Research.
Resin 3D Printers - Comparison Table
Disclaimer: Some of the links are affiliate links – at no additional cost for you we will receive a commission if a purchase happens.
Printers
Specifications
Images
LWH

XL - Category
Anycubic Photon M3 Max
Extra large build volume printer


Amazon


Official Website
Res. LCD 7K
Speed: 1-3 sec / layer
XL - Extra Large
11.8x6.4x11.8in
298x164x300mm
Review
Elegoo Jupiter
Extra large build volume printer
Official Website
Res. LCD 6K 12.8"

XL - Extra Large
10.9x6.1x11.8in
277x156x300mm
L - Category
Anycubic Photon M3 Plus


Amazon




AliExpress


Official Website
Res. LCD 6K
Speed: 1.5 sec / layer
L - Large
7.8x4.8x9.6in
197x122x245mm
Review
Elegoo Saturn 2
8K High Resolution MSLA 3D Printer
Official Website
Res. LCD 8K
Speed: 1-3 sec / layer
L - Large
8.62x4.84x9.84in
219x123x250mm
Review
Elegoo Saturn S
4K MSLA 3D Printer


Amazon


Official Website
Res. LCD 4K
Speed: 1-3 sec / layer
L - Large
7.7x4.8x 8.3in
196x122x210mm
Review
Phrozen Sonic Mighty


Amazon

Res. LCD 4K
Speed 80mm/hour
LxWxH
7.9x4.9x8.7in
200x125x220mm


M - Category
Elegoo Mars 3 Pro


Amazon


Official Website
Res. LCD 4K
Speed: 1-4s per layer
M - Medium
5.64x3.52x6.89in
143x89x175mm
Review
Anycubic Photon M3


Amazon




AliExpress


Official Website
Res. LCD 4K
Speed: ≤ 5 cm./hr. ≤ 1.97 in./hr
M - Medium
6.4x4x7in
163x102x180mm
Review
Creality HALOT-ONE


Amazon


Official Website
Res. LCD 2K
Speed: 1-4s per layer
5x3.1x6.3in
127x80x160mm
Voxelab Polaris


Amazon




AliExpress

Res. LCD 2K
Speed: 10 sec/layer
4.53x2.56x6.1in
115x65x155mm
Review
LONGER Orange 10


Amazon

Res. LCD 2K
LxWxH
4.7x2.6x6.7in
120x68x170mm


Elegoo Mars 2 Pro


Amazon




AliExpress

Res. LCD 2k
Speed: 30-50mm/h
5.1x3.1x6.3in
129x80x160mm
Review
Anycubic Photon Mono


Amazon




AliExpress



LxWxH
5.11x3.14x6.49in
130x80x165mm
Lotmaxx CH-10


Amazon

4.7x2.7x6.1in
120x68x155mm
Review
Elegoo Mars Pro
4.53x2.56x5.9in
115x65x150mm
Review
Original Prusa SL1
Official Website
LxWxH
4.7×2.6×5.9in
120×68×150mm
Formlabs Form 1+


Amazon

LxWxH
4.9x4.9x6.5in
125x125x165mm
Elegoo Mars 3 Pro
Example in $300 Price Range
Similar price range and build volume machines: Mars 3, Photon, Photon M3, HALOT-ONE, more details in the table.
Specifications:
Process: LCD 6.66″ 4K
Build Volume: LxWxH
5.64×3.52×6.89in
143x89x175mm
Layer Height: 0.01-0.2mm
Speed: 30-50mm/h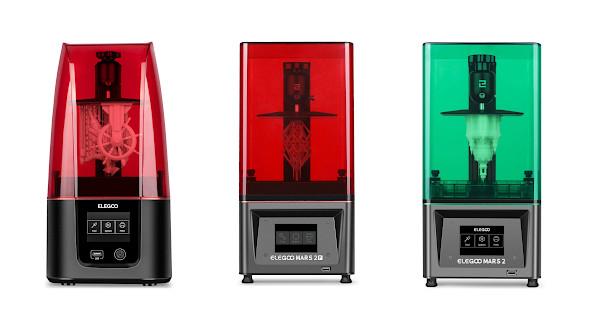 Attractive price tags and a large user community brought Elegoo Mars printers into the league of the top bestselling machines for a few consecutive years. Compare Mars 3 Pro with Photon M3 and Halot One in the table above.
Affiliate Links: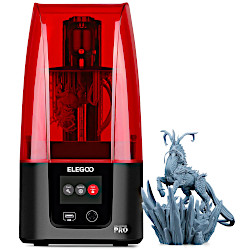 Amazon
Official Website
The successor to the highly-rated previous model, the Elegoo Mars 3 Pro offers incremental hardware improvements without compromising on any of the features that made its predecessor such a success.
Read the full review of Elegoo Mars 3 Pro.
ANYCUBIC Photon Mono X
Example in $500 Price Range
Similar price range and build volume machines: Saturn 2, Photon M3 Plus, Phrozen Sonic Mighty, more details in the table.
Specifications:
Process: LCD 8.9″ 4K
Build Volume: LxWxH
192mm/7.5″, 120mm/4.7″, 250mm/9.8″
Layer Height: 0.01-0.15mm
Speed: 60mm/h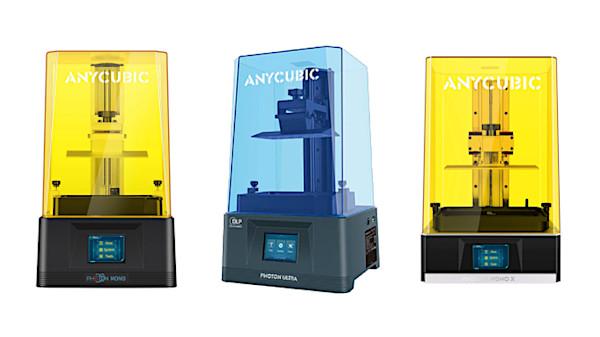 Photon Mono X is one of the good examples of the XL (extra large) LCD machines. There are various models in the Photon series and they have been on the market for a few years now. DLP Photon Ultra (blue in the image) is yet to be delivered to the Kickstarter campaign backers. We will add this machine here when it becomes available to buy.
ANYCUBIC Photon Mono X
Amazon
Affiliate links
AliExpress
Anycubic Photon Series
Official Website
Anycubic Photon Mono X did what had to be done long ago – it hooked me into resin 3D printing. If previously I kept delaying such adventure because of the smelly and messy process, then with the appearance of a handy Wash & Cure station, the variety of resins and color shades, and always helpful community, the time couldn't be better to join the crowd.
Read the full review of Mono X
Prusa SL1S Speed
Example in $2000 Price Range
Process: LCD 5.96″, 2560×1620p
Build Volume: LxWxH
127mm/5″, 80mm/3.1″, 150mm/5.9″
Layer Height: 0.025-0.1mm
Speed: 1.4-2.4sec/layer exposure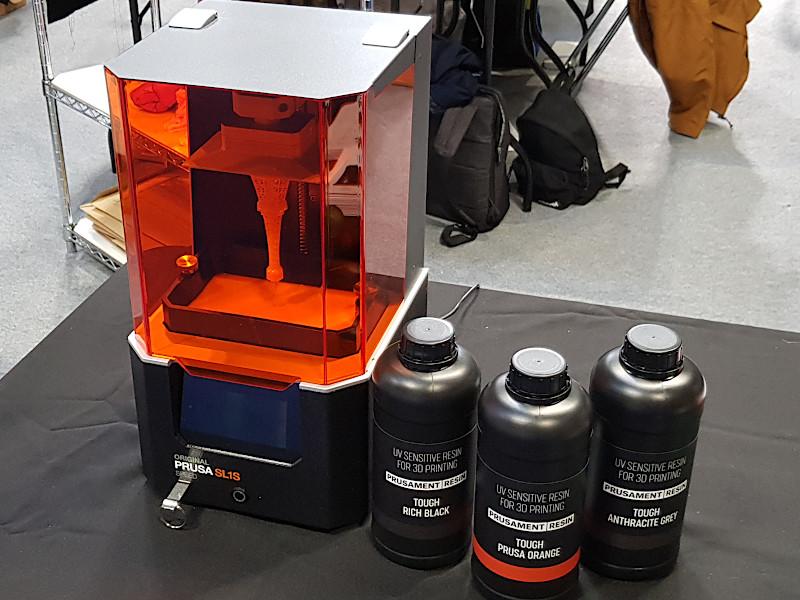 Source: Official Website
The most recent machine from the Prusa Research team, advertised as a "lightning fast" LCD 3D printer offering only 1.3sec exposure per layer. This Czech manufacturer is well known for their reliable FDM printers, PrusaSlicer software, and the worldwide supporting community. They are also the dedicated followers of the Open-Source values, meaning that the 3rd party resins can be used.
Innovations Around Resin 3D Printers
SLA in 3D printing used to be associated with the slow printing process which may be hazardous in the home environment. During the past few years, we have been witnessing a big number of resin 3d printers launched, the majority were LCD followed by DLP. Among the most common innovations were improved precision, speed, and a larger build volume. Other innovations were in connection to a more silent printing process, purifying systems, and better bed adhesion. All these contributed to resin 3D printers becoming a common choice for hobbyists.
Anycubic Photon Ultra DLP Printer (MP4: Anycubic)
Anycubic Photon Ultra
Process: DLP 4K
Build Volume: LxWxH
102mm/4″, 57mm/2.2″, 165mm/6.5″
Speed: Max 1.5s/layer 60mm/h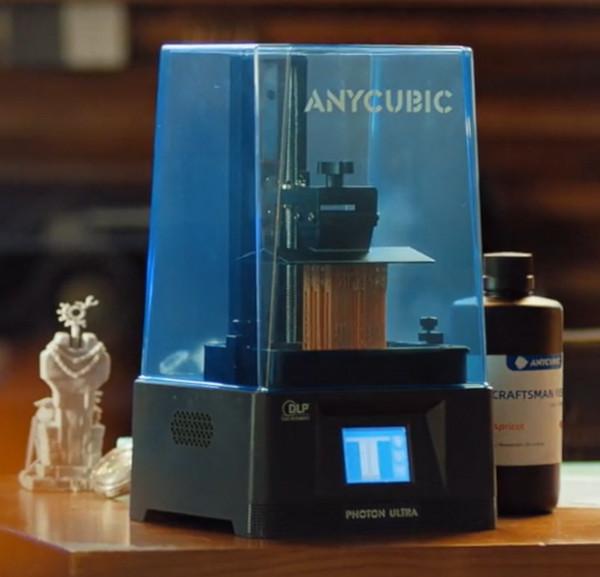 Photon Ultra is the most recent machine launched on Kickstarter. 4K+ backers pledged $2.3mln for the promise to deliver this high-precision 3D printer. With the DLP technology, Anycubic also promises a "blazing-fast" engine that can produce a layer in only 1.5 seconds. Other perks include long-life functionality and silent printing.
Affiliate Links:
AliExpress
Official Website
Elegoo Jupiter
Process: LCD 12.8″ 6K
Build Volume: LxWxH
277mm/10.9″, 156mm/6.1″, 300mm/11.8″
Speed: 30-70mm/h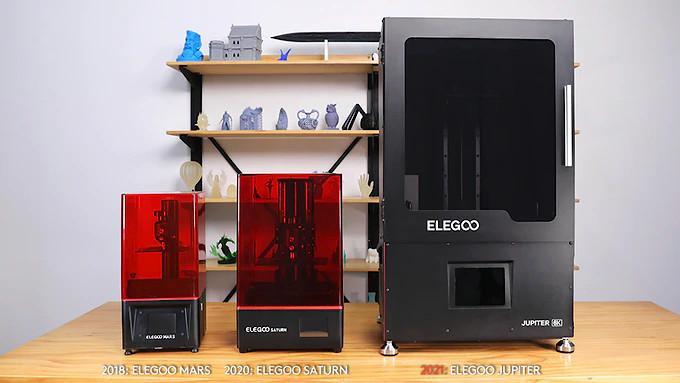 With a strong community across the globe, it was not a surprise that this Kickstarter campaign accumulated $4.7mln with over 5,000 backers. Jupiter offers a large format high-resolution printing experience. Elegoo's community and supporters actively suggest and comment on various improvements, and Jupiter's design was tweaked during the campaign. As a result, an Ethernet port has been added together with a few other adjustments. The Super Early Birds were lucky to secure this machine for a special price of only $600.
DCLF 3D Printer – HITRY Rocket 1
Rocket 1 by HITRY benefits from a new DCLF, Digital Continuous Liquid Forming, technology for printing in resin and promises a higher speed and better quality using a new type of resin. Let's take a look at the Rocket 1 campaign, check specifications and take the first glance at this novel technology.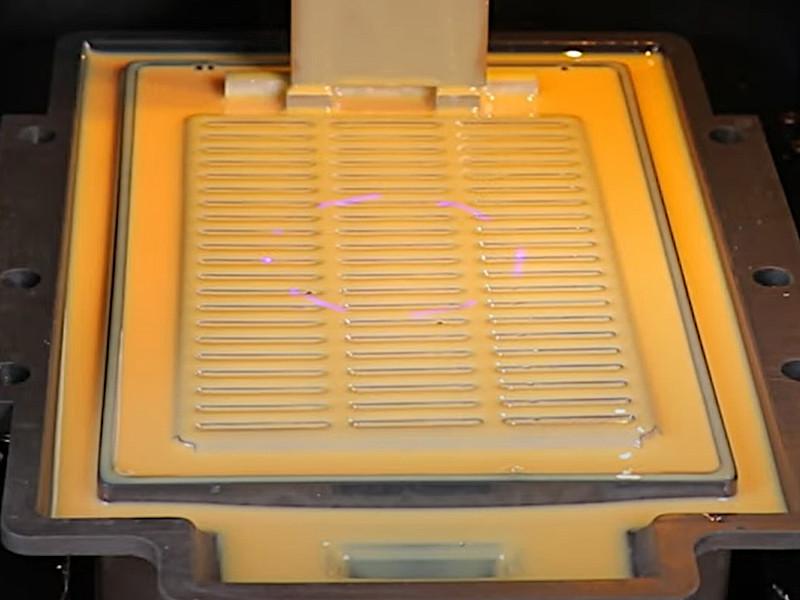 Resin Pump System
While the automatic pump works well, the amount of tubes, wires, and probes make this system look a little less professional, and a little more like a science project. In addition, the black tube which delivers the resin will need to be flushed whenever resin is changed to fully change colors and to prevent it from potentially hardening and blocking the stream. Read more in Anycubic Photon M3 Plus review by Andrew Sink.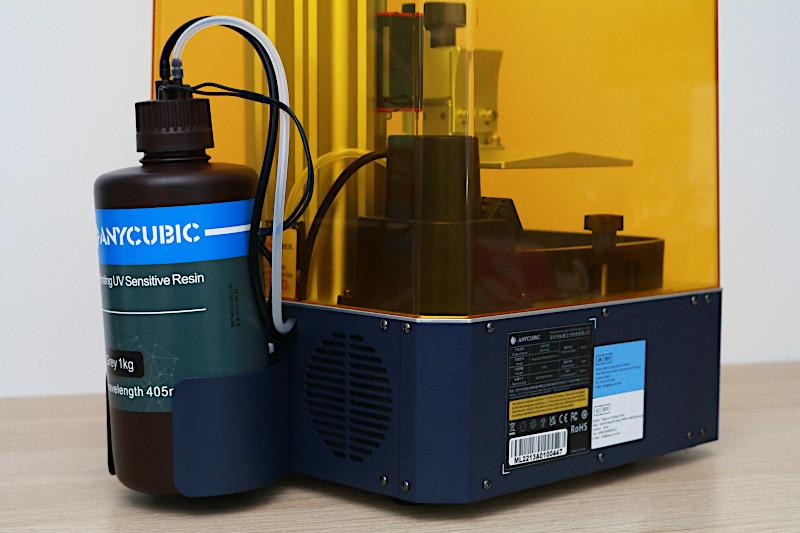 Uses of Resin 3D Printers
The original SLA machines have been primarily used for prototyping. The main purpose of such machines is to help designers to test and feel the future product in a prototype mode. Nowadays prototyping is widely used in the automotive industry, medicine, for surgery planning, architecture, and other areas. SLA, LCD, and DLP resin 3D printers are gaining ground in dentistry, audiology, and jewelry.
From the hobbyist perspective, this technology is invaluable for creating complex figurines and miniatures that can be used in tabletop gaming. With the ability to print in great detail, designers can let their imagination run free.
What to Consider
With all the benefits that this technology brings, it may be tempting to try it out at home. There are a few aspects to consider.
– Health and Safety. Dealing with resins may be a messy job, and as this material is hazardous, strict safety measures have to be put in place. Wearing gloves and protective goggles is one. Designating the work area which is well ventilated and out of children's reach is another.
– Post-processing. Prints made in resin require washing and curing, and this leads to buying an extra item – a Wash & Cure machine.
– Part replacement. LCD monitor lasts for 2-3 years on average, so be prepared for replacing it, which may result in an extra $200-500, depending on the brand.
Read more: Best Wash and Cure Stations
Post-processing is a big part of 3D printing in resin, and additional equipment, like wash and UV cure stations, is needed. In recent years, these two separate units started coming as two-in-one stations. Similar to 3D printers, washing and curing stations … Read more …