Here you will find the best budget resin 3D printers in small, medium, and large build volume categories. These types of machines are widely used by professionals and hobbyists. We will briefly look at the latest innovations, and see where such machines are used. As the technology evolves and more machines come out onto the market, this guide is constantly edited.
Contributions: Andrew Sink, Will Zoobkoff, Richard Hirst, Max Funkner.
This guide covers:
Resin 3D Printers – Brief History
Research in this area started in the seventies and the Stereolithography (SLA) process was patented in the mid-eighties. This makes this 3D printing technology one of the oldest. Because of its precision and reliability, SLA is still widely used nowadays. Together with the open-source movement and the hype around FDM machines, consumer resin 3D printing received a significant boost in the past decade.
SLA, DLP and LCD – Processes
The core essence of all three processes is curing photosensitive resin in a vat with the help of UV light. The difference is in the light source. Traditional SLA technology uses a laser beam to cure the resin. This process is precise but slower compared to LCD or DLP. In LCD resin printers, a screen is used to create the curing patterns. DLP 3D printers work similarly to the common projectors. In this process, the whole layer is cured at once, making it the fastest of the three. DLP is very precise but can be only used on a small area thus producing smaller parts. With both LCD and DLP technologies advancing through the recent years, resin 3D printers acquire better quality and it would make sense to go for the later models, especially when LED is involved.
Price Explained
As this technology became more accessible, we have been witnessing an influx of consumer-grade machines. It is possible to find bargains of older and slightly outdated models, sometimes with a price tag of around $150. But the cheapest doesn't mean the best. So, what dictates the price? One of the major factors is the country of origin. Usually, products manufactured in China are cheaper. Other factors are brand awareness and reliability. A solid community behind the brand or high-standard customer service would allow keeping the price tags higher. Good examples are Formlabs and Prusa Research.
Does higher resolution affect price? Yes, but not significantly. From year to year, we witness how resin 3D printer manufacturers have increased the UV light source resolution from 2K to 12K. In many cases, such high resolution is just not relevant, and due to the intense competition, these machines still come at a low price.
The Best Small Volume Budget 3D Printers in the $300 Price Range
These are the most popular resin 3D printers, mostly because they come with a very affordable price tag. During sales or other campaigns, machines in this category, even from popular brands, can be found for as low as $150, while clearances can push the price to below $100 in some cases. Compare Mars 3 Pro with Photon M3 and Halot One below.
Elegoo Mars 3 Pro 4K
Price: $225-350
Resolution: 4K
Build Volume: 5.64×3.52×6.89in / 143x89x175mm
Product affiliate links: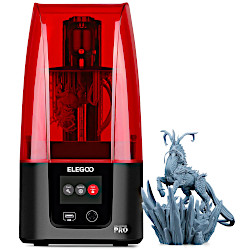 Amazon
Official Website
Attractive price tags and a large user community brought Elegoo Mars series printers into the league of the top bestselling machines for a few consecutive years.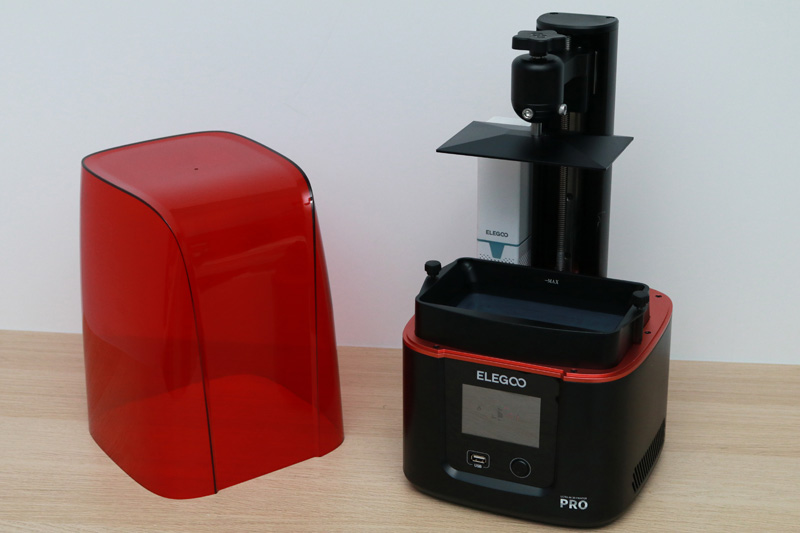 The successor to the highly-rated previous model, the Elegoo Mars 3 Pro offers incremental hardware improvements without compromising on any of the features that made its predecessor such a success. Check the print quality and read the Elegoo Mars 3 Pro review by Andrew Sink.
Anycubic Photon M3
Price: $187-299
Resolution: 4K
Build Volume: 6.4x4x7in / 163x102x180mm
Product affiliate links:


Amazon
AliExpress
Official Website
Anycubic is another brand that has a very strong community, especially on Facebook. Photon M3 is just one of the options from a wide range of machines in the Photon series.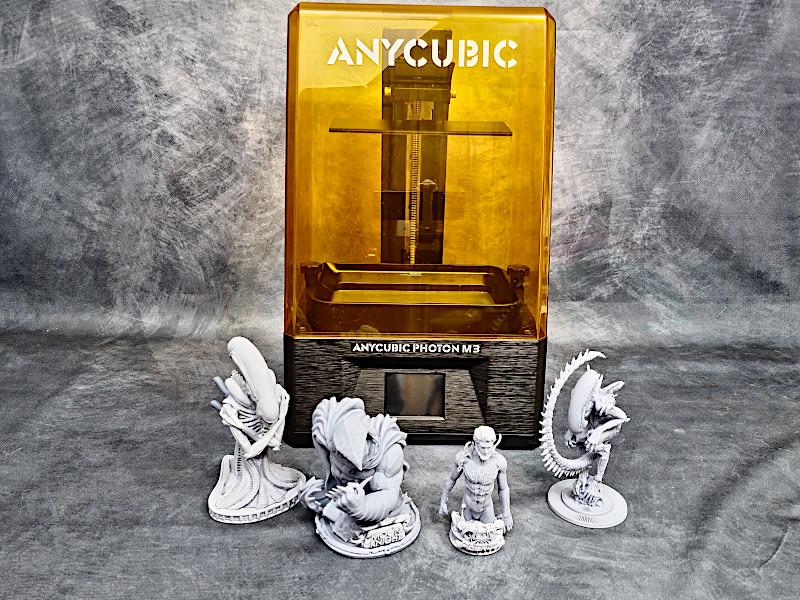 The Photon M3 from Anycubic is a cutting-edge MSLA 3D printer. It meets all of the current resin 3D printing trends with its mid-range build capacity, 4K+ screen, and monochrome display. The Anycubic Photon M3, housed in a beautiful black frame with a simple user interface, is capable of generating high-quality prints with minimal effort. Check the print quality and read the Anycubic Photon M3 review by Will Zoobkoff.
Creality Halot One Pro
Price: $219-349
Resolution: 3K
Build Volume: 5.1×4.8×6.2in / 130x122x160mm
Product affiliate links:
Amazon
AliExpress
Official Website
Creality, boasting of their successful sales in the FDM 3D printer market a few years ago, introduced the Halot series machines as their resin 3D printers.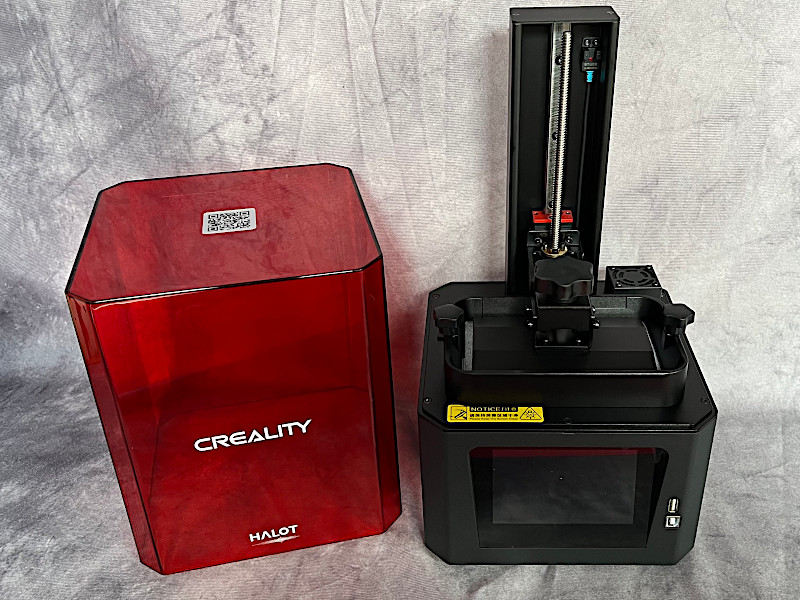 The Halot series has been on the market for a while, and the Halot-One sets an excellent benchmark for hobbyist-level printers. One of the standout features of this printer is its 2K screen and printing size, which is surprisingly impressive for its price point. Additionally, the Halot-One includes many features that aid in print quality and ease of use. Check the print quality and read the Halot One review by Richard Hirst.
The Best Medium Volume Budget 3D Printers in the $600 Price Range
Sometimes with twice the bigger build volume compared to the small-sized printers featured above, these machines are more for professionals who print items in bulk or enthusiasts who decide to give highly detailed miniatures and fan art a larger scale. Compare Anycubic Photon M5S with Elegoo Saturn 3 and Uniformation GKtwo below.
ANYCUBIC Photon Mono M5s
Price: $519-719
Resolution: 12K
Build Volume: 8.58×4.84×7.87in / 218x123x200mm
Product affiliate links: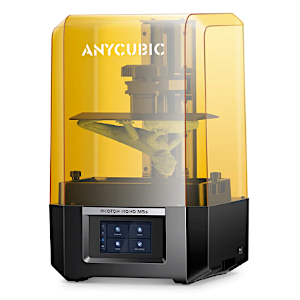 The Anycubic Photon Mono M5s is the latest installment in the popular Photon Mono line of resin 3D printers from Anycubic. This line primarily brings resin 3D printers to beginners and new users at a reasonable price point.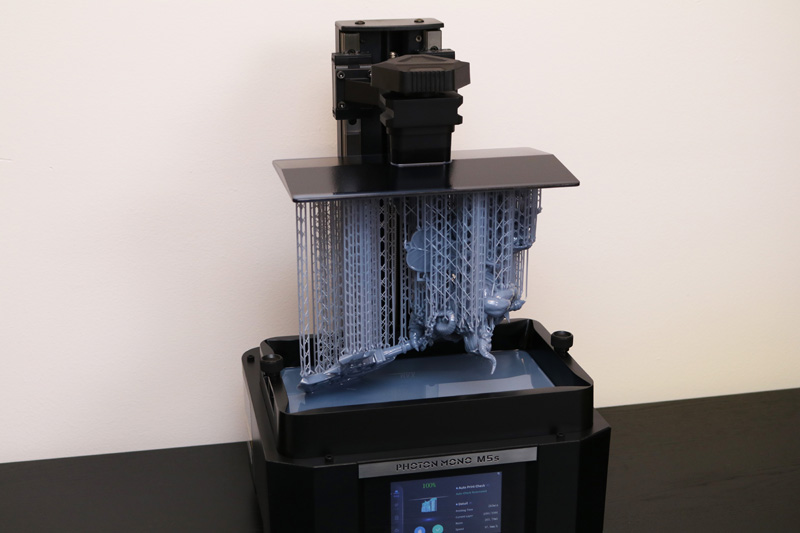 The Photon Mono M5s has a list of new hardware features that is guaranteed to impress even experienced 3D printer users, and features quality-of-life features designed to help beginners. Between the 12K resolution, the new automatic build platform leveling process, and the 3rd generation release film on the vat, the $539 Photon Mono M5s boasts across-the-board upgrades without the corresponding jump in price. Check the print quality and read the full review by Andrew Sink.
Elegoo Saturn 3 12K and Ultra 12K
Price: $399-450
Resolution: 12K
Build Volume: 8.58×4.84×7.87in / 218x123x200mm
Product affiliate links: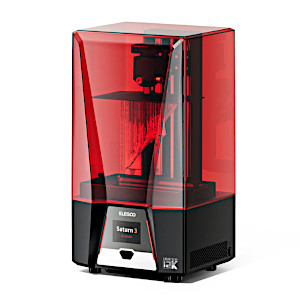 Official Website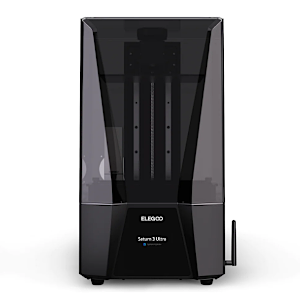 This year, Elegoo introduced Ultra printers to both the Mars series and Saturn series. To compare the new Saturn models, the image below can provide the best picture. While the Saturn 3 Ultra has some significant changes in design and features, the Saturn 3, following the success of the previous year, maintains trusted features and a very competitive price.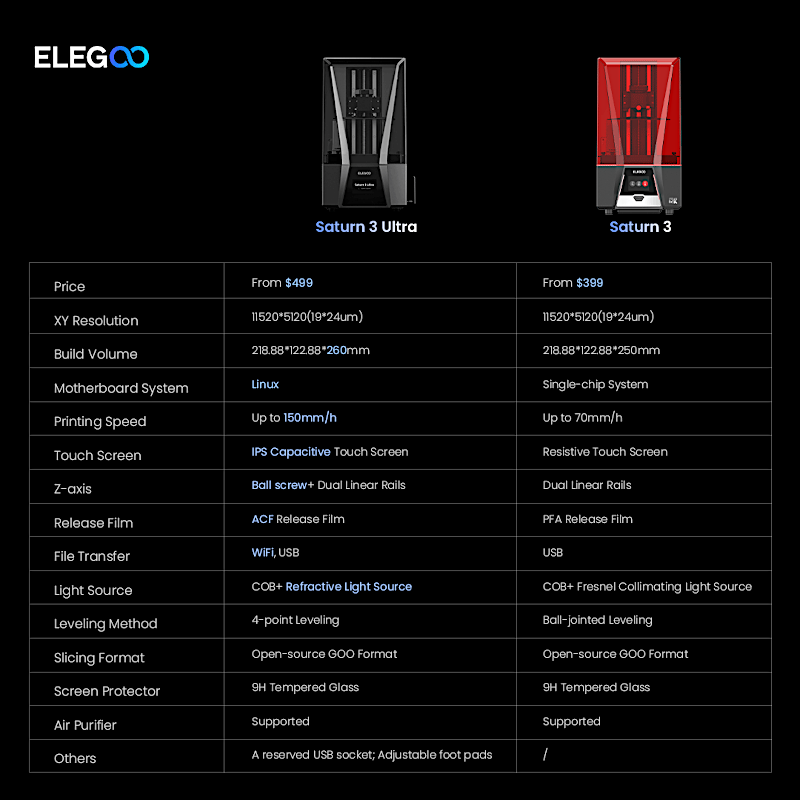 As the universe of 3D printers continues to expand, the new Elegoo Saturn 3 Ultra 12K is the latest 3D printer to bring ultra-high resolution and fast print speed to the sub-$600 price point. With an impressive 12K resolution, Fast Mode for lightning-fast prints, and an LCD interface that's larger than the original iPhone screen, the Saturn 3 Ultra 12K is poised to be a very popular machine in the desktop resin 3D printer market. Check the print quality and read the Saturn 3 Ultra 12K review by Andrew Sink.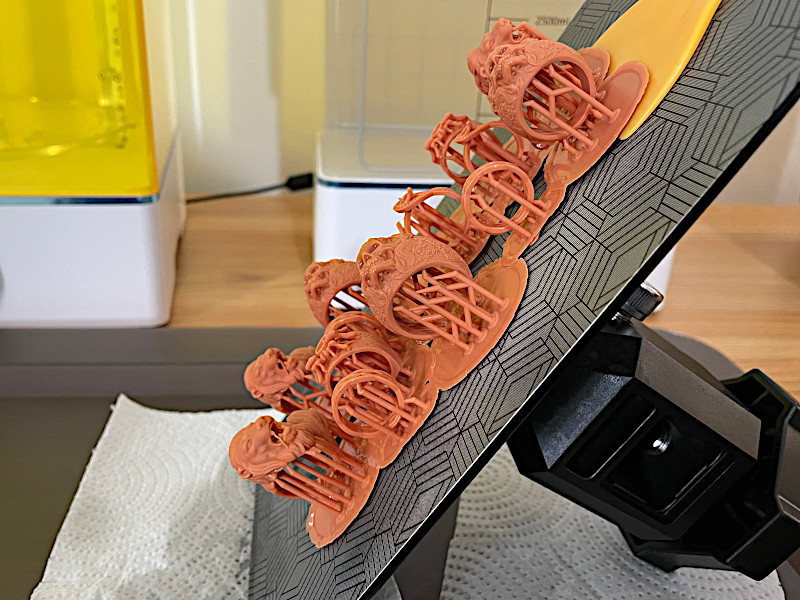 Elegoo Saturn 3 12K, apart from higher resolution, doesn't have many differences compared to its predecessor and therefore it is still a stable machine that does the job well and looks nice. Stability, a strong community behind it, and a good price are the major factors why I believe this model will still be popular in 2023/2024. Check the print quality and read the Saturn 3 12K review by Max Funkner.
UniFormation GKtwo
Price: $799
Resolution: 8K
Build Volume: 8.9x5x9.6in / 228x128x245mm
Product affiliate links: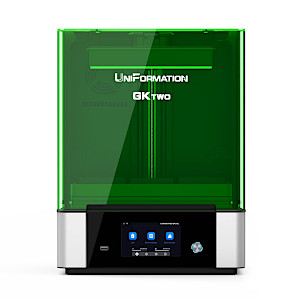 At the beginning of 2023, Uniformation GKtwo surprised with a couple of innovative features that pushed this printer higher in our ranking despite the high price.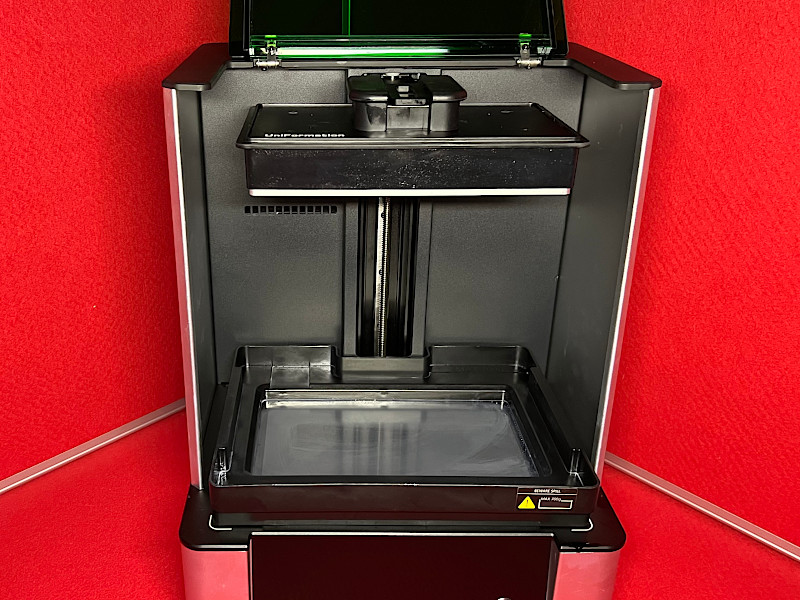 The 8k resolution allows for incredible levels of detail and accuracy. The easy-build plate attachment and lock-in vat make printing a breeze, even for those new to 3D printing. The heated printer, built-in air filter, and 5-inch interface screen are user-friendly and provide a smooth printing experience. Check the print quality and read the UniFormation GKtwo review by Richard Hirst.
The Best Large Volume Budget 3D Printers in the $1000 Price Range
What are the biggest build volume resin 3D printers that can be purchased for approximately $1000? Professional grade 3D printers are obviously used for mass 3D printing or to print extra-large objects. Compare Anycubic Photon M3 Max with Elegoo Jupiter.
Anycubic Photon M3 Max
Price: $869-1,099
Resolution: 7K
Build Volume: 10.9×6.11.8in / 298x164x300mm
Product affiliate links: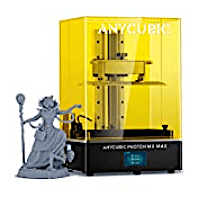 Amazon
AliExpress
Official Website
The Anycubic Photon M3 Max SLA 3D printer is at the forefront of technology. Due to its high build capacity, 7K screen, and monochrome display, it satisfies all of the current resin 3D printing trends. This product is capable of creating high-quality prints effortlessly. The Photon M3 Max is the largest model in the new Photon lineup from Anycubic and offers a tremendous build volume.
Printing timelapse
©3DWithUs – Print & MP4: Will Zoobkoff
The Photon M3 Max is one of the best large-volume SLA printers on the market, and its pricing is far cheaper than that of comparable-sized rivals. If your budget permits, I strongly suggest investigating this machine. Check the print quality and read the UniFormation GKtwo review by Will Zoobkoff.
Elegoo Jupiter
Price: $940-1,200
Resolution: 6K
Build Volume: 10.9×6.11.8in / 277x156x300mm
Product affiliate links: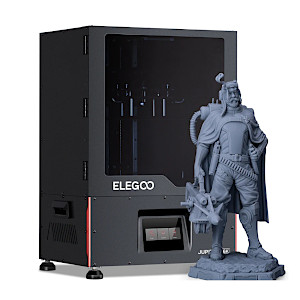 With a strong community across the globe, it was not a surprise that this Kickstarter campaign accumulated $4.7mln with over 5,000 backers. To have a feel how big this machine is please check the image below where Elegoo Jupiter placed next to Mars and Saturn printers.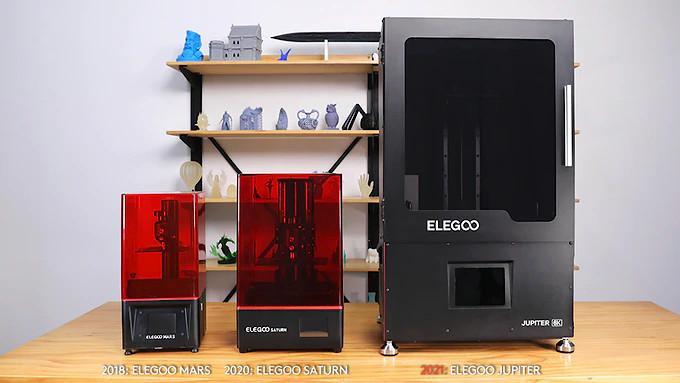 With a strong community across the globe, it was not a surprise that this Kickstarter campaign accumulated $4.7mln with over 5,000 backers. Jupiter offers a large format high-resolution printing experience. Elegoo's community and supporters actively suggest and comment on various improvements, and Jupiter's design was tweaked during the campaign. As a result, an Ethernet port has been added together with a few other adjustments. The Super Early Birds were lucky to secure this machine for a special price of only $600.
Innovations Around Resin 3D Printers
SLA in 3D printing used to be associated with the slow printing process which may be hazardous in the home environment. During the past few years, we have been witnessing a big number of resin 3d printers launched, the majority were LCD followed by DLP. Among the most common innovations were improved precision, speed, and a larger build volume. Other innovations were in connection to a more silent printing process, purifying systems, and better bed adhesion. All these contributed to resin 3D printers becoming a common choice for hobbyists.
Auto Leveling System
Leveling the build platform can be a daunting task for beginners, as the platform must be perfectly planar with the LCD screen and resin vat film in order to get a consistent offset at all points. Typically, resin printers like the Anycubic Photon M3 Plus or the Elegoo Mars 3 Pro use a multi-bolt leveling system to set the position of the platform, which can be a tedious and difficult task. If the build platform isn't leveled, parts will have difficulty adhering, be dimensionally inaccurate, or potentially cause damage to the delicate LCD screen.
Anycubic has addressed this by adding a mechanical sensor to the cantilevered arm of the Photon Mono M5s which is able to detect when the platform is level automatically when a print starts. Read Photon Mono M5s review by Andrew Sink.
A Quick-release Vat System
One of the standout features of the GK TWO printer is its unique resin vat docking system. As someone who has worked with different printers in the past, I can confidently say that using the GK TWO was much more efficient and streamlined. Instead of fumbling with bolts on either side of the vat, simply slid it into place and it locked securely into position. Read Uniformation GKtwo review by Richard Hirst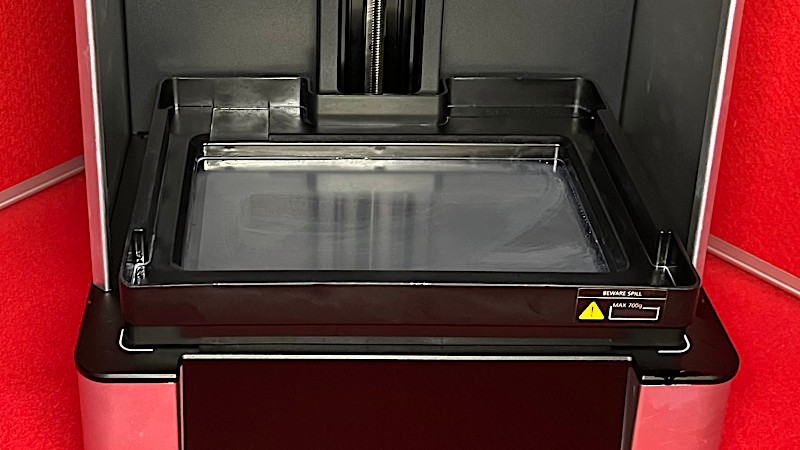 We are delighted to see that such enhanced features, usually seen on professional resin 3D printers, are getting implemented on budget 3D resin printers as well.
Anycubic Photon Ultra
Process: DLP 4K
Build Volume: LxWxH
102mm/4″, 57mm/2.2″, 165mm/6.5″
Product affiliate links:
Official Website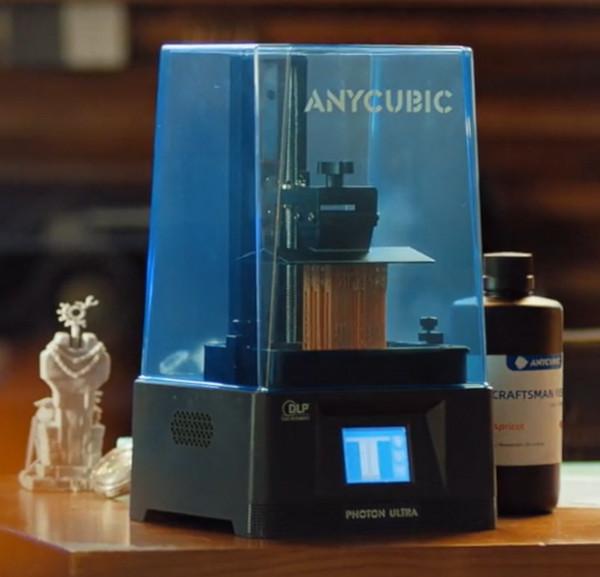 Photon Ultra is another machine launched via Kickstarter. 4K+ backers pledged $2.3mln for the promise to deliver this high-precision 3D printer. With the DLP technology, Anycubic also promises a "blazing-fast" engine that can produce a layer in only 1.5 seconds. Other perks include long-life functionality and silent printing.
DCLF 3D Printer – HITRY Rocket 1
Rocket 1 by HITRY benefits from a new DCLF, Digital Continuous Liquid Forming, technology for printing in resin and promises a higher speed and better quality using a new type of resin. Let's take a look at the Rocket 1 campaign, check specifications and take the first glance at this novel technology.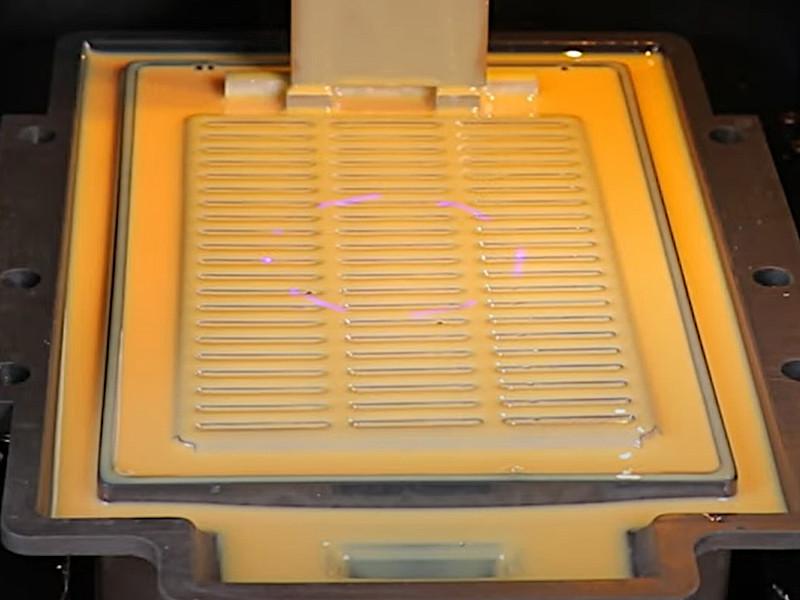 Resin Pump System
While the automatic pump works well, the amount of tubes, wires, and probes make this system look a little less professional, and a little more like a science project. In addition, the black tube which delivers the resin will need to be flushed whenever resin is changed to fully change colors and to prevent it from potentially hardening and blocking the stream. Read more in Anycubic Photon M3 Plus review by Andrew Sink.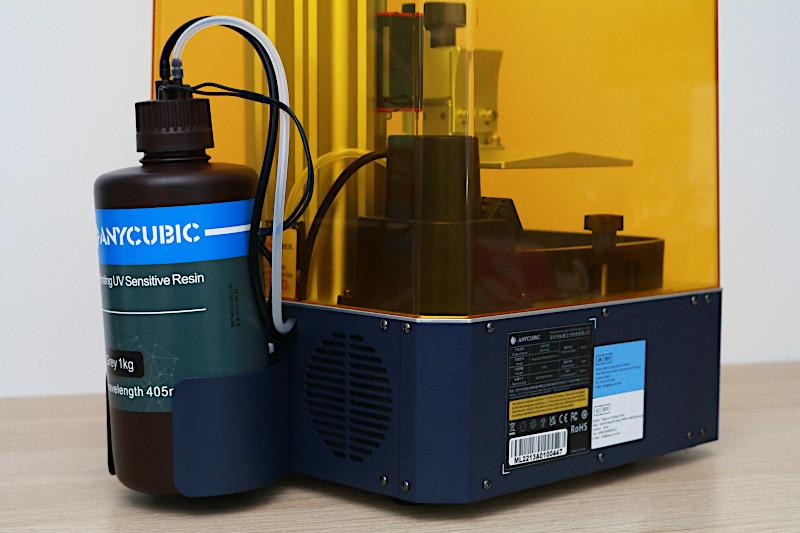 Uses of Resin 3D Printers
The original SLA machines have been primarily used for prototyping. The main purpose of such machines is to help designers to test and feel the future product in a prototype mode. Nowadays prototyping is widely used in the automotive industry, medicine, for surgery planning, architecture, and other areas. SLA, LCD, and DLP resin 3D printers are gaining ground in dentistry, audiology, and jewelry.
From the hobbyist perspective, this technology is invaluable for creating complex figurines and miniatures that can be used in tabletop gaming. With the ability to print in great detail, designers can let their imagination run free.
What to Consider
With all the benefits that this technology brings, it may be tempting to try it out at home. There are a few aspects to consider.
– Health and Safety. Dealing with resins may be a messy job, and as this material is hazardous, strict safety measures have to be put in place. Wearing gloves and protective goggles is one. Designating the work area which is well ventilated and out of children's reach is another.
– Post-processing. Prints made in resin require washing and curing, and this leads to buying an extra item – a Wash & Cure machine.
– Part replacement. LCD monitor lasts for 2-3 years on average, so be prepared for replacing it, which may result in an extra $200-500, depending on the brand.
Read more: Best Wash and Cure Stations
Post-processing is a big part of 3D printing in resin, and additional equipment, like wash and UV cure stations, is needed. In recent years, these two separate units started coming as two-in-one stations. Similar to 3D printers, washing and curing stations … Read more …