The technology and creativity company BEAVERLAB is excited to announce the launch of a Kickstarter campaign for Davcarve L1, the world's first multi-module laser engraver and DIY center. Six quickly interchangeable modules will ensure that there are no delays in the creativity process. Various laser engraving, cutting, CNC carving, and drawing art modules are able to assist with a variety of projects, making this machine a multifunctional station.
Table Of Contents
Davcarve L1 Specifications
6 Modules: 10W, 20W, 2W Infrared, CNC, Fine-Point Blade and Hand-Drawn Artwork
Build Space: 2,000 cm²
Working Area: 400mm x 500mm x 42mm (15.7inch x 19.6inch x 1.65inch)
Machine Size: 695mm x 644mm x 185mm
Weight: 7.3kg
Engraving Speed: 1-1000mm/s
Focus Mode: Auto/Manual
4 Axis: X+Y+Z+A Axis
Price: $599+
Backers can enjoy large discounts of 55% off during the campaign, which starts on October 10th.
Kickstarter Campaign
Disclaimer: Before taking part in any crowdfunding campaign as a backer, please read the T&Cs. Rewards aren't guaranteed.
6 in 1 Machine
The Davcarve L1 is versatile and compatible with six modules: a 10W laser module, a 20W laser module, a 2W infrared laser module, a CNC module, a fine-point blade cutting module, and a hand-drawn artwork module, catering to a range of user requirements.
Laser Modules
The Davcarve L1 showcases laser modules, ensuring precision and versatility without peer. Offering 540nm blue laser modules in both 10W and 20W power options, it excels at engraving and cutting a diverse range of materials, such as wood, leather, MDF, opaque acrylic, fabric, dark glass ceramics, and even cement.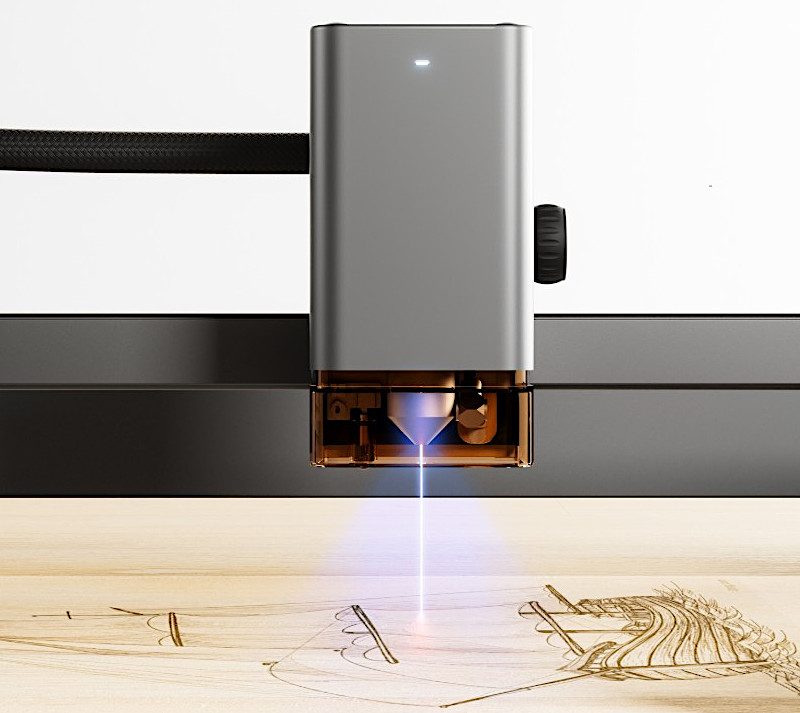 The 2W infrared laser module is optimized for engraving on metallic materials, including copper, gold, silver, titanium, and stainless steel.
Powerful CNC Module
Featuring a 10,000rpm ER11 spindle and a 3.175mm spring collet, the Davcarve L1's CNC module morphs it into a potent CNC router, facilitating adept carving on robust and thick materials, while also ensuring meticulous etching on slimmer materials like PCBs.
Fine-Point Blade Cutting Module
Featuring a secondary pressure spring and a telescopic blade, the Davcarve L1's Fine Point Blade Module empowers users to precisely cut through most flexible materials with a depth reaching up to 14mm.
Hand-Drawn Artwork Module
Empowering those with drawing challenges, the Davcarve L1's Drawing Module provides a spectrum of pen options, spanning sizes from 5 to 20mm and lengths from 80 to 190mm, including gel pens, markers, and ballpoint pens to facilitate varied artistic expression. Moreover, the module automates the creation of exquisite hand-drawn artwork using preset art templates and software parameters.
Easily Replaceable Parts
The Davcarve L1 arrives fully assembled, eliminating installation hassles for immediate use. Furthermore, its dovetail slot design across all work modules not only simplifies part replacement but also enables one-second installation and removal without the need for power or air connections, elevating user-friendliness and convenience.
2,000 cm² Working Space
The Davcarve L1 boasts a substantial working area of 400×500, providing ample space to fully unleash your creativity. With the installation of optional risers, the work height of the Davcarve L1 can be elevated to an impressive 110mm, further enhancing your flexibility and workspace.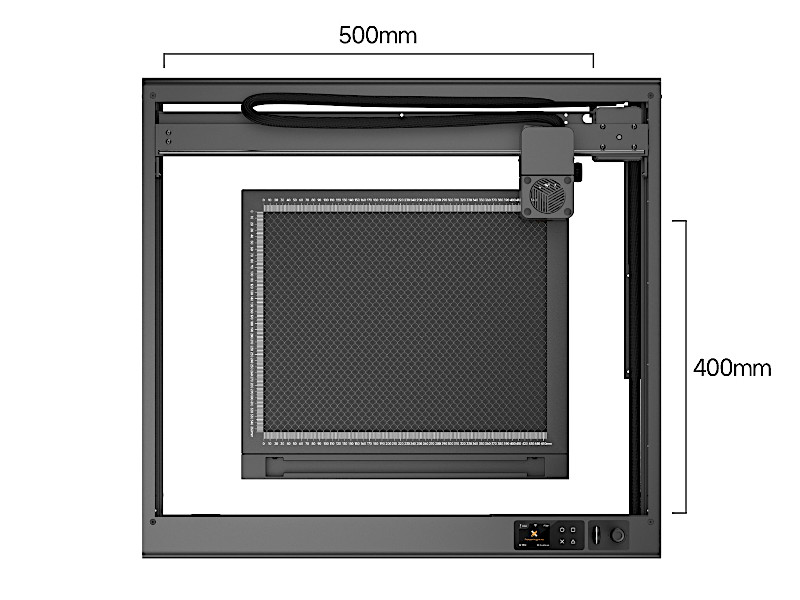 High Performance
Featuring a robust 57mm high-torque motor, the Davcarve L1 achieves a maximum engraving speed of 1000mm/s, providing professional users with the flexibility to manually tailor engraving parameters and generate unique effects. Boasting an outstanding engraving and repeat precision of 0.01mm, it empowers you to inscribe intricate patterns and designs on a multitude of materials. Ideal for artists, designers, and DIY aficionados, the Davcarve L1 brings your digital designs to life with unparalleled precision.
Davcarve L1 also can cut through thicker materials. Armed with a 20W laser module, it effortlessly and accurately cuts through 15mm of solid wood or 10mm acrylic sheets in a single pass, reducing material thickness constraints in your project designs.
Curved Engraving with Ease
Included 4-in-1 rotary extension facilitates 360° rotary engraving, allowing for versatile design implementations on curved objects. Featuring adjustable jaw attachments and rotary rollers, it accommodates engraving on a myriad of shapes including rings, balls, cylinders, and cones. This adaptable tool proficiently engraves both exterior and interior walls of curved objects with remarkable ease.
LaserCreate Software
BEAVERLAB introduces the LaserCreate app, a user-friendly engraving software, laden with a well-stocked library, straightforward instructions, and instructional video tutorials. It further allows you to tweak engraving settings and monitor projects remotely through your smartphone.
For more intricate projects, the LaserCreate PC software is your go-to, with support for multiple languages and a variety of vector graphic formats, including DXF, SVG, JPG, PNG, BMP, and NC. Moreover, enjoy free lifetime updates!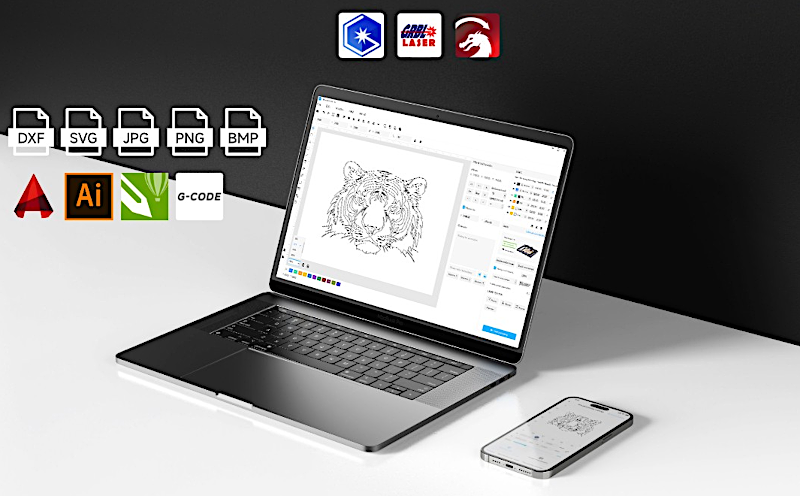 Enjoy creative freedom anywhere, anytime with the offline operation! Built-in 16GB TF card stores hundreds of files, while the intuitive joystick and roller ensure precise XYZ-axis control. Effortlessly select files to engrave or cut using touch buttons alongside the HD IPS screen.
Safety is the Top Priority
The device ceases operation instantly upon detecting a flame or if tilted beyond 15 degrees, guaranteeing optimal safety. The machine has a gyroscope sensor, flame detector, and active stop button.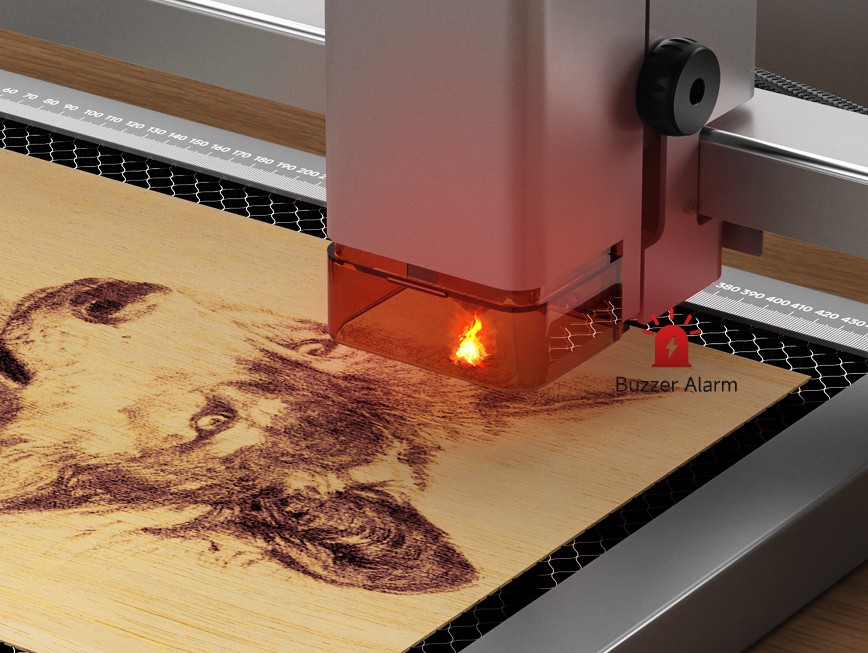 Additionally, the Davcarve L1 has secured CE, FCC, FDA, and RoHS certifications, signifying that all products and accessories adhere to international safety standards.
Conclusion
BEAVERLAB's goal is to integrate technology and creativity to enhance human creativity and encourage exploration. Therefore, we observe that their products boast unique designs and are affordable for the masses. With the Davcarve L1, a multi-module machine, BEAVERLAB is right on track to fulfill their mission. We won't be surprised if, in the future, we see them launching a nice-looking 3D printer as well.
Disclaimer: Before taking part in any crowdfunding campaign as a backer, please read the T&Cs. Rewards aren't guaranteed.