You have a 3D printer or two, got your head into exciting projects, but there is never enough time to fully commit. Maybe it is a good time to start a career in 3D printing. Let's see what types of job vacancies are out there and where is it best to look.
This Guide Covers
Dream Job in 3D Printing
According to various yearly researches, there are more people unhappy with their jobs than happy. And this trend will likely to continue until robots will be fit enough to fill un-enjoyable positions for humans. For enthusiasts in 3D printing, to be in a creative mode and earn a living could be a dream come true situation.
It will take a separate blog to list all benefits from having such jobs, but here are some main pointers:
– Great minds. Passionate about 3D printing? You are likely to meet people in the same boat as you.
– Access to technology. Own a 3D printer at home? Still curious to try a new machine? Professional or industrial? These may be impossible to have at home but there may be a big chance to encounter them in a company workshop or another manufacturing environment.
– Travel to tradeshows. These events are invaluable to see the latest tech being launched in front of your eyes. Speak to the experts like strategists and engineers, get ideas and inspiration.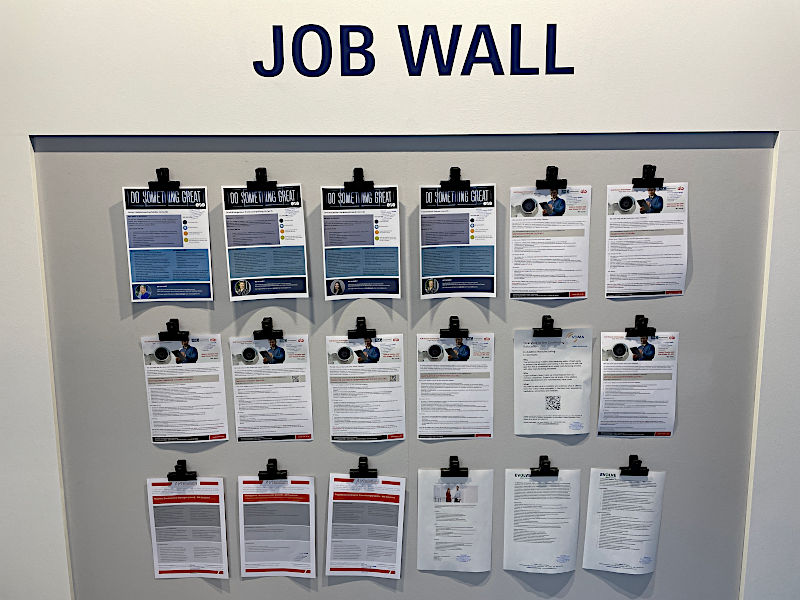 Some event organizers publish available vacancies in a traditional way. Job Wall at Formnext, Frankfurt, Germany.
Demand – Specialists, Entry Level and Interns
Traditionally, in manufacturing, there is always demand for talented people and requirements stay the same: at least 3 to 5 years of experience in the industrial sector and certification from relevant institutions. But, as 3D printing technology is relatively new, there are also vacancies for those with no previous experience or trainee positions. Some vacancies are created specifically for interns. For example, on LinkedIn alone, more than 300+ positions for interns are advertised in the United States.

Types of Jobs in 3D Printing
The most demanding industries: Automotive, Dentistry, Medicine, Architecture, Energy, Aerospace. The skills required are for designing or prototyping, engineering or maintenance, etc., etc. As the result, 3D printing and Additive Manufacturing offer a wide specter of job opportunities. Let's list some of them.
– Machine Operators/Technicians. As small and medium businesses are stocking on desktop 3D printers for their 3D printing farms, there is a demand for 3D printer operators. 3D printer operators are also expected to be good with slicing software and have a feel in procurement.
– Customer Support. These positions may include traveling to customer sites and maintaining the equipment as well as answering queries remotely.

– Product Designers. Design for 3D printing positions. Advanced skills for such software as Fusion360, Blender3D, Maya, SolidWorks, or other CADs are required. Usual tasks: prototyping models, product design, etc.
– Software Developers. Development of the firmware or software for slicing, design, automation.

Where to Look for a Job in 3D Printing
Work in-house or remote positions. Working remotely is becoming the premium choice for its efficiency and cost-cutting. However, in order to secure such a position, substantial proven previous experience in the field may be required. Remote working could be very suitable for designers, software developers, or customer support.
Local Job Centers & Platforms
Is the most obvious and recommended place to look for a job for career starters. To start working in a local workshop could give access to the various 3D printers and therefore jumpstart the general knowledge of the machines.
List of sites:
Jooble (US, Global)
Indeed (US, Global)
Totaljobs (UK, Global)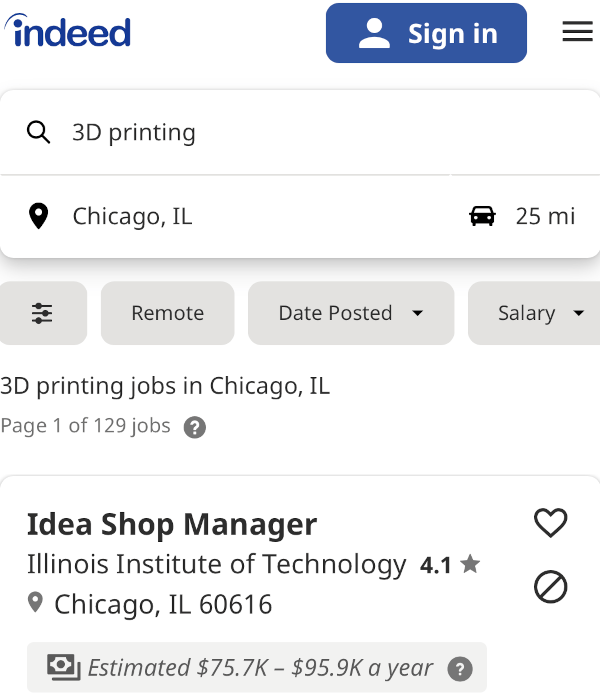 Niche Websites and Platforms
As in every niche, in 3D printing, there are also websites that have sections with job announcements. On womenin3dprinting.com it is a Job Board, on 3dnatives.com it is Jobs in 3D Printing, for example.
Company Websites
Some 3D printing companies' websites and STL sharing platforms have career pages. By briefly scrolling through them we found some interesting positions. Check MyMiniFactory or Sketchfab platforms or such big companies as Ultimaker and Stratasys career pages. Such pages are usually located in the footer of the official websites.
– Open applications. Do not hesitate to fill the Open Position. As 3D printing is constantly evolving and companies are growing or trying new ideas, they may be interested in recruiting people with a true passion for 3D design or 3D printing.
Social Media and LinkedIn
Occasionally, there are great announcements about job opportunities on social media, but to scan such posts is difficult and notifications won't help. It is a different story about LinkedIn.
LinkedIn has a great search system and you don't have to be registered to try it and apply different filters.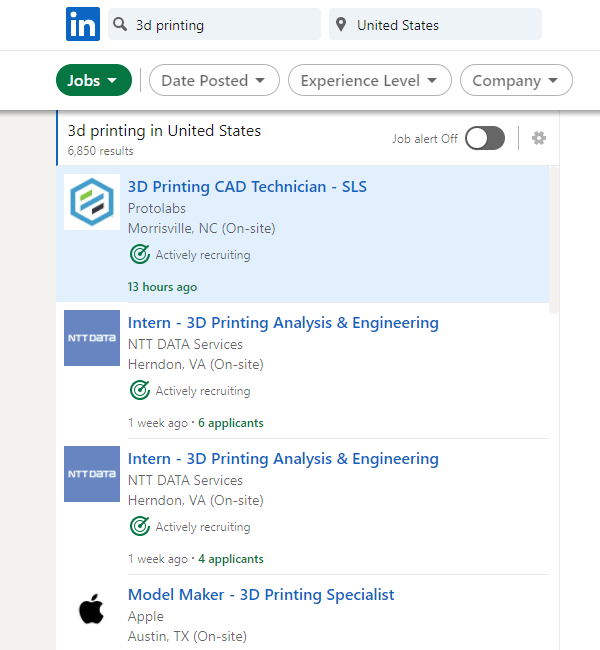 If you don't have a LinkedIn profile or if it is not related to 3D printing or design, it could be a good idea to send the CV via the company website or email directly.
Google Search
Google search snippets may show precise in-detail positions even from Facebook. But such vacancies may be slightly outdated. Use filters.
Conclusion
Whether we want it or not, but operating/maintaining/repairing early and modern-day desktop 3D printers is a challenging task. By doing so we acquire new skills and become techier. This could be the first step towards your new career in 3D printing.
Read more: Local 3D Printing Services, Hubs & Online Platforms
3D printing services is a fast-growing area. It includes 3D design, 3D scanning services, 3D printing on demand, tutorials and training. Various 3D printing platforms share files; others allow outsourcing 3D printing. Lending in-house printing equipment is another service that gains popularity. Read more …