Formnext has established itself as the key 3D printing industry event, and it is well known for innovations. Additive manufacturers are holding off from making their announcements until it's the right time and place. And this trade show is the best setting to attract a lot of attention. Every year 3D printer manufacturers showcase new products and technologies. Some may be an enhancement or a new solution, but a few could lead to a real breakthrough.
Table of Contents
What is Formnext?
Formnext is the leading international exhibition and conference dedicated to additive manufacturing and industrial 3D printing. The event represents the entire value chain of the additive manufacturing sector, from software and materials to machines and end-use applications. Formnext connects exhibitors with experts, decision-makers, and pioneers from all over the world, providing a unique platform for networking, knowledge exchange, and business deals.
Is There Anything for Consumers?
Around $100 ticket price may deter consumers from visiting this show. But as 3D printing continues to grow, Formnext becomes an essential event for anyone who wants to stay ahead of the curve, exploring new opportunities including start-ups and small businesses.
For a number of years, the Formnext trade show has been held in four big halls. The ground floor (Halls 11.0 and 12.0) is typically dedicated mostly to heavy machinery and multi-storey machines. But in the 1st floor halls (11.1 and 12.1) it is possible to find many exhibitors with the focus on the consumer market, featuring budget 3D printers, innovative materials, services, and applications.
Formnext 2022
When Formnext 2021 was the first post-pandemic tradeshow and some visitors stayed away, then Formnext 2022 was back to pre-COVID levels with 29,581 visitors attending compared to 17,859 in the last year. There have been around 200 more exhibitors compared to 2021. Please find the 2021 event statistics below. In the latest Formnext press release, it was announced that the event had a strong international flavor:
With attendees from 96 nations and a remarkably high proportion of international visitors (51%) and exhibitors (58%), Formnext once again demonstrated its status as the leading international trade fair for additive manufacturing and modern industrial production.
This year exhibitors were very creative in their booth presentations. And there will be no chance to feature all awesome setups and new products, so we have put together what caught our eye.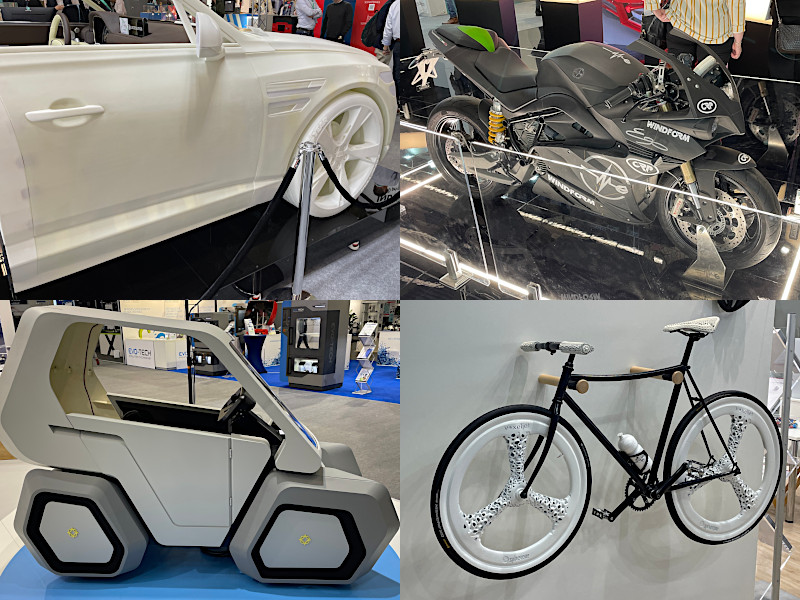 At such tradeshows, among other exciting products manufactured with the help of 3D printing, we often see all types of transportation. Scooters, bicycles, bikes, and even racing cars are usually featured with 3D printed elements.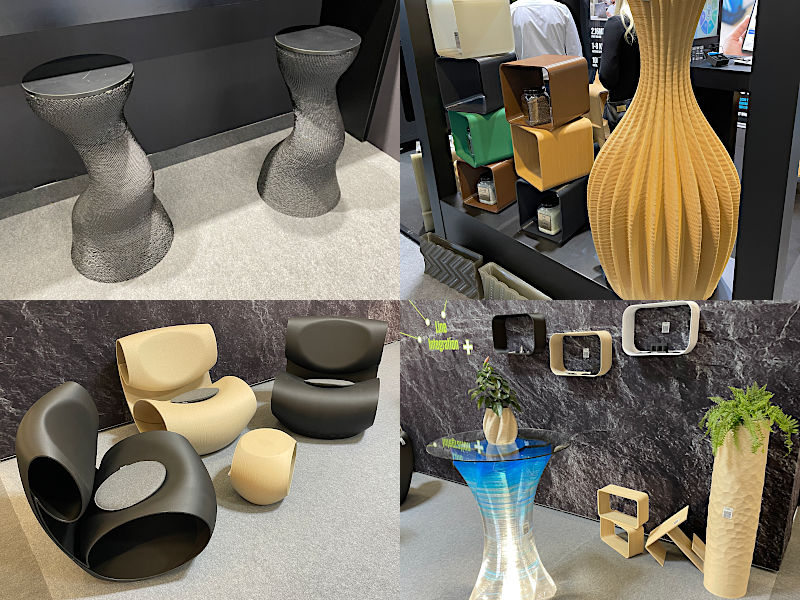 Some stands had very elegant and functional 3D printed furniture. The especially nice setup was by YIZUMI, Germany. Futuristic shapes and designer curves combined with various materials and colors always attract visitors' attention.
SCARA Robotic Arm Industrial 3D Printers at Formnext
Bloom Robotics, Caracol, Weber
MP4: Max Funkner
Such large-scale furniture and other elements were 3D printed mostly by big SCARA Robotic Arms. These machines were present in each hall, and sometimes the tradeshow resembled an episode from a Sci-Fi movie.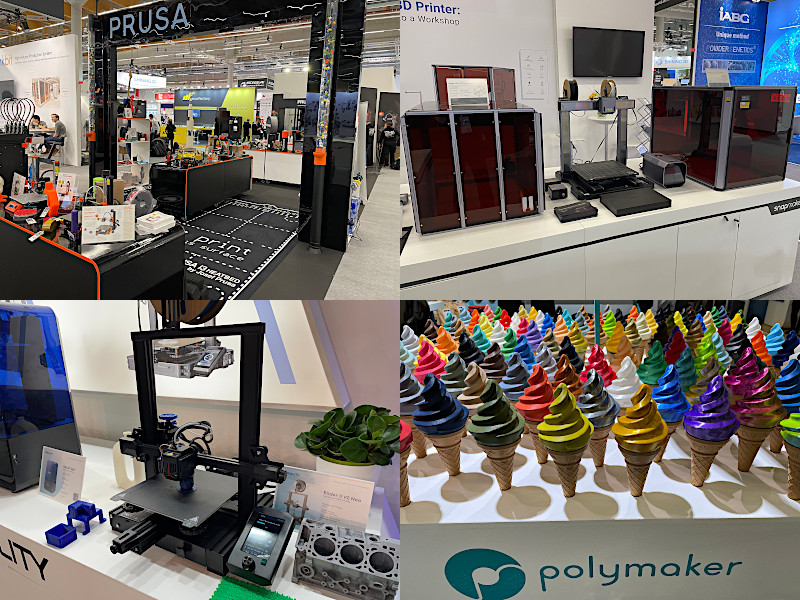 As for consumers, in halls 11.1 and 12.1, there were displays by such brands like Prusa3D, Snapmaker, Polymaker, Creality, and others. Prusa3D's booth, which looked like a giant MK3 machine, was well liked by their community, fans, and influencers who kept their stand packed nearly nonstop. Snapmaker showcased their new Artisan 3D printer and it was possible to compare enclosures. Polymaker had a lot to show, a collection of colorful 3D printed ice cream and a giant spool were especially remarkable. Creality's booth was not that flashy but displayed many of their well-known machines, including the budget Ender series.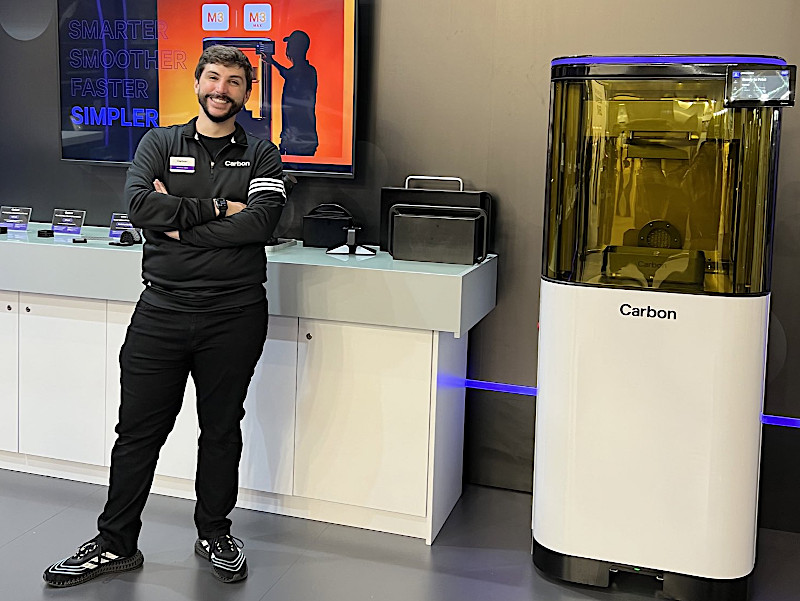 One of the strongest advantages of the tradeshows like Formnext is the possibility to meet in person people you know. I had an opportunity to meet Andrew Sink in person after two years of close collaboration. Andrew traveled with Carbon to Germany where they featured their platform, launched new materials and showcased a 3D printer.
It is fair to mention that the highlights we offered this year won't even cover the tip of the iceberg. There is still so much to cover, with particular announcements worth being featured in separate articles. We will mention what we saw at Formnext in other articles as well.
Formnext 2021
The 2021 Formnext event held in Frankfurt, Germany, was a resounding success, with 606 exhibitors taking part, 50% of them international. More than 17K visitors attended this tradeshow. The event was held in compliance with the COVID rules and featured a wide range of safety measures, including temperature checks, mask wearing, and social distancing. The event was a great opportunity for businesses to reconnect and network with each other, as well as showcase their latest products and innovations. It was great to witness such a successful event, with COVID still fresh on everyone's mind. Formnext is definitely poised to continue being a leading player in the 3D printing industry for years to come.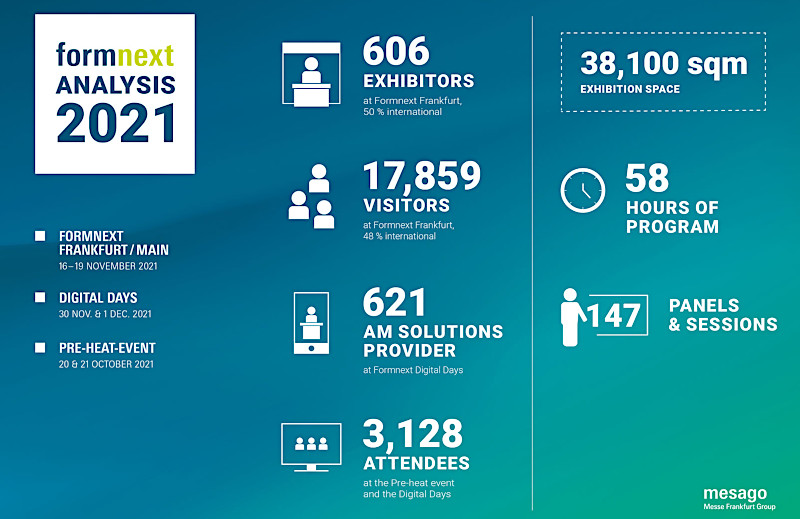 Formnext 2020 – Virtual Edition
The trade show was scheduled to take place in Frankfurt, Germany, in November 2020. However, due to the ongoing COVID-19 pandemic, the physical event has been canceled. This marks the first time in its nine-year history that Formnext has been canceled. The decision was made by the organizers after consulting with local authorities and health experts. While the pandemic has put a halt to many physical events, the organizers of Formnext held a virtual conference on November 10-12. While this was disappointing news for those of us who were looking forward to attending the event in person, the organizers have stated that the virtual conference would still offer an opportunity to learn about the latest advances in additive manufacturing and be the platform for networking with industry peers.
Formnext 2019
That year Formnext demonstrated massive growth, even compared to 2018. This trade show now spreads over 2 large halls on 4 floors. This means that Formnext occupies twice larger space compared to 2017 with 3-times as many exhibitors. It further gained 1,200 sq.m. in additional space since 2018. In the final press release, it was announced that over 34.5 thousand specialists and managers visited the grounds in 2019.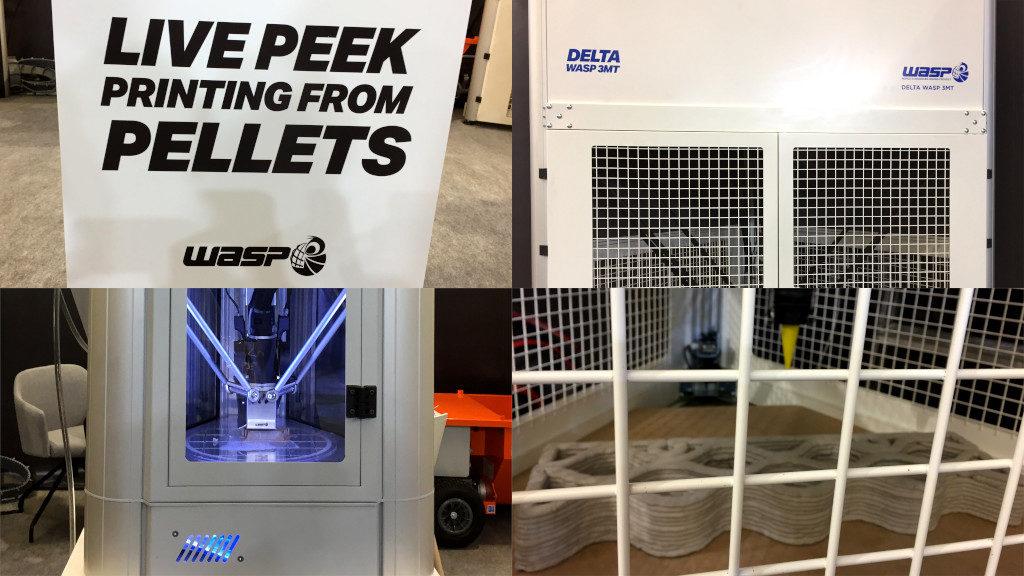 What strikes this time is the ever-growing presence of personal/desktop machine manufacturers of all sizes. The legacy of Formnext lies with big industrial bodies with the likes of HP and GE, and of course, the "grandfathers" of 3D printing, Stratasys, and 3D Systems. This year I stumbled across Phrozen with a small but nice-looking booth. The common tune among the exhibitors that I hear is that the main bulk of their business comes from Formnext. This is the place where deals are sealed and new valuable contacts are found.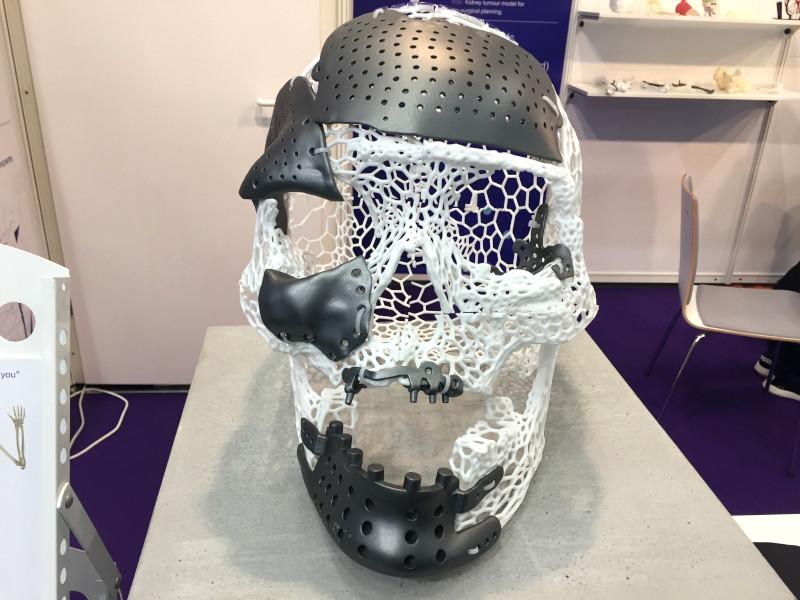 The quality of attendees remains very relevant to all, no matter how big or small they are. Usually, at regional events, only local managers can be found. Formnext, however, is attended by the C-suite HQ management, this is why this is the place to be if you want to secure new business.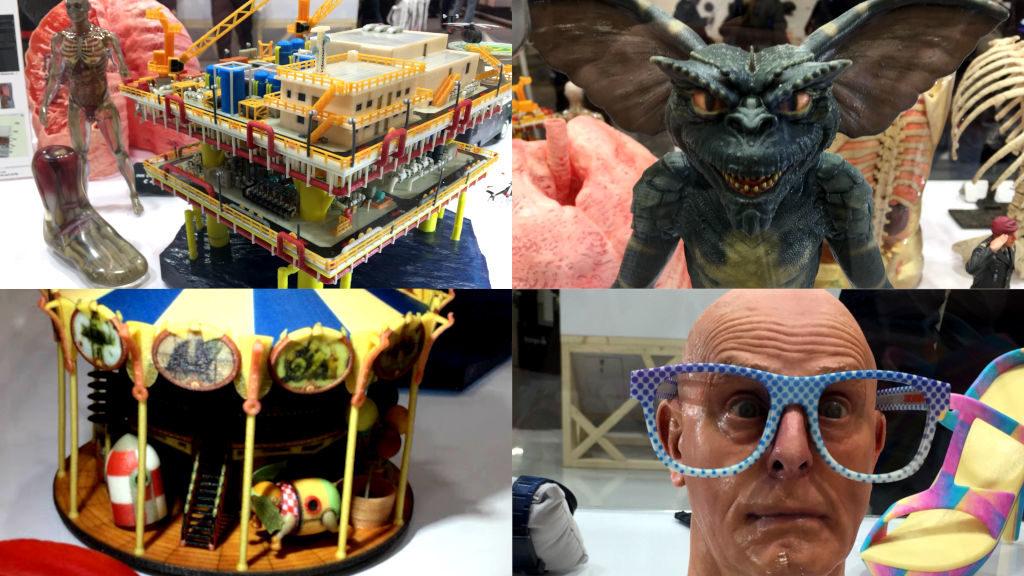 Conclusion
Formnext is one of the most important events in the 3D printing industry, and it is clear that the technology has come a long way in recent years. The ability to print customized bespoke items on demand has revolutionized manufacturing. The need for revamping the supply chain and to bring manufacturing closer to home has made 3D printing more attractive for traditional manufacturers who started adopting this technology in different spheres and stages of their production. And of course, meeting people in person always does its magic. It shows commitment and increases the trust between partners.
Links:
Twitter: @formnext_expo
Website: Formnext
Read More: 3D Printing Events – List of Shows & Fairs
We've put together a table with important 3D printing events, exhibitions and fairs that happened or will happen in near future. Here you can also find a brief coverage of the events made by 3D printing community members.