Choose a desktop 3D printer that is right for you. Build volume, FDM or SLA, Kit or Plug-and-Play, well-known brand or a start-up – all to consider. The guide below helps to compare and make a comprehensive decision. It is regularly updated and maintained.
This guide covers:
Disclaimer: Some of the links are affiliate links – at no additional cost for you we will receive a commission if a purchase happens.
Disclaimer: Crowdfunding campaigns - before taking part in any campaign as a backer, please read T&Cs. Rewards aren't guaranteed.


Printers
Volume

Images
Reviews
Fokoos Odin-5 F3
Foldable FDM 3D Printer.


Available on Amazon


Official Website
LxWxH
9.2x9.2x9.8in
235x235x250mm
Review
6 min read
7 images
2 videos
ANYCUBIC Photon Mono
UV LCD Resin 3D Printer


Available on Amazon



LxWxH
5.11x3.14x6.49in
130x80x165mm


Rotrics DexArm
Desktop SCARA - Robotic Arm


Available on Amazon


Official Website
220°
R380mm
Quick Look
4 min read
5 images

Creality Ender 3 v2 PRO
Creality Ender-3 V2 3D Printer Upgraded


Available on Amazon


Official Website
LxWxH
8.6x8.6x9.8in
220x220x250mm


Sculpto PRO2
Polar 3D Printer with Rotating Build Platform


Available on Amazon


Official Website
ØxH
⌀7.87x9.84in
⌀200x250mm
Review
6 min read
5 images
2 videos
Think3Dim T22 Pro
3D Printer with Strain Gauge Auto Leveling System.


Kickstarter Campaign

LxWxH
8.6x8.6x9.8in
220x220x250mm
Review
6 min read
7 images
1 video
Elegoo Mars 2 Pro
Mono MSLA 3D Printer UV Photocuring LCD Resin 3D Printer.


Available on Amazon

LxWxH
5.1x3.1x6.3in
129x80x160mm
Review
6 min read
9 images
1 video
Elegoo Mercury Plus
2 in 1 Washing and UV Curing Machine


Available on Amazon

Curing Size:
φ140*165mm
Review
6 min read
7 images
1 video
Mingda Rock 3
DIY Large Volume 3D Printer


Available on Amazon

LxWxH
12.6x12.6x15.7in
320x320x400mm
Review
7 min read
9 images
1 video
Rose Go
FDM 3D Printer with Resin Resolution
Official Website
LxWxH
5x4.3x5.3in
125x110x135mm
Review
6 min read
9 images
1 video
Mingda D2
DIY 3D Printing Kit for Beginners


Available on Amazon

LxWxH
9x9x10.2in
230x230x260mm
Review
6 min read
10 images
1 video
Creality CR-30 3DPrintMill
An Infinite-Z volume 3D printer. Belt 3D Printing For Everyone.


Kickstarter Campaign


Official Website

LxWxH
∞ x7.8x6.7in
∞ x200x170mm

Quick Look
4 min read
5 images
1 video
Delta WASP 20 40 Production
Automatic 3D Print Removal System.
Official Website
ØxH
7.9x15.7in
200x400mm
Quick Look
3 min read
3 images
2 videos
Anet ET4X
Sub-$200 Semi-DIY Kit 3D Printer
Official Website

LxWxH
8.6x8.6x9.8in
220x220x250mm

Review
7 min read
7 images
1 video
Elegoo Mars Pro
SLA 3D Printing Technology: UV Photocuring LCD 3D Printer with Matrix UV LED Light Source.


Available on Amazon

LxWxH
4.53x2.56x5.9in
115x65x150mm
Review
5 min read
10 images
Snapmaker
All-Metal 3-in-1 3D Printer, CNC, Laser Engraver.


Available on Amazon

LxWxH
4.9x4.9x4.9in
125x125x125mm

Review
8 min read
7 images
Original Prusa i3 MK3S
Prusa i3 Plus is the newest design of upgradable 3D printer with many improvements.
Official Website
LxWxH
9.84x8.3x8.3in
250x210x210mm
Review
7 min read
11 images
1 video
Trinus
Scaled-down from industrial-grade machines, Trinus delivers stability, accuracy, and durability.
Official Website

LxWxH
4.7x4.7x4.9in
120x120x125mm
Review
9 min read
8 images
Delta WASP 20 40
Eye-catching design. Accurate and reliable on all materials with pieces up to 40 cm.
Official Website

ØxH
7.9x15.7in
200x400mm
Review
4 min read
4 images
3 video
Creality Ender-5 Plus
Easy to Assemble and Operate, BL Touch and Tempered Glass Plate.


Available on Amazon


Official Website
LxWxH
13.7x13.7x15.7in
350x350x400mm


Original Prusa SL1 3D printer
Compact 3D printer with all the bells and whistles.
Official Website
LxWxH
4.7×2.6×5.9in
120×68×150mm
Original Prusa MINI
Compact 3D printer with all the bells and whistles.
Official Website
LxWxH
7x7x7in
180x180x180mm
Sovol SV01
95% Pre-Assembled with Direct Drive Extruder, Meanwell Power Supply and Glass Plate Built-in Thermal Runaway Protection.


Available on Amazon

LxWxH
9.5"x11"x12"
240x280x300mm
MakerPi K5 Plus
Fully enclosed design with WiFi, touch screen and smart leveling.


Details on Amazon

LxWxH
7.9×7.9×11.8in
200x200x300mm
Creality Ender-3
Economic DIY KIT with resume printing function.


Details on Amazon


Official Website
LxWxH
8.5x8.5x9.8in
220x220x250mm
Dremel Idea Builder - The Dremel DigiLab 3D20 3D Printer is the best 3D printer for tinkerers, hobbyists, and home users.


Available on Amazon

LxWxH
10x6.0x6.7in
254x152x170mm
FlashForge Creator Pro
Metal Frame Structure, Acrylic Covers, Optimized Build Platform, Dual Extruder W/2 Spools.


Available on Amazon

LxWxH
9x5.7x5.9in
225x145x150mm
Cube 3
The Cube 3D printer brings your creative projects to life.


Available on Amazon

LxWxH
6x6x6in
152x152x152mm
FlashForge Finder Meet the new kid on the block. the user-friendly, home-friendly, and wallet-friendly 3D printer from FlashForge is ready to play.


Available on Amazon

LxWxH
5.5x5.5x5.5in
140x140x140mm
Replicator+
MakerBot Replicator desktop 3D printer (5th generation)


Available on Amazon

LxWxH
11.6x7.6x6.5in
295x195x165mm
Taz Mini
The LulzBot Mini is a high performance desktop 3D printer engineered to be easy to use.


Available on Amazon

LxWxH
6x6x6.2in
152x152x158mm
CraftBot Plus
The ultimate 3D printing tool for both beginners and experienced users.


Details on Amazon



LxWxH
10x10x8in
250x200x200mm
Creality3D CR-10
Large Size Desktop DIY Printer LCD Screen Display with SD Card Off-line Printing Function


Details on Amazon


Official Website
LxWxH
12x12x16in
300x300x400mm
Afinia H800+
The H800 setup is fast and easy allowing anyone to be printing in a matter of minutes.


Details on Amazon

LxWxH
10x8x8in
254x204x204
XYZ da Vinci Mini
The da Vinci Mini streamlines its printing function through a single-button print design as well as providing different colored LEDs to indicate printing conditions.


Details on Amazon

LxWxH
5.9x5.9x5.9in
150x150x150mm
Anet A8
Engineered to provide redefined usability, quality, performance.


Details on Amazon

LxWxH
8.5x8.5x9.5in
220x220x240mm
Zortrax M200
The reliable, efficient and extremely precise Zortrax M200 3D printer has already won the hearts of thousands of users.


Details on Amazon

LxWxH
7.8x7.8x7.2in
200x200x185mm
QIDI TECH I
Each 3D printer is leveled, fully calibrated and operated 8 hour before delivery. Qidi Tech after-sales team supplies technical support and lifetime service.


Details on Amazon

LxWxH
8.8x5.9x5.9in
225x150x150mm
Elegoo Mars
3D Printing Technology: LED Display Photocuring. Great industrial design and user-friendly system.


Details on Amazon

LxWxH
4.72"x2.68"x6.1"
120x68x155mm
Rostock Delta
All the Anycubic 3D printers have been certificated by CE.


Details on Amazon

ØxH
Ø9x10.6in
Ø230x270mm
Monoprice Mini
This printer not only comes fully assembled, it has already been calibrated at the factory so it's ready to print out of the box.


Details on Amazon

LxWxH
4.7x4.7x4.7in
120x120x120mm
Taz 6
The LulzBot TAZ 6 features innovative self-leveling & self-cleaning, and a modular tool head design for flexible and multi-material upgrades.


Details on Amazon

LxWxH
11x11x9.8in
280x280x250mm
TEVO Tarantula
TEVO Tarantula I3 Aluminium Extrusion 3D Printer Kit Auto and Large Bed.


Available on Amazon

LxWxH
8x11x8in
200x280x200m
Ultimaker 2+
The Ultimaker 2+ is easy and reliable, updated for the best experience in 3D printing.


Details on Amazon

LxWxH
8.8x8.8x8in
223x223x205mm
Form 1+ is an award-winning desktop 3D printer, that makes stereolithography (SLA) printing technology accessible to engineers, designers, and artists.


Details on Amazon


Official Website
LxWxH
4.9x4.9x6.5in
125x125x165mm
DOBOT MOOZ
3 in 1 Industrial Grade Transformable Metallic 3D Printer, Support CNC and Laser Engraving.


Details on Amazon

LxWxH
5.1x5.1x5.1in
130x130x130mm
Please feel free to contact us if you think that a particular printer should be added or to publish your review.
Choosing Your Desktop 3D Printer
A lot of thought should go into choosing a desktop 3d printer. Before even considering to buy one check if you have an appropriate place to keep it. Some printers can be bulky and noisy. The area should be kept clean to avoid dust getting inside. The surface for the printer should be sturdy to prevent even slightest vibration.
DIY Kits or Plug-&-Play
The next point to consider is your techy level. 3D printers come either as pre-assembled machines or DIY kits to put together yourself. DIY kits are usually much cheaper but maybe fiddly to assemble. This can delay using your new printer. Check the real upgrading a 3-year old Original Prusa experience.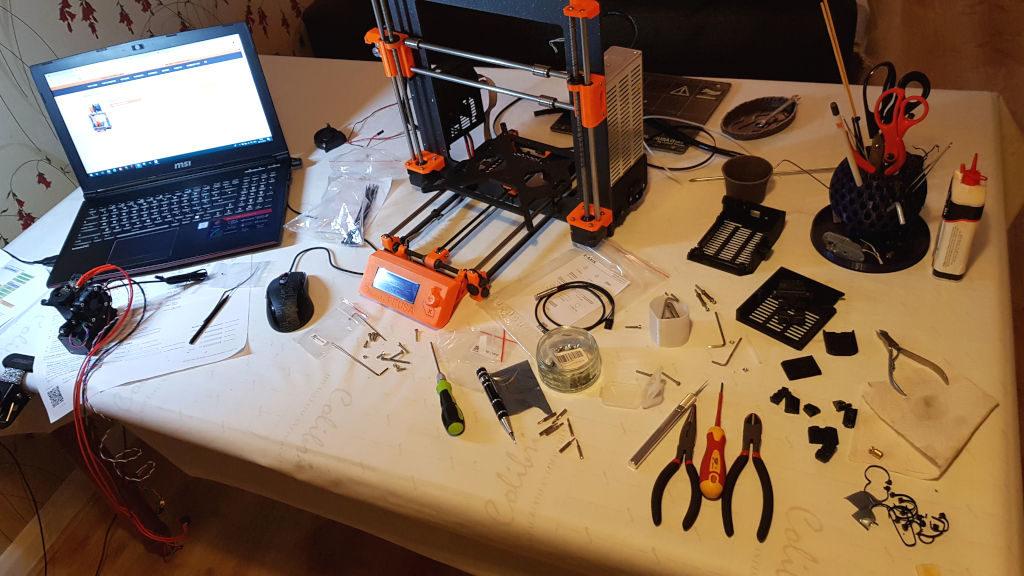 But don't let it put you off, some DIY 3D printers' assembly time is not more than 15 mins. For example, the modular 3D printer Snapmaker Original takes less than 15 minutes to put together.
Safety
It is important to make sure that children can't get to the printer unsupervised. There is no such thing as a child-friendly 3D printer. Desktop printing involves either heating to high temperatures or photo-solidification. Even a 3D pen might be hazardous due to melting filament. Please make sure that the area is well ventilated especially when using ABS. A smoke detector should be fitted in the same room with a desktop 3d printer. Check the essential, safety and optional tools to come with any 3D printer.
Type of Process – FDM or SLA, LCD, DLP?
FDM – Fused Deposition Modeling
SLA – Stereolithography
LCD – Liquid Crystal Display
DLP – Digital Light Processing
SLA, DLP, LCD are similar processes and are usually labeled as Resin 3D printers.
Most of the desktop 3D printer processes are either Resin (SLA, DLP, LCD) or FDM. These are completely different processes using specific types of material. Decide what is more important for you: precision and quality or accessibility of various materials and colors.
– Quality. Resin is widely accepted as producing better quality for high-detail 3D printing. Also, it is impossible to scale down very much with FDM printing or the finer 3D printed bust details, especially the face, will be lost.
– Cost. FDM or filament 3D printers and Resin 3D printers are similarly affordable, so the cost of the printer doesn't fluctuate much. However, the resin is still more expensive than filaments.
– Practice. Resin is messier and requires serious precautionary measures. Although the 3D printer itself is small, more space is required for the actual printing.
– Color Choice. Even though the choice of resin color gets bigger and bigger thanks to the various Resin 3d printer manufacturers, and liquid resin can be carefully mixed at home to achieve the desired shade, it is not comparable to the filament for FDM machines. In addition to the great choice of colors, the ability to pause the print during the process and change the color makes prints by FDM 3D printers more diverse. Possibilities of Original Prusa MMU and Mosaic Palette systems take the multicolor 3D printing at home to a different level.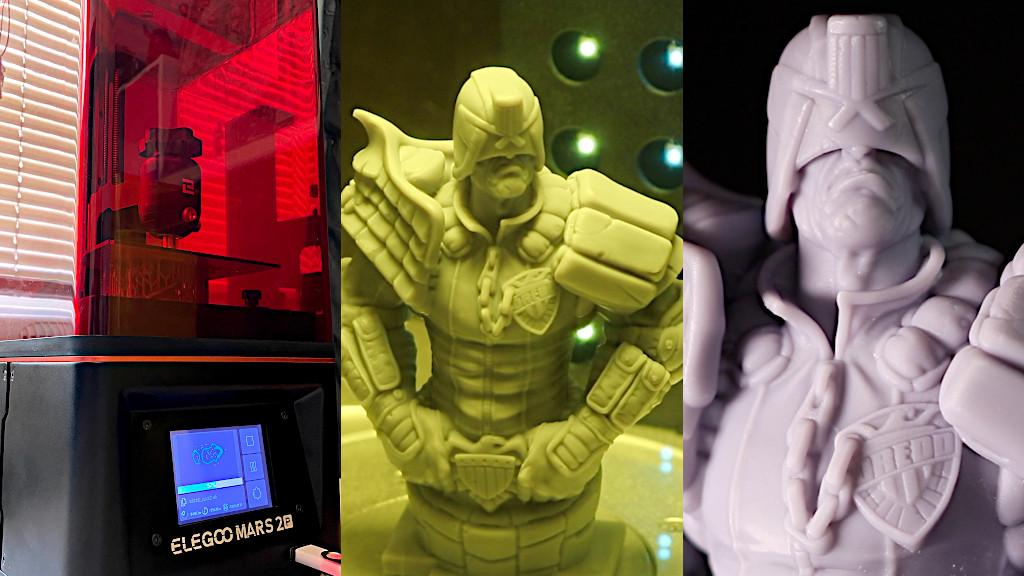 FDM 3D Printer Types – Cartesian, Delta, Polar, Belt, SCARA
Cartesian
The name, Cartesian, came from the mathematical coordinate system.
"A Cartesian coordinate system for a three-dimensional space consists of an ordered triplet of lines (the axes XYZ) that go through a common point (the origin), and are pair-wise perpendicular; an orientation for each axis; and a single unit of length for all three axes."
Source: Wikipedia
In 3D printing, a box-shaped (and box volume printing) Cartesian 3D printer is the most common one. Volume-wise it is the most efficient. Good for setting up the printing farms.
Delta
Delta also uses a Cartesian coordinate system when operating, but has its unique name due to unique design – usually narrow in width but tall in height. Good for 3D printing tall objects, relatively precise with higher printing speeds. It typically has a rounded bed that doesn't move. The print volume is a cylinder with a conus on top. Here is the detailed review of the Delta WASP 3d printer.
Conveyor Belt 3D Printers
These are FDM 3D printers that use rotating belts as print surfaces, allowing the machines to print objects with a theoretically infinite length. On the tide of the hype around conveyor belt 3D printers, we put together the list the emerging brands and their machines.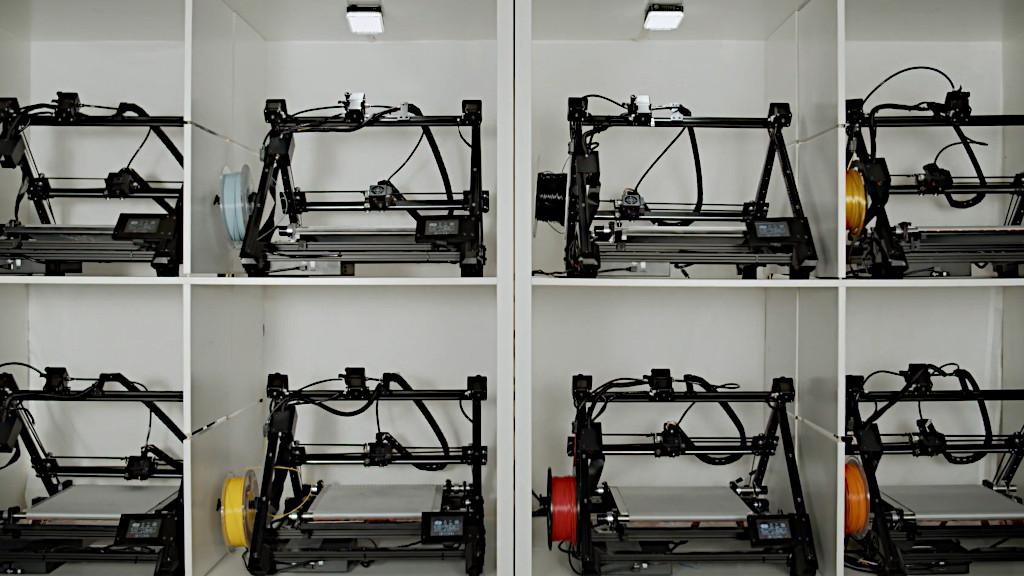 Polar
Rare type of 3D printer with the different "Polar" mathematical coordinate system. Check Wikipedia for more details. 3D printers with the rotating beds. Here is a detailed review of the Sculpto PRO2 Polar 3D printer.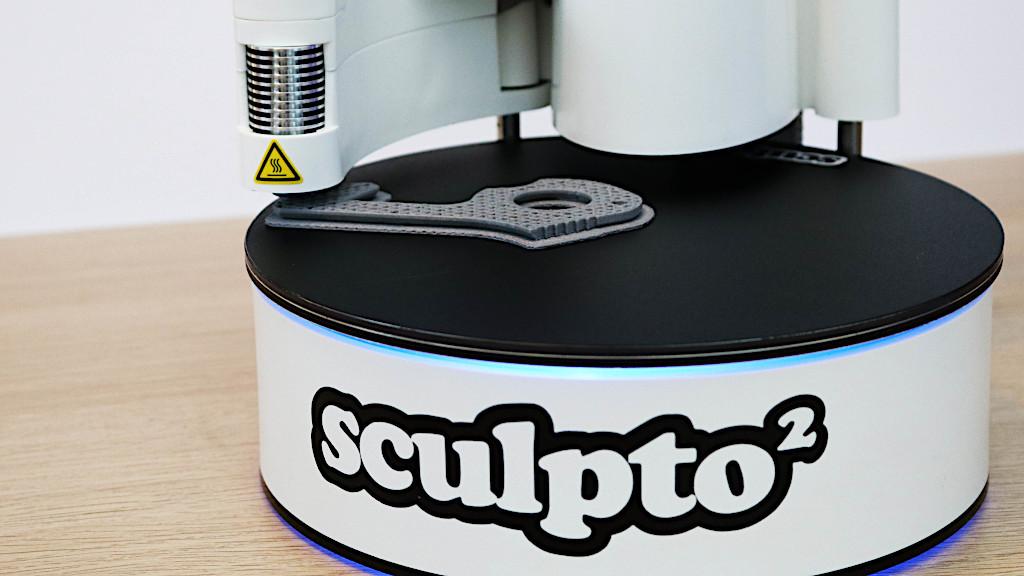 SCARA – Robotic Arms
Selective Compliance Assembly Robotic Arm – If there will be one made for desktop 3D printing and available for masses, we will cover the subject and update this post accordingly. … And here is a promised quick look: Rotrics DexArm: A Multi-Function Robot Arm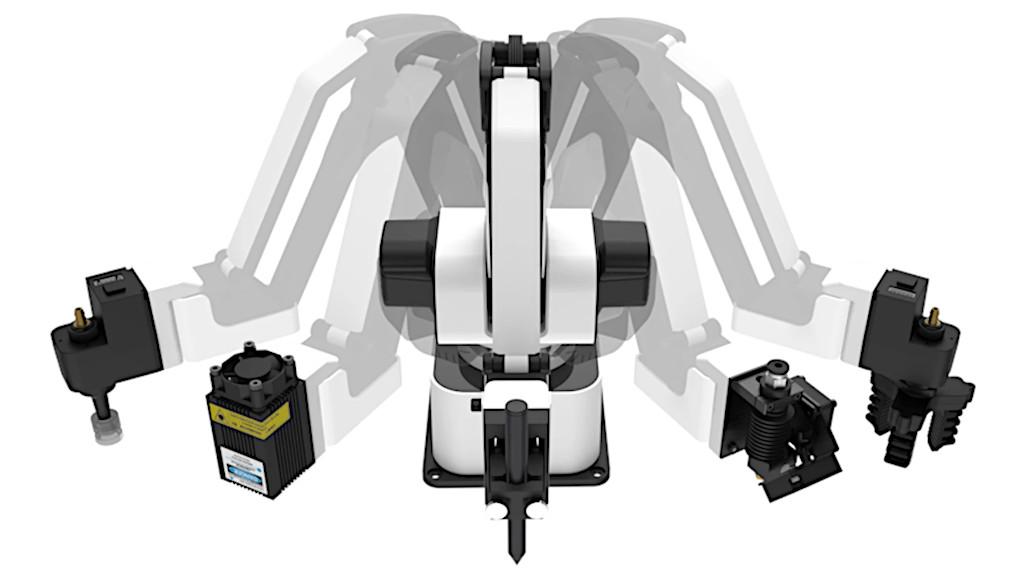 Difference Between Bowden or Direct Drive Extrusion Systems
Currently, there are two most common extrusion systems:
– Bowden. – The filament is pushed through a PTFE tube into a hotend. The distance may vary from 5cm to 30cm or more. The major advantage of such extruder is that it is relatively light and easier to maintain. Disadvantage – it is hard to tune the settings for the flexible filament and there is also the risk of a nozzle clogging or a stepper motor jamming.
– Direct Drive. – The filament is pushed by a stepper motor as close as possible to the hotend. Good for flexible filaments (TPU). As the whole extruder system is heavier, there can be such imperfections like ghosting if the vibration occurs, for example. Slower printing speeds are recommended for higher quality.
Did you like the article? Please share.