Smart Materials company MatX is introducing an innovative anti-microbial filament with unique properties. Let's have a quick look at AMBX PLA, learn about the company, and see what other products and innovations they are working on.
Antibacterial 3D Printing Materials
Innovations in the area of anti-bacterial 3D printing materials are highly welcomed. There are so many specific household items, from cookie cutters to toothbrush holders, that may be desirable for customizing and 3D printing. However, there are also some legitimate concerns that may hold us back. For example:
– Food Safety. With food safety, there are two major concerns: 1) plastic particles may get into food in case of damage or wear and tear of the printed item; 2) with the frequent-use items, dirt and dust will accumulate between the layers or inside the ornamental features, creating a haven for microbes.
– Hygiene. To maintain hygiene at high standards, household items should be regularly cleaned, washed and, in some cases, sanitized. Such items like toothbrush holders, for example, need a regular thorough wash.
This is why the innovations in the development of antibacterial materials are highly anticipated.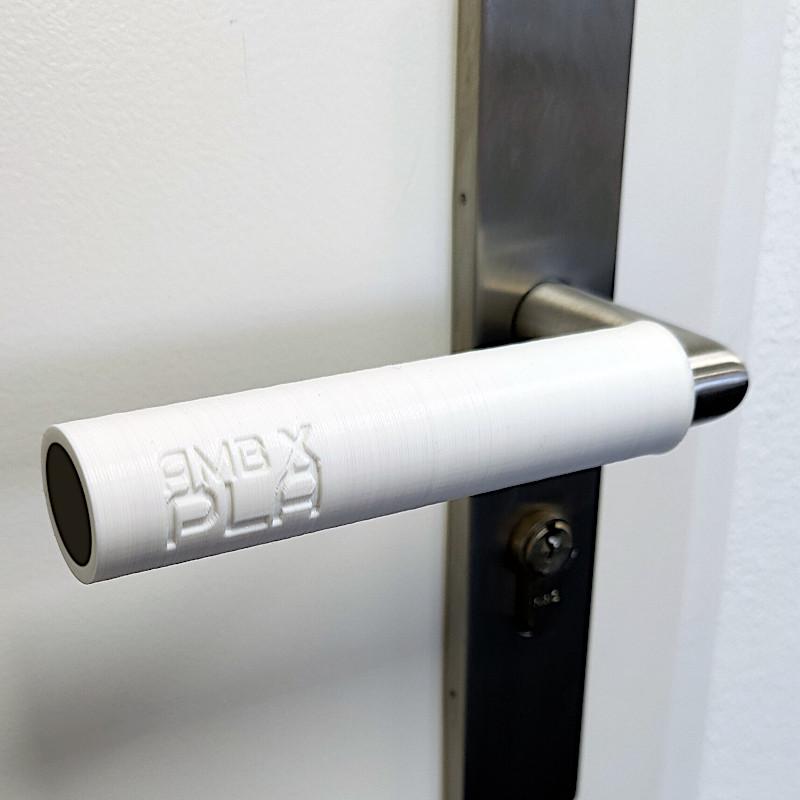 AMBX PLA Specifications
MatX Smart Materials claim that they developed anti-microbial material that is highly effective against bacteria (99.99%).
This material has a natural ingredient, which is biocide-free, and acts against microbe survival or growth. Bacteria, viruses, mold or biofilm simply cannot survive or multiply on the surfaces made in this filament. The manufacturer states that the anti-bacterial property does not fade with time and that the ISO 22196 and JIS Z2810 (*1) standards have been achieved.
In comparison to competitors, the material of MatX does not contain harmful or toxic substances, silver, copper, nanomaterials, and is biocide-free. All these properties of the AMBX PLA ensure that the material is completely safe to use for humans, animals and the environment, including for medical purposes.
Where to Buy
At the moment of writing the article, only a white filament color was available. The product can be purchased as 125, 500, and 1000g spools and is available in 1.75 and 2.85 diameters. AMBX PLA can be purchased via the official reseller's e-shop Filament4you.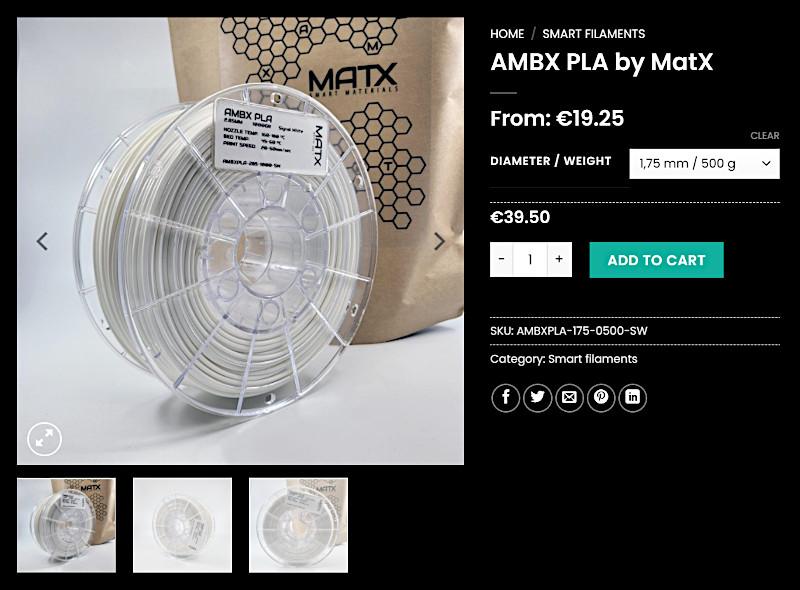 MatX Smart Materials – About the Company
MatX Smart Materials are a new company based in the Netherlands, a country where such, known in 3D printing, brands as Ultimaker and Hubs were founded. On their website, you can find fresh links to the following social media: Facebook, Instagram, LinkedIn. As only a few posts have been created so far, we are witnessing a very young company with nice branding and a smart company name.
MatX Smart Materials focus on innovation and aims to develop unique filaments for 3D printing. Trying to find new solutions and improve existing materials, they do research and development for customers as well as their own internally initiated research. The company promises more innovation to come in polymers, resins and coating.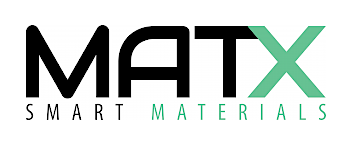 MatX Smart Materials – Other Projects
As the brand name suggests MatX works on developing other smart materials, here is an example of an innovative – Far Infrared (FIR) material.
This [material] increases blood circulation which ensures faster physical recovery, prevents and reduces signs of aging, and improves body performance.
Another important and also highly needed material is Biodegradable. MatX Smart Materials claim they are developing a material with high decomposable rates. For example, a coffee cap that fully biodegrades within a few months.
The fourth impressive project we found on the website was the development of the Deformable material. 3D printed objects can be further re-formed with a temperature as low as 55 °C. The unique property of this material is that it can be deformed multiple times. You can find their innovative projects here.
Conclusion
With ongoing projects, MatX Smart Materials show they are ready to tackle some of the most daring challenges in the 3D printing materials' space, and we sincerely wish them success in their endeavor.