ABS – Acrylonitrile Butadiene Styrene
ABS filament is the second most popular 3D printing materials. Some may consider using ABS easier than PLA, although there are some qualities to watch out for. For one, it does not stick that well to the printing bed compared to PLA. This can be improved by raising the bed temperature up to 100C (212F) or/and apply extra strong solution on the printing bed. We use Pritt extra strong glue on our glass bed. Click on picture to zoom
Another specific quality is that when heated it produces unpleasant smell due to its petroleum origin.
However, ABS filament works better with bridging. It is possible to pull it into a long line, even vertically. That' is why it is commonly used in 3D pens. In this respect, its poor stickiness is seen as an advantage. Often 3D models are drawn on a piece of paper and then taken off with ease.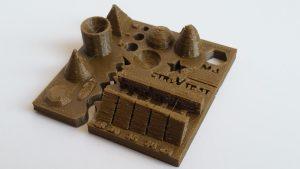 ABS is considered to be tougher than PLA, but we did not test it. Printing with this filament requires higher temperatures, usually within 220C (428F) – 240C (464F) range. One other concern in regards to ABS material is that it is not biodegradable and therefore considered not to be as green as PLA. We had a good experience printing in ABS. We used rigid.ink gold filament. The possibility to polish objects with acetone vapour smoothing produces professional-looking items.
It is possible to make an ABS object shiny: place it in an airtight container on a piece of foil together with a tissue soaked in acetone for several hours. NB: This procedure is highly toxic. Also we found that a cookie tin is the best for this.
Read more about ABS Acetone Smoothing: http://3dwithus.com/abs-acetone-smoothing-filament-review
STL files:
https://www.thingiverse.com/thing:366813
http://www.thingiverse.com/thing:27050
Please sign up for the New Post Alert in order not to miss our new posts.