Since we've posted our ABS filament review we observed that this material was losing its popularity among 3D printing community. Despite not being the most used filament for desktop 3D printers anymore, one quality is making it special. ABS acetone smoothing allows enhancing 3D printed objects by adding the shine and professional look. We used ABS in 3D printing occasionally and tried different acetone smoothing methods. Click on picture to zoom
Acetone Smoothing in a Plastic Box
Initially, we achieved a wonderful result using a simple plastic box from the Ferrero Rocher chocolates. But the issue was that this box was also made of plastic and it melted a bit, enough to make it not reusable. Well, this may not be a problem for a household with a sweet-tooth. However, using a plastic container for ABS acetone smoothing is not a good idea, because it may melt and ruin the object. It was quite a challenge to find another type of sealable container of the right size and shape, suitable for this job.
Acetone Smoothing in a Glass Jar
We printed out a Brown Bear designed by Makerbot and decided to vapor smooth it. A glass jar seemed to be a good option for such a tall object. In some cases, the jar could be suitable for ABS acetone smoothing, but our attempt failed for a couple of reasons. The glass jar is durable and all we had to do is to refill the acetone, we thought. However, we did not take into consideration that the object had to be removed from the jar in order to top up the acetone. After spending some time in the vapor, objects become soft and it is necessary to stand them for a while to ventilate and harden them before removing from the jar.
Another problem we ran into was the shape of the bear. It was tall and the most of the acetone vapor was concentrated at the bottom of the jar. The bottom part of the bear was done sooner than the top and we had to wait longer until it was completed. The trouble was that by the time the top part of the object was smoothed, the bottom part became overdone and melted.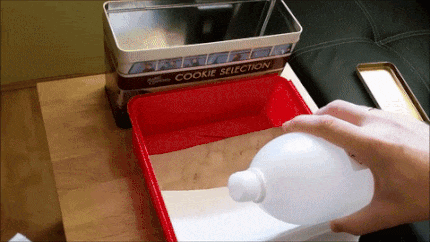 Acetone Smoothing in a Tin
Then we found an old tin of cookies in our garage and so far we feel that this container is the best. It is big enough and is of a right shape. The sides of the tin are of the same width as the paper kitchen towels. We saturated two paper towels with acetone and hanged them on the tin wall. The paper could be reused many times. This method allows undergoing multiple rounds of smoothing if necessary.


There are special smoothing devices on the market and we may try one at a later date. What's stopping us is not mainly the price but the lack of space. As we do not do ABS acetone smoothing often, we feel that extra equipment will limit our ever expanding workshop.
ABS Acetone Smoothing & Filament Review YouTube Video
Here is our YouTube video on the subject. According to some comments, our video is misleading as they state that acetone is not toxic. We completely disagree with that. Acetone IS toxic and highly flammable! We do not recommend using it in the presence of children, please do the procedure only in a well-ventilated area.
ABS filament we used is rigid.ink. We are very happy with the printing qualities and the end result, but we disagree with the color name. On Amazon, they call it Gold but it is closer to a shade of brown. Anyway, it is a nice color. (Here are Amazon affiliate links for this product, it will not cost you extra but it will contribute towards maintaining our website. US: http://amzn.to/2soOAwE UK: http://amzn.to/2stM4AJ )


---
Read More:
ABS Filament Review
Scroll through brands and 3D printer filament available to find the right materials for 3D printing at home. PLA, ABS, Wood, PETG, Nylon, Support, FLEX, etc. … Read More
---
Read More:
3D Printing Filament for Desktop 3D Printers
Scroll through brands and 3D printer filament available to find the right materials for 3D printing at home. PLA, ABS, Wood, PETG, Nylon, Support, FLEX, etc. … Read More
---
Sign up for the new competitions, giveaways & new posts alert

---