3D printing community legionnaire Tessa, aka SparkyFace5, mentioned that it was so easy to take pictures on delta printers as their printing beds did not move. It reminded us that we had so many interesting time-lapse videos piled up. We feel that we have to say special thanks to a mobile app called Framelapse. For two years in a row, we've been using it for free recording, sometimes for up to 25-hour prints.
When we bought our first 3D printer, we had no idea that some of the printer builds were more photo-friendly than the others. Now, we can say that delta printers are much better for capturing time-lapse than the printers with a moving bed, for example.
Some might disagree with us and say that it is easy to setup a special add-on for the camera, for 3D printers with a moving bed. We think that all that hassle of finding a file and then setting it up might scare some people off, especially beginners.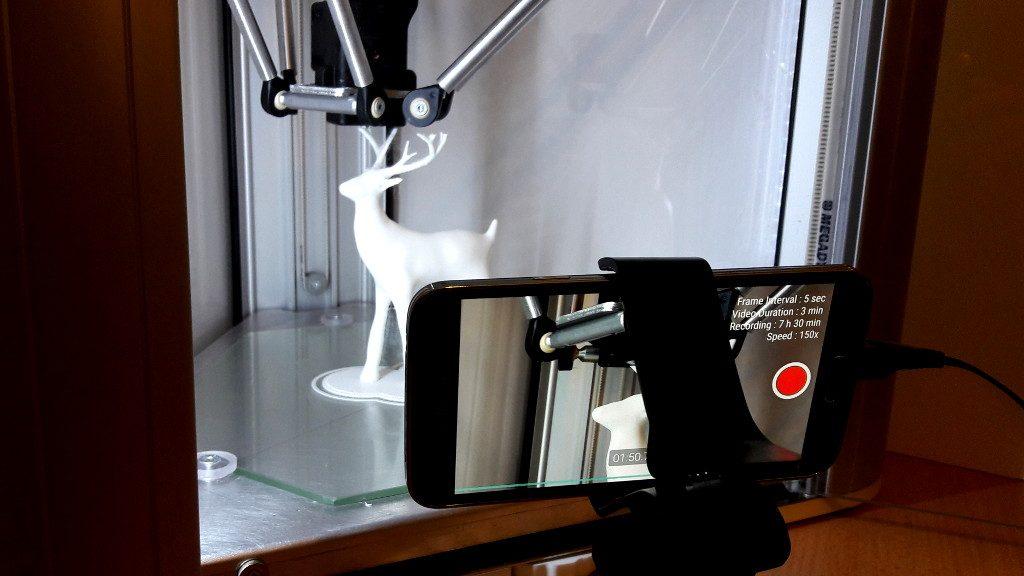 Time-lapse is not just entertaining, but it is educational as well. There are so many settings to get right in the slicer software that, want it or not, failures do happen, even with two years of experience. The time-lapse recording is the one that gives us a clearer picture – when and why this or that happened. Was it a bad bed adhesion or an ignored Z-Hop setting?
Of course, real time recording with sound could give you a slightly clearer picture, but then much more is involved, like a streaming-capable internet connection, a cloud system, better equipment, etc. In our case, it is simply a camera with the Framelapse application.
By the way, regarding Z-Hop. We often blamed poor bed adhesion, when the real trouble was missing the Z-Hop setting. We failed twice at the 3D printed Gayer-Andersen Cat (GIF above) from the Scan The World collection and as we didn't know the real reason, we blamed the bed adhesion. To improve the bed adhesion, we applied 20+ skirt outlines in Simplify3D. It didn't have the "Brim for Support" option yet. Even this massive adhesion improvement failed.
Z-Hop Failure – Gayer-Andersen Cat
(MP4: 3DWithUs)
Of course, we used time-lapses in our first YouTube videos. In our video below we made a 20-hour print into a 3-minute video. By the way, it is easy to adjust the time-lapse time on any movie editing software. We normally use Microsoft Movie Maker to shrink the time-lapse further.
As we have another 3D printer (Original Prusa i3 MK2) with a moving bed, our next challenge will be to try and setup all the needed accessories for the time-lapse option. We will update this post accordingly but, at the moment, we can only show this GIF, which also came out very well in our opinion.
Framelapse Original Prusa i3 MK3 3D Printing
(MP4: 3DWithUs)
In the end, we would like to note that YouTube might be a little too sensitive to 3D printing time-lapse videos, if a nozzle is jumping a lot. It will keep suggesting to repair the video using their tools. We don't know if it has any impact on the video rankings though.
Framelapse app link & featured objects' STL Files:
Framelapse
Wine Hand by koukwst: thing:931880
Holiday Christmas Deer by yeg3d: thing:571949
Gayer-Anderson Cat: myminifactory.com/object/4010
Read More: The Best Time Lapse Setup for 3D Printer
Have you already mastered the time lapse recording using a mobile app, camera mount or Octolapse? If you are designer or creator in 3D printing, you will need to have one more skill under your belt – time lapsing your 3D printing in action… Read More