After a new 3D printer is bought, it is recommended to test it by printing something simple. Thanks to STL sharing websites there are a lot of beginner-friendly printable files available for free. Once you gain the confidence in using the printer and the slicer, it may be time to try yourself in the design department. The most popular 3D design software might be very good but not particularly beginner-friendly. Blender, Autodesk Fusion360, ZBrush, and others have a lot of potential but it was a wrong choice for us as a starting point.
It takes a lot of patience to figure out the options and even the navigation. As we were looking for a 3D design software for 3D printing, it had to be able to convert the design into an STL file. Tinkercad was like a revelation to us. It is very intuitive and it is also browser-based.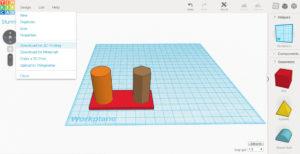 Tinkercad – The Best 3D Design Software For Beginners
Our first 3D design was very simplistic: a cylinder and a hexagonal prism towers. We used the shapes available in Tinkercad. We wanted to make sure that it could turn our creation into STL 3D printable file. Later this design was used to test new filaments. In the picture below the object served to check the stringing of ABS filament and to learn acetone vapour smoothing.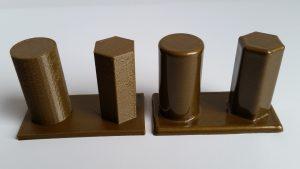 3D printing own designs is quite exciting. It may work or not. With more complex objects we had to go back to the drawing board several times. Sometimes what we predicted to fail worked out very well and visa verse.
A great feature is that it is possible to open STL files in Tinkercad and redesign them. It is fun to remix ready designs, for instance, to place a random head onto a well-known character.
Cactus and a Pot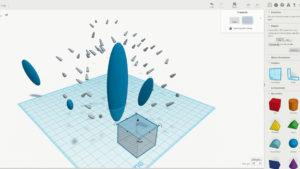 One of our colleagues is a huge cactus fan. He has a collection in the office and at home. He was the one to give us an idea to make a 3D printed cactus. We wanted it to fit into his collection and so designed together with a pot.
We used a lot of different shapes in Tinkercad to draw and to make hollow spaces. As a result, our cactus lives on the windowsill in the office together with his live counterparts.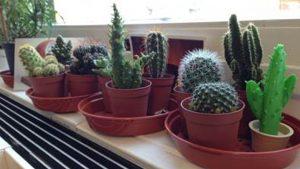 3D Design Software for 3D Printing
Tinkercad is becoming a very popular 3D design software for 3D printing communities. It is free and browser-based: www.tinkercad.com
STL Files:
It is encouraging to see that other enthusiasts like your design. We are very happy that our "Cactus and a Pot" design was downloaded more than 1,000 times from various STL sharing websites. You can find and download Cactus and a Pot and other 3D printable files for free: