The recent years have seen an explosion of interest in the myriad of tools to create professional-quality 3D computer-aided designs. As computing processing power just gets cheaper and cheaper, complex software that used to be available only to multimillion-dollar commercial organizations and elite design studios is now available to pretty much anyone with a decent laptop. One such software is Fusion 360 by Autodesk. Let's see why it is worth learning and check one of the best courses available online.
Table of contents
Design Software Choice for 3D Printing
Where should you get started? Well, it depends on what you are most interested in creating. Many will get their first exposure to product design through entry-level student programs such as TinkerCad. For data-heavy artistic projects featuring unique details like jewelry, or sculpting a person's face, perhaps you are best served by learning Blender, Rhino, or ZBrush. All of the above programs can be used for 3D printing; however if your sole goal is simply to fill your home with plastic gadgets, you may not need to learn any CAD software at all. It could be that anything you can imagine has already been shared by someone else online, in which case all you really need to do is simply search for a mesh file (.stl) that you like on free sites. As long as you can master the slicer software, like Cura or Prusaslicer, you can just grab a sculpture that someone else has uploaded and you are good to go.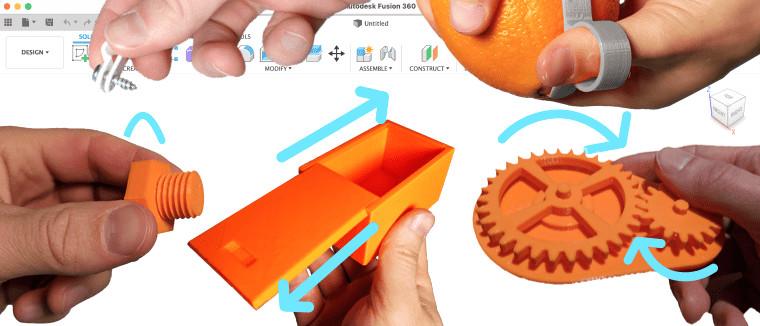 Why Fusion 360?
In this article, I explore 3D engineering for people who are most interested in designing physical products, especially for scale commercial production. This is where the rubber really meets the road because, in order to actually manufacture something that is complex, you will need to provide precise specifications and have the ability to collaborate on standard files with manufacturing partners. Whether you are an engineer at Bosch designing a new spark-plug or working independently at home on your new robotic kitchen appliance to grow broccoli sprouts, you will require a professional workflow, tools, and skills. The most commonly used programs for this level are Creo, Solidworks, and the recently revamped Fusion 360 offering from Autodesk.
Fusion 360 is awesome because:
– Powerful. It is incredibly powerful and seasoned as a well-supported segment of the Autodesk family. There is more here than you need – design, mechanical assemblies, structural analysis, renderings and animations, it has it all. As of this writing, over a million users have made this choice.
– Timeline. It is fully parametric and captures a modifiable history in the timeline – two features that make things much easier when you realize that you want to iterate your complex design in the future without having to start over from scratch. Brand extensions – no problem.
– Paid/Free. Significantly less expensive than other programs at $495/year – and it is free if you are on the renewable hobbyist or student license and for early pre-revenue (under $100k) stage startups.
Learn Fusion 360 with PDO Academy
There are so many learning styles and great teachers out there, but for me, the hands-down best instructor that I discovered was Kevin Kennedy of Product Design Online (PDO). Kevin has compiled a comprehensive soup to nuts collection of video lessons that can teach literally anyone at any level to become a master at Fusion 360. Each of his videos is relatively brief – mostly 10 to 20 minutes – but densely packed with well-thought-out information; he doesn't waste your time with aimless blather.


Selection of Courses & Tutorials
Best of all is how he has organized the material. Kevin was one of the early adopters of Fusion 360 when it was launched nearly a decade ago, a time when there were few quality lessons available at all. The teacher at his school didn't even know what this software could do. So Kevin had to figure it all out himself. As a result, he now has many years of experience and insight – not just in how to apply best practices in Fusion 360, but also the interests and pitfalls that most users will face along the way. He has figured out the best way to sequence what we learn, which things to focus on first, a smart color coding system to categorize core topics, and what tips and tricks will accelerate our progress as we go.
Real People PDO Community
For those who yearn for more interactive hands-on education – in which real people actually help and encourage each other with direct personal attention, PDO also features a full Academy of instruction and lively community support at its website academy.productdesignonline.com. This is a terrific value because of all of the premium content and ongoing Q&A that this group provides.
I would recommend you join immediately. Sooner or later it is inevitable that you will get stuck for literally hours on a really minor quirky detail, like you didn't realize your sketch had a hidden line that is preventing it from being able to extrude. Hours wasted! Learning complex software is like that – there are always these little quirky details that you have no reason to know about until you encounter a problem.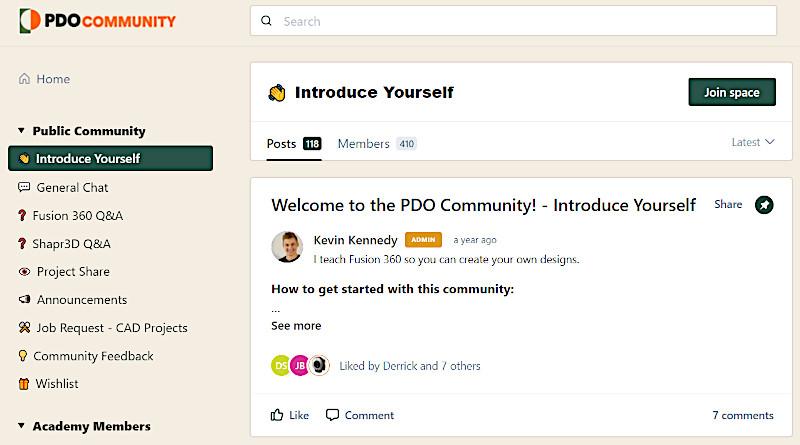 Meanwhile, if you participate in the active PDO online community and just ask instead of being puzzled and getting frustrated alone, someone will probably recognize your issue immediately and be able to advise the correct solution right away. It is way more productive to learn this way, and more fun too. Nice people tend to self-select by showing up – I have made several new friends all over the world by participating in this group, it's a warm and fuzzy not to be missed. And since then I have tried to turn around all the help that I have received by helping others. It feels rewarding to be an ongoing member of this give and take group, even after you have completed his instruction.
Fusion 360 for Beginners
However, it is not necessary to join PDO to get a sense of the excellence Kennedy brings to this curriculum. A great starting place is his Learn Fusion 360 in 30 Days For Complete Beginners playlist – all free on YouTube.
It begins with making simple things like a Lego Brick or a screwdriver. By the end of the month, you will be making mountain bike handlebars and sculpted earbuds. Most helpful is the tour of the overall Fusion 360 program that this 30-day teaser provides, including modeling from 2D sketches, beautifully curved surfaces, organic 3D sculpting using t-splines, plus some practice with rendering and assembly animation techniques.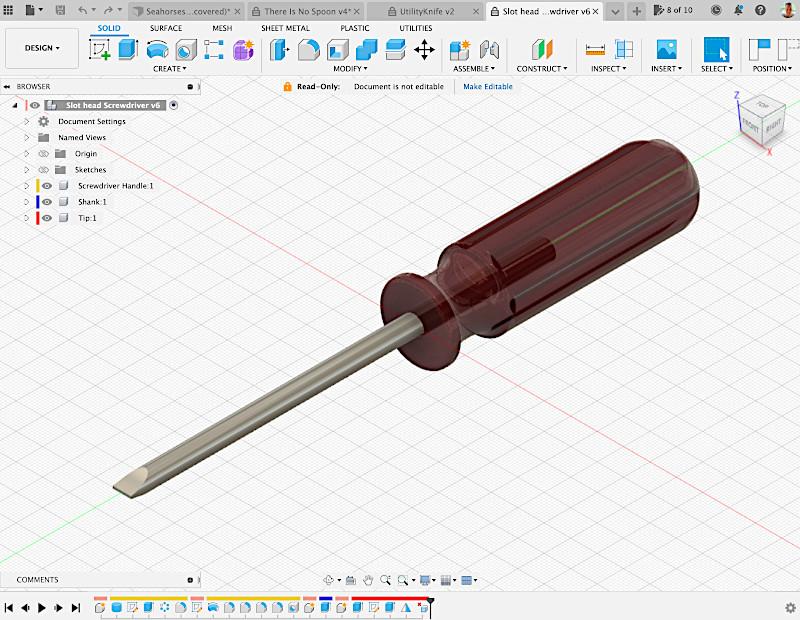 Design Examples
And after only 30 days, I was able to graduate to intermediate and even some advanced techniques. I felt particularly proud to be able to apply what I learned from studying a lesson on Creating a Spoon to designing a completely different kitchen utensil on my own, without additional help.
It turns out that precisely modeling the elegant curves of a simple spoon is way more challenging than it looks. You have to be comfortable modeling in all 3 dimensions AND on various construction planes. But then once you get the hang of it, the world becomes your spoon!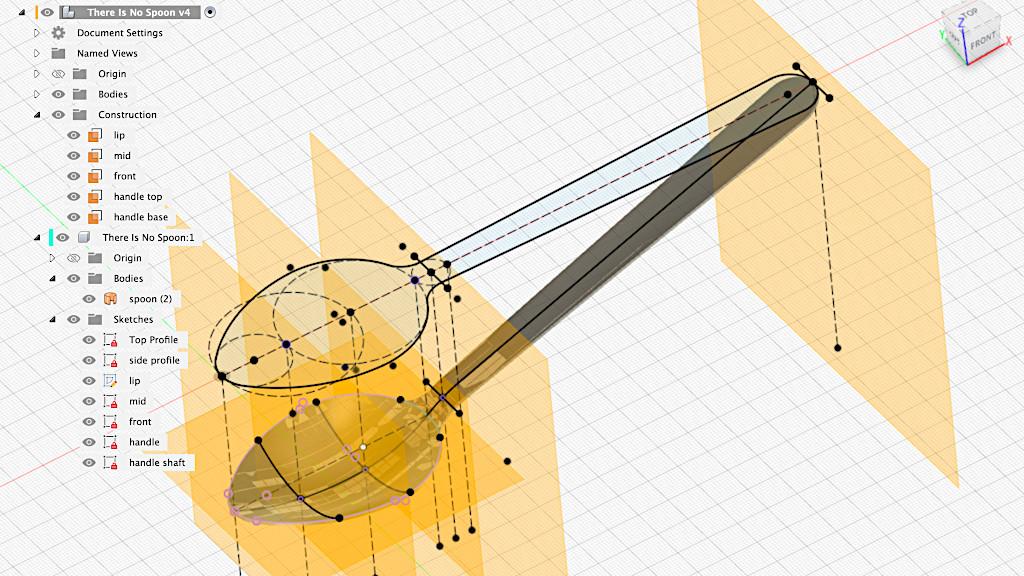 So when a dear friend later mentioned to me that she was bummed that kitchen tongs that she loved as a kid had been discontinued, I was able to chase down a vintage 2D advertisement of "Toasty Tongs" on Google Images, and now, with my new spoony skills, could actually resurrect her utensil from the dustbin of history. I sent her a pair that I designed and 3D printed using essentially the same method as Kevin taught in the Spoon course.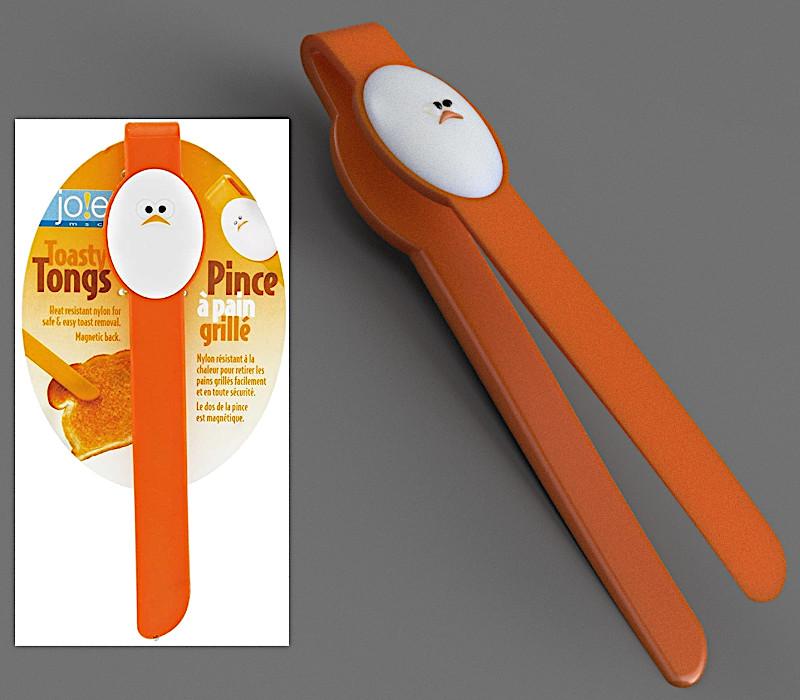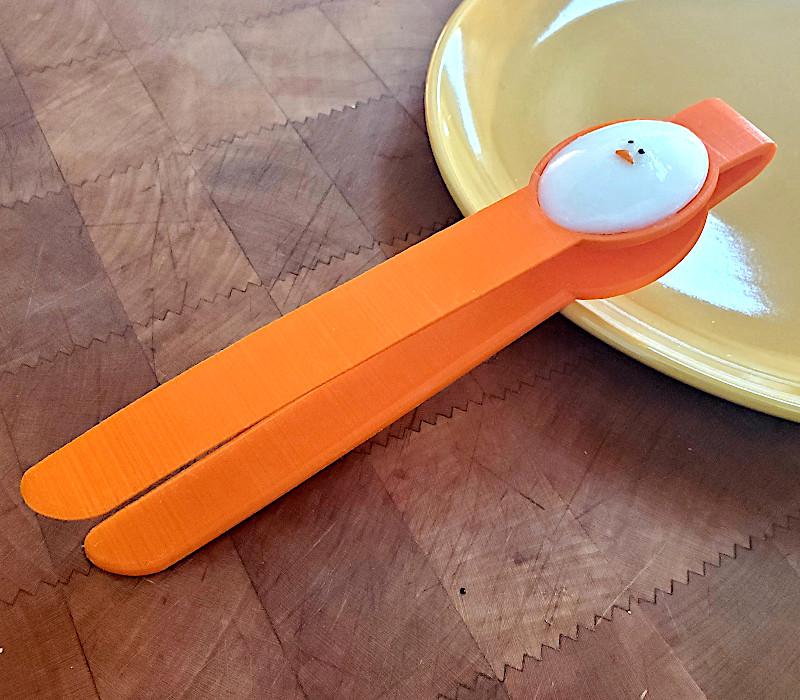 Conclusion & Links
Kevin has uploaded an impressive 180 lessons on Fusion 360 for all levels and categories of instruction on the PDO Youtube channel – all free – to help you unlock all sorts of skills and creative expression. Once you dive in, you'll be surprised. It's hilarious! Who knew that designing a hairdryer could be so much fun? And who doesn't want a keychain with seahorses on it? I strongly recommend that you give PDO a try.

Read more: 3D Design for 3D Printing Courses
Many training courses and tutorials are available on the subject of 3D design for 3D printing. So if you set your mind on particular software to master, the table below will help you to compare the courses and chose the right one for you.