3D floors are gaining popularity across all floor installation services. Let's check what is 3D flooring, how it is made, list some pros and cons, and where such floors usually are installed.
What is a 3D Floor?
3D floors are the floors with surprisingly realistic look, comprising optical illusions and 3D objects resembling complex mosaics.
If installed at home, the 3D floor may project a mesmerizing world of jungle adventure in the living space, transform a bathroom into a tranquil place, or bring a forest into the kitchen with beautiful greenery and stony paths.
Wide range of 3D Floor Vinyl Stickers available on Amazon (affiliate link)
3D Flooring is a superb option for someone who appreciates 3D optical illusions. Such magic used to grab the attention for centuries as it still does now.
Installation of 3D Flooring
If installation of complex 2D and 3D mosaics are well known in history then 3D epoxy flooring is relatively new.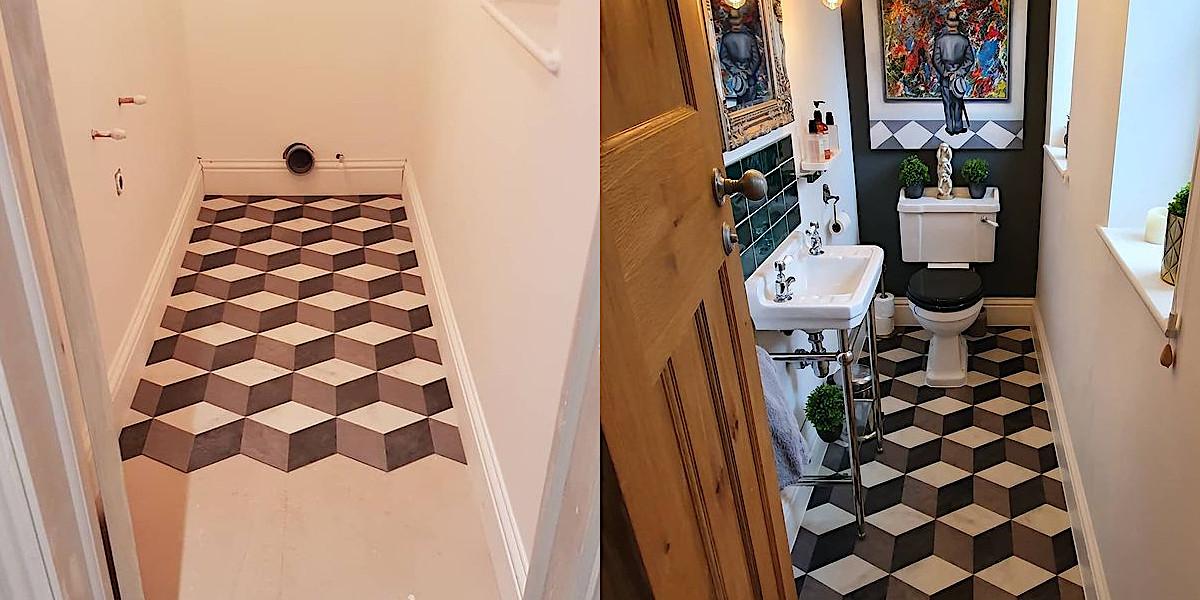 3D Epoxy Floor Installation
The 3D epoxy floor installation process requires a few steps.
A self-leveling primer is set down in a layer followed by the desired image. The next step involves applying a transparent two-component epoxy or polyurethane to provide the perfect image depth and realistic look. In the final step, a layer of protective varnish is used for more durability that protects against wear and tear and other damage.
Pros & Cons of Epoxy Flooring
Advantages
Here are some pros of the 3D epoxy flooring enlisted that help to make it popular among all the floor coating services.
– No Joints. These floors are smooth and plain as they don't have any joints, seams, cracks, pores, or gaps, meaning they won't absorb any chemicals, water, or dirt. This consistency makes it easy to maintain the floors.
– Hygienic. The epoxy 3D flooring helps repel bacteria and a variety of pathogens, plus these floors aren't likely to accumulate dust. Furthermore, the materials are also considered safe for human health, and they don't emit odor and corrosive fumes.
– Fire Resistant. The epoxy 3D floors are fire-resistant, and this is one of the main reasons that the epoxy coating is used in warehouses, hospitals, child care centers, and other places where the higher fire safety standards are required.
– Durable and Stable. The epoxy flooring is enormously durable and easy to clean and maintain. That's why it is a popular choice for spaces like shopping malls and offices.
– Visual Effects. The most important pro of the epoxy 3D flooring is the mesmerizing visual impact. It truly creates the most beautiful visual effect in any room. Professionally installed, the 3D floor can conceal possible design imperfections in the room's interior because of its quirky artistic qualities. You can even visually increase the area of the room by choosing the right 3D floor design, color, and pattern.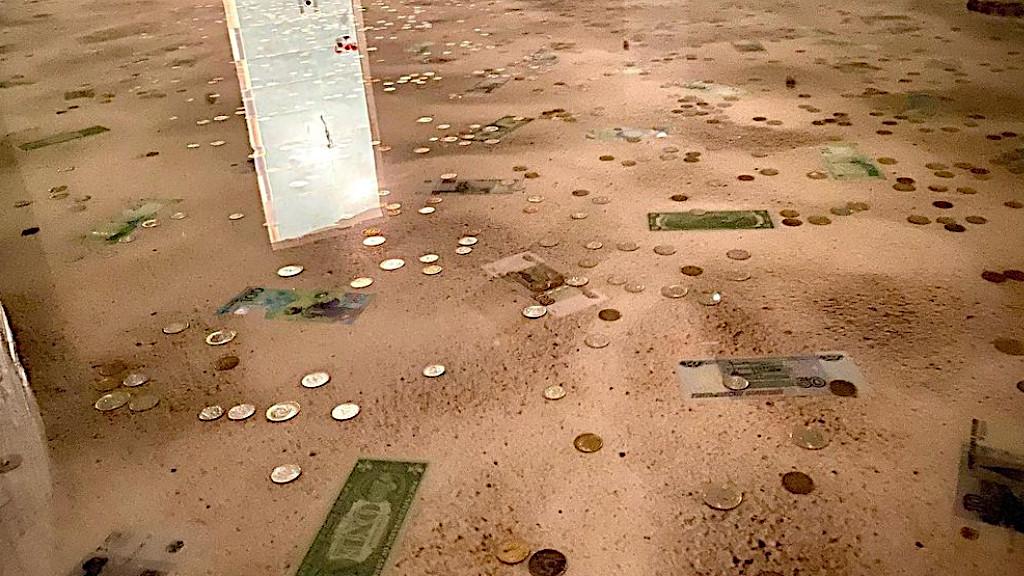 – Art and Creativity. The 3D floor boosts an infinite imagination of the designer and grabs the people's attention. It can make a room seem more consequential than it is with the help of optical illusions.
– Waterproof. Such floor is highly resistant to acids and other materials such as bleach or other cleaning liquids. It is hard-wearing and can take the cleaning with chlorine and other daily desinfection such as with acid that you may use in bathrooms or kitchens for the hygiene upkeep.
Disadvantages
– Installation. Complex and messy installation that involves chemicals. If laminate floors can be installed by a casual person after watching the YouTube videos, then the epoxy flooring installation requires more professional approach.
– Maintenance. Costlier than other options. To make sure the high impact areas don't ruin the whole 3D illusion idea, such places needs to be maintained regularly. Applying protective waxes is highly recommended.
– Slippery. For industrial and commercial spaces, usually extra anti-slippery measures are taken into consideration. When installed at home, the 3D epoxy floors may be very slippery when wet.
Where such floors are installed
For the reasons described above, the epoxy 3D floors are becoming popular in spaces like halls, offices, and shopping malls. These areas need to be clean regularly using chemicals and bleaches, and the epoxy flooring can endure this and can last for 15 or more years without changing or fading its color.
It is worth mentioning that in warehouses, for example, the traditional gray colored floor is often an epoxy floor with an anti-slippery grit. There are no 3D effect in such floors though.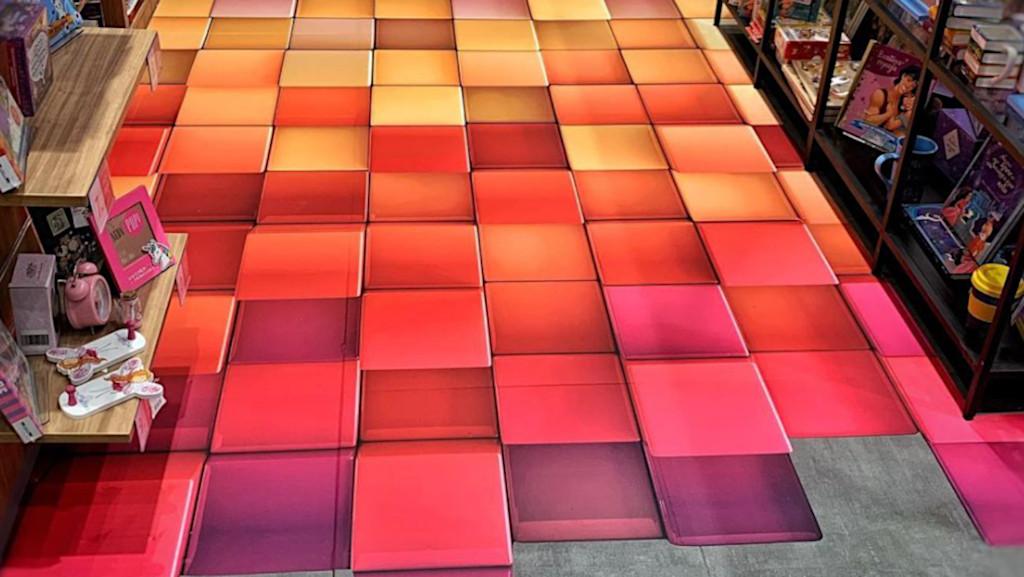 Conclusion
If you are looking for some inspirational and quirky flooring for your home or office, then the jaw-dropping 3D flooring could be a good option. If 3D floors seam too much, you can always turn to some of the traditional flooring experts. In any case, choosing the right flooring is an important part of any refurbishment, and before jumping into a decision, we would recommend to try and play around in the virtual home design and renovation applications. Virtually trying out various floor patterns together with the furniture 3D models may greatly help to come to the right decision. Check our quick guide.