If you are into illusions you may find that 3D printers are very useful tools to replicate existing or create completely new combinations. A vast collection of 3D printed illusion models are available on 3D model repositories. Let's have a look at some of them.
Ambiguous Cylinder Illusion
Below is an Ambiguous Cylinder by Kokichi Sugihara. As soon as you see this item reflected in a mirror, you feel all the magic they are talking about. A talented designer Devin Montes (aka MakeAnything) thoroughly dug into the subject, creating high-quality files and YouTube videos. You can find a few Davin's STL files, flips or structures, that create optical illusions on MyMiniFactory. We 3D printed some of them.
Our illusion is 3D printed in color changing Amolen PLA filament. If you aim for a double surprise for your family and friends, this would be a good filament choice. In the picture below we have 3 models 3D printed in this filament. Each model has a slightly different temperature that we achieved with the heat gun. At this moment it is hard to tell that all of them were printed in the same filament.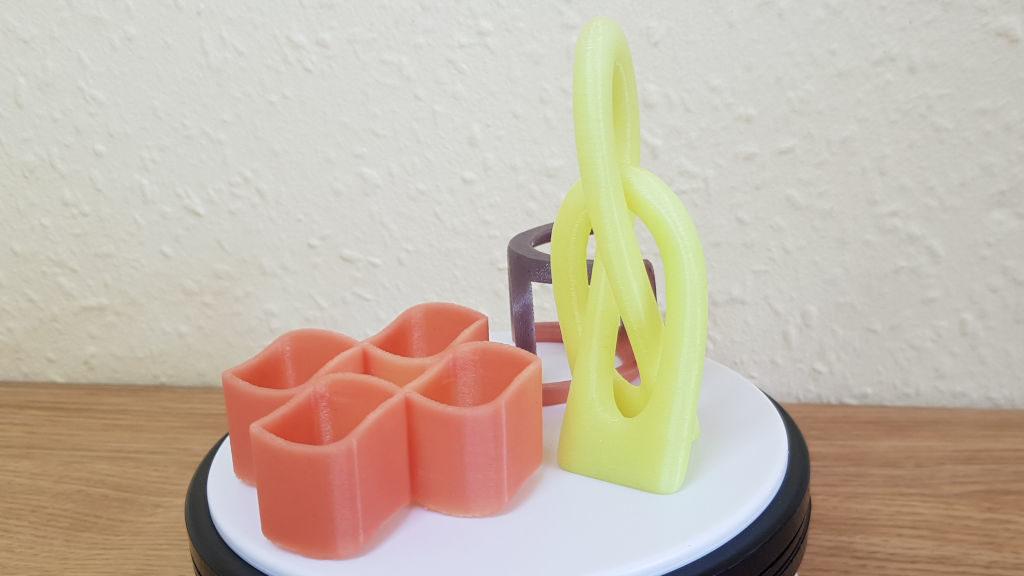 Amolen Color Changing PLA on Amazon (affiliate link)
This lovely circle heart optical illusion (published by Lukeskymuh on Thingiverse) was also inspired by Ambiguous Cylinder by Kokichi Sugihara.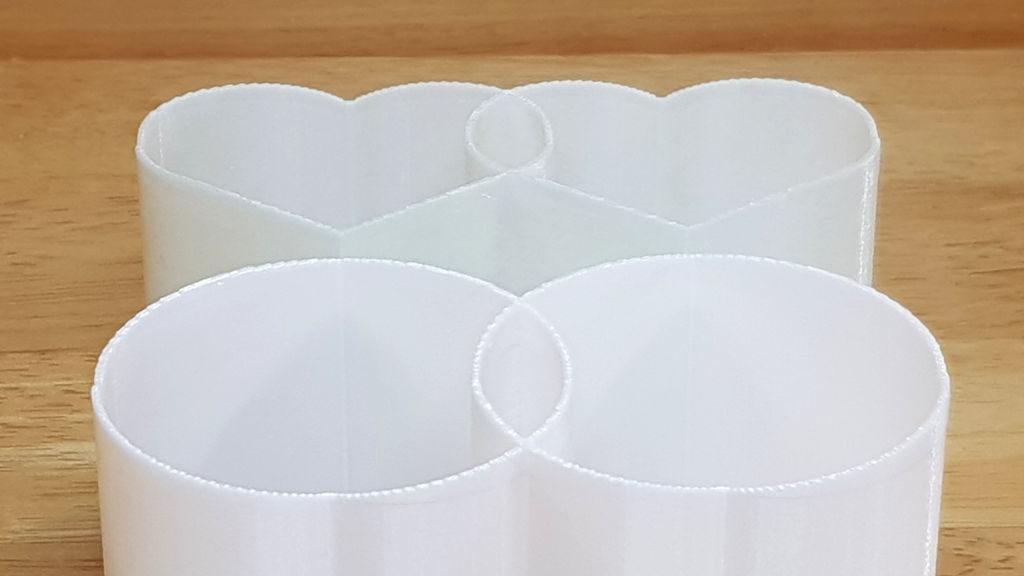 Penrose Triangle Illusion
An award-winning Penrose Triangle Illusion has a rich history but didn't impress us from the beginning. We only saw the magic when exposed it to the right lighting at the right angle. This support free model, when 3D printed, looks nothing like connected cubes, but a weird half completed thing with sharp edges.
Penrose Triangle illusion, based solely on the 1934 design painted by Swedish artist Oscar Reutersvärd. The design also appeared on Swedish postage stamps in the early 1980s. Some elements are inspired by the Hollow-Face illusion discovered many decades (if not centuries) ago.
Mind the bed adhesion if you decide to print it out as in the very beginning only little triangles are attached to the build plate. If at least one of them detaches, the whole model will be ruined.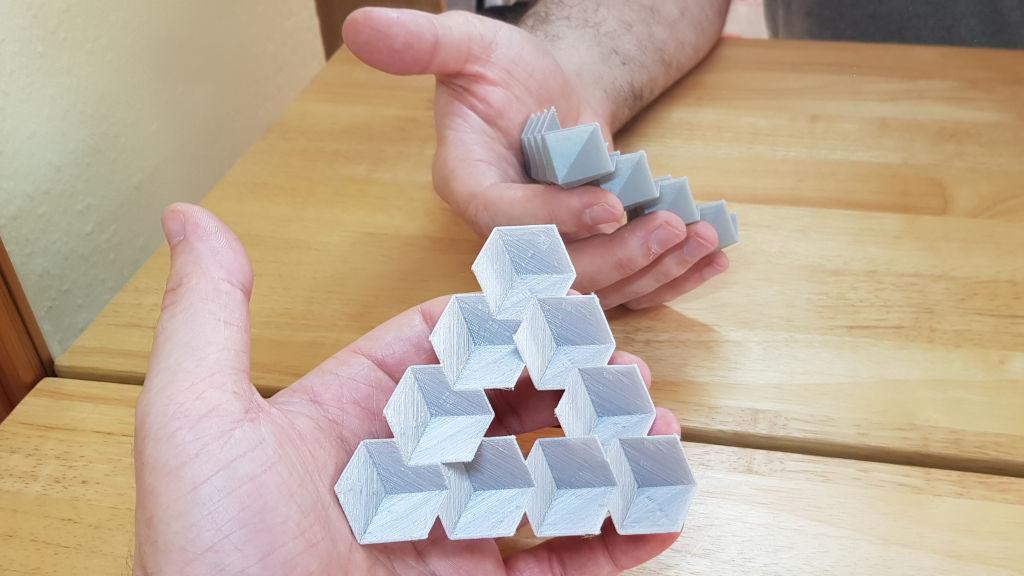 Text Flips
A fascinating collection of so-called text and object flips created by MrPo23 is available on Cults3D. We spent some time just watching his GIFs. Thumbs up to Cults3D platform that still allows its members to publish GIFs there. GIFs give a clear picture of what may come out from the existing downloaded file.
We printed out a few items, these are practically never support-free, therefore have your post-processing tools ready. We especially liked a Hip-Hop model. It is a cute little keychain that could be quite a nice gift to a true Hip-Hop lover.
Another object we tested was a Vica Illusion Sculpture by Chylld. It is featured in the first picture above. It is funny how it can fool you around by resembling two separate rings. This can be a decent sculpture if 3D printed in a large format. Probably we will try it on our Delta Wasp 2040 one day in clay.
3D Printed Illusion Links and STL files:
Penrose Triangle Illusion:
Thingiverse
MrP023 Text-Flips:
Cults3D
Ambiguous Cylinder:
MyMiniFactory
Vica Illusion Sculpture:
Thingiverse
Circle Heart Optical Illusion:
Thingiverse