In this guide, we invite you to explore the possibilities of using 3D scanned tree textures to inspire your 3D printing projects. Many trees are unique, carry a piece of history or sentimental value, or represent rare varieties found in well-maintained gardens. Although we offer a selection of free and premium files for download, our goal is to encourage readers to combine this concept with 3D printing technology to achieve original and unique results using local trees.
This Guide Covers
Why Trees?
There are many trees that carry a piece of history or sentimental value for someone. It may be an oak, which can be hugged by five or more people. This tree has outlived quite a few generations and may be under the protection of local conservationists. It could be a maple that supports a swing or a pine with impressive cones. Even a birch's 3D-scanned texture can be transferred to an object. At the same time, 3D printing is a great technology that enables us to create individually customized objects at home.
How to 3D Scan
On 3DWithUs, we have published a lot of material about 3D scanning, including guides and reviews. As this technology rapidly evolves, there are now several methods available for 3D scanning tree trunks or stumps. Photogrammetry remains one of the most convenient options. Photos of the object can be taken with any camera for later processing, and there are numerous software and applications that can handle the required number of images. Here is a guide on photogrammetry, complete with tips, tricks, and a list of the best applications. Currently, one of the most convenient methods is using the Polycam mobile application and its Photo Mode.
Ideas for 3D Printing
The majority of objects in this guide can be printed using various types of 3D printers, including budget-friendly FDM printers and resin desktop 3D printers. As new ideas emerge over time, this guide will be updated with fresh examples.
Planter Pots in Vase Mode
By using 3D scanning and vase mode 3D printing, we can create unique planters featuring tree trunk textures. In vase mode, the 3D printer's extruder moves in a corkscrew or spiral pattern, without any retractions. This technique allows the printing of large vases at a much faster pace. The vases in the image below were printed using 0.6-0.8 mm nozzles, which resulted in stronger structures. For more information, here is a guide on how to print with nozzles other than the standard 0.4 mm size.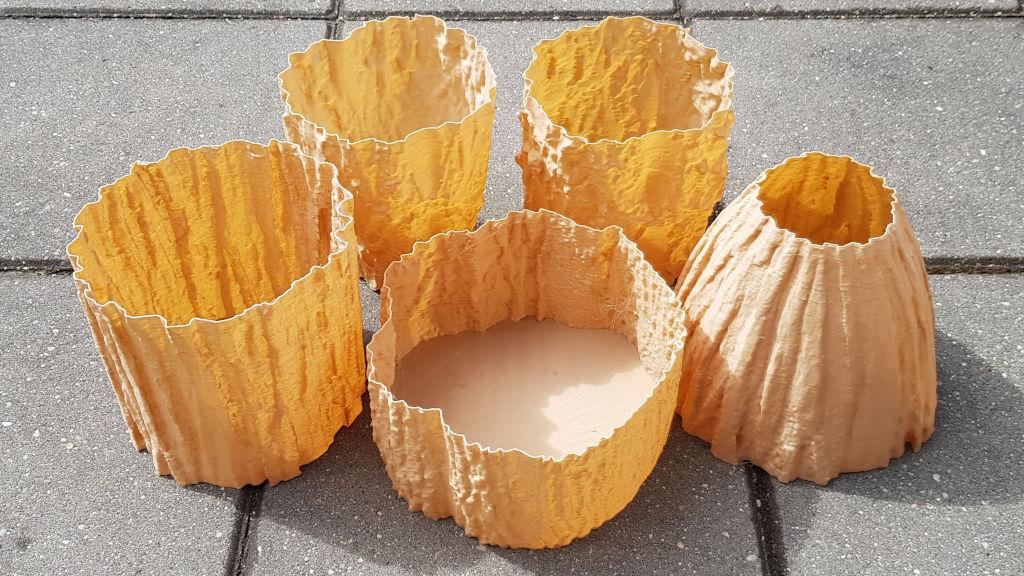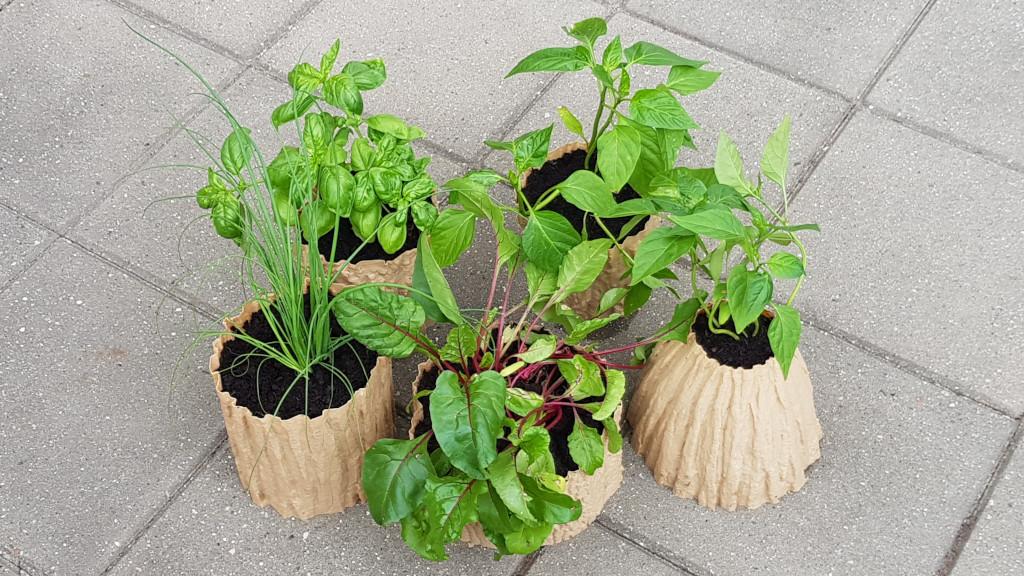 To assess the functionality and durability of these pots, I planted various herbs, including basil, onion, chili, pepper, and even beetroot. To my delight, after approximately six months of testing, there were no signs of damage or decomposition. Additionally, all pots, except for the cone-shaped ones, were reusable. Learn more about 3D-printed planters in our dedicated guide.
Lamp Shades in Vase Mode
Disclaimer: We can't stress enough that every electrical appliance is a potential fire hazard if treated/maintained inappropriately. Therefore, extra care has to be taken while undertaking any 3D printing DIY project that involves electricity.
Following the success of the planter pots project, it was quite simple to experiment with creating lampshades using similar vases. All I had to do was print them with a hole in the center. In this case, I used standard 0.4 mm nozzles to ensure the walls remained thin, allowing light to pass through effectively. Remember to use LED Bulbs Only! Incandescent bulbs generate a significant amount of heat, which could quickly melt such a printed in PLA, shade. The full guide and testing results can be found here.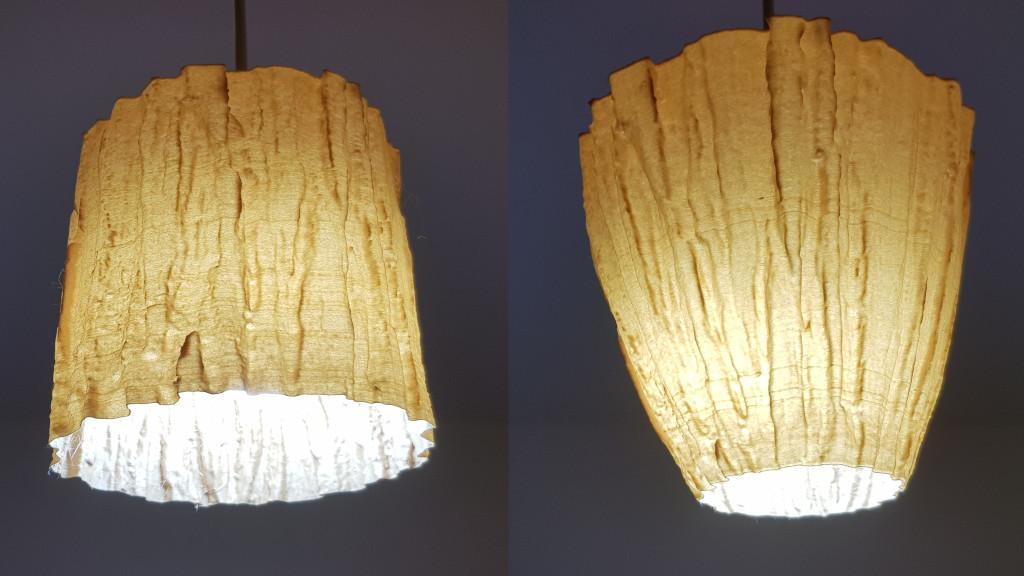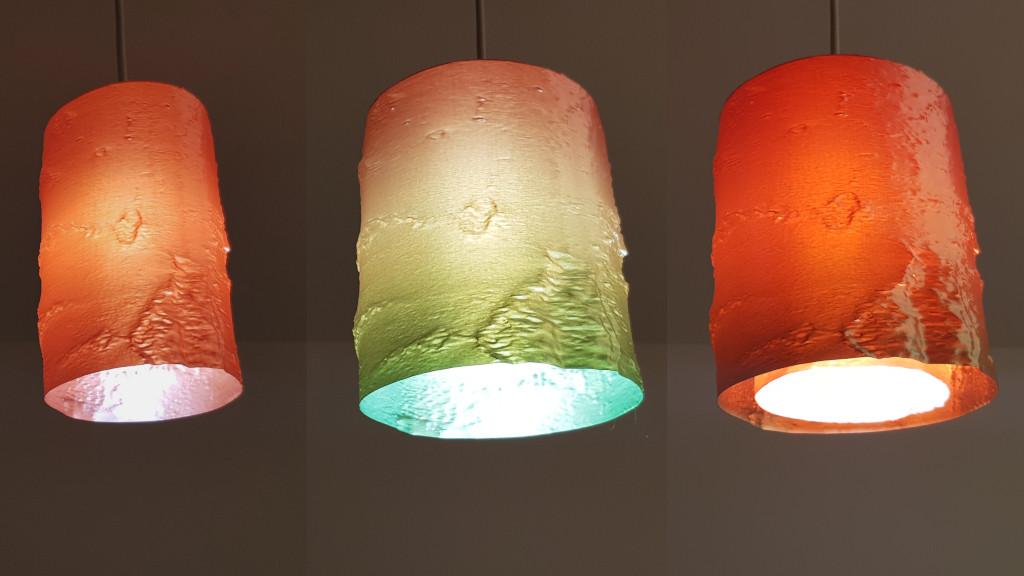 In the image above, I stacked two birch texture shades together. Although the amount of light in the room was significantly reduced, making it potentially impractical, the double-shade lamp looked stunning. Silk Rainbow PLA, available on Amazon, is an outstanding filament choice for projects like these. Discover more projects using Rainbow Silk PLA here.
Tree Stump and Trunk Coasters
Highly customizable and functional 3D printed coasters can serve for a long time and be an inspirational object on any table. They are easily printable on a desktop 3D printer at home and can be made in different materials.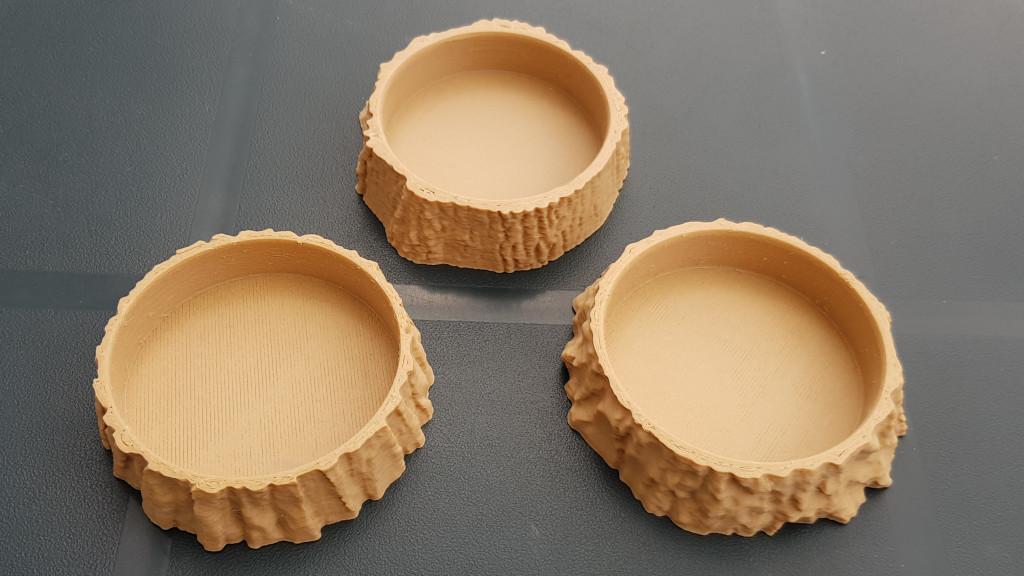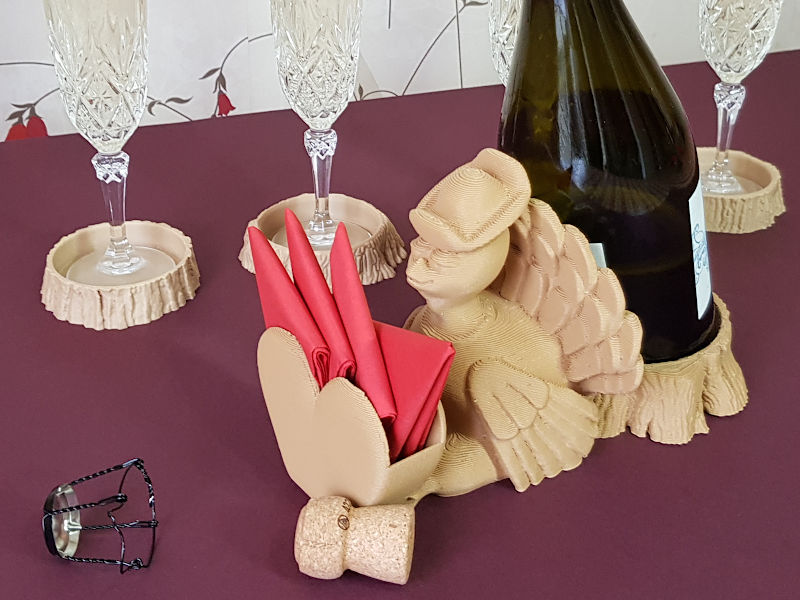 Naturally, when printed with wood filament, these coasters look and feel like real wood. However, I've also seen them printed in marble PLA and even in dark green PETG, serving as a water dish for lizards. In the image below, two coasters are 3D printed using thermochromic PLA, a filament that changes color based on temperature. The tea-filled cup is much warmer than the candle holder.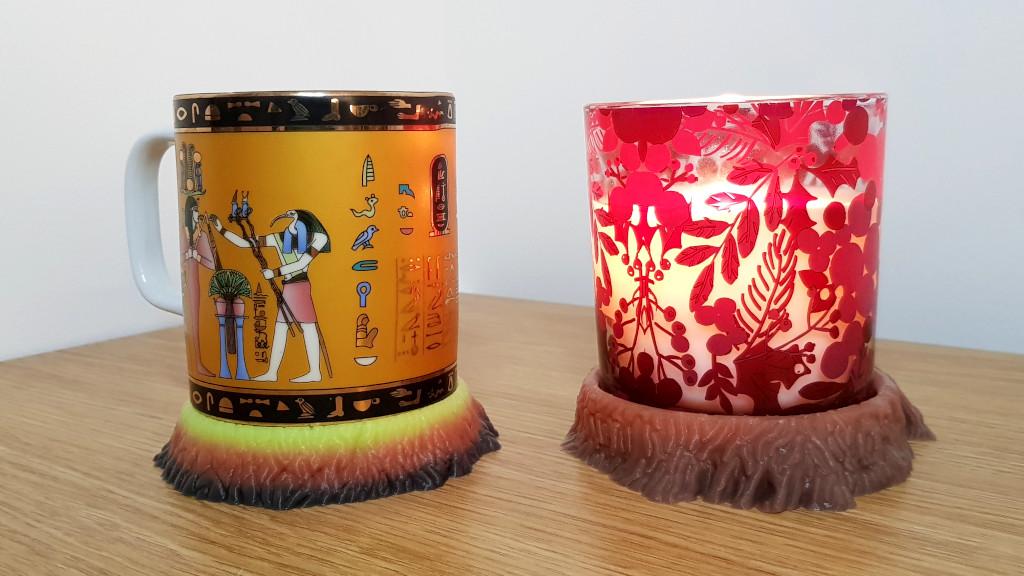 In my 3D Printed Tree Stump & Bark Coasters Guide, I provide a detailed description of how I designed them from scratch in Blender. But, I also created three of them using Oak, Birch, and Pine tree trunk textures using the Bisect Knife and Proportional Editing tools in Blender's Edit Mode.
Fastigiate Hornbeam – Waiting for Ideas
A vast collection of interesting trees can be found in Kew Gardens (London). Fastigiate Hornbeam is unique and very suitable for 3D printing ideas. It has many branches and they are even in width. As this photogrammetry scan involved more than just bark texture, Meshroom, a 3D scanning software, was slightly moody to process the images. It took me three attempts before I achieved the desired result. This object can be turned into an original pen holder or decorative lamp for example.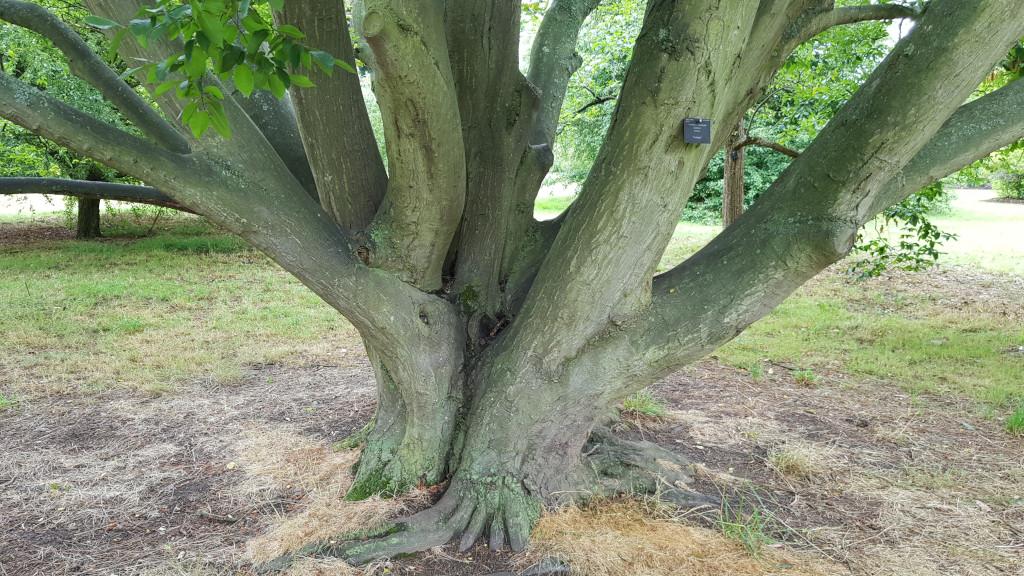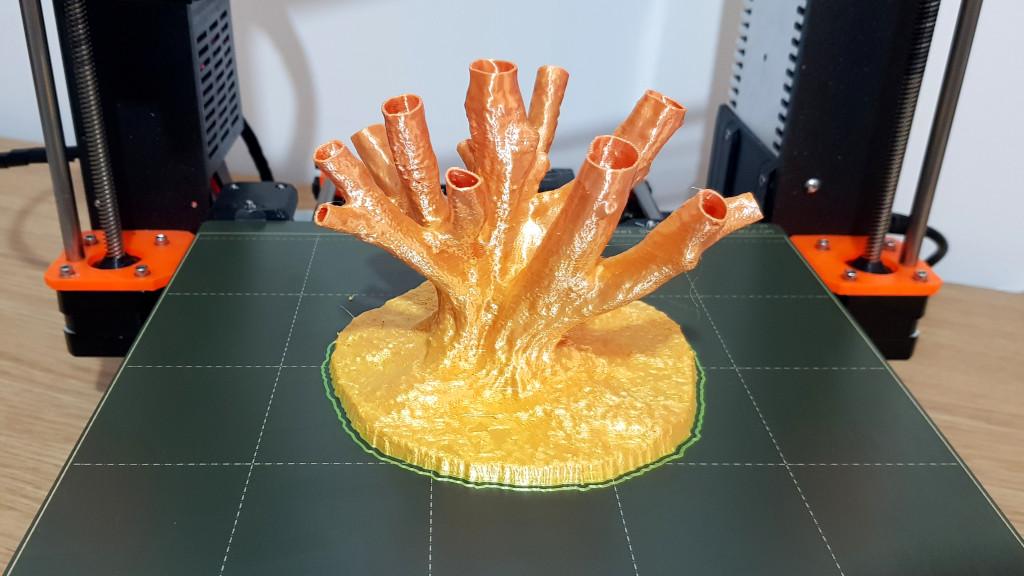 When 3D printed in Silk Rainbow PLA, this object resembles a coral reef more than a tree trunk. I have to admit that cleaning and patching this object in Blender took longer than usual. Some, lost in scanning, branches were restored to mimic the original shape.
Dawn Redwood Precursor Vase – Ogre Mace
Here is another beauty from Kew Gardens (London). This tree is very short compared to others from the Redwood collection but it strikes with its unique curves. If there are Ogres in this forest, they would use it as a mace, no doubt. Scan created via Polycam Photo Mode. Texture bake and STL files can be found as usual in Scanned Tree Trunk and Bark Models on Cults.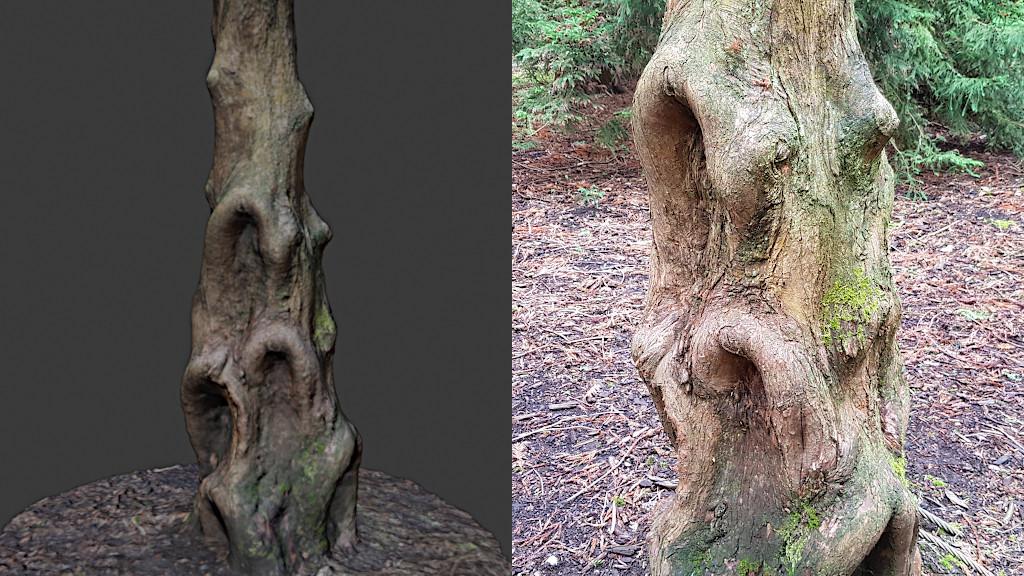 "If an ogre in the forest would have a mace, it would be probably made out of Dawn Redwood."
Dawn Redwood Trunk, Precursor Vase, and Ogre Mace.
©3DWithUs – MP4: Max Funkner
3D Printed and Airbrushed Decorative Flower Pot Cases
The first impression is that it's a real log. But it's not. It is a 3d printed and airbrushed 3D scan. Cool make by Timid_Ranger on Thigiverse On his page, Timid Ranger explains that he used these prints to disguise less appealing flower pots.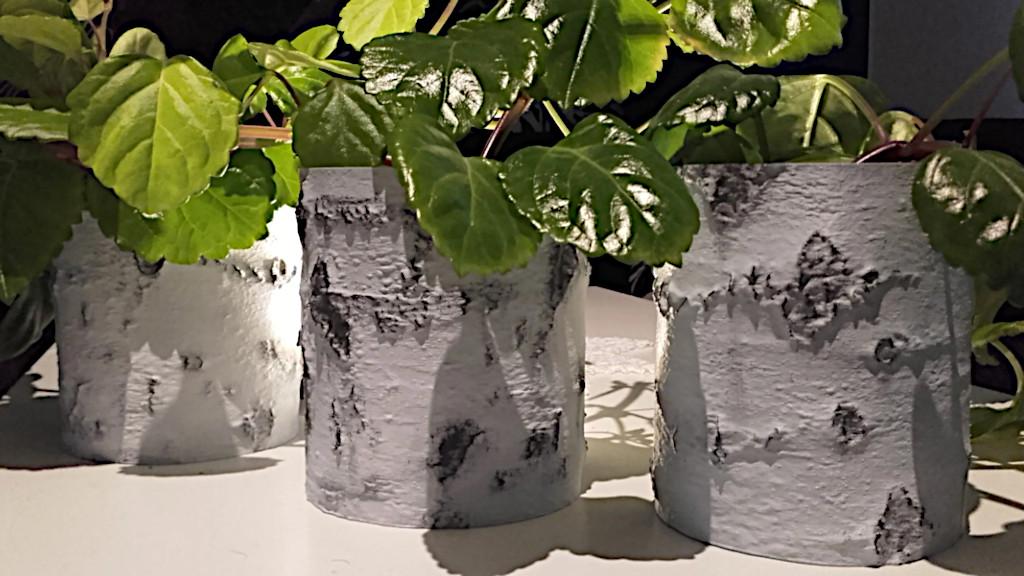 3D Printed in Flexible Filament with 0.8 mm Nozzle
I continued my experiments with Monkey Puzzle and Redwood Giant tree trunk vases, testing them for water tightness when printed using resin filaments. Some resin filaments are truly impressive. Given the correct temperature and a wide nozzle, the fusion between layers is so effective that the 3D printed vases didn't allow any water to seep through.
Disclaimer: Please be aware that despite this success, such structures remain delicate. Over time, micro holes may potentially develop.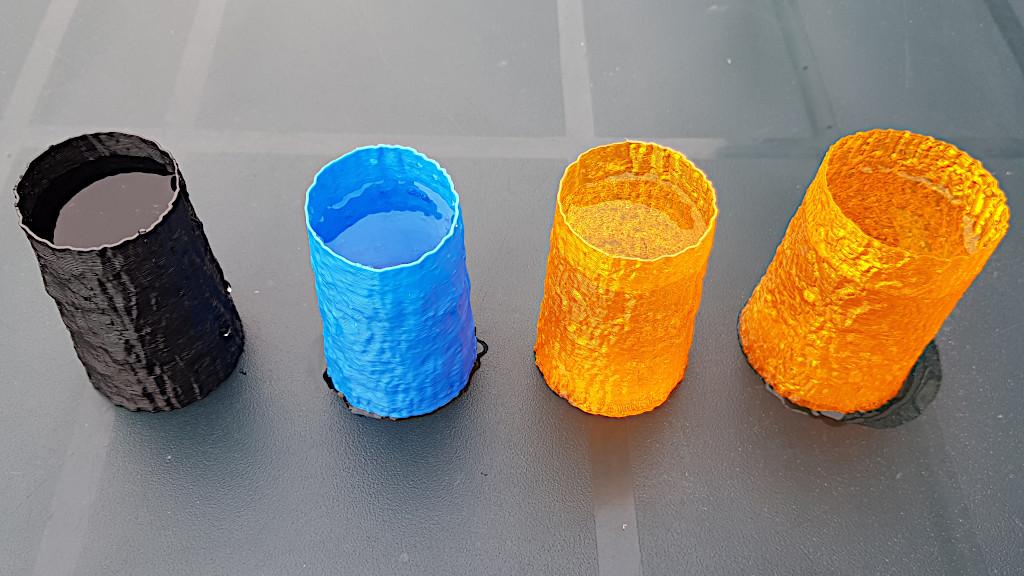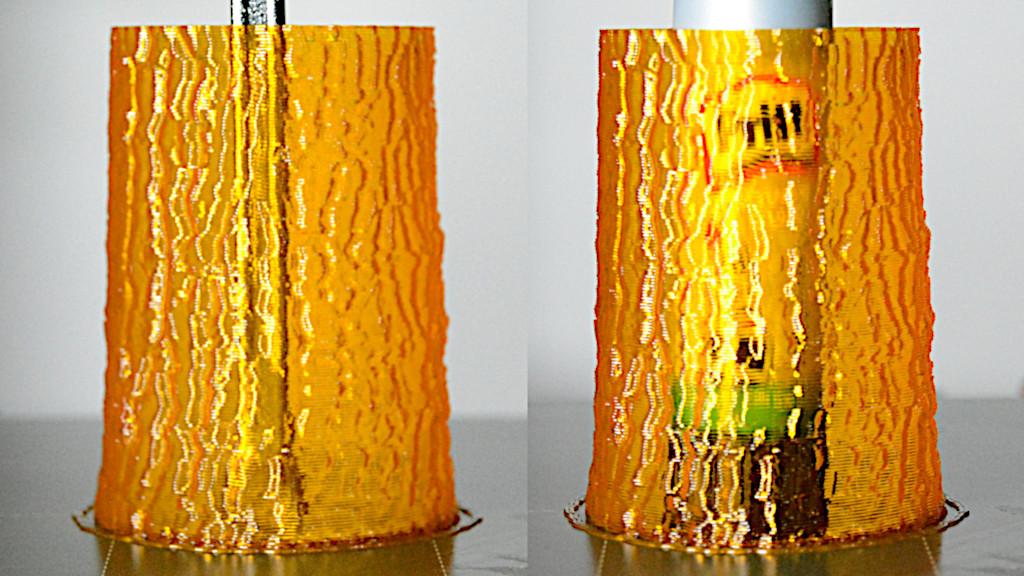 One of my preferred materials for 3D printing is Sainsmart TPU, available on Amazon. When printed at the correct temperature, the fused layer walls can become transparent. You can learn more about flexible filaments in our dedicated guide.
Molds from 3D Scans
White cement replica molded in a scanned oak texture print. Idea and make by Akeko on Thigiverse 3D printing is widely used as part of molding process. Here is an example of how 3D scanned tree textures can be used for such projects.
Akeko, a user from Thingiverse, experimented with a scanned texture of an Oak tree and utilized the shell as a mold. The outcome was a white cement replica, effectively capturing the Oak tree trunk's texture.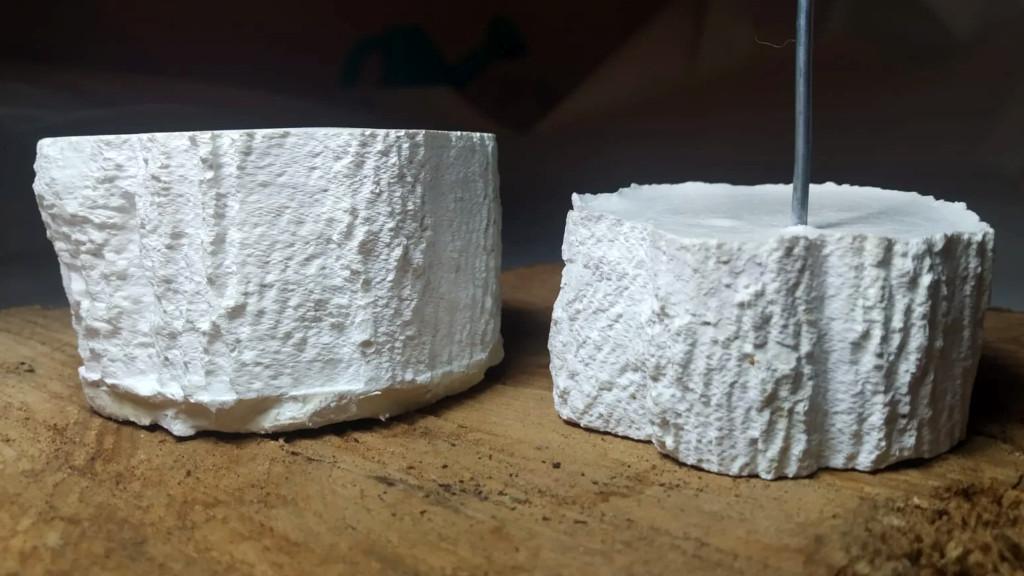 Tree Trunk Texture Tool Holder
Andrew Sink used Metashape to process his images into a tree trunk mesh, then further edited the result in Meshmixer to create a tree-textured tool holder. You can watch his process in a YouTube video he's shared. Also, don't forget to check out his interesting article about scanning an apple against a void background.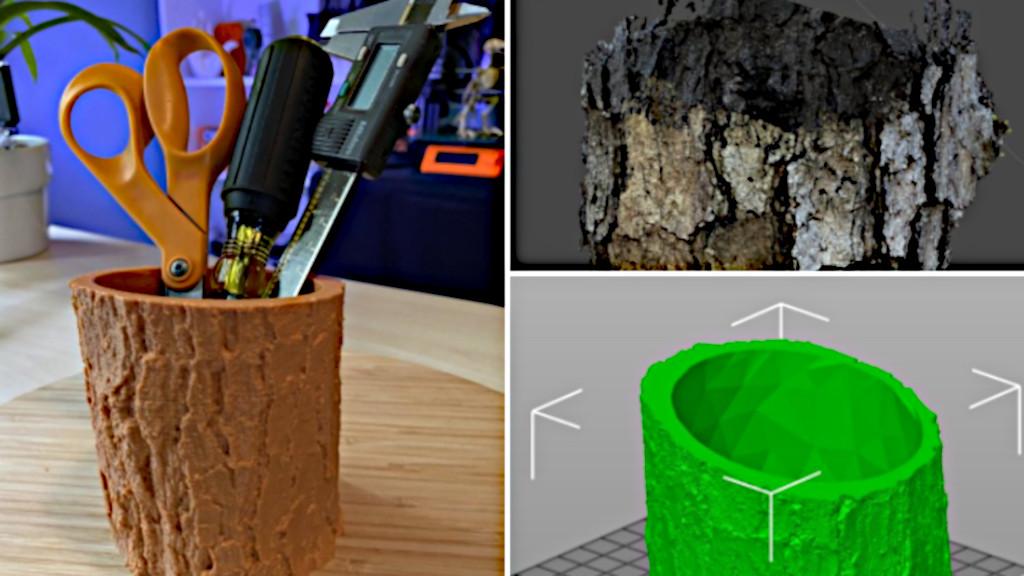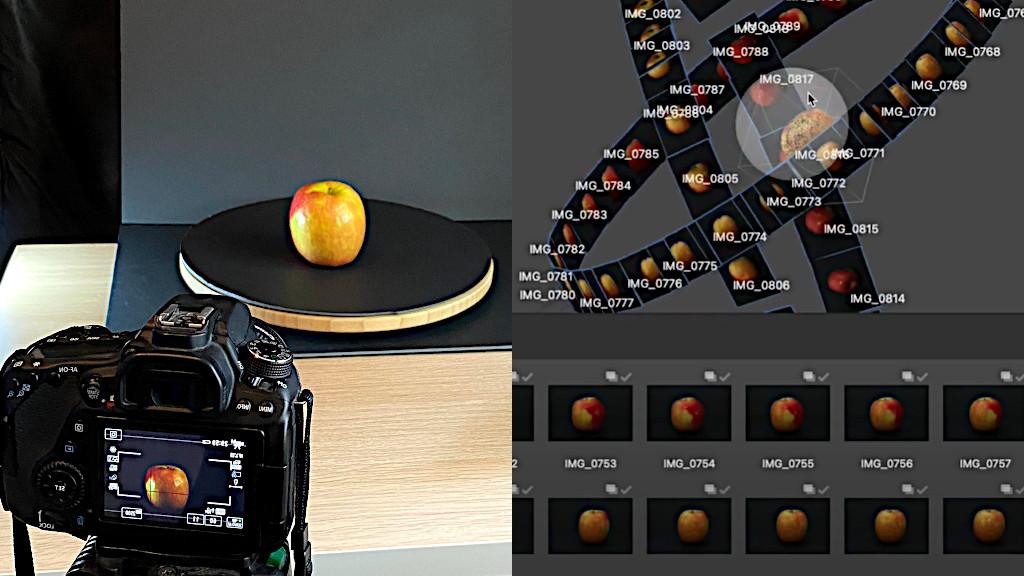 Monkey Puzzle Tree Trunk – Processed in Autodesk ReCap Photo
Another intriguing tree to scan is the Monkey Puzzle tree. This tree is truly spectacular, especially when maintained over the years with its lower branches evenly trimmed. The tree trunks then display distinctive stripy/wavy circles. I captured numerous images and processed them using Autodesk ReCap Photo. This software is excellent for professionals, but casual users might find its $50 per month subscription, at the time of writing this guide, somewhat costly. Here is my Autodesk ReCap Photo brief review.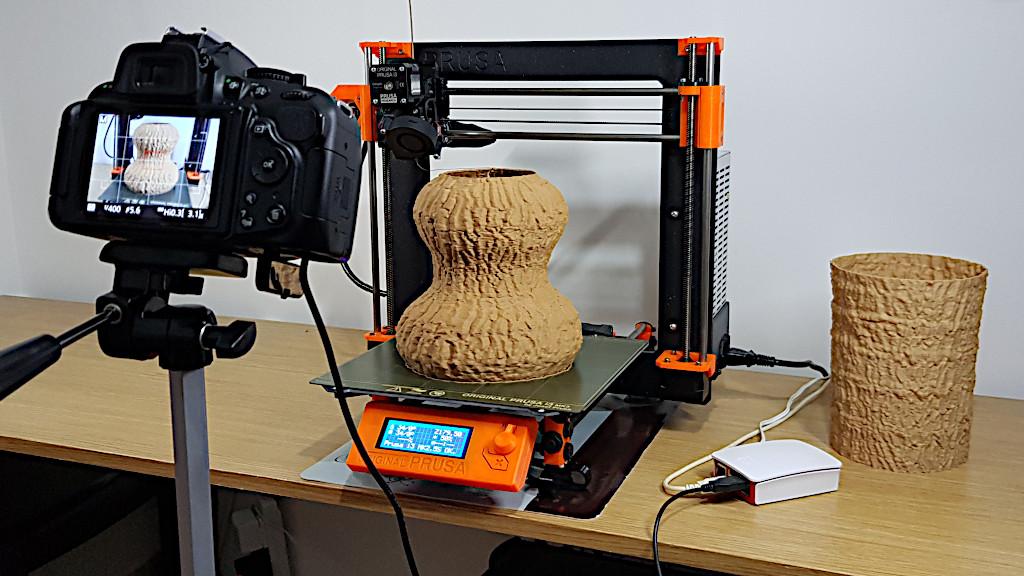 By utilizing the Bisect Knife and Proportional Editing tools in Blender, I was able to create a uniquely curvy vase. This just goes to show the immense range of possibilities when it comes to editing such vases.
Giant Redwood Precursor Vase
While testing 3D printing with a 0.6 mm nozzle and in a wood filament on Elegoo Neptune 3 Plus we featured a Giant Redwood precursor vase in abundance. It was also a good trick to stack the prints together. Have a look at the results.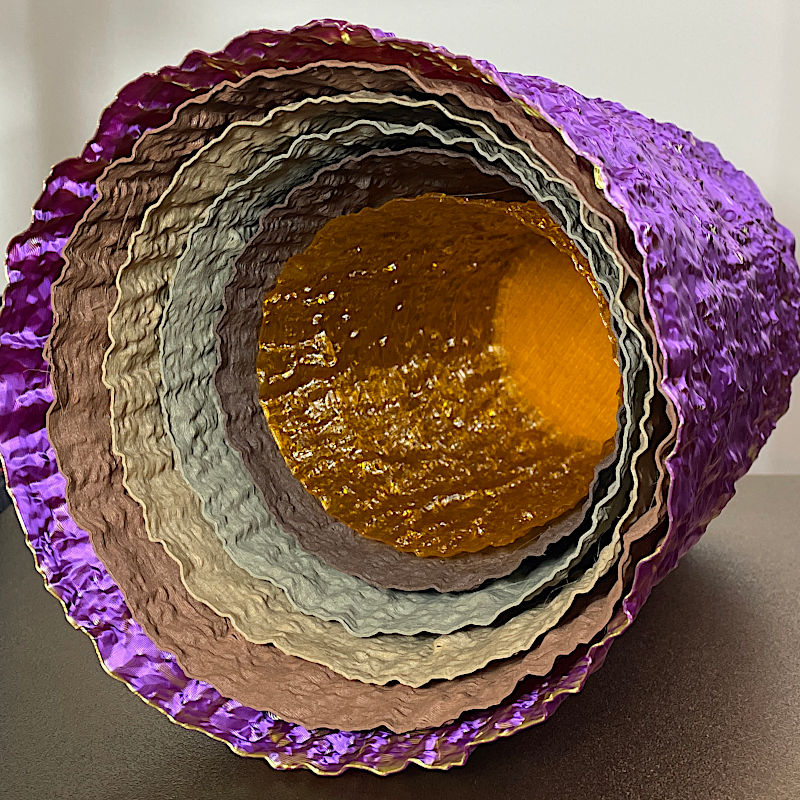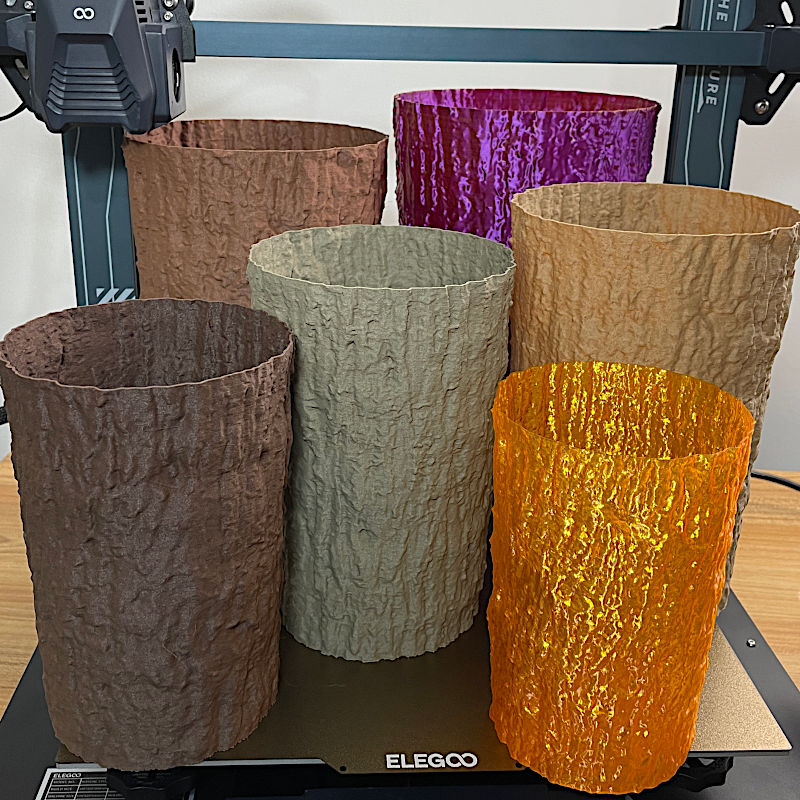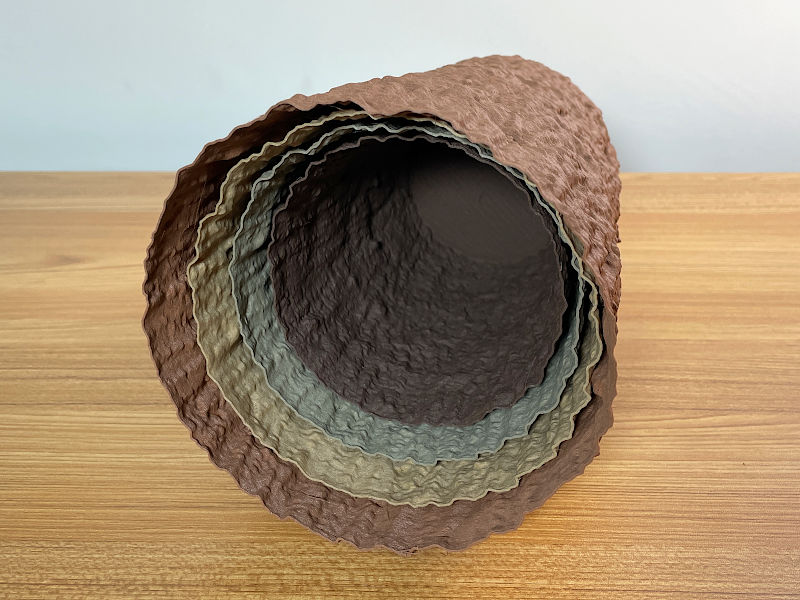 Wood composite filaments and 0.6-0.8mm nozzles are the best picks for such a project. A wide range of colors in the Fillamentum Timberfill series added even more fun as we can play with different shades featuring various combinations. Here is my Fillamentum Timberfill review.
Collections on Cults and Printables
This is an ever-evolving guide that I continuously update and expand whenever I encounter an interesting tree or come up with a captivating idea.
Most of the STL files, along with a few OBJ and GLB files, featured in this guide can be found on file-sharing repositories.
Both free and premium files can be found in the collection on Cults.
Free files can be found in the collection on Printables.
Please find the scans, models, and makes of Oak, Birch, Pine, Fastigiate Hornbeam, Monkey Puzzle, and Giant Redwood trees. More to come …
If you have any other ideas for 3D printing using tree 3D scans, please feel free to contact us. We would be delighted to collaborate and showcase your idea with images here. Additionally, if you would like to transform your local tree into something functional or decorative, reach out to us, and we may be able to help you achieve that.
Occasionally, we release videos or brief clips showcasing scanned textures of tree trunks and their corresponding 3D prints. Please subscribe to 3DWithUs Youtube channel.
Image Copyright Rules
If you take some of our images for your own blog/article, please make sure you add the image source linking to https://3dwithus.com.
Example: Source: 3DWithUs or Image: 3diwithus.com