In this gallery, we offer you to take a look at what can be done from 3D scanned tree textures to give you ideas for 3D printing. There are many trees that carry a piece of history, sentimental value, or that are rare varieties in some well-kept gardens. Even though we have a few free and premium files to download, we want to encourage visitors to use this idea together with the 3D printing technology to achieve the original and unique results using local trees. Click on pictures to zoom and start a carousel.
Planter Pots in Vase Mode
Let's use 3D scanning and vase mode 3D printing to achieve a real tree texture effect for functional or decorative items.
Lamp Shades in Vase Mode
Our recent success with transferring 3D scanned textures on objects and 3D printing them in the vase mode, made us want to dig into the subject and learn more about 3D printed lamp shades. Here is what we found out.
Disclaimer: We can't stress enough that every electrical appliance is a potential fire hazard if treated/maintained inappropriately. Therefore, extra care has to be taken while undertaking any 3D printing DIY project that involves electricity.
3D Scanned Textures – 3D Printed Tree Stump Coasters
Highly customizable and functional 3D printed coasters can serve for a long time and be an inspirational object on any table. They are easily printable on a desktop 3D printer at home and can be made in different materials.
Fastigiate Hornbeam – 3D Printed Pen Holder
A vast collection of interesting trees can be found in Kew Gardens (London). Fastigiate Hornbeam is unique and very suitable for 3D printing ideas. It has many branches and they are even in width. As this photogrammetry scan involved more than just bark texture, Meshroom, a 3D scanning software, was slightly moody to process the images. It took us three attempts before we achieved the desired result. This object can be turned into an original pen holder or decorative lamp for example.
Dawn Redwood Precursor Vase – Ogre Mace
Here is another beauty from Kew Gardens (London). This tree is very short compared to others from the Redwood collection but it strikes with its unique curves. If there are Ogres in this forest, they would use it as a mace, no doubt. Scan created via Polycam Photo Mode. Texture bake and STL files can be found as usual in Scanned Tree Trunk and Bark Models on Cults.
Dawn Redwood Trunk, Precursor Vase, and Ogre Mace
If an ogre in the forest would have a mace, it would be probably made out of Dawn Redwood.
©3DWithUs – MP4: Max Funkner
3D Printed and Airbrushed Decorative Flower Pot Cases
The first impression is that it's a real log. But it's not. It is a 3d printed and airbrushed 3D scan. Cool make by Timid_Ranger on Thigiverse On his page, Timid Ranger explains that he used these prints to disguise less appealing flower pots.
3D Printed in Flexible Filament with 0.8 mm Nozzle
We used Monkey Puzzle's and Redwood Giant's tree trunk 3D scans to test vases for water tightness. SainSmart Orange TPU, Filament PM RUBBERJet Blue & Black TPE.
Molds from 3D Scans
White cement replica molded in a scanned oak texture print. Idea and make by Akeko on Thigiverse 3D printing is widely used as part of molding process. Here is an example of how 3D scanned tree textures can be used for such projects.
Tool Holder & Apple
3D Scanning and Printing a Tree using Metashape (photogrammetry software) and Meshmixer. YouTube video by Andrew Sink.
Monkey Puzzle Tree Trunk – Processed in Autodesk ReCap Photo
Monkey Puzzle Tree Trunk 3D Scan in Autodesk ReCap Photo. Processed, but not cleaned. Transparent PLA and Wood Filament Vases – 3D Printed with 0.8mm nozzle. More images coming soon …
Giant Redwood Precursor Vase
While testing 3D printing with a 0.6 mm nozzle and in a wood filament on Elegoo Neptune 3 Plus we featured a Giant Redwood precursor vase in abundance. It was also a good trick to stack the prints together. Have a look at the results.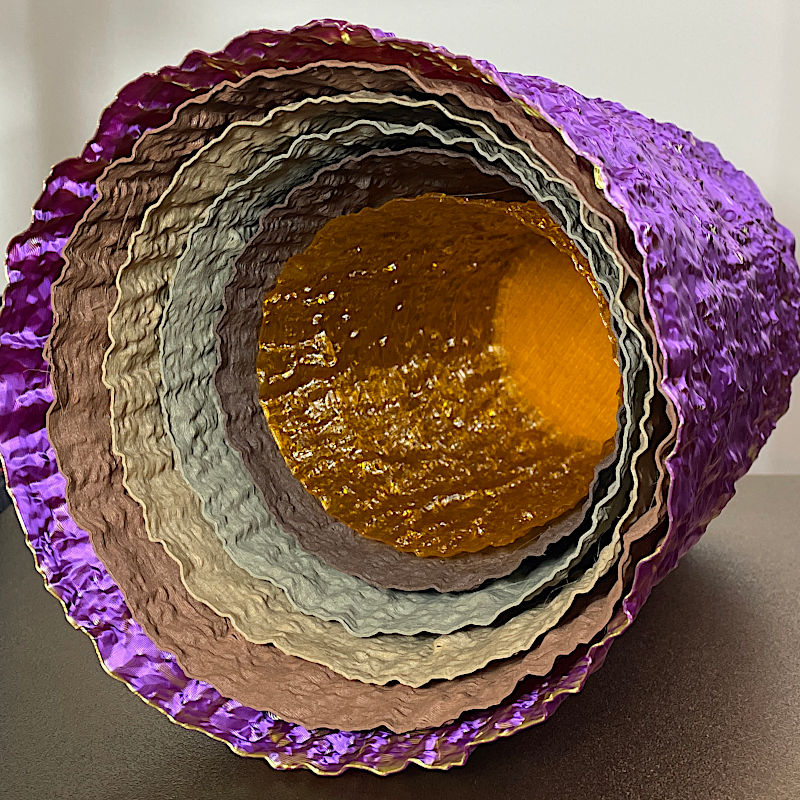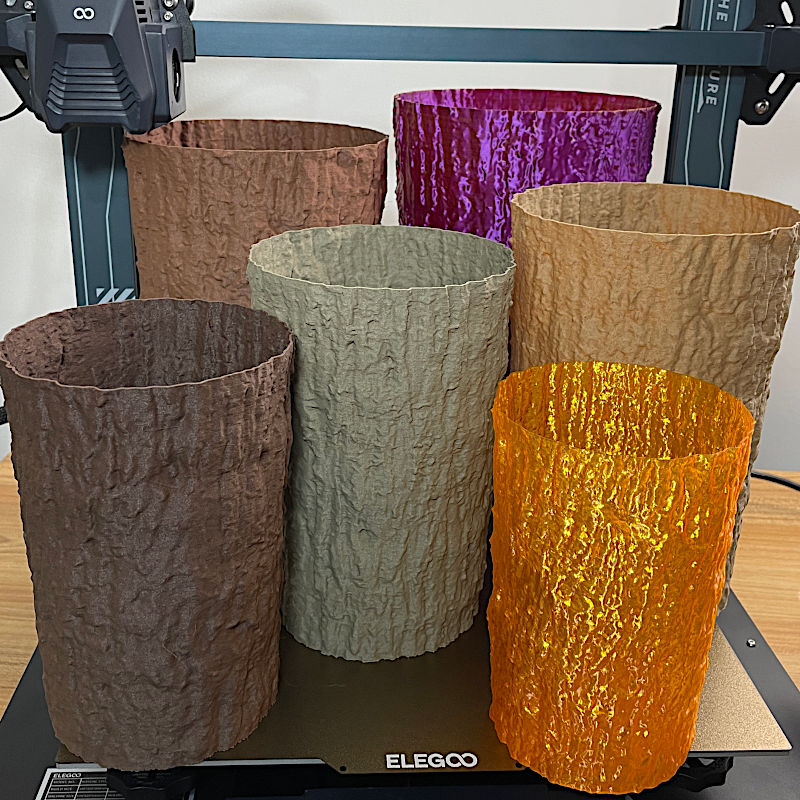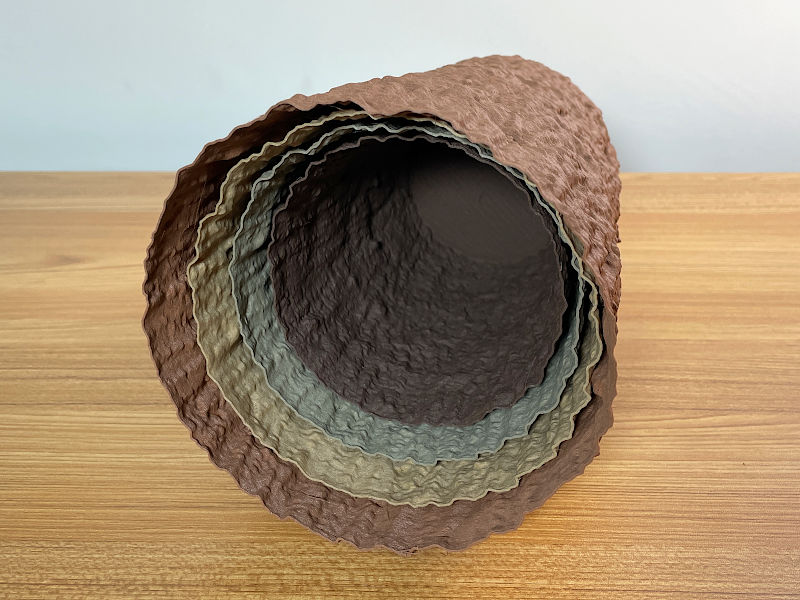 Wood composite filaments and 0.6-0.8mm nozzles are the best picks for such a project. A wide range of colors in the Fillamentum Timberfill series added even more fun as we can play with different shades featuring various combinations. Here is my Fillamentum Timberfill review.
Source & Links
Most of the STL files for the featured designs that we use come from file-sharing repositories. You can find the sources by following the links to the blogs. We feature some of 3D printing ideas in our 3DWithUs YouTube Channel.
3D Scanned Tree Texture Collection on Cults.
More Ideas For 3D Printing
If you have any other ideas for 3D printing using tree 3D scans, please contact us. We will be happy to collaborate and publish your idea with images here. If you want your local tree to be turned into something functional or decorative, also contact us, and we may help you to achieve this.
Image Copyright Rules
If you take some of our images for your own blog/article, please make sure you add the image source linking to 3dwithus.com.
Example: Source: 3DWithUs or Image: 3diwithus.com