Another interesting desktop 3D printer material to try is the color changing filament. Manufacturers often surprise us with something new and unusual, like adding sparkles or multicolored segments on the spool. This time they got our attention by introducing a thermochromic filament, which changes its color depending on the temperature. Let's test how the color changing PLA works, and where it can be used. We will also list available transitions.
This Guide Covers
Thermochromic Material – Color Changing Under Temperature Fluctuation
Outside of the hobbyist desktop 3D printing world, there are quite a few practical uses for such materials. The color changing filament property is valuable in baby bottles to indicate when the milk is cool enough to drink, for example. A specific color tone can also indicate when a kettle is approaching the boiling point. Jewelry pieces, such as "mood rings", contain special color changing liquid crystals. Source: Wikipedia.
In the "3D printing at home" world, we have come across the color-changing PLA. We suspect that the manufacturers chose PLA and easier to deal with. If there is a demand in the future for other types of color changing materials, we could see it in PETG or ABS.
Changing Color with Temperature PLA
We first learned about color changing PLA when we saw the awesome makes of Jukka Seppänen (Kijaidesign) on Twitter. His nine-tailed demon fox has been displayed in a 20+ hour Octolapse time-lapse when color was changing in the process. As he used it to portray the fire this "bright yellow – molten rock – cooled rock" transition worked especially well. His models made us want to buy this filament to try it out.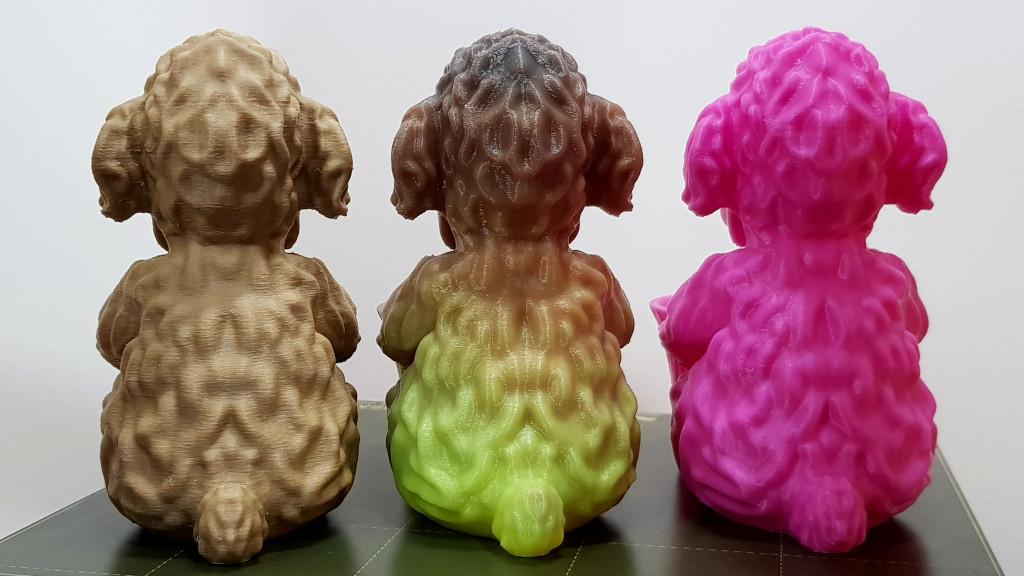 Grey to Brown to Yellow – Color Changing PLA
Officially it is called "Black to Brown to Yellow Tri-color Changing PLA". To be precise, we would call it "Cooled Rock – Molten Rock – Fire Bright Yellow. The cooled rock would be a more suitable description for its initial color on the spool. When completely cooled down, it has a dark greyish color, similar to the stone. After sitting in the fridge, a bit of a greenish tone came through. The orange-brownish color kicks in at 30°C – 45°C. We have to say that this is a very nice color resembling the molten lava. Sad that this color only stays for the shortest amount of time, and transitions further to bright yellow at the temperature above 45°C. Bright yellow also looks nice, only it is not as camera-friendly, unfortunately. When capturing a model in bright yellow, it seemed as if the picture was overexposed.
Amolen Color Changing PLA Details:
Weight – 1 kg
Length – 340 m
Density – 1.2-1.25 kg/m3
3D Printing Temperature – 190°C – 220 °C
Recommended Heating Bed – 0°C – 50°C
Printing Speed – 50-90mm/s
Color Transition 30°C – 45°C
Affiliate Link: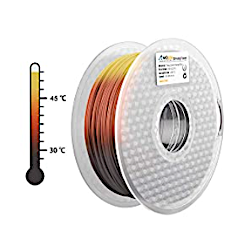 Amazon
Color Transition – Purple Blue to Pink
Another brand I tried is CC3D. On their selling page on Amazon, they have two more variations: Green to Yellow and Orange to Yellow. The color I bought was Purple to Pink. I don't know why they call it "Purple Blue to Pink" as my spool is deep purple. One of the images though, in the review section on the selling page, showed the Blue to Pink transition.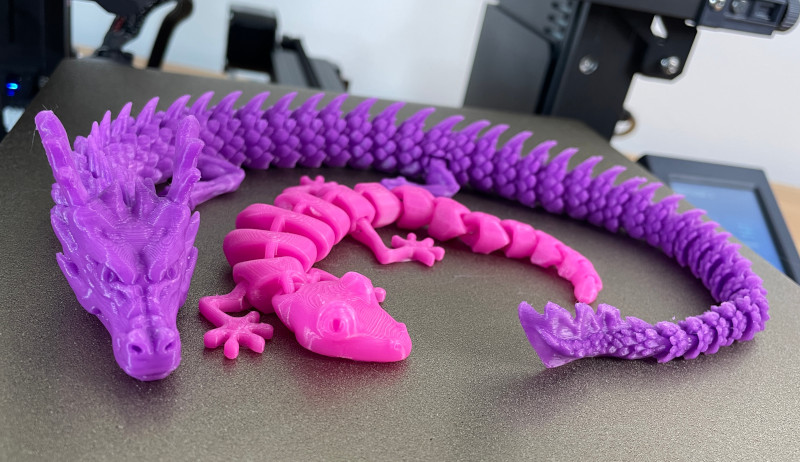 I printed a lot of models using this PLA while testing Elegoo Neptune 3. Didn't have any issues with the flow, even when printing such complex models with a lot of retractions as articulated dragons. With the printing temperature at 205°C, there were no issues with the stringing as well.
Even though the purple to pink transition may feel a little bit boring in comparison to the tri-color option, I was pleased with the stability of the color shade. Pink stayed pink for a long time on the warm summer's day.
CCD Color Changing PLA Details:
Weight – 1 kg
3D Printing Temperature – 205°C – 215 °C
Recommended Heating Bed – 50°C – 60°C
Color Transition 31°C
Affiliate Link: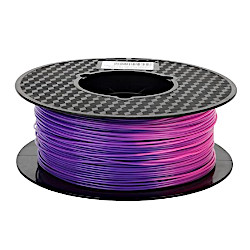 Amazon
Unlikely Practical Uses
While testing the Amolen color-changing PLA, we've discovered a few unlikely practical uses for it. Here are some examples of where its temperature measuring function can be applied.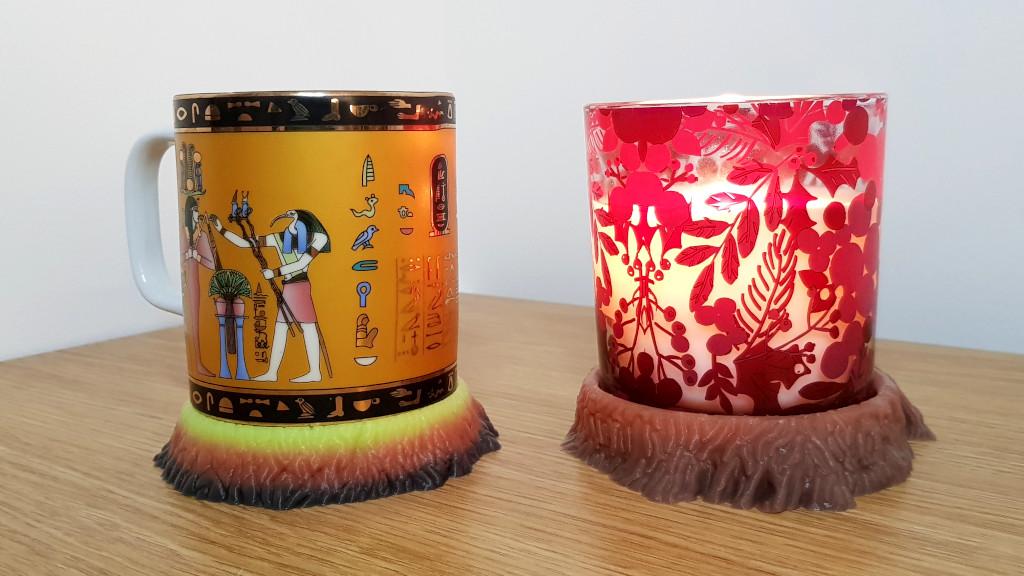 – Teacup coasters will indicate how hot is your drink. Check our blog about 3D printed coasters.
– Heated electric devices. Our Valentine Turkey set stands on a TV Free View box and indicates if it is powered or not.
– 3-in-1 test print. Sometimes designers are not sure in which color it is best to showcase their newly designed objects. So instead of 3D printing multiple prints in different filaments, it is possible to 3D print in one color changing PLA to compare at least in three color tones.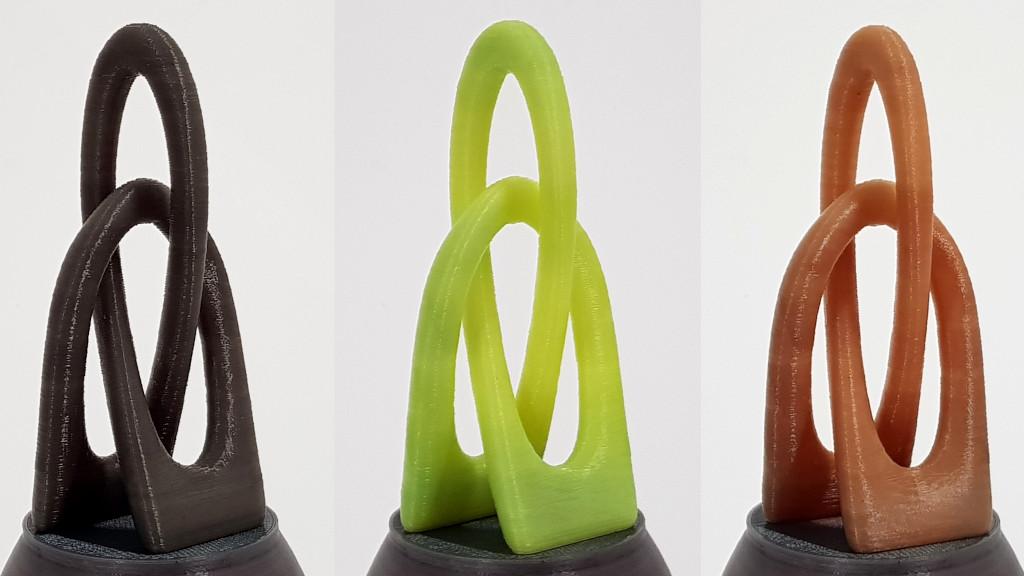 – Planter pots. If your pot for the flowers is 3D printed in color changing PLA, it will alert you when it overheats, and the flowers may find themselves in an uncomfortable environment. This filament served us well when our "Dog the Gardener" got overheated on the windowsill, and we had to rescue our little plants from the complete drought.

NB! The manufacturer stated that in the exposure to the direct light this color changing feature may fade over time.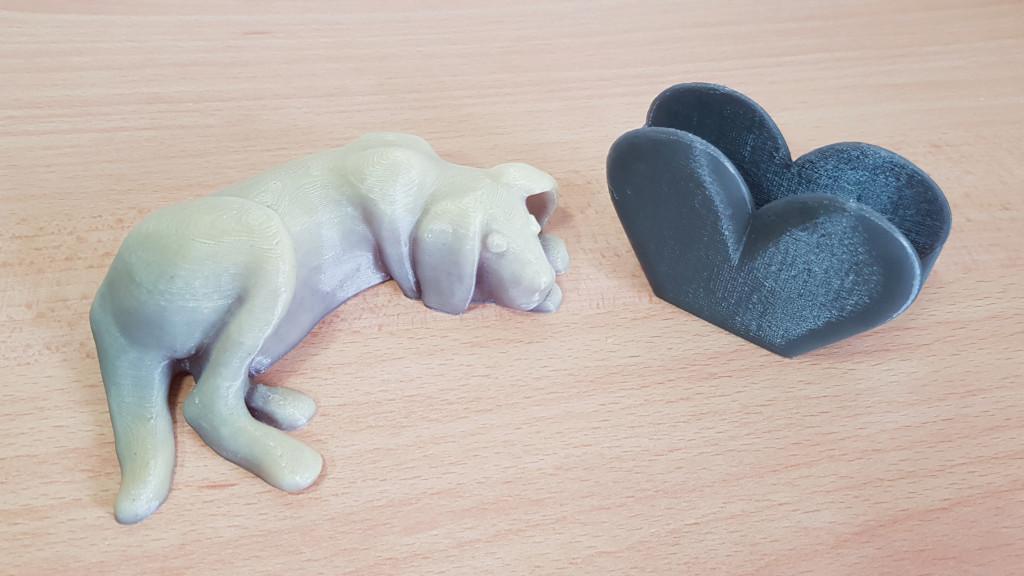 We had our plants saved, but the color transitioning property faded away over time as per the manufacturer's guideline. Well, it was worth the experiment.
3D Printing Ideas Using Color Changing Filaments
Volcanos, molten rocks – these are the first ideas that come to mind when we see this filament's color transition. High-temperature bright yellow could be a fire.
– Illusions – If you aim for a double surprise for your family and friends, this would be a good filament choice for 3D printed illusions.
– Hearts – A dark stone heart changed to red when heated in the hands – magic.
– Chameleons – It would be great to see 3D printed chameleons changing color in any two-color or tri-color transition.
Test – color transitions occur by heating the model with the heating gun
Model: Ambiguous Cylinder by Devin Montes
©3DWithUs – Print & MP4: Max Funkner
Other Available Transitions
Grey – Brown – Yellow
Color change with the temperature: 30°C – 45°C
Brands: Amolen, Zi-Rui, others
Pine Green – Orange – Yellow
Color change with the temperature: 30°C – 45°C
Extra Bonus: Glow in the Dark
Brands: Zi-Rui,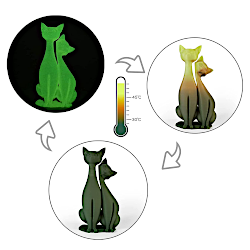 Amazon
Purple Blue – Pink
Color change with the temperature: 31°C
Brands: CC3D, others
Purple to Red
Color change with the temperature: 31°C
Brands: CC3D, other
Green to Yellow
Color change with the temperature: 31°C
Brands: CC3D, other
Orange to Yellow
Color change with the temperature: 31°C
Brands: CC3D, KYUUBI, other
Orange to White
Color change with the temperature: 33°C
Brands: Amolen, others
Blue to White
Color change with the temperature: 33°C
Brands: Amolen, others
Red to White
Color change with the temperature: 33°C
Brands: Amolen, others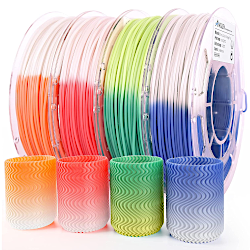 Amazon
These are cherry-picked combinations. I could not list them all.
Compare: Rainbow Multicolor 3D Printing Filament
As promised, a few notes about "Rainbow Multicolor PLA". Don't get confused about these two. Rainbow multicolor does not change color with light exposure or temperature differences. Instead, it has a different color every 5 to 15 meters, fused together into one consistent thread. Ideally, when 3D printed, your object should have a very smooth transition of colors. The hardest part is to properly calculate the model size before 3D printing. Rainbow Silk PLA filament review by Andrew Sink.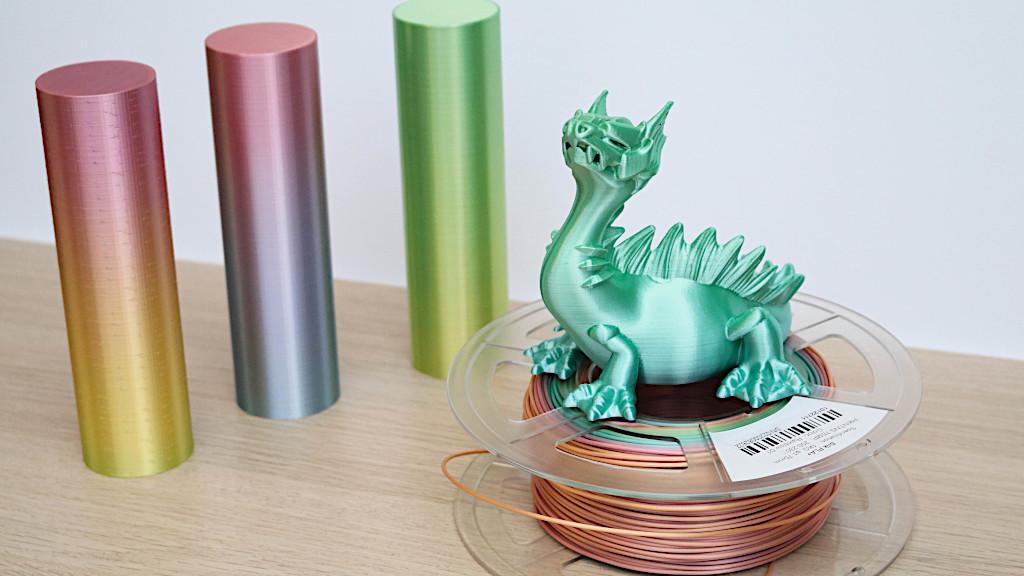 Compare: Glow in The Dark – Color Changing Filament
Phosphorescent material absorbs the light (a better effect with the UV light) and glows once in the dark. There is the same issue, though, like with color-changing PLA, when this property fades over time if exposed to the direct sunlight for too long. A full blog with unique footage coming soon.
We received a few samples of Bright Green and Bright Blue phosphorescent material. Spider cobwebs designs are ideal for these samples. Other ideas for the small sample prints would be Halloween spider nets and spiders, butterflies, etc. With a bigger filament amount, it could be Minecraft Creeper, Slime the Ghost, Hulk, zombies, etc.
Compare: Transparent Filament
A transparent filament cannot be referred to as the color changing filament, strictly speaking. However, it is tempting to mention it here as its color transition happens while it is used on a desktop 3D printer. It depends on how it is 3D printed. For example, if 3D printing in a vase mode, it stays transparent in any color shade. But when an object has more perimeter shells (walls) and infill, then it does not come out transparent.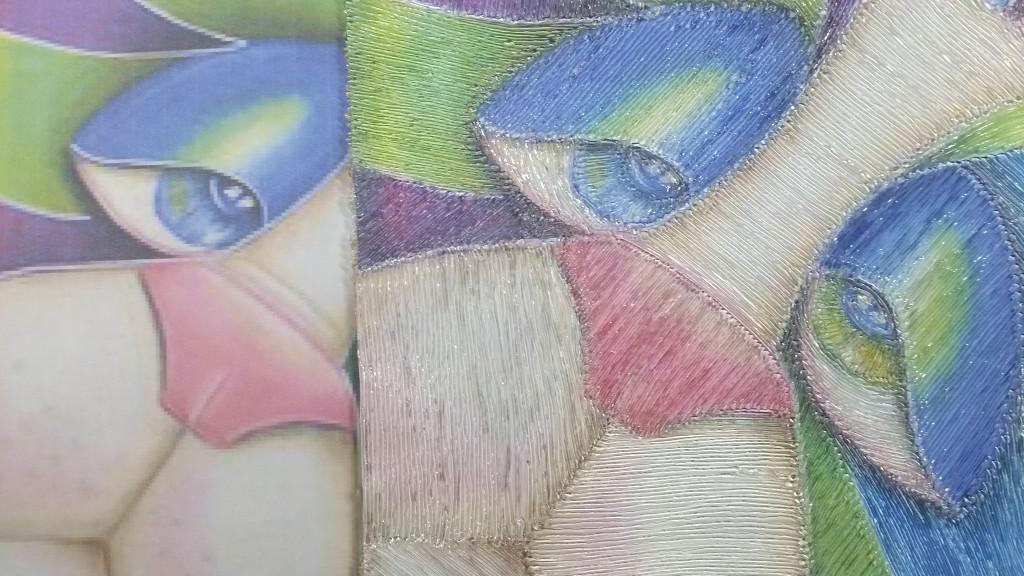 In these innovation-rich times, new interesting 3D printer filaments come out to the market on a yearly basis. If some 3D printing materials keep breaking records in specifications and properties, then others are created for those who like to play with some fun features. At times, it is hard to find your way around in the sea of different filaments.