In this article, we will look at architectural miniatures for 3D printing. Never before has the world of architecture been as accessible to 3D printing enthusiasts, educators, and even the visually impaired in such a comprehensive manner. Let's have a look at the existing collections, basic design tips, and how to successfully 3D print such models in general.
This Guide Covers
Architectural Miniatures for 3D Printing
Architectural miniatures are a popular subject in 3D printing, almost every maker has printed an Eiffel tower, a castle, or a skyscraper at some point. There is something magical about holding a famous landmark in your hand, either from a famous tourist destination or from your own city. There are many random miniature building files available on online platforms for 3D printing and more are created with each year.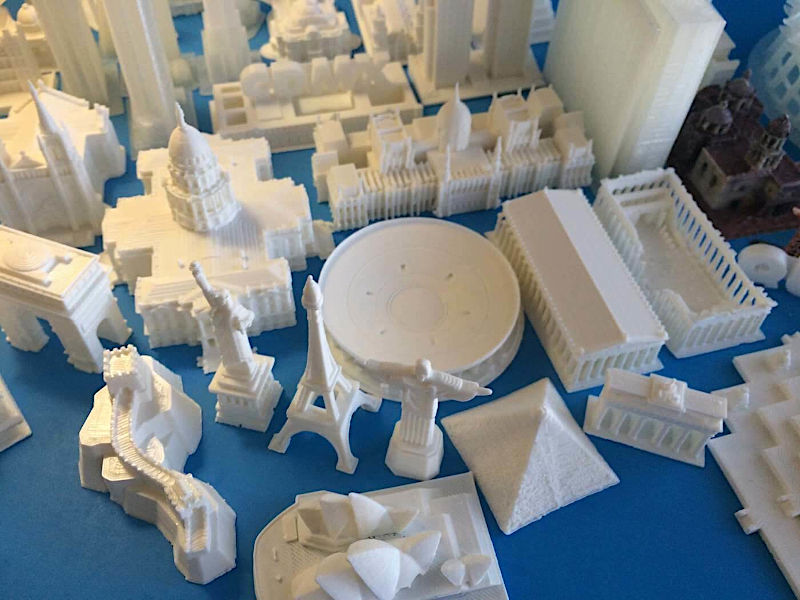 MiniWorld3D and Designers Contributors
One of the biggest collections of such models is MiniWorld3D on Instagram and Printables. The idea to start a digital art community came to me in 2014. Since then, I invited more than 50 digital artists and designers to contribute at least one model to the catalogue of 3D printable landmarks. All are done by hand and from scratch, ensuring printability and a standard of quality. Some artists have provided models based on the landmarks from their home countries and cities, while others recreated world-renowned monuments and even fictional ones from movies or video games. This way, the catalogue has grown in a vast, diverse and rich way. Hence, the project is stronger and more impactful, that of one individual artist, to reach its goals: educate and democratize world architectural heritage through technology.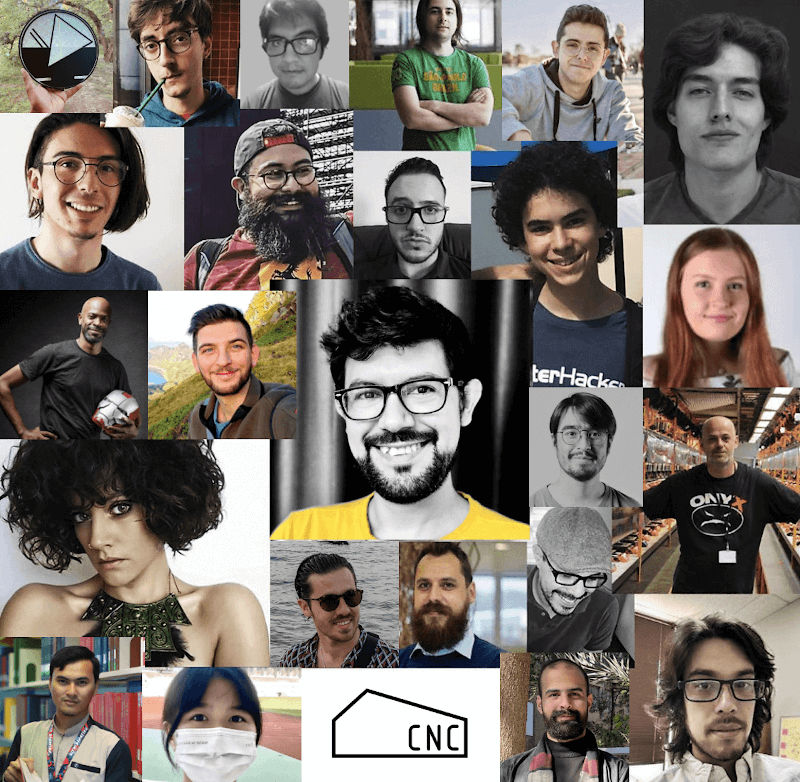 Organized Themed Architecture Collections
Currently, MiniWorl3D has over 300 different models of landmarks & historical buildings from dozens of countries all around the world. Naturally, some organizing is needed! On Printables, models are sorted in collections by continent and also by type, such as churches, castles or fortresses, gates or arches, skyscrapers, etc.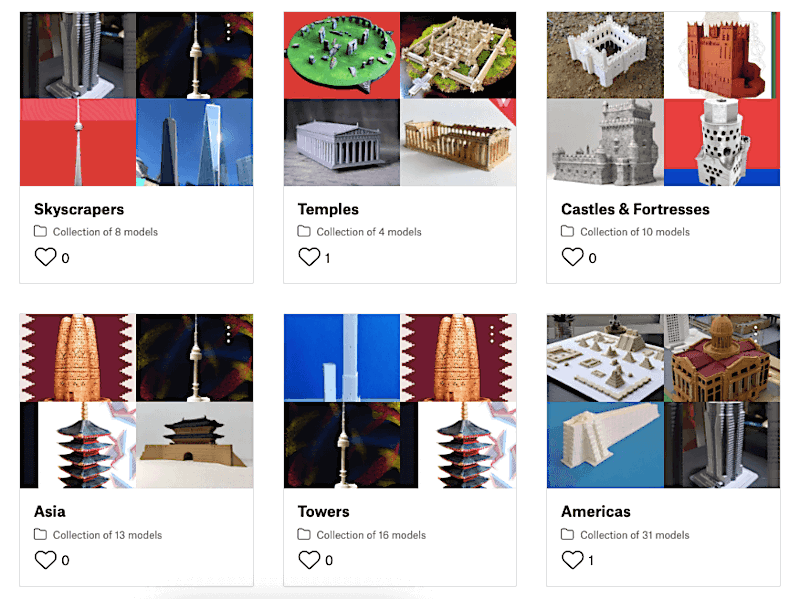 Mayan Architectural Miniatures
The Ancient Ruins—Mesoamerica Collection features the architectural masterpieces of native civilizations such as the Mayans, Toltecs, Purepecha, and Mexica (Aztecs). The architecture produced by these peoples was not represented in the online platforms of models for 3D printing. MiniWorld3D set out to change this by publishing the most famous buildings from different archaeological zones from Mesoamerica, a large area comprising the southern half of Mexico and parts of Central America. Now you can print landmarks like Teotihuacan's Pyramid of the Sun, Chichén-Itzá's Pyramid of Kukulkan, or the Arch of Labná.
Ancient Greece Architectural Miniatures
Similarly, the Ancient Ruins—Greece Collection includes the uber-popular Parthenon of Athens, as well as other important landmarks that had not yet been available for 3D printing, like the Tower of Thessaloniki and The Temple of Poseidon in Cape Sounion.
Modular and Puzzle Designs Examples
Recently, we branched out a bit from the traditional miniature buildings to publish toy puzzles. They are inspired by a beautiful Mayan building called the Palace of Masks which has repetitions of the carved face of the rain god Chaac. These puzzles are put together by correctly assembling 3D printed blocks to form the face of Chaac or recreate the facade of the Palace. This is a fun and hands-on approach to learning about architecture that compliments the traditional 3D printable miniature buildings.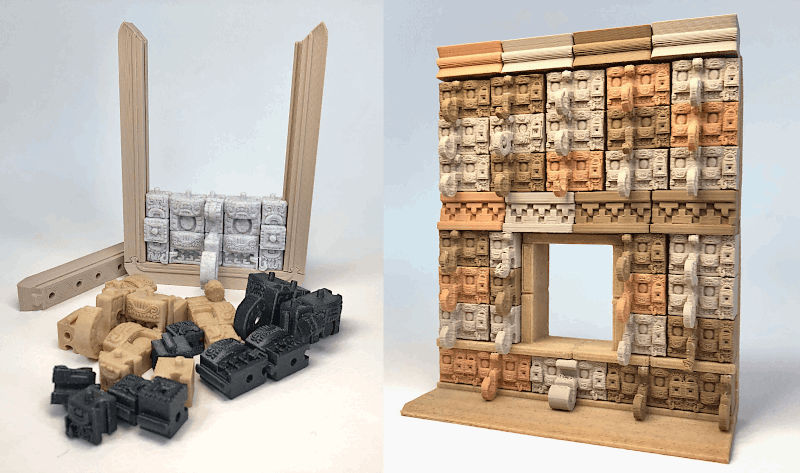 How to Design – Software of Choice
Each artist member of the community has their own methods, but they all roughly follow a similar path:
1) Study the landmark to model via hand sketches, photographs, drone videos, etc.
2) Use popular CAD software like Fusion360, Blender, Tinkercad or ZBrush.
3) Test-print the finished model to ensure printability and adjust if necessary.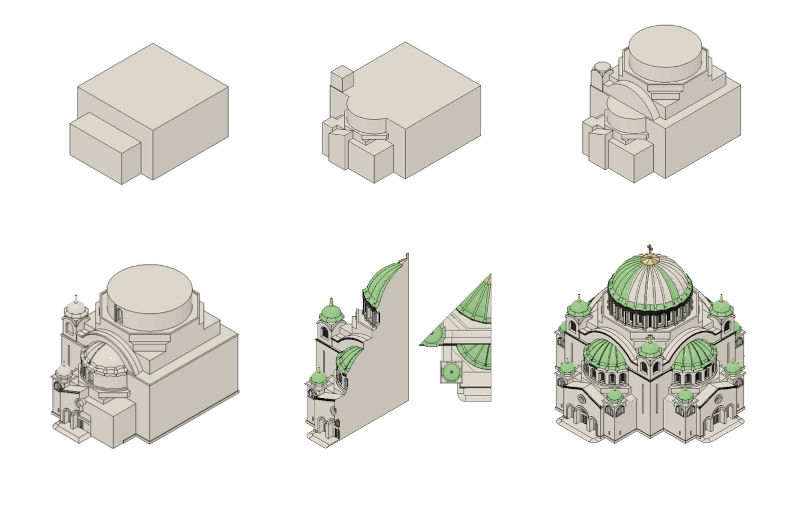 Step 1. Simple objects with proportional dimensions.
Step 2. Extruding volume to enhance the level of detail.
Step 3. Continued detail enhancement using both extrudes and cuts.
Step 4. Using a combination of multiple cuts; it is possible to carve the details of the project.
Step 5. For symmetrical buildings, cut as a fraction then mirror.
Step 6. Finished Model: Church of St. Sava, Belgrade, Serbia.
Recommended Slicer Software Settings – How to Print
It is possible to slice such models using the common slicer software without a problem. The key to a great-looking 3D printed architectural miniature is printing slowly. The model strength and functionality are not a priority in miniatures, so it is recommended to use 20mm/s, 12% infill, 2 perimeters, and most models are optimized to avoid supports, a great plus!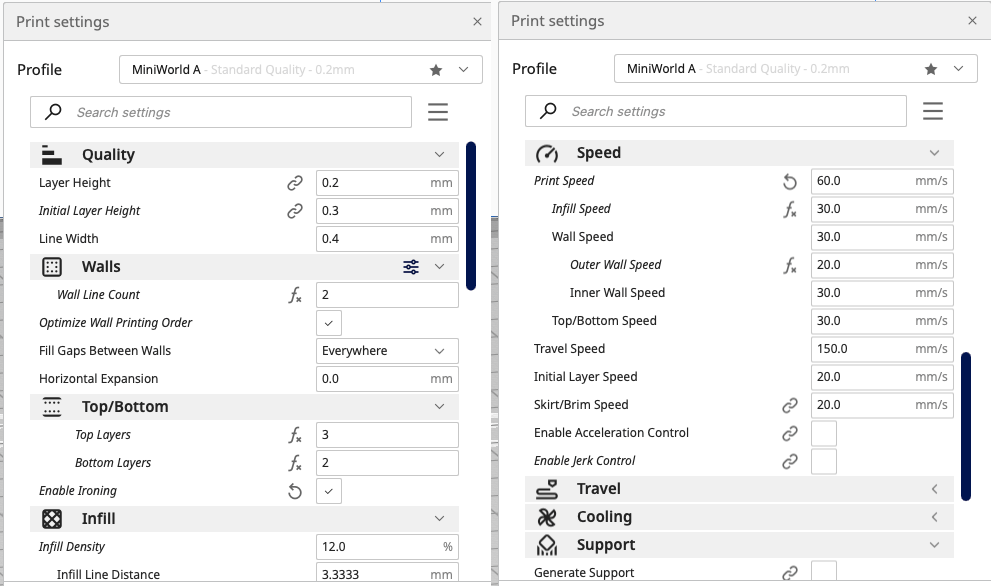 Conclusion
A true world of architecture has never been so comprehensively available to all 3D printing enthusiasts, educators and even the visually impaired. There is something for everyone's taste and level of proficiency with 3D printing. Better yet, if you can create 3D models and would like to join the community to contribute architectural miniature models, not yet included in the catalog, please reach out!
Free Models on Printables
Premium models for sale on MyMiniFactory
Join 40K followers on Instagram
Read More: 3D Printed Bust Sculptures
The ancient technique of sculpting a human without arms dates back to 2345 BC. At that time, it was difficult to sculpt the hands as the clay was susceptible to cracking, compromising the entire sculpture. Today, even though we have access to far more advanced technology and materials, bust sculptures are still widely used as it helps to focus on facial details rather than finicky body parts. 3D printed busts are gaining popularity for a variety of reasons, which we will dig into in this article.