Functional 3D printing does not get the same publicity as printing for fun. The share of useful 3D prints in domestic 3D printing is growing but such models are not appreciated enough. In our opinion, both types of modeling are needed and it all goes in the right direction. 3D printing for fun helps to attract the young generation and enthusiasts. After sharpening their skills in the fun department, they would eventually get involved in the functional side, that's when fresh ideas and new solutions may be born.
Guide: Most Useful 3D Prints
Handle Extenders and Helpers
If someone asks me what is the most used object that I have ever 3D printed, I would answer that it is a roof window handle extension – a customized tool that helps me and my family to open and close windows in a bathroom and bedroom that are too high to reach.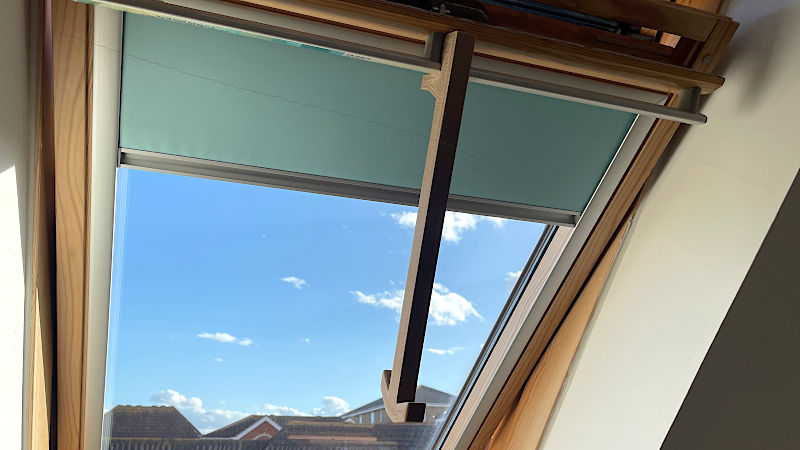 3D Printed Tools & Tool Holders
Functional Wrench
One of the most well-known objects in functional 3D printing is the wrench by Daniel Noree. Daniel is famous for his OpenRC models which are all functional. They say that if you manage to successfully print his wrench and make it work after removing the supports, then your 3D printer is calibrated well and the slicer settings are correct. We have to admit that our first attempt failed, but we got it right in the end. This model is very popular and was featured a lot in 3D printing related media.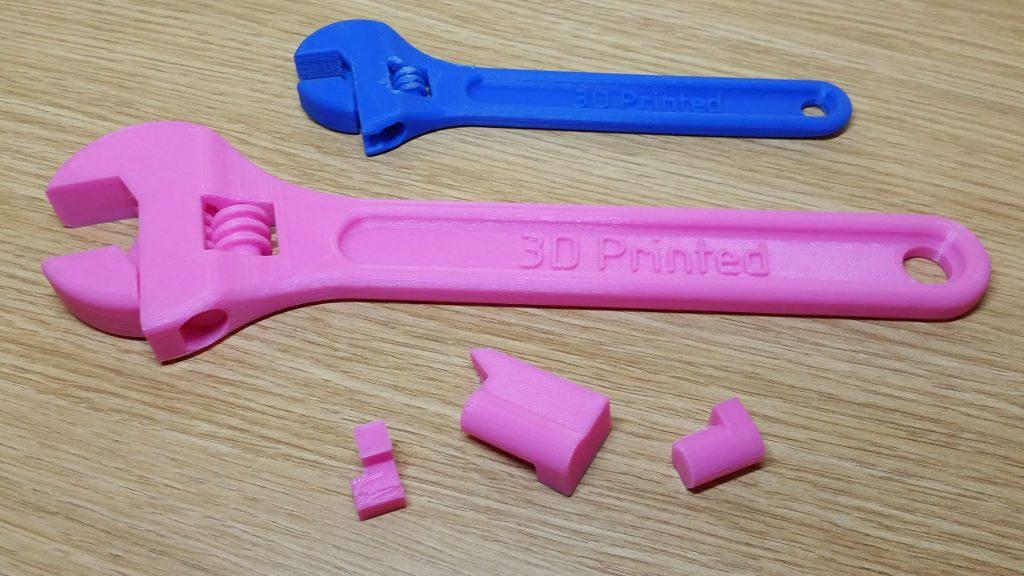 Thorn Remover
Unique 3d printed tools can be used for such simple tasks as a rose thorn removing for example. Professional florists use thorns removers quite often. This could be a nice present for a gardener.
Tool Holder
For standard and 3D printable tools, it is possible to design and 3D print highly customizable holders just for specific cases. Elegoo added a nice test print file with their Neptune 3 Pro printers and it is one of the best examples. The full set of Allen keys fit perfectly into the tool holder, and the entire unit attaches snugly to the printer. Read the full review of the machine here.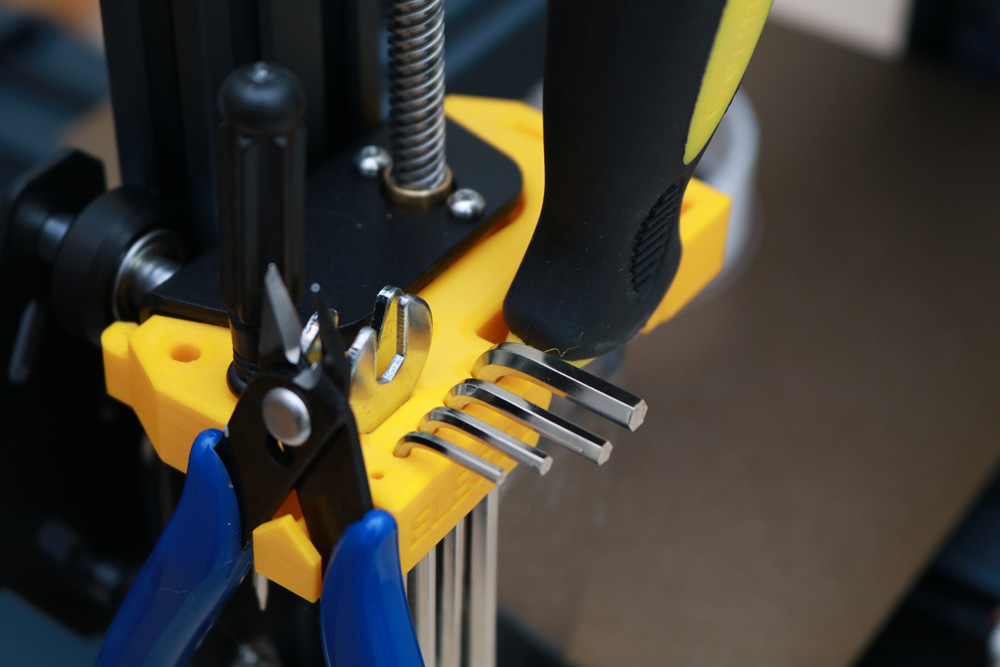 3D Printer Toolheads
Check the two blogs by Andrew Sink who turned his 3D printers into food 3D printer and 2D printer pen plotter with printed at home toolheads respectively.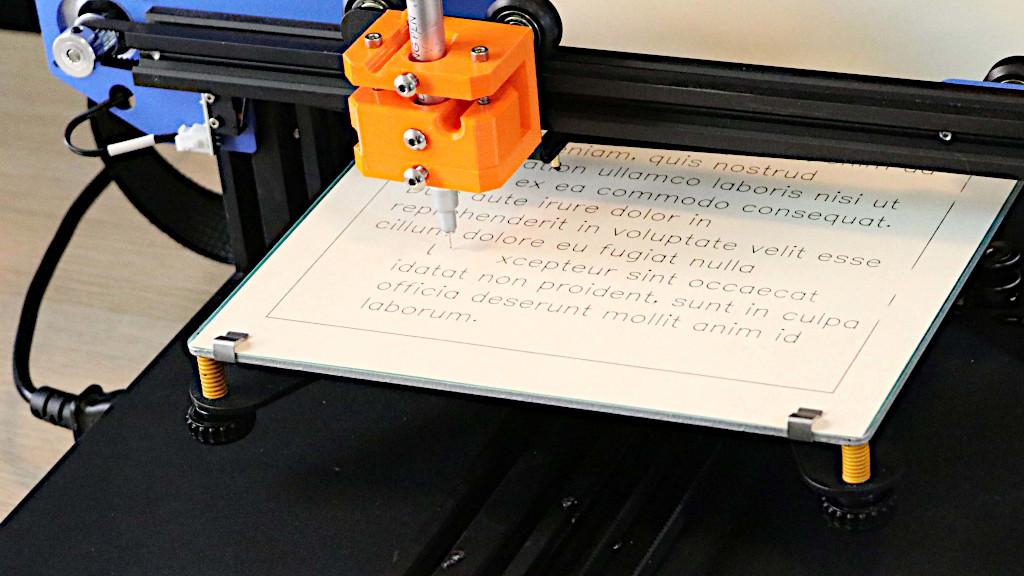 Fixes and Replacements
Do you have an office chair that keeps sinking under you? Chances are, you've got a failing gas lift cylinder on your hands. If you are the owner of a 3D printer, you can permanently fix your chair to the desired height with a simple 3D print job.
Sinking Chair Fix (MP4: 3DWithUs)
Recently functional 3d printing helped us to avoid a wardrobe disaster. One of the brackets holding a hanging rail broke sending all dresses down in a messy pile. We figured that it would be possible to design and 3D print the bracket. It took us 30 min to design and 2 hours to print the replacement in rigid.ink ABS.
While being designed, the brackets actually got upgraded, acquiring more strength and depth to support the rail. Disaster averted – the dresses are neatly placed back and waiting for their turn to go out 🙂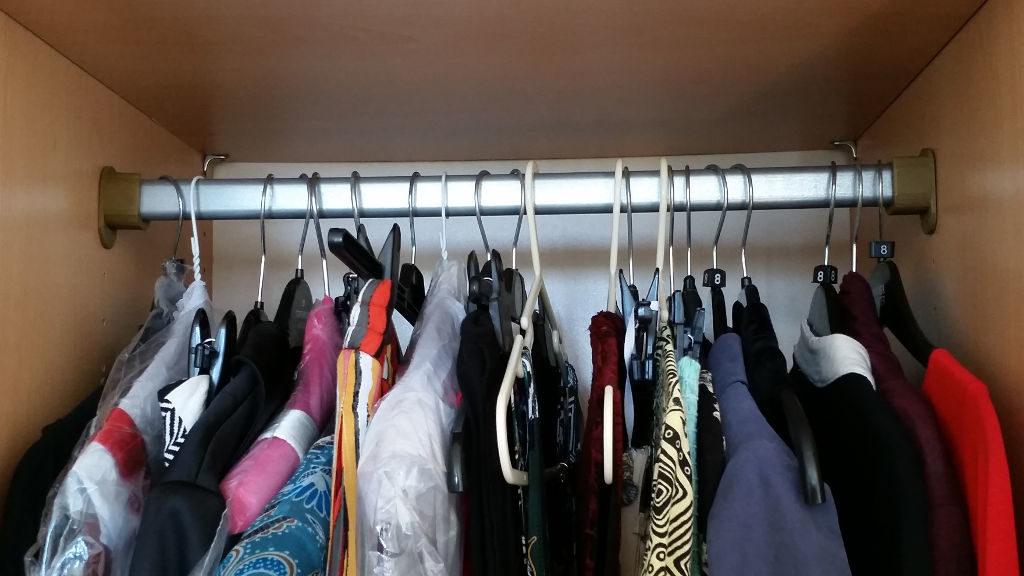 Brackets
This functional 3D printed item greatly helps to organize any 3D printing workspace as it holds a lot of filament spools. Joel Telling's spool mounting bracket has been showcased and torture tested in his popular videos. In addition, a themed 3D printing competition has been held on MyMiniFactory.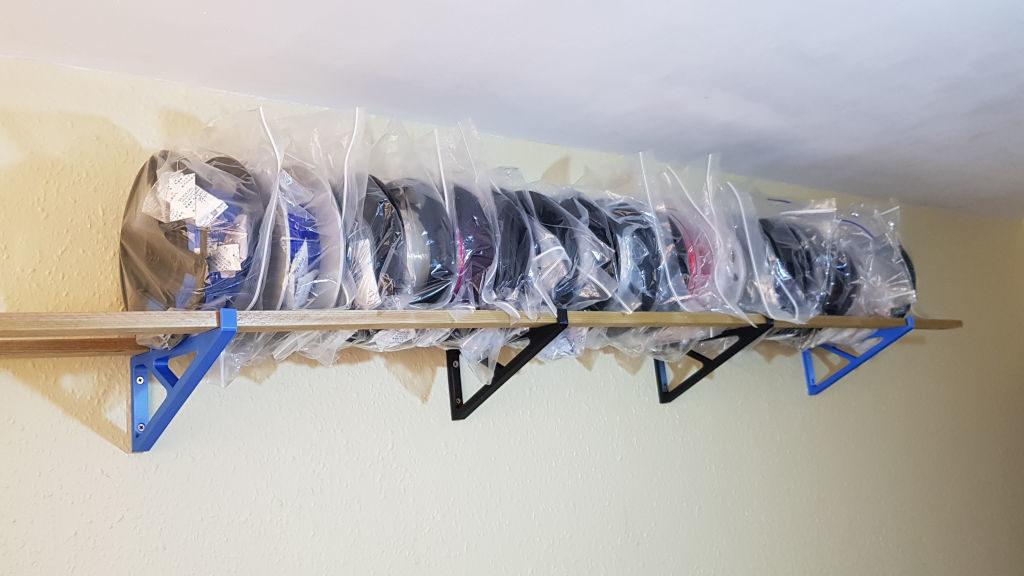 Holders
Pencil Holders
The majority of useful 3D models on STL sharing websites are different kinds of holders, equipment stands and mounts. We have printed an SD card holder, a mobile stand, a wine bottle holder and various accessories. Our very first functional 3d printing item was an Artichoke Pen Holder. It took us 20+ hours to print and it does the job very well.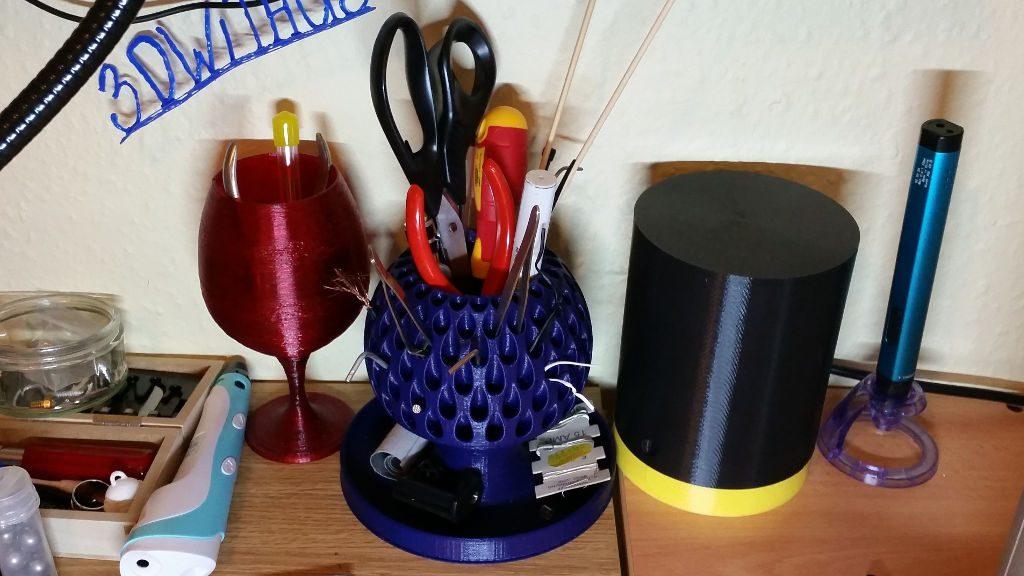 Functional Mounts
Wall Mounts
An extra or replacement spool holder is frequently needed as well. We are very proud of our themed design – a 3D Printing Guardian spool holder as now we can replace a filament spool in seconds.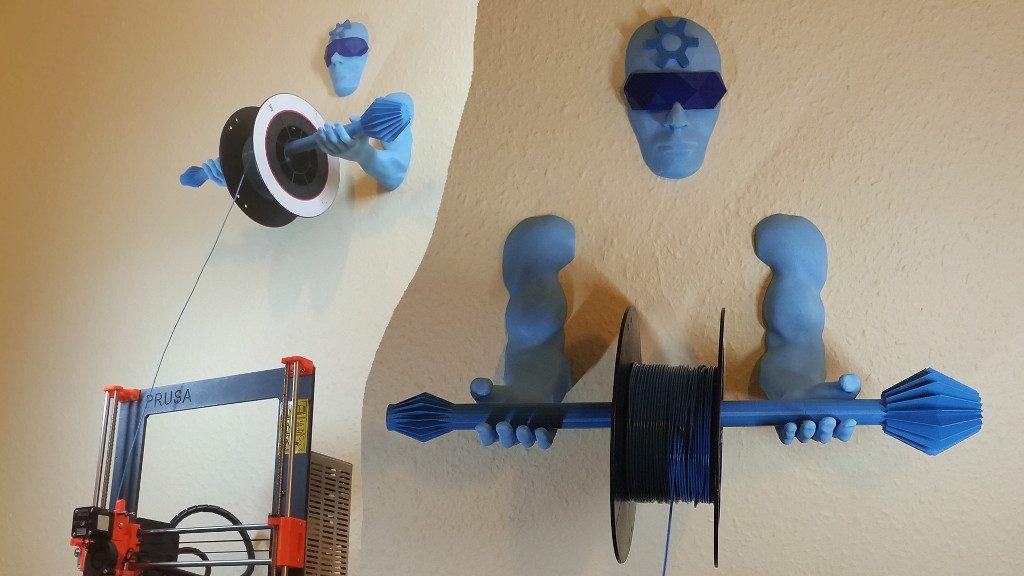 Bookshelf, Table Mounts
When we occasionally make a YouTube video, we use the headphones, but 99% of the time its wires lay around occupying space in the work area. Monster Headphone Holder by philbarrenger greatly helped to organize our workplace better.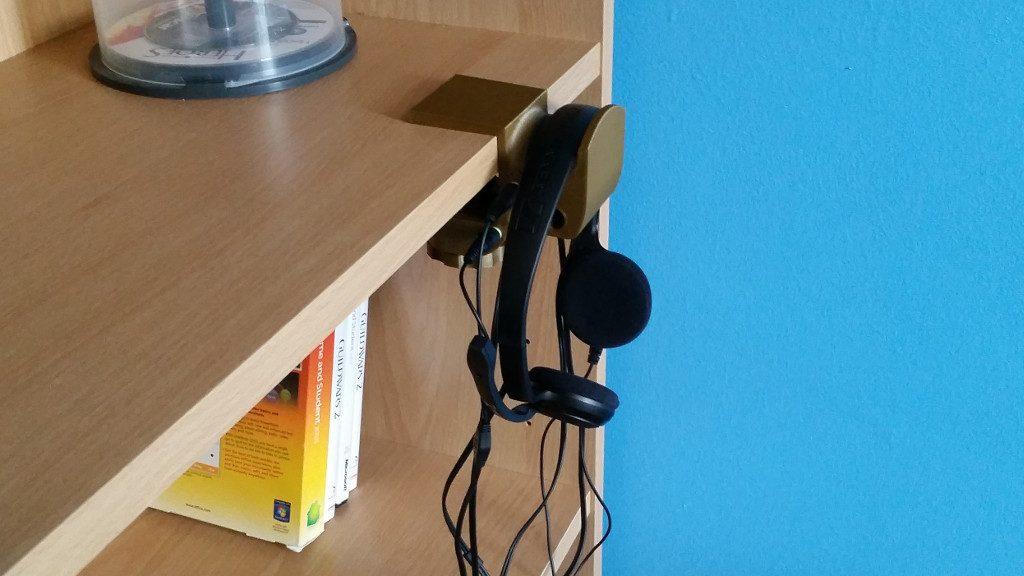 PLA Filament with a MasterSpool on Amazon (affiliate link)
Customized Nozzles
Of course, we tried to design something functional ourselves. Here is our simplistic model. There is a lot of dust collecting in hard-to-reach places around the house, for example, behind the radiators. This is probably a concern in many households. Our vacuum cleaner Henry didn't have a suitable nozzle to get through narrow spaces. Therefore, we designed a customized nozzle in TinkerCAD. It consists of several parts and is easy to print.
Henry Vacuum Cleaner Simplistic Nozzle (MP4: 3DWithUs)
Mobile Phone Cases
Another popular useful 3D print is a mobile phone case. There are many 3D printable files available on specialized platforms. These models are easy to customize further. Mobile phone cases are great as protection from breakage. For our mobile case, we used a beautiful orange flexible filament that has a nice rubbery non-slip surface.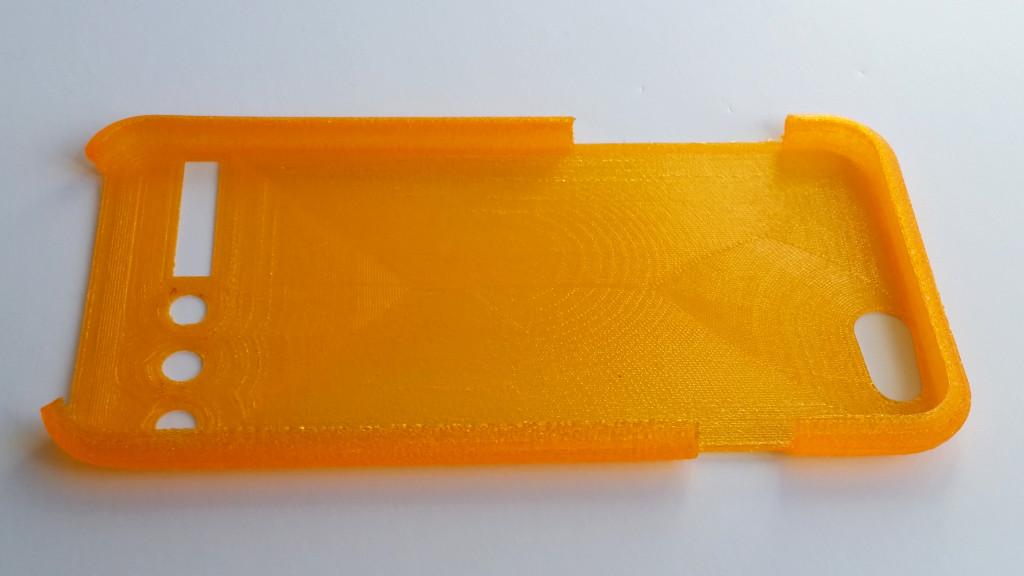 Useful Noise Dampers
For some 3D printers, like Original Prusa, we would recommend printing additional accessories, for instance, noise dampers by hofftari. These dampers significantly reduced the noise that made it possible to work overnight without disturbing anyone.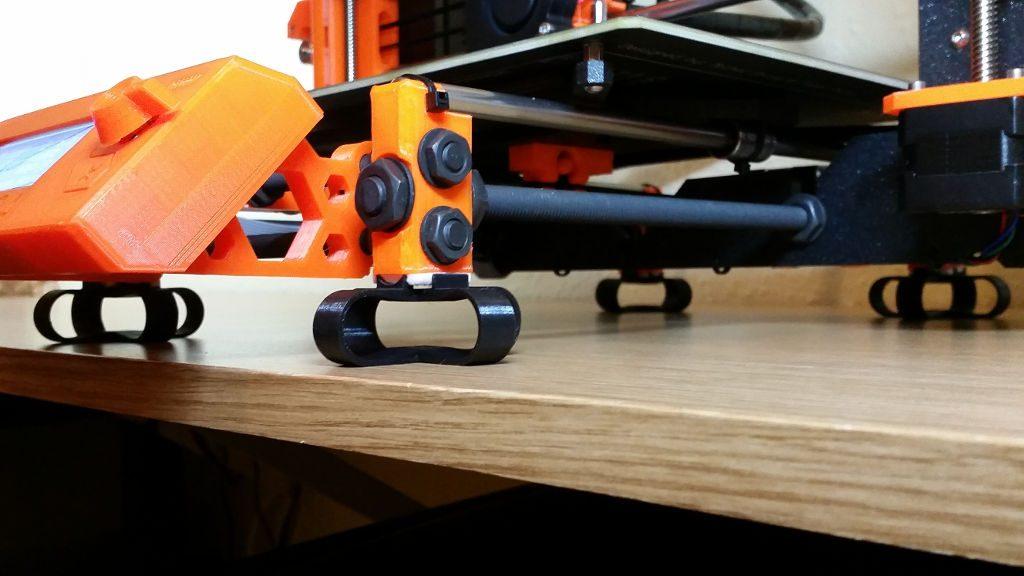 Useful Stoppers
Useful 3D prints must not be labeled as boring. A good example is a Hodor Door Stop by fixers who were inspired by the famous episode from the Game of Thrones. There is a massive collection out there in the jungle of file repositories. Very easy to design and modify the way you want. PTT teaches his students to design such objects in week 1 of the Blender 3D design for 3D printing course.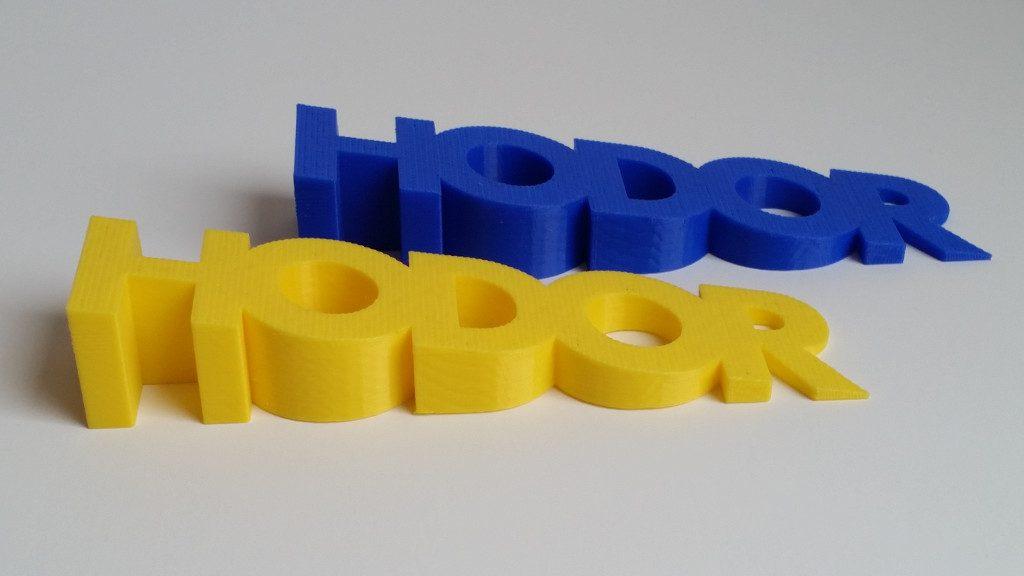 3D Printing Functional Lamp Shades
There are a lot of STL models for free and a small fee on file repositories that would give you original ideas on how to upgrade the interior with gorgeous 3D printed lamp shades and light systems. Initially, we looked at this trend with a bit of skepticism as weren't sure about the fire safety. Check out our blog on 3D printed lamp shades.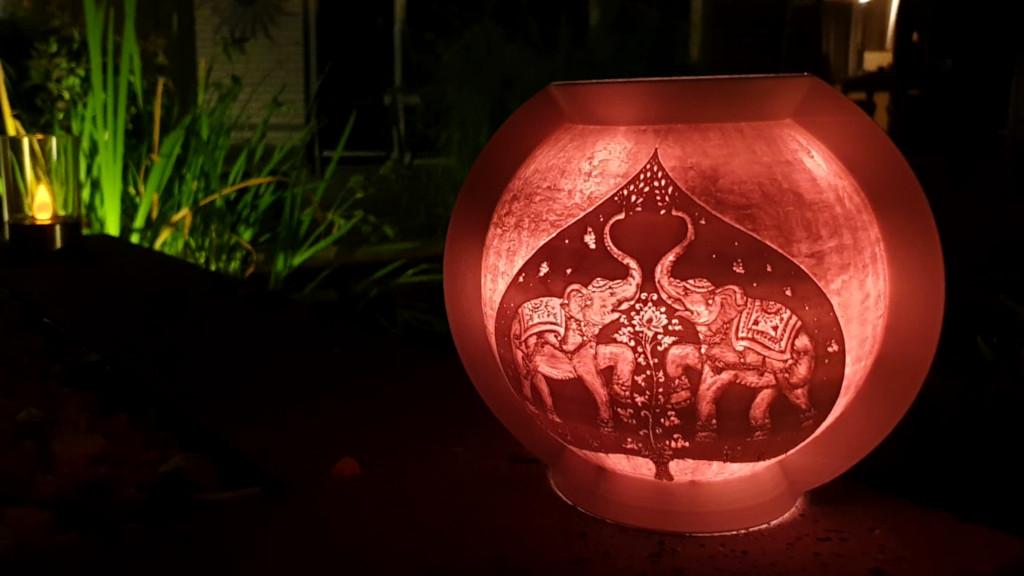 Disclaimer: We can't stress enough that every electrical appliance is a potential fire hazard if treated/maintained inappropriately. Therefore, extra care has to be taken while undertaking any 3D printing DIY project that involves electricity.
Pots and Planters
File repositories offer a vast collection of plant pots or planters that can be 3D printed. Vases and pots usually are desktop 3D printer-friendly and any filament can handle the task.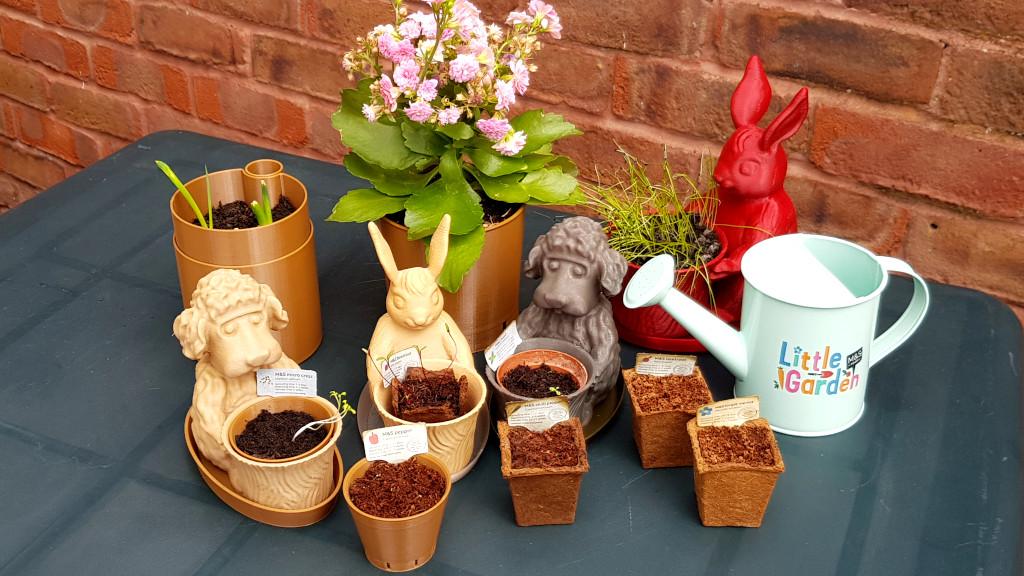 Recommended material for the pots and planters is PETG as it is more waterproof and less biodegradable than PLA.
PETG Filament with a MasterSpool on Amazon (affiliate link)
In the video below, we present functional 3D printing objects:
Practical 3D prints don't get the same publicity as printing for fun. In our opinion, both types of 3D modeling are needed and it all goes in the right direction. 3D printing for fun helps to attract the young generation and enthusiasts.