Chitu Systems is a well-known company in resin 3D printing for its widely used and highly praised CHITUBOX slicer software. A few years back, it wasn't a big surprise when Chitu Systems launched the resin range Conjure, which became quite popular in the community. This year, they introduced the Conjure PLA range, namely Conjure PLA+ and Conjure High-Speed PLA+. It would be interesting to try and test the 3D printing material introduced by slicer software experts.
This Guide Covers
About Chitu Systems
Chitu Systems, a division of CBD-Tech established in 2014, stands as one of China's pioneering technology firms specializing in the research and development of control systems and software for 3D printers. Over the years, it has been dedicated to delivering expert control systems and software solutions to both businesses and individual users within the 3D printing industry.
CHITUBOX
CHITUBOX is a powerful software, and is quickly becoming the default slicer for resin 3D printer manufacturers to recommend when using their machines. Elegoo, for instance, has fully endorsed this slicer and officially recommends it with their Mars and Saturn MSLA 3D printers. The overall ease-of-use of the CHITUBOX software and regular updates that include bug fixes, new features, and new machines all point to CHITUBOX being a resin slicing software with some serious staying power. Read the full CHITUBOX review by Andrew Sink.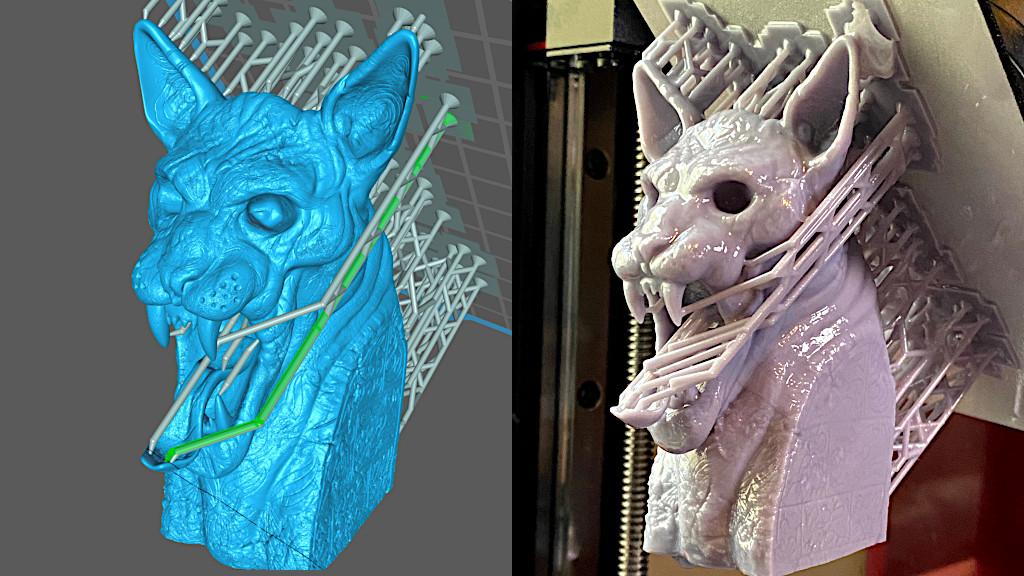 The Conjure PLA Range
Chitu Systems' strategic expansion into the filament market begins with two flagship products: PLA+ and High-Speed PLA+, both set to redefine standards in 3D printing materials. The Conjure range is designed with precision and quality in mind. These materials are engineered to cater to both hobbyists and professionals, offering enhanced properties over standard PLA filaments.
Conjure PLA+: A Blend of Quality and Reliability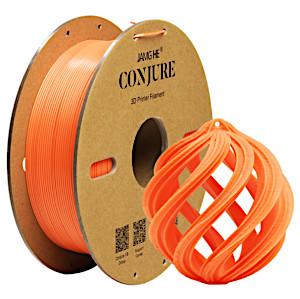 Product Links:
Amazon
Official Website
Conjure PLA+ is an advanced version of the widely used PLA filament, suitable for budget FDM 3D printers. It offers improved toughness, durability, and print quality, making it ideal for a wide range of applications. This filament is perfect for users seeking a balance between ease of use and high-quality print results. Its minimal warping and odorless printing make it a user-friendly option for home and educational environments.
Conjure High-Speed PLA+: Elevating Printing Efficiency and Speed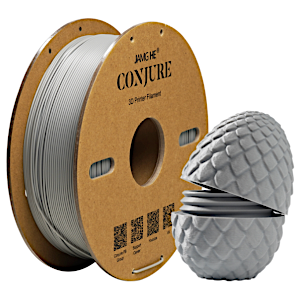 Product Links:
Amazon
Official Website
High-Speed PLA+ is an innovative addition tailored for those who prioritize efficiency and speed. This filament is designed to withstand higher printing speeds without compromising on the quality of the print, a common challenge in rapid prototyping and mass production scenarios. High-Speed PLA+ ensures that time efficiency is matched with top-notch print fidelity, making it a go-to choice for businesses and fast-paced creators.
In the recent 'print speed race,' such filaments play an important role in order to get the best results from high, sometimes up to 600mm/s, printing speeds. This filament is tailored for such speedy 3D printers as the Creality K1 and AnkerMake M5, as well as other printers that work on Klipper firmware with the Pressure Advance and Input Shaping features.
Environmental Commitment – Cardboard Spools
In line with Chitu Systems' commitment to sustainability, both PLA+ and High-Speed PLA+ spools are made from renewable resources, namely cardboard, ensuring a reduced environmental footprint. These filaments not only offer superior performance but also align with the growing demand for eco-friendly 3D printing solutions.
Looking to the Future
With the introduction of the Conjure filament range, Chitu Systems is poised to set a new benchmark in the 3D printing industry. By combining innovation, quality, and environmental consciousness, Chitu Systems is not just selling filaments; they are providing a comprehensive solution for a diverse range of 3D printing needs.
Conjure Resin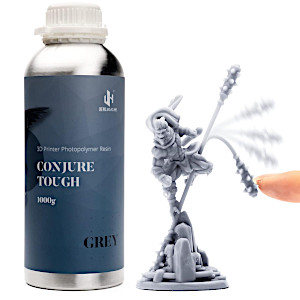 Product Links:
Amazon
Official Website
Primarily known for their CHITUBOX slicer software, ChituSystems has recently released a series of resins under the brand name Conjure. This resin is manufactured by JAMG HE, a resin manufacturing company that claims to have been developing photopolymer resins since 2001. Let's look at the difference between Conjure rigid, tough, and sculpt resins, print some of the models, and play with the exposure time settings.
Conjure Tough Resin Review by Andrew Sink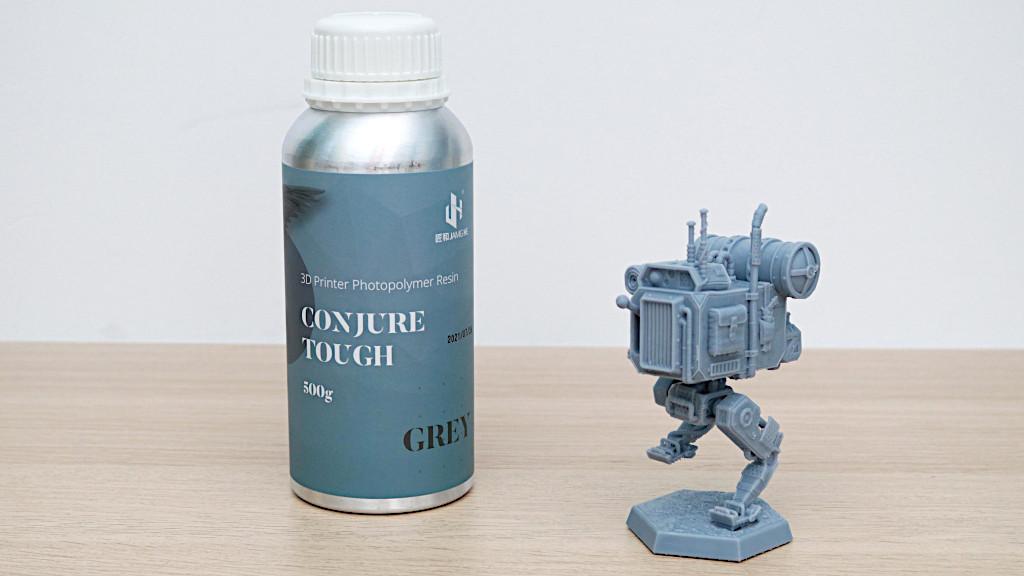 Where to Buy Conjure Filament and Resin
It is possible to purchase, Conjure PLA+ and High-Speed PLA+ on Amazon and via Official Website.
Conjure Resin is also available on Amazon and via the Official Website.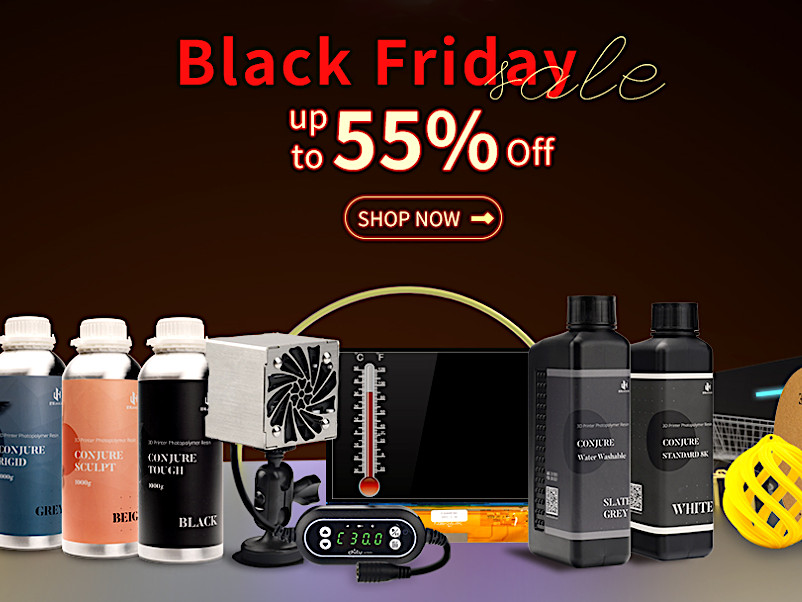 Chitu Systems also participated in the major Black Friday & Cyber Monday sale. Check their offers here.
Conclusion
The launch of the Conjure filament range by Chitu Systems marks a significant milestone in their journey, further cementing their role in the 3D printing field. As they step into the filament market with PLA+ and High-Speed PLA+, Chitu Systems continues to demonstrate its dedication to quality, efficiency, and sustainability. The future looks bright for Chitu Systems and its customers, as they together explore the vast potentials of 3D printing technology.
As our reviewing team is expecting the filament bundle to arrive soon, the detailed filament review article should be published a few months after receiving the product. Stay tuned.