The OrangeStorm Giga is the latest announcement from established 3D printing company Elegoo, and this printer promises a massive build volume, fast print speeds, multiple extruders, and more at an Early Bird price of only $1,250. Breaking away from the typical Solar System-themed names of the Elegoo product lines (Jupiter, Neptune, Mars, etc.), the OrangeStorm Giga stands apart both in naming convention as well as in overall size.
Table of Contents
The OrangeStorm Giga Kickstarter campaign launch is scheduled for November 4th at 9 AM ET, and anyone interested in placing a pledge will want to act quickly as the campaign already has over 4,000 followers.
Price: $1,250 – 2,500
Product links: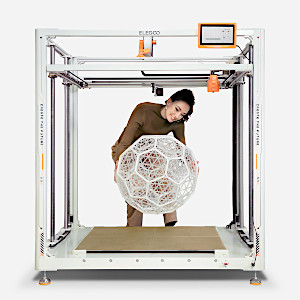 Disclaimer: Before taking part in any crowdfunding campaign as a backer, please read the T&Cs. Rewards aren't guaranteed.
Interested in learning more about the OrangeStorm Giga? Keep reading to discover more about the technical specs and surprises that this large format filament 3D printer has in store. From multiple extruders to a build platform composed of four independently controlled heating elements, the OrangeStorm Giga will likely quickly find a home in prosumer shops looking to increase the maximum size parts they offer.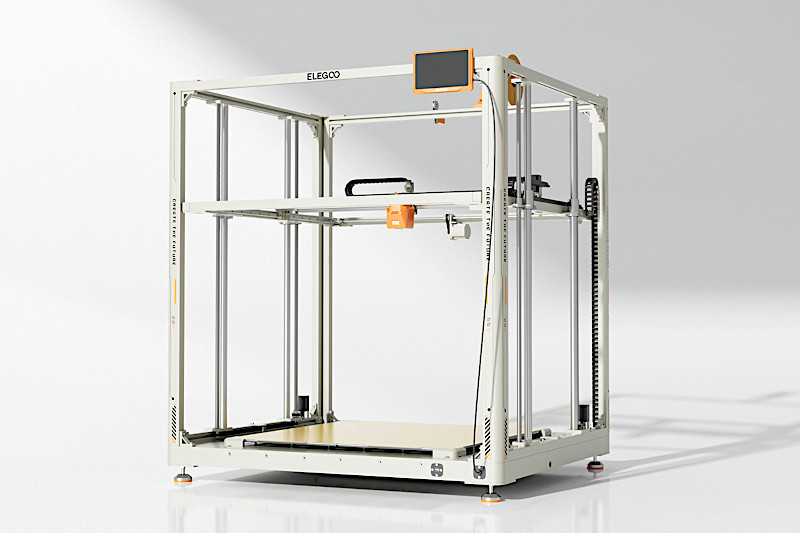 Large Build Volume and Multiple Extruder Configuration
The Elegoo OrangeStorm Giga features a build volume of 800mm x 800mm x 1000mm (31.5" x 31.5" x 39.4"), significantly larger than other FDM 3D printers offered by Elegoo. The OrangeStorm Giga is equipped with drag chain cable carriers on the X and Z axes, which prevent cables from fraying while printing and extending across a large range of motion.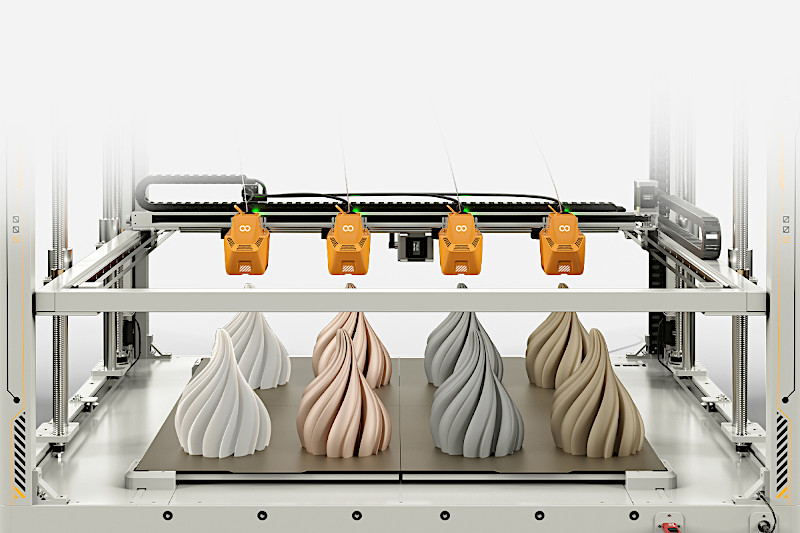 The OrangeStorm Giga can be equipped with up to four independent extruder assemblies for printing multiple colors or materials. The extruder modules are equipped with a 300℃ high-temperature nozzle, a 60W ceramic heating pad, and a dual-gear extruder combined with a built-in acceleration sensor for consistent printing at high speeds. The OrangeStorm Giga is advertised as having a top speed of 300mm/s, with a more conservative recommended speed of 150mm/s.
Features at Launch
The OrangeStorm Giga has all of the features that you would expect in a higher-end consumer FDM 3D printer, including filament detection, a large 7-inch LCD touchscreen, power loss recovery, and silent stepper drivers. The OrangeStorm Giga uses a silent TMC2209 stepper driver on the X and E-axes, a TMC5160 on the Y-axis, and a pair of 35774 drivers for the Z-axis.
An interesting feature of the OrangeStorm Giga is the heated build platform, which is composed of four independently heated removable magnetic PEI platforms. These four platforms are advertised as being able to be heated simultaneously to 90°C in 17 minutes. The four platforms can be manually or automatically controlled, with the printer being capable of heating only the platforms on which the model is being built to reduce energy consumption and increase efficiency.
Test at Tradeshow
We had a chance to witness Elegoo OrangeStorm Giga in action at the 3D printing tradeshow Formnext. The Elegoo team were confident enough to keep the print going for the whole day and here is the result.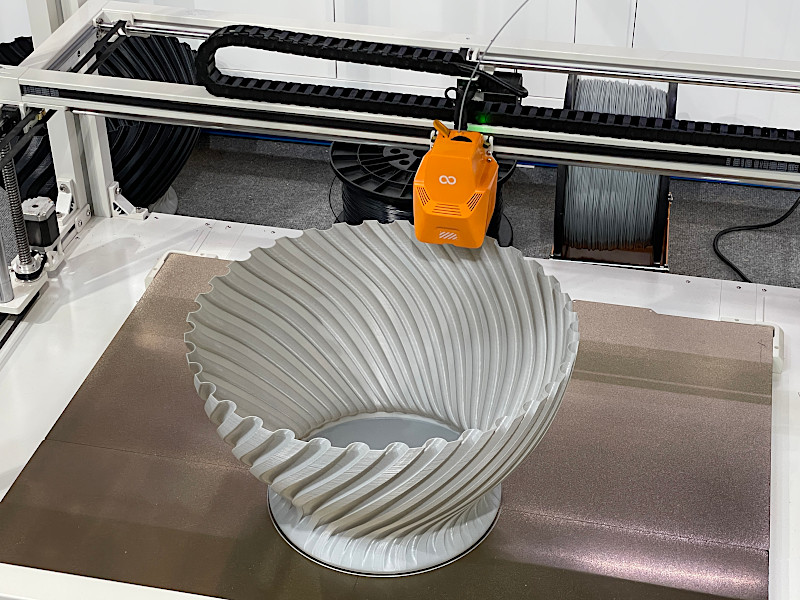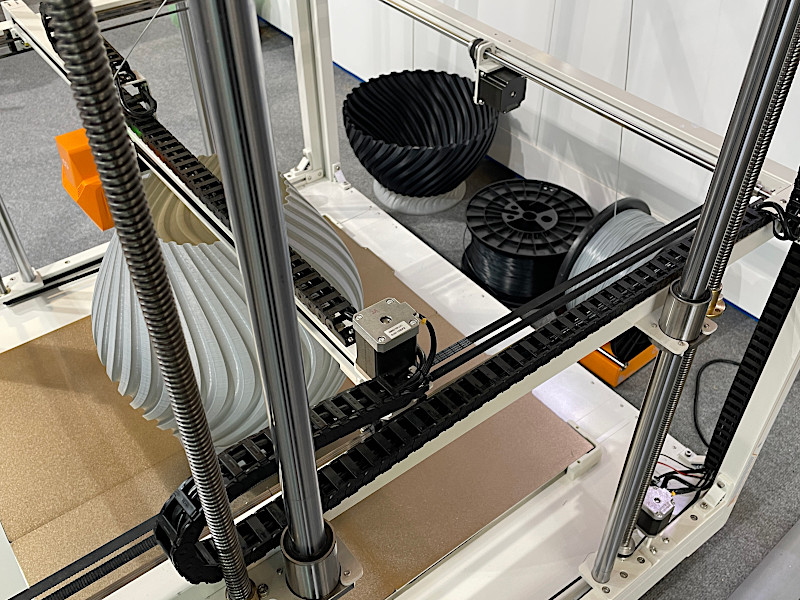 It was reported that a 0.6 mm nozzle is not compatible with the ones on Neptune 4 series, including Plus and Max. But this is not the final decision, as some minor/major improvements may still happen to the machine.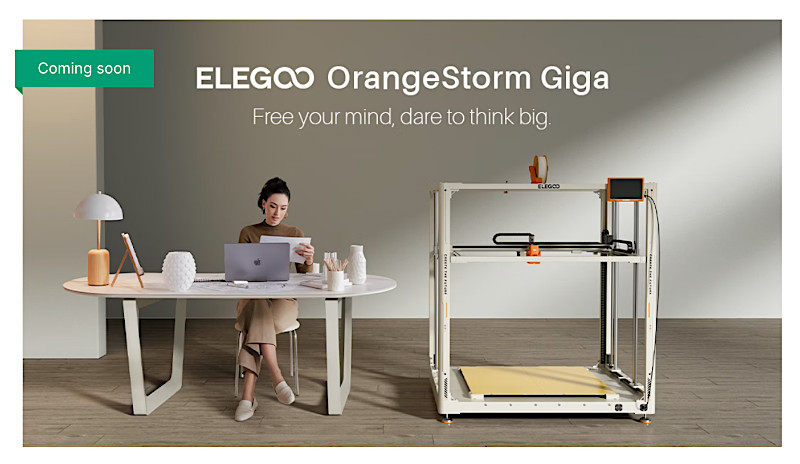 How to Pledge to the Elegoo OrangeStorm Giga Campaign
The Elegoo OrangeStorm Giga Kickstarter campaign is scheduled to launch on November 4th at 9 AM ET and already has over 4,000 followers as of the writing of this article. With Early Bird pricing advertised as low as $1,250, the OrangeStorm Giga may be one of the most successful Kickstarter campaigns launched by Elegoo to date.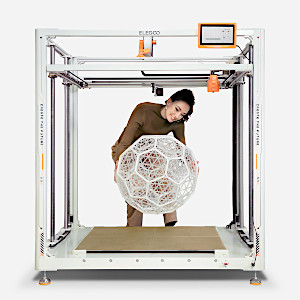 As with all crowdfunding campaigns, it's important to note that a pledge is not a purchase or a pre-order, and there is no guarantee that the machine will be produced or shipped. Elegoo is an established company that has successfully completed and fulfilled crowdfunding campaigns in the past, but it's important to be aware of the risks when making a pledge.
Read more & compare:
Compare to the Elegoo Neptune series 3D printers:
Together, the Elegoo Neptune 4, Neptune 4 Pro, Neptune 4 Plus, and Neptune 4 Max constitute the latest products in the Neptune FDM 3D printer series. If some of the machines haven't been reviewed on our website yet, you can refer to their primary comparison table in the image below to get a general overview.