Many training courses and tutorials are available on the subject of 3D design for 3D printing. So if you set your mind on particular software to master, the table below will help you to compare the courses and chose the right one for you. As usual, we leave some tips and tricks, and point out why an online interactive course is better than a random YouTube tutorial.
"3D design" has a very wide notion. It comprises so many different aspects, like animation, rigging, painting, texturing, sculpting, rendering, etc. So before you choose the right course, you have to make sure that there is an option to transition to 3D printing. In other words, if you are a beginner and want to learn 3D design for 3D printing, the course should include a magic "3D printing" keyword in their title and the description, or at least one lesson is dedicated to it.
3D Design for 3D Printing Training Courses and Tutorials
Do you want to learn how to 3D design jewellery, for example, or 3D scanning or sculpting for 3D printing? Sort the table below by software or topics.
Software
Description
Topic
Tutor
Blender
Learn 3D Design for 3D Printing.
Udemy: Learn Blender for 3D Printing
Basics, 3D Design
Jason Wall
Fusion 360
Learn Fusion 360 with Kevin Kennedy:
PDO: PDO Membership
Basics, 3D Design
Kevin Kennedy
PDO
Blender
How To Use Blender For 3D Printing.
Maker Tales: Makers Starter Guide
Basics, 3D Design
Jonathan
Maker Tales
Tinkercad,
Fusion360,
PrusaSlicer
Learn general 3D printing with Prusa MINI+ and MK3S+: Prusa Academy
3D Printer Setup, Design Software, Slicers
Prusa Academy

Blender
Learn Blender Basics with Zach Reinhardt
CGBoost: Blender Launch Pad
Basics, 3D Design
Zach Reinhardt
CGBoost
SelfCAD
Introduction to SelfCAD - a complete course for beginners.
Udemy: Introduction to SelfCAD
3D Modeling
John Paul Cortes
OpenSCAD
Getting Started with 3D Printing
Udemy: OpenSCAD Basics
3D Modeling
Justin Mitchel
Tinkercad
Learn the basics of 3D Printing using Tinkercad.
Udemy: Tinkercad Basics Course
3D Design
Michael Andrew
ZBrush
Learn a variety of techniques to cut up and shell your model for 3D printing.
Udemy: ZBrush 3D Scans Course
3D Scans
David Newton
Fusion 360
Learn to design for 3D printing with my easy to follow video lessons using Fusion 360.
Udemy: Fusion 360 Course
3D Design
Vladimir Mariano
ZBrush
Learn how to sculpt a caricature in Zbrush and get it ready for 3D Printing.
Udemy: ZBrush Sculpting Course
3D Sculpting
Victory3D LLC
ZBrush
Learn the art of jewelry design using ZBrush. Make your 3D creations real by understanding the 3D printing process.
Udemy: ZBrush Jewelry Course
3D Design
Jewelry
Mojomojo
Design
Blender
Use Blender to create beautiful 3D models for video games, 3D printing, etc.
Udemy: 3D Modelling for Beginners
3D Modeling
Rick Davidson
Free Tools
An Easy Start to Your First 3D Design.
Skillshare: Introduction to 3D Printing
3D Design
Lauren Slowik
ZBrush
Sculpting Male Characters. Five different Body Types, Faces, and Hair Styles!
Udemy: ZBrush Sculpting Course
3D Sculpting
Joshua O'Hala
3ds Max
3d Character Animation. 3D Character Modeling & Rigging Guide
Udemy: 3D Character Animation in 3ds Max
3D Animation
A4Animation School
Blender
Learn to Rig a 3D Human Character In Blender.
Udemy: Blender Character Rigging Course on Udemy
Rigging
Riven Phoenix
Please
Contact Us
if we've missed any 3D design for 3D printing-related training course or tutorial. We will update our table accordingly.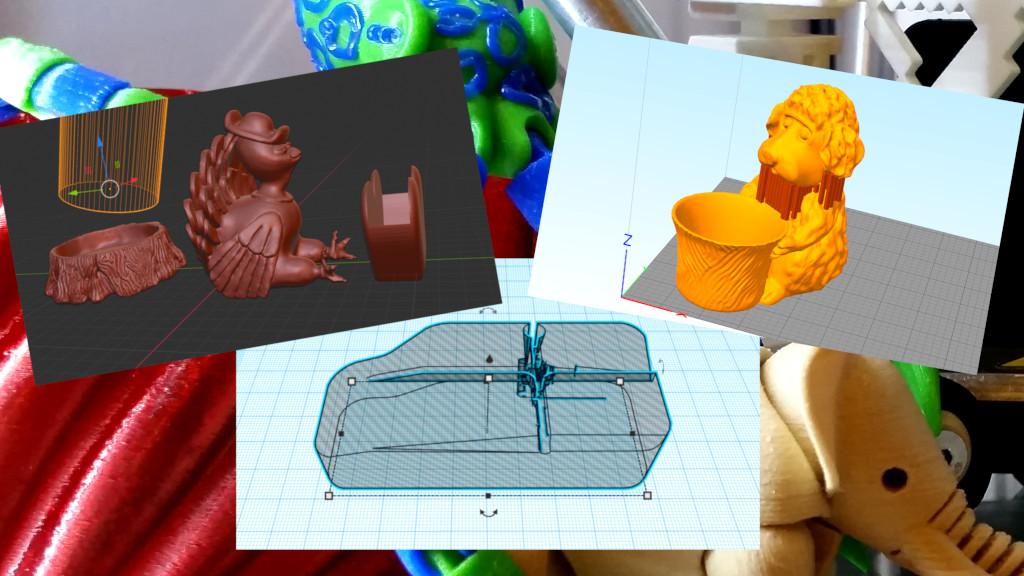 Online Interactive Course vs YouTube Tutorials
– Disruption. Advertisement and clickbait thumbnails that come up in YouTube tutorials may tear your FOCUS to nothing, letting procrastination to sit deeper in. If you paid for the course or are taking a trial on a specialized platform, there should be no disruptive advertisement. Moreover, tutors are interested in you finishing the course successfully as they more likely want to sell you an additional training in the future.
– Updates. A well-maintained interactive course gets updated regularly. This does not apply to a YouTube tutorial which may become out-dated quickly. Any well-edited and to-the-point tutorial may become irrelevant in a few months as the software developers publish a newer version.
– Organization. Various 3D printing software have different tools and functionalities which may be difficult to remember in full. Short videos provided in a course serve as a well-organized bookshelf. It is great to have the opportunity to use these recordings as a refresher and to come back for a particular hint or two.
– Grinding Game Effect. It reminds us of the grinding games' effect. Some time ago, we used to play grinding games like World of Warcraft and Guild Wars 2. We noticed that on the completion of a quest we felt a so-called Dopamine rush. The same achievement satisfaction comes from the completion of step-by-step tasks in the course. And no doubt, the biggest satisfaction comes when a freshly designed model is finally 3D printed.
Blender 2.8 – Training Course Review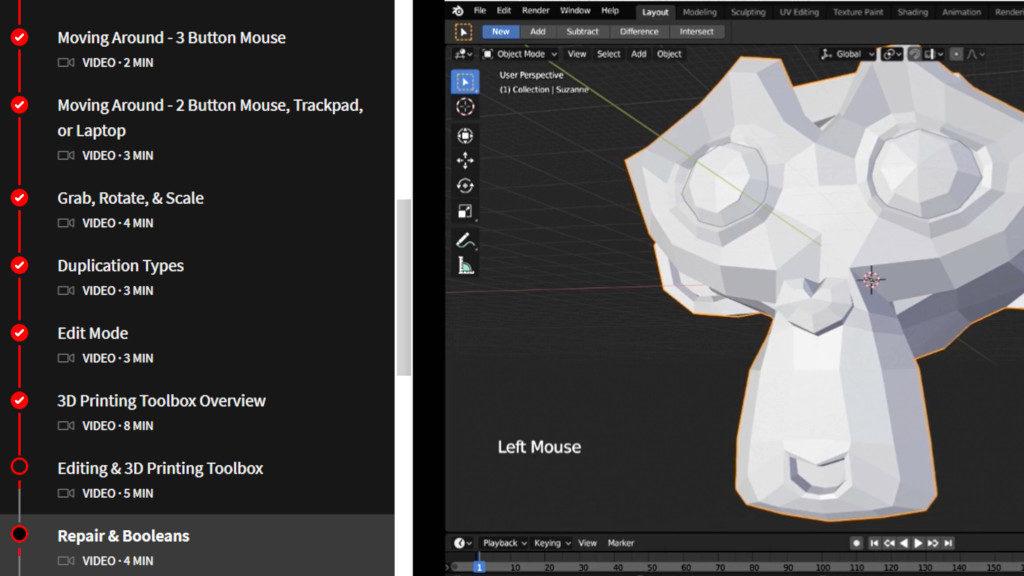 We tried such courses ourselves and we can confirm that there is a big potential. Check our thorough review of Blender 2.8 3D design for 3D printing training by PTT. A 4-week crash course gave us the needed push that we missed, equipped us with the basic tools. We often come back to those short videos if we have to revise something for a new 3D design project.
Learn Fusion 360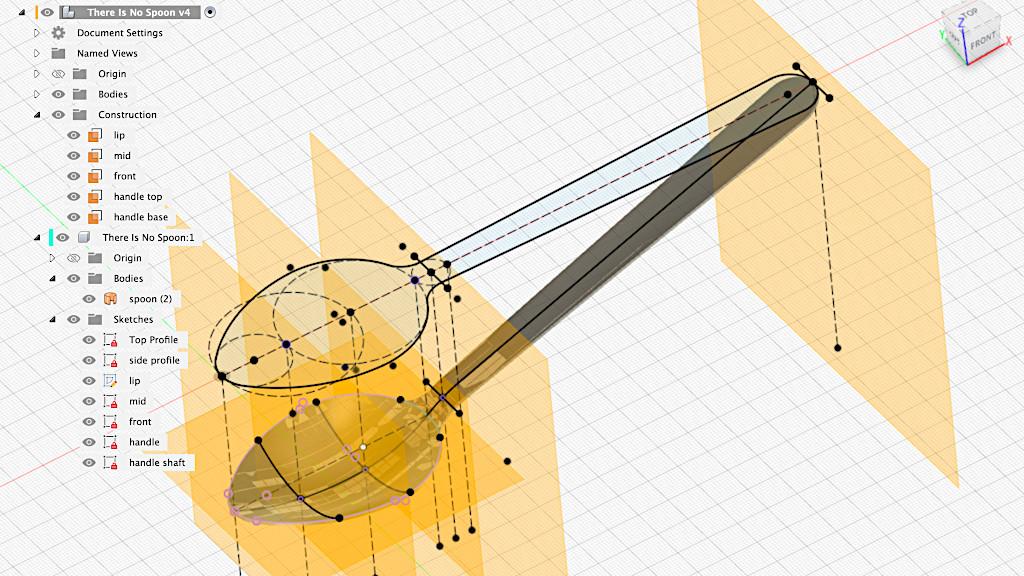 The recent years have seen an explosion of interest in the myriad of tools to create professional-quality 3D computer-aided designs. As computing processing power just gets cheaper and cheaper, complex software that used to be available only to multimillion-dollar commercial organizations and elite design studios is now available to pretty much anyone with a decent laptop. One such software is Fusion 360 by Autodesk. Let's see why it is worth learning and check one of the best courses available online.