3D printing can be a fun hobby, but sometimes you just want to work in two dimensions. I've been working on creating a modular pen plotter toolhead for a few months and the result is the pltr! The pltr is a pen plotter toolhead that attaches to a 3D printer and allows the user to create plotted artwork from an SVG image using Inkscape software. Using pltr, you can create plotted images, ASCII art, text, and anything else that can be represented as a piece of vector art!
An Extra Toohead for 3D Printers
The pltr v1 was designed to work with the Anet ET4X and ET4. The Anet ET4X is a low-cost DIY kit printer that is ideal for modifying and the pltr v1 can be installed in under 10 minutes. I'm planning on creating more versions of the pltr in the future, including a version that can mount to the Creality Ender 3, the Creality CR-10, and others.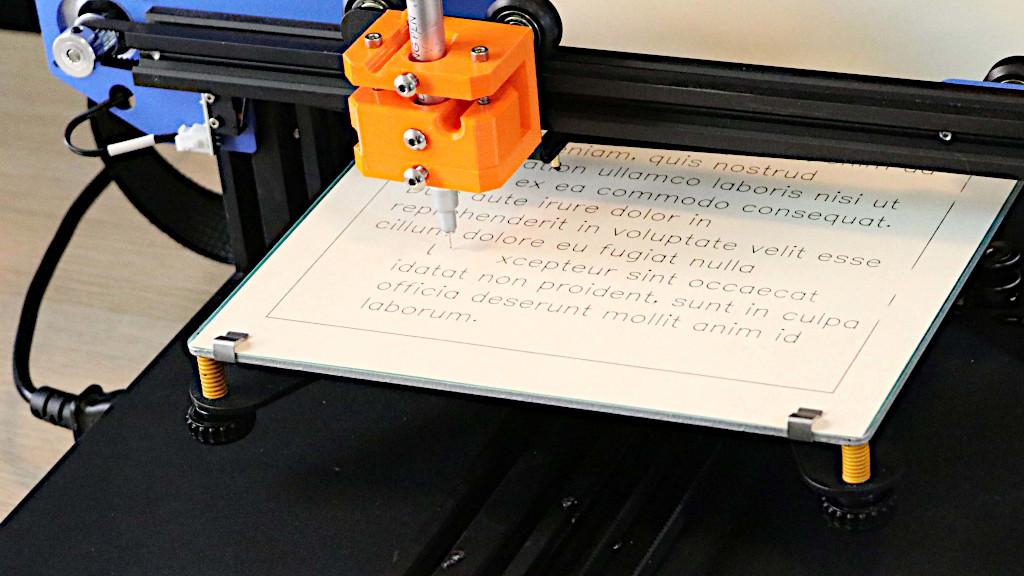 Pen Plotter – 10-min Installation
The installation process is quick, easy, and 100% reversible. To install the pltr, the hot end module is removed from the ET4X, the filament run-out sensor is disconnected, and the wiring harness is disconnected. Once they have been removed, the pltr can be installed using three flathead bolts. Calibrating the pltr is also quick and straight-forward, and involves moving the build surface with the pen attached to ensure the ink is distributed evenly across the writing surface.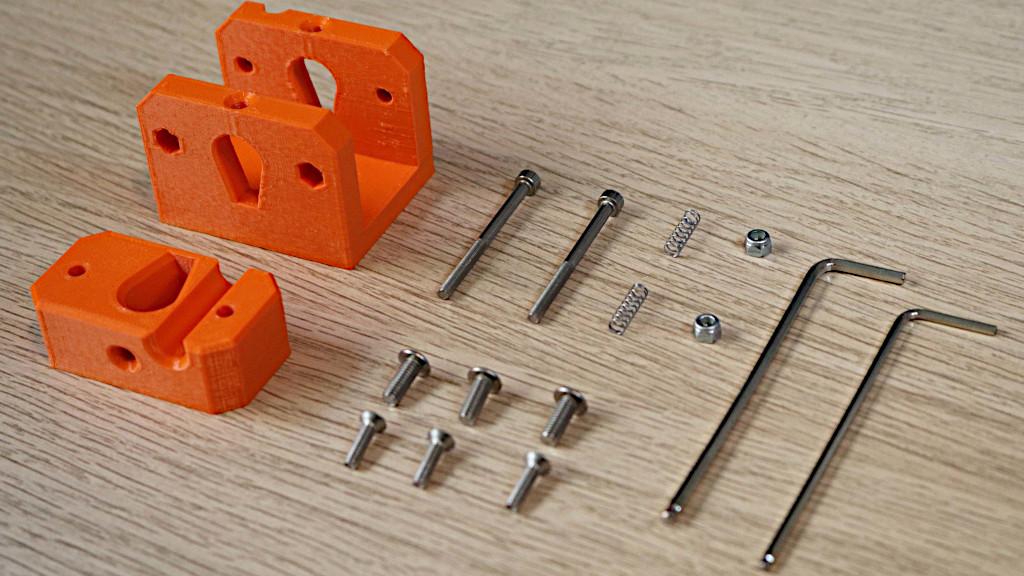 DIY Kit and Fully Assembled Versions (Retired)
Currently, there are two versions of pltr v1 available on tindie: the Print-It-Yourself DIY kit and the Fully Assembled version. The DIY kit includes all of the mounting hardware as well as the printable files and is perfect for someone interested in printing the plotter bracket themselves to better understand the mechanical mechanism. The Fully Assembled version includes a printed and assembled plotter toolhead, all mounting hardware, and the printable files. This version is ideal for anyone who wants a more plug-and-play experience and wants to be plotting as soon as the pltr is out of the box!
pltr V2 Toolhead on GitHub
Originally launched as a product on Tindie, I've since decided to release all files for free on GitHub! If you still want to support this project, you can buy me a coffee on Ko-Fi!
Inkscape – Software for the Pen Plotter Art and Images
The software toolchain can be complex, and converting a raster image into something that can be plotted can require multiple software packages. Using Inkscape, I've been able to produce high quality plotted images from SVG files generated from within Inkscape as well as imported from other programs. Inkscape is an Open Source program with many plug-ins available that make plotting an easy process, and I highly recommend it when using the pltr.

Compilation of the pen plotted art made using pltr toolhead
3D Printed in GreenGate3D PETG
The pltr v1 is made using GreenGate3D 'Slice Orange' recycled PETG, which is a tough material that is ideal for functional mechanical parts like this spring-loaded bracket. GreenGate3D makes reliable, durable, and inexpensive material that is easy to use with a direct-drive printer such as the Prusa MK3S, which this plotter toolhead is printed on.
Read More About the pltr Project on sinkhacks.com
If you're interested in learning more about the pltr v1, you can see the full listing on tindie and read about it in more detail on my blog. You can also reach out directly by emailing me at [email protected].