File repositories offer a vast collection of plant pots or planters that can be 3D printed. Vases and pots usually are desktop 3D printer-friendly and any filament can handle the task. Taking into consideration that these objects are highly customizable and are functional, it is understandable why these are such a popular choice for 3D printing on desktop 3D printers. Let's dig into this subject, check the types of plant pots, and find out how to optimize the slicer settings for waterproof 3D printing.
This Guide Covers
Disclaimer: Even a well-printed plant pot may start leaking with time. Use them with caution and mind your furniture.
Types of Plant Pots
3D printed objects like planters are highly customizable and can be used in various ways, including both indoor and outdoor. They can be wall-mounted, used for themed decor, integrated into furniture, and even used as toys.
3D Printed Self-Watering Plant Pots
The self-watering or sub-irrigating method entails that the water is not poured directly on the soil but in the tube, and the plant takes as much as it needs from a reservoir underneath the pot. I printed the Self-watering Flower Pot by Mediocredesigns. It came out great in Coffee PETG, and now it is a planter for the onions and I keep reusing it if needed. The designer made sure that the basin walls were optimized for waterproof 3D printing. I left the bottom piece with water overnight and the tissue stayed dry. Read on to find out how to 3D print such objects to make them waterproof.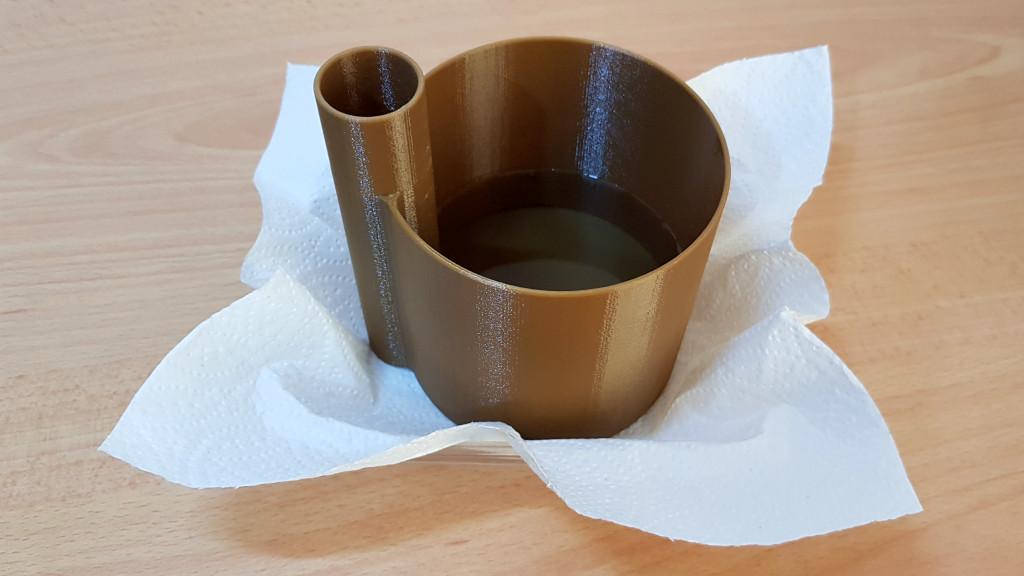 Outdoor Example – Does PLA Decompose?
To keep 3D printed planters outdoors is a good idea as these can be printed really big. I experimented with 3D printed planters outdoors, and the result was awesome. Even planters printed with a 0.4mm nozzle in vase mode lasted for a season and could be reused. The only thing to note is that such planters are very fragile when handling, so a 0.8mm nozzle is highly recommended. Did the wood composite PLA decompose? Not at all. Natural elements like sunlight and moisture are not enough to decompose PLA, but it may lose its waterproof quality. To fully decompose PLA, an industrial process is required.
– Watering. As shown in the image below, I kept all my planters without an extra tray, and there were no drainage holes in them. As the pots were not watertight, all excessive water went through without a problem. The only drawback was during hot summer days when I had to water them more frequently and keep them under the shade. Without an extra tray, these planters were really awesome and not messy at all. When the plants grew bigger and started getting knocked over by wind gusts, I put them close to each other so that they were entangled with leaves and branches and stayed as one unit.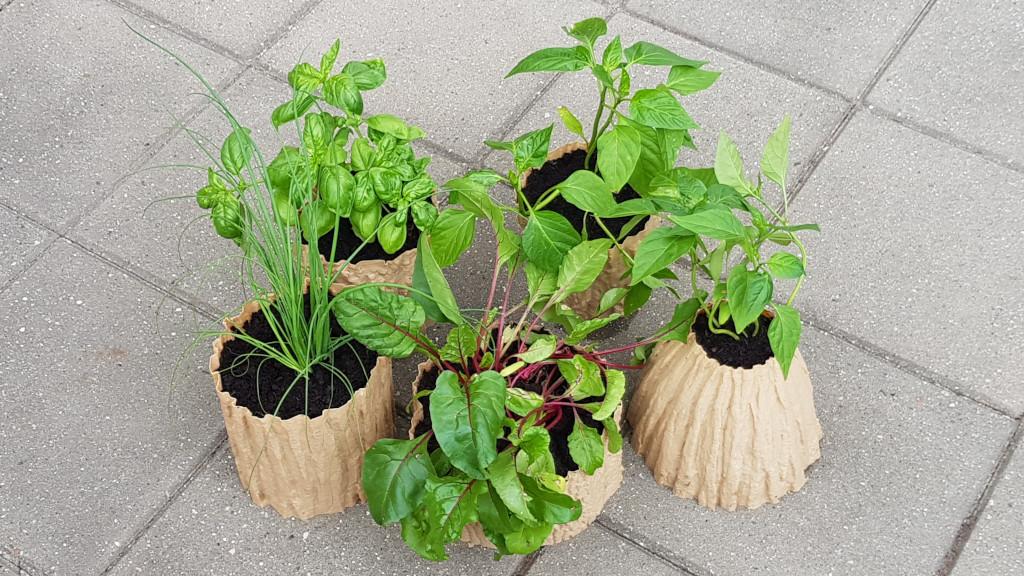 – Reusing. The only planter that was impossible/tricky to reuse was the cone-shaped one. The narrow top made it difficult to remove the plant and soil. It was disappointing since it was my favorite. It kept water well and the base was wide and heavy enough to hold the plant even during windy weather.  As for the rest of the harvest, I was able to successfully remove everything from the other planters. And again, there was no sign of decomposing after approximately 6 months of testing.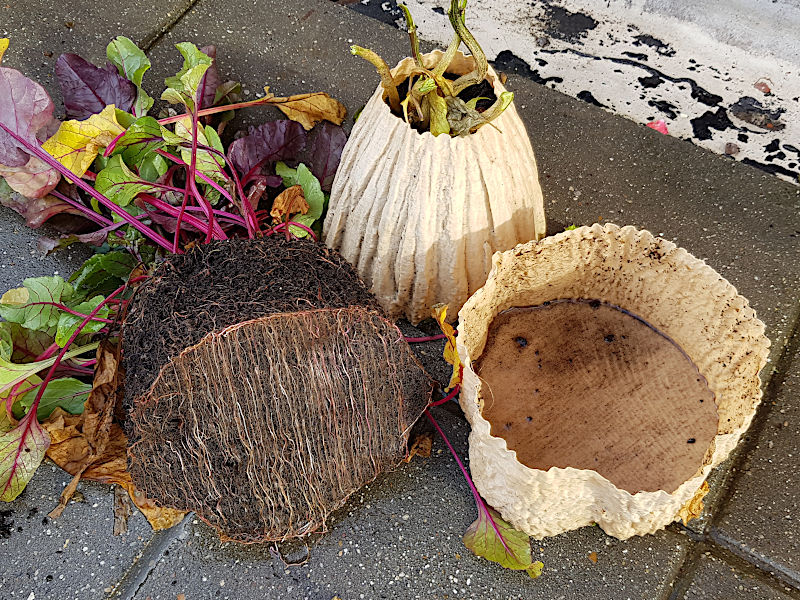 – Tree Texture Pots. It is possible to use 3D scanning and vase mode 3D printing to achieve a real tree texture effect for functional or decorative items. I keep adding precursor vases to my collection on Cults.  From them, highly customizable planters can be made. Currently, there are Oak, Pine, Birch, Monkey Puzzle, Giant Redwood, and other tree trunk textures available. Additionally, you can read the guide on what can be made from such scans.
Wall Mounted 3D Printed Plant Pots
If you've run out of shelf space for your planters, consider using your walls. Wall-mounted planters can be a great way to add greenery to your living space while also saving on floor space. These planters can be customized to fit any decor style, from modern to rustic, and can be designed to hold a variety of plants. If you plan to keep your wall-mounted planters indoors, it's important to choose plants that don't require too much watering to prevent extra unwanted humidity in the room. Check out wall planters or wall pots on file repository websites to find inspiration for your next 3D printing project.
Themed Planters
Customized 3D printed planters offer endless possibilities to match specific themes and events. For instance, Halloween, Easter, or other occasions can be a great opportunity to create unique and festive planters. Think of Jack O'Lantern planter pot. The planters can be designed to incorporate holiday-specific symbols or shapes, and be painted or decorated accordingly. Alternatively, specific textures, like the tree trunk we mentioned earlier, can be added to the design to create a unique and natural-looking planter. Themed planters can be a fun addition to a child's room or a unique decor feature in a commercial space. For example, a jungle-themed planter can add a pop of greenery to a zoo gift shop, while a space-themed planter can enhance the decor of a science museum.
Fun with Kids – Little Garden
As an example, Dog the Gardener and the Easter Bunny were designed to have a simple functional task. Both of them can be useful during the Easter egg hunt, and all year round these can serve as plant pots or simply as containers for something small, and of course, they can be used as toys. These fellows could be great for introducing gardening to children and turning it into a fun activity.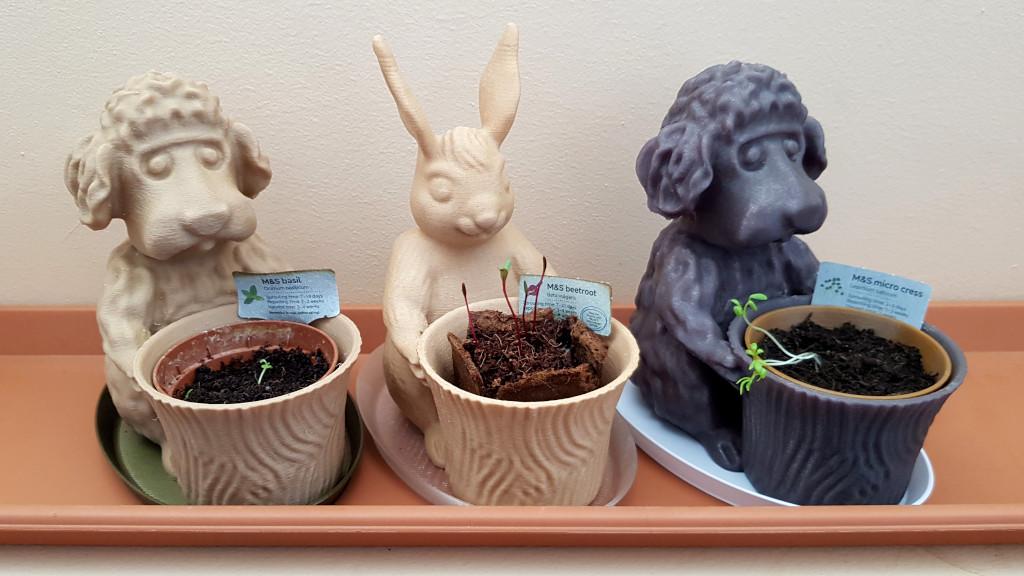 The Dog and The Bunny, together with a water tray and a small pot, can be found on Cults and Printables.
There is a catch though. Themed plant pots like these take up a lot of space on a printer's build plate. Scaling a model up for a bigger plant may be expensive filament-wise plus it would take a longer time to print, even a hollowed version. Elegoo Neptune 3 Plus with the 0.6mm nozzle can be well-suited for such scaled projects.
Coincidently, during the lockdown, a local supermarket chain started a "Little Garden" campaign. At the check-out till, they give away little planter kits with a nice variety of seeds, from flowers to edible herbs. The little seed kits come with short instructions and are very easy to use. This initiative brightened up the lockdown for many, kids and adults alike. We used all our test prints for our own neat little garden.
Waterproof 3D Printing – Tips & Tricks
After printing out a few different models, I came to the conclusion that it is possible to use 3D printed planters successfully. However, there are a few rules to stick to in order to minimize the risk of a water leak. Here are the tips & tricks:
– Design. First of all, check the design. If there are any overhangs, this may compromise a 45-degree rule. Those designs may look great when 3D printed, but as there will be less room for proper filament fusion, therefore tiny invisible holes may appear that could let the water through.
– Quality prints. Your 3D printer should be tuned well, especially the bed leveling. The base and wall layers should be flawless to hold the water. The model must be thoroughly checked in the slicer software preview/slicing mode and the settings adjusted if necessary. Usually, it is the layer width that can be tuned to minimize the sporadic infill and to remove the space between perimeter shells.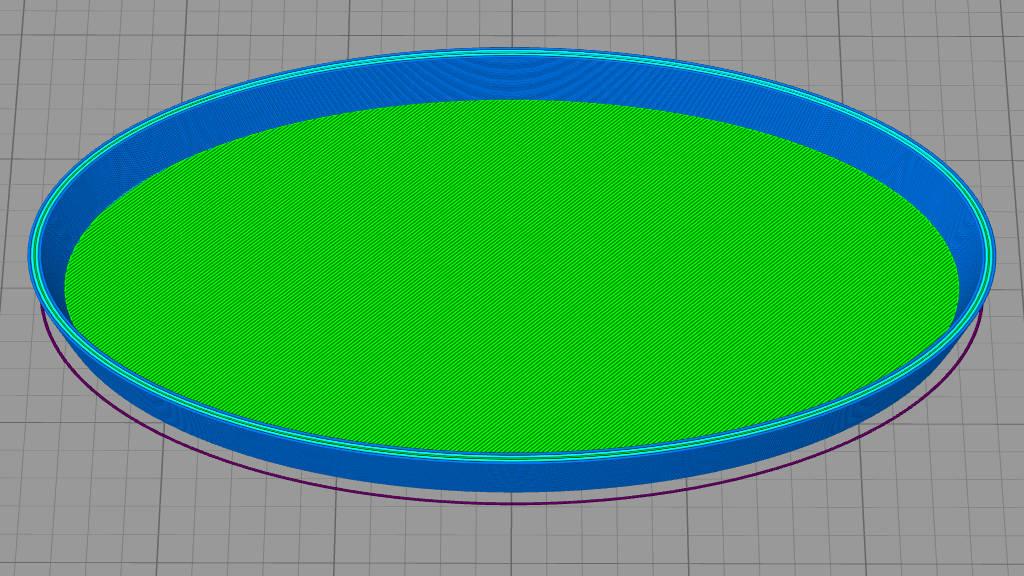 – Temperature. As we do not expect a lot of retraction and there is no bridging when printing pot-like models, we can bring the nozzle temperature up for better melting/fusion between the layers.
– Vase Mode. Or a single corkscrew outline mode won't work unless you have a 1mm nozzle and perfect fusion instead of the usual 0.4 mm nozzle. It is tempting to 3D print waterproof plant pots in the Vase Mode but there is just not enough fusion between the layers. In addition, a few micro-holes may appear during the handling of the finished object. Want to learn more about the designs? Read 3DPrintBunny's article about designs for vase mode 3D printing.
– Sealant. A wide range of waterproof sealant sprays is available on Amazon (affiliate link). We tested "Plasti-kote" brand for the laser engraved coasters. It worked well but we didn't test it yet on plant pots. Should be OK for the flowers, but most likely such sprays are not food-safe for herbs or other edible plants.
– PLA vs PETG. PETG is waterproof and, if I was happy with the performance of PLA for the outdoor planters, then I am reluctant to trust PLA to hold water for a long duration indoors without any leakage.
Disclaimer: Even a well-printed plant pot may start leaking with time. Use them with caution and mind your furniture.
Best Filament for Planters – PLA vs PETG
I found that PETG is better than PLA for this job. In many cases, I achieved the result when PLA and even wood composite filament didn't let water through when tested overnight. However, as PLA absorbs water, we may expect that over time water and sunlight will break in between the layers. There are some sealant solutions available to post-process PLA. Are these food-safe chemicals? Doubt so. As the result, it won't work for the greens like spring onions, for example, but should be OK for flowers.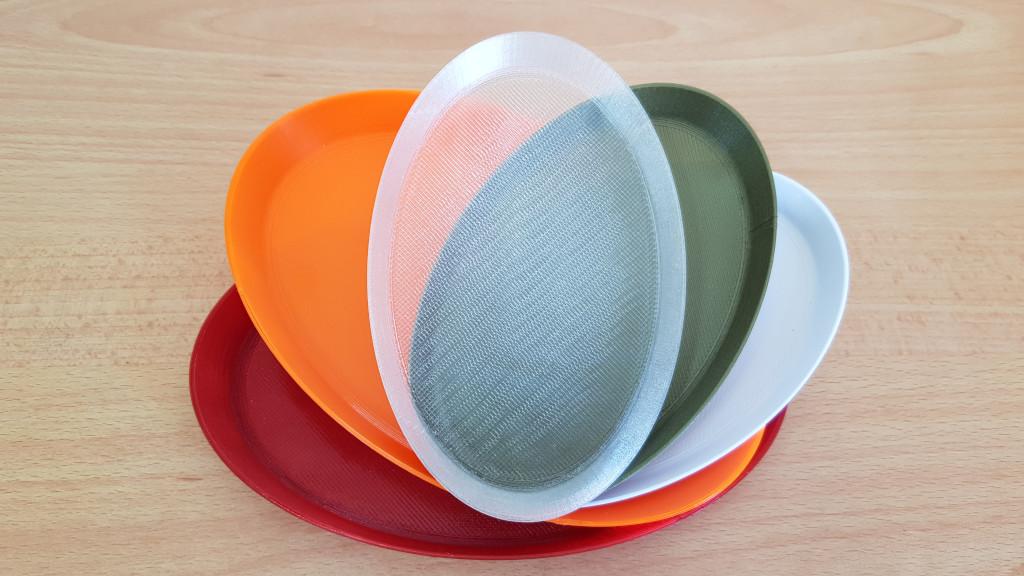 Therefore, PETG wins here as it comes from the PET material, a common material for plastic bottles, 100% waterproof and recyclable. The downside of PETG is that it doesn't like retractions which should be no problem in the case of 3D printing plant pots. Read more about PETG …
PETG in brown and other colors.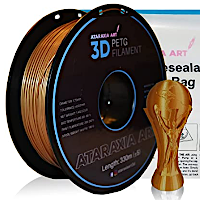 eBay
Amazon
Best 3D Printers for Planters
Because of the print volume and the process I tried to print planters on FDM 3D printers only. The planters I featured in this article were printed on Upgraded Prusa i3 MK2S and Elegoo Neptune 3 Plus. I came to the conclusion that any, even a budget 3D printer, can deal with the task if it is tuned well and the slicer software settings are correct. Elegoo Neptune 3 Plus is a very good machine due to its volume size. Big pots can be 3D printed relatively quickly with the Vase Mode settings and a 0.8mm nozzle. The walls of the planters printed with such a nozzle are also much stronger than those printed with a 0.4mm one.
Conclusion
Overall, 3D-printed planters offer endless possibilities for customization and creativity. With the right design and materials, they can be used to add a unique touch to any space. And what a great choice of models is available on various file repositories.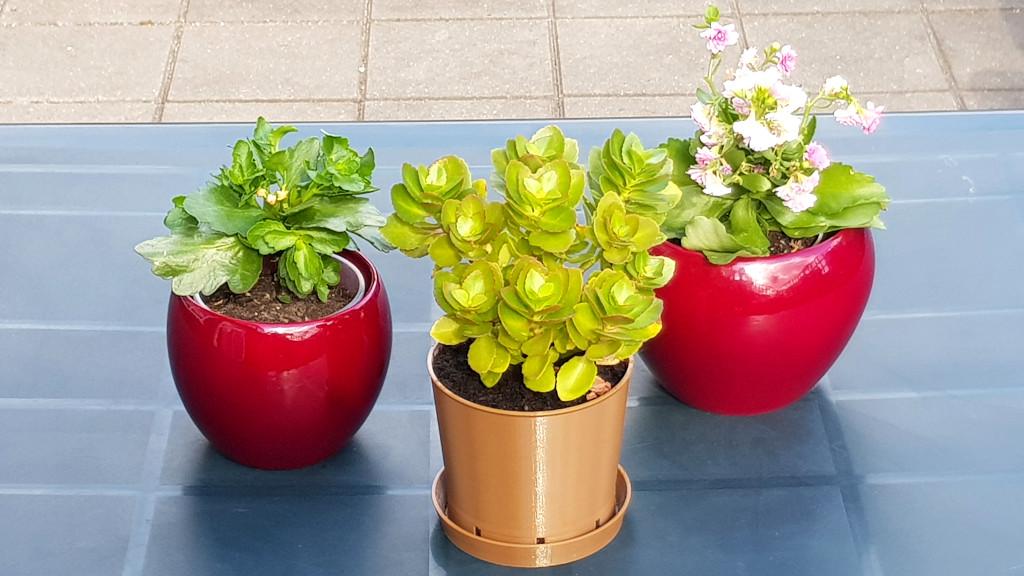 Here is a classic brown pot. These are probably cheaper to buy on Amazon or any local DIY store than to 3D print. But this one is scalable and can fit into planters and flower pots of different sizes. The pots and water tray are available on Cults.