In this article we will review the MK2.5S upgrade for the Original Prusa i3 MK2. We have always been happy with the old version of this preassembled 3D printer, and we used it heavily for a number of years. However, the introduction of the magnetic PEI sheets and later a powder coated spring steel sheets made us curious about these new features. After visiting the Prusa Research booth at TCT Show in Birmingham and actually holding and bending the magnetic sheet in our hands, it became obvious that we indeed needed this upgrade.
When buying the Original Prusa i3 MK2 we didn't know that it would be named the best 3D Printer of the year according to "Make" magazine and to "3D Hubs" community. We first saw Prusa in action at one of the 3D printing events. Even though a 4-feeder upgrade (MMU) was not available for sale at that time, we thought it was good that the manufacturer was trying something new.
Affiliate Links: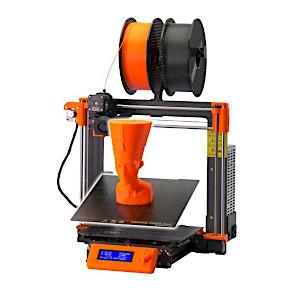 Original Prusa i3 MK3S+
Official Website
Original Prusa Upgrades
Official Website
We've been considering buying one more 3D printer for a number of reasons. Firstly, we wanted to try something different. We've had a great experience with our DeltaWasp 2040, but wanted to go for a different process or a printer type.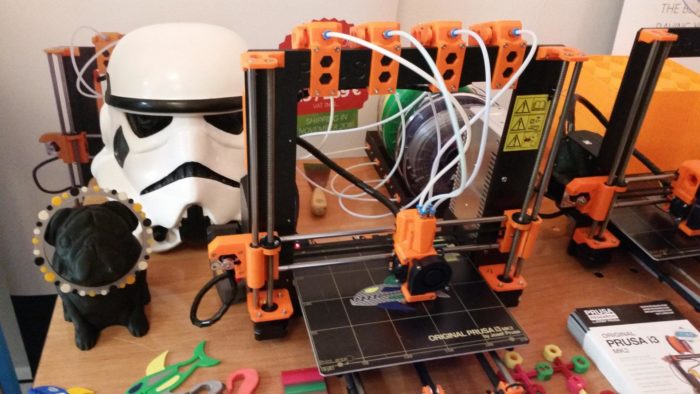 Another reason was that using only one machine was not enough. We usually aim at finishing a project before the start of the week ahead. We seriously thought of going for an SLA printer. However, after considering our options, we decided to buy the second FDM machine, but a cartesian type. It could utilise the same materials, save us money, space and time.
Original Prusa i3 MK2 Delivery – Then and Now
Fulfillment time for orders placed in autumn 2016 was a huge 6 weeks plus there was a 2-week delay on top of that. Back then Prusa Research didn't have enough manufacturing capacity. We must admit that the online chat support staff did their job very well. We can only imagine the pressure they must've been under at that time of the year. Everyone would like to have a new printer delivered in time for the Christmas break. In comparison, we received the new MK2.5S upgrade, as promised, in 3 days.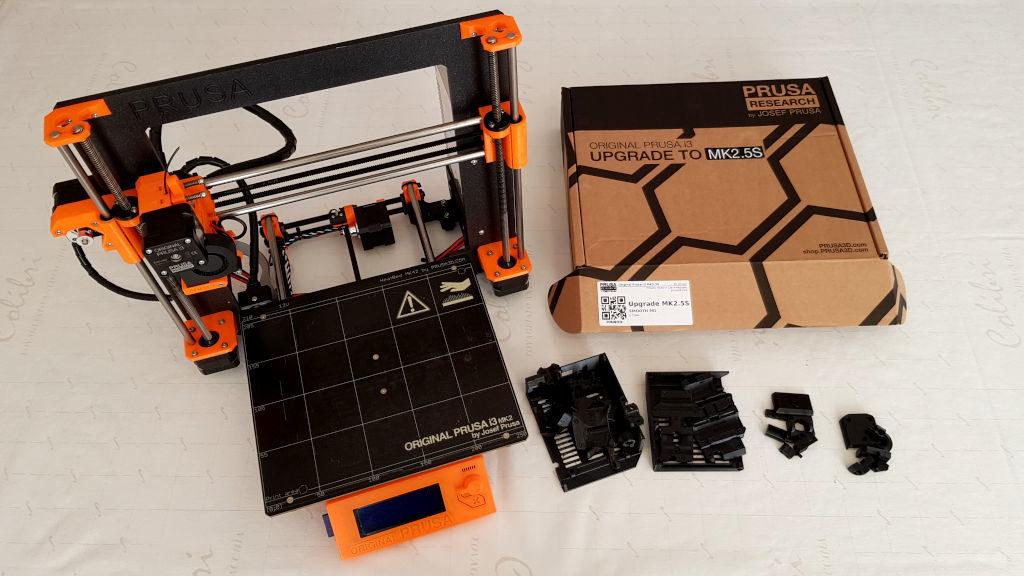 In our YouTube video below, we are showing the unboxing, calibrating, changing filament and our first prints on Original Prusa i3 MK2. On the first day, we tested two G-code files that came with the manufacturer's SD card. The results were of a brilliant quality. Afterwards, we took a file from an STL sharing website. We were pleasantly surprised that Simplify3D supported Prusa i3 MK2 and had its default settings for slicing objects.
Nowadays, when Prusa Research has its own sophisticated slicing software PrusaSlicer, we started using it much more often, especially for complicated projects.
Original Prusa Upgrade to MK2.5S
It took us roughly a week to 3D print all the necessary parts in Prusament PETG, take the old MK2 apart and to reassemble with the new parts. In addition, we had to wait for the replacement for the old Thermistor Cartridge that was worn out. Our family dining table was invaded for almost 3 days. (No living creature got hurt, except for the moral damage from the aesthetically unpleasing eating area).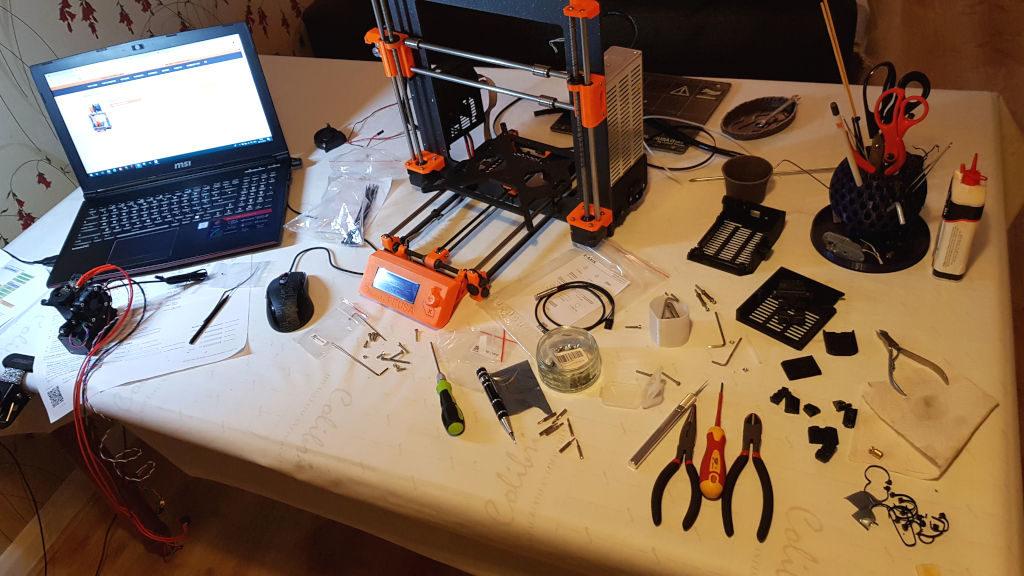 Even though instructions were clear, we found it challenging to 3D print all the necessary parts using the given G-codes. PETG filament that came with the upgrade didn't stick well to the old printing bed. On top of this, existing G-codes were set to crowd the build plate with tiny objects (including marking text). The poor machine had a lot of retracting to do on the 1st layer. Extra adhesion, slower speed and several attempts got the job done in the end.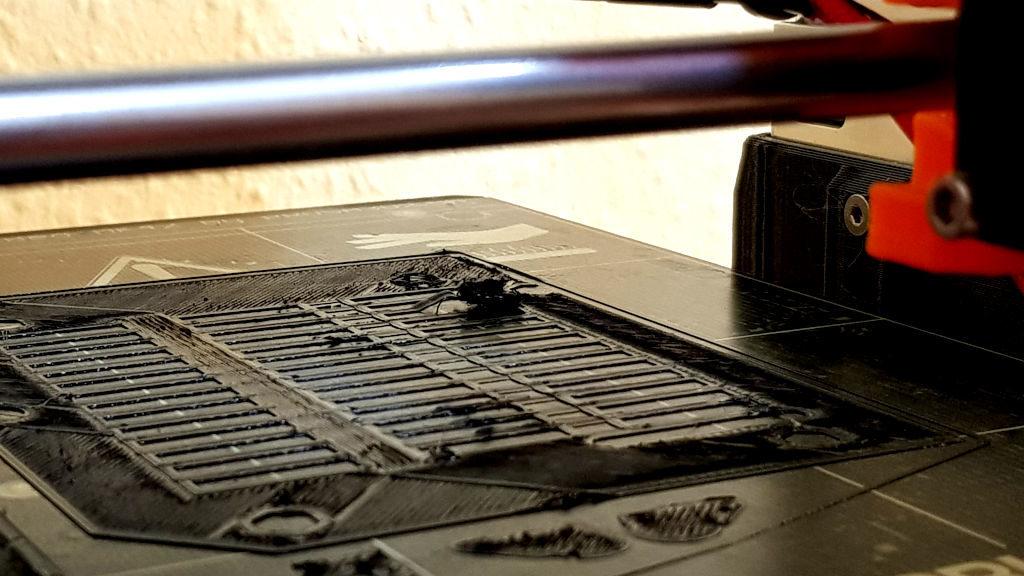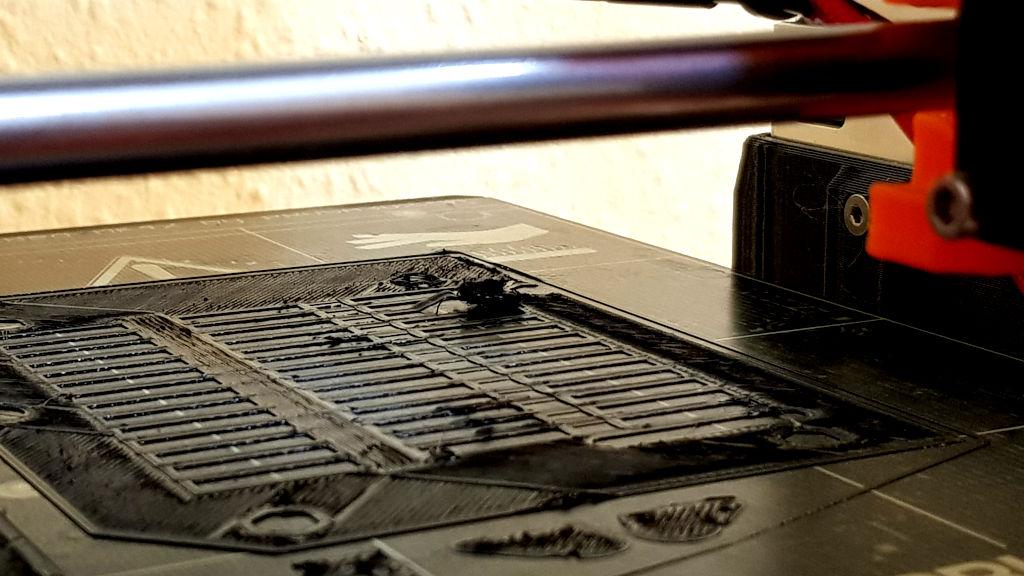 Again, the instructions and step by step guidance were clear. What's no-one mentioned was the scale of the screwing and unscrewing job. It is highly recommended to use an Allen key that has a proper handle.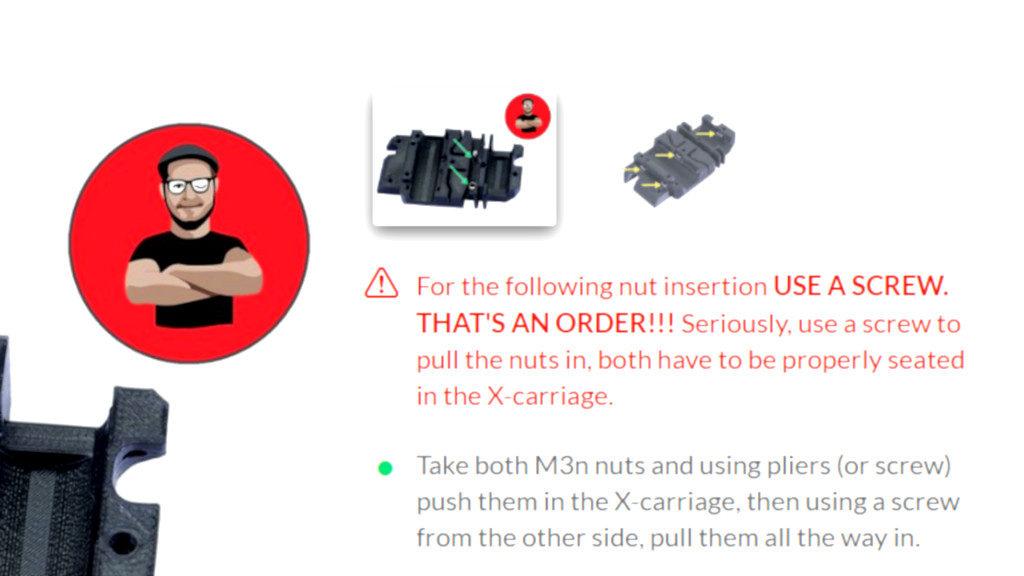 We would warn against using an automatic/electric screwdriver. Some of the items are very fragile, and overtightening is very likely to break them. In one place in particular, during the new extruder assembly, which needed a ball driver Hex or Allen key.
We would suggest to the Prusa Research team that they add a very thin screwdriver to this upgrade package as a freebie, especially for the stepper motor. Until then here is an option available on Amazon (affiliate link).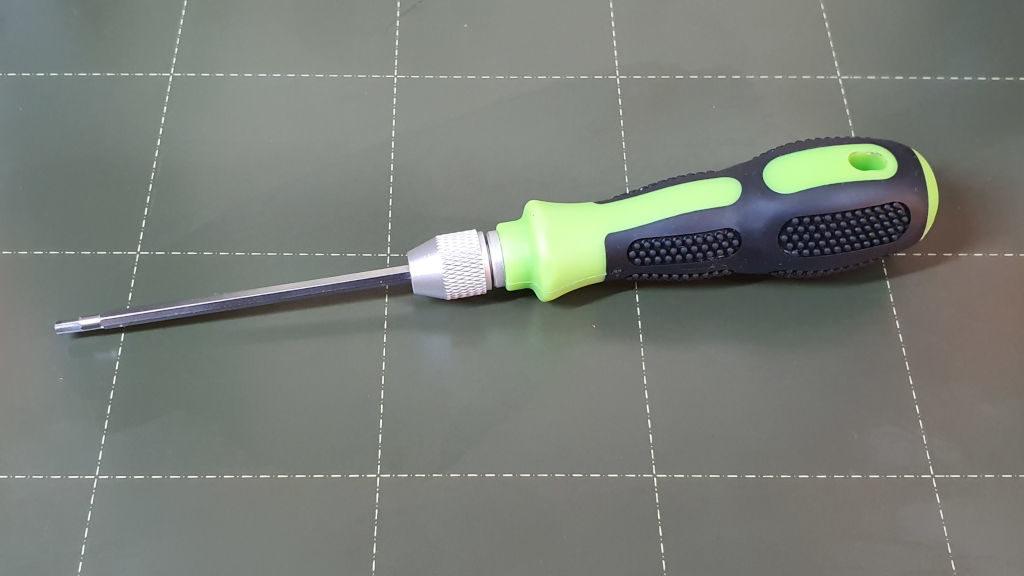 And the last issue we had was with the Thermistor. (Prusa3D Online Shop). We didn't snap it during the initial disassembly-assembly procedure, it got a bit of damage within the past 3 years. Presumably, it mostly happened during changing the nozzle.
And here Amazon came to the rescue and delivered the replacement item in 2 days.

Genuine E3D Block & Sock V6 Upgrade Kit Available on Amazon (affiliate link)
Prusa i3 MK2.5S Upgrade for $200 – Was it worth it?
Yes, it was. Since upgrading to MK2.5S we 3D printed a lot of various items: with supports, lithophanes, bulky models, etc. Turning our old Prusa into one with magnetic steel sheets was one step closer to plug and play. Can't see any big difference when using the new extruder. Maybe this is just because the old extruder performed well, too. But the magnetic steel sheet is truly an addictive feature.
In the end, for 3D designers and makers it is important that 3D printing doesn't eat much into precious time.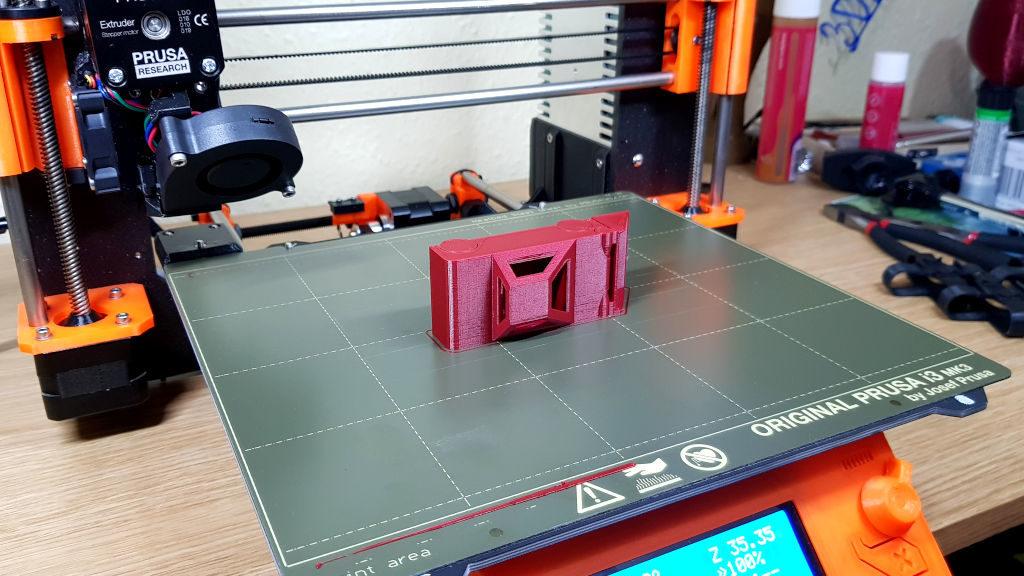 Noise Reduction DIY Tricks
If you didn't buy an official enclosure for Original Prusa i3 MK3S then these DIY tricks may help you with noise reduction. 3D printed Noise Dampers by Hofftari and stone slabs or just a few big heavy tiles.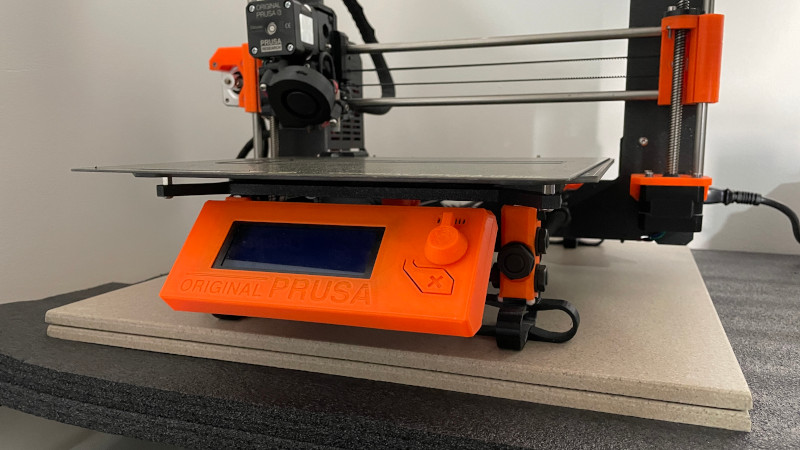 Links and Source:
We bought our preassembled 3D printer and then upgrade to it here:
Affiliate Links: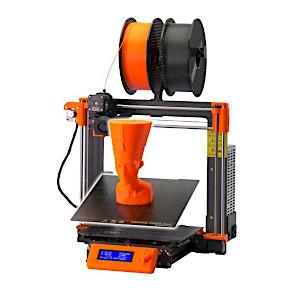 Original Prusa i3 MK3S+ (New version)
Official Website
Original Prusa Upgrades
Official Website
The Quinly for Prusa package includes a tilt frame that angles the printer with the bed facing downwards, allowing 3D printed parts to be knocked off and fed into a container without requiring an operator to manually remove them. Unlike a belt-driven system that allows the print bed to also act as a conveyor belt to move parts away from the print area, the tilt frame creates a natural angle for the part to remove itself from the print area.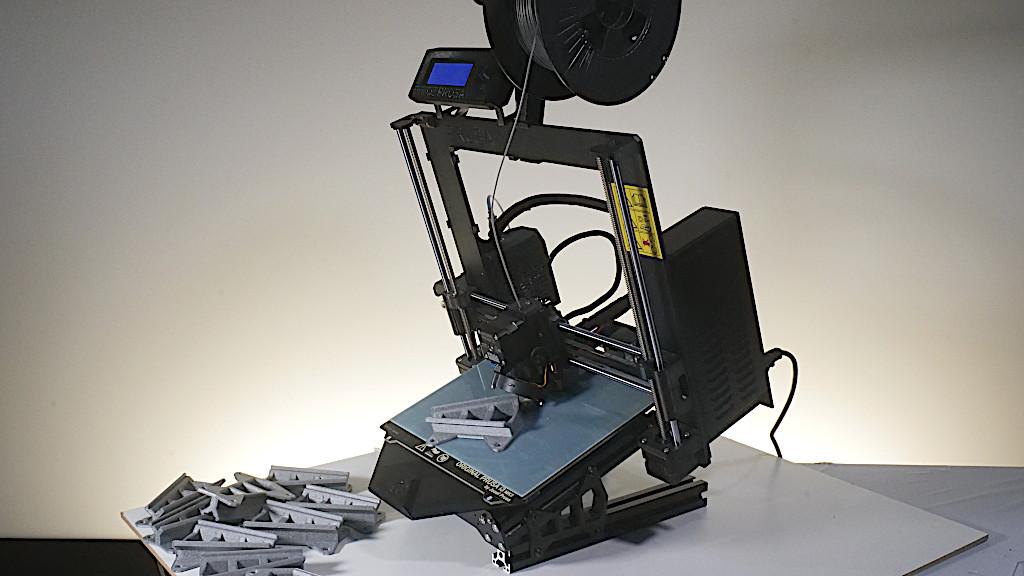 Choose a desktop 3D printer that is right for you. Build volume, FDM or SLA, well-known brand or a start-up – all to consider.