3D printing constantly reveals its new applications; one that we've discovered recently was recreating the controversial spirit of two famous sculptures. Charging Bull and Fearless Girl in the Wall Street, New York, raised a huge debate following a provocative appearance of the latter in a powerful juxtaposition. Juxtaposition is an act of placing two elements close together or side by side in order to compare/contrast the two.
Looking at 3D printed statues, we can feel the messages that each of them carry, together with the controversy that has been caused, without having to travel across the globe to view the originals.
Charging Bull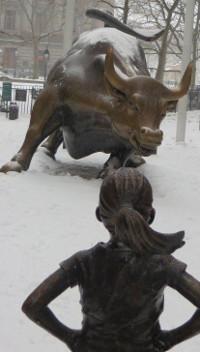 Charging Bull, which is sometimes referred to as the Wall Street Bull, is a bronze sculpture that stands in Bowling Green in the Financial District in Manhattan, New York City. Originally guerrilla art, installed unofficially by Arturo Di Modica, its popularity led to it being a permanent feature.
Source: Wikipedia
The oversize sculpture depicts a bull, the symbol of aggressive financial optimism and prosperity. The sculpture is both a popular tourist destination which draws thousands of people a day, as well as "one of the most iconic images of New York" and a "Wall Street icon" symbolizing Wall Street and the Financial District.
3D Printing Charging Bull
We found an STL file for the Charging Bull on Thingiverse. It was in low poly, and maybe we should've smoothed it out in Meshmixer before printing. However, the end result was still very impressive. We took our time setting it up in the slicer, manually adding/removing the supports, making sure all tricky places were well covered, but not too excessive. Our target was to print this 250 g model in 12 hours on Prusa i3 MK2 as we didn't want to leave it overnight. This kind of speed (5000.0 mm/min) was a challenge, a so-called torture test for our printer. The bull looked so gorgeous in Metallic Rot refill by @dasfilament_de that we were unsure that sanding and spray painting it would be an improvement.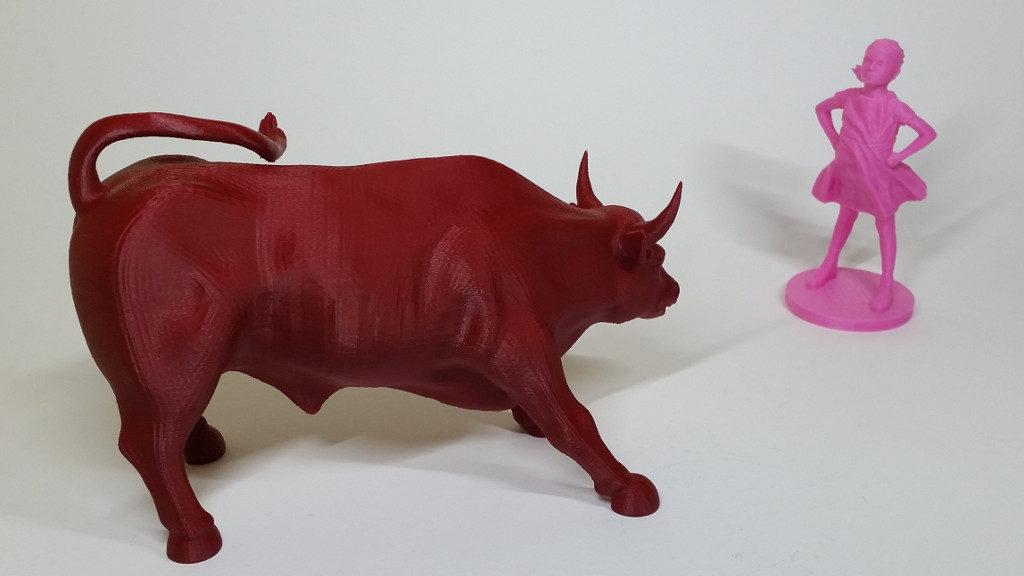 Fearless Girl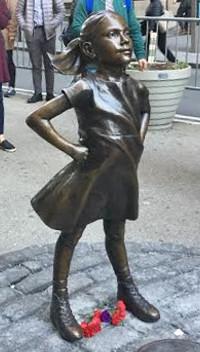 Fearless Girl is a bronze sculpture by Kristen Visbal, commissioned by State Street Global Advisors. The girl is facing the Charging Bull, a massive well-known symbol of Wall Street New York, creating a nice juxtaposition between the sculptures. State Street Global Advisors (SSgA) commissioned the piece to promote gender-diverse companies that have a relatively high percentage of women among their senior leadership.
The plaque below the statue states: "Know the power of women in leadership. SHE makes a difference," with "SHE" being both a descriptive pronoun and the fund's NASDAQ ticker symbol.
Fearless girl has been criticised by both the author of the Bull and certain feminist groups, stating that the girl destroys the idea of the original piece and uses "corporate feminism".
Source: Wikipedia
We came to an idea of recreating this controversial composition thanks to our friend who pointed us to a scanned model of Fearless Girl in the Scan The World collection on MyMiniFactory. We have tried photogrammetry in the past and we could appreciate what a good job has been done on cleaning and patching this model, even though the facial expression was not as prominent as on the original sculpture or in the pictures. The body language, its posture express the sculptor's idea very well even on the scanned model. 3D printing Fearless Girl was similar to other Scan The World files. Manually placing the supports was crucial.
In our YouTube video, we show the workflow of 3D printing and Spray painting.
Controversy
Sadly, we could not find a file for the Peeing Dog. It was another sculpture that was set up next to the Fearless Girl in a protest again its installation, but it lasted there for 3 hours only.
One cause for thought in the whole juxtaposition: could a little girl, calmly standing facing a dangerous animal, communicate a wrong signal to children?
A very rich and interesting part of 3D printing is the ability to print scanned objects. It opens an enormous potential for saving the historic heritage of the world. A significant collection of … Read More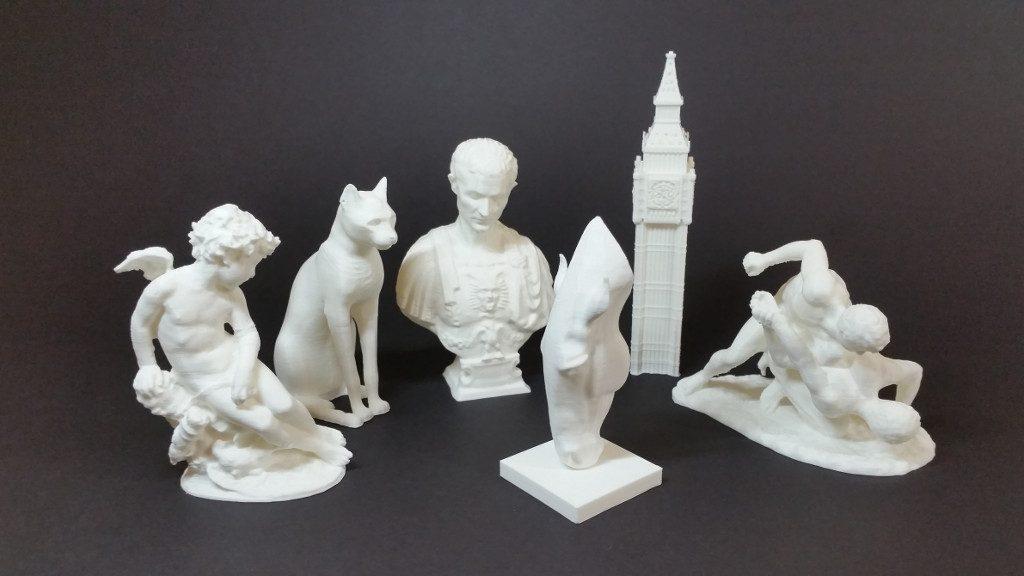 Source & Links
Wall Street Charging Bull:
Thingiverse thing: 859589
MyMiniFactory object: Fearless Girl
https://en.wikipedia.org/wiki/Fearless_Girl
https://en.wikipedia.org/wiki/Charging_Bull