A very rich and interesting part of 3D printing is the ability to print scanned objects. This opens the enormous potential for preserving the historical heritage of the world. A significant collection of such objects already exists, as MyMiniFactory supported the Scan the World initiative. They share the files, allowing everyone to print a piece of history for themselves. We've printed a few items in filament and resin from that collection and contributed by 3D scanning and publishing STL files of such objects. Here are our results, tips, and tricks.
This Guide Covers
What is Scan The World?
Scan the World enables MetaReverse with a conscience; an ecosystem for everyone to freely share digital, 3D scanned cultural artefacts for physical 3D printing.
Scan the World stands as the globe's most expansive repository of 3D printable objects with cultural value. Each item stems from 3D scanning data, contributed by a global community dedicated to deepening our collective appreciation of our shared cultural legacy.
History Preservation
What makes participating in Scan the World intriguing is that many objects have captivating stories behind them. These items are pulled from history and have much to convey about their origins. It's not merely a tale of how they were crafted but also a chronicle of their existence and perseverance. We recommend that Scan the World contributors include the narratives of their 3D scanned objects when they upload STL files. This not only benefits readers but might also give the published item a boost in the Google ranking system. Here is the story of the Gayer-Anderson Cat, popular in the 3D printing community:
This sculpture is known as the Gayer-Anderson Cat, named after Major Robert Grenville Gayer-Anderson who, together with Mary Stout Shaw, donated it to The British Museum, London. The statue is a representation of the cat-goddess Bastet. The cat wears jewelry and a protective wedjat amulet and is decorated with a winged scarab that appears on the chest and head. A copy of the statue is kept in the Gayer-Anderson Museum, located in Cairo.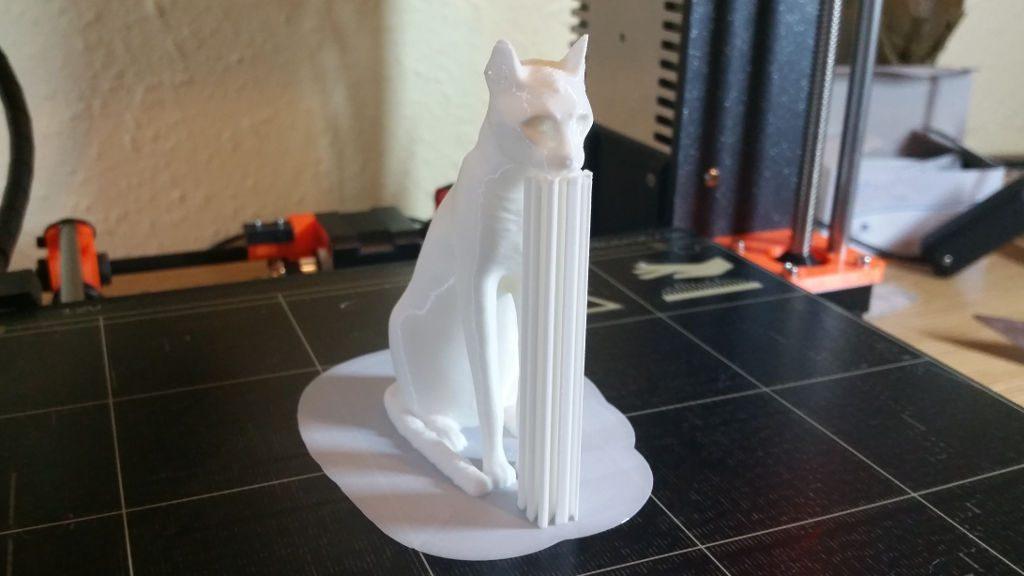 3D Printing Tips and Tricks
Even budget desktop 3D printers can print the majority of such objects. However, we must keep in mind that the historical objects Scan the World collects were not designed for 3D printing. Many require significant support structures.
In the case of "The Wrestlers," even the faces required supports. Unless the model is printed at an angle. We turned off the automatic support option to minimize post-processing cleanup. However, we missed a spot where support was crucial, and as a result, one arm didn't print correctly. There are many factors to consider when 3D printing Scan the World objects, which can be challenging for those new to 3D printing.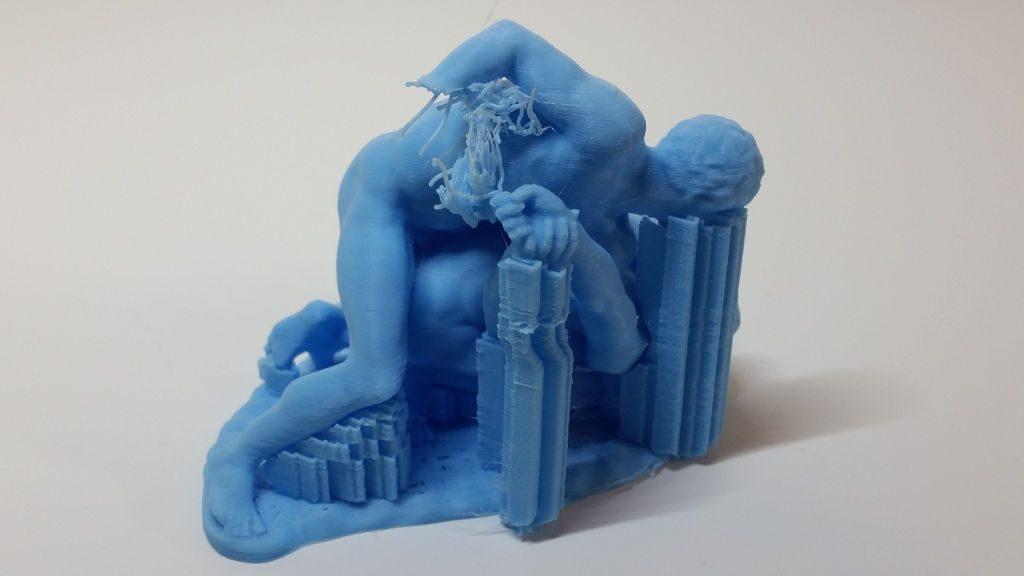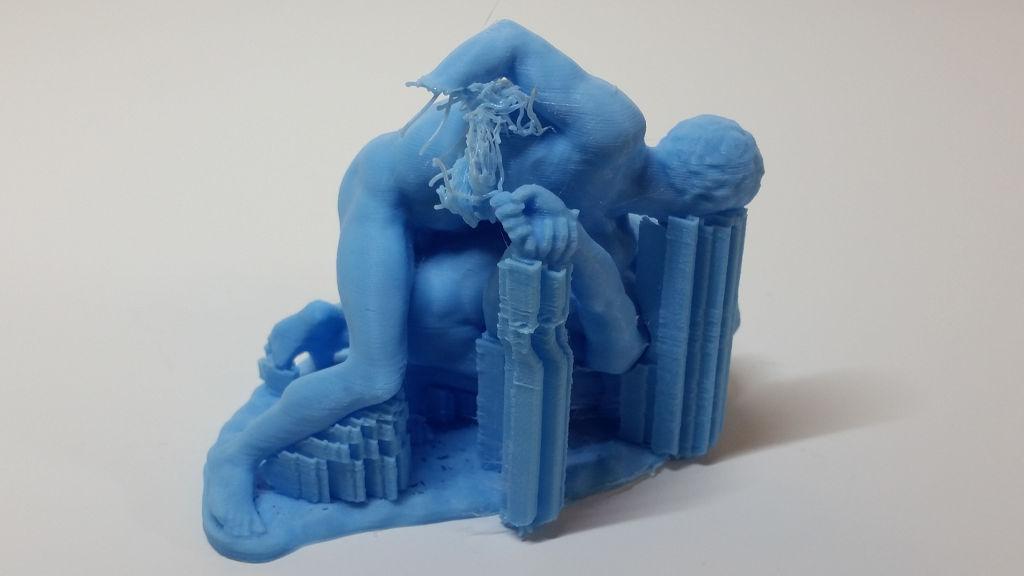 3D printing bust sculptures are very popular within the 3D printing community, ranging from fan art to historical heritage objects. However, even these 3D printing-friendly objects might require STL repair before printing, especially if they are based on early-day 3D scans.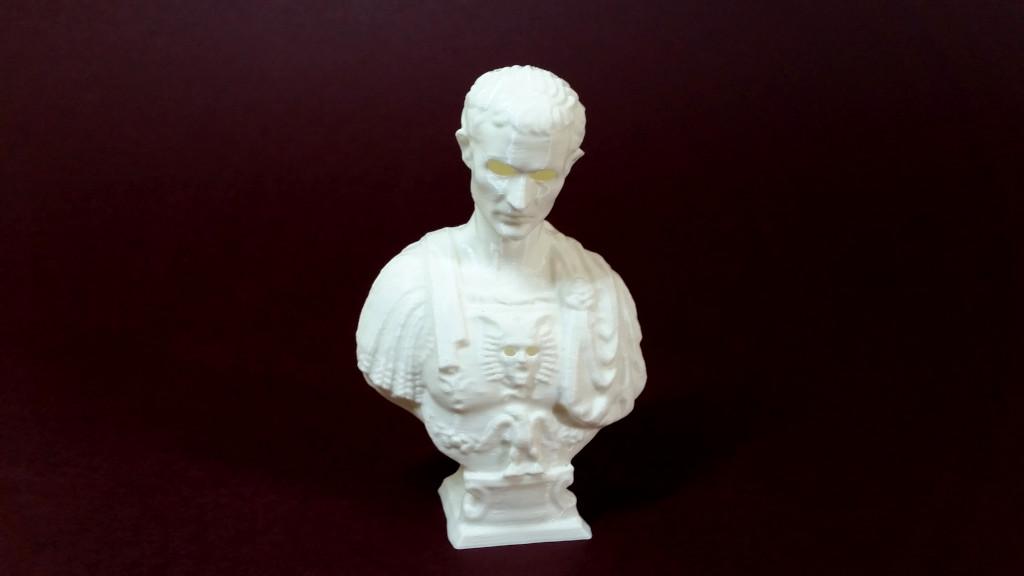 The first Julius Caesar STL file that we printed came out resembling a Halloween version, without eyes. After a quick search, we managed to fix the file using the 'Separate Connected Surfaces' option in Simplify3D. As slicer software becomes more sophisticated, such mishaps are now rare.
The best filament for such objects is white. For example, HATCHBOX White PLA from Amazon will work for such a task. Some objects will look awesome in marble filament. Check filament options in our Filament Guide for FDM 3D Printing.

– Resin 3D Printing. If the 3D scan preserves high details, we would recommend printing a miniature of the statues on resin 3D printers. No layers will be visible, and the quality of the print will be much better. There are plenty of resin types and shades available to cover all needs. The miniature statue below was printed on the Elegoo Saturn 3 12K (review) using Grey ABS-like resin. Here is the resin 3D printer buyers guide.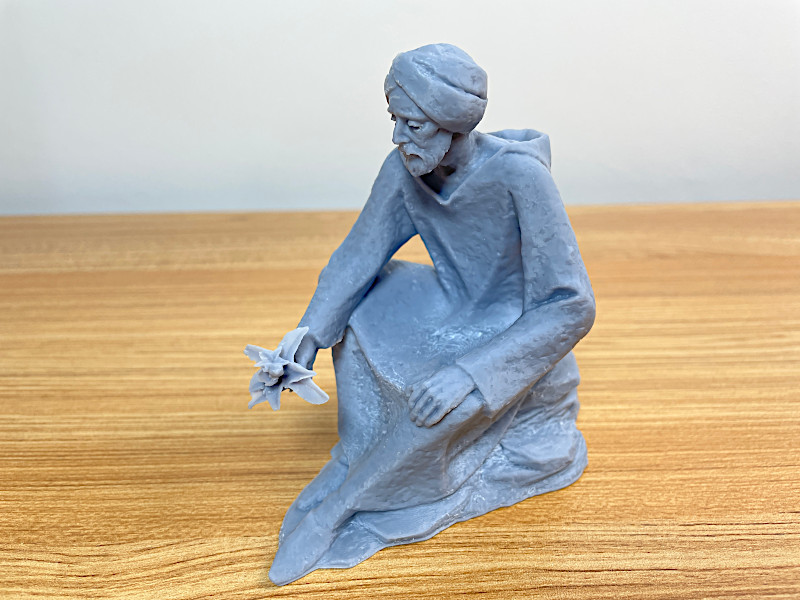 As 3D scanning technology progresses and becomes more accessible, it allows for the scanning of even such challenging objects as the Statue of Ibn al-Baytar (1197–1248 AD), an Andalusian (Spain) physician and botanist. Sculptor: Reed Armstrong.
The bronze flower in Ibn al-Baytar's hand is a small but important element of the entire monument. I managed to complete the scan of the monument by taking 240 images in Polycam's Auto-Photo mode. Here is the link to the model with the original texture on Polycam (review), where it is possible to rotate the model 360 degrees.
– What to watch. First of all, resin 3D printing is much messier than FDM 3D printing and may not be suitable for 3D printing at home. Safety comes first. Then, object and support placement might present an additional learning curve.
Historical and Modern Buildings and Landmarks
Scan The World's vast collection includes pieces of art and architectural landmarks. You can find Big Ben, Eiffel Tower, Roman Coliseum, and others. Old sculptures are supplemented by modern art.
Marwari Horse Head, a popular in 3D printing community sculpture, is located in Hyde Park corner at Marble Arch in London. It is one of the rare objects in the Scan The World collection that can be printed without supports. 3D Printed on Original Prusa.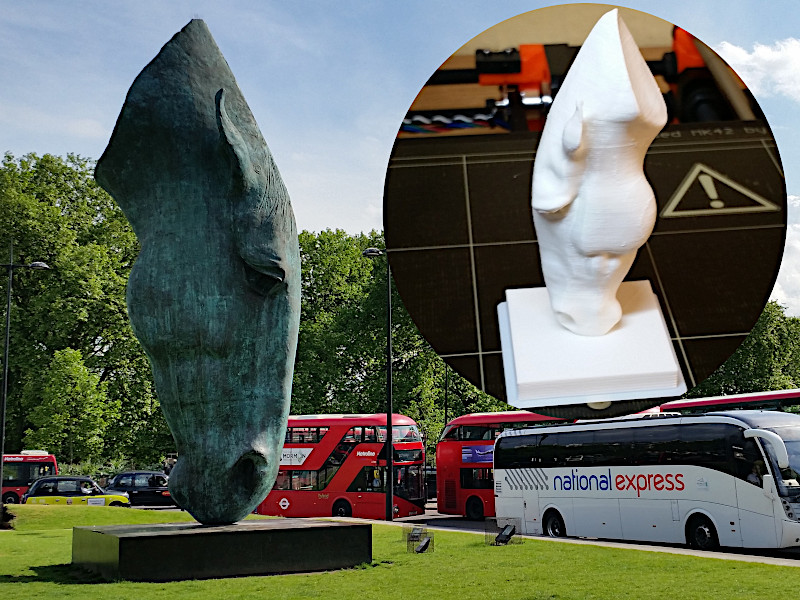 If you are interested specifically in miniature buildings and architecture for 3D printing, we can recommend another significant collection moderated by Dany Sánchez. Dany invited more than 50 digital artists and designers to contribute at least one model to the catalogue of 3D printable landmarks. All are done by hand and from scratch, ensuring printability and a standard of quality.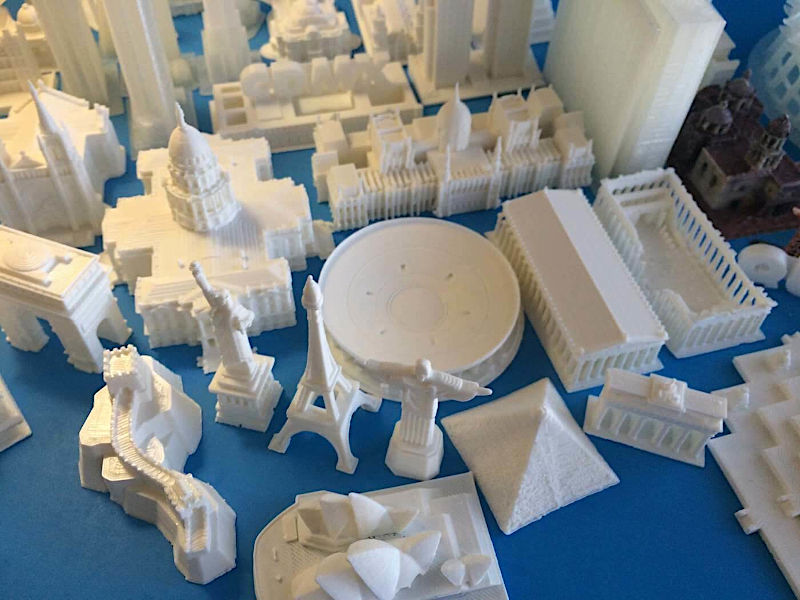 Some artists have provided models based on landmarks from their home countries and cities, while others recreated world-renowned monuments and even fictional ones from movies or video games.
Example 3D Scan & Contribution
A while ago, we made a YouTube video about the Scan The World initiative. We've 3D printed quite a few objects from MyMiniFactory's collection, and here we share our tips and tricks.
We also wanted to contribute. Thames Dolphin lamp standard's history goes back to the 19th century. We scanned one of the creatures by taking as many pictures as we could from all possible angles. As we couldn't cover all the angles, we've done some fixing in Autodesk ReCap and sculpting in Meshmixer. It printed very well and it didn't need many supports. After a huge amount of time spent patching and fixing, we have a lovely replica of the Dolphin Standard. On our DeltaWasp, we were able to print a nearly life-sized model. When we spray-painted it in gold, it looked like the original object.
Thames Dolphin Lamp Standard
3D Scan by Max Funkner on MyMiniFactory
©3DWithUs – Print & MP4: Max Funkner
Controversial Juxtaposition – Charging Bull and Fearless Girl
Expressive yet controversial sculpture in Wall Street, New York. A young girl is facing the bull to raise awareness about the lack of females in key corporate positions. 3D printed in white PLA, 0.2 layer height.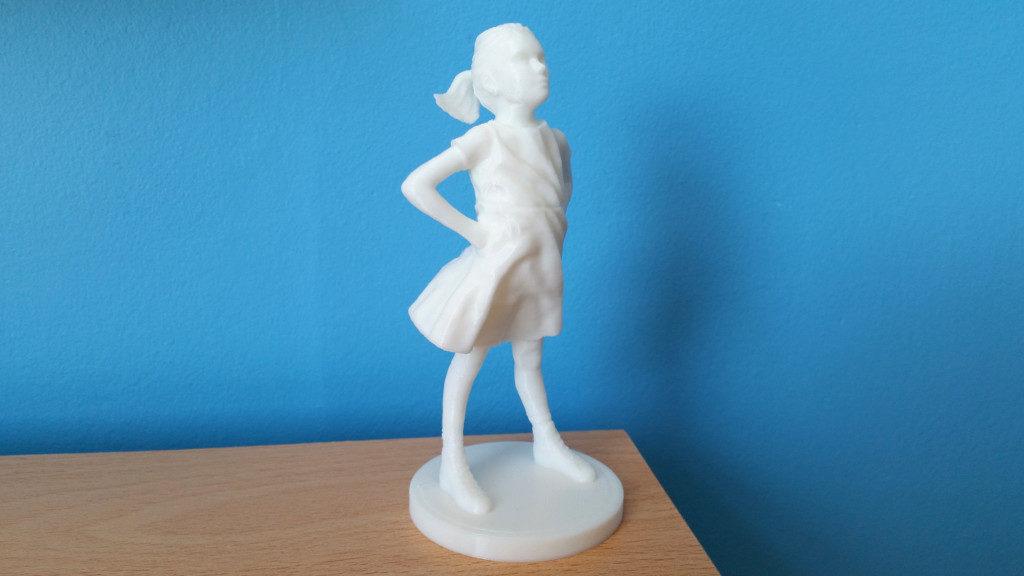 3D printing constantly reveals its new applications; one that we've discovered recently was recreating the controversial spirit of two famous sculptures. Charging Bull and Fearless Girl in Wall Street, New York, raised a huge debate following a provocative appearance of the latter in a powerful juxtaposition. Read more …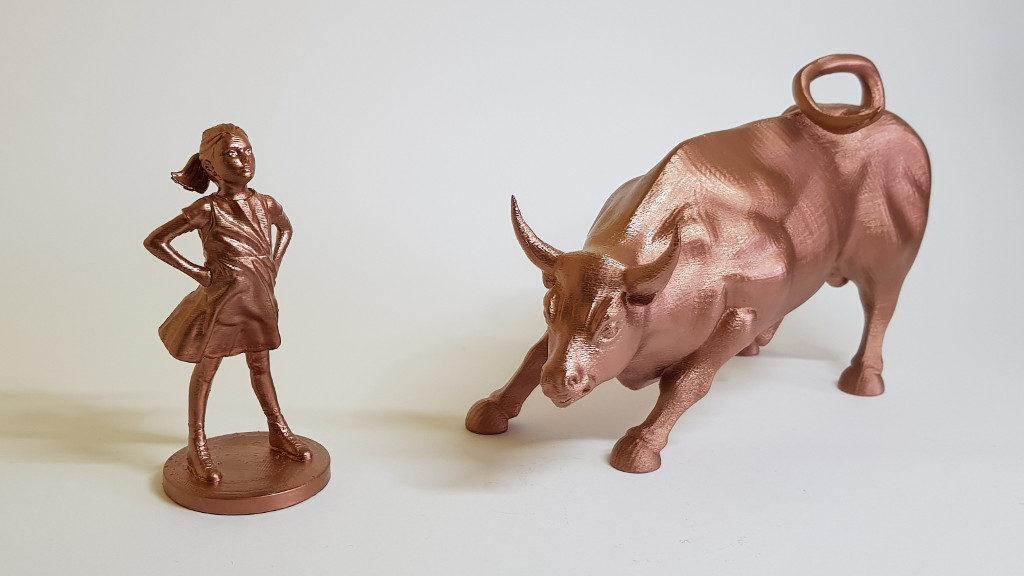 Read more: Photogrammetry with Mobile Phone Camera
One of the most convenient ways to 3D scan objects or scenery is by taking pictures from all angles using a mobile phone camera, a process known as photogrammetry or a photoscan. The images are then uploaded to photogrammetry software for processing. After some clean-up, ideally a quick one, the end result is a 3D printable object. It's also possible to achieve a highly textured and rich-colored object with a stunning 3D appearance. The results might be comparable to what professionals achieve in animations for games and 3D movies.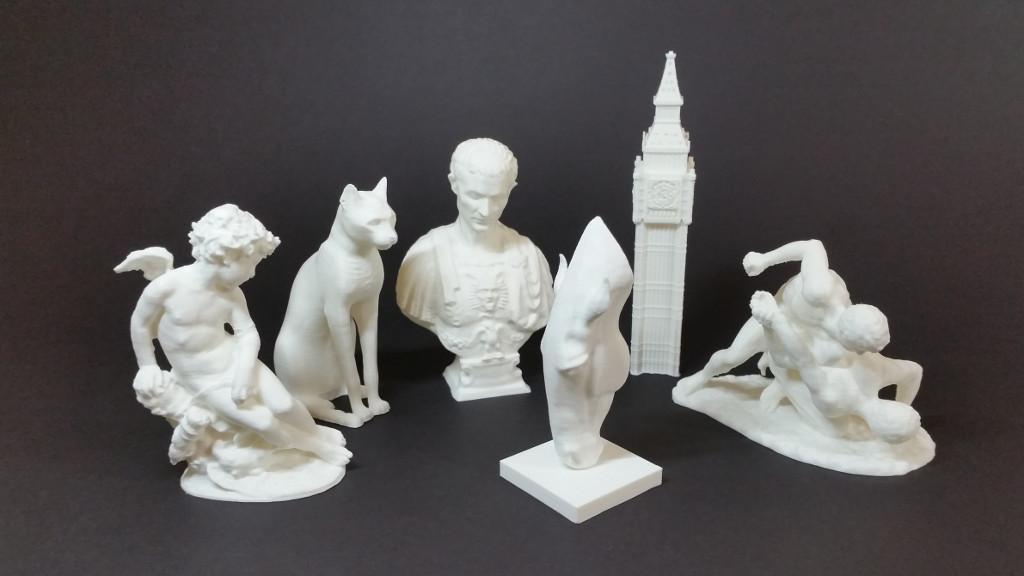 Read more: Use LiDAR Apps to 3D Scan Murals and Historical Sites
It's possible to use just a single image to replicate art. When 3D scanned, such replicated art becomes much more powerful. It displays the surroundings in detail, which helps interpret the subtle messages from the artists. For instance, Banksy's murals are particularly impactful due to the locations where they are created, conveying various socially-engaged messages. Read more about LiDAR and what to 3D capture with such technology.