Fillamentum produces a full lineup of materials whatever your 3D printing needs may be, with offerings of PLA, ABS, ASA, Timberfill, Flexfill, Nylon, PLA Crystal Clear, PLA Extrafill, HIPS and Co-Polyester. Fillamentum is a fairly new and fast rising company from Hulin in the Czech Republic. The company is headed by Mr Josef Dolecek and, with his leadership, it looks like another team from the Czech Republic will be the talk of the 3D printing community for years to come.
My main focus in this article will be based on the PLA blends they have on offer. While I'm sure I will be revisiting the other materials at a later stage, their PLA is the one I have the most experience with.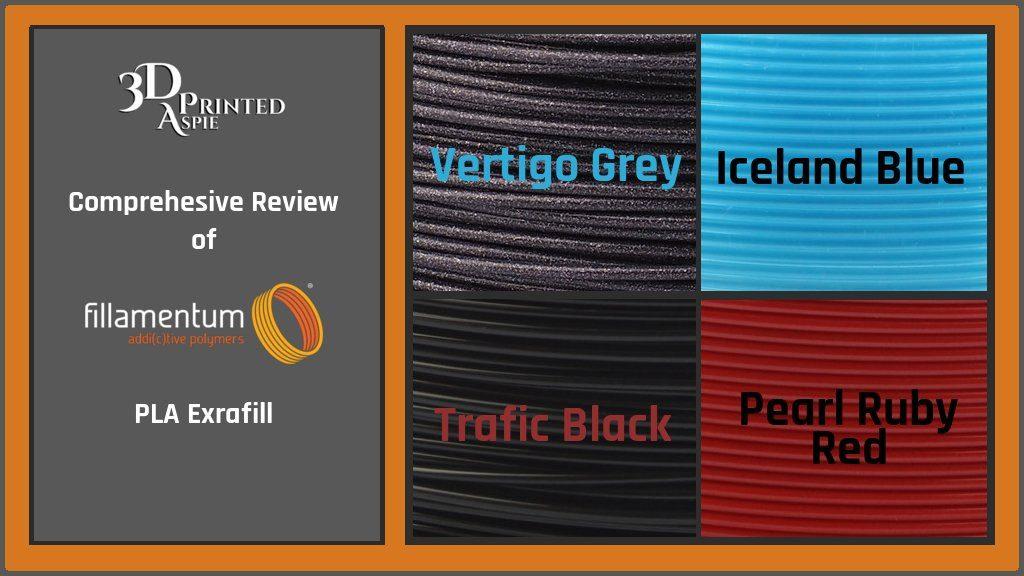 Fillamentum PLA Extrafill
PLA Extrafill is Fillamentum's trademark blend of PLA and owing to its name, not all is what it seems with most of their 36 colour range.
PLA Crystal Clear – as its name suggests is a clear or transparent/translucent filament. At the moment Fillamentum offers 2 colours: Crystal and Iceland Blue.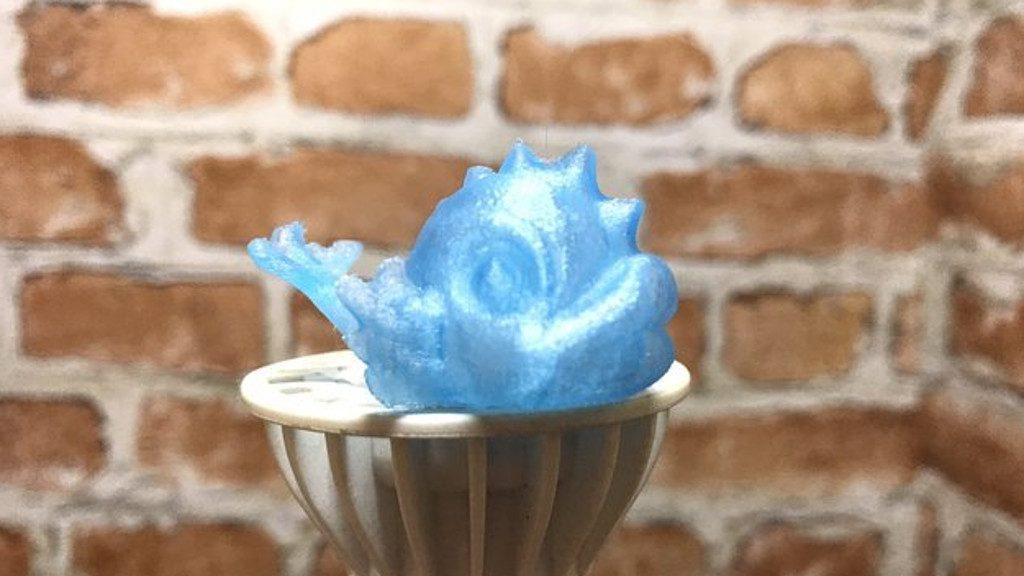 Moving away from the colours for a moment, Fillamentum states on its Technical Sheets that all its PLA Extrafill products are rated food contact safe, except Traffic Black. Fillamentum delivers its filaments in a branded cardboard box and seals them away in a resealable foil ziplock bag. This serves multiple purposes: to keep the filament free from contamination from outside sources, to protect against moisture and also to protect it from UV damage.
Let's first take a look at what's on offer in term of solid colours. Fillamentum has a wide range from Traffic White to Traffic Black and covering the full spectrum in between. It doesn't stop there, however, and also offers a whole host of other amazing colours in Pearlescent and Glitter Filled wonders to print your parts, toys or prototypes with.
Fillamentum Traffic Black
Traffic Black (RAL 9017/Pantone P426) will be our first to look at and as they say in the fashion world everything goes well with black.
Out of the box Traffic Black is of the same high standard I've come to expect from Fillamentum. Spooled tightly around a transparent spool giving you a clear view of the filament from any angle, letting you see how much you have left on a roll without so much guesswork.
The filament itself is high quality, packed with colour or, in this case, lack of colour being a black filament. No obvious signs of colour inconsistency and being black these would stand out like a proverbial sore thumb.
On the first inspection, there was no contamination of the spool either and no signs of anything within the filament itself. Cheaper brands have been found to contain all manner of artefacts, such as strange fibres, bearings, other colour contamination.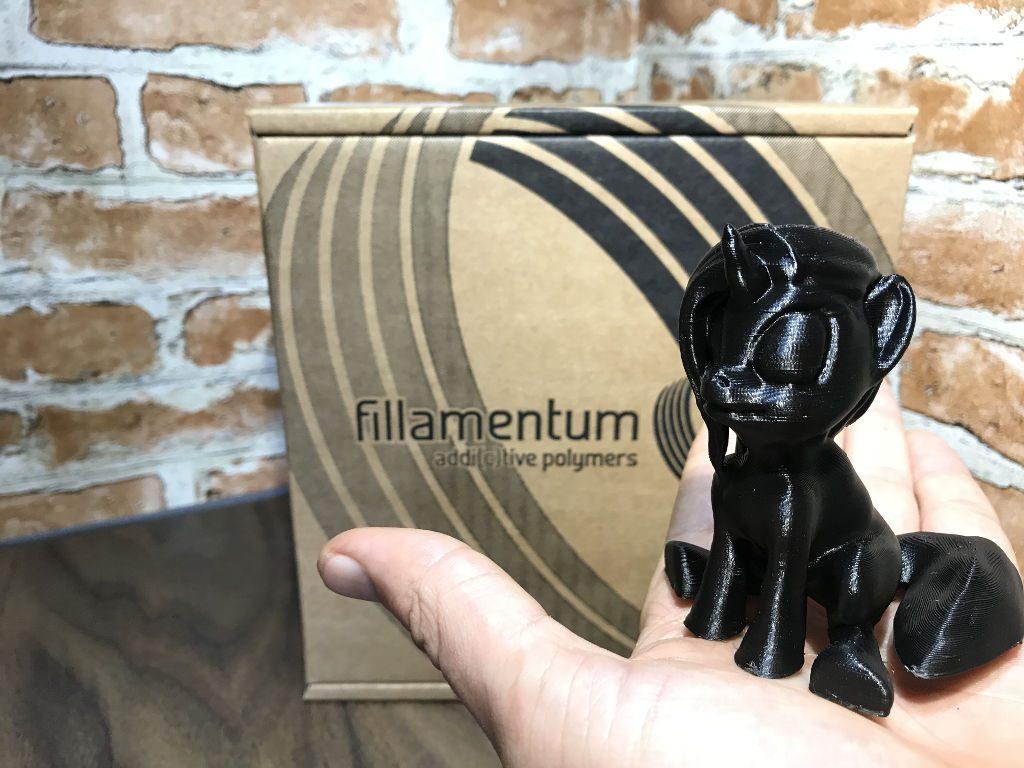 Fillamentum boasts tolerances of +\- 0.05mm and after cutting off 2m off a fresh roll and running it through my callipers I saw no deviation higher than a 0.05mm. As I expected Traffic Black performs like the other filaments I have used from Fillamentum. It extrudes smoothly with little to no clogging once you have your settings in the correct range and you aren't running crazy retraction settings.
Next up let's look at some of the more exciting variations on offer in the PLA Extrafill range. Although the naming conventions are different, the concept is much the same across many of the filament manufactures and Fillamentum follows suit. Two main offerings being a GlitterFill and a Pearlescent variant.
Fillamentum Vertigo Grey
The first of these we will look at, and the most widely known and sought after filament in the 3D printing community at the moment, is the beautiful Vertigo Grey. Now I know you might be thinking "oh grey, that's not very exciting, grey is such a boring colour". You would be right in thinking that this was just an ordinary grey. Vertigo Grey is a Glitter Fill filament, it has a base colour of a deep slate grey and an added pop of silver glitter. Not only does it print very well, it also looks stunning with every print.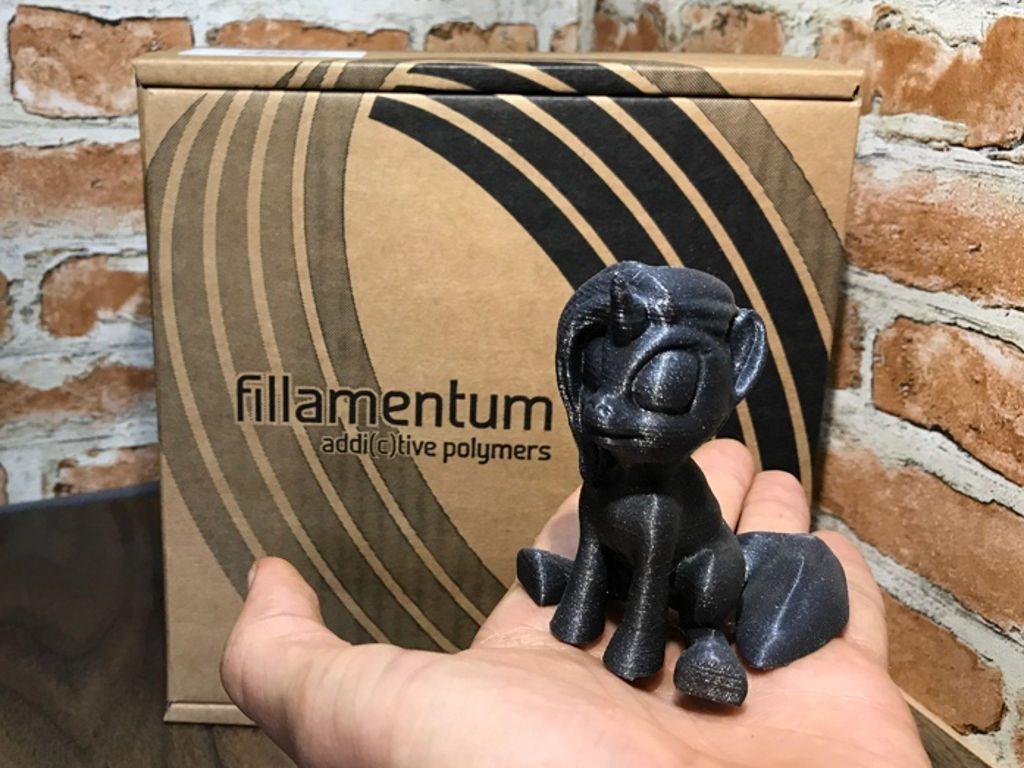 It seems to many that Fillamentum has hit the perfect ratio of coloured PLA pellets and glitter to achieve only what can be described as one of the most appealing filaments to hit the market in the past year. Personally, I have printed both mechanical and artistic prints and either look incredible. Mechanical parts look sleek and sexy and artistic prints come out looking clean but still grab your attention.
I think it is partly because of the colour combinations chosen, but Vertigo Grey seems to have an almost magical quality about it that distracts the eye just enough to blur layer lines while not being so drastic that you lose sight of the shape as a whole. It's dark enough for the shadows to sit in the background but light enough for the more pronounced features to pop. If you get a chance to try it out, it is at the top of my recommended list for sure, both for its ease of use and its colour.
Fillamentum Noble Blue
Next up we can delve into another favourite. For some reason, Royal Blue has become one of the most widely used colours in the 3D printing community. Possibly it is due to it being adopted by one of its most popular and well-loved YouTubers. The ever charismatic Joel Telling from the YouTube Channel 3D Printing Nerd.
Fillamentum has taken its knowledge of what works to put its own spin on Royal Blue with Noble Blue.
This filament falls into the Pearlescent category packed with both bags of true blue colour and a healthy amount of pearl powder give Noble Blue a unique look. It shimmers in the lowest of lights and glistens in sunlight or under a spotlight.
Again Fillamentum's unique blend of PLA in true fashion prints flawlessly, even at lower temperatures and layer heights. It's fair to say that Noble Blue from Fillamentum is the best Royal Blue I have had the pleasure of printing with as of yet.
Fillamentum 3D Printer Filament Print Quality
Laying down smooth layers with great adhesion either testing on the Trinus 3D printer with its unusual textured bed, on glass coated bed with WolfBite Nano 3D printer and straight onto the Kapton of the CraftBot. The colour is packed in and although gloss, opacity is another high scoring feature for Fillamentum as it is almost 100% opaque.
PLA Extrafill 3D Printing Temperature
🌡 Fillamentum PLA Extrafill prints at anywhere between 190C-210C (374F-410F) depending on your setup and Traffic Black is no different.
🌡 RenRen3D Delta likes to print it at 210C (410F) as it has a rather long Bowden tube and generally prints things on the hot side.
🌡 Kodama Trinus will print anywhere between 195-210C (383F-410F) with its Direct Drive but I find I get better quality prints at 200C (392F).
🌡 CraftUnique CraftBot2 will print anywhere in the recommended temperature happily all day long and never make a fuss. Stringing issues creep in at above 205C (401F) so I prefer keeping it at around 195C (383F).
The filament itself is neither too hard or too soft to be fed through a Bowden setup without skipping or chewing through the filament like I've experienced with cheaper no-name brands and also some higher priced brands, too. Altogether this makes Fillamentum an easy and affordable filament to use as an everyday printing option.
Prices in the U.K. from Spannerhands come in at a very reasonable £26 for a single spool including Next Day shipping within the U.K. They come in 1kg spools but only 750g of filament and they don't try to hide it, clearly displaying both the filament weight and the spool weight in the product description.

Source Links:
Fillamentum Official Website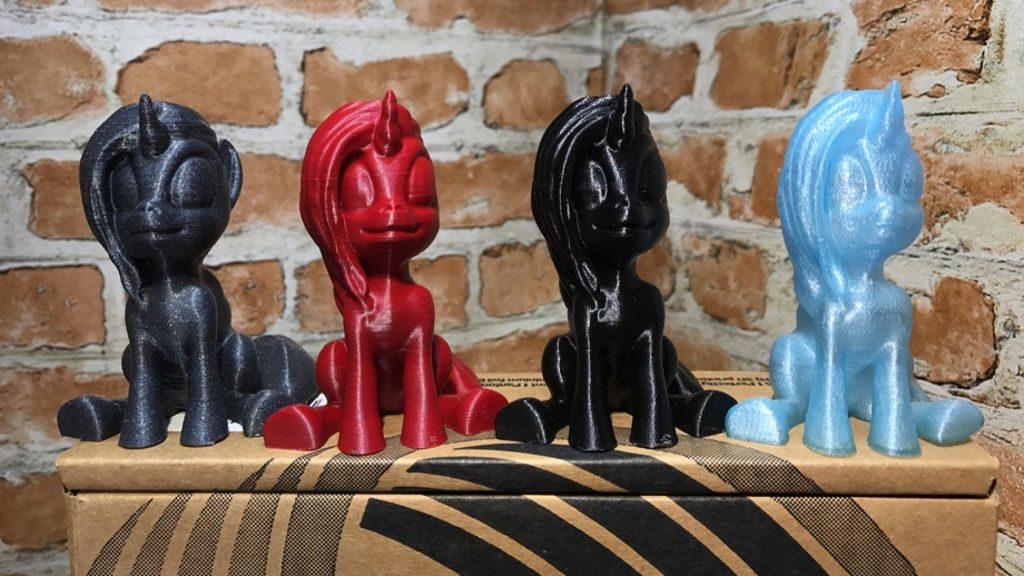 It is important to use the right 3D printer filament material for the right job. Here you can find the list of materials available together with detailed reviews and picture galleries for the most used materials in desktop 3D printing. PLA, ABS, Wood, PETG, FLEX, …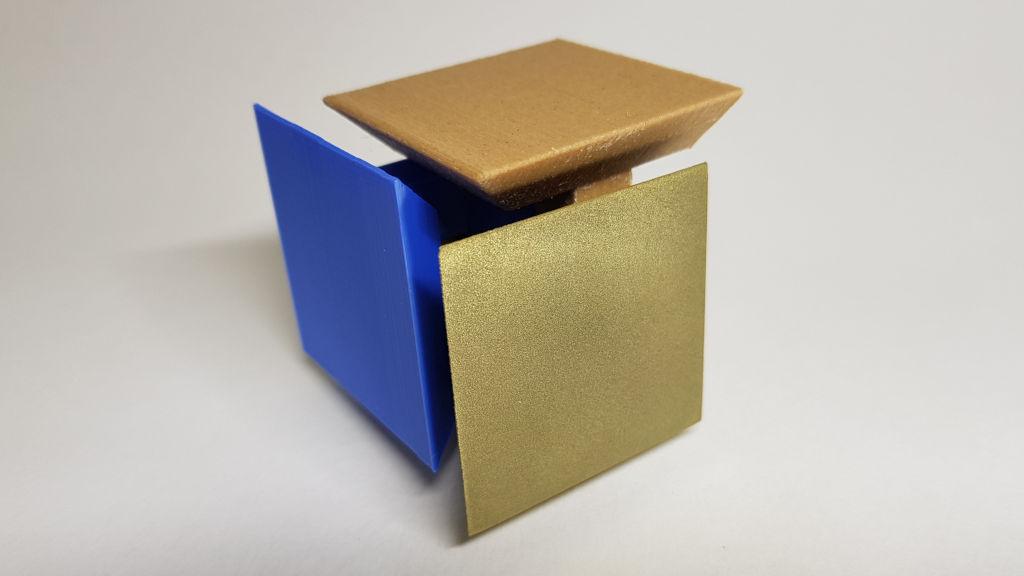 Read more: Fillamentum Timberfill Review
While working on my never-ending scanned tree trunk project, I approached Fillamentum and asked if they could send me their Timberfill filament. It was nice of them to send me a box of 4 spools in different colors. On this website, we have already featured wood composite filament in a few guides. Read more …