Do you have an office chair that keeps sinking under you? Chances are, you've got a failing gas lift cylinder on your hands. If you are the owner of a 3D printer, you can permanently fix your chair to the desired height with a simple 3D print job. In the past 10 years, we've bought 4 office chairs and 2 of them started sinking within a year. Turns out, this is a common problem with any chair that has a gas lift cylinder.
Even chairs from well-known brands like IKEA may fail, which is why you see gas lift cylinder replacements for sale everywhere.
Gas Lift Cylinder
After watching a few YouTube videos, I discovered that replacing the gas lift cylinder is not the easiest task and requires a special tool. Although most sellers will include this particular tool into the replacement set, it is still a rather tedious and time-consuming job. And it may not be worth paying $30 for the kit if you are planning to buy a new chair in the near future.

Gas Lift Cylinder Replacement Kit on Amazon (affiliate link)
Just moments before clicking "purchase" on my new cylinder, I came across an incredibly easy fix that seemed far more practical. I saw a few sellers on eBay selling a little plastic piece that resembles a pipe. It's a 3D printed component that is supposed to stop the chair from sinking. As I needed to fix my sinking chair urgently, I decided to give it a try.


Actually, I managed to fix the first chair with a piece of sink pipe I had lying around. I just cut it lengthwise so I could place it around the gas cylinder.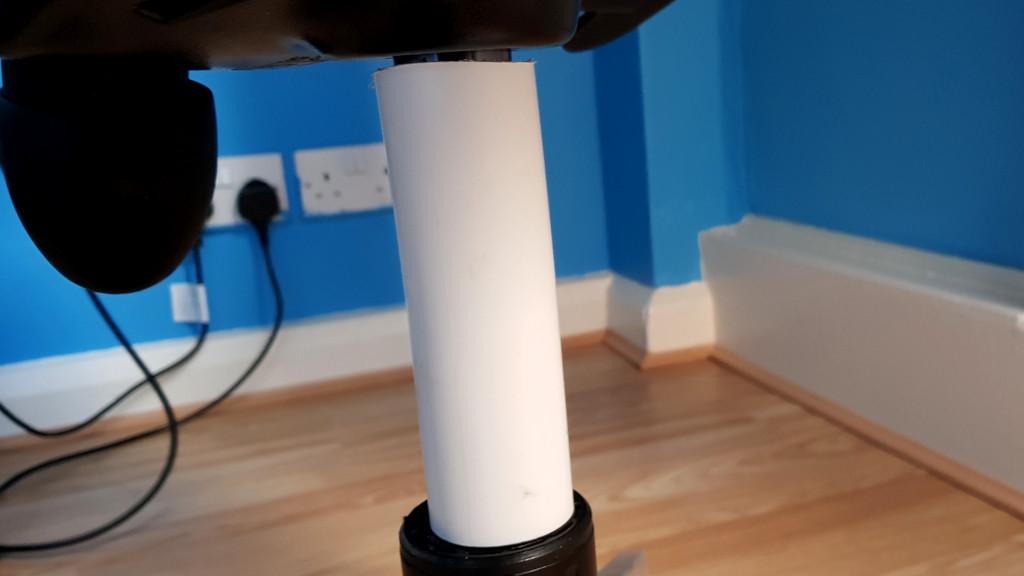 As I didn't have a second plumbing pipe, I designed a simple model using TinkerCAD after taking all the necessary measurements with a caliper. The first attempt in blue PLA lasted just 2 weeks. The 2nd in ABS lasted 2 months. The 3rd was also ABS, but the slightly shorter, reinforced design kept falling off the chair. I suspected that something was missing from my system. And sure enough, I needed to incorporate cable zip ties.
Sinking Chair Fix
With these simple 3D prints and cable zip ties (2 for each chair), both of my office chairs are currently operational. I haven't tested it out, but I believe that this inexpensive system would also work if 3D printed in PLA, using more cable zip ties.
Source & Links
The STL file that worked for me is as follows: 3D Printer settings: 3-4 perimeter layers, 0.2 layers high.
Gumroad: https://gum.co/qnnmr
I would recommend taking measurements of your own sinking chair, as they may differ from mine; but you can easily change them in the slicer software. And don't leave out the cable zip ties – they're a must-have.
In case you are still not convinced and want to entirely replace the gas lift cylinder, I recommend that you buy a kit that includes the specific tool you will need to un-jam the old cylinder before proceeding with the replacement.
Gas Lift Cylinder Replacement Kit on Amazon (affiliate link)
If you don't have a 3D printer but want to try this inexpensive system anyway, just order the little pipe piece on eBay.
HATCHBOX Brown ABS Filament on Amazon (affiliate link)
Read More: Practical 3D Prints
Practical 3D prints don't get the same publicity as printing for fun. In our opinion, both types of 3D modeling are needed and it all goes in the right direction. 3D printing for fun helps to attract the young generation and enthusiasts.