Hey there! Are you interested in the GKtwo? It's actually the second printer from UniFormation and they've taken great care in making sure it's just as precise and reliable as the ones they provide to their professional clients – but this time, for desktop users like you and me! They've made some major upgrades, including a 10.3-inch screen, a large build volume, automatic heating, a built-in air filter, a flip-up cover, a 5-inch touch screen, and a quick-release vat system. Sounds pretty impressive, doesn't it? Let's review the machine, check the slicer software, print a few awesome models, and outline the Pros and Cons.
UniFormation GKtwo
Price: $899.99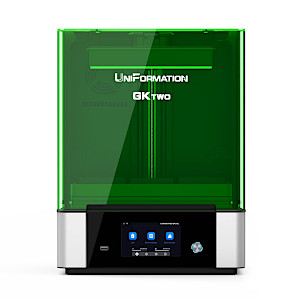 Table Of Contents
UniFormation GK TWO Specifications
Printing specifications:
● LCD panel: 8K monochrome (7680*4320 pixels)
● XY resolution: 29.7 µm
● Build size: 228.1 x 128.3 x 245 mm
● Temperature: 25°C/30 °C/35°C
● Z-axis accuracy: 10 µm
● Third-party materials: Yes
● Light source: 405nm LED
● Printing speed: 2-3s exp. time @ 50 µm
● Printing Tolerance: ±0.1mm (L≤100mm) ±0.1% xL (L>100mm)
● Vat size: 0.7L
Machine specifications:
● Interface: 5-inch colour touchscreen
● System power: 120W
● Heater power: 200W
● Voltage: 110/220V
● Connectivity: USB
● Machine size: 350 x 315 x 455 mm
● Shipping size: 445*420*550mm
● Shipping weight: 20KG
Software specifications:
● Slicer: UniFormation Slicer, ChituBox, Lychee
● File types: STL, OBJ, 3MF etc.
● Operating system: Windows / macOS X / Linux
Unboxing & Hardware Features
The GK TWO is a top-notch 3D printer that blends professionalism with personalized practicality. Its robust, metal construction delivers lasting performance, while its eye-catching, UV-resistant green front cover adds a touch of personalised style. The clip-in vat holds a whopping 700ml of resin, while the built-in heater ensures consistent temperatures, making it an ultimate choice for high-pressure printing jobs.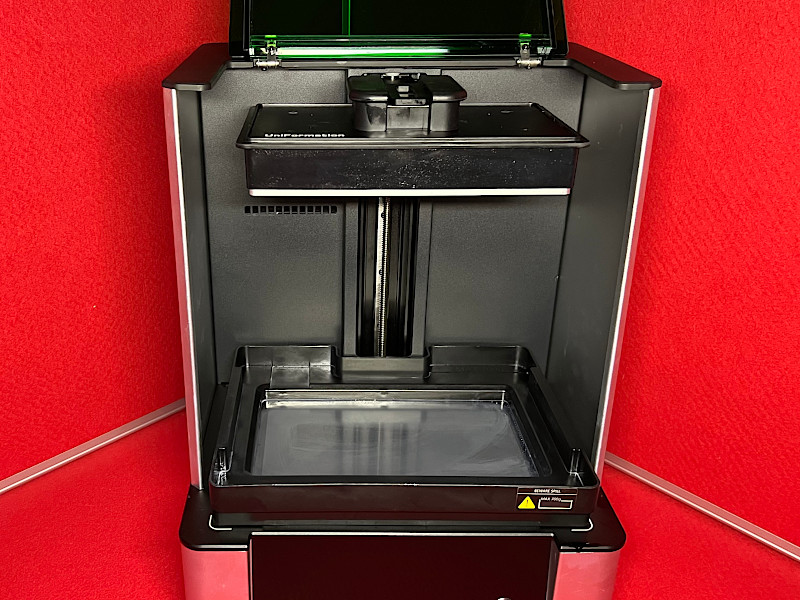 The rear-mounted carbon air filter is a thoughtful addition that ensures pure air, making the printing experience even more enjoyable. Its exceptional print resolution of 29.6-micron XY resolution delivers prints of outstanding clarity and precision with the use of NFEP, an additional feature that boosts quality and durability. To help users hit the ground running, they included a complete toolkit comprising of hex keys, metal scrappers, silicone scrappers, a funnel, A USB stick, paper filters, gloves, and more.
GK TWO Build Plate Levelling
Upon unpacking the box, I was pleasantly surprised to find that the build plate on the printer is already expertly levelled. The innovative build plate system is uniquely designed with eight screws for precise adjustments, but without any screws needed to fasten onto the z-rod mount, simply slide into place and it locks into position with a catch making it incredibly easy to use.
To level the plate, I simply need to loosen the eight screws on the top of the plate, adjust it to the desired level, and lock it back into place. I must say, this is a much more convenient system than what I have used in the past, and I appreciate the time and effort saved by having a pre-levelled build plate.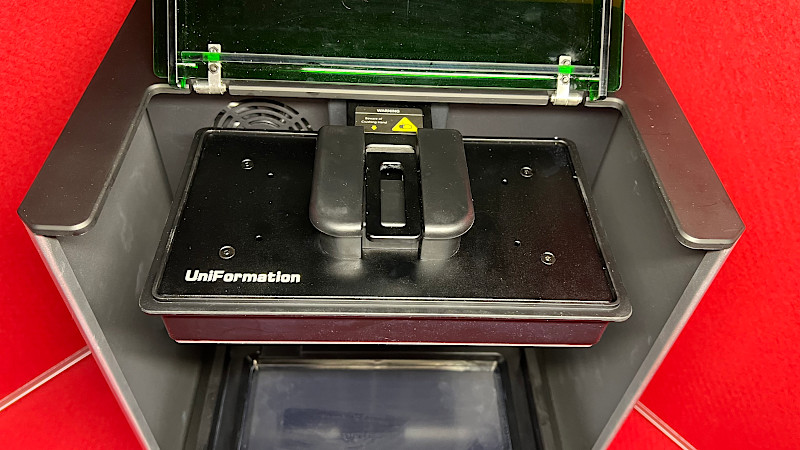 Another feature of the build plate that impressed me is the anti-drip lip design. When I turned it over to rest, I expected some resin to spill, but the lip was able to contain any drips, ensuring a neat and tidy workspace. This really speaks to the attention to detail and user experience that the creators of this printer have put into their design.
Overall, I must say that the build plate on this printer is a game-changer. Its simple and practical design, coupled with the pre-levelling and anti-drip features, make it a personal and professional choice for anyone looking for a hassle-free printing experience.
A Quick-release Vat System
One of the standout features of the GK TWO printer is its unique resin vat docking system. As someone who has worked with different printers in the past, I can confidently say that using the GK TWO was much more efficient and streamlined. Instead of fumbling with bolts on either side of the vat, simply slid it into place and it locked securely into position.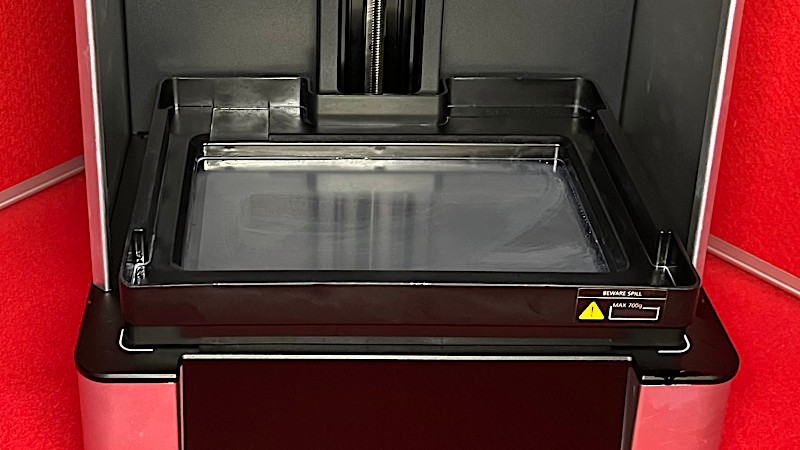 Another impressive aspect of the GK TWO's resin vat is the use of high-quality NFEP film, which is available on Amazon in various sizes. This material not only produces better quality prints, but it also has a longer lifespan compared to other film types. As someone who values quality and durability in my work, this is definitely a feature that I appreciate.
When it comes to changing the NFEP film, it's a straightforward process that is similar to what I've experienced with other SLA 3D printers. I just needed to undo the screws underneath and replace the old film with a new one. It is simple, quick, and effective.
Overall, I have to say that the resin vat system on the GK TWO is one of the most user-friendly and efficient that I've worked with. The use of high-quality NFEP film is also a major plus that ensures the longevity and quality of my prints. As a professional, I value equipment that is both effective and easy to use, and the GK TWO delivers on both counts.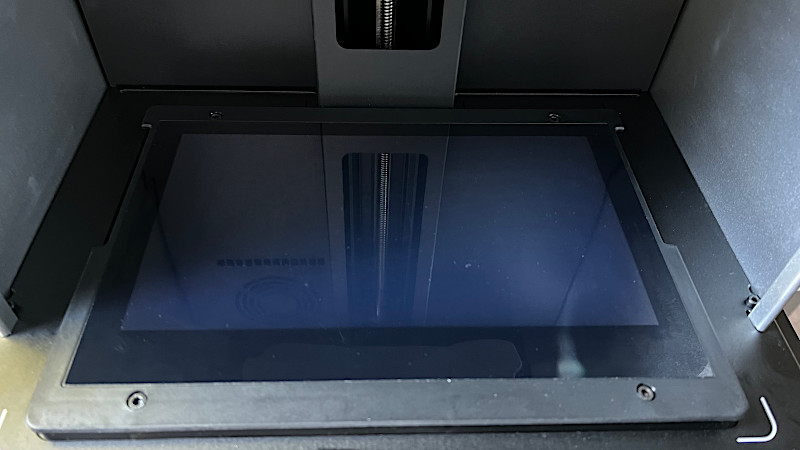 UniFormation GKtwo 10.3-inch 8K Resolution Screen
The UniFormation GK TWO 8K 10.3 LCD screen! As a proud owner of this device, I can attest to the high-quality performance it delivers. The increase in size and resolution from the previous GK ONE model is a noticeable improvement, and the matrix parallel light source provides an impressive HD display with a resolution of 7680 X 4320 and a XY resolution of 29.6 microns. The addition of an upgraded anti-scratch film on the LCD screen further protects against any potential FEP and resin-related mishaps. Overall, I highly recommend this screen spec for anyone in need of a dependable and high-performing SLA printer.
Front Touch Control Screen
I am thrilled to say that the 5-inch LCD touch control screen on the GK TWO printer is an absolute joy to use. As someone who has worked with various printers in the past, I can say that this front control panel is one of the best I have seen. The screen is incredibly user-friendly, featuring a wide variety of controls that provide easy access to all the printer's features. I particularly appreciate the clear and responsive design, which makes navigating between different settings and options effortless. The touch screen is packed with an extensive range of controls, allowing you to adjust everything from heating and exposures to vat cleaning and printing. Whatever you need to do, this screen makes it simple and straightforward. I appreciate how well thought out the options are, which makes printing with the GK TWO a breeze.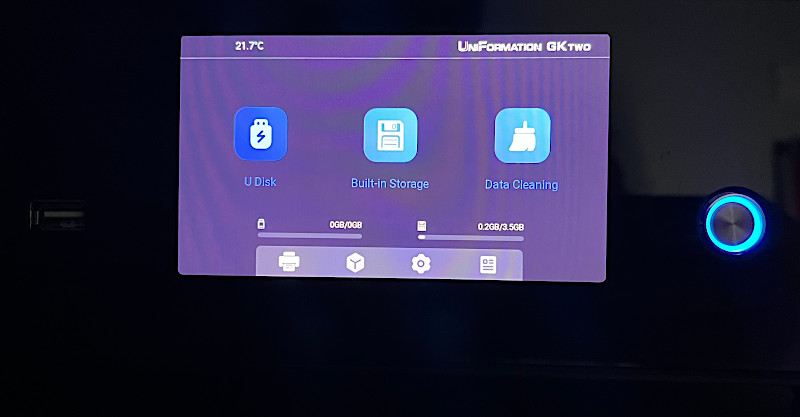 Additionally, I must emphasize how well-designed the format is. It's obvious that the developers put a great deal of time and effort into creating a screen that not only looks great but works well in the hands of professional users. The interface is clean and uncluttered, which makes it simple to find what you're looking for and adjust settings as needed. In summary, I give high marks to the LCD 5-inch touch control screen on the GK TWO printer. It's easy to use, responsive, and packed with useful features. Whether you are new to 3D printing or a seasoned professional, this screen is sure to impress.
Automatic Heating System
As someone who has been 3D resin printing for quite some time, I've always wanted a resin printer with a built-in heater, especially living in a cooler climate. So, when I got my hands on The GK TWO, I was thrilled to see that it had a built-in PTC ceramic heating technology that can warm up the printer to (95℉) (35°C) in 8 minutes if the existing ambient temperature is at 50℉.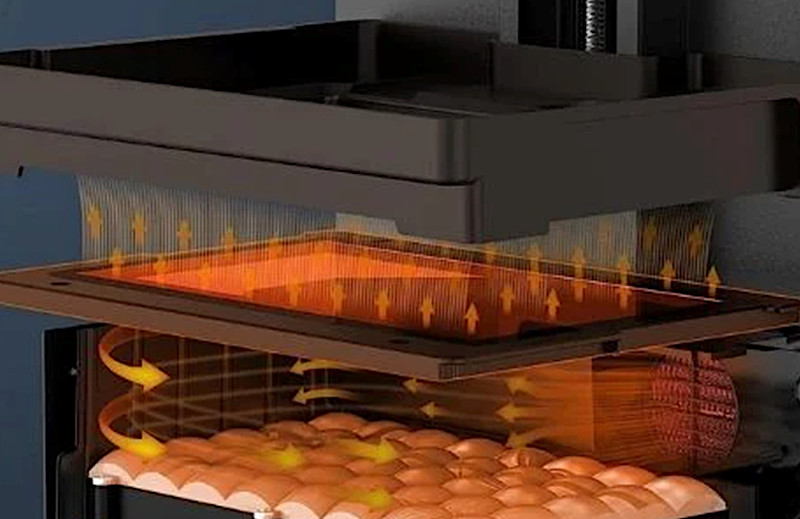 The printer has three temperature settings (77℉,86℉,95℉) (25°C,30°C,35°C) that start to heat up the printer before it allows you to print. Additionally, the temperature is displayed on the front screen, and you can adjust it to your desired temperature (25°C,30°C,35°C). With these features, I can continue printing even during the colder months.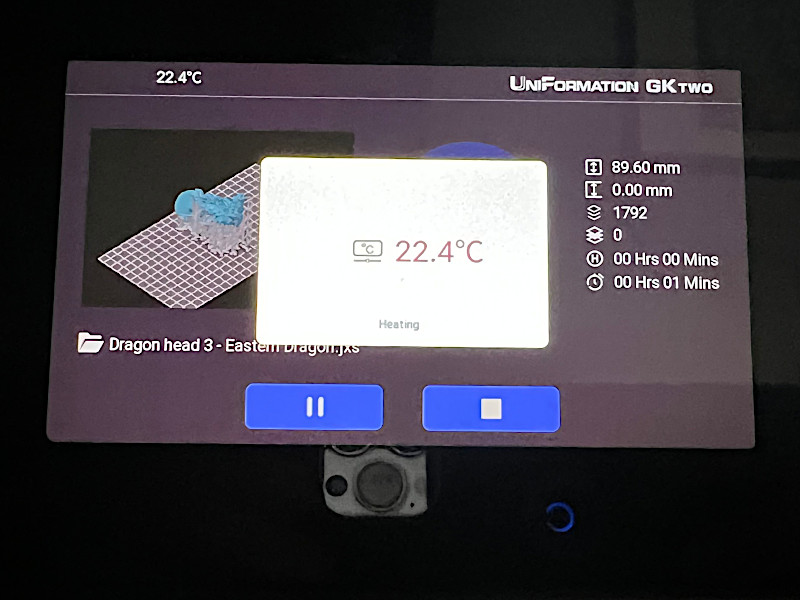 Integrated Air Filter System
Let me start by saying that the integrated air filter system on the printer is a game-changer for me. As someone who has struggled with resin fumes during printing, this feature is an absolute lifesaver. The system itself is located at the rear of the printer and utilizes a fan-driven carbon filter. Even though the filter is a decent size, it does an excellent job of filtering out resin fumes during the printing process. I also love that there's no need for charging since the internal case fan drives air through the filter.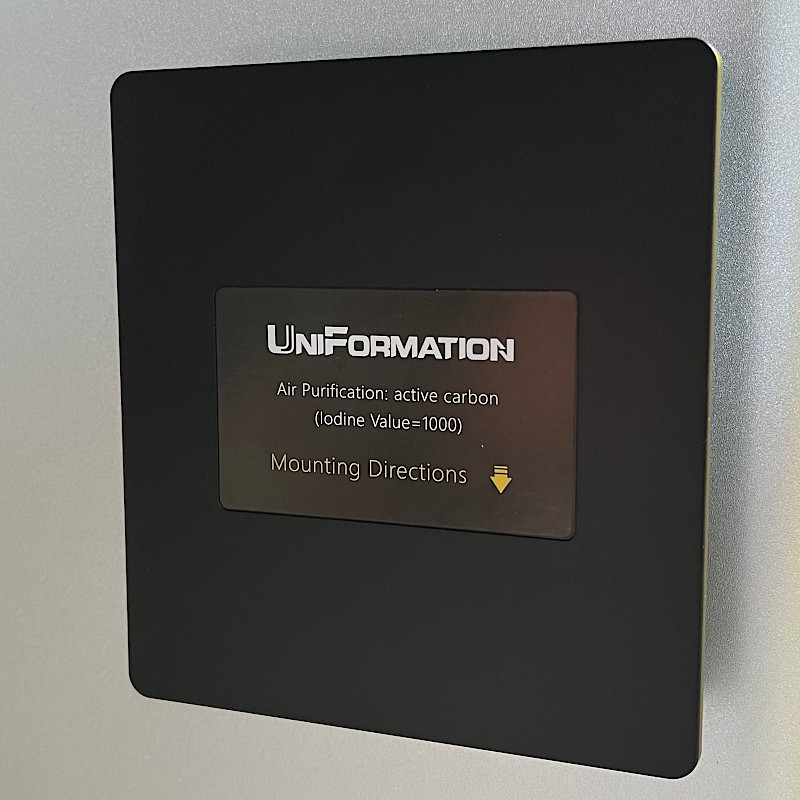 Additionally, the filter locks into place, so you don't need to worry about it falling out or being dislodged during use. While replaceable filters are available, they can be a bit costly. However, considering the benefits of having the filter system in place, I believe it's totally worth the investment. The filters are effective at filtering out harmful particles, reducing the number of harmful substances created by the resin and printing procedure by more than 50%. As someone who values safety and health in my work environment, this is undoubtedly a feature that I appreciate.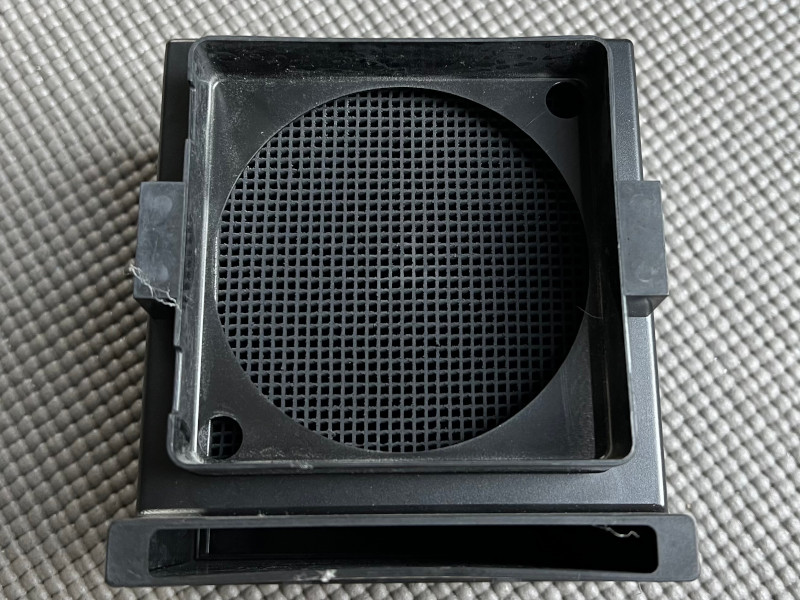 One thing I noticed right away when using the integrated air filter system is that the printing smell was significantly lower than usual. This made my work environment more comfortable, and I felt reassured knowing that I wasn't inhaling harmful fumes. In short, I would highly recommend the integrated air filter system to anyone who experiences problems with resin odours or is concerned about safety and health while 3D printing. It's a feature that has made a significant difference in my work experience, and I'm sure it will do the same for you.
3D Printing the Test Models
I appreciated the extra touch of including links to free models from different Patreons. It allowed me to explore and experiment with my new printer, printing out a variety of models to see its capabilities. I must say that The GK TWO did not disappoint. All the test prints came out amazing with excellent detail and a smooth surface. I was impressed that even the intricate details of the models were printed with no flaws. Overall, I am thoroughly impressed with The GK TWO's printing capabilities, and the quality of the test prints included. It's clear that this printer is a reliable and high-performing tool for any 3D printing enthusiast.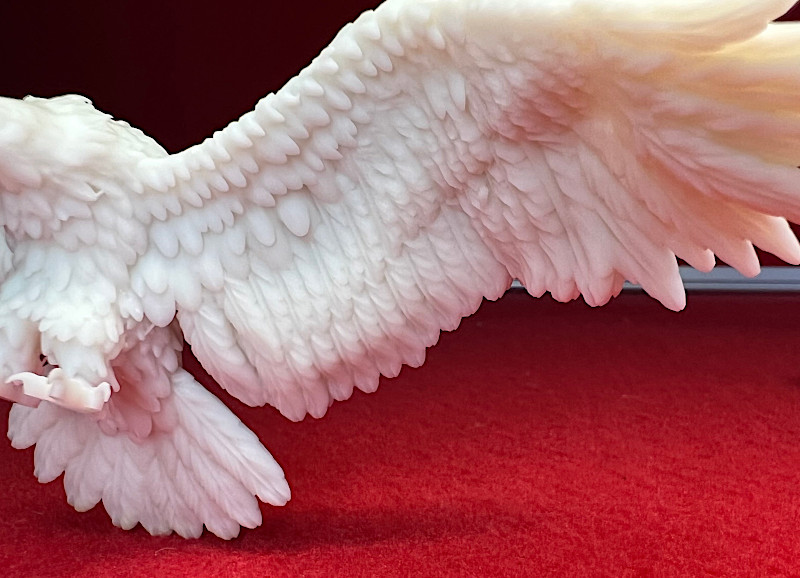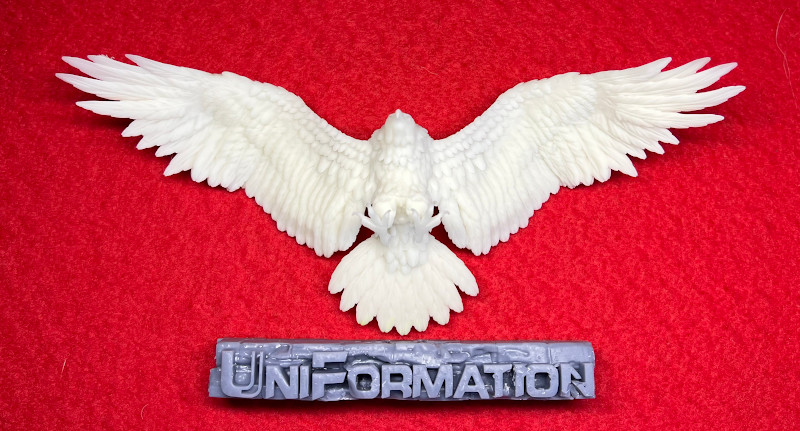 UniFormation and Lychee Slicers
I was pleased to discover that the slicer settings used for the test prints were adequate for my purposes, so I made only a few minor adjustments to the exposure for the resin I was using. With this sorted, I began searching for models to print – I wanted to test both slicer software and showcase the printer's capabilities to the fullest with some intricate and detailed designs. To test the slicers, I decided to use Anycubic resins, along with models from Wicked 3D and B3Dserk. The process was exciting, and the results were impressive.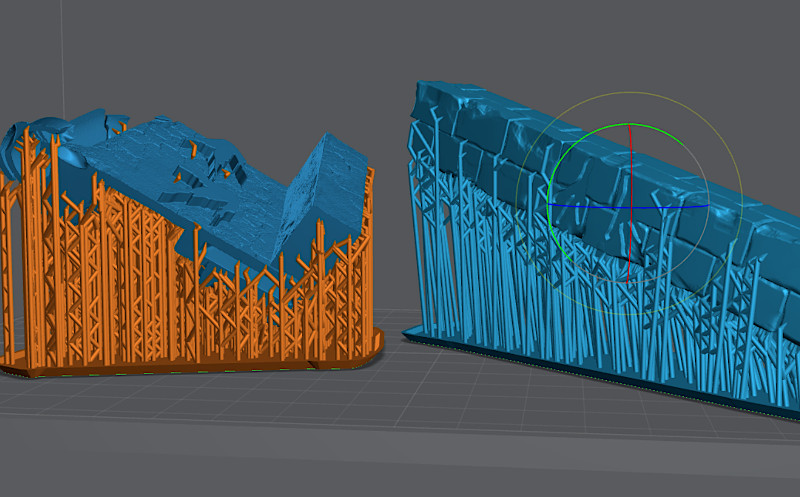 Both slicer software performed excellently, with Uniformation delivering a slightly smoother finish on the models. I was thrilled to note that. The GK TWO's print quality surpassed my expectations with detailed, smooth prints, which were accurate to the measurements of the models. In conclusion, my experience with and Lychee slicers has been educational, and I am glad I took the time to experiment with both. It's rewarding to know that I can confidently produce intricate models with The GK TWO, and I'm excited to continue exploring the possibilities of 3D printing with this reliable and high-performing machine.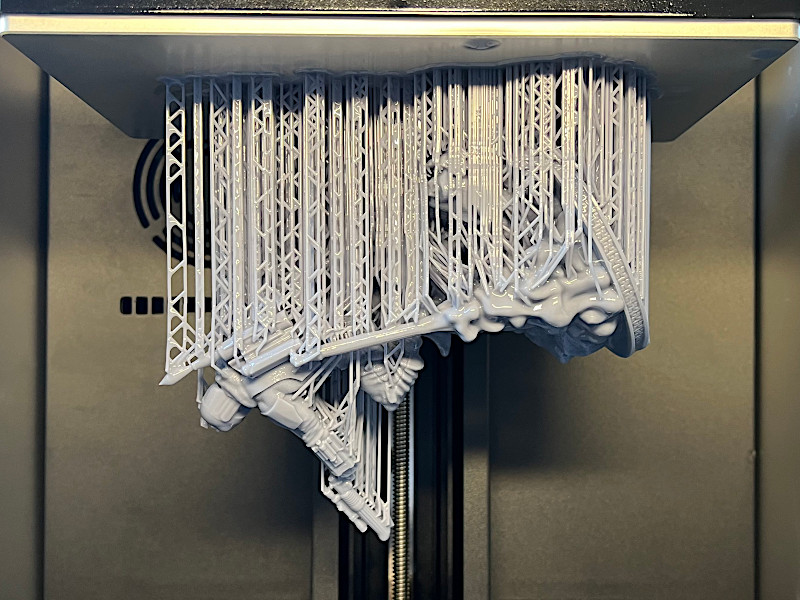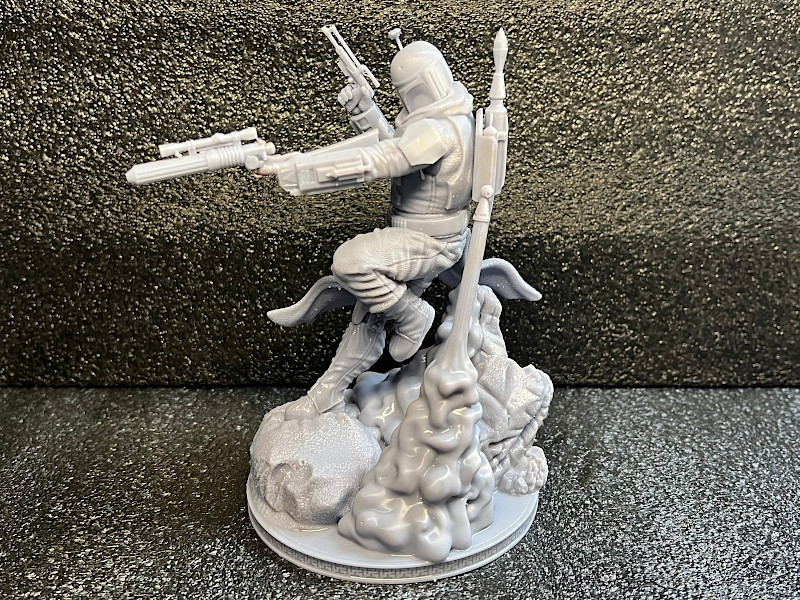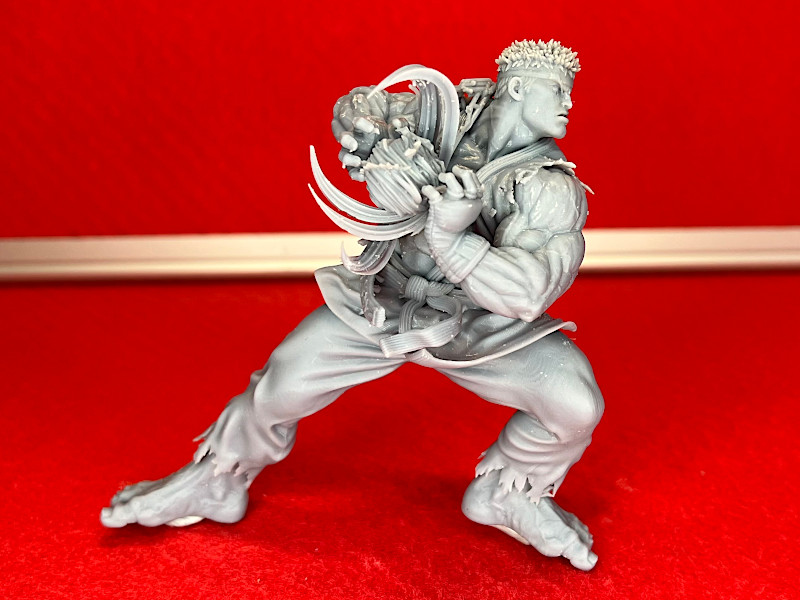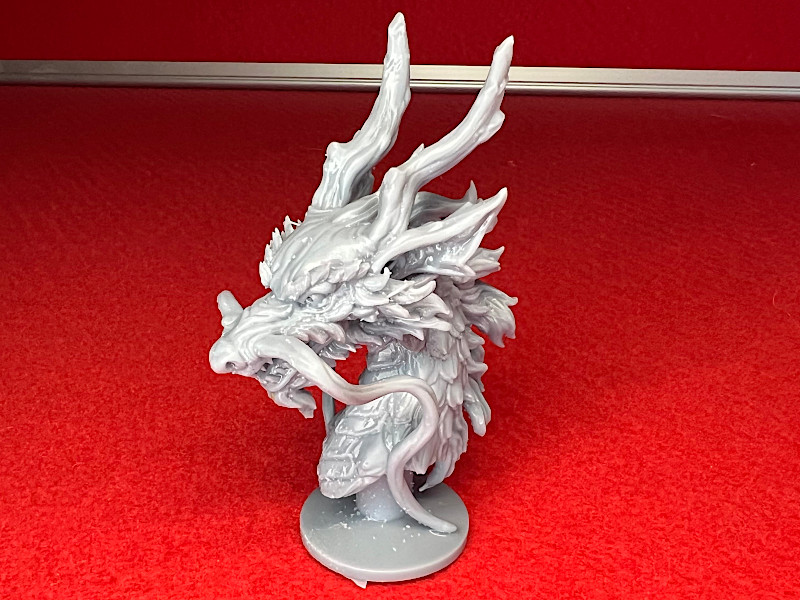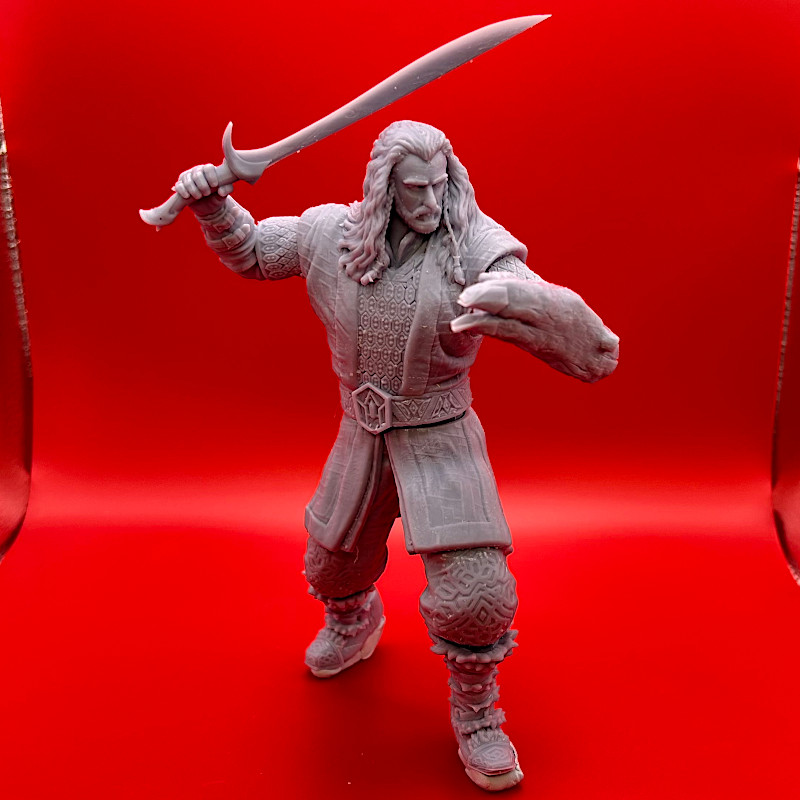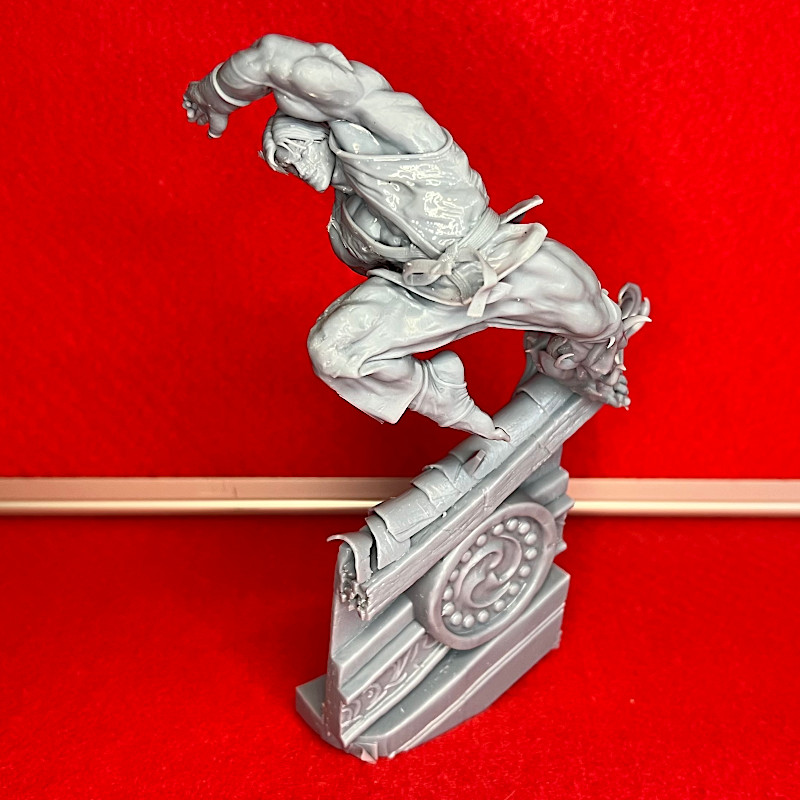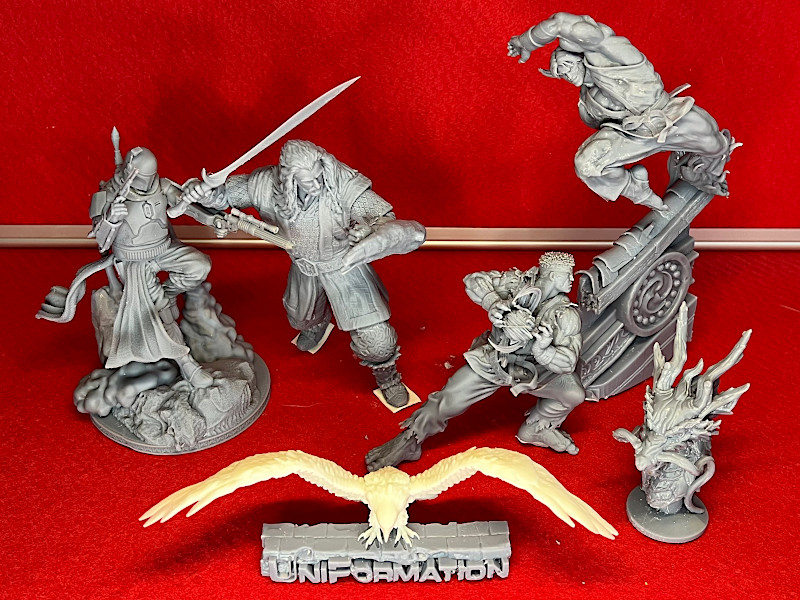 Accessories – Wash and Cure Stations
UniFormation has its own Ultrasonic Resin Cleaner W230 wash station and a 405nm UV Resin Curing Station 10.2″, but I haven't had the chance to test them yet. Instead, I washed and cured the models using the Anycubic Wash & Cure Plus station. Wash and cure stations are extremely helpful for resin 3D printing, and you can check out our comparison guide here.
Compare to Other 3D Printers
Compare to the similar volume Resin 3D printers in the same price range:
The UniFormation KGtwo volume vise falls somewhere in between the plus-sized 3D printers like the Anycubic M3 Plus and Elegoo Saturn 2, and high-volume machines like the Anycubic M3 Max. In terms of resolution, 8K screens are becoming more advanced and common in the newest SLA printers. For a more in-depth comparison, please visit our resin 3D printers comparison guide and table.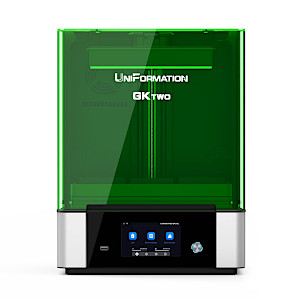 Conclusion and Pros & Cons
UniFormation GKtwo Review
Review Summary
The UniFormation GKtwo 3D printer is a fantastic addition to the world of 3D printing. This printer offers top-notch quality and produces prints that are simply stunning. With a heated printer and built-in air filter, you can trust that the quality of your prints will not be compromised. Additionally, the 8k resolution allows for incredible levels of detail and accuracy. The easy-build plate attachment and lock-in vat make printing a breeze, even for those new to the 3D printing world. The 5-inch interface screen is user-friendly and provides a smooth printing experience. This printer is perfect for professionals and beginners alike, offering an excellent balance of functionality and usability. Overall, the GK TWO 3D Printer is a must-have for those looking to take their 3D printing game to the next level.
Pros:
Lifting up the UV hood makes it easier to access the vat and build plate
Heated printing gives the ability to print even in a cold climate
The built-in air filter reduces odors
Cons:
Expensive replacement filters