The recently introduced Creality CR-Scan Ferret builds on the previous accomplishments of 3D scanner technology by providing consumers with a significantly improved experience. This scanner comes with a brand-new mobile app and software to provide easy operation in a variety of situations. The Ferret 3D scanner can be used in different environments, including the office, garage, garden, exhibition space, and even outdoors, using a smartphone. The Ferret, which is priced similarly to Creality's popular Ender 3 series 3D printer, allows makers and hobbyists access to high-precision 3D scanning. Creality expects that the Ferret will deliver a good blend of portability, usability, and performance at a reasonable price.
Table Of Contents
Creality CR-Scan Ferret Specifications:
• Accuracy: 0.1mm
• Resolution/Point Distance: 0.16mm
• Single capture range: 560 x 820mm@700mm
• Frame Rate/Scan Speed: up to 30 fps
• Color Texture: Support, built-in
• Working Distance: 150~700mm
• Minimum Scanning: 50 x 50 x 50mm
• Light Source: NIR
• Outdoor Scanning: Support Scanning in Bright Sunlight
• Tracking Mode: Visual Tracking
• Output Format: OBJ / STL / PLY
• Compatible System: Android / Windows / Mac OS
• Connection: USB 2.0/3.0
• Scanner Weight: 105g
• Scanner Size: 120 x 30 x 26mm
Price: $279-329
Product affiliate links: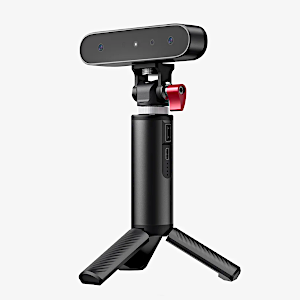 Amazon
AliExpress
Official Website
Creality Certified Store
The Creality CR-Scan Ferret features a unique ASIC depth computation chip that allows for fast processing of megapixel images at a rate of 60 frames per second. When compared to standard computing processors, this ASIC chip provides processing speeds that are more than ten times faster. This high-performance processor allows the Ferret to achieve scanning frame rates of up to 30fps, leading in smoother and faster scans with less workload and less power consumption.
Included Accessories
Whats in the box: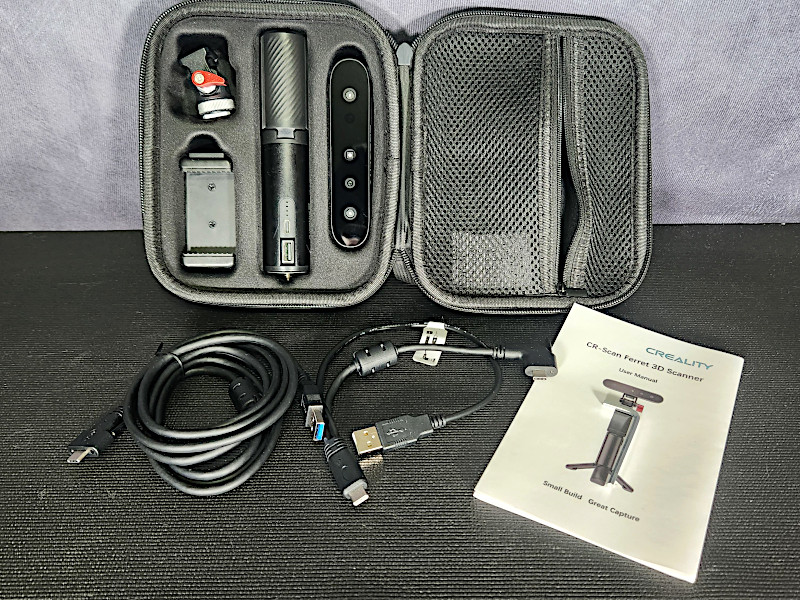 • User manual
• Phone holder
• Handle with tripod function and integrated power bank (4500 mAh)
• Elbow
• Allen key (for the contra-angle)
• 2m USB cable for PC connection
• Y-USB cable for smartphone operation
Setup and Design
The CR-Scan Ferret requires minimal setup. The 3D scanner and its attachments are neatly housed in a zippered clamshell container. This holds the scanner, tripod/battery bank, phone mount, adjustable mount, and all necessary cables for use with a mobile device or PC. The Ferret only requires installation of the Creality Scan software or the mobile app on a PC or Mac.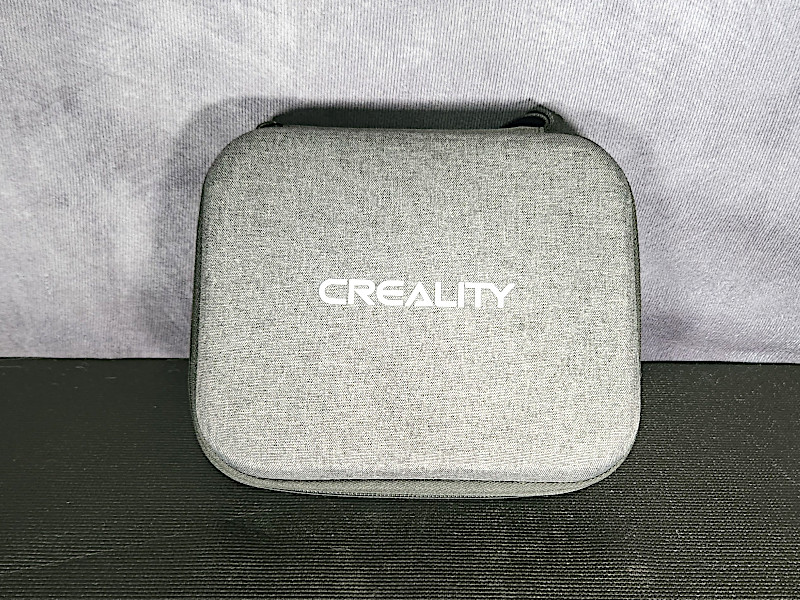 The Creality CR-Scan Ferret is designed for portability and ease of use. It is small and lightweight, so you can easily carry it in your pocket or backpack without taking up much space. You can view scanning results in real time by placing your phone on the stand and connecting it to the Ferret. The Ferret scanner consumes minimal power and can be powered by a 5V power bank or your Android phone. With the Ferret, you can enjoy scanning capabilities without breaking the bank or straining your back.
In general, the 3D Scan Ferret can be used in two ways: mobile or via a computer. Currently, there's no way to use the Scan Ferret in mobile mode with an iPhone or any other Apple device. However, Mac OS compatibility is expected in June 2023, according to Creality. On a brighter note, Creality is actively developing a WLAN adapter to make the Ferret wireless, as well as companion apps for both iOS and Android. Creality's reasoning is simple: the 3D scanner requires a USB 3.0 connection for optimal communication and power.
Mobile Mode
The mobile handheld mode is easy to set up. With the case on, your smartphone can be as wide as 9 cm and still fit into the spring-loaded holder. A Y-cable connects the smartphone and Scan Ferret to the 4500 mAh battery bank in the grip. Since the application is CPU-intensive, this ensures that your phone remains charged, or at the very least, maintains a high battery level during use.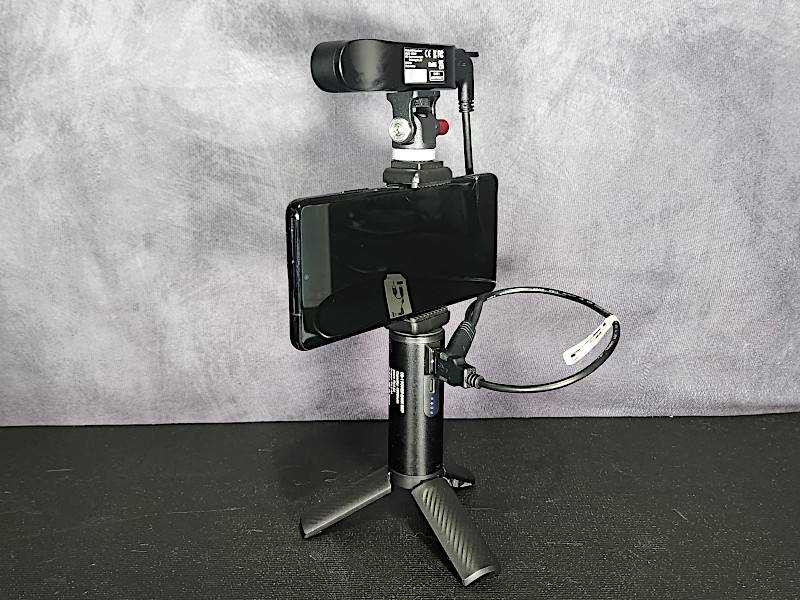 The entire setup can stand upright thanks to a fold-out tripod. The power bank can be charged through the USB-C port located next to the charge indicator. Considering the price, the processing makes an excellent impression. The materials used in its construction are a mix of metal and plastic, with rubberized surfaces on all screw connections and the feet.
Creality Scan App
Crality Scan on Google Play.
The parameters for the next scan can be selected from the main menu. Scan settings are accessed by clicking on the lower bar. In this section, you can adjust the model size, scan mode, quality settings, and color settings. The scanning process begins when you click the "New Scan" button.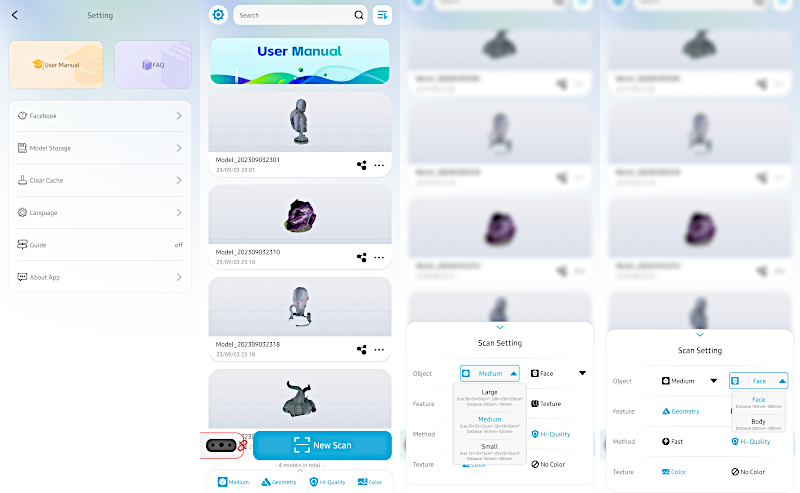 On the left side of the screen, previews from both the infrared (IR) and standard cameras are displayed. You can adjust the exposure using the small slider icon in each preview. It's crucial that the scan displays few or no red or blue patches on the IR camera. While the auto setting usually works well, if the error message "Too few IR Tracking Info" appears, you'll need to adjust the exposure manually.

In the corner, there's a rectangular icon with scissors that lets you remove the surface on which the model stands and ignore it during the scan. It's advisable to select this option early on, as including the underlying surface can affect the resulting 3D model.
The 'Pause' button is crucial as it allows you to rotate the model and scan its underside without introducing errors or artifacts. The object is scanned from one direction until the 3D model on the right side of the screen becomes completely green. Clicking 'Pause' lets you flip the model, and you can then resume scanning by pressing 'Play,' ensuring the model is captured from all angles.
3D Scanning and Results
During my tests, I decided to use some of the prints I recently created with resin and FDM 3D printers. To assist in scanning, I opted for a small turntable, which proved to be a versatile choice. It's not only beneficial for smaller objects but also for handheld scanning of larger items or even entire rooms, providing flexibility in the scanning process.

The first item on my scanning list was a butcher bust print from Fotis Mint, available via their Patreon. To make scanning smoother, I removed the base and placed the bust flat on the turntable, simplifying the scanning process.
After the initial scan was completed, I had the chance to review the scan before any post-processing. Although manual options were available, I discovered that the auto mode performed excellently, effectively cleaning up the mesh and applying color. During my testing, I observed that the mobile app was superior in delivering high-quality scans compared to the PC software.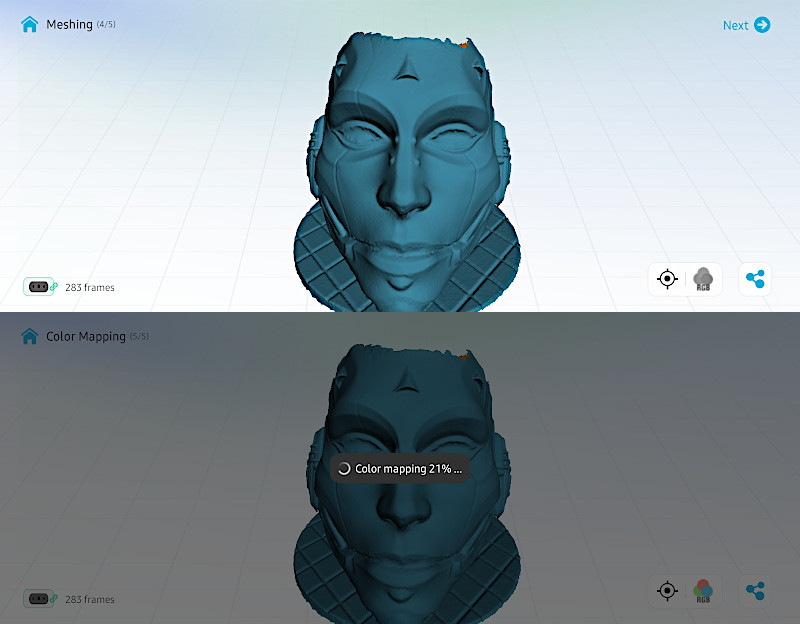 The initial processing phase was quick, but it's worth noting that the final color mapping step might take time, depending on your mobile hardware's capabilities. During my tests, I used a Samsung Galaxy Fold 4, which offered ample processing power for the application. The device did heat up a bit during the scanning process, but this didn't result in any noticeable performance issues.
Upon completing your scans, you are given the option to share either the model file itself or a brief video showcasing the 3D rendering. The model is exported in a compressed .zip format, which includes five essential files from the scan: colorMapping.png, ColorMapping.mtl, ColorMapping.obj, Mesh.ply, and Optimization.ply. These files can be seamlessly imported into 3D editing software, such as Blender, for further modifications and refinements.

Continuing my scanning endeavors, I chose to work with the Armorer bust, another creation by Fotis Mint. Similar to the earlier butcher bust, the resulting scan was exceptionally clean, accurately capturing all the intricate details of the model.
Additionally, for a larger face scan, I chose a wearable mask designed by Pipe Cox, available via their Patreon. Thanks to the turntable, scanning the full-sized mask was straightforward. The CR Ferret scanner performed admirably, capturing even the subtle nuances in color changes evident in the final model, effectively showcasing its capabilities.
Compare Creality CR-Scan Ferret to Other 3D Scanners
Compare to similar 3D scanners in the same price range:
3D scanning technology is evolving further and becoming more accessible to a wider audience. In this field, we are witnessing competition between three major brands: Revopoint, 3DMakerPro, and now Creality.
One of the strongest points of the Creality CR-Scan Ferret is its competitive price. While the regular retail price for the CR-Scan Ferret stands at $329 USD, it's worth keeping an eye out for promotions and sales on Creality's store page. In the past, it has been available for as low as $263, making it an even more attractive option for those looking to enhance their 3D scanning capabilities without breaking the bank. In comparison, other brands offer such low prices as Kickstarter Early Bird pledges, which are difficult to catch and involve pledge fulfillment and shipment delays.
The CR-Scan Ferret may seem at a more expensive price point than photogrammetry apps like Polycam, but subscription-based applications may not be for everyone. Also, it is convenient to have a separate device in some cases. And, of course, such handheld 3D scanners are much cheaper than industrial 3D scanners.
Compare to the Creality other 3D scanners:
The Creality CR-Scan Ferret Pro is the newest 3D scanner from the Ferret series. It now supports Mac, iOS, as well as Windows and Android. The CR-Scan Lizard, the oldest model, is still sold as a luxury bundle as it includes a turntable and color kit accessories.
Conclusion and Pros & Cons
One standout feature of the CR Ferret is its flexibility in terms of device compatibility. You have the option to use it with both mobile devices and PCs, ensuring that you won't encounter any limitations in what you can scan. Additionally, the inclusion of a battery bank handle/stand is a thoughtful addition. This feature ensures that your phone and camera will have sufficient power to complete even the most extensive scanning projects.
For those who appreciate convenience, the CR Ferret doesn't disappoint. It comes complete with a handy clamshell carrying case that neatly houses all the essentials for scanning. This compact form factor makes the CR Ferret one of the most portable 3D scanners currently available on the market.
Moreover, the CR Ferret boasts an impressive scanning capability that extends to various lighting conditions. Whether you're scanning in bright sunlight or dealing with darker objects, this scanner rises to the occasion, opening up a world of possibilities for replicating objects in stunning 3D detail.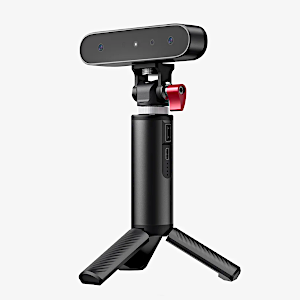 Amazon
AliExpress
Official Website
Creality Certified Store
Creality CR-Scan Ferret Review
Review Summary
If you're currently in the market for a 3D scanner to enhance your capabilities, the Creality CR-Scan Ferret is an option that truly deserves your consideration. Its compact size, combined with the ability to scan objects from small items to entire rooms, makes it a highly versatile choice for all your scanning needs at a low price.
Pros:
Low price
Ease of setup and use
Multiple options for OS: Windows, Android, and Mac
Small and compact
Cons:
No iOS
Scans can be challenging depending on the object; 3D scan paint helps