Snapmaker has recently announced the Artisan 3-in-1 3D printer. Like its predecessors, Snapmaker Artisan's quick build changing system combines three different disciplines: 3D printing, CNC, laser cutting and engraving. Such new features as Quick Swap, industrial-grade linear rails, and high-temperature dual extruder are genuinely attention grabbers. Let's have a quick look at the machine, see why the new features are standing out, how big is the difference from the previous Snapmaker 2.0 machine, and see if there may be any upgradable possibilities for the older models.
Snapmaker Artisan Specifications and New Features
400mm x 400mm x 400mm Build Volume
New Generation Linear Rails
Quick Swap System Between Modules and Build Plates
300°C Dual Extruder Module
10W High Power Engraving & Cutting Module
200W CNC Module
Enclosure Included
Footprint: 849mm × 995mm × 705mm
Price: $2,799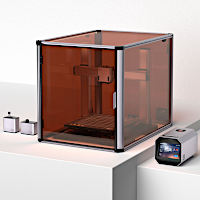 Preorder on Official Website
Digital manufacturer Snapmaker announced today that its latest generation of 3-in-1 3D Printer, which is named Artisan, will be available for pre-order at $2,799 with free shipping on Snapmaker's official store at 7 a.m. PDT on August 9th.
It is noticeable that Snapmaker Artisan is being launched differently than usual. If previously we witnessed record-breaking crowdfunding campaigns via Kickstarter, then the Snapmaker Artisan is being launched as a Pre-Order with a special price. In a quick comparison, the previous bundle Snapmaker A350T + Enclosure + 10W Laser costs approximately the same as Snapmaker Artisan.
Snapmaker Artisan vs Snapmaker 2.0 A350T
Coincidently, in the last few months, I have been testing and reviewing Snapmaker A350T and I believe that the introduction of the new features if delivered in full, will be enough to justify a new product name such as Artisan. In my quick look, I will briefly compare the machines, especially the novel features.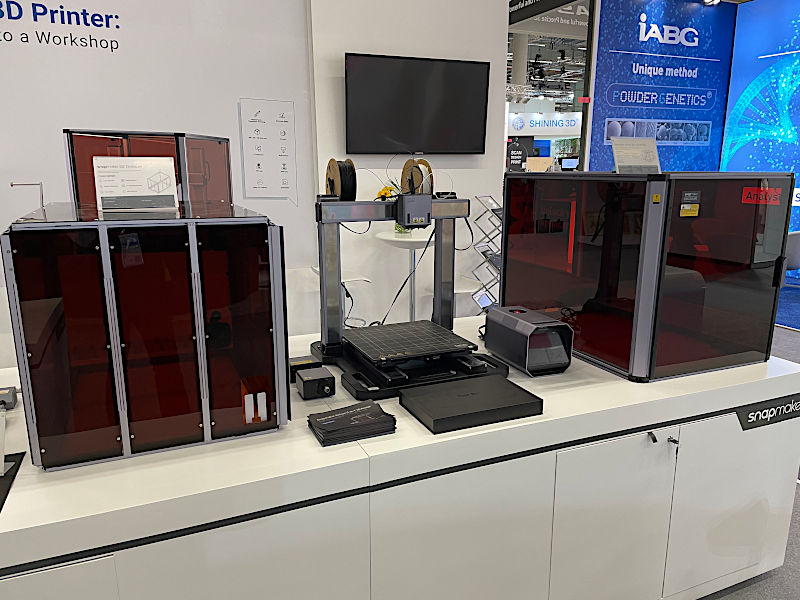 Build Volume and Enclosure Size
Snapmaker Artisan's build volume is significantly larger than A350T's 320mm × 350mm × 330mm, and I can say that A350T, together with the enclosure, is already big enough and takes up the whole table. On the picture above, you can compare both Snapmaker A350 and Snapmaker Artisan enclosures.
Enclosure footprint
Snapmaker Artisan: 849mm × 995mm × 705mm
Snapmaker 2.0 A350T: 626mm × 820mm × 603mm
Also, it is worth noting that the Artisan's enclosure design is different from the one that came with A350T.
Quick Swap Systems
When Original Snapmaker 3-in-1 first launched on Kickstarter, one of the biggest selling points was the quick change between 3D printing, laser engraving, and CNC modules and build plates. On Snapmaker 2.0, swapping between disciplines takes approx. 20 min. Now with the Snapmaker Artisan Quick Swap screwless system, this should be much quicker. As they promote, switching between the disciplines should take 60 sec.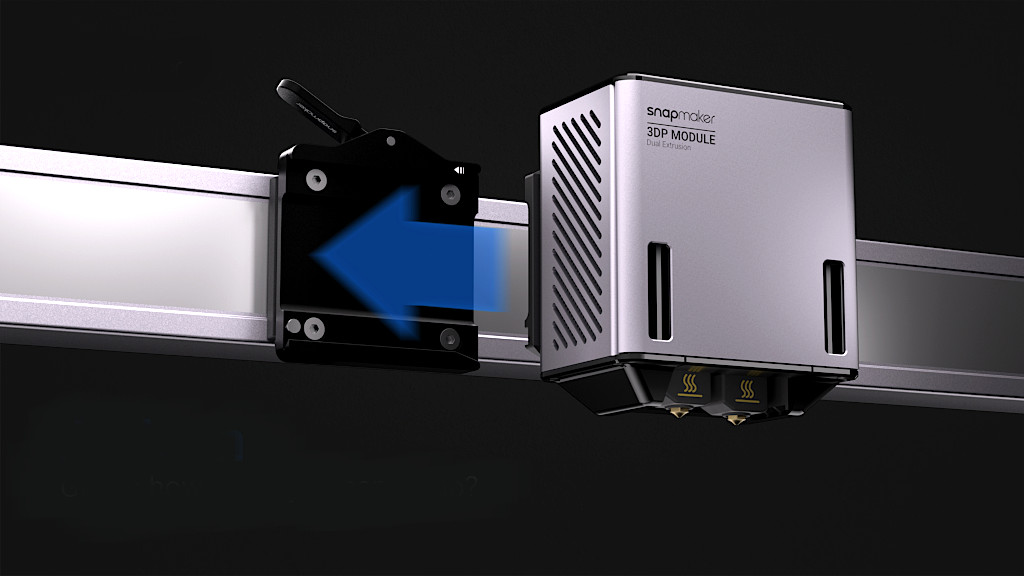 Swapping between:
3D Printing (Module and Heated Build Plate)
Laser Cutting and Engraving (Module and Metal Laser Bed)
CNC Cutting and Carving (Module and MDF Wasteboard)
Snapmaker Artisan Quick Swap System
MP4: Snapmaker
New Generation Linear Rails
In comparison to Snapmaker A350T, Artisan linear rails appear to be much wider. All metal linear rails proved to be easy to maintain after a messy CNC job.
Dual Extruder Module
Max. Temperature – 300°C
This is a new thing. The good news is that such extruders will be possible to purchase for all Snapmaker 2.0 A150/A250/A250T/F250/A350/A350T/F350 versions.
Artisan Dual Extruder System
MP4: Snapmaker
Changes in Heated Bed
In the 3D printing department, there is another change – Heated Zones in the heated bed. This is the feature that A350T owners would be happy to implement on their machines as well. The thing is that the build plate's size is large and it takes a lot of energy and time to heat it up properly. For example, to heat up the whole build plate on A350T takes approximately 5 minutes, while the Artisan's inner zone to 60° heats up in less than 3 minutes.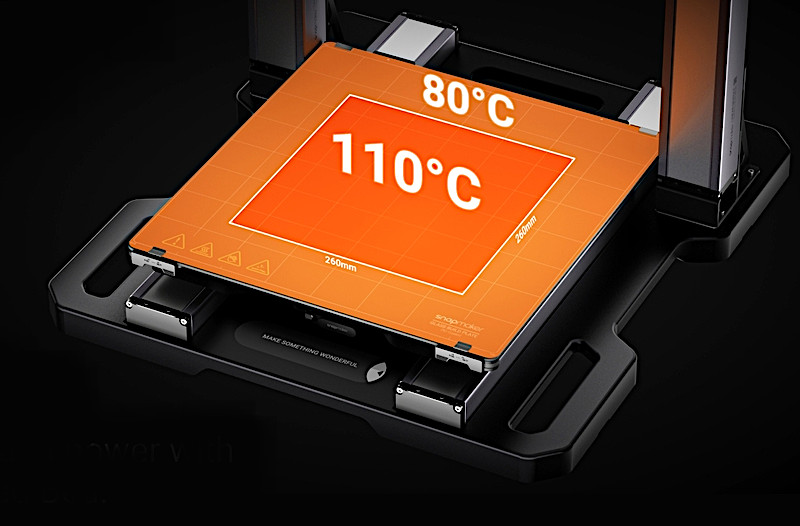 A 10W High Power Engraving & Cutting Module
Snapmaker Artisan comes with a 10W Laser Module. In comparison, with Snapmaker 2.0 A350T, I received my 10W module as a separate addon, and I can say that it all makes sense. The only reason I would go back to the 1600mW laser module is if 10W module stops working.
Basically, this high-power laser module is one of the biggest reasons why Snapmaker Artisan comes with the enclosure included. Safety comes first.
Snapmaker 10W Laser Equiped on A350T – Cutting 3mm Plywood
Video was taken with the safety measures applied
MP4: Max Funkner
A 200W CNC Carving and Cutting Module
According to Snapmaker, a new 200W CNC tool is "increased by 300% in power and 50% in max spindle speed, making it 6 times faster in machining on hardwood like beech, with a dimensional accuracy of up to 0.2mm". Unfortunately, such a tool will not be available for the older Snapmaker 2.0 machines. For comparison, the module on the older models is 50W.
Upgrade Possibilities
Snapmaker machines are in the higher price range and there is no doubt that the users of the older models will want to upgrade their machines instead of buying the new ones. So here is the list of the possible upgrades.
Luban Software
Special note about the all-in-one Luban slicer software. I tested and reviewed the software in detail for three disciplines and can say that I am satisfied. Also, it is nice to see that the Snapmaker team keeps updating it regularly. Of course, it is not as good as Prusa Slicer for 3D printing or Lightburn for laser cutting, but it is less complex for a beginner, and this could be counted as an advantage.
About Snapmaker
Founded in 2016, Snapmaker is a tech company that develops, manufactures, and sells desktop 3-in-1 3D printers that integrate 3D printing, laser engraving & cutting, and CNC carving. Our flagship product Snapmaker 2.0 3-in-1 3D printer made a record in 2019 as the most crowdfunded 3D printer on Kickstarter and won the 2020 CES Innovation Award and iF Design Award 2022.
Snapmaker Community
One of the strongest points of the Snapmaker brand is its community. As the previous machines were popular, Snapmaker managed to maintain an active community around their products. Almost always it is possible to ask the question and receive an answer on their forum as well as in a Facebook group and a Reddit page.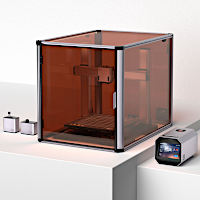 Preorder on Official Website
Read more: Snapmaker 10W Laser Module Review
A powerful Snapmaker 10W laser module together with the new features in Luban software make the laser engraving and cutting experience better, faster, and safer. Read more …