The Rotrics DexArm is a multi-function robot arm that has modular interchangeable toolheads that allow it to complete tasks such as engraving, picking, gripping, drawing, and even 3D printing by simply swapping the active module. After successfully completing their Kickstarter campaign and raising $846,910 against an original goal of $50,000, Rotrics is now selling their modular SCARA (Selective Compliance Articulated Robot Arm) directly from their site, and it has some exciting applications for the curious hobbyist or industrial engineer.
DexArm Specifications:
Modules: Laser Engraver, 3D Printer, Pen Holder, Gripper, Touchscreen, Suction Cup
Software: Rotrics Studio (Incl. files: Tera Term, Rotrics Vision, Conveyor Belt, Cura Profiles, etc.)
Optional: Enclosure, Conveyor Belt, Sliding Rail
Footprint: 175mm x 128mm x 315mm
Product affiliate links:


All-in-one Desktop Robot Arm
Amazon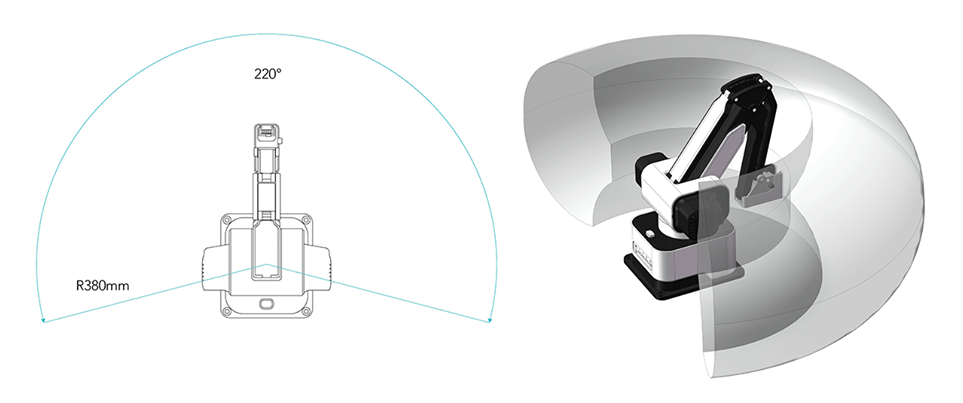 All-in-One SCARA
(Selective Compliance Articulated Robot Arm)
The DexArm is designed to fit on a desk and has a footprint of 175mm x 128mm x 315mm. The DexArm uses a USB-C port and a built-in Wi-Fi module for communication with the host computer. It's clear from the marketing material on the Rotrics site that the DexArm is at least partially targeted at users looking to automate small-scale production tasks, such as engraving notebooks, drawing portraits, and 3D printing products for consumers. While the DexArm is priced above most desktop 3D printers, the ability to interchange toolheads makes it a potentially attractive machine for small-scale manufacturing.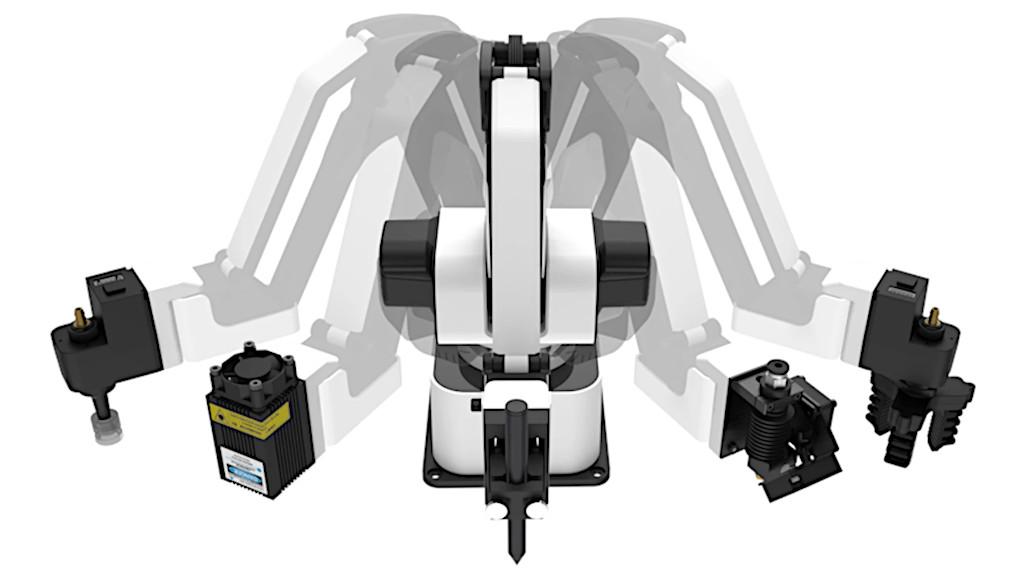 Interchangeable Modules – Toolheads
An important strength of the DexArm is the ability to switch between different toolhead modules, each of which utilizes a different tool to enable a wide variety of potential applications. An example is the 2.5W laser engraver module, which allows the DexArm to engrave a variety of different materials including wood, leather, fabric, paper, and non-transparent acrylic.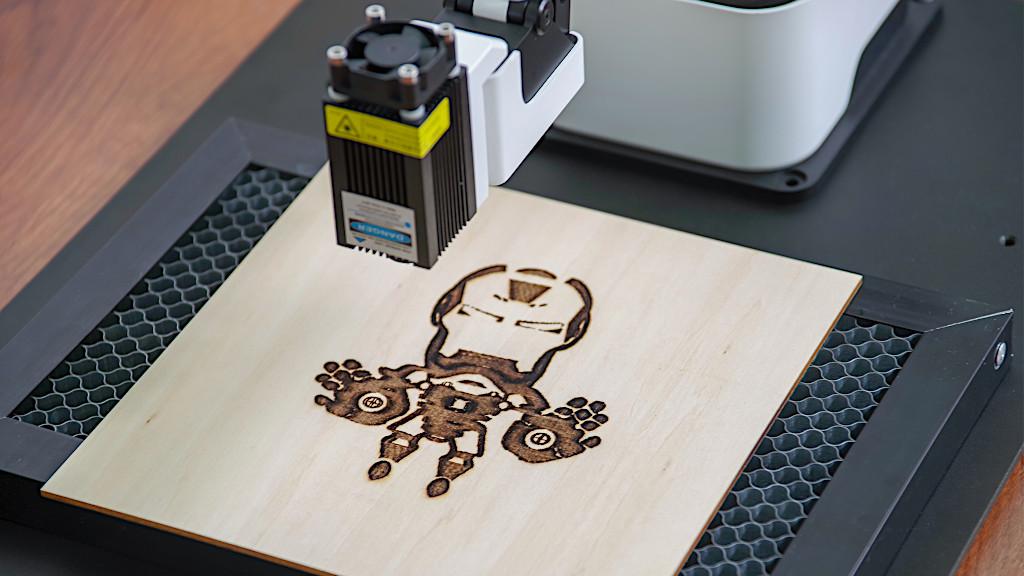 The 3D printing module turns the DexArm into a SCARA 3D printer by utilizing the 3 degrees of freedom provided by the arm to create toolpaths and extruder filament through the module. Other available modules include a drawing module for mounting a writing implement, a soft gripper for pick-and-place applications, and even a DIY kit module for users who are interested in creating their own custom toolhead.
Additional Accessories for the Rotrics DexArm
In addition to the swappable toolhead modules, Rotrics has also designed and released a variety of accessories that can enable more complex operations, programming, and applications for the DexArm. The converter belt, for example, can be used to simulate an industrial application such as color sorting or product alignment and features adjustable speed as well as bidirectional rotation.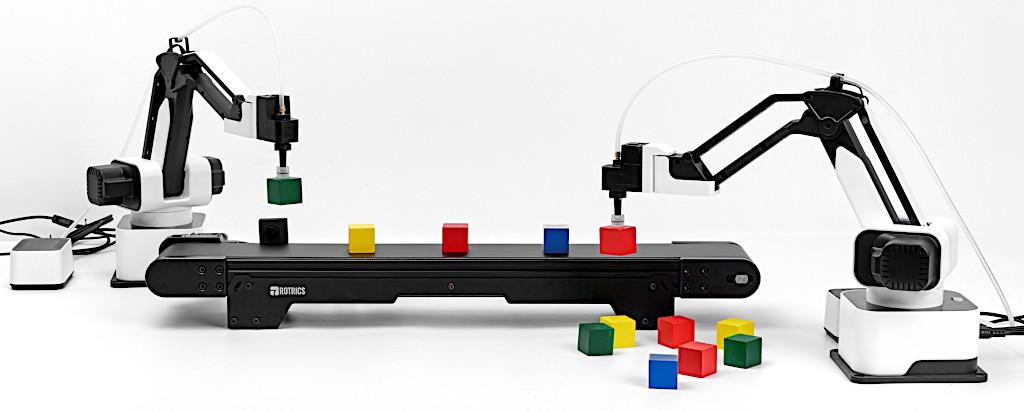 The sliding rail accessory enables the DexArm to move along an axis to increase the total working space for the laser engraving, drawing, or even 3D printing module. When using the laser engraving toolhead, the optional safety enclosure can be used to extract the smoke and fumes from the workspace while also utilizing a safety interlock switch to automatically pause the laser if the door is opened. These accessories (and the others available from DexArm) can all add a considerable amount of value to the DexArm platform for those looking to simulate industrial applications or automate tasks in manufacturing.
How to Buy Robotic Arm
The DexArm is currently for sale directly from their site along with a variety of accessories that can be purchased as well. The Luxury Kit (affiliate link), which includes the DexArm, the pen holder module, a 3.5 inch touchscreen, a laser engraving module, a 3D printing module, a pneumatic soft-gripper module, and a pneumatic suction module is currently on sale for $899, down from the original price of $1169. For a user interested in just getting started with the platform, the Starter Kit can be purchased for $599 and includes the DexArm as well as the pen holder module.


All-in-one Desktop Robot Arm
Amazon
Read More & Compare
Read more about desktop 3D printer builds and processes. Type, volume, FDM or Resin, all to consider. Or jump to the latest 3D printer reviews.
For a comparison with other FDM 3D printers please refer to the
detailed budget FDM 3D printers guide.