One of the leaders in desktop resin 3D printing Elegoo launched Saturn 2 8K with a bang. 1,000 units have been sold within a few hours on their official website at an Early Bird price discount. Elegoo Saturn 2 benefits from a powerful 8K LCD screen, larger print volume, an air purifier, and a new look. Let's review this machine, print some awesome models, and list the PROs and CONs.
Table Of Contents
Elegoo Saturn 2 Specifications
Technology: MSLA Photocuring
10″ 8K Monochrome LCD Screen, 7680×4320 resolution
FCLS Innovative Light System
Build Volume: 219x123x250mm
Printing Speed: 30-70mm/h or 1-3 sec per layer
Dual Linear Rails
Air Purifier
Affiliate Links:
Price: $550-670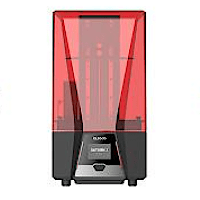 Amazon
Official Website
Unboxing – Opened Before Received
The 3D printer I received has a story. It was opened at the border control and an activated carbon filter in the air purifier module was removed. Then the machine was held for a month in a warehouse and after a big delay finally reached the destination. And the last ordeal was that a local delivery guy dropped the box in front of our front door before ringing the bell. He could've saved himself the trouble of ringing it as I heard the box innards clank before the bell sound. Surprisingly, despite the top protective foam missing, the 3D printer survived and a UV protective cover had only superficial scratches.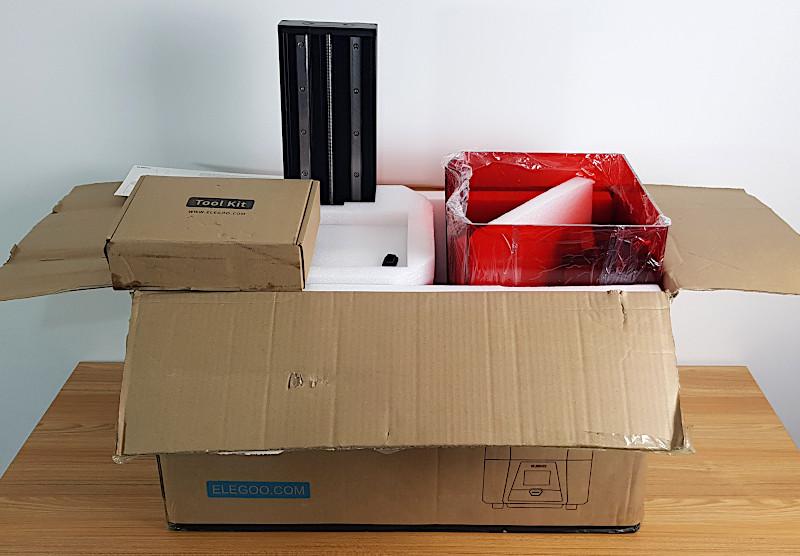 My initial impulse was to send it back, as it wouldn't be a complete product review without an unboxing experience. I wouldn't be able to show the readers what they can receive if they buy this product, but I agreed to test if and see if the machine works. And yes, it worked and I have printed and keep printing awesome items as part of the review. I am happy that I didn't have to send it back and the product found its usage despite the shipment hiccup.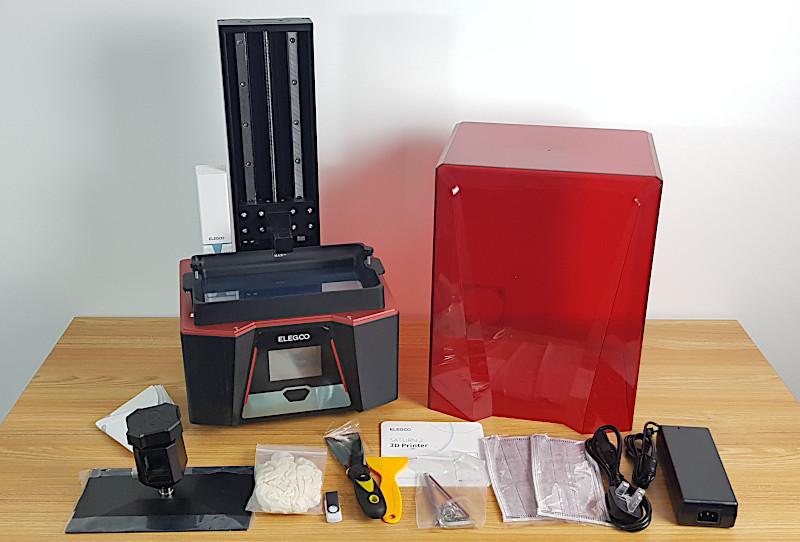 Review – Volume and Design
– Volume. Volume-wise, Elegoo Saturn 2 is considered to be a large printer and it stays in the same range together with such printers as Photon Mono X, M3 Plus, and others. The appearance of such machines on the consumer market, as Elegoo Jupiter and Anycubic Photon M3 Max, somehow dwarfs Saturn 2 into a larg-er/Plus volume machine.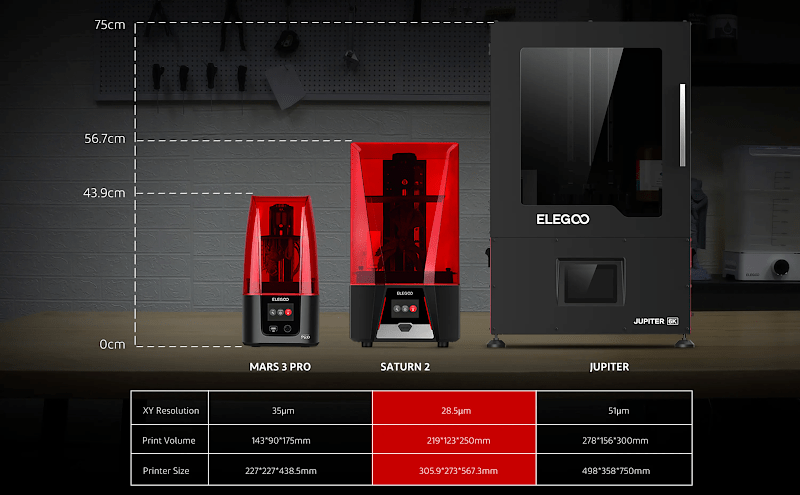 The volume size was enough for all our projects at hand. A wider build plate can hold multiple models and, therefore, provides a faster print output, because printing only 1 or 8 models at the same time on an LCD machine takes the same of time. This is one of the biggest advantages compared to FDM 3D printing.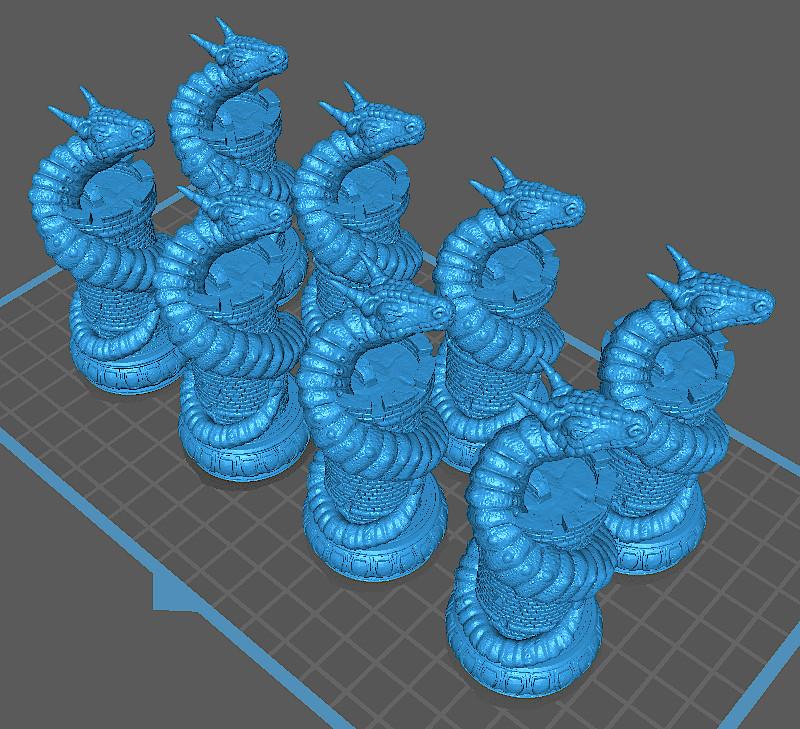 – Design. This machine looks stylish with a sturdy solid base and a distinctive UV protective cover, which has a new design. If we look at Elegoo products and see that Mars 3 has its distinctive look, then Saturn 2 has its own one as well. Having been following the Elegoo brand for a long time, I suspect that this machine was created to become a bestseller – and a repeat of Mars 2 and 3 success.
– Red Cover. I understand that the red color of the protective cover is Elegoo's branding and product identity but I hope it won't go darker than that. It would be hard to see through the cover and check on printing at the early stages.
Light Source and Bed Leveling
– Tempered Glass. Anti Scratch Tempered Glass. 9H hardness. Cannot comment on this feature, just yet. It is still clean and unscratched after 10+ prints and many bed leveling sessions.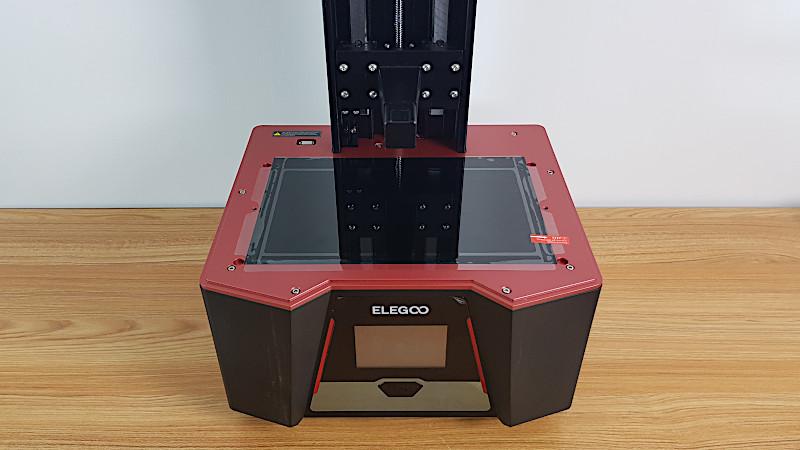 – Light Source. Fresnel Collimating Light Source (FCLS). Innovative patented technology that consists of 64 integrated UV LED lights. So, let's not get confused here as it is still a Monochrome LCD printer. UV light test comes as a pre-first print check. I was surprised to see there their brand and logo – nice touch.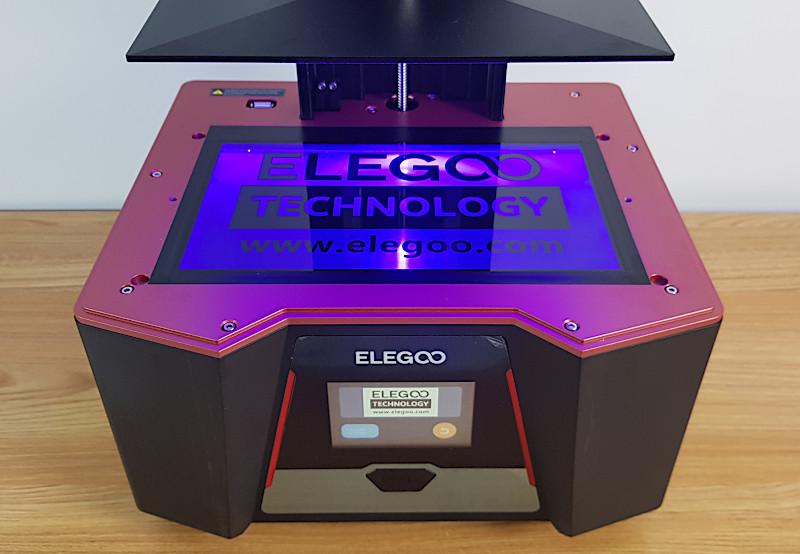 – Leveling Card. Initially, I got confused and feared that my leveling card got lost during the shipment. However, it turned out that a small card with instructions was the bed leveling card. Slightly uncomfortable, I would say. They recommend checking if there is resistance / or no resistance when pulling the card out from underneath the build plate, but the card is too small, and it is hard to grab it. In the end, after a few attempts, it is manageable.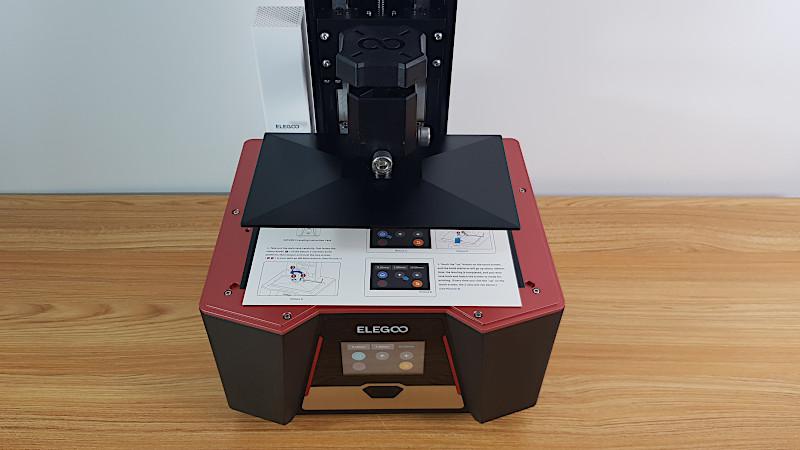 – Note in Red. After the 2nd print I disregarded this note (Note: "Set Z=0" only takes effect in print mode.) and tried to readjust the bed level without noticing any result after pressing Home. Of course, I had a failed print because of adhesion issues. The thing is, when "Home" is pressed after "Set Z=0", the bed still goes very low, so the leveling card is hard to pull out. This gave me a wrong signal that I failed to "Set Z=0" which wasn't the case.
Air Purifier
An air purifier with the build-in activated carbon should reduce the resin odor and stabilize the air environment in the chamber. Not sure how it works, at the moment of writing this post, my Air Purifier was still on the way to me. I will update this post accordingly when I have a chance to test it.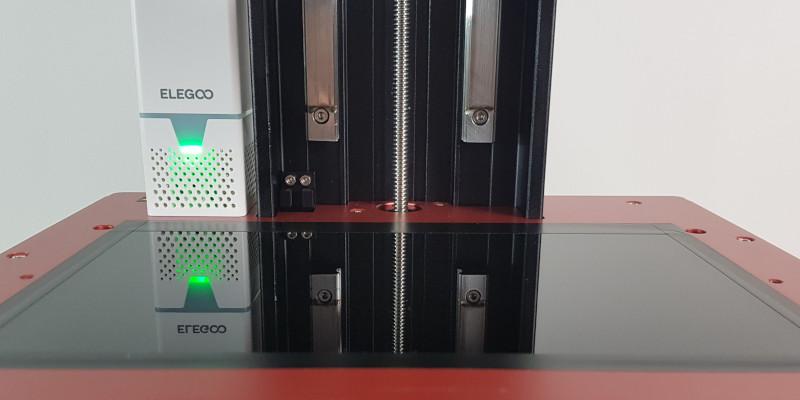 Elegoo Saturn 2 Test Print
Elegoo Saturn 2 didn't come with free resin. I quickly purchased Water Washable Mint Green for my tests from Amazon.
Note: Water Washable doesn't mean it can be rinsed in a bathroom sink. The water, in which the model was washed, has residue resin which needs to be UV cured, and afterwards disposed of in a safe way for the environment.
Elegoo test file Rooks came out well as a print. These have Elegoo Saturn 2 imprinted on them.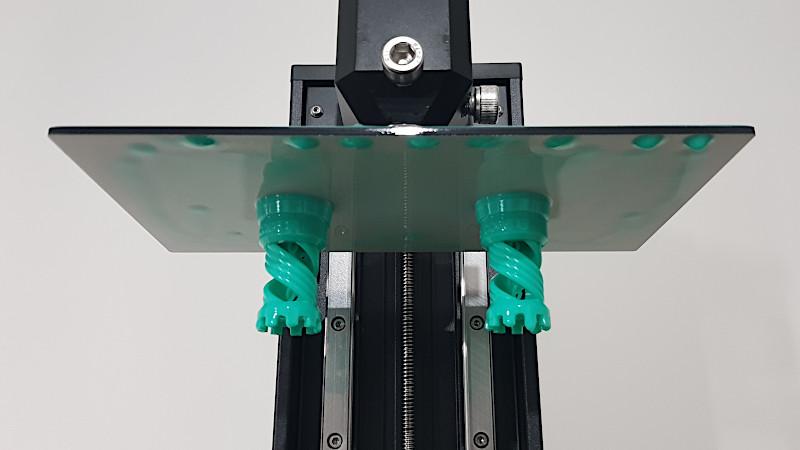 Chitubox – Recommended Slicer Software Setup and Settings
Chitubox download files are included on the USB stick. Also, it is possible to check the latest version on the Chitubox website.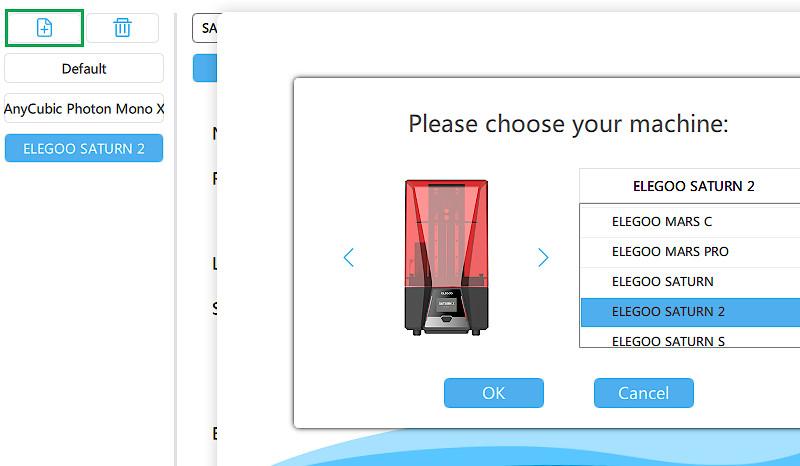 Saturn 2 setup in slicer software was straightforward, and all I had to do afterwards, was to amend the setting "Bottom Exposure Time" for various resins.
Water Washable – 40 sec
Anycubic Craftsman 60 sec

Print Removal from the Build Plate – Spatula Choice
– Build Plate. Sandblasted surface. The new build plate looks promising. No issues with the bed adhesion. Cannot comment now on how it will perform when the build plate is worn out with time.
– Spatula. Maybe it is an FDM 3D printing legacy but I feel that my sharp pointed spatula and a hammer (yes, hammer) work very well when removing stubborn prints from the print bed. When printing such models as articulated dragons directly on the build plate, it is very easy to snap delicate tail parts or feet while removing them. With the original spatula, I scratched the bed even more in an attempt to remove the delicate model.
Resin print removal with a pointed spatula
©3DWithUs MP4: Max Funkner
Disclaimer: This may scratch your build plate
With a sharp-pointed spatula and a hammer, I find it very easy to take off stubborn joints one by one. Yes, it will live some minor scratches on the build plate but the damage done is much less than working with the provided spatula only.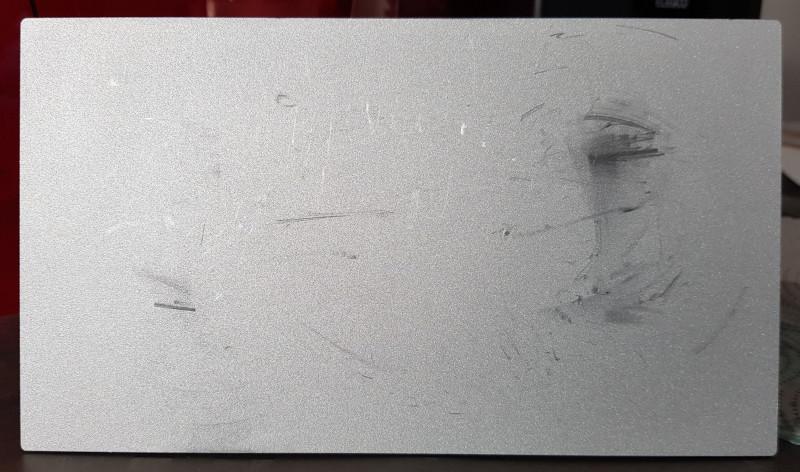 Anyway, such a model is OK to print once. If the process is repetitive, it is recommended to make a proper file with the supports from the base. Another option is to tune the initial layers' exposure time so well that it will be easier to remove from the print bed (increased risk of bed adhesion failure).
Getting the bed adhesion and the initial layers' exposure times right may take some time, and during this process, the build plate is most likely to get a lot of scratches, which may affect future prints. But usually, the replacement parts become available soon after the main product release and at an affordable price. For example, Saturn's build plate costs approx. $40.
– Flexi Plate. Another solution here is to acquire a flexible magnetic sheet for a build plate from Amazon. I have to try these out!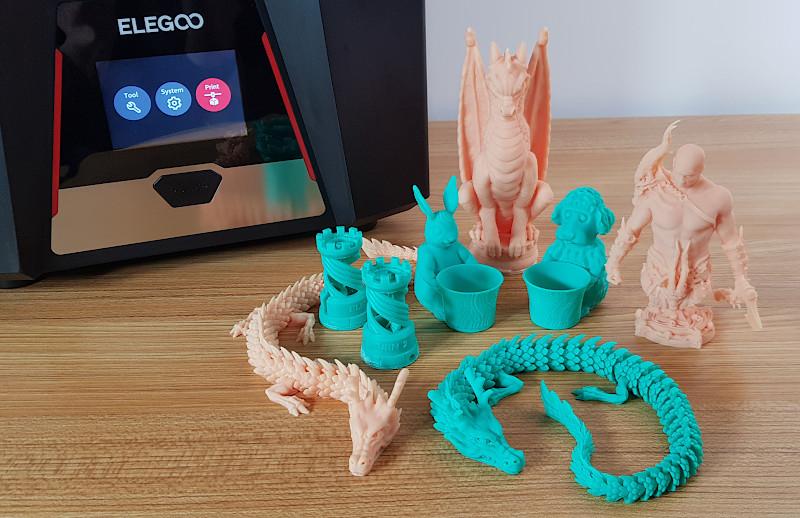 Printing Other Models
The rest of the models I printed came via Chitubox slicer software.
Straight after Elegoo test prints, I tried to print my own models Easter Bunny and Dog the Gardener, and these came out with some minor issues. At first, I learned that it was important that the supports' base is not in contact with the base of the model itself otherwise they will solidify together. It was the loss of my guard inflicted by the years of FDM printing.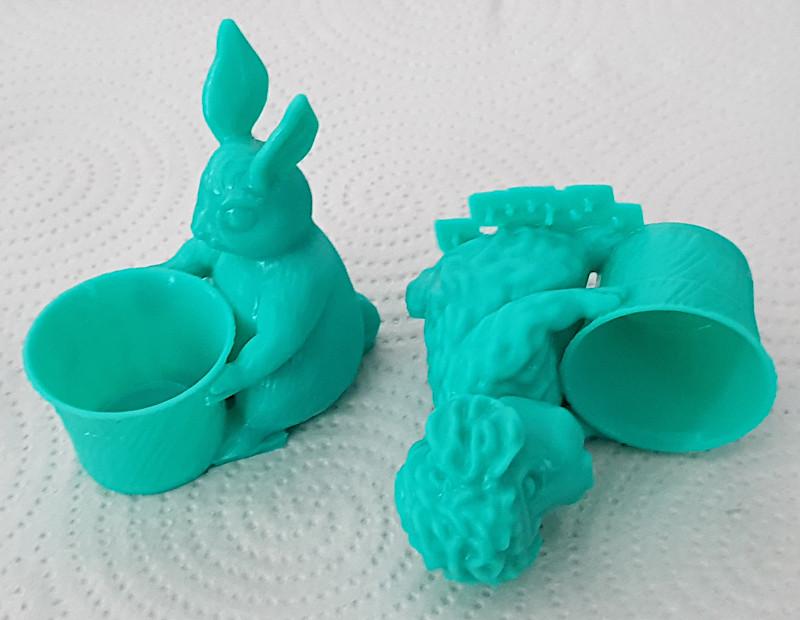 Another none printer related issue. White residue on the cured models. Apparently, it takes longer to rinse models made in Water Washable in water than in alcohol. If you do not take your time, your models might be left with white residue. The rest of the models I rinsed in alcohol in my wash and curing station and had no such issues.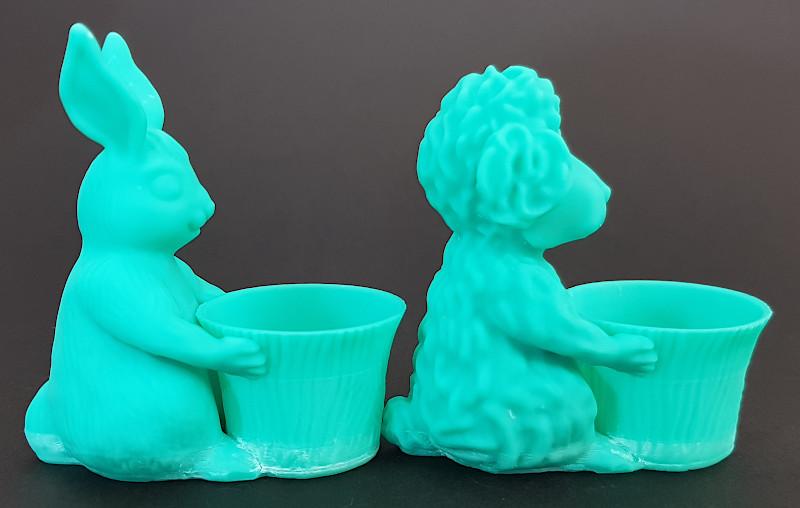 We featured the famous model by McGyBeer in our dedicated article, and this sophisticated model has been printed well on both FDM and resin printers. But it is not the easiest model to print. Needless to say, that bed adhesion and the initial layers' exposure time should be right, otherwise, removing this item from the bed platform is a real tricky business.
Articulated Dragon by McGyBeer – UV Curing Process
©3DWithUs MP4: Max Funkner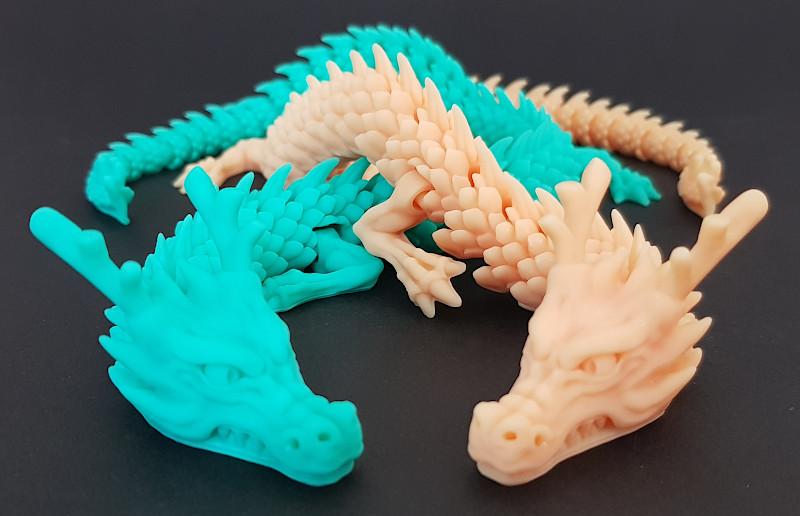 I am super happy with the end result and the detail, which are so good that you can see the watermark left by the designer behind the model's right cheek. Medium-large Saturn 2 build plate size also favors the print.
As part of the bigger project, I also printed Dragon Overlord the King by Loubie3D from the Dragon Chess collection on Cults3D. Louise Driggers is known for her popular supportless models Adalinda and Arya. All the chess set models can be printed directly from the build plate and only the knight needs supports under his hooves. I loved the fact that Louise also offered the hollowed versions of the models so getting from purchase to print was really quick.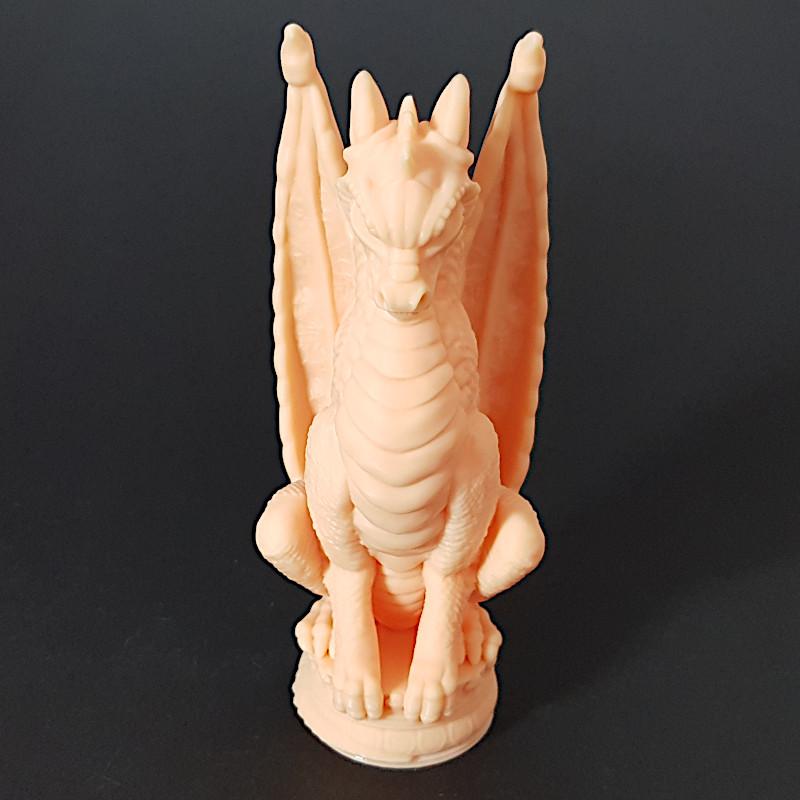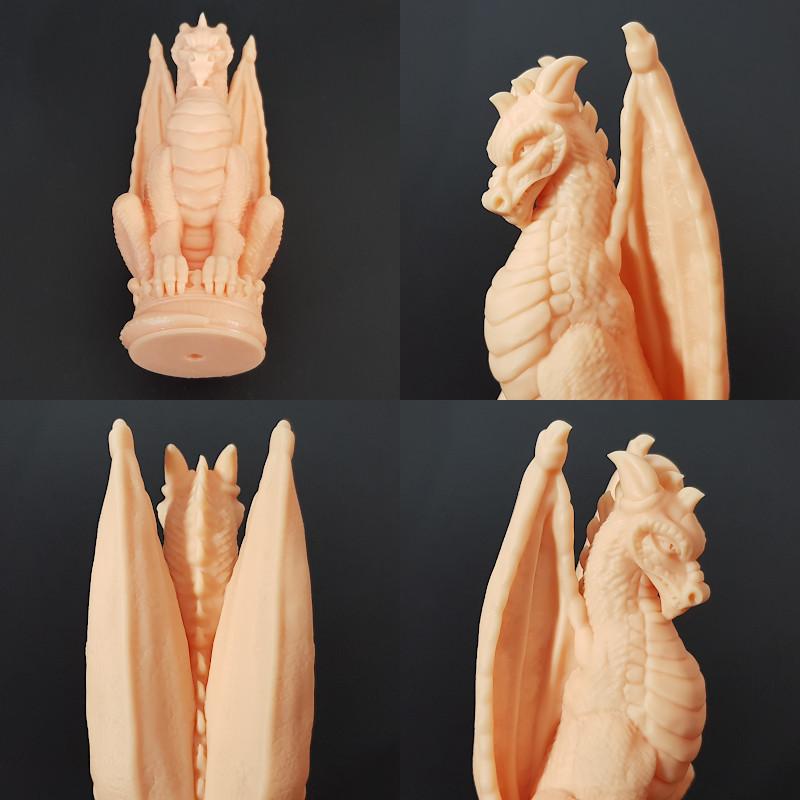 The original scale chess piece is designed for a relatively big chessboard with 2.5-inch (64 mm) squares. The original height of the King is approx. 5.75-inch (146 mm). Elegoo Saturn 2 can print 8 chess figurines in one go, meaning the full set can be printed in 4 full build plate runs.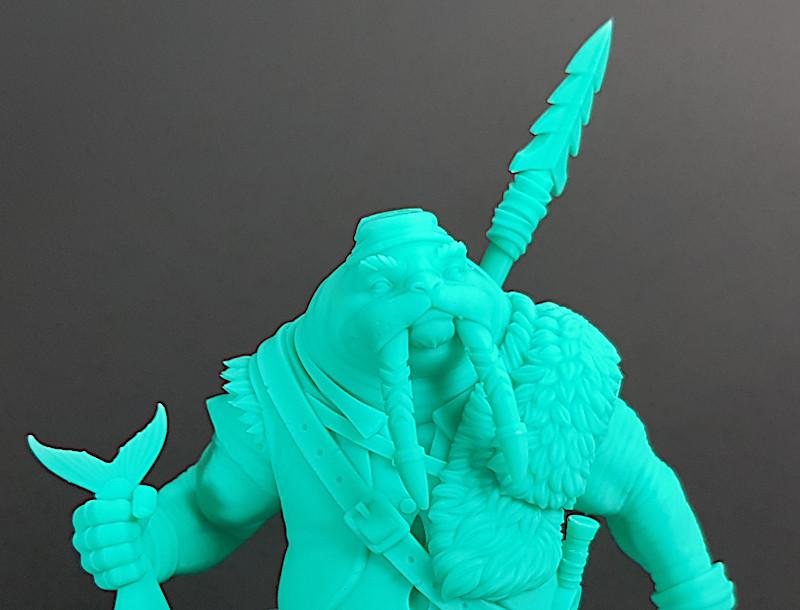 Walrus Man by The Dragon Trappers Lodge from MyMiniFactory is another great model to showcase the 8K LCD resin printing. This tabletop gaming figurine is a part of the … collection. We find that this model matched well the Mint Green color, is full of fine detail, and is generally very striking.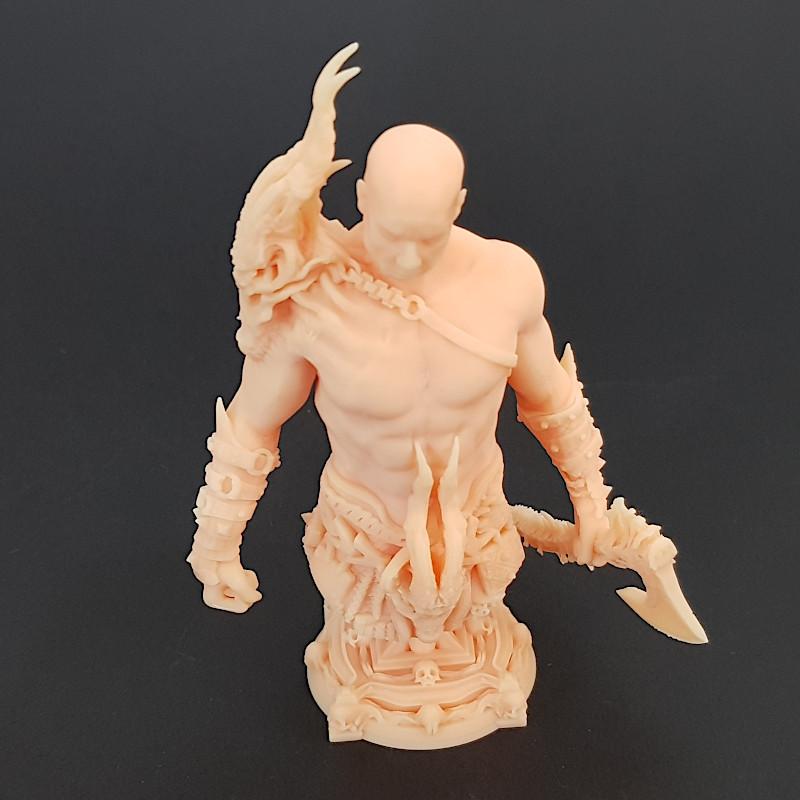 Dragon Warrior by Printomancer from MyMiniFactory is a pre-supported model from the Boneflesh Mancers collection. Anycubic Craftsman resin in beige color is the right pick for such models. Matt grey would be suitable as well. Another model that shows well the capability of Saturn's 2 8K resolution.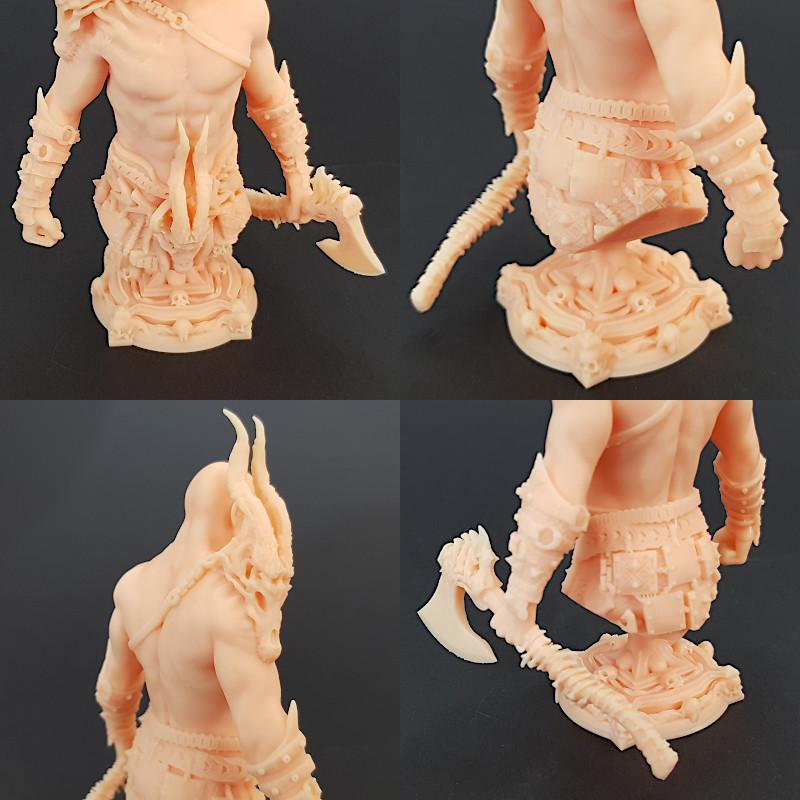 Compare to Other 3D Printers
Compare to the similar volume Resin 3D printers in the same price range:
The Elegoo Saturn 2 volume vise falls somewhere in between the plus-sized 3D printers like the Anycubic M3 Plus and UniFormation KGtwo, and high-volume machines like the Anycubic M3 Max. In terms of resolution, 8K screens are becoming more advanced and common in the newest SLA printers. For a more in-depth comparison, please visit our resin 3D printers comparison guide and table.
Conclusion – Early Bird Pre-Order Campaign
Saturn 2 was launched recently in a pre-order fashion on Elegoo's official website with 1,000 machines sold as an Early Bird deal within the first few hours. If you do not know, the "Early Bird" term is closely associated with the crowdfunding campaigns and it is literally the best discount offered to a particular number of the earliest backers. If the campaigns on the major manufacturers' websites are successful with this little hint of the crowdfunding spirit, then maybe in the future, we will see fewer of them launching their products on the crowdfunding platforms.
Satrurn 2 Review Summary
Despite of a hiccup with the product delivery, I am really happy I had a chance to review Elegoo Saturn 2. This LCD 3D printer has all chances to be the best seller in this class of machines. A distinguished look will make it easily recognizable.
PROS
8K Resolution – high-quality details on the prints
Original Design – machine looks attractive
Community – a strong community around the brand
CONS
Confusion with Setting Home and Z=0
No Wi-Fi