There is something magical about 3D sculpting and even a little bit addictive once you start it. A lot of amazing 3D models made in ZBrush are shared on social media, and it became part of a New Year's resolution to try this 3D designing software out.
As the result, a cute Easter Bunny 3D print holding a pot full of chocolates is ready for the festive season.
Easter Bunny 3D Print With Eggs and Chicks (MP4: 3DWithUs)
3D Design Workflow – 3D Print Raw Model for Inspiration
It seems like there are two types of 3D designers. Some were designing prior they got into 3D printing. Others, usually self-learners, discovered 3D designing as they went along. Ability to 3D print an unfinished model and to materialise work in progress is a great incentive for new designers to carry on. Well, at least that's what happened in my case. I started learning 3D designing with Tinkercad, moving on to Meshmixer and later dipping a bit into Fusion 360. ZBrush was the 4th software to try. There is something satisfactory in 3D sculpting and I was happy to work with the "king" of all 3D sculpting software.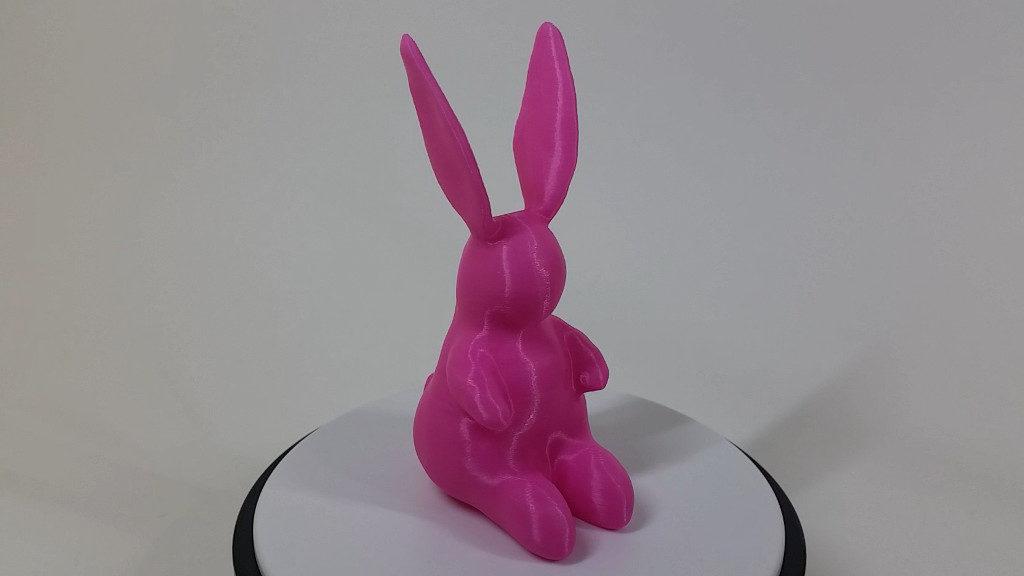 One of the bonuses of 3D printing is to be able to touch and feel the model at an early stage. It may have no detail, expressions or have abnormal parts that look unimpressive in CAD, but bring joy when printed out. That's when designers-to-be receive a new wave of inspiration and a will to continue learning and perfecting the model.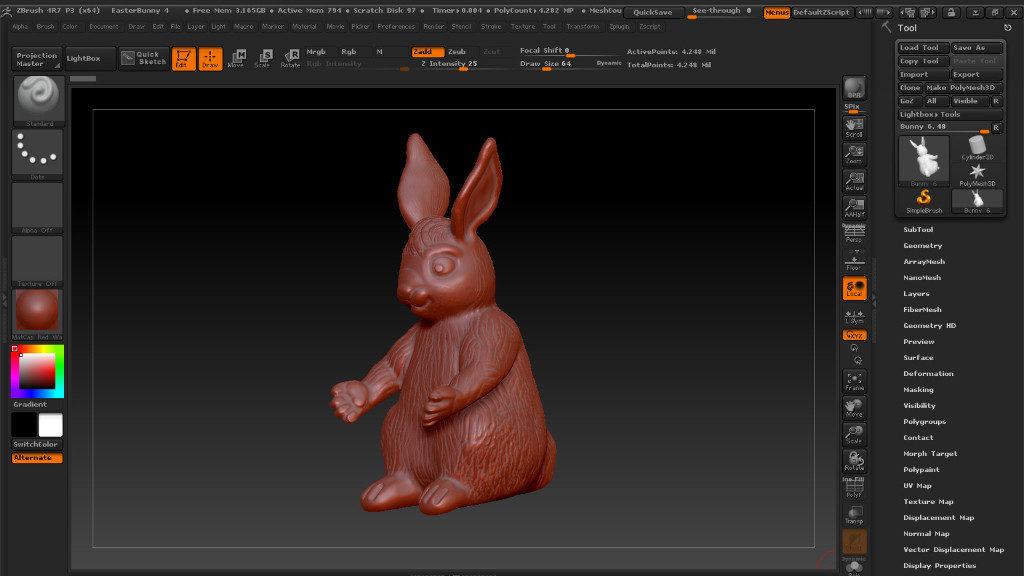 Getting Used to ZBrush Software
– Navigation – Zoom In/Zoom Out. Sadly, every CAD software has its own navigation system. Getting used to it is not an easy task. As I got comfortable to easy Tinkercad navigation, the first thing to do in ZBrush was to bind Zoom In/Zoom Out to a mouse scroll. (Tip: Go to Navigation tab, then press Ctrl+Alt while clicking on "IN" button, then scroll the wheel – this will create a shortcut. Repeat binding for Zoom Out).
– Google is your friend. There is a lot of tips to be found in Google. It's important to type in the right phrases in search, every time starting with "ZBrush …". Examples: "ZBrush zoom out on scroll", "ZBrush thin surface", "ZBrush reduce file size", etc.
– YouTube. Some videos are very helpful that teach how to use the software at different stages. I kept coming back to these tutorials as I progressed and found particular pointers that previously were hard to digest.
– ZBrush Courses. If you are sure that this is the software you want to master, I would recommend buying a course from the trusted designers for 3d printing. There is a wide range of courses available to master different software. Just don't forget to add "3d printing" as a keyword, if you want to learn design for 3D printing.
– 3D Designing as a Language. It is very similar to learning different languages. If you already know two or three, the next language comes much easier, the same as with coding, I guess.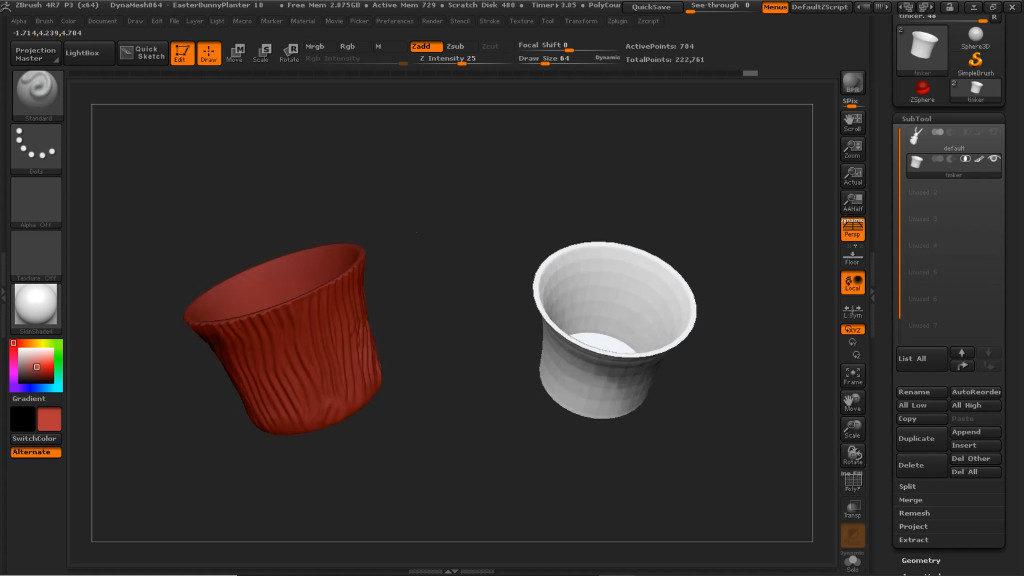 Imported and Remixed Pot
Easter Bunny model started off as a sphere. Most of it was 3D sculpted using 2-3 brushes only. I had to work out how to increase and reduce triangle count which is complicated in my opinion. While designing a pot I cheated a little bit, due to the lack of experience of how to start from scratch with this particular shape, with the flat bottom and even thin walls. The pot is actually taken from my earlier Tinkercad model "Cactus in a Pot". Importing an STL file into ZBrush was quite straightforward, unlike moving and scaling the imported model. Yet again, Google helped.
ZBrush 45 Days Trial
If you are ever going to try a 45-day trial, think your model through in advance. 45 days go by very quickly, especially if you are in full-time employment and have limited time to spare. It is impossible to get back to your model once the trial expires. Make sure to save your model in STL/OBJ format for 3D printing.
-Update. Apparently, ZBrush doesn't offer free trials anymore. In their download center, there are only Monthly, 6-Monthly and Yearly subscriptions available, together with the FREE version of ZBrush Mini Core.
Bit by bit, the workflow was recorded for a YouTube video:

3D Designing in ZBrush – Conclusion
Is Zbrush good? Yes. Probably the best 3D sculpting software out there according to my personal experience and research.
Will I buy Zbrush? Not now. Although I really want to get back to it, it's a bit too expensive for my casual 3D modeling. I know that I didn't use even a 10th of ZBrush features, but it was enough for a 3D printing task at hand. Another reason is that that there are still a lot of software to try out. But who knows, maybe one day I will get back to Zbrush and buy it then.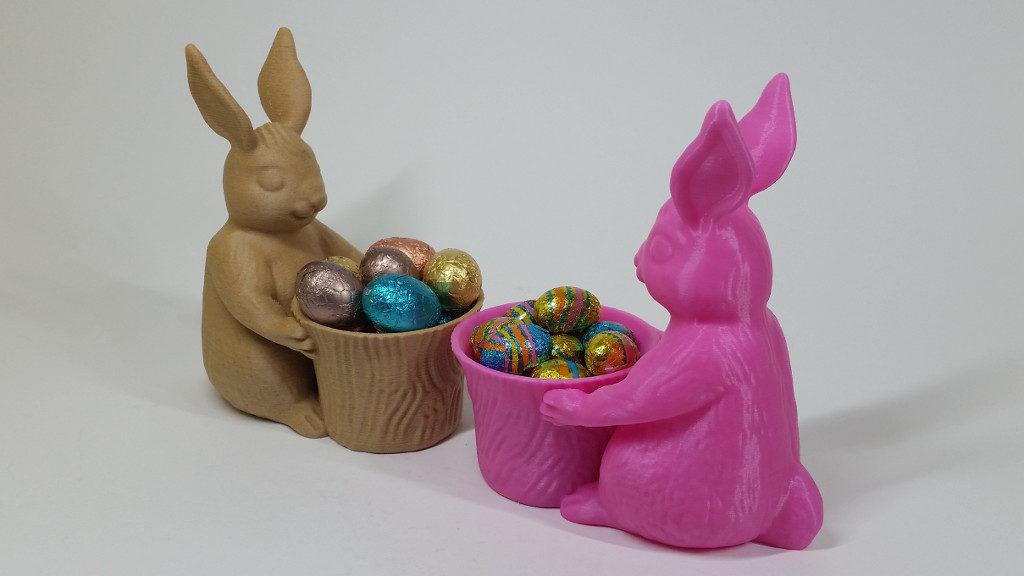 Easter Bunny Toy/Pot/Planter STL files for 3D Print
Featured Filaments & Resins

(affiliate links)
Amolen Wood Filament
on Amazon
Pink PLA Filament
on Amazon
Silver Galaxy Prusament
on Prusa3D
Anycubic Blue Resin
on Amazon
Easter Bunny Low Poly Art Version
Here is the low poly version of my Easter Bunny toy, pot, planter. Created in Blender. The idea to remix the existing model into low poly art came while testing a low poly generator by Andrew Sink. I also wrote a guide about the best mesh decimation tools. The FDM version is printed on Upgraded Prusa i3 MK25S in Silver Galaxy Prusament filament. The resin version is printed on Anycubic Photon Mono X in Aqua Blue Anycubic Basic resin.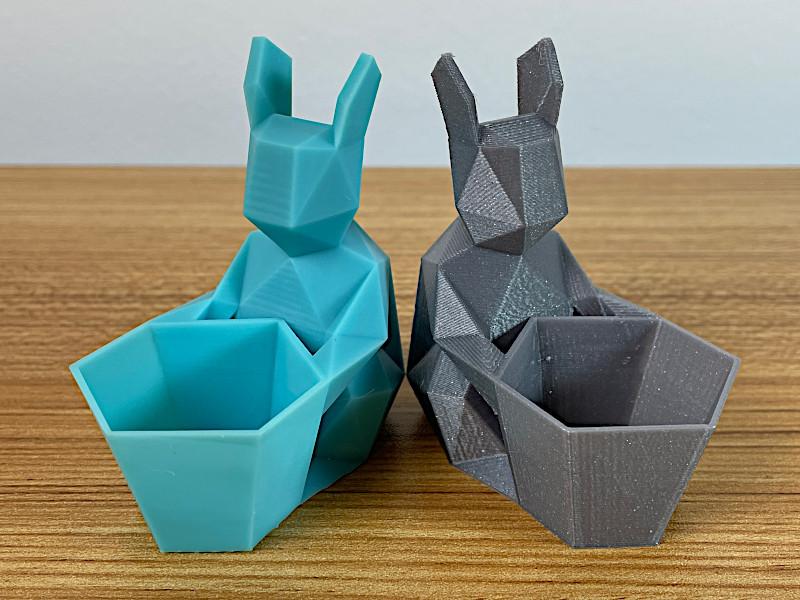 Dog the Gardener is a remake of the Easter Bunny which I designed in ZBrush. Now, this bunny has a fellow friend, a gardener dog. Both of them can be useful during the Easter egg hunt, and all year round these can serve as plant pots or simply as the containers for something small, and of course, they can be used as toys. These fellows could be great for introducing gardening to children turning it into a fun activity.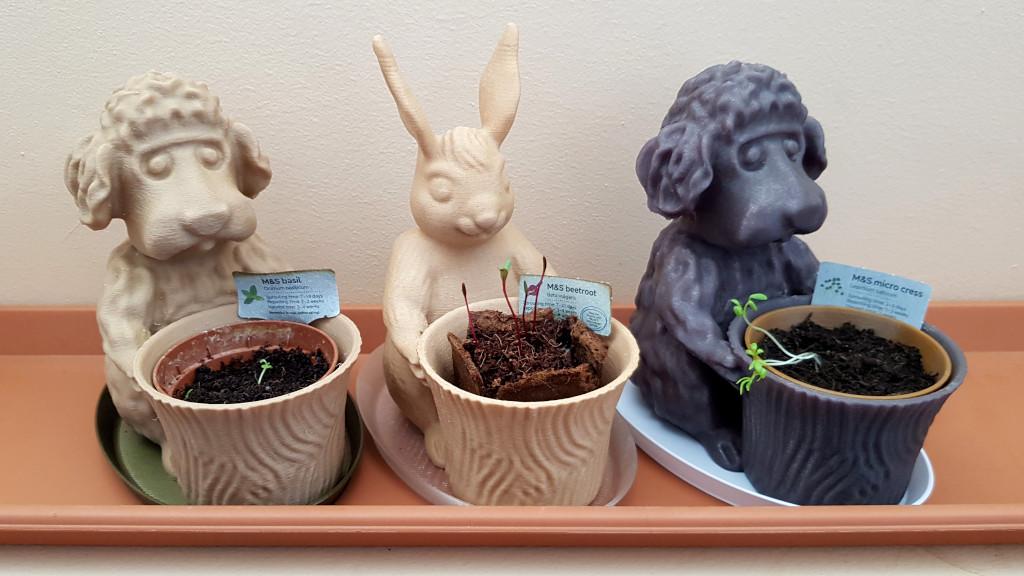 Dog the Gardener was created/remade in Blender 2.8 sculpting mode shortly after I took a course by PTT. Here is the review of the Blender for 3D printing 4-week workshop course.
Do you want to learn how to 3D design jewelry, for example, or 3D scanning or sculpting for 3D printing? Sort the table by software or topics.