The announcement of Guardians of the Galaxy part 2 created a wave of interest towards Groot in 3D printing community. A glimpse of Baby Groot in the movie trailer gave ideas to the designers. Makers all over the world are having fun recreating the famous character. For 3D printing in wood, Groot seems like an obvious choice. Let's see what other models would look good when 3D printed in wood.
Groot – 3D Printing in Wood is the Obvious Material Choice
Groot Bust that we printed following the first movie has two younger companions now. We liked Baby Groot Flower Pot design for a dreamy expression on its face. Full body Baby Groot is also adorable. It was printed in two parts. However, there is a file available where this figurine can be printed as a whole. You can find the links to the Groot files at the end of this article.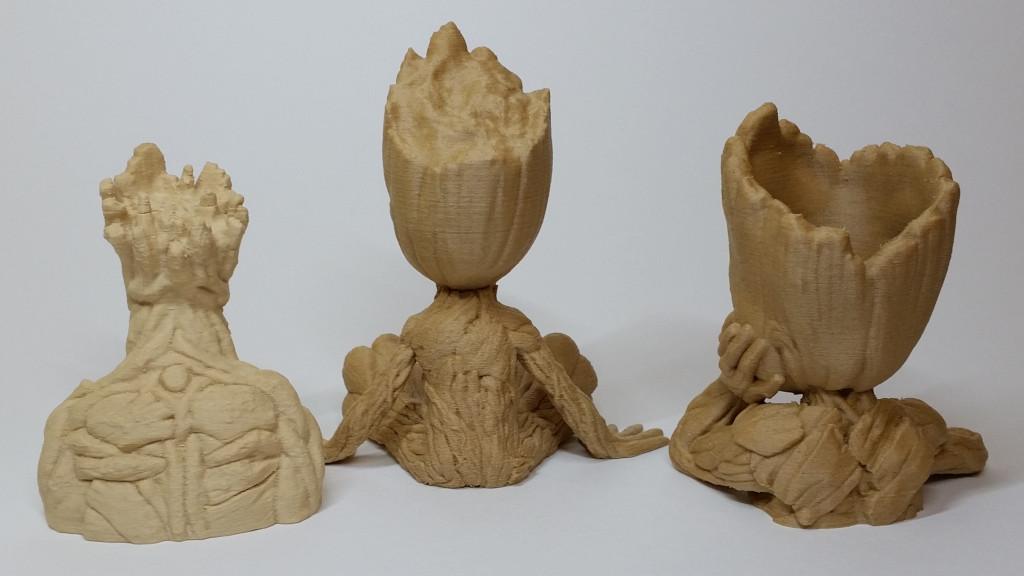 In a YouTube video below, we are 3D printing in wood filament on Delta Wasp 2040. One of the finished Groot Busts gets treated with varnish. This preserves the wood and makes it last longer.
Featured objects were 3D printed in the popular brands of filament available on Amazon , namely Fillamentum Timberfill, BQ Wood, and Amolen Wood.

Amolen Wood Filament on Amazon (affiliate link)
What Can be 3D Printed in Wood?
Basically, anything that can be carved out of real wood can be 3D printed. The results may especially impress someone who knows little about desktop 3D printing at home. Makes, that are printed in 100% plastic, do not have the "WOW" factor, due to the unnatural feel and negative publicity about excessive plastics usage.
On this website, you may find a lot of objects 3D printed in wood. Some objects are designed specifically for the wood filament – check out the 3D printed coasters. Highly customizable and functional 3D printed coasters can serve for a long time and be an inspirational object on any table. They are easily printable on a desktop 3D printer at home.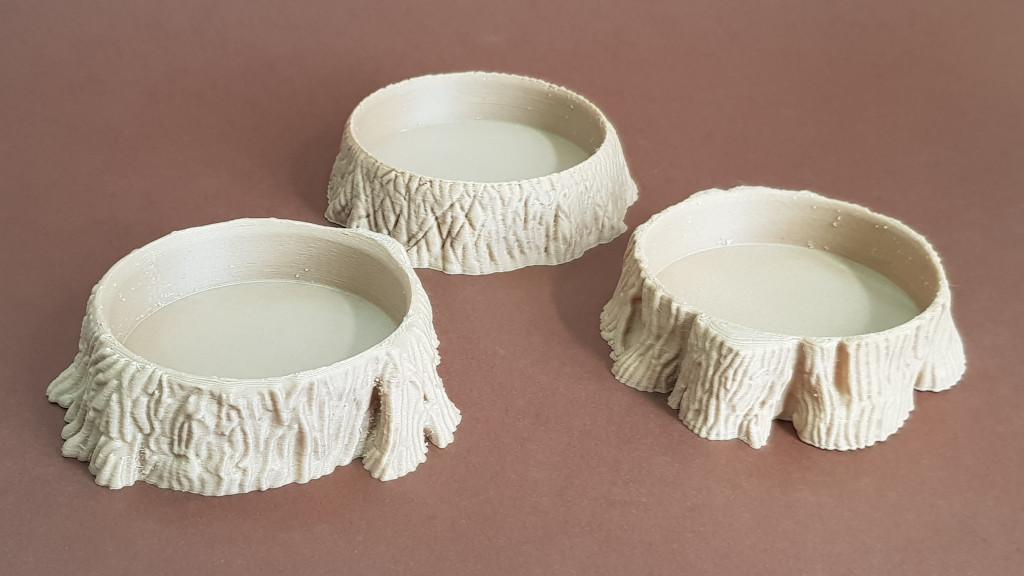 It is possible to use 3D scanning and vase mode 3D printing to achieve a real tree texture effect for functional or decorative items. There are many trees that carry a piece of history or sentimental value for someone.
It may be an oak, which can be hugged by five or more people. This tree outlived quite a few generations and maybe under protection of local conservationists. It could be a maple that holds a swing, or a pine with awesome cones. Even a birch 3D scanned texture can be transferred to an object. These "Vase Mode" pots look gorgeous in a wood filament.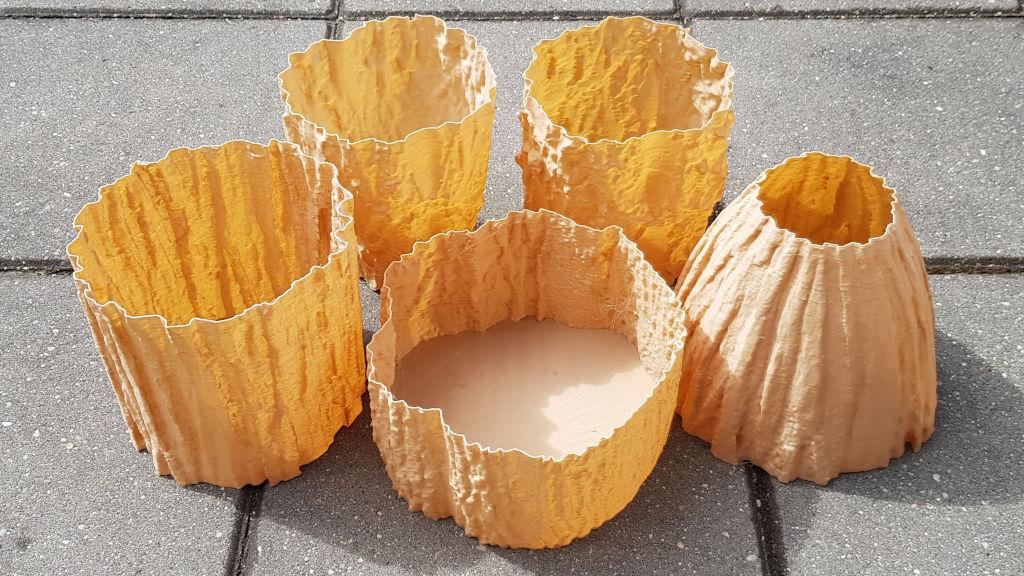 In another blog, we feature Themed Plant Pots also 3D printed in wood. These fellows could be great for introducing gardening to children by turning it into a fun activity. Wood is more natural than other plastic even if it gets stained with time.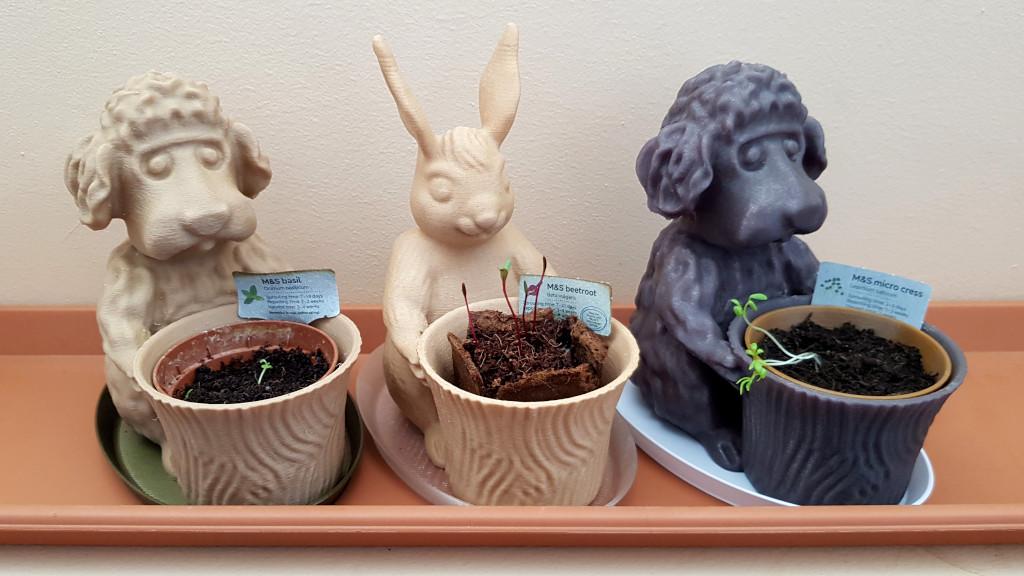 The wooden train railroad can be expanded endlessly adding more and more joints to the track. But it may be expensive to do so material-wise. We would customize and 3D print some original features instead, like miniature train stations or the houses. The models for the scenery have to be chosen by making sure that there will be no excessive retraction, and that they are not thin fragile objects. See our detailed wood filament review for the tips & tricks for 3D printing in wood.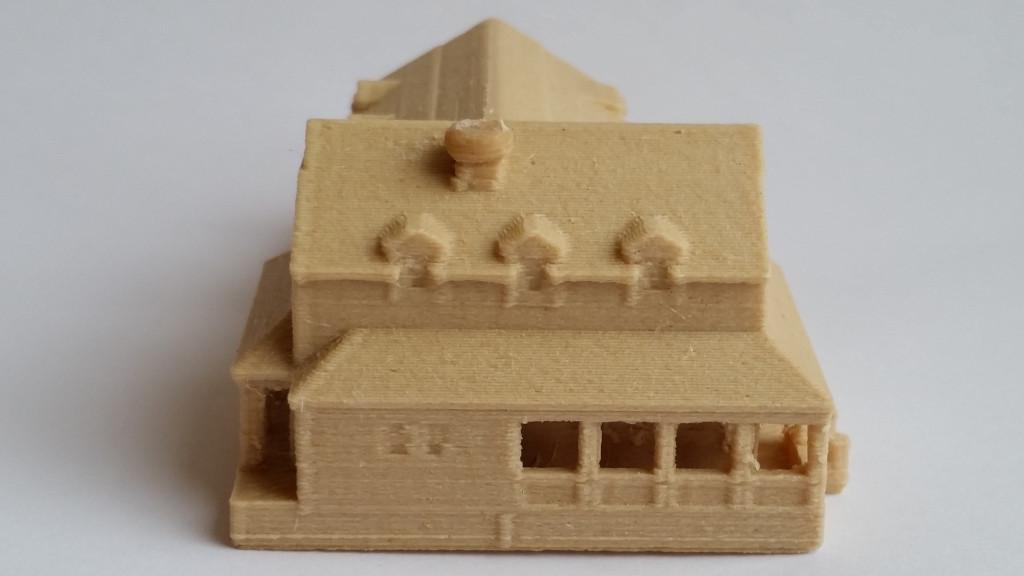 3D printing wood filament exists since 2012. It often consists of 60-80% polymers and 40-20% of recycled wood fiber of different kinds. There are no formal specifications for 3D printing materials and especially for new PLA composites. The properties of the end result, together with the whole printing experience, depends largely on what the non-PLA part of the filament is made of. In regards to the wood filament, the higher wood content, the trickier to print in it. In this blog, we will give you a few tips and tricks for how to handle this material successfully and to avoid unpleasant mishaps, like nozzle clogging. …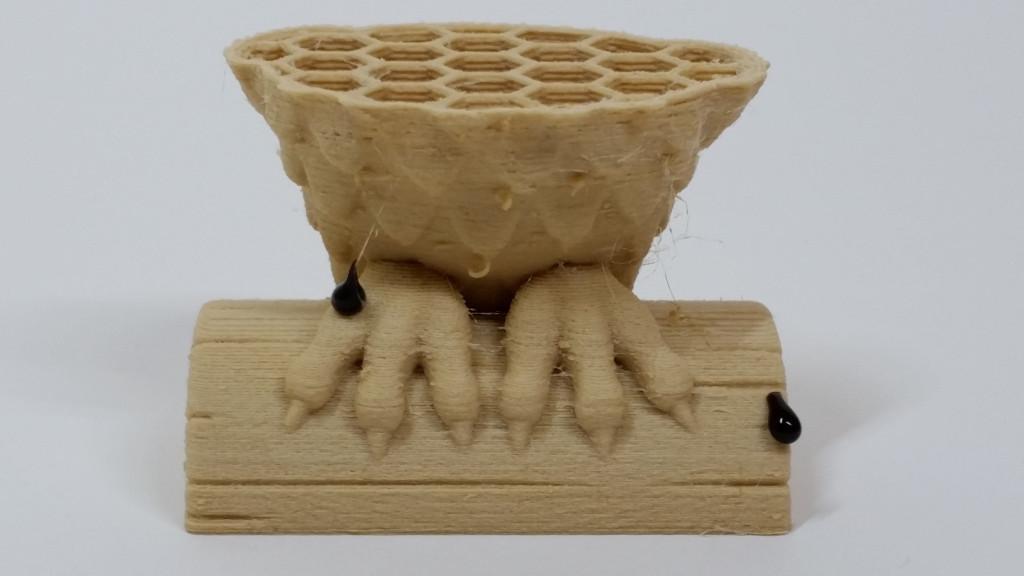 It is important to use the right 3D printer filament material for the right job. Here you can find the list of materials available together with detailed reviews and picture galleries for the most used materials in desktop 3D printing. PLA, ABS, Wood, PETG, Nylon, Support, TPU FLEX, etc. …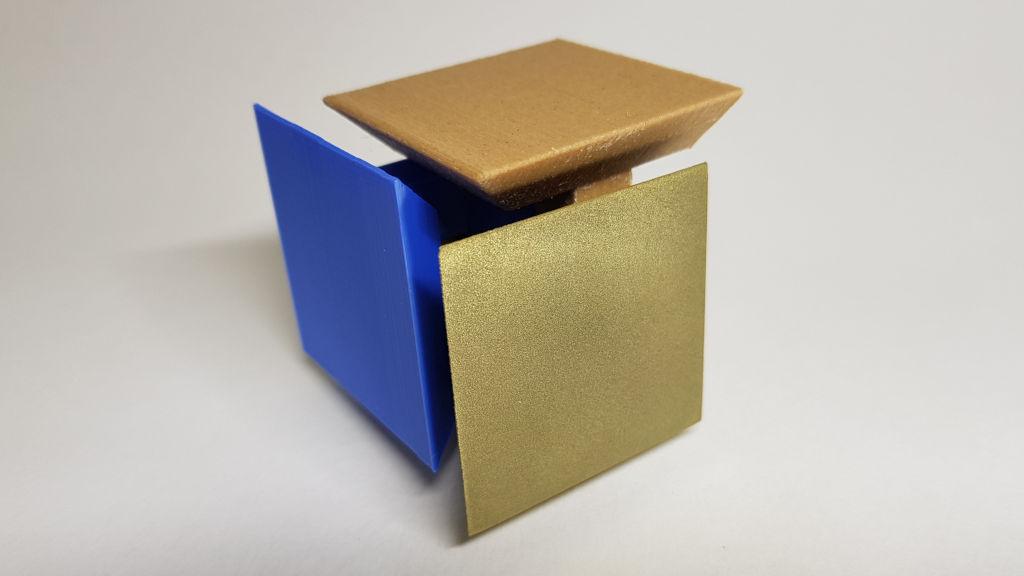 Links & Files:
Baby Groot Flower Pot
designed by Thomas Davis.
Baby Groot (design not available anymore)
designed by Эрдэнэжаргал Бямбасүрэн.
Groot Bust
designed by Doodle_Monkey.
Dog The Gardener and Easter Bunny
designed by Max Funkner.
Oak, Birch, and Pine
3D Scanned Tree Texture Collection on Cults3D.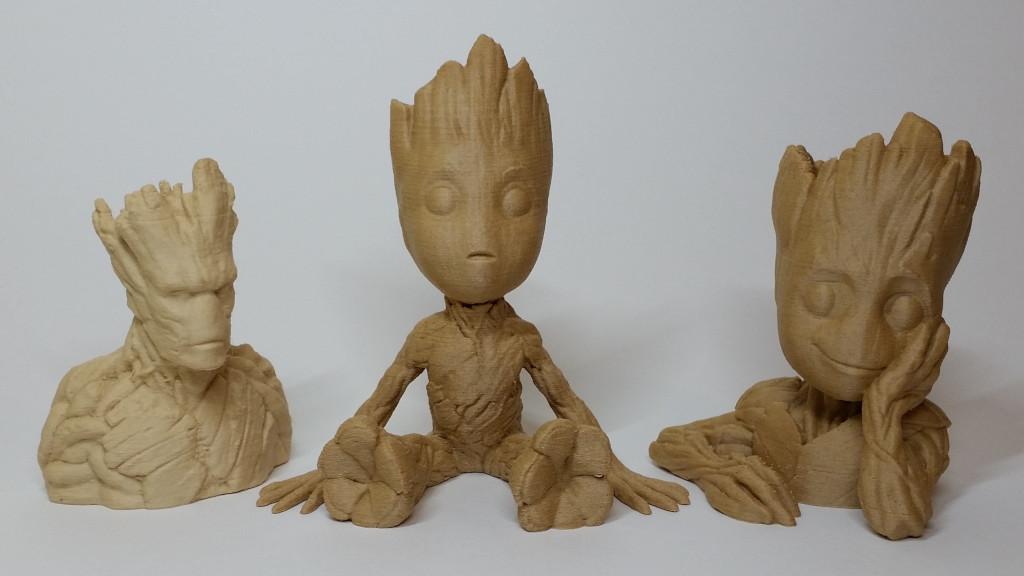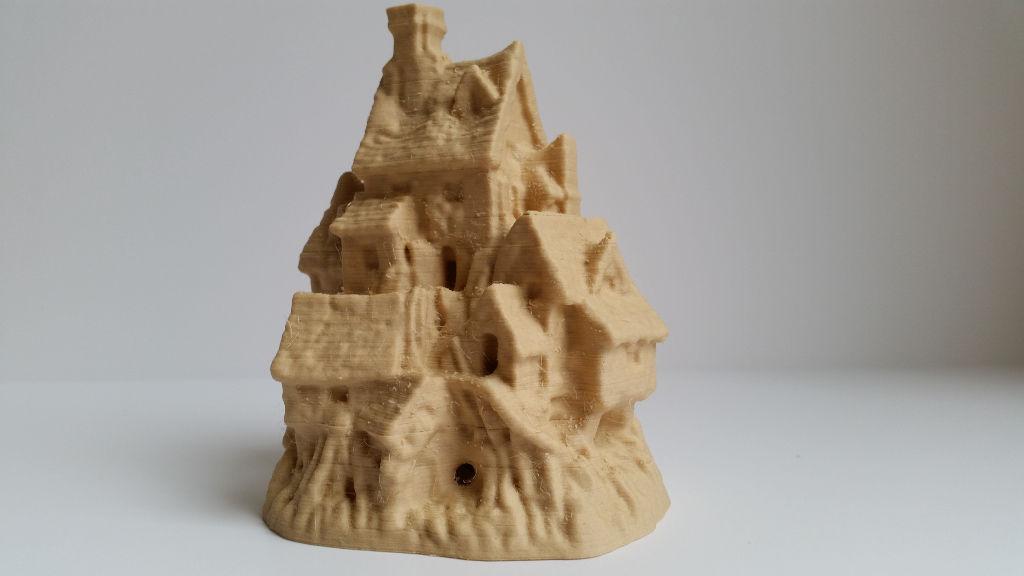 Fillamentum Timberfill Review
Wood composite filaments and 0.6-0.8mm nozzles are the best picks for such a project. A wide range of colors in the Fillamentum Timberfill series added even more fun as we can play with different shades featuring various combinations. Here is my Fillamentum Timberfill review.