Highly customizable and functional 3D printed coasters can serve for a long time and be an inspirational object on any table. They are easily printable on a desktop 3D printer at home and can be made in different materials. Let's take a deeper look into this subject using a Tree Stump Coaster as an example. We will check practical uses and 3D printing material choices. Also, we'll describe the 3D design process and mention advanced texturing, including a 3D scan option.
3D Printed Coasters – 3D Printing Material Choices
Cover something functional or decorative with a tree bark or tree rings, then 3D print it in a wood filament for smell and feel, and it will have an eye-pleasing natural effect. This result will help to impress someone who knows little about desktop 3D printing at home. Makes, that are printed in 100% plastic, do not have the "WOW" factor, due to the unnatural feel and negative publicity about excessive plastics usage. It seems like basic PLA and other plastics are doomed to fail to impress the masses unless it has some appealing effects.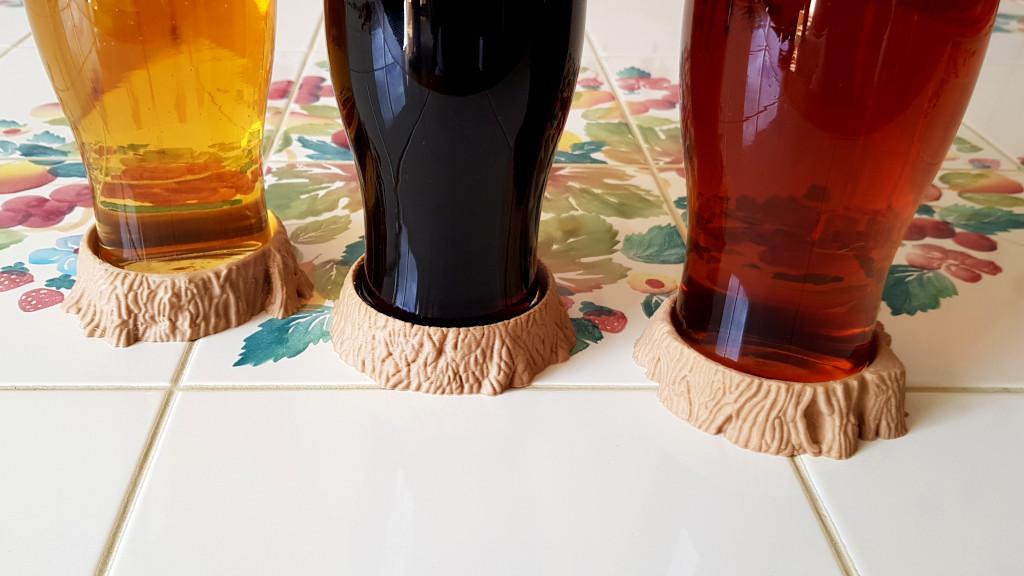 – Wood Filament – Usually it consists of 70% PLA, just hush-hush it. In some cases, objects, 3D printed in wood, look so good that they can be mistaken for the "hand-carved" ones. There are several detailed blogs about wood filament on this website, with the original images.
– Marble Filament – A 3D printed coaster featured as a medieval well would fit in at any home, especially in the traditionally decorated houses. To make it look like a real stone we have to make it heavy, 100% infill, and as smooth as possible, 0.1 layer height could help. Keep it cool for the complete feel.
– Metal Filament – Imagine some fantasy style "Gate Teleports" with ancient or alien civilizations' marks on them for 3D printed coasters. There is a variety of PLA plus metal composite filaments that feel much heavier and make your model rust if post-processed accordingly. ColorFab has such material and we are testing it. We will write about it later, stay tuned.
– Color Changing Filament – In this case, we can happily say that although it is pure plastic, it has quite a few practical uses.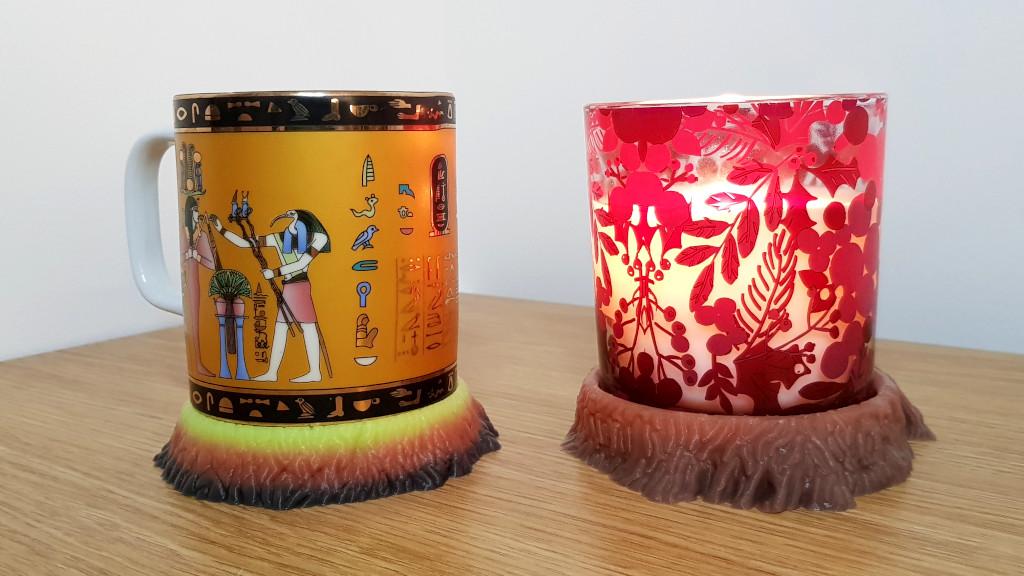 3D Printed Coasters in Color Changing Filament
Tree stump coasters weren't mean to be 3D printed in color-changing PLA. Only when I accidentally placed my teacup into the Valentine's Turkey, I saw it changing color, and it surprised me. I drink white tea (with milk) and it is only slightly hot, not very hot, but the coaster still changed its color to red-orange. Then I 3D printed a few more coasters, specifically in this material, to try them out. Indeed, in this filament, coasters have two functions: to be the holders and temperature measuring devices. When I poured boiling water into a cup, sitting in one of those coasters, the material quickly showed me its tricolor.
A tree stump in such filament also changed its color when I placed a candle in a glass onto it. It took a while though, as the glass got warm first at the top, and later slowly (in 1-2 hours) the heat spread to the rest of the glass. Good to know how safe the candles are in different holders. Glass seems to be quite a safe option, but still better to be sat on a coaster.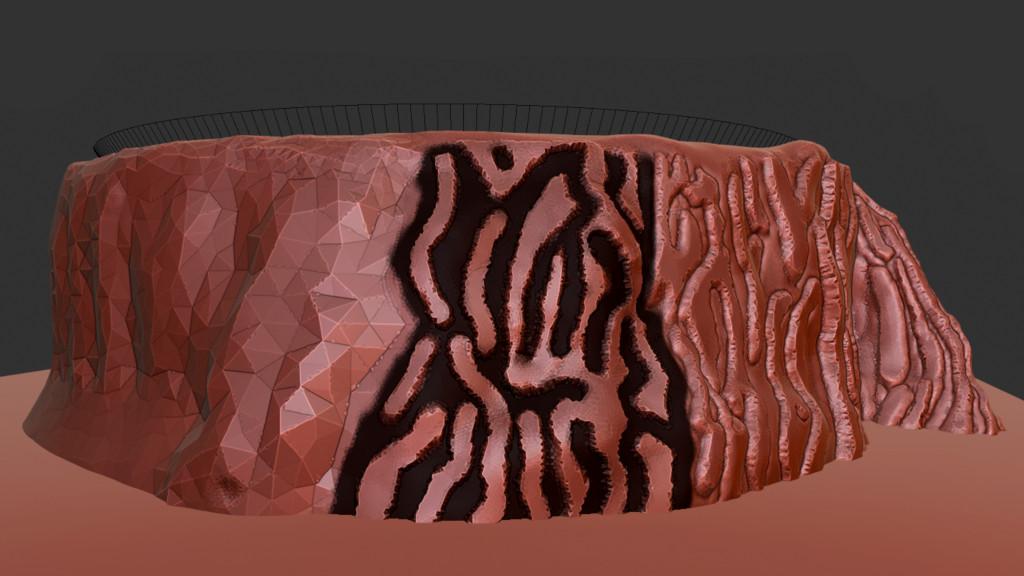 3D Sculpting Tree Bark Texture – Initial Learning Curve
Have you ever watched the "Karate Kid" movie? The teacher asked his pupil to wash the floor and to paint a long wooden wall using only particular movements? It turned out that those were the very basic movements in the karate-style fighting. In order to get used to a 3D sculpting software and to get a better feels of it, beginners have to go through the similar repetitive and time-consuming motions. This is when 3D sculpting texturing with virtual brushes is a great training.
Of course, there are plenty of "copy-paste" options and even special modified brushes available. However, with such methods, the end result may look generic, like a repetitive wallpaper pattern. Personally, for me, what started as a 3D sculpting training in Blender 2.8, ended up in creating a nice collection of 3D printable functional tree stump coasters.
3D Printed Tree Stump Coaster Idea
Initially, the idea to design various tree stump coasters came when I designed Valentine Turkey coaster/holder, where the turkey leans on the stump that holds a bottle of wine. Being unfamiliar with other techniques, it took me very long to 3D sculpt the texture of the stump.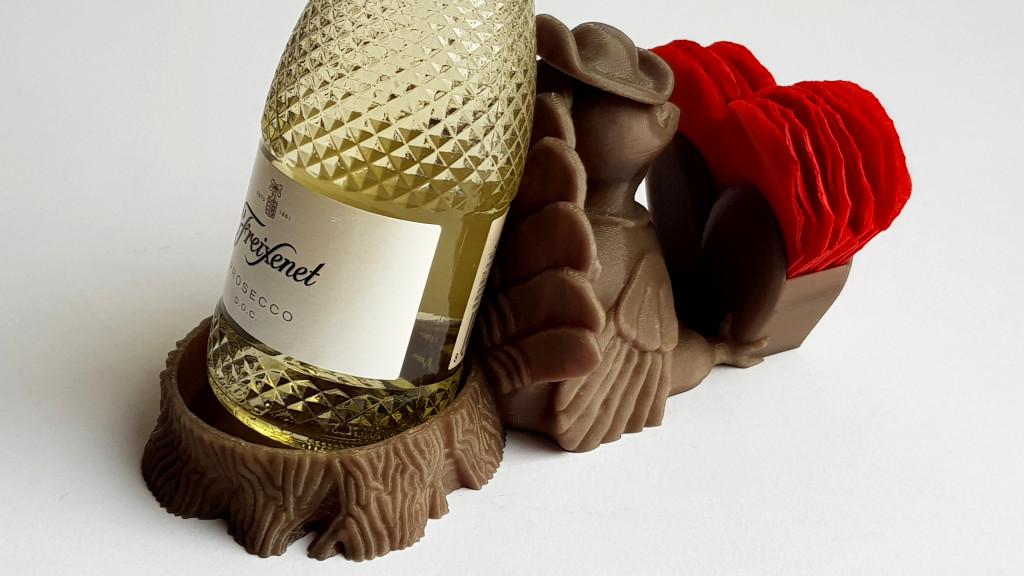 Advanced Texturing
The advanced texturing techniques can be applicable for the larger areas and this significantly reduces designing time. As I mentioned earlier, such texturing may result in a generic feel, but there are the ways and techniques to randomize further and to improve the outcome. This is a more advanced 3D designing and may not be necessary for desktop 3D printing at home. Here are a few ways how 3D printed coasters could be customized.
– Customized Brushes – pre-set brushes to sculpt quickly for the stone effect, adding various cracks, etc. My 3rd 3D printed coaster is 3D sculpted using such a brush. It reduced 3D sculpting time significantly. ZBrush software has such brushes available from the start, while we have to add them in Blender 2.8 as add-ons or create them ourselves.
– PBR Texturing (Physically-Based Rendering) – very powerful. I haven't dug into it, yet, but will do so at a later date, so stay tuned.
– 3D Scanning – Those familiar with photogrammetry or who owns a more sophisticated 3d scanner may get original texture using such a method.
Tree Bark 3D Scan – When 3D Scanning and 3D Printing Merges
Why spend hours sculpting a unique bark texture when it is possible to 3D scan tree bark and apply it to the model? As each tree is original and so will be every texture shot taken from the completed scan. A 3D printed coaster below has an oak tree scanned texture. 90 images were processed in Meshroom. Check our blog about photogrammetry with a mobile phone camera.
Texture for 3D Printed Coaster – Oak Tree Scan in Blender
(MP4: 3DWithUs)
It is possible use 3D scanning and vase mode 3D printing to achieve a real tree texture effect for functional or decorative items. There are many trees that carry a piece of history or sentimental value for someone. It may be an oak, which can be hugged by five or more people. This tree outlived quite a few generations and maybe under protection of local conservationists. It could be a maple that holds a swing, or a pine with awesome cones. Even a birch 3D scanned texture can be transferred to an object…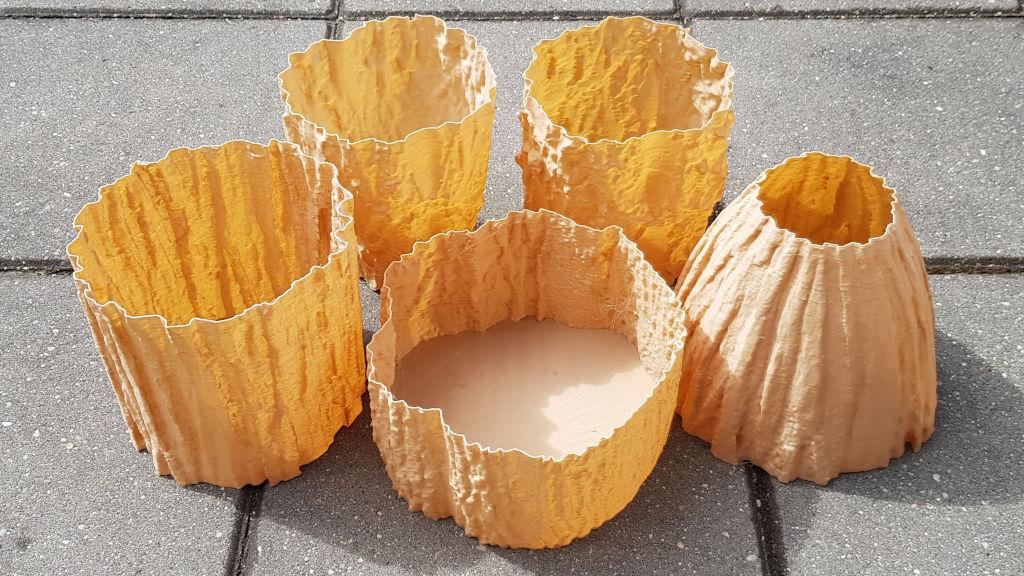 Amolen Wood Filament on Amazon (affiliate link)
3D Printed Coaster Scaling – Sizing Guide
My coasters are all for a 67 mm-wide base of a pint glass. The design is universal, so it can be adjusted for various types of glasses and cups. For the tea cups – these coasters may need a slight adjustment in a slicer. For example, reduce the height (Z) of the model so that the borders of the stump do not reach the cup's handle. If the cup is wide, then you might want to change X and Y accordingly. Please see our table below for precise measurements. In order to achieve the best results with a color-changing filament, the scaling should be more precise.
Original Base 67 mm
for 71 mm increase X and Y by 5%
for 74 mm increase X and Y by 10%
for 78 mm increase X and Y by 15%
for 81 mm increase x and Y by 20%
Source and Files
3D Designed Tree Stump Coaster Collection.
3D Scanned Tree Texture Collection: Oak, Birch, and Pine.