Wood Filament
3D printing wood filament exists since 2012, but it could still be called experimental. It often consists of 60-70% polymers and 40-30% of recycled wood fibres of different kinds. Its qualities in reference to strength, for example, can be similar to PLA. There are no formal specifications for 3D printing materials and especially for new PLA composites. The properties of the end result together with the whole printing experience depends largely on what the non-PLA part of the filament is made of. Click on picture to zoom
The early attempts to create wood-like objects included saw dust in the filament mix. This resulted in the makes being more like cardboard, less tightly built and more brittle than PLA. Nowadays the market has new range of wood filament, which create more authentic-looking objects. They smell and feel like real wood. Wood material made of bamboo, for example, creates sturdy objects that look like blocks of wood. Wood filament which is made of coconut particles has a distinctive finish. The end objects are water and salt water resistant. Those made in dark finish look very attractive.
Most of wood materials can be printed at temperatures ranging from 170 to 220 C. It is interesting to try out wood filament produced by a known brand, as it normally generates good printing results. The layers are tight and hardly visible even at 0.2 layer height. The objects can be sanded, sawed and painted just like real wood!
What could be also interesting to test is printing with wood filament at different temperatures. It is said to change the colour from light beige to dark brown. We observed that amazingly "tree rings" appear on the objects.
3D wood material is supposed to be relatively easy to print as it hardly even warps. Again, the better quality wood filament sticks well to the building plate, making it suitable for 3D printers without heated bed. Wood filament moulds and dries very quickly. Our objects were printed in Fillamentum Timberfill.
In our experience, wood filament clogged both of our printers' nozzles, Delta Wasp 2040 and Original Prusa i3 MK2. Fixing a clogged nozzle is … Read More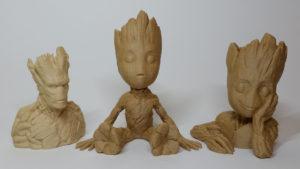 STL Files:
Elephant: http://www.thingiverse.com/thing:257911
Groot: http://www.thingiverse.com/thing:478806
Cuddling Owls: http://www.thingiverse.com/thing:50212
Houses on the Rock: http://www.thingiverse.com/thing:164868
Fillamentum Timberfill on Amazon
Please sign up for the New Post Alert in order not to miss our new posts.