3D printing wood filament exists for over 10 years. It often consists of 60-80% polymers and 40-20% of recycled wood fiber of different kinds. There are no formal specifications for 3D printing materials and especially for new wood PLA composites. The properties of the end result, together with the whole printing experience, depends largely on what the non-PLA part of the filament is made of. In regards to the wood filament, the higher wood content, the trickier to print in it. In this guide, we will give you a few tips and tricks for how to handle this material successfully and to avoid unpleasant mishaps, like nozzle clogging.
This Guide Covers
Looks, Feels, and Smells Like Real Wood
The early attempts to create wood-like objects included sawdust in the filament mix. This resulted in the makes being more like cardboard, less tightly built, and more brittle than PLA. Nowadays the market has a new range of wood filament, which allows to create more authentic-looking objects. They smell and feel like real wood. Wood material made of bamboo, for example, creates sturdy objects that look like blocks of wood. The filament which is made of coconut particles has a distinctive finish.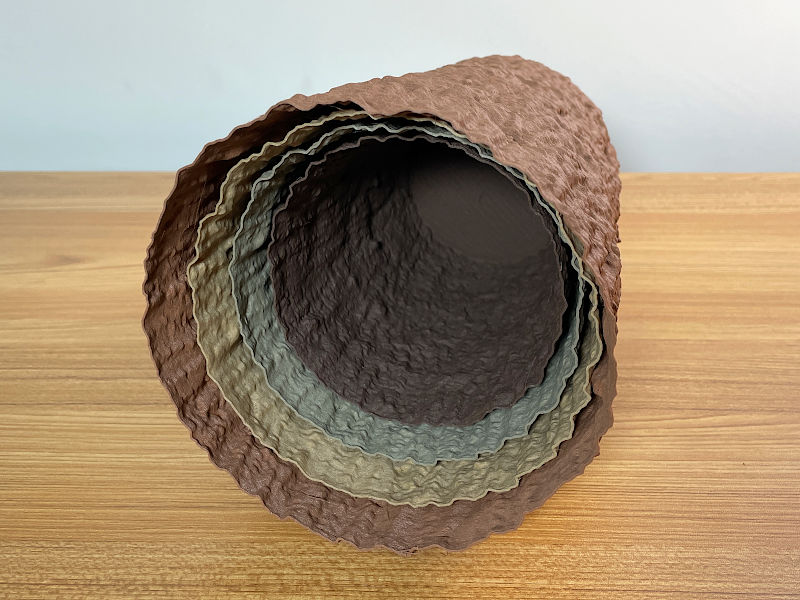 How to Choose Wood Filament? – Watch out!
After trying a few brands, visiting 3D printing-related trade shows, and reading reviews, I realized that it was a tricky 3D printing material for manufacturers, as the wood filament was not the easiest to handle and may clog nozzles. Manufacturers have to balance and often to sacrifice the authentic wood feel (reduce the % of wood chips) to guarantee a good filament flow for a 0.4mm nozzle (which is the most common for desktop FDM 3D printers). And we have seen cases when buyers get tricked into buying Wood PLA – which is 100% PLA in a beige color shade.
The Best Wood Filament
Since I bought my first 3D printer, I have tried printing in various wood filaments. I am pleased to see that there has been an increase in quality and variety of shades. Even the instructions on how to print successfully with a particular product became much clearer. Here is a short list of brands I already tried or that caught my eye. As usual, I will add more manufacturers in due course.
Fillamentum Timberfill™
Price: €35-44
Product Links:
Official Website
-20% Discount Code: 3DWithUs20

Fillamentum is an award-winning filament manufacturer from the Czech Republic. A few years ago, they launched a trademarked Timberfill® range of filaments that strongly resemble real wood as well as having wood characteristics. Models, when printed in Timberfill, temporarily smell and feel like objects carved from wood. Also, objects can be sanded and treated. Such material is also biodegradable by industrial composting.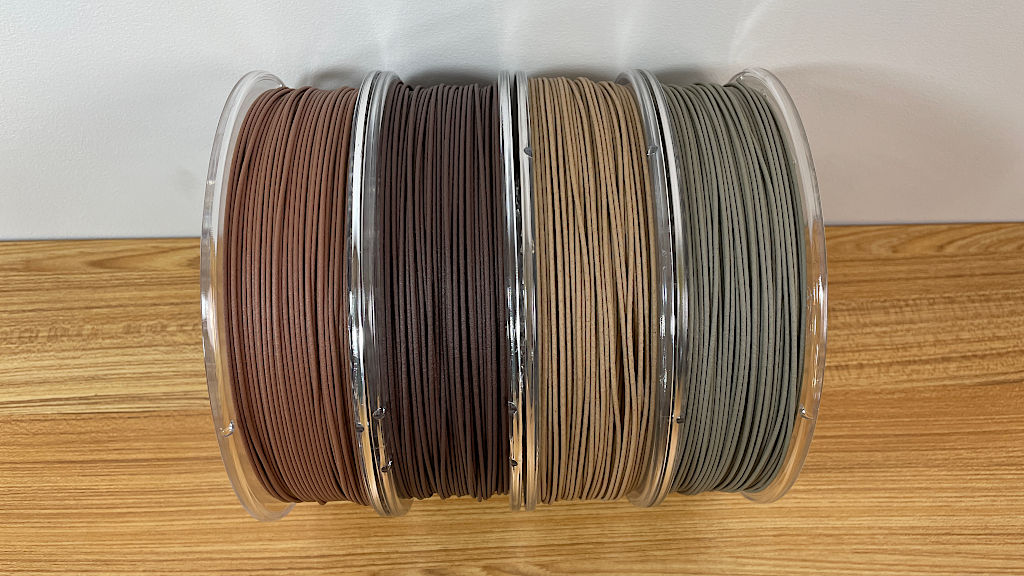 Initially, there were only four colors: Cinnamon, Champagne, Light Wood, and Rosewood. In 2022, four more colors Southern Pine, Charcoal, Terracotta, and Redheart were added to the collection. I had a chance to thoroughly test Timberfill filament for a detailed review.
Amolen
Price: $32.99 – 38.99
Product Affiliate Links: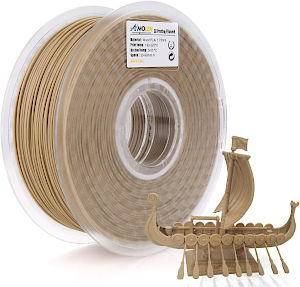 Amazon
Set of four: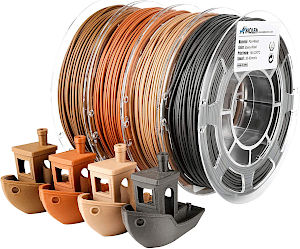 Amazon
Amolen is one of the popular brands on Amazon. At the moment of updating this guide, I saw that their wood PLA came in four colors: wood bamboo, wood-ebony black, wood-red, and wood walnut. In the past, I bought a few spools of Amolen Wood PLA and was happy with the print results. For beginners in 3D printing, who want to try exotic filaments, I would recommend buying their set of four small spools. The set that I tried was a bundle of wood, marble, sparkle gold, and bronze PLA. These, 225g spools, are enough to complete one medium-to-large-size or a few small-size prints.
Polymaker PolyWood™ – A Wood Mimic
Price: $29.99 – 56.99
Product Affiliate Links: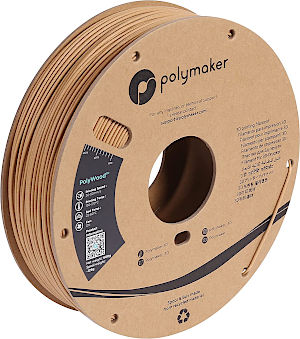 I had a chance to print with PolyWood™ and can confirm that there were no jamming issues when using a 0.4mm nozzle. The color and feel also were very wood-like. The only missing feature was the smell of wood. But I would suggest this is a very good mimic without wood particles involved.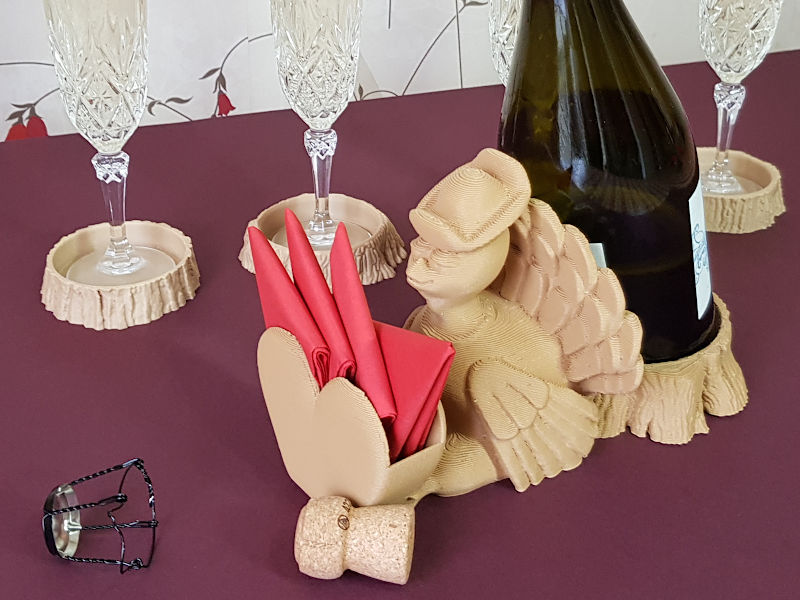 Other Wood PLA Brands
I will add more filament brands in due course. Here are a few tips on purchasing such a product:
– Deals. In order to get the best deals, I would suggest searching by "wood filament" or "wood PLA on Amazon.
– No Brand. A quick note about no brand materials. Even if deals may be very good there is a good chance to get "Wood Color PLA" without wood particles. Also, shades may greatly vary from batch to batch so it is recommended to buy enough filament at once to make sure that the color is the same.
What to 3D Print?
3D print something functional or decorative in wood filament for the smell and feel, and it will also have an eye-pleasing natural effect. Basically, anything that can be carved out of real wood can be 3D printed. The results may impress someone who knows little about desktop 3D printing at home. Makes, that are printed in 100% plastic, do not have the "WOW" factor, due to the unnatural feel and negative publicity about excessive plastics usage.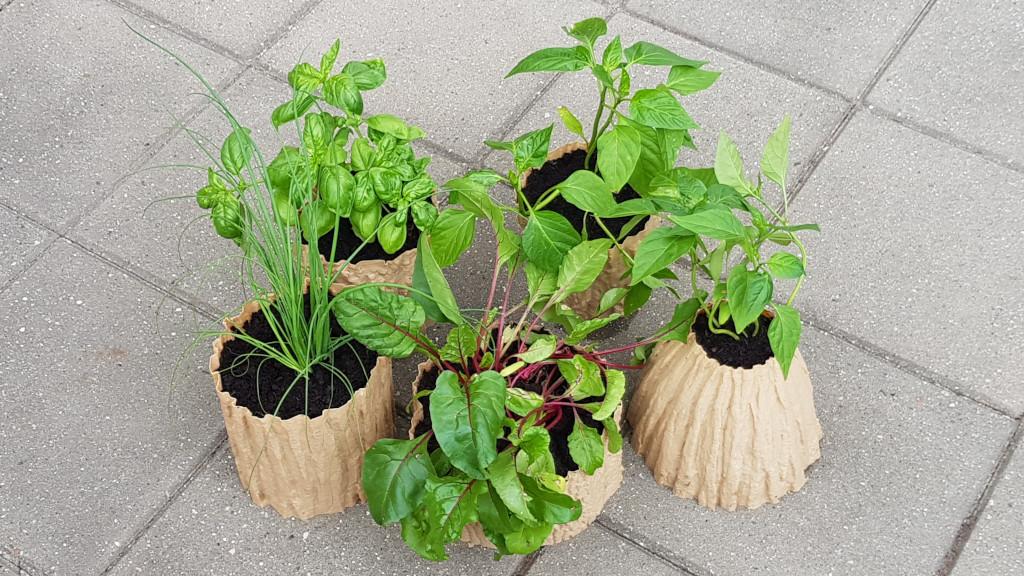 There are a lot of quality files for 3d printing in wood composite filament that can be found on STL file platforms. For beginners, I would recommend trying something with minimal retraction and preferably in the vase mode. Featured above, are the plant pots that I printed for the guide and that have the 3D scanned tree texture.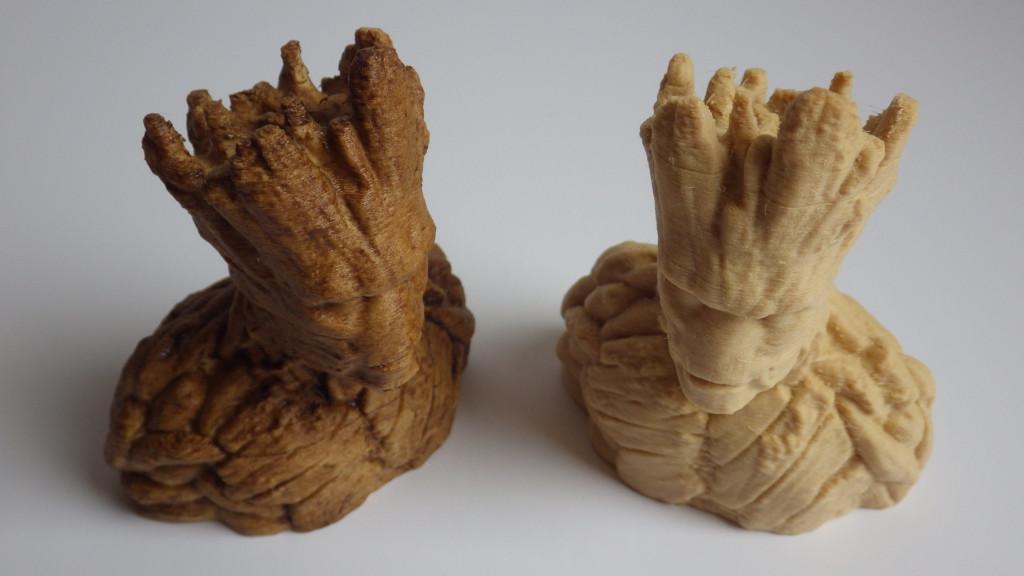 Guardians of the Galaxy movies created a wave of interest in Groot in the 3D printing community. Groot, and later Baby Groot, in the movie, gave ideas to the designers. Makers all over the world have been having fun recreating famous characters. 3D printing Groot in wood seems like an obvious choice. To see the variations of Groot and other models, check our guide on The Best Models and Designs for Wood Filament.
Wood Filament 3D Printing Settings
– Nozzle Temperature – The majority of wood materials can be printed at temperatures ranging between 180 and 220°C. It is interesting to try out the wood filament produced by a known brand, as it usually generates good printing results. Wood filament molds and dries very quickly, and it has no problem with bridging.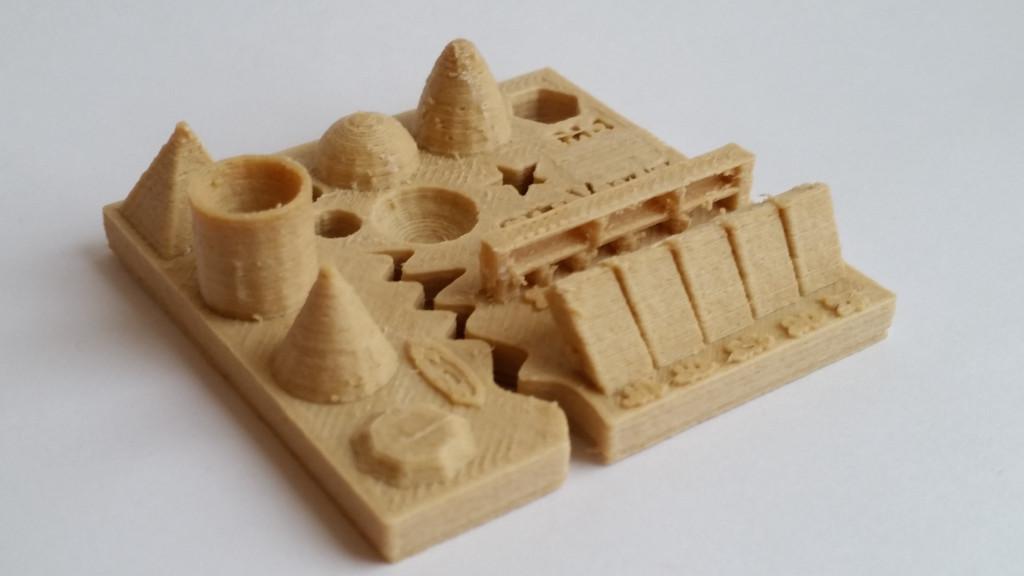 – Bed temperature – 60°C is recommended. 3D printing in wood material is supposed to be relatively easy as it hardly ever warps. Again, the better-quality wood filament sticks well to the building plate, making it suitable for 3D printers without a heated bed.
– Layer Height – The layers are tight and hardly visible even at 0.2mm layer height. With a higher layer, we observed that amazingly "tree rings" appear on the objects. The objects can be sanded, sawed, and painted just like real wood!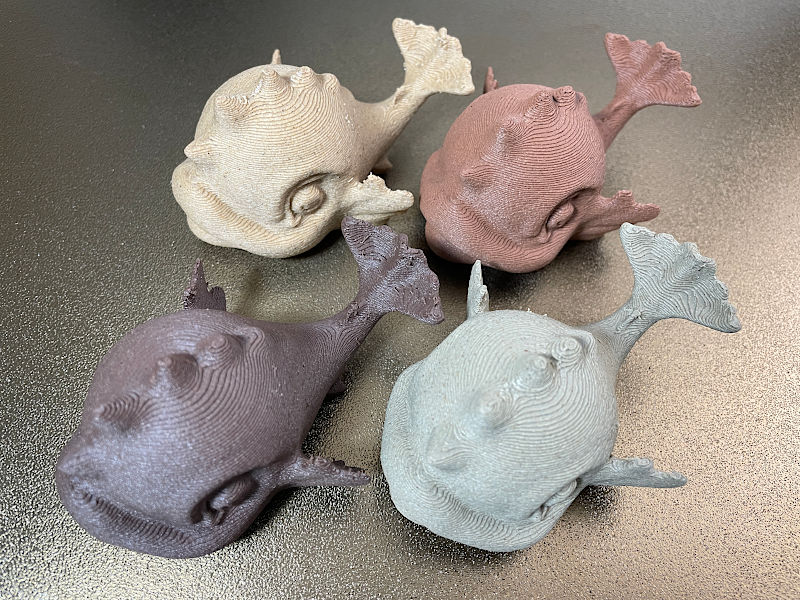 – Retraction – Produces a lot of stringing. Here is where this filament has a clear disadvantage. It may take a while to tune the slicer settings for this filament. Check "Excessive Retraction" tips and tricks below.
Cura Settings – In the YouTube video below, we show Cura settings and 3D printing workflow that worked well for the Elephant Toy model by LeFabShop on Thingiverse made in wood filament.
It could be tempting to test printing in the wood filament at different temperatures. It is said to change color from light beige to dark brown. However, we would not recommend raising the temperature above the range recommended by the manufacturer, as there is a risk of clogging the nozzle.
Nozzle Clogging Issues
In our experience, wood filament clogged both of our printers' nozzles, Delta Wasp 2040 and Original Prusa i3 MK2.5S. Fixing a clogged nozzle is not the easiest process, it can also be hazardous. Before trying to use wood filament we would recommend becoming comfortable using PLA first and getting to know your 3D printer well. When 3D printing in wood it is important to stick to the manufacturer's guidelines. If the temperature is too low, the filament doesn't flow, if too high, it burns. Sticky tar residue may accumulate inside the extruder, even if it is not visible. See the picture below where it dripped onto an unfinished part.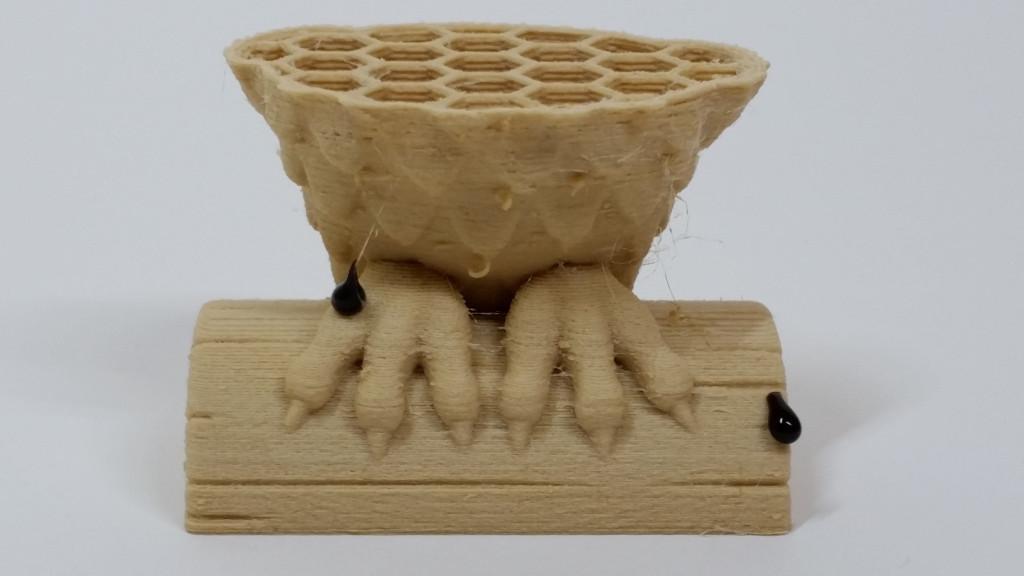 The best anti-clogging tip would be to change the nozzle to a bigger size. Check the settings for 3D printing with a 0.8mm nozzle as an example. Changing the nozzle is quite an easy process on most consumer and budget 3D printers.
How to Print Successfully Using Wood Composite PLA
Blocked nozzles are frustrating but this issue has never put me off as the end result is very rewarding. There are some techniques to minimize the risk. Here are a few tips and tricks:
– Nozzle Cleaning. One of the best ways to clean the nozzle is to use the trusty PLA filament in between printing in wood. Use a short piece of this filament after every print in the wood filament. I would not recommend "cold pulling" as the wood filament is brittle and there is a big chance that it will get stuck in a PTFE tube.
– Nozzle Change. It is a good practice to change the nozzle regularly. Every 3 months if the 3D printer is in heavy use, and especially when experimenting with various materials.
– Layer Height. 0.2mm and higher. The 1st layer is 150% (0.3) to make sure that the filament flow is consistent and bed leveling doesn't cause unnecessary problems.
– Nozzle Size. 3D printing with a large nozzle significantly reduces the risk of blockage. The nozzle size is very crucial in many cases. Fillamentum, for example, recommends using a nozzle of 0.5mm or higher for all 8 colors of their Timberfill range. I had a chance to properly test Timberfill filament and had a lot of good results with both 0.4mm and 0.6mm nozzles.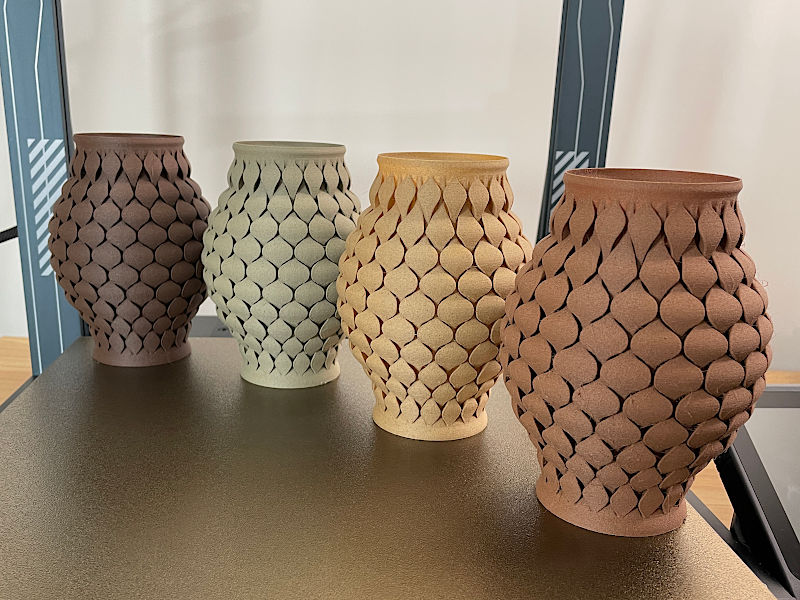 – Vase Mode Mentioned above, the nozzle cleaning technique, and the vase mode settings allowed me to print Slightly Overengineered Vases by Nat A Cyborg with a 0.4mm nozzle without any issues.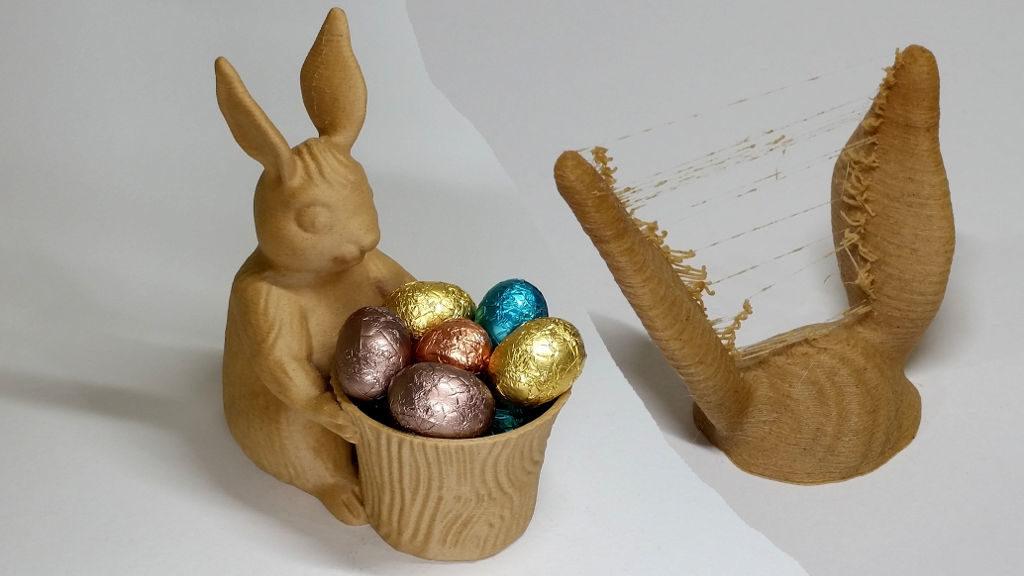 – Avoid Excessive Retraction – As we mentioned earlier, the wood filament is prone to stringing. Excessive retraction will cause a lot of stringing and will waste some filament in the process. As a result, the missing layers may appear and ruin the print in the process. There are two ways to avoid this. 1) 3D print "Local Test File" (a specific part of the object) and tune the slicer settings so there is no stringing. Either 2) Pause the machine for the filament change, unload, and load the filament to reset the printer to the original flow.
3D Printer of Choice and Other Devices
I feel that a direct drive extrusion system is better suited for this type of filament. Wood filament is usually brittle, even in its prime state, and can easily snap if there is extra friction while traveling through long PTFE tubes. The Elegoo Neptune 3 Plus and Prusa i3 MK2S systems, which are equipped with direct drive extruders, have worked well for me. Since wider nozzles are recommended, having a bigger 3D print build volume comes in handy as well, especially when printing vases with 0.8mm nozzles.
Filament Dryer
The following device can help to fight brittleness and to remove excessive moisture. Wood PLA is a brittle material. When bended, the filament snaps easily. After absorbing moisture, it gets even worse. To make sure that the filament is in the best condition, it is important to store it with a desiccant dehumidifier. I keep it in a dryer box overnight before printing if I know a particular spool will be involved in the important, long-time printing project. Eryone Filament Dryer Box from Amazon is one of such affordable devices that can keep your filament drying at a particular temperature. Recently, we published a comparison guide featuring drying boxes.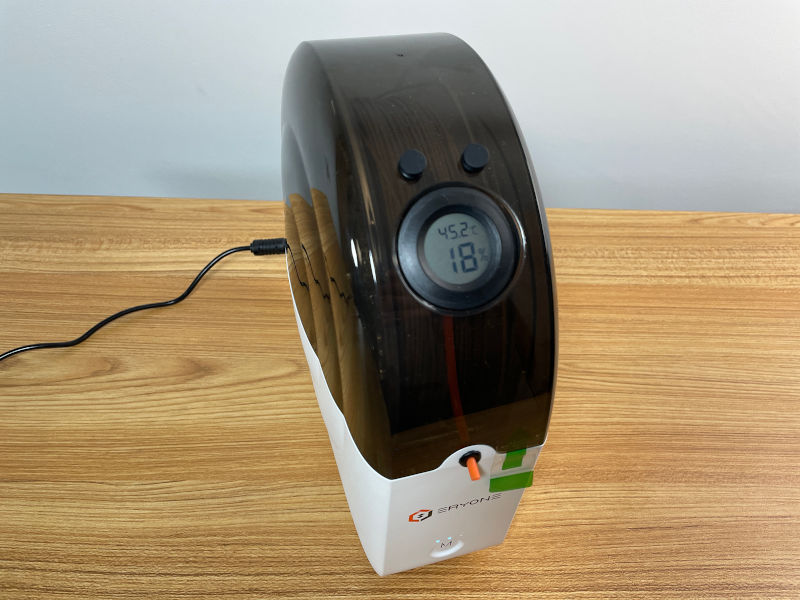 Conclusion
Wood PLA composites are among the most tricky to deal with FDM 3D printing materials but the result is highly rewarding. The natural wood feel is unbeatable. I am glad that filament manufacturers keep looking for opportunities to bring natural materials to the market. If you want to share your own experience, please leave a comment below.
Read More & Table: 3D Printing Filament for Desktop 3D Printers
It is important to use the right 3D printer filament material for the right job. Here you can find the list of materials available together with detailed reviews and picture galleries for the most used materials in desktop 3D printing. PLA, ABS, Wood, PETG, TPU FLEX, etc. …