In addition to making some of the best budget resin 3D printers on the market, Elegoo also makes the Elegoo Standard Photopolymer Resin, an inexpensive resin that works with a variety of different 3D printers and is available in a variety of different colors. The Standard Photopolymer is a fast-curing resin that is compatible with Mono LCD 3D printers like the Mars 2 Pro used in this article.
Elegoo Standard Photopolymer is a go-to resin for quick, reliable results and is a popular choice due to its low cost and high quality results. The Standard Photopolymer is also easy to paint, sand, or otherwise post-process, making it ideal for props, cosplay, and other applications that require a higher level of surface finish.
Elegoo Standard Photopolymer Resin
on Amazon
(affiliate links)
on AliExpress
Resin Review
The Beige Elegoo Standard Photopolymer Resin is a color somewhere between peach and beige, and the resin is higher in viscosity than other resins like the Siraya Tech Simple Clear resin. The Standard Photopolymer Resin works equally well with Mono as well as RGB LCD MSLA 3D printers, and has a wide range of cure times depending on the intensity of the light source.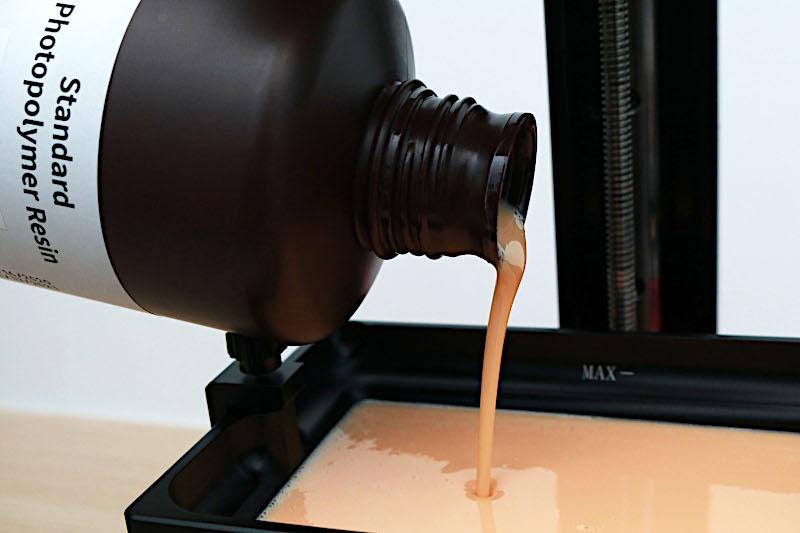 In addition to beige, the Standard Photopolymer resin is available in blue, translucent green, translucent red, grey, maroon, black, white, translucent clear, and yellow. The wide variety of colors and levels of transparency available make the Standard Photopolymer attractive to anyone interested in swapping resin colors but concerned about having to make new resin profiles or tweaking settings for each color.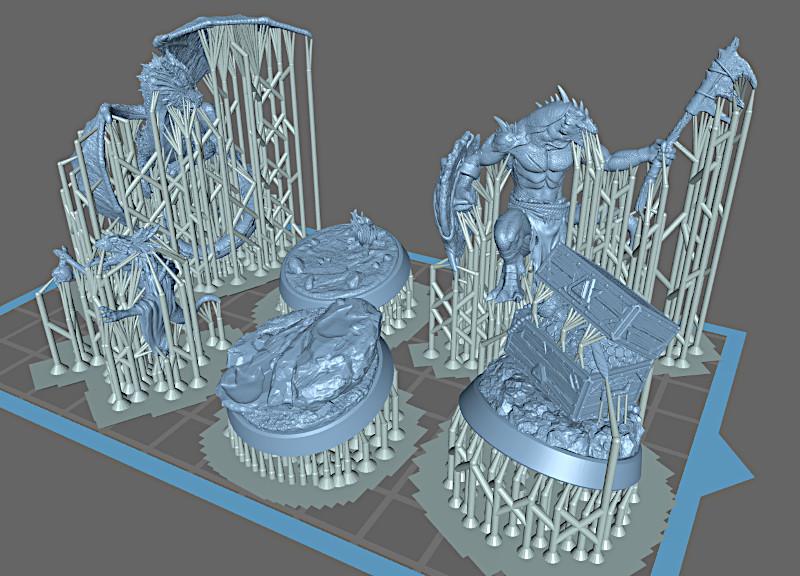 Printing Miniatures with Elegoo Standard Photopolymer Resin
Printing miniature models is a great way to test the ability of a resin to capture fine details in small objects, as well as testing the ability of the resin to create support structures that can be easily removed. I printed three 32mm miniatures from Loot Studios and their corresponding bases simultaneously to see how well the Standard Photopolymer resin performed.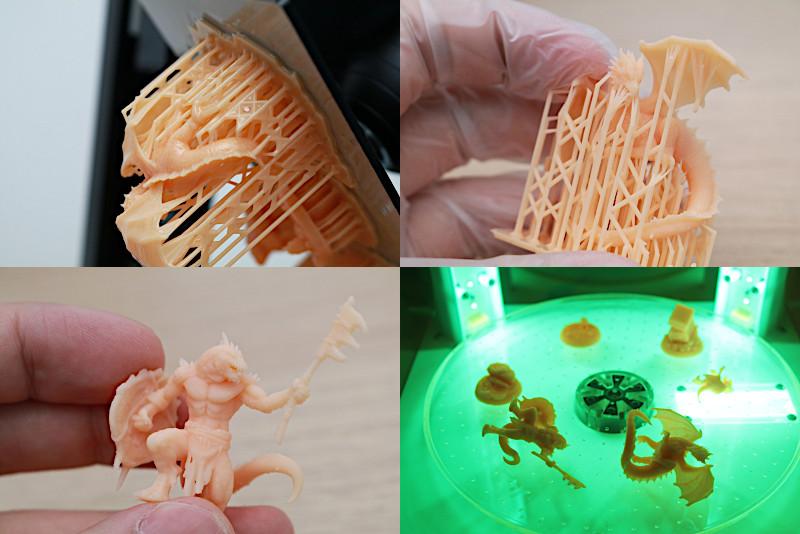 After printing, a high level of detail is visible on the models even before rinsing away the excess resin from the sides. These models were washed in a Mercury X wash station using 91% isopropyl alcohol and allowed to fully air dry before curing in the Mercury X cure station.
Printing 32mm miniatures can be a challenge due to the tiny features and details involved on the models, but the Elegoo Standard Photopolymer resin accurately reproduced fine details and the support structure detached easily without damaging or marring the models. Even tiny features like the teeth on the dragon are visible, and rinsing excess resin from the small cavities allowed the features to stand out, despite their small size.
3D Printing a 75mm Miniature
Printing miniature models at 75mm scale typically allows for more detail to show through, usually making small features like eyes, ears, and teeth easier to paint and detail. Printing a 75mm miniature using the Elegoo Standard Photopolymer Resin really emphasizes this difference, and the Loot Studios Crossbowman model shows the level of detail that is possible.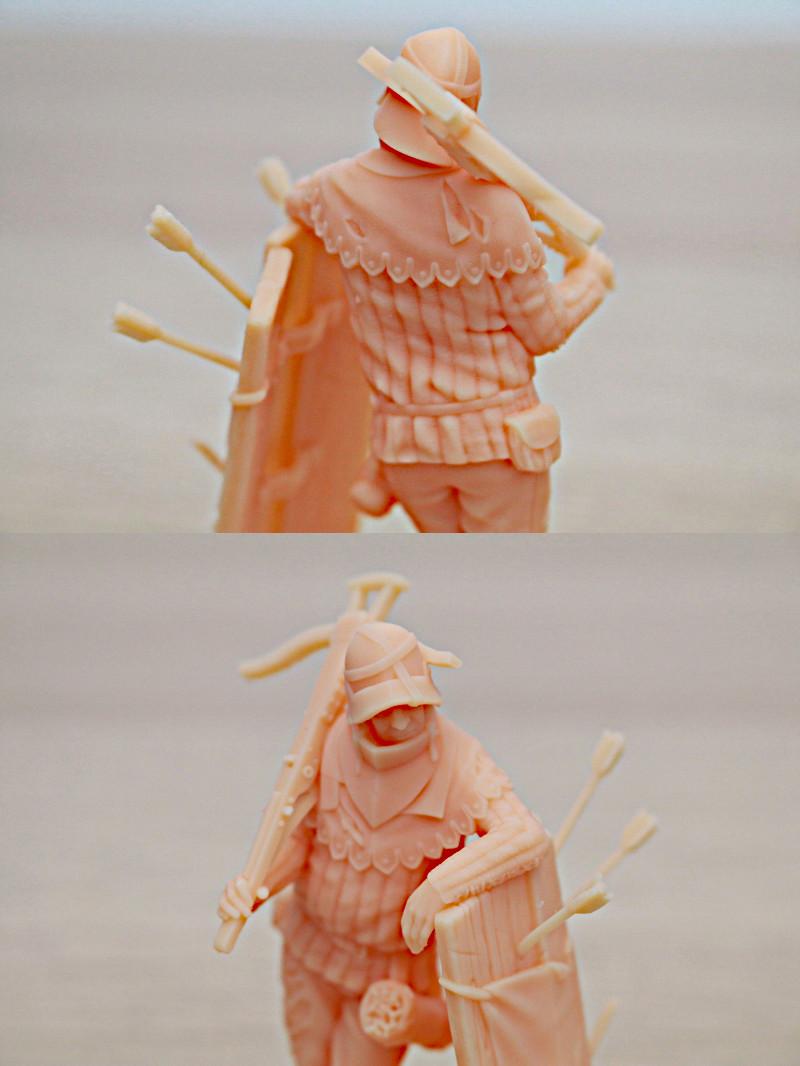 The model has clearly defined features, and very fine details like the feathers in the arrows are readily visible and easy to see without magnification. Just like the 32mm models, removing the support structure didn't mar or damage the part, allowing for delicate textures to print out without compromise. Even the fabric on the shirt of the Crossbowman shows minor tears, a detail the resin was able to accurately reproduce.
Where to Buy Elegoo Standard Photopolymer Resin
Elegoo Standard Photopolymer Resin is available in both 500g and 1kg bottles in a variety of different colors. You can currently purchase the 500g bottles on Amazon for around $18, and the 1kg bottles sell for around $35. In addition, you can purchase the material directly from Elegoo.
Elegoo Standard Photopolymer Resin
on Amazon
(affiliate links)
on AliExpress
If you're looking for a resin that allows for off-the-shelf consistent printing results with an inexpensive price, the Elegoo Standard Photopolymer Resin is an excellent choice. The resin prints reliably, is available in a variety of colors and sizes, and performs well with both Mono and RGB LCD 3D printers.
Read more: Anycubic Plant-Based UV Resin
The Anycubic Plant-Based UV resin is an eco-friendly alternative to most photopolymer resins on the market that is aimed at anyone interested in low odor, eco-friendly resin 3D printing.