The Anycubic Plant-Based UV resin is an eco-friendly alternative to most photopolymer resins on the market that is aimed at anyone interested in low odor, eco-friendly resin 3D printing. This plant-based material is designed to work on LCD or DLP resin 3D printers that use 355-410nm photopolymer resin.
Resin Specifications & Settings
Plant-Based Grey
Plant-Based Translucent Green
Settings for Mono X
Sensitive to 355nm~405nm UV light.
Low Odor
General Settings:
Recommended temperature 25°C – 30°C
Exposure time: LCD 8-10 Monochrome 1-4s
Bottom layer exposure: 50-60s
UV Power 80%
Hardness: 84.0 D

Anycubic Plant-Based Resin
Amazon
(affiliate links)
3 for 2 and 2 for 1 Deals on Official Website
Anycubic Resin Review
In this review, I'll be testing the Grey Plant-Based UV resin with the Elegoo Mars 2 Pro 3D printer, which uses a mono LCD to cure layers of resin with a 2.5 second exposure time. I was impressed with the level of detail this resin captured, and the low odor and simple clean-up process makes the Plant-Based UV resin a material definitely worth investigating.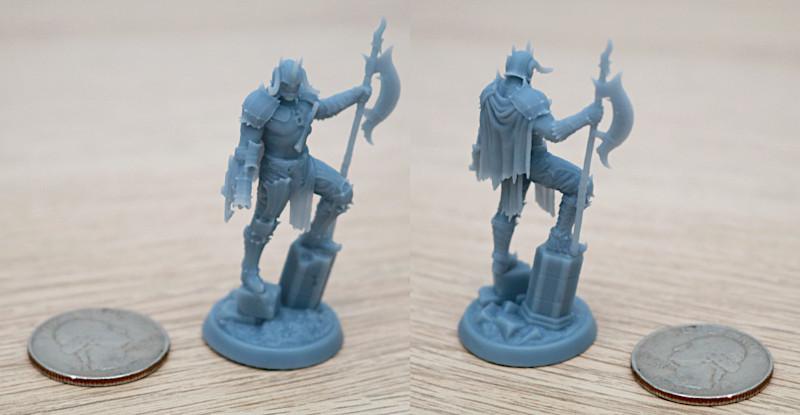 Low Odor Resin 3D Printing
One of the primary selling points of the Anycubic Plant-Based UV resin is the low odor emission during the printing process. Unlike typical photopolymer resins, the Plant-Based UV resin is advertised as being a biodegradable material that is primarily made from soybean oil.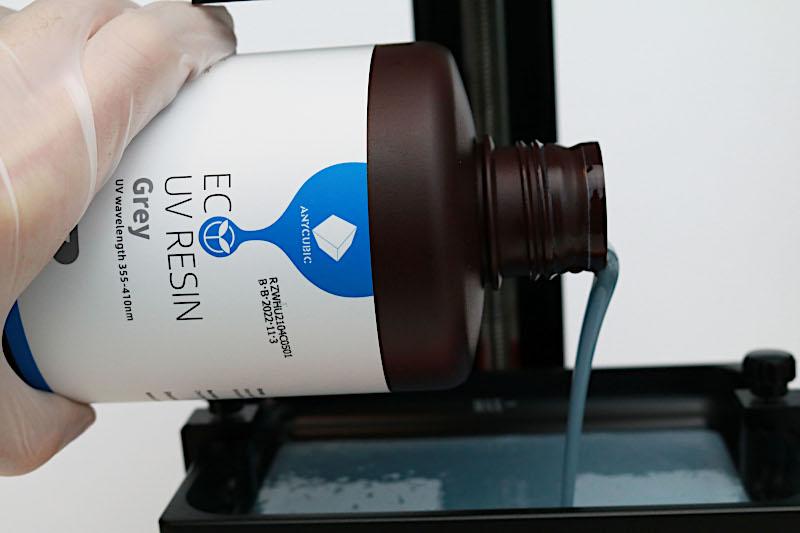 In addition, Anycubic advertises the material as being compliant with the EN 71-3:2013 safety standard, an EU standard which specifies requirements and test methods for various elements in any liquid or sticky toy material.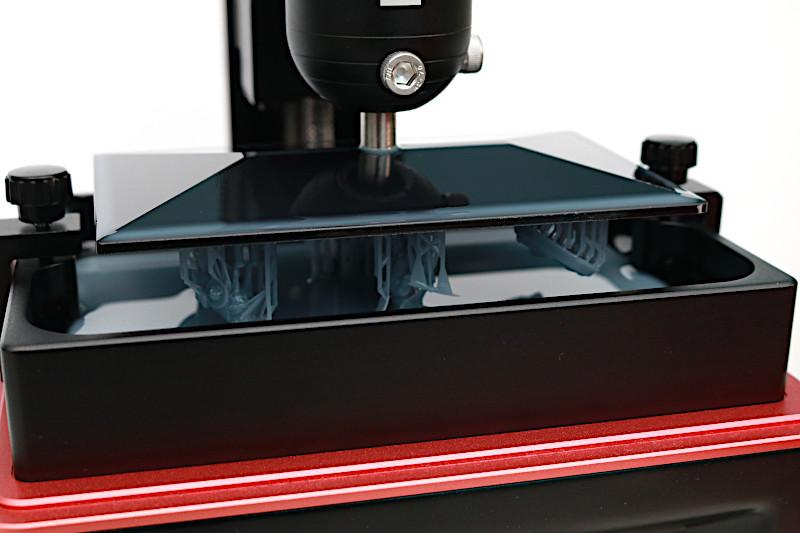 Some resins can have a very sharp odor, but the Plant-Based UV resin was very muted in comparison even when the lid of the printer was removed. After running multiple prints on multiple printers with the Plant-Based UV resin, it's clear that this particular formula provides a much lower odor printing experience than other photopolymer resins.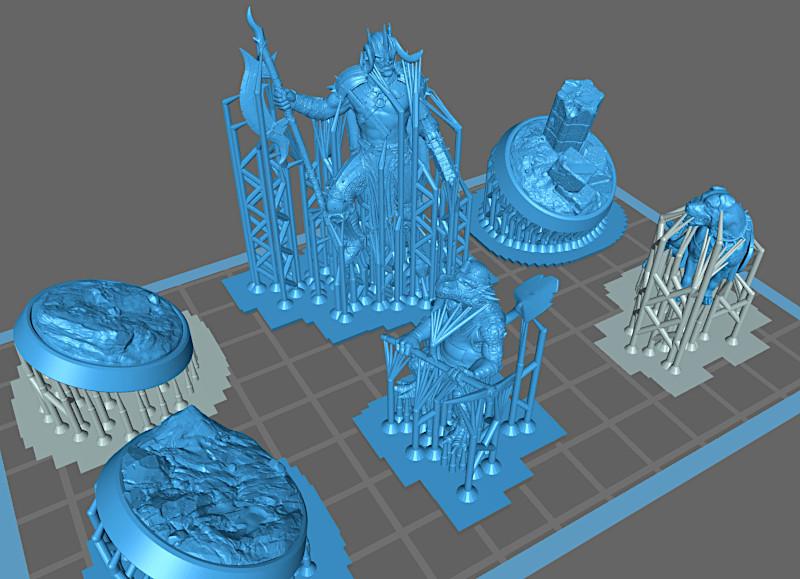 Printing Miniatures
Because resin printing speed is determined by the height of a model and not the volume of material used, I filled the plate on the Mars 2 Pro and printed 3 miniature models from Loot Studios as well as their accompanying baseplates. This print took just over 2 hours and 30 minutes, and the Anycubic Plant-Based UV resin printed perfectly on the first try.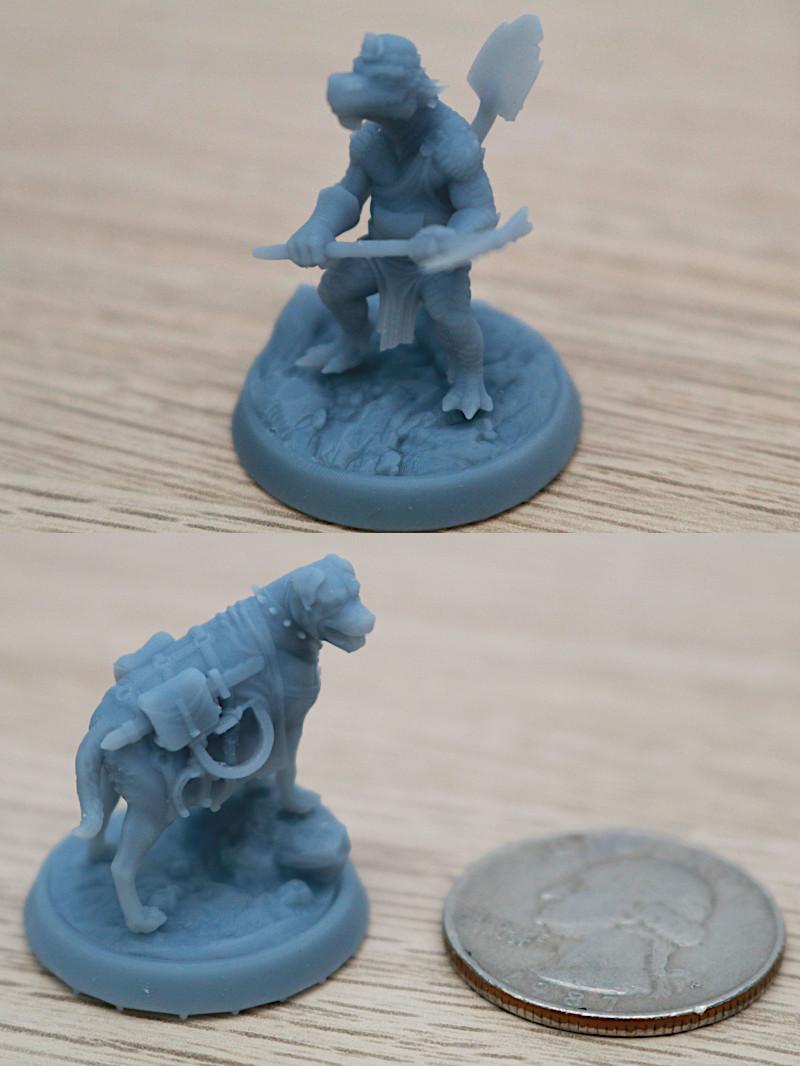 The Plant-Based UV resin requires a solvent bath to rinse any excess from the model, so despite being a more environmentally-friendly material, it still requires a chemical bath before it can be cured. I used 91% isopropyl alcohol and a two minute cure time in an Elegoo Mercury X wash/cure station to fully rinse and cure the material.
The details on these 32mm miniatures are sharp and in-focus, and even the wrinkles on the ear of the dog model are clearly visible.
After curing, the material feels rigid but not brittle, and fine features like the head of the pickaxe on the Kobold miner were easily separated from the support structure without damaging them. I was impressed with the level of detail that was resolved on these models, and this material is clearly capable of handling the fine details of these 32mm miniatures.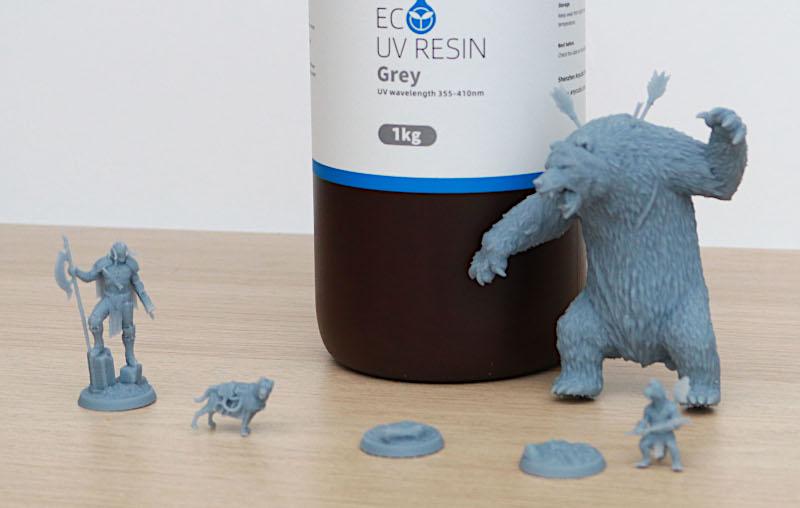 Plant-Based Translucent Green Settings
On 3DWithUs Anycubic Plant-Based resin is also featured in the Mono X review. Max printed 3DPG Goggles in Translucent Green color.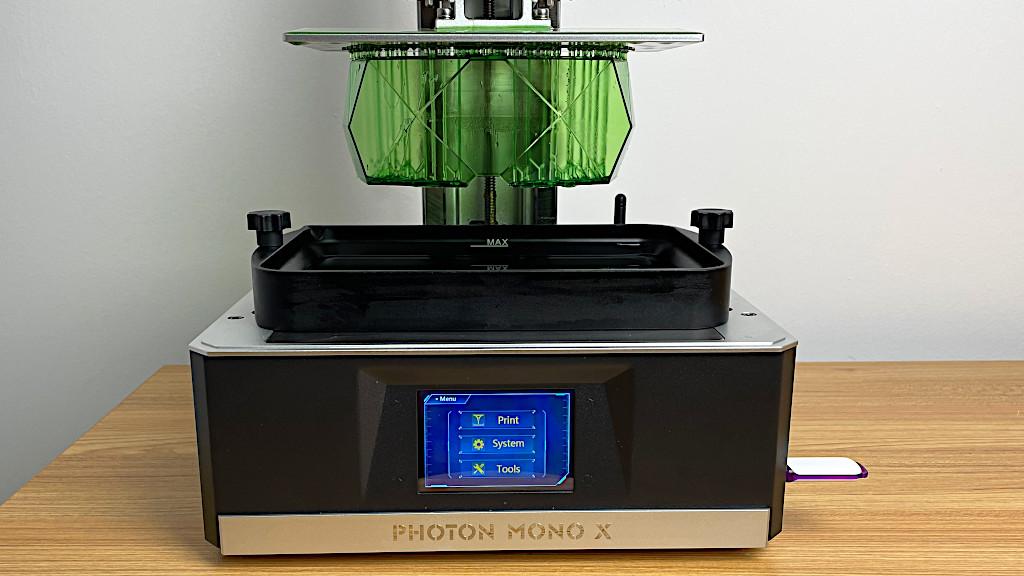 Settings for Photon Mono X 3D Printer
Here is a screenshot from Chitubox, the settings that worked well using Plant Based UV resin. UV power 80%.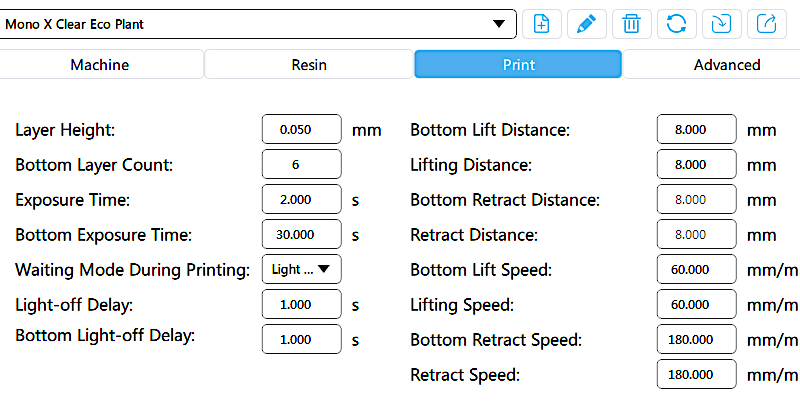 Where to Buy Anycubic Plant-Based UV Resin
Anycubic is currently offering a 3 for the price of 2 deal on the .5 kg bottles of Plant-Based UV resin directly through their site. The material is also available on Amazon in both .5 kg ($22.99) and 1 kg ($42.99) sizes.

Anycubic Plant-Based Resin
Amazon
(affiliate links)
3 for 2 and 2 for 1 Deals on Official Website
Due to the unique properties of this material, it's slightly more expensive than other materials like Elegoo's Standard Photopolymer but the cost is easy to justify for anyone interested in a low odor material.
Read more: Anycubic Craftsman Resin Review and Settings
The Anycubic Craftsman resin is designed for high-accuracy applications like jewelry, model-making, architectural models, and components that require tight tolerances. Offered at a price comparable to other 3D printing resins, Anycubic Craftsman resin is an excellent general-use resin that is ideal for unpainted models where a high level of visible detail is desirable.