Snapmaker is a 3D printer manufacturer that actively engages with the 3D printing community and regularly launches all sorts of events and campaigns. Starting with a record-breaking crowdfunding campaign, Snapmaker has built up a significant community around the brand. Let's take a look at their recent activity and list some of the latest deals for their products.
Snapmaker Artisan Announcement
Snapmaker has recently announced the Artisan 3-in-1 3D printer. Like its predecessors, Snapmaker Artisan's quick build changing system combines three different disciplines: 3D printing, CNC, laser cutting, and engraving. Such new features as Quick Swap, industrial-grade linear rails, and high-temperature dual extruder are genuinely attention grabbers. Read the full article and compare Snapmaker Artisan with Snapmaker 2 A350T.
Record-Breaking Campaigns
If Snapmaker Original was launched successfully in 2017 and accumulated $2,277,182, then Snapmaker 2.0 crowdfunding campaign accumulated $7,850,866 in 2019. Snapmaker's "The Most Funded 3D Printer" record is still unbeatable. High quality, all-metal, with the quick assembly machines, became popular without being the cheapest on the market. 3-in-1, comprising a 3D printing, laser engraving and CNC carving modules.
Award Winning Product
Every year, the prestigious iF Product Design Award attracts thousands of entries, and in 2022 Snapmaker 2.0 A350T (review) won it in the Product category. The judges clearly noted the outstanding all-metal design, the modular functionality and the whole convenient structure as a 3-in-1 machine.
Snapmaker 2.0 is based on an open-source firmware, which appeals to most users. Its CAM software Luban supports all three functions, 3D printing, laser engraving and CNC carving. Apart from the nice design, this machine also benefits from the high precision 4-axis machining empowered by the Rotary Module.
The iF Product Design Award was introduced in 1954 and is annually conferred by the iF International Forum Design. The award, which spans multiple disciplines, has more than 5,500 entries from around 59 nations every year.
Source: Wikipedia
Ever Growing Snapmaker Community
Snapmaker makes an effort of building community by organizing such events as competitions and giveaways. You can find awesome creations published by users in the Snapmaker's Facebook group and on forums. Some of the best works and designers are getting featured in the blog.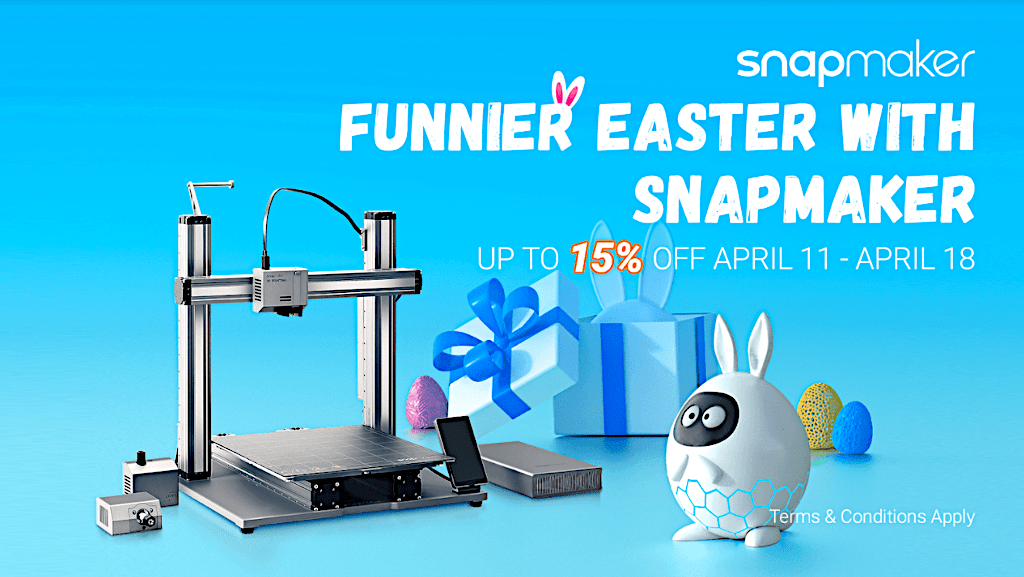 Funnier Easter with Snapmaker
When Snapmaker launches promotional or celebrational campaigns, it covers all possible areas. This is also the case with the Easter campaign in 2022:
– Competition. "Revive In Spring" creative competition organized by Snapmaker took place between the 18th of Marth and the 15th of April. Have a look at the collection of entries.
– Giveaway. From the 11th to 17th of April Javi Rodríguez, a talented designer of print-in-place models hosts a giveaway on his channel.
– Deals. For the duration of the Easter campaign, all Snapmaker products have a 15% off discount. Plus there is a "Wheel of Fortune" that may increase the total discount and saving could be up to $500.
Previous Promotional Events
And of course, such creativity-rich holiday seasons like Christmas, Valentine's Day, Halloween, etc., are covered by giveaways or competitions. Here are some of them.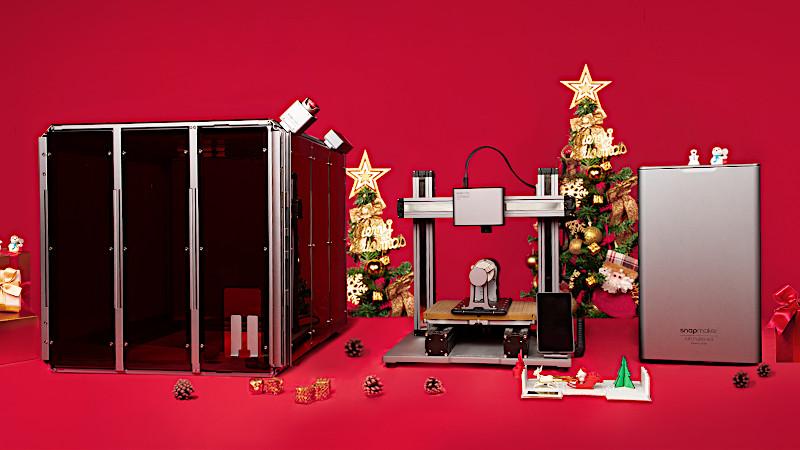 Here is the GIF Time-travelling in the Snapmaker Wonderland promotional campaign that took place from November to December 2021.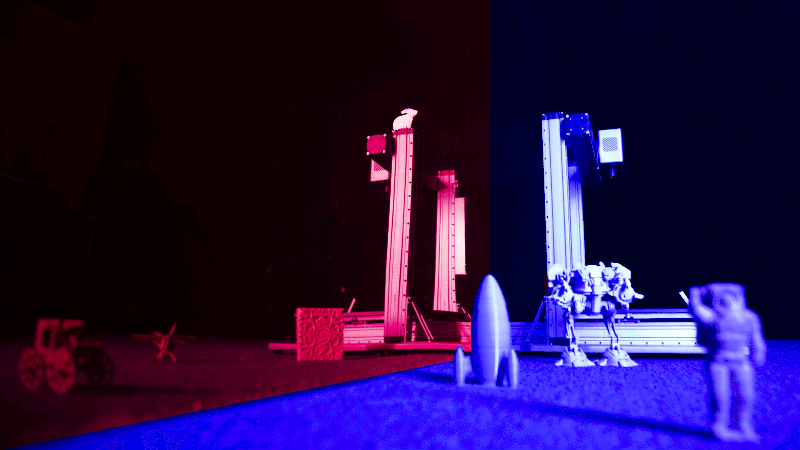 Earlier the same year, Snapmaker launched new products – a rotary module and a stop emergency button.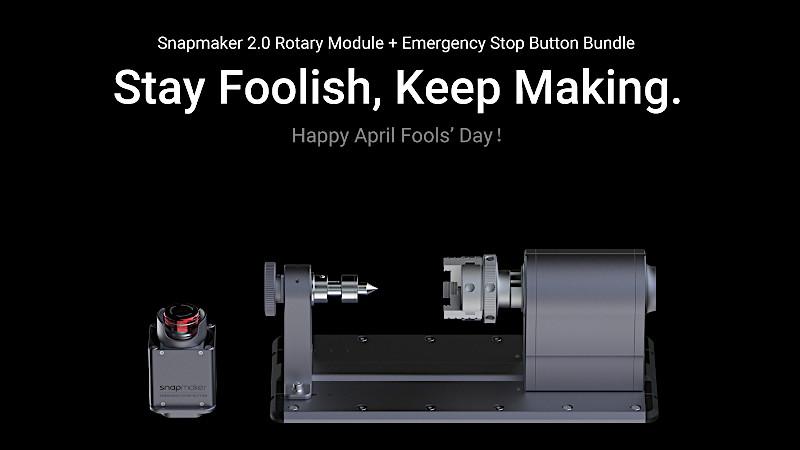 Snapmaker Original Review
On 3DWithUs you can find a detailed review of the Orignal Snapmaker. Even if the certain machine's build volume looks like a disadvantage compared to its bigger brother Snapmaker 2.0, Snapmaker Original's unique and a very strong point is its size. It is hard to find a quality 3D printer that can blend into the bookshelves.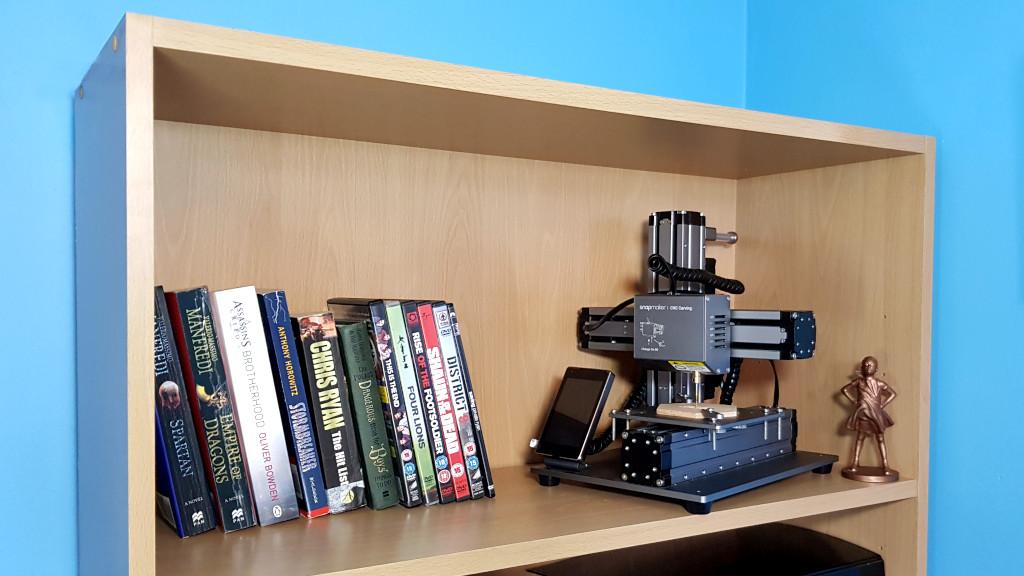 Recently, we noticed that the company promotes Original Snapmaker on
official website specifically for Students and Educators with a significant -20% discount. With a compact and sturdy build, this 3-in-1 combination is a good choice as an entry 3D printer for small and big.
Conclusion
Snapmaker delivers eye-catching, upmarket products. From the packaging and products to the website and campaigns, we feel that quality is the target they aim for. Stay tuned as we have both machines for testing, and there will be more content featuring the machines on 3DWithUs in the near future.